Beaxy is a young cryptocurrency exchange with bank card and transfer support. The platform offers spot trading, free signals, technical analysis and 24/7 support.
Read completely
Cryptocurrency exchange
Official website
Social media
Date of foundation

2019

Head Office

Chicago Board of Trade, Chicago, IL

Types of support
Languages

English, Polish, Spanish, Russian, German

Founder
The owner of the company
Manager
Minimum entry amount

Verified

Fiat Currency

Bank card:

from 10 USD

Bank Transfer:

from 10 USD

Unverified

Cryptocurrency

Unavailable

Maximum input amount

Unverified

Cryptocurrency

Unavailable

Minimum withdrawal amount

Unverified

Cryptocurrency

Unavailable

Maximum withdrawal amount

Unverified

Cryptocurrency

Unavailable

Exchange Commission

Trade Commission:

Until

0.25

% for taker /

Until

0.15

% for maker

Terminals

MetaTrader 5

Age restrictions
Trading volume per day
Number of cryptocurrencies
Number of trading instruments
Margin Trading
Tokenized assets
Free Demo Account
Types of accounts
Execution of orders

Stop-Loss, Limit Order

Methods of replenishment

Bank card (Visa/MC), Wire transfer, Cryptocurrencies

Withdrawal methods

Bank card (Visa/MC), Cryptocurrencies

Account currencies

USD, EUR, CNY, GBP, Cryptocurrencies

Types of cryptocurrencies

BTC, USDT, USDC, ETH, etc.

Mobile applications
Trader training

Virtual training tour, knowledge base, glossary

A way to store cryptocurrencies
Fiat accounts

The fiat account can be funded with a bank card or bank transfer

Scalping
Stop Loss and Take Profit Function

When the stop price is reached, the stop-loss order is executed with the type of market order

Exchangeability for fiat currencies
Basic verification

Basic verification takes place by confirming the email address

Extended AML verification

To pass the extended verification, you need to upload your identity document

Regulatory laws

International data protection law

Canadian law

API
Bonuses
Affiliate Program
Benefits

Double-sided ramp for 6 fiat currencies

Signals with a win rate up to 70%

Low commissions when paying with an exchange token

Disadvantages

Small daily trading volume

A small selection of cryptocurrencies

Company requisites

Legal address:

Chicago Board of Trade, Chicago, IL

Overall assessment
Date of update

20.02.2023
Address
Chicago Board of Trade, Chicago, IL
Map
Subscribe to this company
Beaxy is this a scam? Reviews and description
Beaxy
- young multifunctional
cryptocurrency exchange
aimed at serving traders of different levels. The platform offers a convenient terminal for trading digital assets, free signals with a win rate up to 70%, technical analysis and 24/7 support.
The exchange started operating in 2019 and has gained the trust of traders from 200 countries in a short period of time. The main office of the company is located in Chicago, Illinois. In this review, let's look at the features of the crypto exchange, platform bonuses, user reviews and try to understand whether Beaxy is a scam or a reliable platform for cryptocurrency trading.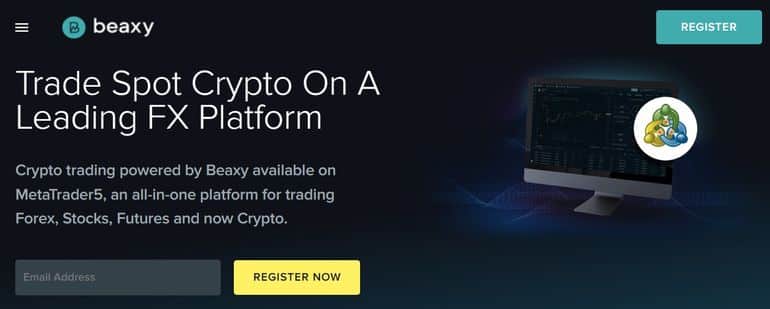 Why Beaxy?
Beaxy Exchange - a cryptocurrency exchange with an institutional level of security. According to the website, cryptocurrencies on the exchange are stored with the support of Curv, which increases the security level of asset storage many times over. In addition, Beaxy offers traders a number of other advantages compared to trading on other exchanges, such as:
Secure storage of assets.
Perpetual referral remuneration.
Double-sided ramp for 6 fiat currencies.
Signals with a win rate up to 70%.
Round the clock support service.
Low commissions when paying with an exchange token.
The Beaxy cryptocurrency exchange was founded by a team of American developers led by Brian Peterson. As of early 2022, the platform features a growing number of registered users and a stable daily trading volume. The exchange trades 25+ cryptocurrencies in pairs with BTC, USDC, USDT, ETH.
The platform also supports cryptocurrency trading for fiat - USD, CNY, GBP and EUR. For the convenience of users crypto exchange has launched its own mobile application with the support of a full set of tools for trading. Registration on the exchange is available to everyone, except for residents of countries that restrict operations with cryptocurrencies.

How to exchange cryptocurrency on the Beaksi platform?
Cryptocurrency exchange on the platform is available after registering and making a deposit. The exchange is carried out in the process of trading. The platform offers traders several types of orders to maximize profits during exchange (How to make money on cryptocurrencies).
Verification on the beaxy.com platform
For trading on the platform beaxy.com you need to register, connect two-factor authentication and pass KYC verification, let's look at each of these steps in more detail.
Registration on the platform
To create an account, click the "Register" button in the upper right corner of the home page. Fill out the registration form. Here you need to specify your email address, password, and cell phone number. After filling in the data, you need to agree with the terms of use, and click "Register".
Connecting two-factor authentication
To connect two-factor authentication, log in to your account and click the Security tab. Here, click the "Connect" button opposite "2FA is disabled". Scan the QR code.
Verifying your account
To pass the KYC check, you need to specify the country of residence, select the type of identity document and attach its photos. The photo of the document must be without glare from the flash, all information must be readable. A driver's license, national ID card or civilian passport can be used as an identification document. After the application is processed, you will receive a notification by mail when the verification is passed or rejected.

Deposit and withdrawal
After passing the KYC check, you can make a deposit and start trading on the platform beaxy.com. To make a deposit, click the "Deposit" button at the top center of the page. Select the deposit method. Deposits are available in three ways:
Purchase of cryptocurrency by bank card. We accept Visa, Mastercard and

Apple Pay

. With the card you can buy BTC, ETH, USDT. The minimum deposit amount is 10 USD.
Deposit from a cryptocurrency wallet. Select a cryptocurrency to make a deposit. After selecting a coin, a crypto address will be generated. Copy this address and enter it in your cryptocurrency wallet to make a transaction.
Replenishment of deposits in fiat. To deposit funds you need to pass the KYC 2 verification. After passing the additional check it is possible to deposit in USD, EUR, CNY and GBP. Fiat assets of traders are stored at the crypto exchange partner Prime Trust company.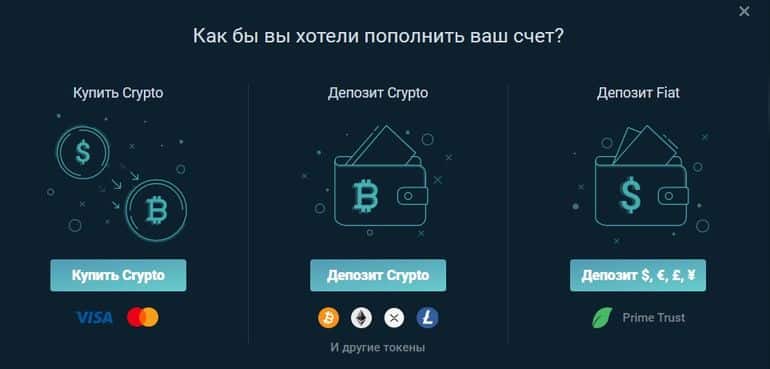 Withdrawal of earnings at the exchange is carried out in the reverse order. Select the currency for withdrawal, specify the withdrawal amount and payment details. Maximum withdrawal amount is calculated for each Cryptocurrencies with the status of the account.
Cryptoexchange Commission
There are 2 types of commissions on the platform - trading commission and withdrawal commission. The size of the trading commission is 0.25% for market-takers and 0.15% for makers (makers, takers, rates on cryptocurrency exchanges). The fixed amount of commissions can be reduced by reaching a certain volume of daily trading. Also, discounts on trading commissions are provided for holders of the crypto exchange token - BXY coin.
Withdrawal fee is calculated personally, taking into account the status of the account and the amount to be withdrawn. The exact amount of commission can be seen when withdrawal request is made. It should be noted that withdrawal fees are paid for transactions. The exchange does not charge users additional fees.
Beaxy bonuses
Cryptocurrency exchange beaxy.com offers bonuses and discounts to both new users and registered traders.
Discounts on Beaxy Exchange trading commissions
Discounts on exchange trading fees can be obtained by holding a certain level of daily trading, as well as holding a certain number of BXY coins on your balance. A total of six account statuses are available on the platform. The maximum discount on trading commissions is 25%, which is provided to holders of BXY amounting to 12,000 USD.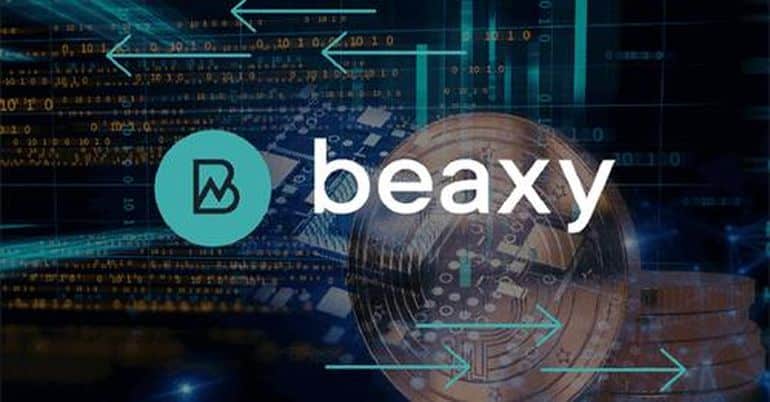 Deposit Bonus
Every new user of Beaxy Exchange can double his/her deposit up to 500 USD. To get the bonus, register your account, join the bonus program on the Deposit page, get verified and get a bonus of 100% when you deposit up to 500 USD.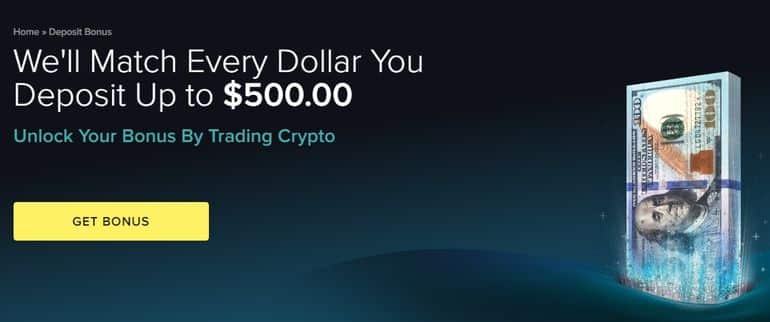 Loyalty program beaksi.com
BXY token holders can earn from the loyalty program. To earn passive income, you need to freeze 30,000 BXY for a period of 1 month or more. Earnings from the loyalty program are up to 12% per annum.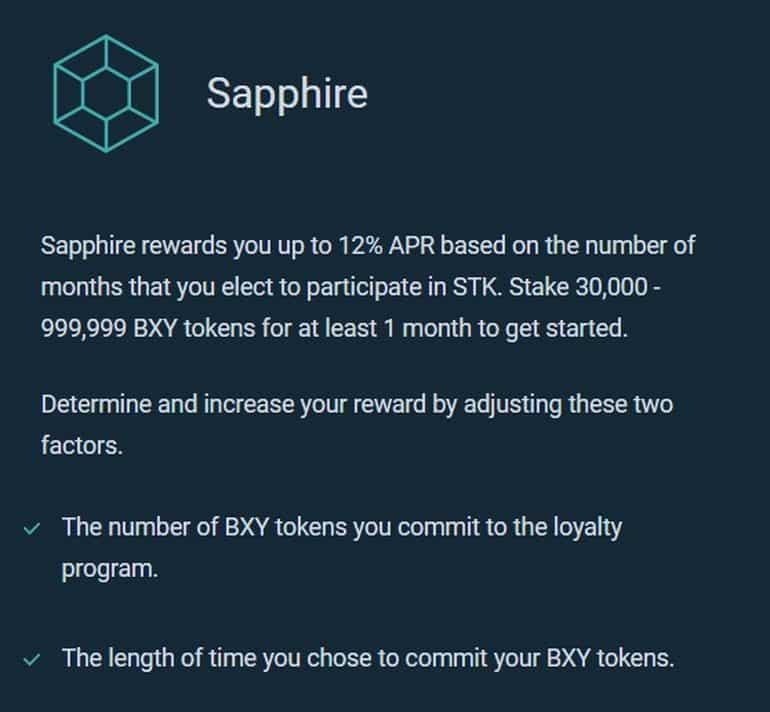 VIP Membership Awards
VIP club members receive up to 30% cashback on paid commissions for a month. Cashback is paid in Bitcoin (Bitcoin growth forecast). In addition, you will receive increased referral fees and monthly prizes from the platform.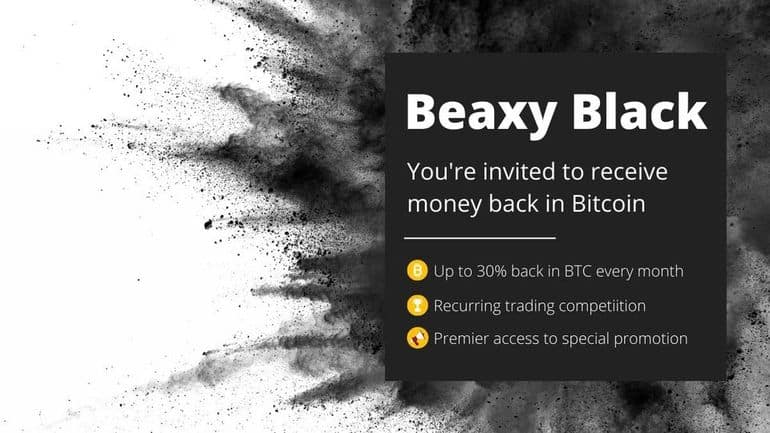 Beaxy Exchange referral program
Every registered user of Beaxy crypto exchange can participate in the referral program of the service. To join the referral program you have to register on the platform and get a referral link in your personal cabinet. After inviting a friend to the platform you will receive 30% from his trading commissions. You can track the number of referrals and the amount of earnings in your personal cabinet.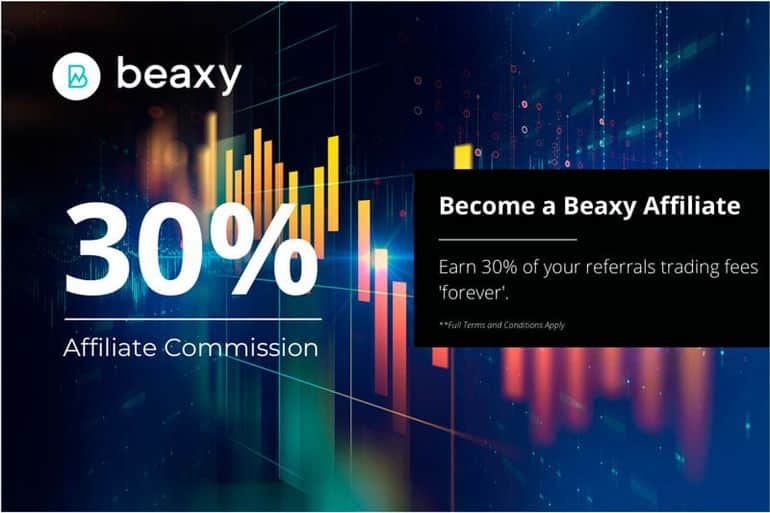 Complaints about Beaksy
Analyzing the reviews of cryptocurrency exchange beaxy.com, we can say that the platform completely fulfills its obligations to traders. Users note fast exchanges, reliable storage of funds, convenient mobile application and fast withdrawal of earnings. Users name the possibility of staking as a special advantage of the exchange (How to make money on steaking) and receiving referral fees. Traders are also happy with the possibility of funding their accounts with fiat currencies. In general, we can say that Beaxy crypto exchange can easily reach the top of cryptocurrency exchanges, offering traders favorable and transparent working conditions.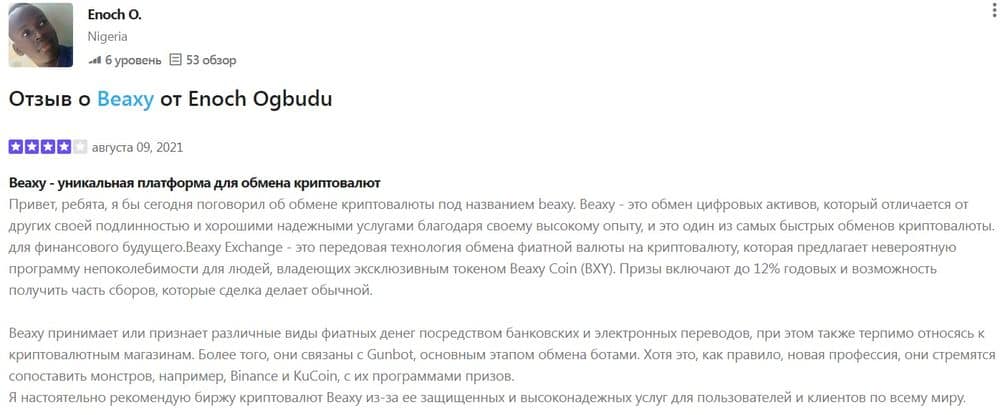 If there are any complaints about Beaxy, we will be sure to post the information on social media. Sign up so you don't miss anything!
Please keep yourself informed about news and complaints. We copy the most valuable information to social networks, so please sign up!
Regulation of the Beaxy crypto exchange
Regulation of a cryptocurrency exchange is a guarantee of fair and transparent operation of the resource. Before registering on any cryptocurrency exchange, find out who regulates its activity and how.
Regulator
Cryptocurrency exchange Beaxy Exchange is managed by Windy Inc. officially registered in the United States. Documents from beaxy.com:
Beaxy.com User Agreement
The Beaxi.com User Agreement is a document regulating the relationship between the user and the administration of the cryptocurrency exchange. The document defines the basic order of work on the exchange, as well as the rights and obligations of the parties. According to this document, registration on the platform is available to persons over 18 years old. You have the right to create only one account and only for personal use.
When registering on the site you agree to give the administration of the service the requested information for identity verification. All provided data must be up-to-date and accurate. While working on the service you don't sell or buy cryptocurrencies from Beaxy Exchange. The platform only acts as an intermediary between users to facilitate transactions. The administration of the service reserves the right to cancel any transaction for a legitimate reason.

If disputes arise, the parties must resolve them through pre-trial proceedings. The time limit for settling a claim is 90 days from receipt of the claim. If the parties are unable to resolve the dispute during the pre-trial proceedings, it will be referred to arbitration by by location administration of the cryptocurrency exchange (Cook County, Illinois, USA).

Customer Service
The distinctive feature of the Beaxy Exchange cryptocurrency exchange is its 24/7 online support service. The service's support team can be contacted via the following channels:
E-mail: [email protected]
Online Chat.
Feedback form.
Twitter.
Facebook.
Telegram.
Instagram.
Discord.
You will also find the necessary information on the FAQ pages, the knowledge base and the blog. According to traders' reviews, the Beaxy support team is really responsive and gives detailed and understandable recommendations.
Is Beaxy a scam?
Cryptocurrency exchange Beaxy - is a platform for exchanging digital assets between users. The exchange offers transparent working conditions, a profitable referral program and the possibility of staking. Platform token holders receive additional privileges and benefits in the form of discounts on trading commissions and platform rewards. After analyzing the work of the crypto exchange, user reviews about it and legal information, we came to the conclusion that Beaxy is not a scam. The platform has been working steadily since 2019 and during this time has managed to gain the trust of traders all over the world.
Conclusion
Beaxy Exchange - a young reliable cryptocurrency exchange with a wide range of instruments and free trading signals. The exchange regularly adds new cryptocurrencies, expanding trading opportunities on favorable terms. The company offers trading in the modern MetaTrader 5 terminal with the possibility of opening fiat accounts. In general, the cryptocurrency exchange can be called a reliable developing platform with high chances of reaching the top of cryptocurrency exchanges. Register on the platform, open a deposit and receive bonuses from the company.
No reviews yet, be the first!
The company in the ratings
Robots for cryptocurrency
Activity
New

0

Resolved

0

Not resolved

0
New companies on the site