Cryptocurrency derivatives exchange offers many open-ended contracts on favorable terms and with high speed of execution.
Cryptocurrency exchange
Official website
Social media
Date of foundation

2018

Head Office
Types of support
Languages

English, Korean, Chinese, Vietnamese, Japanese, Russian, Spanish

Founder
The owner of the company
Manager
Minimum entry amount
Maximum input amount

Verified

Fiat Currency

Bank card (Visa/MC):

to 830,000 RUB

Minimum withdrawal amount

Verified

Cryptocurrency

From 0.001 BTC
From 0.02 ETH
From 0.2 EOS
From 20 XRP
From 10 USDT

Unverified

Cryptocurrency

From 0.001 BTC
From 0.02 ETH
From 0.2 EOS
From 20 XRP
From 10 USDT

Maximum withdrawal amount

Verified

Cryptocurrency

To 100 BTC / per day
to 10,000 ETH
to 1,000,000 EOS
To 2,000,000 XRP
to 1 000 000 USDT

Unverified

Cryptocurrency

To 10 BTC / per day
to 10,000 ETH
to 1,000,000 EOS
To 2,000,000 XRP
to 1 000 000 USDT

Exchange Commission

Derivatives:

Until

0.01

% for maker /

From

0.03

To

0.06

% for taker

Trade Commission:

Until

0.01

% for maker /

From

0.02

To

0.1

% for taker

Terminals

TradingView (Many indicators and oscillators, shapes, easily customizable market depth chart)

Age restrictions

From

18

years

By opening an account, you represent and warrant that you are at least 18 years old

Trading volume per day
Number of users

1200000+

The number of users is constantly growing

Number of cryptocurrencies
Number of trading instruments

10+

The exchange launched 3 new pairs on USDT (ADA/USDT, DOT/USDT, UNI/USDT), Quarterly Futures (BTC/USD), and more USDT pairs will be added in late April (SUSHI/USDT, XEM/USDT, AAVE/USDT, XRP/USDT).

Margin Trading
Leverage

Until 1:50

For ETH/USD, XRP/USD, EOS/USD

Tokenized assets
Free Demo Account
Types of accounts
Execution of orders

Market order, Limit Order, Conditional Market order, Take Profit Orders, Stop-Loss, Trailing Stop

Methods of replenishment

Bank card (Visa/MC), Cryptocurrencies

Withdrawal methods

Cryptocurrencies

Account currencies

Cryptocurrencies

Types of cryptocurrencies

Bitcoin, Ethereum, EOS, Ripple, USDT, etc.

Mobile applications
Trader training

Academy, reference center, blog, trading guide

A way to store cryptocurrencies

Cold:

yes

The exchange uses an industry-leading cold wallet with multiple signatures to store 100% of traders' deposited assets

Fiat accounts
Scalping

Trade from 1 min. to 30 min.

Stop Loss and Take Profit Function
Exchangeability for fiat currencies

There is an exchange of derivatives

Trading Strategies

All strategies for trading in the cryptocurrency markets are allowed

System maintenance and updates

In real time

The speed of the order collation kernel

100,000 transactions per second, no congestion and no downtime

High platform safety

System of hierarchically determined offline wallets; input and output with offline signatures; double-price mechanism gives protection against manipulation

Mutual insurance

Player protection during market fluctuations, which provides profits when the trend is rising and guarantees compensation when the trend is falling

Strategic alerts

Customizable alert and reminder tool that simplifies navigation for speed and convenience

P2P trading

Direct trade in cryptocurrencies between users without the participation of a cryptocurrency exchange

Crypto loans

Make crypto loans in one asset, providing collateral in another

Steaking

Passive profit from holding coins on the balance of the exchange

Basic verification
Extended AML verification

KYC (passport, passport or driver's license). Photo with the document (selfies). Proof of address (bank statement, utility bill, etc.)

Regulatory laws

International data protection law

Canadian law

API

Read more

High-frequency trading with incoming market data and transparent API reporting

Bonuses
Affiliate Program
Benefits

Advantageous promotions and bonuses

Effective teaching methods

Top up your account with a bank card

Security leader in the crypto industry

Reliable and convenient platform with a large number of orders

Over 300 positive reviews in global media since the end of 2018

Transparent user relations and 24/7 feedback

Disadvantages

A small number of trading instruments

Company requisites
Overall assessment
Date of update

12.02.2023
Subscribe to this company
ByBit is this a scam? Reviews and description
ByBit
- it's a young
exchange
which appeared in March 2018. The platform allows clients to trade perpetual derivative contracts on
cryptocurrencies
.
In our review we will take a closer look at the opportunities the platform provides and find out whether ByBit is a scam or a reliable service for traders.

Why ByBit?
The ByBit exchange appeared on the Internet quite a long time ago. The company serves professional traders as well as individuals with one-time orders. Website bybit.com has a multilingual interface, which indicates the orientation of the organization to the international market. The company is headquartered in Singapore, from where the project is regulated. The service is registered in the British Virgin Islands.
The platform provides clients with favorable and, most importantly, comfortable conditions for trading. The main product offered by the exchange is open-ended futures. For futures trading, leverage up to 1:100 is provided. Now there are four specific derivatives markets available on the site: BTC/USD, ETH/USD, EOS/USD and XRP/USD (How to make money on cryptocurrency?).
The exchange is similar to its competitors in many respects, but there are a few standout features. For example, the company offers one of the fastest order clearing kernels, capable of processing up to 100,000 transactions in one second per contract, ensuring no congestion and instantaneous processing. One of the organization's top priorities is the security of user funds, which is why it uses a system of hierarchical, deterministic offline wallets to store assets.
For beginners the platform will be especially useful, because there is a manual with detailed instructions for beginners, as well as a demo account, where clients can try their hand at trading cryptocurrency (cryptocurrency trading strategies). A separate section with the latest news and informative articles is also provided for users. The advantage is that the information is presented in Russian.

The platform recently updated its interface to be even more user-friendly and faster. The new user interface contains many speed improvements:
50% order placement acceleration;
The 50% has less CPU and memory load;
The Bybit trading terminal loads faster on the 400%;
The 500% has a faster connection for EMEA and Latin America.

The trading terminal has several blocks:
The book, which shows all currently active orders available for purchase and sale.
The exchange rate chart, which is updated in real time.
Information about active and completed transactions.
A list of the most recently completed transactions.
Asset Overview.
Creating orders to buy and sell cryptocurrencies.
Information about the current contract.
Market activity on available assets.
The broker also allows customers to set take profit and stop loss for orders. Users can set partial TP/SL with different quantities and entry prices for their trades. This allows users to apply advanced trading strategies to protect and make more profitable trades. Once a position is opened, the trader can monitor and manage it in the corresponding chart window. Four new pairs are included USDT. Users can now trade ETH, LINK, LTC and XTZ on our exchange. Also of note, Bybit has increased asset exchange limits for the five cryptocurrencies currently available for trading: BTC, ETH, EOS, XRP and USDT. The mutual insurance feature now includes a visual yield curve and instruction to help better understand how the tool works.
To allow users to trade 24/7, a mobile application was created. Both Android and iOS versions are available. The app is great for traders who travel or do not have constant access to a computer or laptop. The app has recently received an update and now users can get push notifications when an order is executed + a home screen widget. The main advantages of ByBit include:
Several supported cryptocurrency perpetual contracts.
Intuitive trading platform.
Russian-speaking interface.
Low commission.
High liquidity.
Ability to set take profit and stop loss.
Double the price for protection against manipulation.
Cold storage of cryptocurrency.
Round the clock feedback.
Availability of an insurance fund.
It is worth noting that the platform is regularly updated. Now Bybit representatives announce the soon introduction of quarterly futures, sub-accounts and integration with MetaTrader4, as well as new trading pairs (ADA/DOT/UNI/XRP for USDT). Bybit's quarterly futures contract will allow speculation on the futures price of the underlying asset. The sub-accounts will come with their individual balances, permissions and account statements.
How to exchange cryptocurrency on the BayBit platform?
Since the exchange can not make an exchange for fiat money, the client can use one of the following ways:
Verification on bybit.com platform
Another feature of the exchange is the complete anonymity of users. That's why traders are not required to undergo verification to trade. For privacy advocates, who are worried about the risks of disclosure of personal information, this aspect is especially important.
Deposit and withdrawal
ByBit is exclusively a cryptocurrency exchange, so it is impossible to deposit your account in fiat currency. To deposit with cryptocurrency, a client needs to create a wallet address and make a transfer. To do this, go to the "Assets" section, which is located in the header of the profile. This section reflects wallet balances. To open wallet addresses for BTC, ETH, EOS or XRP, you need to click on the "Deposit" button. After receiving the address, the user is free to proceed with the transaction. It's worth keeping in mind that funds are not transferred instantly, because the transaction has to go through the network first.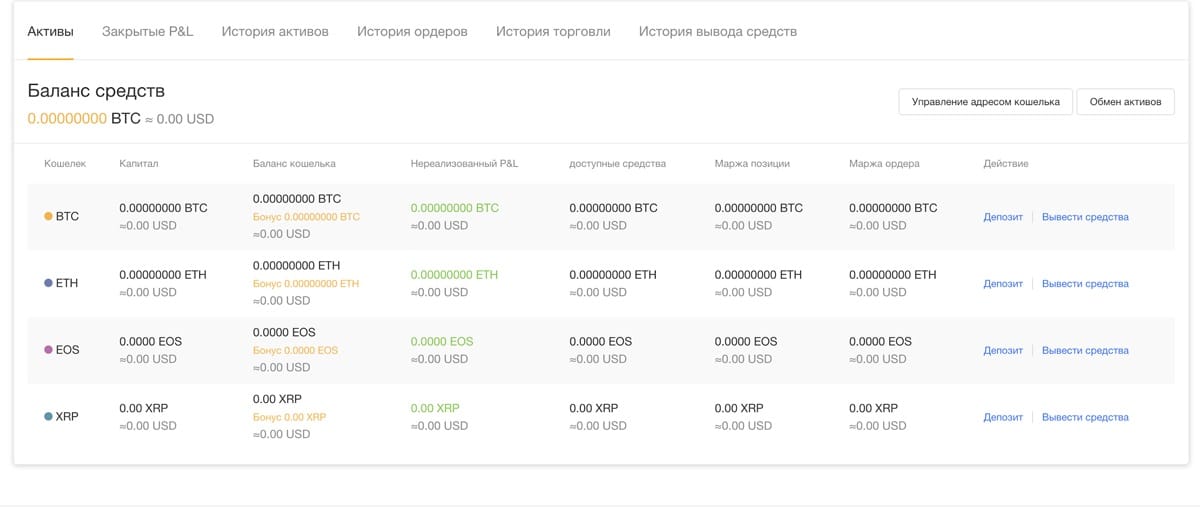 Withdrawal of funds
To order a payout, you need to perform a few simple actions. First, in the selected asset you need to click on the "Withdrawal of funds" button, after which the system will require you to enter the wallet address and confirm the action with two-factor authentication. Next, the client receives information about the miner's commission, which is charged on the operation. The company manually processes withdrawal requests three times a day - at 8:00, 16:00 and 00:00 UTC. There is no minimum deposit amount, but the service has set a minimum withdrawal amount for each of the coins:
Bitcoin - 0.0005 BTC;
Ethereum - 0.005 ETH;
EOS - 0.1 EOS;
Ripple - 0.25 XRP.
Cryptoexchange Commission
The company works on the basis of the "maker-staker" commission model. This means that the exchange charges traders a commission if liquidity decreases and refunds part of the funds if liquidity increases on the contrary. There is a commission of 0.025% on each bet, which is paid every time. If the client is a regular trader and has no relation to market takers, the service charges a commission of 0.075% for each transaction. As a result, 0.05% commission is paid for each transaction.
Funding commission
Another type of fee, information about which can be found in the financing transaction. The essence is similar to the overnight rate and is a financing fee. Based on the fact that margin trading is based on "lending" positions, the user pays either for financing or receives a fee for it. However, unlike transaction fees, financing fees are paid by traders directly, without ByBit involvement. The rate depends on market conditions as well as interest rates, so it is not fixed and may change daily. You can find out the financing rate when you open a position. The value is indicated in the column "Position Information".
Withdrawal fee
The advantage is that the exchange does not charge any fee for deposits and withdrawals. However, when withdrawing earnings, the user may be charged a fee by the miner or network for mining the blockchain.
ByBit Bonuses
The company has prepared bonuses and contests for its customers.
Bybit VIP program
Regular interesting events and discounts on the platform for customers who have registered for a VIP account.

Bonus Center
The company has opened a new bonus center, where you can learn about the best promos for users.
Welcome gifts
Bonus for subscribing to social networks
A bonus of 5$ is provided for customers who register on the exchange and subscribe to the platform page in social networks.
Active Trader
Get $5 to your personal account for trading.
WSOT 2022 Cryptocurrencies
Bybit announces the largest crypto contest with a total prize fund of 8,000,000 USDT.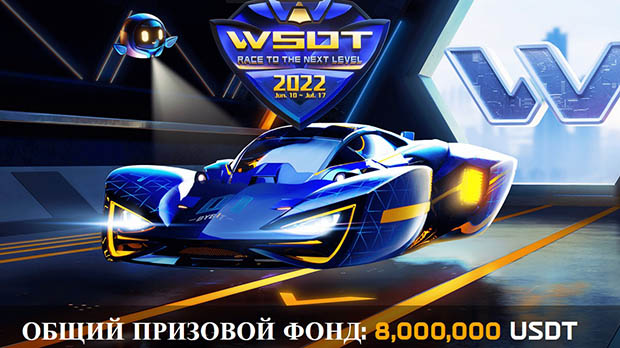 Referral program
A referral program has been developed for active participants who want to earn passive income. Clients can invite new users to the project and receive up to 230 USDT (remuneration depends on the amount traded by the referral).

Complaints about ByBit
Since the exchange has been operating since 2018, you can already find reviews of users on the Internet. So from the negatives most often point to the problems with input/output of funds, as well as with the implementation of the referral program.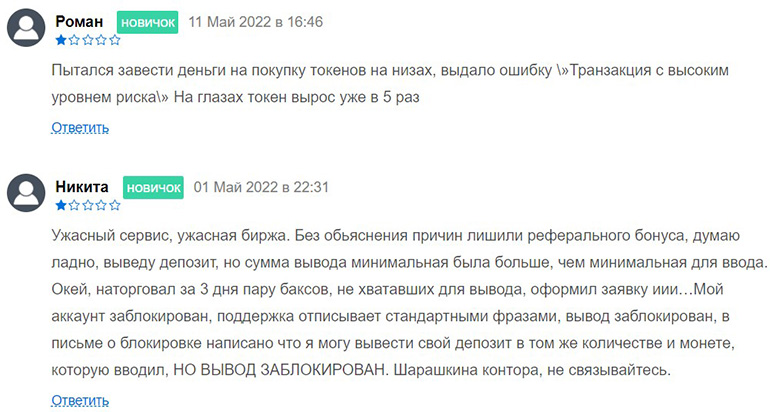 Other users are happy with the opportunities provided by the trading platform. For example, constant contests and numerous promotions and bonuses.
If there are any new reviews about ByBit exchange, we will definitely publish the information in social networks. Sign up so you won't miss anything!
Please keep yourself informed about news and complaints. We copy the most valuable information to social networks, so please sign up!
Regulation of ByBit crypto exchange
Among cryptocurrency exchanges, there are a large number of conscientious projects, as well as many scammers who deceive customers. To avoid falling for a scam, it is necessary to check the availability of a license, as well as the necessary documentation on the company's website. Let's consider in more detail how the organization is regulated.
Regulator
Although the company is quite large, it is not regulated by any known authority and does not have an appropriate license. Documentation, as well as contact information, is publicly available to users. Documents from bybit.com:
Read the "Terms of Service" on the ByBit website (See).
Read the "Privacy Policy" on the Exchange website (See).
Bybit.com User Agreement
The "User Agreement" is the main document of the project, which must be read by every user before starting cooperation. The agreement contains information about the main nuances of providing services, as well as the responsibilities of clients and organizers. Let us consider some points in more detail. The document states that trading goods and products, real or virtual, as well as currencies, involves significant risk. Prices can and do fluctuate on any given day. Because of these price fluctuations, the client can increase or lose the value of their assets at any time. Any currency, virtual or otherwise, may be subject to significant fluctuations in value and may even become worthless. There is an inherent risk that losses will result from buying or selling in the market.

Since the platform trades derivative instruments, there are additional risks. In extreme market conditions, when necessary, Bybit may decide to close partial or entire winning positions in order to be able to close unprofitable ones. Derivatives are settled every day at an agreed upon time set by the company. If bankruptcy in a session depletes the insurance fund, any further losses will be covered by profits earned by other traders on the platform, based on the Auto-Deleveraging ranking system. In such circumstances, profitable traders with a higher ranking will receive their winning positions partially or fully based on the size of the losses to cover the bankruptcies of other traders.

The organization will provide market data to facilitate the use of the site by users. Bybit makes no warranty as to the timing, consistency, accuracy or completeness of market data. The user accepts and agrees to the fact that the organizer is not responsible for any inaccuracies, errors, delays or omissions resulting from users' use of such market data. Bybit makes no warranty that the site bybit.com will run smoothly or without errors. Among other things, the operation and availability of the platform may be unpredictable and may be unavailable from time to time. The Company shall not be liable in any way for any such interference that prevents users from accessing or using the website.

Except to the maximum extent permitted by applicable law, in no event shall the organizer, its directors, employees, agents, suppliers, intermediaries, service providers or other users be liable for any direct, special, indirect, incidental, exemplary or consequential damages, including but not limited to loss of use, loss of profit, loss of information, interruption of business, income, whether in contract, tort (including but not limited to negligence) or per se

Customer Service
To contact a support specialist, you can use one of the provided options:
Is ByBit a scam?
ByBit - is a relatively popular exchange, in a short period the company has managed to gain popularity among users around the world, as evidenced by the multilingual interface of the project. The main office of the organization is located in Singapore, from where the platform is regulated. The service provides users with comfortable and favorable conditions for trading cryptocurrency. Perpetual futures are the main product offered by the exchange. Also, for futures trading, leverage up to 1:100 is provided. Currently, four derivatives markets are available to clients: BTC/USD, ETH/USD, EOS/USD and XRP/USD. Trading is done through a simple and intuitive platform. A large number of tools, charts and signals for trading are available to users.
The company provides clients with various bonuses and contests with valuable prizes. An affiliate program is provided for traders who want to earn extra income. In order for traders to have round-the-clock access to trading from any location, the developers have made a mobile application, as well as software. Versions for iOS and Android systems are available. Since the platform appeared on the market a little more than one year ago, there are not many reviews from Russian-speaking clients on the Internet yet. In general, users have a positive attitude towards the company. However, there are also negative reviews that point out the shortcomings of the platform. Having thoroughly studied the opportunities that the project provides, can it be argued that ByBit is a scam and swindlers? No, because the company successfully provides its services to traders around the world and is a conscientious organization.
Conclusion
ByBit - is a cryptocurrency exchange that appeared on the market in 2018. In a fairly short period of time, the project has gained popularity among users around the world and continues to develop. The company provides favorable conditions for cooperation and has a wide range of tools and analytical information for comfortable trading. However, the process of cryptocurrency trading itself is risky, so you should familiarize yourself with the rules before starting cooperation. Now the exchange looks good among the competitors, although it has some shortcomings. If you were or are a customer of ByBit, leave your independent opinion on our website to form an independent rating of cryptocurrency exchanges.
The company in the ratings
Robots for cryptocurrency
Activity
New

0

Resolved

0

Not resolved

0
New companies on the site