Crypto exchange offers a convenient and fast platform for margin cryptocurrency trading with high performance and reliable wallet protection.
Read completely
Cryptocurrency exchange
Website
Social media
Date of foundation

2019

Head Office

100 Tras Street, #16-01, 100 AM, Singapore 079027

Types of support

Live Chat

Feedback form on the site

Help Center

WhatsApp

Telegram

Facebook

Twitter

Languages

Russian, English, Turkish, German, Chinese, etc.

Founder
The owner of the company
Manager
Minimum entry amount

Verified

Fiat

Bank card (Visa/MC):

to 25 USD

Unverified

Fiat

Bank card (Visa/MC):

to 25 USD

Maximum input amount

Verified

Fiat

Bank card (Visa/MC):

to 55 000 USD

Unverified

Fiat

Bank card (Visa/MC):

to 55 000 USD

Minimum withdrawal amount
Maximum withdrawal amount

Verified

Cryptocurrency

to 2 BTC / 24-hour limit, no limits in Premium

Unverified

Cryptocurrency

to 2 BTC / 24-hour limit, no limits in Premium

Exchange Commission

Trade Commission:

To

0.075

% for taker /

To

0.025

% for maker

Withdrawal fee:

From

0.0005

BTC

Terminals

TradingView

Age restrictions
Trading volume per day
Number of users
Number of cryptocurrencies
Margin Trading
Leverage
Tokenized assets
Free Demo Account
Types of accounts

Demo, Spot, Contract, Sub-account

Execution of orders

Market Execution (at market price), Limit Order

Methods of replenishment

Bank card (Visa/MC), Cryptocurrencies

Withdrawal methods

Cryptocurrencies

Account currencies

Cryptocurrencies, USD

Types of cryptocurrencies

Bitcoin, Tether, Ethereum, Cardano, Dogecoin, Tron, etc.

Mobile applications
Trader training

Phemex Academy, reference materials, instructional videos, demonstration accounts.

A way to store cryptocurrencies
Fiat accounts
Scalping
Stop Loss and Take Profit Function
Exchangeability for fiat currencies
Trading Strategies

All strategies for trading in the cryptocurrency markets are allowed

Additional features

Registration bonus, trader contests, referral program

Basic verification
Extended AML verification
Regulatory laws

International data protection law

FATF (Financial Action Task Force)

API
Bonuses
Affiliate Program
Benefits

Advantageous conditions for cooperation with the exchange

One of the largest trading volumes on the market

A large number of training materials, including those for beginners

Profitable affiliate program and advanced features

Replenishment from bank accounts and cards

Coin Giveaways on Social Networks and Trader Contests

Reliable wallet protection and 24/7 support

300,000 transactions per second and a mobile app

Fast replenishment of wallets and withdrawal of cryptocurrency from the platform

Disadvantages

A small selection of cryptocurrencies

Company requisites

Legal address:

100 Tras Street, #16-01, 100 AM, Singapore 079027

Overall assessment
Date of update

01.08.2022
Address
100 Tras Street, #16-01, 100 AM, Singapore 079027
Map
Subscribe to this company
Phemex is it a scam? Reviews and description
Exchange
Phemex
focuses on trading cryptocurrency derivatives. The project managers claim that it is the fastest platform for trading perpetual contracts. Phemex's motto: "Trade simple.
Let's see what the developers offer and try to answer the question: cryptocurrency exchange Is Phemex a scam or an honest project?
Why Phemex?
Phemex was launched in November 2019. The official history of the company tells us that the outline of the project appeared back in 2017. Then the site's founder Jack Tao realized how underdeveloped the cryptocurrency market was and decided to change that. By the way, Tao is a veteran of Morgan Stanley, who worked in investment banking for 11 years. Phemex is based in Singapore, the fintech capital of the world. The management company is based there. The exchange has also registered with the U.S. Financial Crimes Enforcement Administration.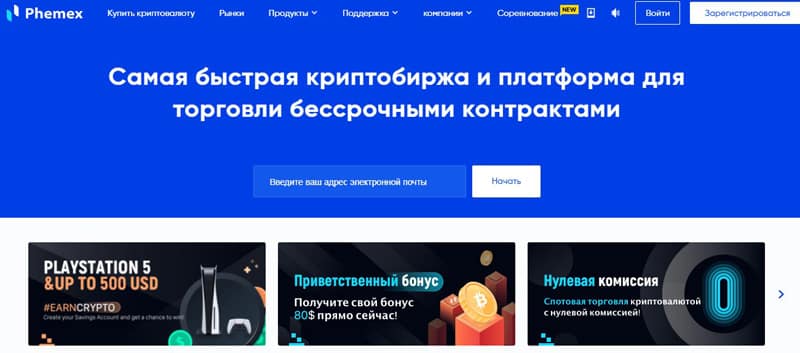 Use the invitation code when registering JSLI82
Contract trading and spot exchange are available on the platform. Spot trades account for a volume of $500 million every day. And together with derivatives, the volume of the exchange is more than two billion dollars every day. That said, there are few coins on the exchange - a total of 13 cryptocurrencies are listed, but trading on Ripple has been temporarily suspended, due to a strict ban by U.S. regulators. Phemex values its FinCEN registration and is therefore in no hurry to restart XRP pairs trades.
The main asset on the exchange is BTC/USDT. This contract accounts for almost 90% of the total trading volume. In second place is Ethereum with Tether, there is only 3.5 percent. The third most popular pair is LINK/USDT, at 2.9%. An important feature of Phemex is that there are no cross rates, even for major cryptocurrencies. All trading pairs are based on USDT. Accordingly, clients will not be able to sell conventional Ethereum for Litecoin. First, they will have to convert Ethereum to USDT, and then sell Stablecoin for Litecoins.
Phemex allows customers to create subaccounts. Essentially, it is a system of accounts within one profile. They are useful for users to divide the total balance for each cryptocurrency or use a separate account for each trading strategy. Another use for subaccounts has found with corporate clients - they help to divide the work of several traders within a single company account. Margin trading is the main "feature" of the platform. It's cryptocurrency trading with the attraction of borrowed funds - the exchange itself gives a loan. Thus, traders are able to enter into transactions with more volume than their balance allows. Margin helps to increase the potential profit from each contract. But risk grows proportionally - losses also multiply when using credit. The maximum leverage offered by Phemex is 1:100. It means that opening order for $1,000 with this leverage, the trader operates with the volume of $100,000.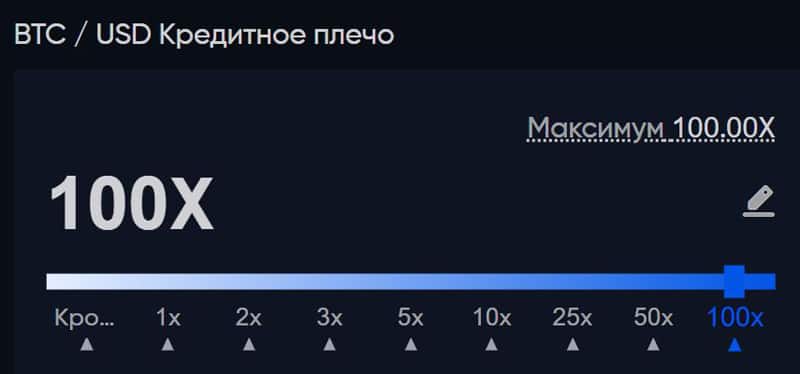 Of course, margin trading is not created for beginners. That's why the platform has a demo section - Phemex Testnet. Here all users who have no experience in trading can practice working with the exchange and not risk a single dollar. Also for newbies on Phemex there is "Academy". It is a big guide with illustrative articles, where novice cryptocurrency users can learn what is ERC20, smart contracts, swaps, derivatives and much more.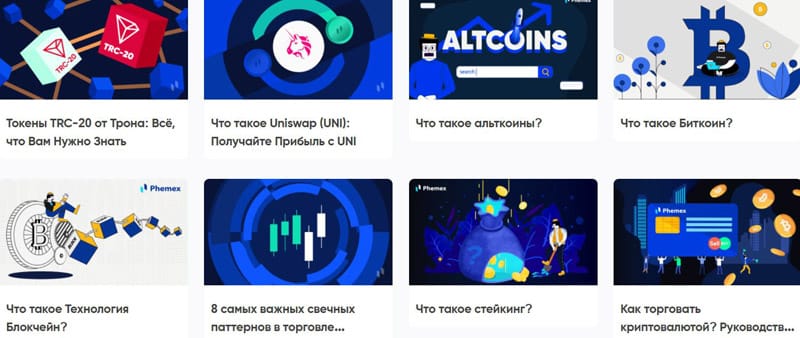 Getting a return
Phemex users can earn passive income by depositing funds at interest. But it's not cryptocurrency farming or blockchain-stacking. It's more like a classic bank deposit. Investors place coins on the balance sheet, and asset managers use them for third-party investments, generating returns for both clients and the exchange itself. This is a new product and so far it looks crude. You can only invest in USDT. There are two plans:
Flexible. Calculation annual rate - 7%. The size of allowed investments: from one dollar to 50 thousand, in cryptocurrency Tether. You can withdraw funds and increase investments at any time.
Seven-day plan. Here funds are placed and frozen for a week. The range of investments is from 100 USDT to 50 thousand. Estimated yield - 10% per annum.
Considering that Tether stabelcoin is pegged to the U.S. dollar exchange rate as one to one, the yield looks interesting. This is quite competitive against bank products offering an annual rate of 0.5% to 1% on currency deposits (How to make money on cryptocurrency?).
How to exchange cryptocurrency on the Phemex platform?
Exchange opportunities on the site phemex.com are limited. As mentioned above, all pairs are tied to USDT and there are no cross rates. There is no simplified internal exchanger either - all transactions take place on the exchange. To exchange crypto, you need to go to "Products" and select "Spot Trading".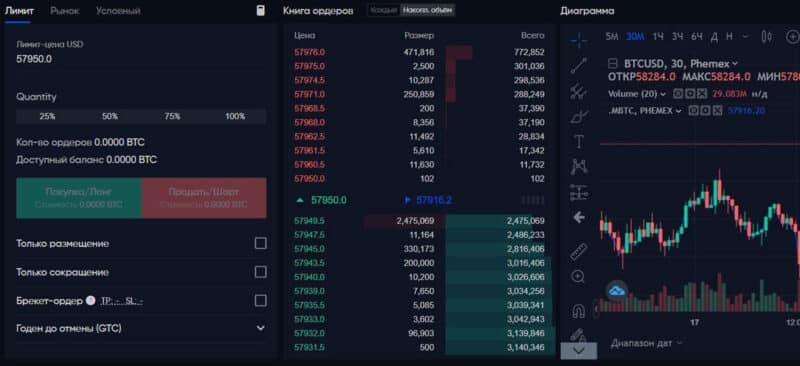 At the top of the page, next to the logo of the exchange, you can select the market you are interested in. As an example, let's take Dogecoin and Tether. Use the form on the left side of the page to place an order:
"Buy" and "Sell". This is the direction of the transaction. If the balance already has USDT, but need to transfer them into DOGE, then choose "Buy".
"Limit" and "Market". These are the tabs that allow you to determine the price or leave it to the market. By selecting "Limit", the price is set by the trader. Suppose he is ready to spend 0.0577 for 1 DOGE. If this price is too high for him, the order can be filled with a suitable variant from the offer book. Perhaps there are traders on the exchange, selling DOGE for 0.0576 and below.
"Market" means that the price will be selected automatically, from the best and most liquid option on the exchange. Here the trader does not need to enter, you only need to specify the number of coins to be bought or tokens to be sold.
There is another setting in the order - interest buttons. This is a way to send a quick amount to the order, the amount of coins available on the balance. In our example, by selecting 25%, we will automatically specify a quarter of the entire USDT balance. Choosing 100%, respectively, we will sell all Tether coins. The tab "Conditional" is available only for traders with Premium status. The user can add additional parameters to his order. For example, that the order will be sent to the book only when the trigger price is reached. Thus, the trader can automatically enter trades only on the quotes he is interested in.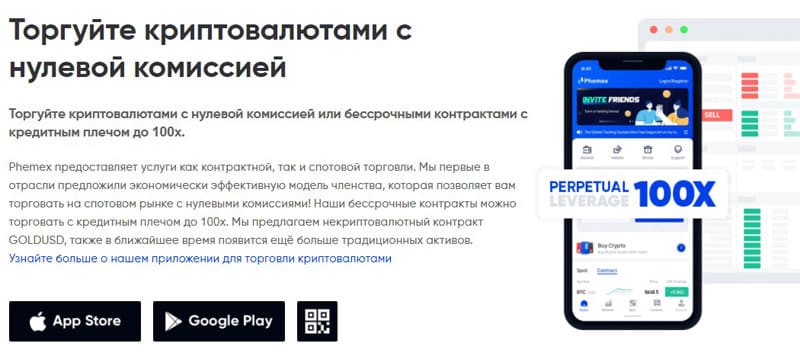 Verification on the Phemex platform
У Phemex crypto exchanges there is no requirement for customer identification. Moreover, there is not even a similar option. All that is required from new users: confirm the email address, connect two-factor authentication via Google Authenticator.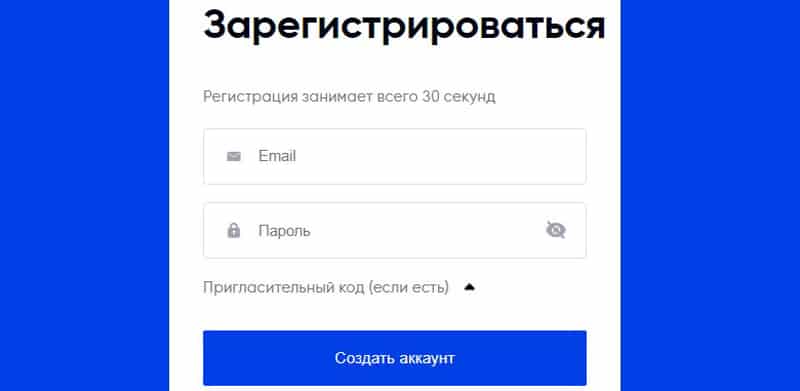 Deposit and withdrawal
Phemex customers can make deposits using cryptocurrencies or bank cards. To make a deposit from a card, you will need:
Go to "Buy Cryptocurrency" from the main menu.
Select the desired crypto from the list. On the line below you must specify the amount to buy. It can be specified in U.S. dollars, euros or even Russian rubles.
Choose a payment method - there are Visa, Mastercard, SEPA and other transaction methods.
Click on the "Buy now" button. The payment gateway will open, where you need to enter the card information and confirm the purchase.
Cryptocurrency is credited to the corresponding wallet account in Femex. The transfer term depends on the particular altcoin and requires confirmation from the network. Sometimes the transaction can take several hours.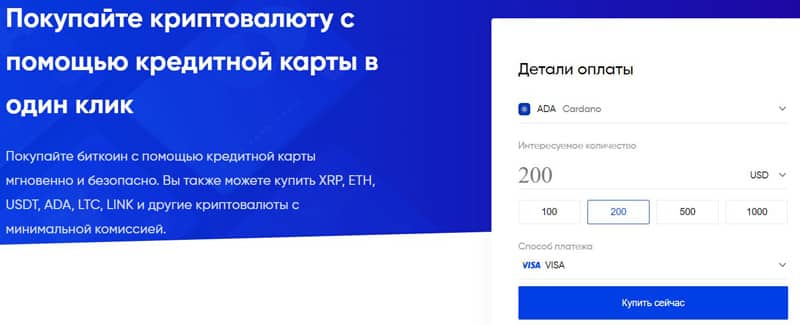 Another way to deposit - transfer in cryptocurrency from third-party storage. To do this, go to "Assets" menu and click "Deposit". In the drop-down list you can choose the cryptocurrencies available, by default the deposit in Bitcoin opens. The platform generates a separate wallet for each altcoin. So don't try to send, say, Bitcoin Cash to a BTC address - it will lead to loss of funds.

Copy the address you receive and enter it in the form to send coins from your third-party wallet. You can also open the QR code and scan it if you use a smartphone. The crediting rate for each cryptocurrency is also different. For Bitcoin, Phemex requires only one confirmation from the network. Therefore, the deposit in this cryptocurrency comes quickly. You can withdraw assets by opening the "Withdraw from Account" menu. To increase security, it is allowed to send the coins only to the accounts recorded in the withdrawal list.
To add an account there, go to the "Manage Addresses" page and click "Add". In the form that appears, specify the name of the cryptocurrency, the public address of the wallet, and come up with a name for the saved vault. You will need authentication via Google Authenticator. Once you receive the six-digit code, the system will save the recorded key. In the "Withdraw from account" menu, select the desired cryptocurrency from the list and specify the previously saved wallet. It remains only to enter the number of coins to send and confirm the withdrawal.
Feemex.com crypto exchange commission
Commissions on the site phemex.com depend on the market where the transaction takes place, as well as on the client's status. Users exchanging cryptocurrency on the spot market pay 0.10% regardless of the direction of the transaction. Contract traders have a different system:
Takers pay a commission of 0.075%.
Makers supplying orders to the book, on the contrary, receive a discount. Accordingly, their real commission is 0.025%.
Night fees do not apply. The commission amount is fixed and does not depend on the monthly volumes or the balance held by the trader.

How do I get a discount on commissions?
Clients have the opportunity to make spot trades for free, without commission. For this purpose it is necessary to obtain the Premium status. It is granted in several cases:
Trial "premium" for seven days. All new clients receive it. It does not allow you to send conditional orders to the exchange, but activates free transactions on the spot market. That is, all new users do not pay commissions on the spot in the first week after registration.
A full 30-day premium version. You'll need to complete the tasks: subscribe to the official Twitter Phemex, retweet, tag your friends and add a comment. Then you need to send an application, it will be reviewed and given a status.
Another way to get 30 days Premium: you have to bring at least one friend using referral link or code, make a deposit of 0.02 BTC and close at least one BTC/USDT contract with amount from 1000 USD.
Finally, users can simply buy premium status. A one-month subscription will cost $9.99 USD, an annual subscription costs $69.99. You can pay with Tether or in any other cryptocurrency at an equivalent rate. By the way, the subscription to the premium service removes restrictions on the withdrawal of cryptocurrency from the account.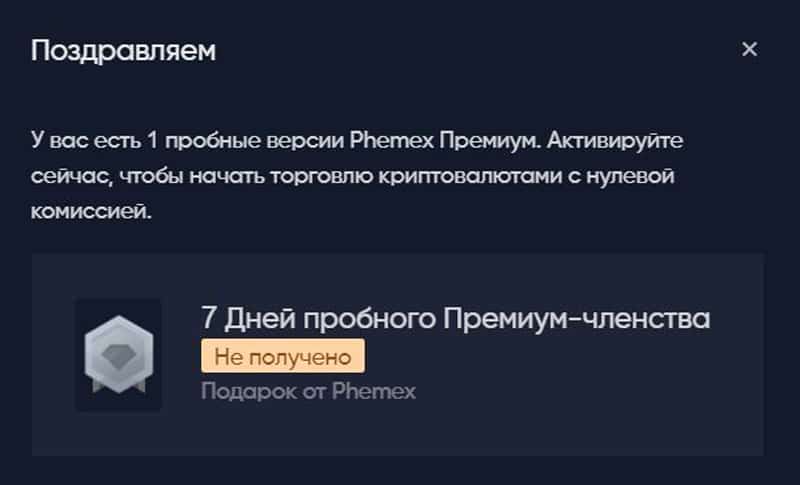 Withdrawal fees
Withdrawals from trading accounts on Phemex are free. But withdrawals from internal wallets and sending cryptocurrency to third-party vaults are covered by fees:
Bitcoin: 0.0005 BTC.
Ethereum: 0.006 ETH.
Tether (ERC20/TRC20): 10 USDT/0 USDT.
Ripple: 0.45 XRP.
Chainlink: 0.25 LINK.
Tezos: 0.5 XTZ.
Litecoin: 0.001 LTC.
Cardano: 1 ADA.
Tron: 1 TRX.
Ontology: 1 ONT.
Bitcoin Cash: 0.001 BCH.
Neo: 0 NEO.
EOS: 0.1 EOS.
Dogecoin: 20 DOGE.
Minimum allowed withdrawal limit for Bitcoin wallet is 0.002 BTC, Ethereum - 0.05 ETH, Ripple - 0.5 XRP, Tether - 2 USDT. Check "Rates & Conditions" page for the full list of limits and fees.
Phemex bonuses
The company is constantly coming up with different promotions and companies. With their help, clients can get additional bonuses. The exchange seeks not only to attract new users, but also to increase activity among existing traders.
Welcome Bonus $180
Phemex offers a welcome bonus of up to $180. 10 USD can be received after making a deposit of 0.003 BTC or 0.04 ETH. You can get another $10 when you sign up for an exchange account and retweet a linked post. $60 you can get with the following deposits:
from 0.05 BTC;
from 2,000 USDT;
from 1.5 ETH;
from 80 LINK;
From 700 XTZ;
From 15 LTC.
Your BTCUSD-BTC marginal trades must be $$50,000 or more. You can get another $10 each in two ways:
Place one spot order of 500 USDT or more.
Make one trade on marginal BTCUSD-BTC contracts worth from $5000.
Competition of traders
The Phemex Arena is a large-scale championship among traders, held on the stock exchange. The size of the prize pool depends on the number of participants. If one thousand traders enter the tournament, the total prize will be 1.5 BTC. 10 thousand customers will form a pool of 25 bitcoins, but if the number of participants exceeds 18 thousand, then 45 BTC will be drawn. The Arena is a team championship. Every trader who applied for participation can join one of the teams or create their own. Conditions:
Only perpetual BTC/USDT contracts on the trading account of the client are taken into account.
It is necessary to make a deposit of 0.005 BTC immediately after registration.
The team with the highest ROI wins.
The team with the most points will receive 25% from the prize pool. The second place team will take 15 percent, while the bronze medalists will receive 8%. Places four through ten will proportionally share another 30% of the prize pool. Separately, the top participants from the winning teams will be awarded.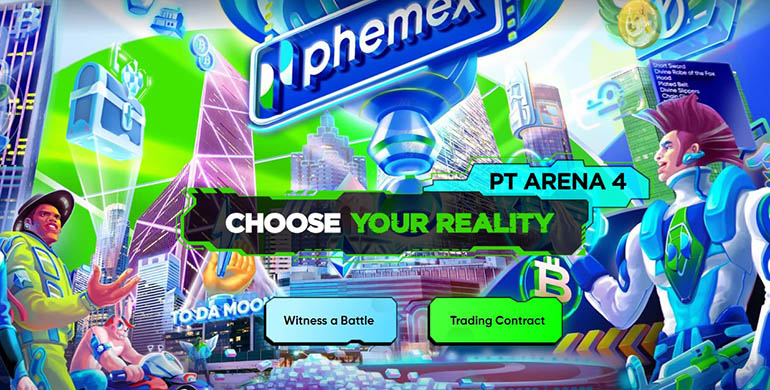 Referral program
Femex has an affiliate program. For each customer you refer, you get a 10% discount on your taker commission. If a referral activates the welcome bonus, the user who invited him will receive 50% of this reward. It is also possible to share Premium status. To do this, you need to send a special letter to the e-mail address of a friend. This is available in the "Referral" menu, in your personal profile.
Phemex has also introduced another, improved affiliate program called All Stars. This model allows members to receive 50% commissions from all invited clients. And these are regular payments, with no time limit. In parallel, you can earn more 10% if you attract new members to the All Stars. Phemex, in turn, promises round-the-clock support for partners, transparency in reporting and fairness in the distribution and accrual of bonuses.

Complaints about Phemex
Phemex is a young project. But the company has already received a lot of positive reviews and good assessment from traders. Users of this crypto exchange like the legal protection, relative anonymity and high liquidity of the platform. If you evaluate the reviews on the Internet, it becomes clear what the company's clients like the most:
There is no need for verification, no need to send documents and no risk of losing personal data.
High level of security. The exchange forces the user to connect two-factor authentication and uses simple but reliable security methods.
Quick execution of orders.
Fast replenishment of wallets and withdrawal of cryptocurrency from the platform.
Huge available leverage, allowing you to operate with large volumes.

As for the negative reviews, they are also there. Customers complain that few cryptocurrencies are available on the exchange. The suspension of Ripple trading also caused a negative reaction. Although users were warned in advance and XRP can still be withdrawn from the site. On popular review sites, one can notice negative comments with scam ads woven in. This spoils the company's score. Alas, all popular crypto exchanges face this problem.

If there are any reviews about Phemex Crypto Exchange, we'll be sure to post the information on social media. Sign up so you don't miss anything!
Please keep yourself informed about news and complaints. We copy the most valuable information to social networks, so please sign up!
Crypto exchange regulation
The exchange is managed by Phemex Limited, a company registered in Singapore. The holding company also includes Phemex Financial, which is responsible for financial opportunities. Singapore was chosen as the main jurisdiction for a reason - it is a developed center, attracting cash flows from all over Asia. At the same time, it is not under the influence of the Chinese authorities, like Hong Kong or Macao. The platform gained access to the U.S. market when it registered with the U.S. FinCEN. It is one of the toughest financial commissions in the world. Therefore, the activities of the exchange fell under serious supervision of the regulators.
Operating transparently and legally, Phemex accepts laws and regulations from both the U.S. and the Singapore government. This means that despite the anonymity of customers, the company will still provide available information when requested by authorities. For example, if any transaction is flagged as criminal or suspicious. In such a situation, Femex has every right to freeze the customer's account and request additional information from the customer.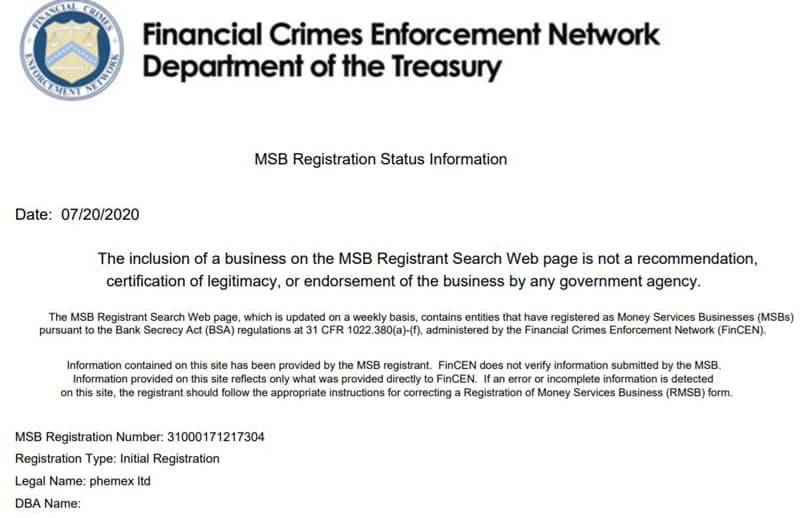 phemex.com User Agreement
All customers who open an account at phemex.com sign a user agreement. It is written on behalf of the management company and explains the rules for using the services. The agreement separately discloses all the risks associated with both cryptocurrency trading and Bitcoin itself. For example, the developers tell us that cryptocurrency is a highly volatile commodity built on audience confidence. Confidence in an asset can quickly collapse due to software updates, theft or other unexpected changes.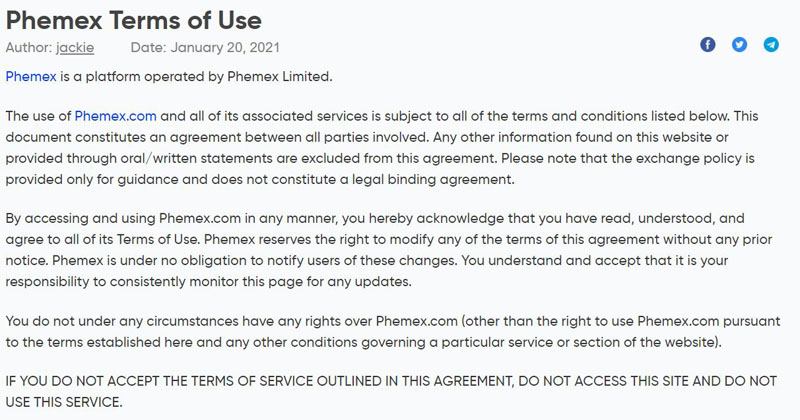 Phemex state that the company has an insurance fund that can cover losses due to technical failures or turbo volatility. But, if the fund is depleted, the company reserves the right to close customers' positions, regardless of whether losses or profits are recorded. Users accept this potential risk when they start trading on the platform. There are several countries and regions where the use of the platform is prohibited. The list includes Crimea, and Sevastopol is listed separately. If the exchange administration discovers that the trader resides in this region, they have the right to block the account. Withdraw funds will have to use the support service. In turn, the company's management is committed to maintaining the confidentiality of users' personal information and protecting their assets, in accordance with international practices.
Customer Service
Phemex has a well-developed support service, which also works in Russian. Customers can contact the support team by several methods:
E-mail your request to [email protected]
By contacting an operator in the chat room on the site.
Social media. There are official pages on Twitter, VKontakte, Facebook and LinkedIN. Available chat in Telegram.
The quality of the helpdesk's work is rated high. They answer quickly, quite in-depth. A detailed help center is also available on the platform.
Is Phemex a scam?
In just one year. Phemex has grown from a startup to an international cryptocurrency exchange. The company did not become a standard exchange, but focused on margin products and the derivatives market. Already today, Phemex is among the leading operators of perpetual contracts. Our opinion: Phemex is not a scam. It is a reputable company that has been vetted by one of the most vicious regulators in the world, the U.S. Financial Crimes Enforcement Agency. Few large crypto exchanges have such an achievement.
Cryptocurrency portal Nomics evaluated the Femex exchange and gave it a transparency rating of "A". This means that the company is completely transparent and provides detailed data on its volumes, reserves and coverage. Each transaction on such exchanges is fully backed by real assets placed in the platform's accounts.
Conclusion
The purpose of launching Phemex - is to create a convenient and fast space for margin-based cryptocurrency trading. It seems that the creators of the platform managed to cope with this. It is really convenient to work with this exchange. But Femex is significantly different from the service that most cryptocurrency users need. Here you will not be able to exchange rubles for Ethereum and then transfer them into some promising altcoin.
The site does not provide its own mining pool, there is no full-fledged possibility to deposit cryptocurrency for interest and organize passive income. Phemex was created purely for trading, which the site managers say openly. And most crypto-users simply do not need such a product. But traders will love the platform - it's one of the most convenient and modern projects on the market.
Robots for cryptocurrency