Licensed cryptocurrency exchanger with exchange functions supports bank cards and fiat currencies, cryptocurrency loans and deposits are available on the platform.
Read completely
Cryptocurrency exchange
Official website
Social media
Date of foundation

2017

Head Office

Lastekodu 25-38, Tallinn, 10113, Estonia

Types of support
Support by phone
Languages

English

Founder
The owner of the company
Manager
Minimum entry amount
Maximum input amount
Minimum withdrawal amount

Verified

Cryptocurrency

From 50 USDT
From 0.001 BTC
From 0.01 ETH
From 0.002 LTC
From 25 XRP

Fiat Currency

Advcash:

from 100 RUB

Sepa:

from 10 EUR

SWIFT:

from 5 000 EUR

Unverified

Cryptocurrency

From 50 USDT
From 0.001 BTC
From 0.01 ETH
From 0.002 LTC
From 25 XRP

Fiat Currency

Advcash:

from 100 RUB

Sepa:

from 10 EUR

SWIFT:

from 5 000 EUR

Maximum withdrawal amount
Exchange Commission

Commission per transaction: 0 %

Age restrictions

Depends on the laws of your country

Number of users

70000+

The number of users is constantly growing

Number of cryptocurrencies

17+

The number of cryptocurrencies may change

Margin Trading
Tokenized assets
Free Demo Account
Types of accounts
Methods of replenishment

Bank card (Visa/MC), Cryptocurrencies, Advcash, SWIFT, Sepa

Withdrawal methods

Bank card (Visa/MC), Cryptocurrencies, Advcash

Account currencies

EUR, USD, GBP, Cryptocurrencies

Types of cryptocurrencies

Bitcoin, Bitcoin Cash, Ethereum, Litecoin, Tether, Monero, Paxos Standard, Stellar, etc.

Licenses

Licensed

European Financial Licenses FVT000114, FFA000241

(Active)

Mobile applications
Trader training
A way to store cryptocurrencies
Fiat accounts
Scalping
Stop Loss and Take Profit Function
Exchangeability for fiat currencies
Terminal capabilities

Updated quotes, transaction amount

Basic verification
Extended AML verification

Passport, ID card or driver's license, as well as selfies with the document

Regulatory laws
API
Bonuses
Affiliate Program

Registration

0.2% from referral exchange, 0.2% from credit, 0.1% from stacking

Benefits

Support for fiat currencies, both deposit and withdrawal

High rates of return on deposits placed

Adequate credit conditions

Cheap exchange at competitive rates

Working affiliate program with remuneration in stable cryptocurrency

Support for rubles and bank cards

Official Regulator License

Disadvantages

Incomplete mobile apps (according to online reviews)

Company requisites

Legal address:

Lastekodu 25-38, Tallinn, 10113, Estonia

Overall assessment
Date of update

04.03.2023
Address
Lastekodu 25-38, Tallinn, 10113, Estonia
Map
Subscribe to this company
CoinLoan is this a scam? Reviews and description
CoinLoan
- is a cryptocurrency project launched in 2017 in Estonia. It is essentially an exchanger, but with exchange functions, as well as a loan and credit market. Users can not only exchange tokens, but also invest them at interest. KYC customers take secured loans in cryptocurrency. In this review, let's find out if it's a scam.
cryptocurrency exchange
 CoinLoan?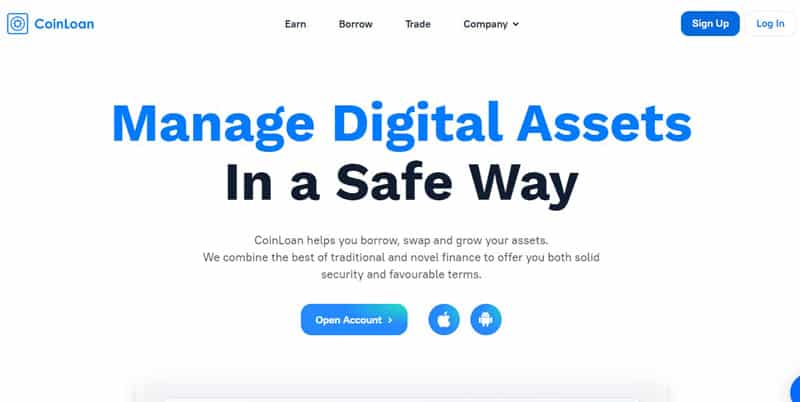 Discount 50% on commissions when you go to
at
Why CoinLoan?
CoinLoan is one of the few licensed exchangers that support SWIFT and SEPA money transfers. Fiat can also be used for transactions with Visa and Mastercard. And of electronic payment systems connected AdvCash. The site supports fiat accounts. Available deposits in euros, rubles and pounds sterling, with competitive rates up to 12.3%. Support for Tether, USDCoin, Paxos Standard, DAI, True USD and Binance USD stabelcoins is provided. Credit rates are moderate, ranging from 4.5 to 6.9%, depending on the currency and collateral used.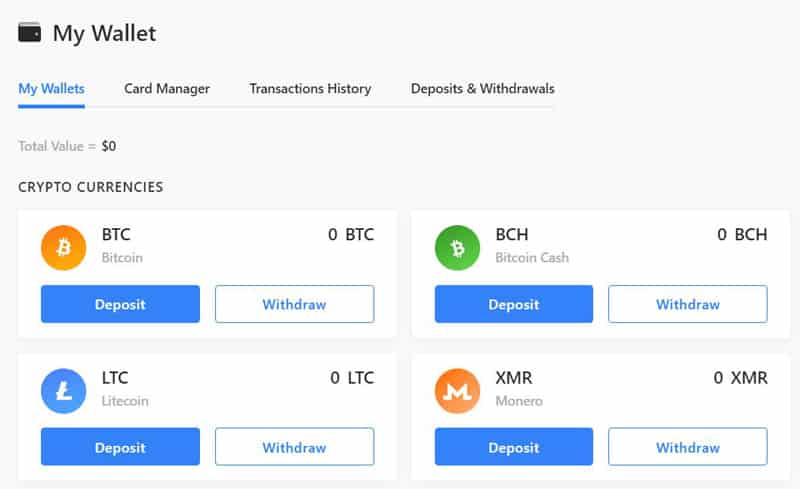 CoinLoan has launched its own token, CLT. If a user keeps 125 CLT on their Coinloan balance, they get an additional return of 0.1% on the invested funds. The percentage grows as CLTs are accumulated. For example, if 2,500 tokens are deposited, the increment to APY will be a tangible 2%. As a marketable asset, the token responds well to the growth of the Coinloan platform. CLT is traded on exchanges Bittrex, HitBTC, Hotbit and Uniswap. The total capitalization exceeds $290 million. Users' assets are placed on "cold" wallets protected by multi-signatures. Only the required volume of coins is involved in active processes. Nevertheless, the system is fine-tuned and if necessary, the platform quickly provides liquidity and does not lose the exchange rate. The security system also works on the user side - there is a two-factor authentication to log into the account, with an additional request for a code when withdrawing funds or changing the password. Mobile applications for iOS and Android are available.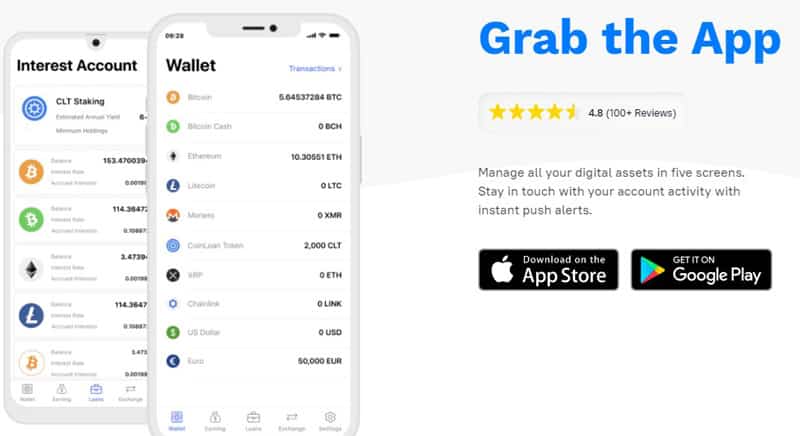 How do I buy cryptocurrency at coinloan.io?
Before buying cryptocurrency You need to top up the balance of CoinLoan. To do this, go to My Wallet menu. Then choose the currency of the deposit. This can be crypto, stabelcoin or fiat money. After clicking on Deposit, a window with details will open. The client must transfer money or coins to the specified details, after which they will be credited to the wallet. The entire exchange of cryptocurrency is done through the Crypto Exchange menu. On the website coinloan.io no exchange interface with bright charts and indicators. Transactions between currencies go through a simple window consisting of two forms:
In the line You Pay you must specify the number of coins to exchange. You can choose currency or crypto in the drop-down list next to it.
In You Get, you need to specify what kind of cryptocurrency the client wants to get. The field will automatically indicate the amount of proceeds.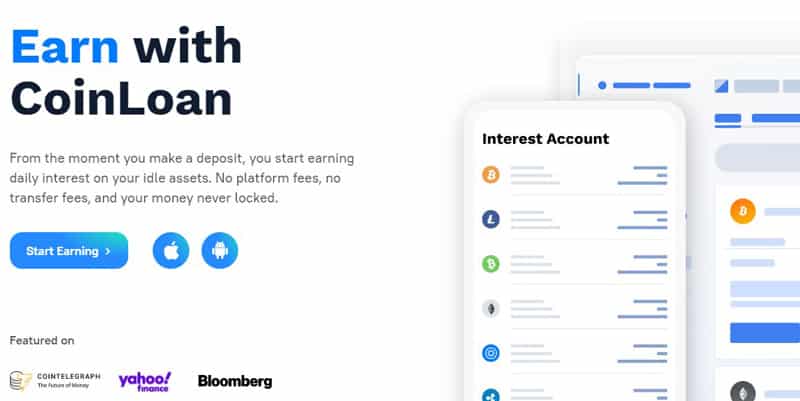 When the parameters of the exchange are specified, it remains to click on Exchange, to the right of the form. A brief summary of the transaction is shown next to it. The exchange rate is updated every thirty seconds. In the Interest Account menu users can invest Cryptocurrencies at interest and earn coins. The mechanism is simple - you need to click on Deposit and specify the number of coins to deposit. The money is not frozen, they can be withdrawn at any time. But for maximum profit, it is recommended to keep the funds longer to get interest capitalization. In the Instant Loan menu, CoinLoan customers can apply for a cryptocurrency loan. The exchanger requires collateral - coins placed in the wallet. The size of the minimum loan depends on the specific currency. For example, the loan in rubles starts from 5 thousand, and in euros - from 100€.

Verification on the CoinLoan platform
Verification on the site coinloan.io obligatory. An anonymous client will not even be able to make a deposit in Bitcoin. To proceed to identification, you need to open My Account menu and select Verification.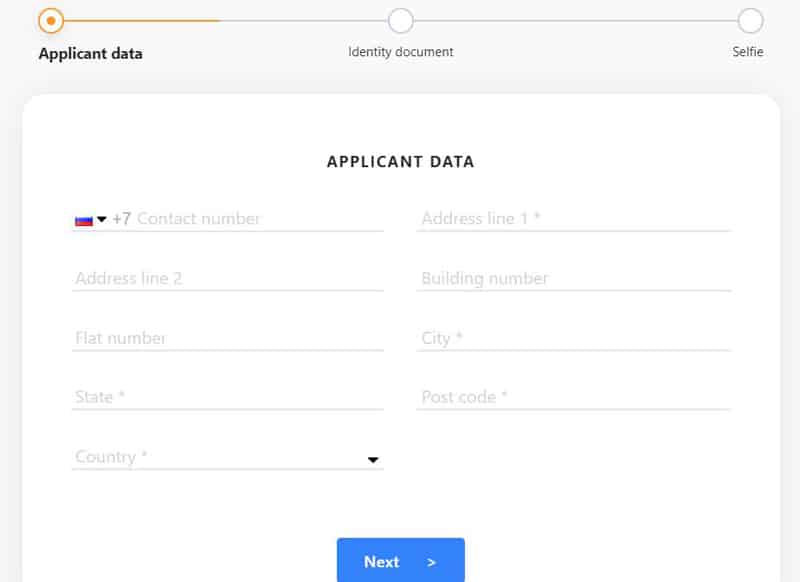 The procedure consists of three steps - filling out the form, uploading the document and taking selfies. In the questionnaire you must specify:
Cell phone number.
Registration address: country and region, city and street name, house and apartment number.
Zip code.
You also need to select the country of residence in the drop-down list.
The second step is to upload a scan of a document proving your identity. This can be a passport, ID card or driver's license. CoinLoan accepts documents in Russian, so Russian citizens can use their internal passport. At the third stage the system will ask for selfies. You have to hold the document used in the previous step. You can take a photo directly on the exchanger's website. If there is no webcam, the procedure can be done from a smartphone.
Terms of buying cryptocurrency
CoinLoan has no direct bans on the use of the service for citizens of individual countries. At least, the company does not provide a list of "banned countries". Each application for verification is considered separately. Probably the company will not give access to the exchanger for citizens of North Korea, Iran, Somalia and similar countries. Residents of Russia, Ukraine, Belarus and Kazakhstan have no restrictions - the site coinloan.io works with them without any problems. The exception is direct dollar deposits from bank accounts. This function is not available to CIS residents. But you can use euros, rubles or British pounds sterling. If you need a dollar transfer, the exchanger recommends using AdvCash. Coinloan cooperates with corporate clients on an individual basis. If the trader represents a company or works through a legal entity, he should contact the support service. The company's specialists will prepare documents and conduct onboarding.
Deposit and withdrawal limits
There is no single limit for cryptocurrency deposit - CoinLoan can accept any amount. Here you should take into account the limits of the wallet used for deposit and network commission. Minimum fiat deposit:
AdvCash: 50 euros, dollars or pounds. Or 5,000 rubles.
SWIFT: the equivalent of 1000 euros.
SEPA: depends on the service used for the deposit. On average - 10 euros.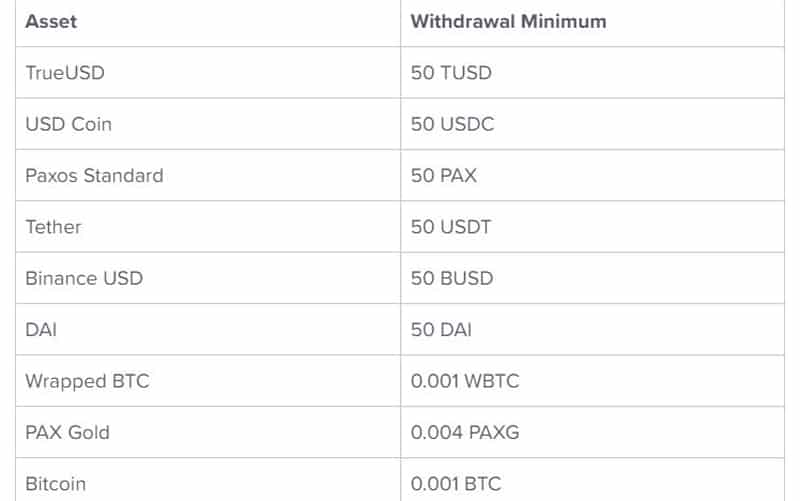 Minimum deposit in Interest Account: 25 euros or pounds, 5 thousand rubles, the equivalent of $100 in stabelcoins. Withdrawal limits from CoinLoan in popular cryptocurrencies:
Bitcoin: 0.001 BTC.
Ethereum: 0.02 ETH.
Litecoin: 0.002 LTC.
Monero: 0.01 XMR.
Ripple: 25 XRP.
Stablecoins: The equivalent of $50.
The minimum allowable payment in fiat currencies depends on the system used. For SEPA it is 10 euros. For SWIFT - five thousand euros or pounds sterling. AdvCash users can withdraw amounts starting from 50 euros or pounds, or from 100 Russian rubles.
coinloan.io commissions
CoinLoan does not charge a fee for deposits in crypto or fiat currency. The exception - transactions via bank cards Visa or Mastercard. Here the commission will be 2 euros and 4.2% of the deposit. Withdrawal of cryptocurrency and fiat funds from the account is also free. But users should keep in mind that cryptocurrency transactions are charged by the blockchain itself. When exchanging cryptocurrency and fiat in the Crypto Exchange section, there is no commission. But the site earns on the difference in rates, so the quotes may not be the most profitable. The main source of income for CoinLoan is loans. The platform charges 1% of the total loan amount. The rate can be halved by using internal CLT tokens.
Coinloan Bonuses
CoinLoan has no big bonuses, regular promotions or loyalty program. The company charges small commissions as it is. You can benefit by placing CLT tokens in your account. Then the stacking rate will be higher and the commission for credits will be halved.
Pranks on Twitter
The company holds contests in social networks, mainly on Twitter. Readers are invited to guess the rate of the selected cryptocurrency and leave a comment under the tweet. The author of the closest prediction receives a reward in the form of CLT tokens.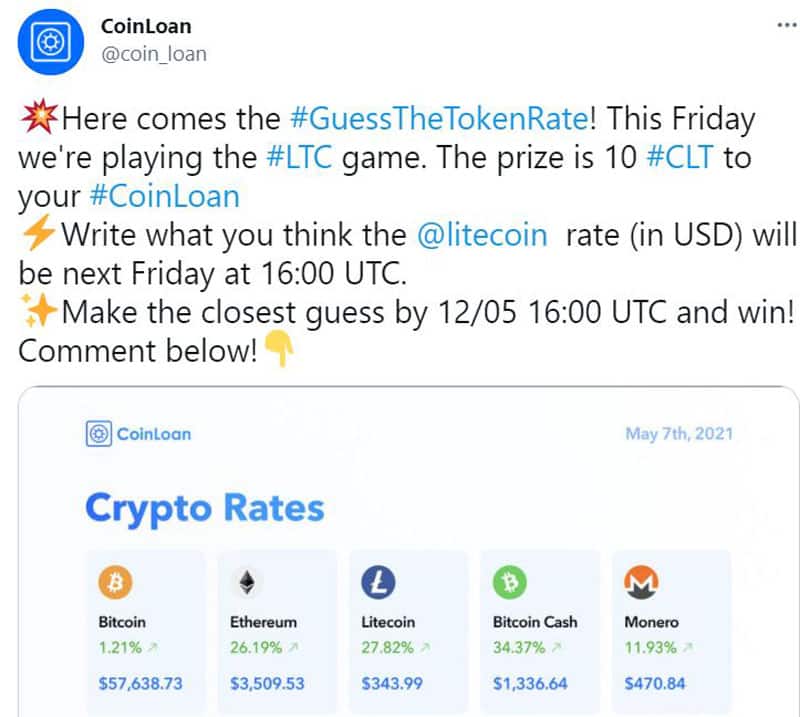 Reward for mistakes
On the site coinloan.io there is a Bug Bounty program. This is a reward for users who have discovered technical errors and vulnerabilities in the system. Basically, such programs are aimed at programmers and engineers. If a bug is found, you can leave a report on the OpenBugBounty portal. The reward is discussed individually, depending on the specific technical error.
Discount 50%
Using the above link, you can get a 50% discount on commissions without using special promo codes. The offer has been active for several years.
Referral program
CoinLoan has an affiliate program. Any user of the service can become its participant. He receives a unique link. A new client who follows the link and opens an account is registered as a referral of the participant. User who brought new clients earn 0.2% from each exchange of the brought person, 0.2% from the sum of the given credit, and 0.1% from the deposit. Rewards are credited in USDC stabecoins, directly into the participant's wallet on the site.
Complaints against CoinLoan
CoinLoan is a growing service with a good business reputation. We analyzed websites with customer comments. Most of the evaluations from people are positive. The company deserves praise for:
Support for fiat currencies, both for deposit and withdrawal.
High rates of return on deposits placed.
Adequate credit conditions.
Cheap exchange at competitive rates.
Working affiliate program with remuneration in stable cryptocurrency.
Users speak well of the company's support service and the ease of operations. As for the negatives, such comments also occur. "Minus" is put for the small number of supported cryptocurrencies, inaccessibility of direct dollar transfers from the bank account. There are also complaints about the work of mobile applications. Note that the support service is present on the sites with reviews, is in contact with customers and solves problems.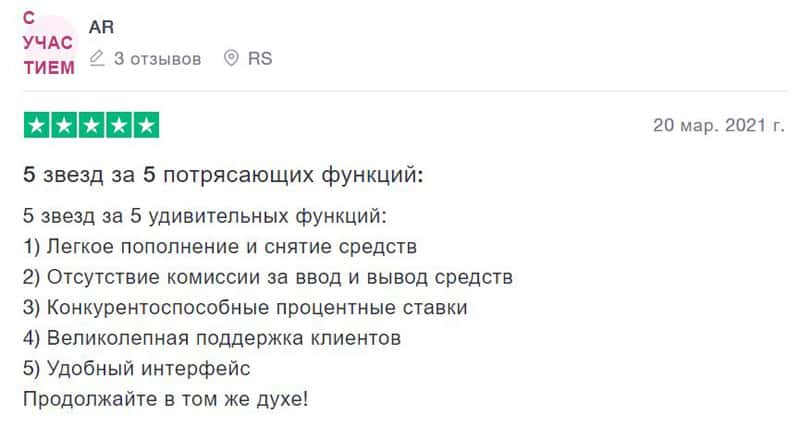 If there are any reviews about CoinLoan service, we will definitely publish the information in social networks. Sign up so you don't miss anything!
Please keep yourself informed about news and complaints. We copy the most valuable information to social networks, so please sign up!
Service regulation
Legally, the project is located in Estonia. This state attracts cryptocurrency startups with its prepared legislation, licensing and EU membership. The exchanger is operated by CoinLoan OÜ, a company registered in Tallinn. And Coinloan employees are scattered around the world - the firm prefers a remote working format.
CoinLoan Regulator
Since Coinloan is headquartered in Estonia, the company must comply with the laws of that country and, at the same time, with the regulations of the European Union. CoinLoan OÜ has received a license FVT000114, which entitles it to provide financial services and act as a virtual currency provider. Regulators: Estonian Consumer Protection and Technical Supervision Department (Tarbijakaitse ja Tehnilise Järelevalve Ametit), Estonian Tax and Customs Board, European Central Bank.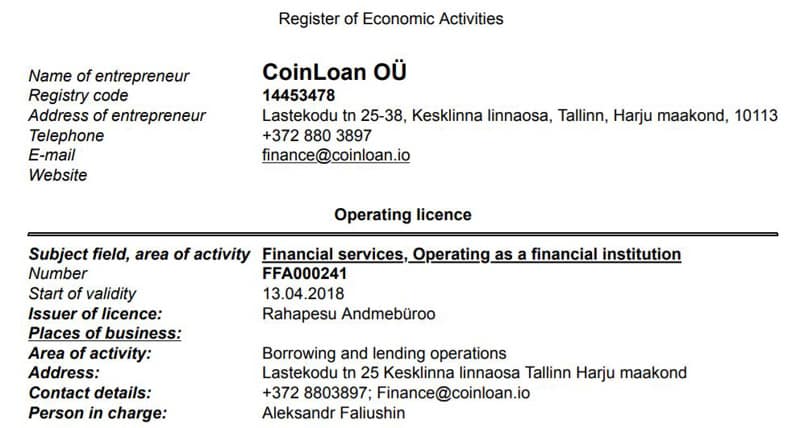 Coinloan.io User Agreement
By registering on the site, CoinLoan clients automatically accept the user agreement. It describes the rules of the platform and the company's interaction with users. According to the document, the accounts opened on the platform are individual. This means that only one person in whose name the account is registered can use it. Sharing is not allowed, and account transfer is also prohibited.

Clause 2.3.3 specifies that customers are prohibited from using the platform in countries where cryptocurrency trading is illegal or controlled. Although Coinloan provides cryptocurrency loans, clause 2.19 indicates that the platform cannot be considered a lending institution or an intermediary for loans and deposits.
The company does not take on the role of a tax agent. This means that users determine their own tax situation, submit tax returns and pay the required taxes themselves. But Coinloan can document transactions and provide a standardized statement if required to declare profits or losses.
Is CoinLoan a scam?
We studied the platform CoinLoanWe have read its legal documentation, reviews and licenses of the company. Based on the information we received, we formed an opinion that CoinLoan is not a scam. It is a working project, providing cryptocurrency exchange, loans and deposits in digital assets.
The company is registered in Estonia, and this information is confirmed by state registers. Also the legal entity has obtained the necessary licenses to conduct financial activities. Tax reports available in public sources show a large turnover of the firm. CoinLoan OÜ is not involved in any fraud lawsuits and has not been accused of financial crimes. The platform accepts payments through a bank. This means that it has undergone additional checks by the partner banks of the European Union. The fact that the company was able to place its own token on the Bittrex platform also inspires respect.
Conclusion
CoinLoan positions itself as an exchanger. And the platform copes with this function - here you can quickly exchange one token for another, or convert cryptocurrency into fiat. In addition, the service allows you to earn on stacking cryptocurrencies, and also accepts fiat money for deposits at a solid interest rate. The platform works through a website and an app. Both options are made clear for beginners. CoinLoan can accept deposits via bank card or transfer with minimal commissions, so it is suitable for the role of a permanent cryptocurrency assistant.
No reviews yet, be the first!
The company in the ratings
Robots for cryptocurrency
Activity
New

0

Resolved

0

Not resolved

0