Functional and convenient exchange offers cryptocurrency trading with options of leverage, hedging, selection of orders, etc.
Cryptocurrency exchange
Official website
Social media
Date of foundation

2020

Head Office
Types of support

[email protected]

Tickets in my personal cabinet

Live Chat

Help Center

Telegram

Twitter

Facebook

Instagram

Support by phone
Languages

English, Chinese, Spanish, French, Turkish, Portuguese, Russian, etc.

Founder
The owner of the company
Manager
Minimum entry amount

Verified

Cryptocurrency

From 0.00000001 USDT
From 0.00005 BTC
From 0.001 ETH
From 0.0001 LTC

Unverified

Cryptocurrency

From 0.00000001 USDT
From 0.00005 BTC
From 0.001 ETH
From 0.0001 LTC

Maximum input amount
Maximum withdrawal amount

Verified

Cryptocurrency

To 2 000 BTC / In 24 hours

Exchange Commission

Spot Trading:

Until

0.8

% for maker /

Until

0.1

% for taker

Futures:

Until

0.02

% for maker /

Until

0.05

% for taker

Perpetual Swaps:

Until

0.02

% for maker /

Until

0.05

% for taker

Options:

Until

0.02

% for maker /

Until

0.05

% for taker

Withdrawal fee:

0.0000002

BTC / Commission for withdrawal does not apply to all cryptocurrencies /

Until

1.6

% / For USDT /

0.00096

ETH

Terminals

TradingView

Age restrictions
Trading volume per day
Number of cryptocurrencies
Number of trading instruments
Margin Trading
Leverage
Tokenized assets
Free Demo Account
Types of accounts
Execution of orders

Stop Limit, Market Execution (at market price), Limit Order, Trailing Stop Order, etc.

Methods of replenishment

Bank card (Visa/MC/MIR), Apple Pay, Advcash, Webmoney, Qiwi, YuMoneu, Cryptocurrencies

Withdrawal methods

Bank transfer, Alipay, WeChat Pay, Cryptocurrencies

Account currencies

Cryptocurrency, CNY, USD, EUR, AUD, GBP, etc.

Types of cryptocurrencies

Bitcoin, Ethereum, Litecoin, Tether, Ripple, etc.

Mobile applications
Trader training

Help center, trading academy

A way to store cryptocurrencies
Fiat accounts
Scalping
Stop Loss and Take Profit Function
Exchangeability for fiat currencies
Passive income

Investment loans, decentralized financial (DeFi) and other services

Automated Trading

Using your own cryptobot

Mining Pool

Earnings from stable mining, hedging and real-time data

Brokerage services

Earnings on commissions as a broker

Blockdream Ventures

A foundation focused on the study of quality and promising projects

Futures trading

Derivatives trading in a special account

Steaking

Passive profit from holding coins on the balance of the exchange

Crypto loans

More than 20 assets available for loan

P2P trading

Create your own trading floor and trade crypto with others in your local currency

Basic verification
Extended AML verification

Passport and other identity documents

Regulatory laws

International data protection law

FATF (Financial Action Task Force)

API
Bonuses
Affiliate Program
Benefits

Large selection of currency pairs

Easy registration and verification procedure

Availability of several interface languages

Disadvantages

Focusing on the Chinese market

Company requisites

Legal name:

Aux Cayes FinTech Co. Ltd.

Overall assessment
Date of update

01.03.2023
Subscribe to this company
OKX (formerly OKEx) is this a scam? Reviews and description
OKX Crypto Exchange
(formerly OKEx)- one of the popular and most functional today resources for full-fledged work with digital assets. The platform offers an impressive set of coins, including rare ones, interesting options (leverage, hedging, etc.), fast withdrawal of funds and high level of system protection. All this increases the trust of digital market players and makes it a stable and reliable resource on the market.
Still, OKH is a scam, a scam or a safe platform that allows you to make decent money on cryptocurrency tradingHow can you make transactions with a large number of coins and pay a modest fee? The answers to these and other questions can be found in the detailed review of the exchange below.
Why OKH?
Cryptocurrency exchange OKEx is a subsidiary of a large Chinese platform OKCoin. OKH began its work in 2014 under its strict control, and in 2017, having separated from it, it became an independent service. It is a convenient platform with a desktop version downloadable to the trader's computer. It is also possible to perform all trading operations in the mobile application. The site supports English, Chinese and also one of its dialects - Cantonese. The mobile app works only in Chinese. On the official website okx.com all information is presented as simply as possible, so that even a minimal knowledge of English is sufficient to understand it. If necessary, you can run a browser-based translation of the material.
The platform offers changing the color scheme of the terminal, adding indicators, security settings and much more. C2C trading (customer to customer) can be conducted between traders, which is designed to facilitate intermediation between the two parties involved in the transaction. Here we are not talking about selling products, but only about facilitating a transaction between a buyer and a seller. For the purchase of electronic coins, it is possible to use a single fiat currency - the Chinese yuan. Professional traders, who operate with large amounts of money, do not often work with the exchange now, which is explained by the low volume of transactions. It could be higher if transactions at the site were available to residents of the U.S., Sudan, North Korea, Bolivia, etc.
The beginning of work on the site is the registration process. It does not require any special skills or special knowledge: you specify the country where the user is located and his phone number, which must be valid, as an SMS code is sent to it. There is a second option of registration, when instead of the phone number you specify the e-mail address, which must be checked after clicking "Send SMS". Keep in mind that the system email may end up in the spam folder. By completing the registration, the user agrees with the rules of the exchange okx.com, after which there is a transition to a personal cabinet.
Verification in the system is also simple - just enter the surname, first name and serial data of any identity document. In addition, you will need to upload photos of your documents, including the unfolded passport in your hands. The face must be clearly visible, as well as passport data. Here it is easy to do without verification, in this case in free access will be all the services of the site, except one - "purchase of tokens for fiat currencies". Also, the client will be able to increase his account only with cryptocurrencies, will be able to sell and buy tokens, to work with leverage, which will allow to attract more funds to trade than there is on the deposit.
OKX platform offers a convenient and fast exchange of cryptocurrencies and fiat money to electronic coins (how to make decent money on cryptocurrency? read here). The site has several built-in cryptocurrencies. The lists of currencies paired with Bitcoin are extensive and even include exclusive tokens (Yoyow, Waltonchain, Viuly, Tron). There are three options for conducting transactions. To proceed to the simplest one, you need to enter the "Token Trading" window. The top part specifies the main cryptocurrency with which other cryptocurrencies are acquired. In the left column there are digital pairs, from them you need to choose one to work with. To buy a coin, press the button "Buy", to sell it - "Sell".
Another option is "Fiat to Token". With its help, it is possible to buy altcoins through fiat money, but first you have to translate them into yuan. You can also use futures, which will allow you to create contracts to hedge risks. Hedging means executing transactions on one market, covering risks on the other market. Many traders use this way, in this case a low commission and margin trading are waiting for them on OKH.
Crypto Exchange offers trading with market and pending orders. To make a purchase, select the appropriate type of order and enter the required amount. The volume of redeemed electronic coins is automatically recalculated. If the customer intends to buy a token at a certain price, its value is additionally indicated. If, for example, the user believes that the current Bitcoin price of 12,000 USD will fall to 11,000 USD in the near future before rising again, a pending bid should be selected. As soon as the value actually drops to that mark, an automatic transaction will occur. The platform also offers the use of margin trading, in which case the trader specifies the percentage of credit at once. The maximum allowable leverage difference is 20 to 1.
The commission fee at the exchange is one of the most modest. For futures trading it varies from -0.01% to 0.05%. When calculating the fee, the client's rank is taken into account, changing depending on the index of trades over the last month. The Exchange offers to work with API, which allows quickly receiving data on market updates, studying the information on the depth of sales, controlling requests and the volume of frozen amounts, checking the active orders, quickly and easily perform the purchase and sale of currencies. To work with API you need to press the "Apply API" button, so apiKey will be available, which is an access key, provided by exchange to clients. There is also secretKey - this is the private key, needed to sign the parameters of the request. It is strictly forbidden to disclose these two keys to anyone, because they determine the safety of the account. Details on working with API can be found on the official website of the exchanger. The resource support team works around the clock. Residents of Hong Kong, Singapore, Ireland, Canada can contact managers by phone, which is listed separately for each of these countries.
Deposit and withdrawal
Top up your cryptocurrency wallet on the OKH exchange is not difficult. First, click on the button "Account", and then select the section "Deposit". In the window that opens, all the data on the personal wallet is placed. For each currency you need to start your own crypto-purse, which is used for further exchange. To do this, go to the "Currency" section, the deposit is made by selecting a digital currency and copying the address to which the funds should be received. If the wallet you use does not provide opportunities for transactions with multicurrency accumulators of funds, you will have to run an additional address for transactions. You can find out about the capital receipt in the "Spot trading account" tab.
Withdrawal of funds is made through the option "Withdraw". Before you can run it, you have to verify it. You will also need the administrator password, which is created in the "AdminPassword" section. Confirmation of any passwords will require authentication. The password must be complex, so that it protects the personal account from being hacked by fraudsters. You can complete its creation by pressing the "Submit Password" button. The e-mail will also have to be verified. Using the "Transfer" button, you can deposit funds to your trading accounts from My Wallet. You can use bank transfers (VISA, MasterCard). Deposit and withdrawal options are still few, but the exchange has not been operating for a long time, and, perhaps, the developers will expand this list soon. Currency transactions are available to users in 24 hours after authentication and verification. Withdrawal of funds will take from a few minutes to a week.
Complaints about OCEH
The OKEx exchange has established itself as a comfortable platform for digital coin transactions, as it has many advantages. Market competitors offer higher transaction fees than OKX, where these figures are among the lowest, if not the most modest. Fraudsters have repeatedly tried to hack the platform, but always triggered reliable protection, which can not be weak, because the site is a subsidiary of the well-known service OKCoin. The platform has versions for both stationary devices and mobile gadgets. The terminal can be installed on your computer, which allows you to exchange digital coins without going to your browser. Traders have comfortable leverage, and with competent margin trading, even exchanging modest amounts, it is possible to earn good money.
Clients of the exchange note a few moments that make it difficult to work with it. Sometimes the site "hangs", so it is not possible to get into the personal cabinet. In such cases, reloading the resource page helps. Withdrawals do not always come to the wallet immediately, then users contact support. Deposit also sometimes encounter delays. If you work on the exchange for several hours in a row, then every 120 minutes you will have to re-enter the password. Information in English is simple and accessible. It is only possible to deposit funds into the account in Chinese yuan, which will be automatically converted to another currency on the site, which is also very convenient.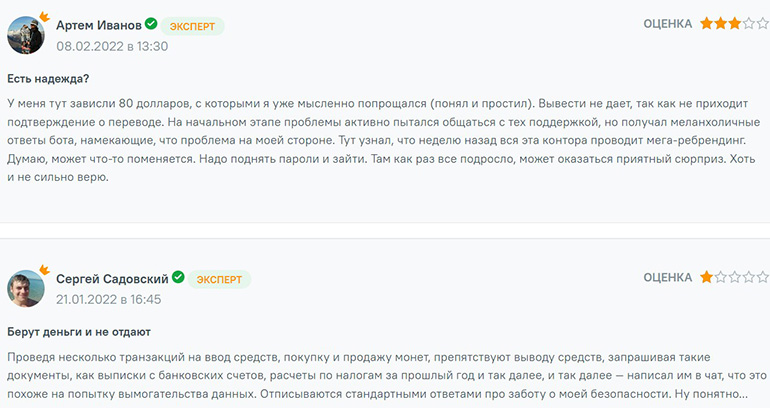 If there are any new reviews for OKX, we'll be sure to post them on social media. Sign up to make sure you don't miss anything.
Please keep yourself informed about news and complaints. We copy the most valuable information to social networks, so please sign up!
Exchange regulation
Chinese OKX crypto exchange registered as Okex Technology Company Limited and was created after the country's authorities banned trading in cryptocurrency futures. Belize was chosen for registration, but all correspondence is sent to the headquarters in China. Initially OKX was supposed to be a trading platform for cryptocurrency assets, later its functionality was expanded. Activities of the crypto exchange are fully compliant with Belizean legislation.
The administration of the exchange expects integrity from users, any fraudulent transactions are considered inadmissible here, withdrawal of funds by third parties is prohibited. The security service monitors all suspicious transactions in order to prevent terrorist financing, the user's account is blocked for attempts to violate the rules of the resource. All the rules of the service are available on the website okx.com.
The exchange allows you to set your own security settings by going to the "Settings" tab, where there is a "Security" section. For example, here the client can choose a two-factor authentication when logging into the account. All personal data are encrypted, because of this it is a little complicated to work with the account (the system hangs up). Those who already have an account on OKCoin can do without registration on OKH.
Read the "OKX Privacy Policy" on the exchange website
Read the "Terms of Use of the Exchange" on the OKX website
OKX is a scam?
OKX Crypto Exchange appeared quite recently, but has already managed to prove itself as a resource that deserves the attention of traders. The platform is quite stable and reliable, which does not leave experienced market players indifferent. Another advantage is the leverage trading and the ability to hedge risks. In addition, a modest fee is charged for transactions. The toolkit of the exchange is one of the most diverse, as well as the list of cryptocurrencies offered for investment (read the whole truth about cryptocurrency here).
The protection of the site is provided at a high level. Each user undergoes compulsory registration and verification. The password is requested separately for the withdrawal of funds, and if you work for a long time, you will have to enter it every 120 minutes. It is worth taking into account that the site okx.com is adapted primarily for Chinese users, although there is also an English version, but it is not available in the mobile application. There are a number of restrictions on cooperation with the resource for residents of different countries. Users praise the exchange for stability, fast transactions, the ability to work with fiat money, the availability of the option of leverage, etc. From time to time they complain about the slow response of support service, the failures of the resource.
Still, can OKX crypto exchange be considered as a scam, scam and scam? Real reviews of traders, mostly in English, show that the site has many advantages. There is no reason to call OKX a scam or fraud. The service has managed to prove itself as a safe and profitable platform for investing in cryptocurrencies.
Conclusion
OKX cryptocurrency exchange has a number of advantages that make it attractive for traders. The developers of the site have taken care of the reliability of the service, offered the user an excellent functionality and a fairly good selection of digital coins. Despite the fact that the service is focused mostly on Chinese users, but it is simple and convenient, so there are many traders.
Project Editorial Revieweek. will not regard OKX as a scam. However, the appearance of new traders' reviews about the site will affect its rating in our project and warn users about the problems of the service.
The company in the ratings
Robots for cryptocurrency
Activity
New

1

Resolved

0

Not resolved

1
New companies on the site