Bitrue is a cryptocurrency exchange with a pool of 170+ digital units, no deposit limits, lucrative bonuses and discounts, and a convenient mobile app.
Read completely
Cryptocurrency exchange
Official website
Social media
Date of foundation

2018

Types of support
Languages

English, Chinese, Japanese, Korean, Spanish

Maximum input amount
Maximum withdrawal amount

Verified

Cryptocurrency

To 2 BTC / For customers of the 1st level of verification
To 200 BTC / For clients of the 2nd level of verification

Exchange Commission

Trade Commission:

From

0.098

To

0.32

% / Depending on the pair when exchanging from a cold Bitrue wallet

Exchange fee:

From

3.5

% / Or 10 USD (whichever is greater) when exchanging in 1 click through Simplex

Exchange fee:

From

0.08

To

2

% / At 1-click exchange through Legend Trading

Withdrawal fee:

0.0005

BTC

Terminals

TradingView

Age restrictions
Trading volume per day
Number of users
Number of cryptocurrencies
Margin Trading
Tokenized assets

BAT, AION, BNT, BTT, NPXS, ICX, SNT, TUSD, VTHO, WTC, ZAP, ZTL, LBA, NEO, LINK, LUNA, MCO, FNX, JST, KSM, PTI, UNI, HAI, MANA, OCE, SAND

Free Demo Account
Types of accounts
Execution of orders

Market Execution (at market price), Stop Orders

Methods of replenishment

Bank card (Visa/MC), Wire transfer, Crypto Wallet

Withdrawal methods

Bank card (Visa/MC), Wire transfer, Crypto Wallet

Account currencies

BTC, BCH, ETH, BAT, BEE, BTR, CAVO, Dash, 170+ cryptocurrencies

Types of cryptocurrencies

Aave, Aelf, Bitcoin, Bitcoin Cash, Binance, Bitether, Cardano, Contentos, CasinoCoin, DASH, DigByte, Divi, Decoin, Dogecoin, Ethereum, Ethereum Classic, EOS, etc.

Licenses

Licensed

201818989M issued by the Singapore Government Agency

(Active)

Mobile applications
Trader training
A way to store cryptocurrencies
Fiat accounts
Scalping
Stop Loss and Take Profit Function
Exchangeability for fiat currencies

USD, EUR, MXN, SGD, AUD, JPY, GBP, DKK, NOK, CAD, ZAR

Basic verification
Extended AML verification
Regulatory laws

International data protection law

FATF (Financial Action Task Force)

API
Bonuses
Affiliate Program
Benefits

Cooperates with Ripple, recommended as a reliable exchange

"Cold storage of cryptocurrency

Buying cryptocurrencies and fiat

Multiple exchange formats

Digital currency lending. You can borrow USDT, ETH, XRP or BTC

No deposit fees and low withdrawal fees from the exchange

Convenient mobile app for iOS and Android

Disadvantages

No direct contact with the company by phone or chat, unknown location of offices

Complaints about broker fraud

Company requisites

Legal name:

Bitrue Singapore Pte Limited

Legal address:

73 Upper Paya Lebar road, #06-01C, Centro Bianco, Singapore 534818

Overall assessment
Date of update

21.02.2023
Subscribe to this company
Bitrue is this a scam? Reviews and description
BitrueAs stated on the website, it was created by a group of enthusiasts who are passionate about blockchain technology. The main direction of the exchange is cryptocurrency trading through public services. But it is also possible to exchange fiat currency here.
Will the vendor be reliable and able to maintain a level of service that will satisfy current traders? Or is Bitrue a scam? Let's study the open data and try to draw a conclusion.

Why Bitrue?
Bitrue is a young exchange, but it already enjoys the trust of vendors. And it cooperates with Ripple, which recommends it as a reliable partner. The advantages of the site also include:
Availability of a "cold" wallet, where you can safely store cryptocurrency.
Possibility to buy and sell both crypto and fiat (11 currencies: Euro, American/Australian/Canadian/Singaporean dollars, Norwegian/Danish kroner, Mexican peso, Japanese yen, British pound and South African rand).
Different formats of exchange - from an account opened on the exchange, by card or by international bank transfer. Each has its own fee.
No deposit fees and a small deposit fee (0.0005 BTC) from Bitrue.
Providing credit in digital currency - USDT, BTC, ETH, XRP. It is available to customers who have registered on the site and verified their email, phone, identity, and set up two-factor authentication by phone and through the Google app. Borrowing period is unlimited. Daily rate charged by the exchange - from 0.010% to 0.024% depending on the amount. Minimum need to borrow 100 USD or analogous amount in other units.
A handy mobile app for iOS and Android.

Additional features include crypto exchanges - investment with the possibility of obtaining passive income from 0.09% to 10.3% of invested funds depending on the asset. The Power Piggy program works as follows:
You choose the currency you are willing to invest in and buy it by clicking on the Details link button next to the offer and selecting BUY. The system will redirect you to the trading terminal if there is no uk on the balance of this type of currency.
Set the investment term (for some assets it is unlimited, for others it is set at 30 days).
Confirm your action and monitor the dynamics through the same Loans section of the top menu.
How to exchange cryptocurrency on Bitrue platform?
To exchange fiat and cryptocurrency at bitrue.com, you need to register on the site. To do this, choose Sign Up in the top menu and fill in the form of a new user. Specify your email address (you will need to confirm it by entering the code from the letter you received from Bitrue, we have 30 minutes for that), set and confirm the password, agree with the policies of the service. And enter the referral (invitation) code, if we have it. Bitrue offers two ways to make transactions. The first is 1-click trading:
Buying fiat and bitcoins by international wire transfer. USDT, BTC, ETH, LTC, USDC, EOS, BCH, LNK, XLM are offered for sale. You can buy USD, EUR, MXN, SGD, AUD, JPY, GBP. You open the Buy/Sell section of the top menu (only available to authorized users), select Legend Trading at the top and fill out the form to submit your request. Legend Trading handles the processing.
Cryptocurrency exchange to fiat currency with withdrawal to VISA and MasterCard credit cards. You can buy American, Canadian, Australian dollars, British pounds, euros, South African rands, Norwegian and Danish kroner, or Japanese yen. Processing transactions through Simplex takes, as the site promises, 10 to 30 minutes. This is a Credit Card - Simplex item of the same section. The principle is the same.
Selling and buying cryptocurrency with confirmation of funds in an escrowed bank account in real time. To use this option, you need to register a TUSDT account through the app.trusttoken.com. This is the Trust Token item of the Buy/Sell section.
The second way suggested by bitrue.com, - exchange through the trading terminal from the wallet "cold" storage, which is replenished in your personal cabinet. To go to the terminal you need to open the Exchange section. Used View plugin with 10 base timeframes (1M, 5M, 30M, 1H, 2H, 4H, 12H, 1D, 1W), 80 with small indicators, a line chart and Depth for scalping. You can make a trade at market price or set a trigger (limit orders).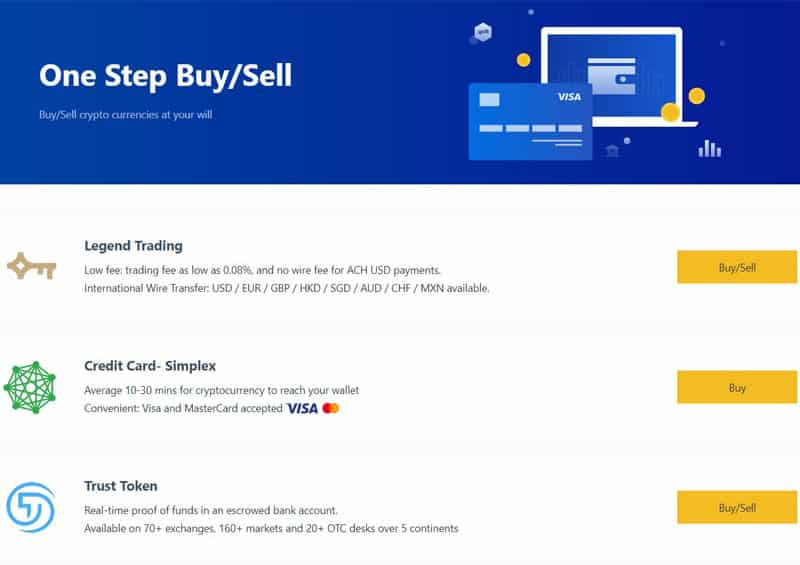 Verification on bitrue.com platform
When registering an account on the platform, you confirm your email address by entering a one-time code, which the Bitrue team will send in an email to the specified email. After that, a permanent security code will be available in your personal account - it will become an additional guarantee for transactions. Another way to protect yourself is to set up two-factor authentication by linking your Google Authenticator or mobile number to your account.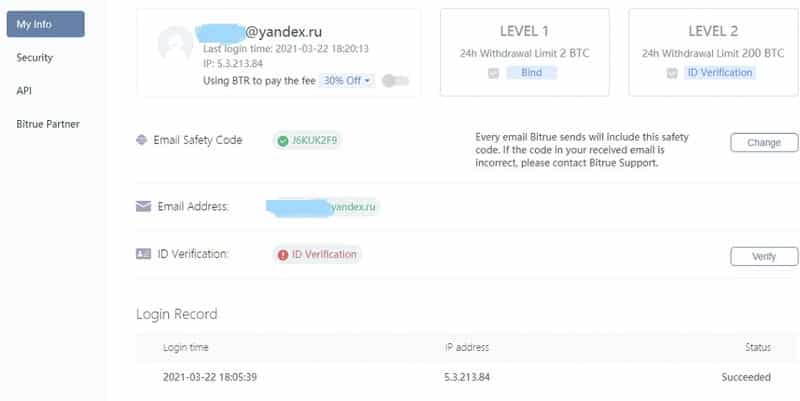 This will protect each session with a one-time password. The function is not mandatory - it is connected at the trader's discretion. A permanent pin-code is set for safe withdrawal of funds. It is also stored in the Personal Area (section "Security"). There is no mandatory verification of identity on the exchange. But for those who did not provide a passport photo, driver's license or ID-card of EU resident, there is a stricter daily limit on withdrawal of funds (we will come back to this).
Deposit and withdrawal
Automatically created during registration on the exchange cold storage wallet, available in the personal cabinet, is replenished in the Deposit section (switch from the Account item of the profile menu). You need to choose the type of electronic unit - in order not to scroll through the list of almost 200 options, you can start typing the currency designation, and the system will show similar ones. And copy the address where you'll send them. You can immediately transfer crypto to TRC20 in order to invest it later. There are no restrictions on the amount of input. In order to receive payment, you need to set one-time password to confirm operations. And go to the Withdraw section of the account. The procedure is about the same as when you make a deposit, only this time the request is processed by a support team, which takes time. The withdrawal limit is set based on the level of verification of the user in the personal cabinet:
Level 1. All those who registered and confirmed their email address in the process. Can withdraw up to 2 BTC per day.
Level 2. Those who connected two-factor authentication by phone and through a special program, and then confirmed their identity by uploading photos of documents to their account. Can withdraw up to 200 BTC per day.
Timing of processing requests for withdrawal on the site bitrue.com are not marked.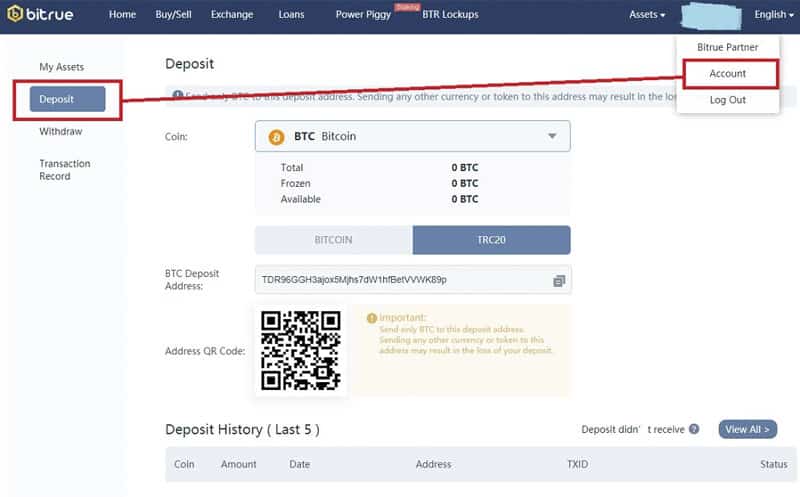 Bitrue.com Commission
Bitrue's trading commission depends on how you buy the currency. If you exchange crypto to fiat currency on card (through Simplex system) you'll pay 3.5% from transaction amount or 10 USD flat - whichever is bigger. If you buy uk with crediting through the bank - from 0.08% to 2% depending on the volume of transaction. When trading from a "cold" wallet, which you funded in your personal account at bitrue.com, charged 0.098%, 0.196%, 0.2% or 0.32% of the transaction amount depending on the cryptocurrency pair. These rates are spelled out in the exchange's knowledge base FAQ.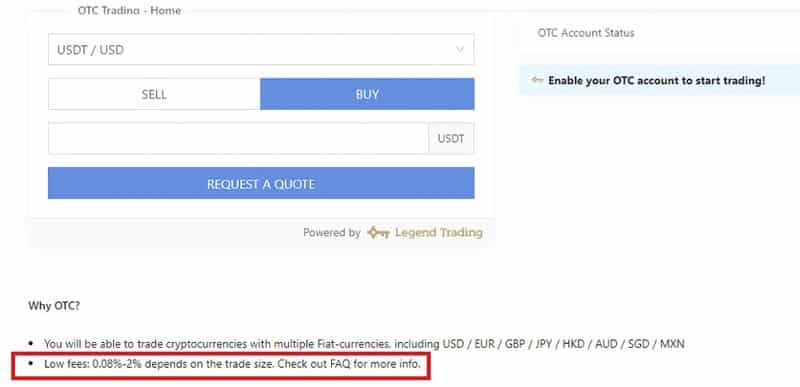 Withdrawal commission
There is a flat rate of 0.0005 BTC for withdrawals via the exchange. This is lower than the average commission usually charged by vendors.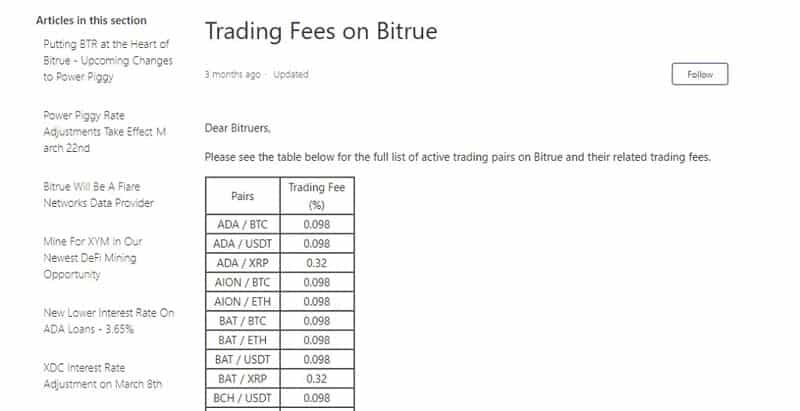 Bitrue Com Bonuses
Bonuses of the crypto exchange are personal promo codes that the provider sends to traders, increased investment rate, contests, referral program and special promotions based on it.
Bitrue Com promo codes
From time to time Bitrue sends out one-time promo codes through advertising channels (mail, messengers, social networks). They give a discount on the exchange fee. To activate a promo code, you need to go to the Assets - Promo Code section of the LC menu and paste the set of characters you were sent in the form window. The bonus will be credited to your account and will be automatically activated on your next transaction.

Rate 22% when investing from 20,000 ASK
The time-limited promotion kicked off on March 23. As part of the Bitrue special offer, users had the opportunity to invest assets with an increased rate - 22% - for 48 hours from 10:00 UTC (Coordinated Universal Time).
30% exchange discount
If you use tokenized exchange currency, BTR, to pay the trading fee, you get a 30% discount on this fee. To activate the option, click on the Using BTR to pay the fee toggle switch in the My Info tab of the Account section of the top (drop-down) menu of your personal cabinet. It can be deactivated at any time.
Bitrue contests
Almost every month on the bitrue.com There are contests and bonus drawings. For example, in March 2021, a prize fund of 20,000 U.S. dollars in the equivalent of XEM was drawn. It was shared between 100 people who demonstrated the best trading results. In February, it was possible to buy/sell crypto at last year's rate. To do so, you had to retweet the event entry in the Bitrue Twitter account, fill out the participant questionnaire and have at least 100 BTRs in your account balance on the exchange.
Bug Bounty
The company encourages platform users who not only work with the platform, but also detect bugs and errors. Those who send details of their analysis through the form in the Bug Bounty section of the site's bottom menu can get a reward - it all depends on how serious the "bug" they found is.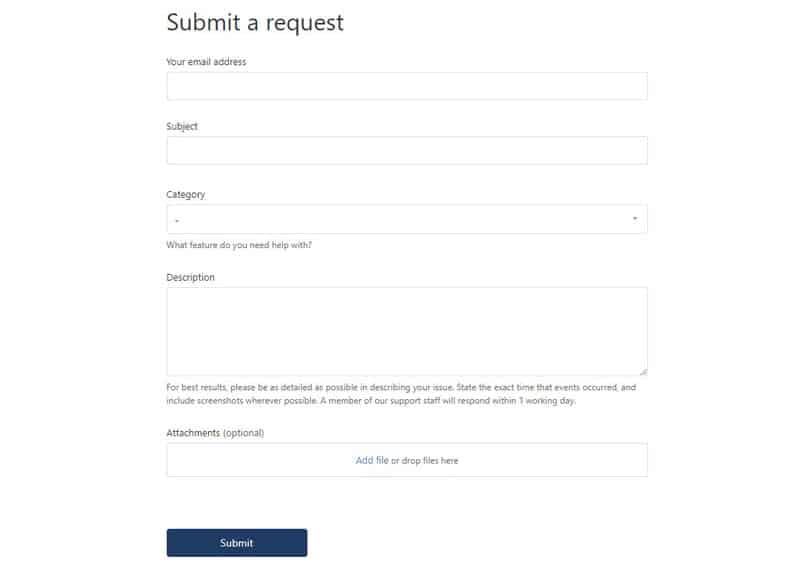 Promotions using a referral code
Bitrue.com also runs promotions using a referral code, organized for exchange partners. For example, in November 2020, the latter could get a share in the prize fund of 200,000 BFT, which was divided between all participants of the promo. It was necessary for their referrals to invest in Yield Farming or Bitrue Mining Pool by the end of the month.
Bitrue referral program
Participants of Bitrue referral program earn money by attracting new traders to the crypto exchange. The remuneration is 25% of their trading commission if the partner has less than 10,000 USDT in their account, and 50% if more. To register you need to create a personal account on the site, copy your unique link in the form of text or QR-code from the Personal Area and share it with your friends and acquaintances. Statistics on conversions and accruals are also displayed in your account. Bitrue partners also participate in a contest with a prize of 60,000 XRP.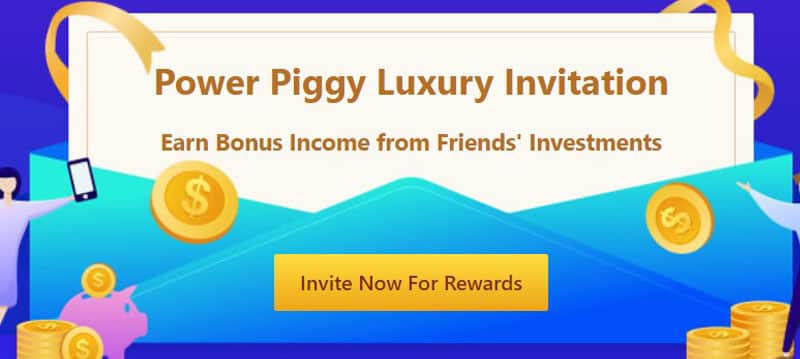 Complaints about bitrue.com
Comments Off on bitrue.com There are practically no comments on the network (if you don't count those published on the cryptocurrency exchange itself). A few dozen comments were left on an international review site with Trustpilot's reputation. There, the provider's rating is 2.7 on a five-point scale. And about 50% users who have commented on it have given it a rating of 1. They complain about problems with the withdrawal: the operation cannot be performed, there is an error all the time. Or assets are simply blocked. And to solve these issues through support is not possible, as clients are not answered or refer to the internal rules of the exchange. Some of those who wrote out openly call Bitrue fraudsters.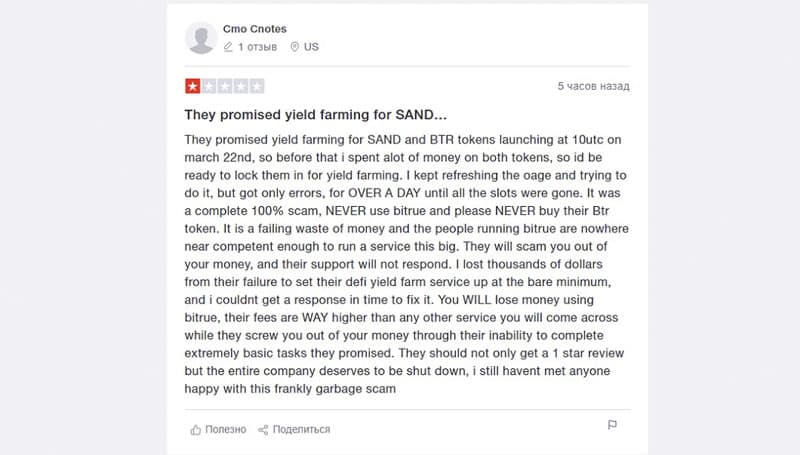 Those who speak positively about the exchange, on the contrary, say that the support team solves problems - for example, related to delays in the crediting of funds during the exchange or errors in transactions.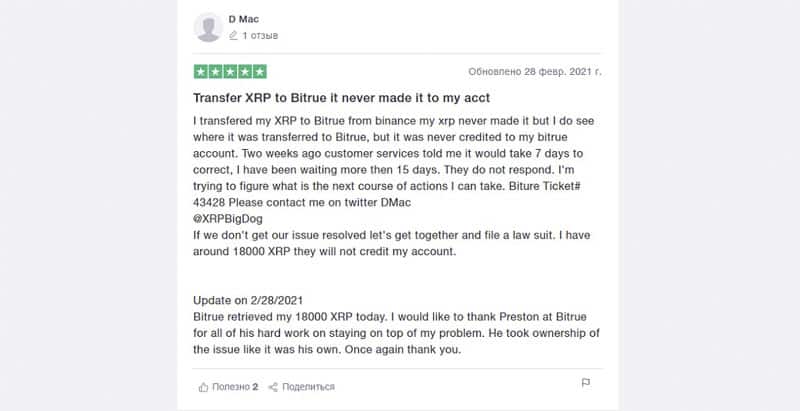 If there are any complaints about Bitrue, we'll be sure to post on social media. Sign up so you don't miss anything!
Please keep yourself informed about news and complaints. We copy the most valuable information to social networks, so please sign up!
Crypto exchange regulation
The legal owner of the crypto exchange is a company with the same name. It is specified in the user agreement (offer) of the site. However, the registration and address details are not listed. They can be seen in the public registry A Singapore Government Agency Website, to which the Russian Federal Tax Service refers in its public database of companies of foreign countries. The registration number of the owner of the exchange (UEN) in the registry is 201818989M. Its registered address is 73 Upper Paya Lebar road, #06-01C, Centro Bianco, Singapore 534818. Its full name is Bitrue Singapore Pte Limited. The organization is regulated by local law. In Russia, it is only under the authority of Roskomnadzor, which checks the site (like any other information resource) for prohibited content or unlawful ways of working with user information.
Bitrue.com User Agreement
Bitrue.com User Agreement, Terms of Use, is a public offer and establishes mutual rights and obligations of exchange users and its owners. Thus, clause 2.1 says that a legally capable adult person - physical or legal entity - has the right to register on the site. With regard to incapacitated persons, their guardians (representatives) assume responsibility.


When registering, you provide information about yourself. If it is incomplete, inaccurate or unreliable, you assume all the consequences and possible losses - the company will not compensate them (clause 2.2). In addition, it is necessary to keep the information provided up to date. Bitrue has the right to send you a clarifying request (clause 2.3).


The provider provides services on an "as is" basis, without guarantees as to the continuity, quality, accuracy and completeness of the data provided. The trader, again, assumes all risks. But is obliged to compensate the company for any expenses incurred in the process of its service (clause 5).


Customer Service
Bitrue customer support is provided via e-mail - applications are submitted via the feedback form on the site or by e-mail to the support team at [email protected]. There is no direct communication with the company by phone or online chat. Answers to basic questions related to the exchange and the terms of services are given in the Help Center database and in the FAQs - they are practically on every page of the service description. In addition, it is possible to write to the administrators of the company's official communities on Twitter and Facebook.
Is Bitrue a scam?
Bitrue belongs to a company registered in Singapore. There is a record of it in the official register of the country's government. This means that all legal issues between the exchange and traders are resolved on the basis of foreign legislation. In addition, there is no information where Bitrue offices are located, although the website mentions the presence of offices in the U.S., Europe and the Asia-Pacific region. There is no direct communication with the company's representatives, either by phone or online chat on the site. It is only possible to communicate by email and on social networks.
The user agreement states that the provider is not responsible for the accuracy of the data on the site. And, if you make a transaction based on the posted rate, there is no guarantee that it will be executed at the quoted rate. You can't say that bitrue.com is a scam. But we recommend to start working with the exchange with small amounts and to study it well before operating with a solid capital.
Conclusion
Bitrue is recommended by Ripple as a reliable partner. Crypto exchange offers exchange with withdrawal to card, bank account or wallet - from your vault or a "cold" cryptocurrency wallet opened in your account. There are no fees for deposits, while withdrawals are small - 0.0005 BTC per exchange. Trading fees are based on the selected buy/sell format and trading volume. There are discount programs for BTR token holders, participants in the referral program and contests. Digital currency lending is available.
You can trade on the site and in the mobile app. Quotes are from TradingView. The exchange declines responsibility for the accuracy and reliability of the data. There is no information about the company on the site, support is provided only in remote format (no online chat, phone). Although the company is registered in Singapore, as evidenced by the entry in the registry, there is virtually nothing about it online. And user reviews (there are only a few dozen of them, though) show that traders have problems with withdrawals from bitrue.com. And the support does not solve the problems - for various reasons.
The company in the ratings
Robots for cryptocurrency
Activity
New

0

Resolved

0

Not resolved

0