The spot exchange offers cryptocurrency trading, over-the-counter transactions, derivative contracts and other instruments, as well as additional earnings for depositing coins.
Read completely
Cryptocurrency exchange
Website
Social media
Date of foundation

2018

Head Office
Types of support

Feedback form on the site

Help Center

Live Chat

Facebook

Telegram

Twitter

Languages

English, German, Korean, Chinese, Dutch, Vietnamese

Founder
The owner of the company
Manager
Minimum entry amount

Verified

Fiat

Bank card (Visa/MC):

to 10 USD

Unverified

Fiat

Bank card (Visa/MC):

to 10 USD

Maximum input amount

Verified

Fiat

Bank card (Visa/MC):

to 20 000 USD

Unverified

Cryptocurrency

Not available

Minimum withdrawal amount

Unverified

Cryptocurrency

Not available

Maximum withdrawal amount

Verified

Fiat

to 20 000 USD / per day
to 50 000 USD / per month

Exchange Commission

Trade Commission:

0.1

% for maker /

0.1

% for taker

Withdrawal fee:

To

0.0005

BTC

Terminals

TradingView

Age restrictions
Trading volume per day
Number of users
Number of cryptocurrencies
Margin Trading
Tokenized assets
Free Demo Account
Types of accounts
Execution of orders

Market Execution (at market price), Limit Order, Stop-Loss

Methods of replenishment

Bank card (Visa/MC), Bank account, Cryptocurrencies

Withdrawal methods

Cryptocurrencies, Bank account

Account currencies

USD, Cryptocurrencies

Types of cryptocurrencies

Bitcoin, Ethereum, Litecoin, Ripple, Tether, Dogecoin, DASH, etc.

Mobile applications
Trader training

Reference materials, instructional videos, vocabulary, etc.

A way to store cryptocurrencies
Fiat accounts
Scalping
Stop Loss and Take Profit Function
Exchangeability for fiat currencies
Additional features

Discounts on OCE token retention fees, yields for blockchain cryptocurrency, over-the-counter transactions

Basic verification
Extended AML verification

Passport, passport or driver's license, photo with document, bank statement, utility bill, etc.

Regulatory laws

Law of the Russian Federation "On digital financial assets" from January 1, 2021

The Law of the Russian Federation from 07.08.2001 N 115-FZ "About counteraction to legalization (laundering) of incomes received by a criminal way and terrorism financing".

API
Bonuses
Affiliate Program

Registration

Up to 50% of the commission amount (referrals), up to 80% of the commission (special partners)

Benefits

Advantageous conditions for cooperation with the exchange

A large number of supported currencies

Advantageous affiliate program and bonuses

Extra income from stacking cryptocurrencies

Special conditions for corporate clients

Low commissions and fast withdrawal

Additional domestic products: steaks and futures

Disadvantages

High commissions for fiat deposits, problems with verification (according to online reviews)

Company requisites

Legal name:

BitOcean Global Limited

Overall assessment
Date of update

27.04.2022
OceanEx is it a scam? Reviews and description
OceanEx
- a spot centralized exchange established in 2018. The platform offers cryptocurrency trading, OTC transactions, derivative contracts and other instruments. And the company also promises customers additional earnings for depositing coins.
Figuring out what is cryptocurrency exchange OceanEx - a scam or an honest project? Can I trust this crypto exchange or should I stay away?
Why OceanEx?
OceanEx was founded in November 2018. The company's founders previously worked at BitOcean and created a network of bitcoin ATMs in Southeast Asia. The new exchange was backed by the VeChain fund. The blockchain of the same name is closely related to OceanEx. For example, VET, an internal token, can be used on the platform. Chinese professor Jiao Zhou had a hand in the project. He specializes in machine learning and previously worked with VeChain.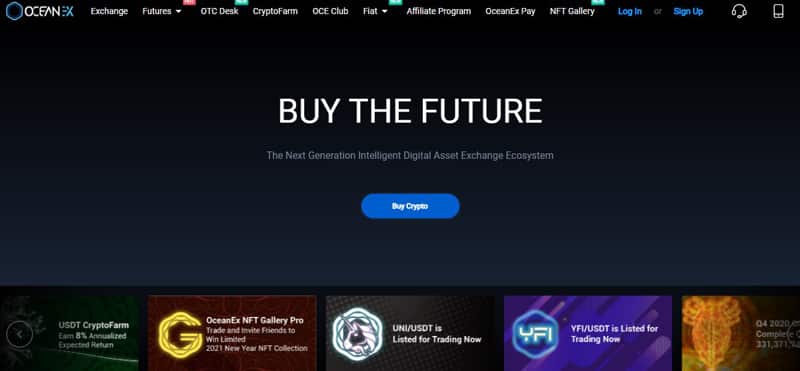 OceanEx is presented as an ecosystem for the exchange of digital assets. The trading service is provided using artificial intelligence, and one of the key advantages has been the security of the coins placed. The main service is the exchange and cryptocurrency trading. But beyond that, there are other products on OceanEx:
Futures market. Users can trade contracts for BTC, ETH, EOS, XRP and many other cryptocurrencies. In addition to these, a futures on DEFI is available. The underlying asset of this contract is an updatable basket of several tokens. For example, COMP, KAVA, MKR, BNT.
OTC table. In this section, traders can make transactions without turning to trading, but buying cryptocurrency directly from each other. Tether, Bitcoin, Ethereum, VeChain Token are available. It is possible to pay in cryptocurrency as well as in fiat U.S. dollars.
Crypto Farm. OceanEx offers customers to invest in cryptocurrency and receive returns. You can invest in Bitcoin and USDT. The percentage of profitability varies, depending on the volume of investment and the value of crypto on the market. On average, traders get 8 - 12 percent per annum. The maximum annual income is 24%.
OCE Club. This is an extended loyalty program that includes internal OCE token holders. Benefits: lower commissions, farming, referral income, beta access to new products.
NFT Gallery. In 2021, the company decided to launch its own marketplace of tokenized assets. The platform will host digital art objects denominated in their own tokens. Participants can sell and buy objects for cryptocurrency.
For corporate clients, OceanEx offers custodial services, placing assets in cold storage. Entrepreneurs can also connect to OceanPay and accept cryptocurrency payments. The company cites a strong team and advanced security technology as its main advantage. OceanEx employs former employees of global investment banks, auditing and technology companies like Morgan Stanley, BNP Paribas, Deloitte, CISCO (How to make money on cryptocurrency?).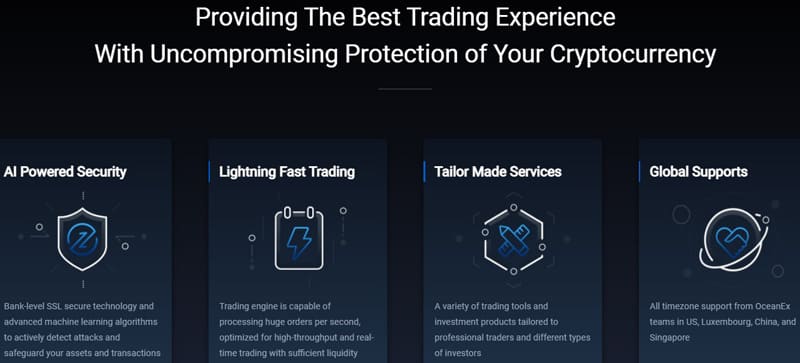 How to exchange cryptocurrency on the OceanEx platform?
In order to exchange cryptocurrency on the exchange, you need to register on the website oceanex.pro. It takes a few minutes. You will need to enter your email address, make up a complex password, and confirm the email by entering a code. You do not need to set up two-factor authentication or authenticate at the beginning. Then you need to go to the Exchange section. It is available in the main menu. The page shows a large graph from TradingView. In it clients can analyze the market situation and connect indicators. On the right side there is a price slider and a list of fresh deals on the exchange. Below - the order form.

You can select a cryptocurrency from the drop-down list at the top of the page, next to the platform logo. Most pairs are presented with BTC, USDT or internal VET token. There is a separate tab with quotations of DeFi-project tokens. After selecting the desired pair, you can proceed to filling an order. The form has three tabs:
Limit Order. This is a trading operation at a limited price. That is, it is set by the trader and the exchange executes the order at the specified price. This form should be chosen if the task is to buy or sell at a specific price. The price itself is specified in the Price field. In the Amount field it is necessary to write the desired number of coins to be bought. The line Total will show how much money will be needed to execute the order.
Market. This is a transaction at current market quotes. Let's assume that 1 Ethereum coin on the exchange is currently offered for 1700 USDT. Accordingly, if you send an order to buy one bitcoin at the market price, the account will be debited with 1,700 Tether. All the trader has to do is specify the amount of coins to buy in the Total line. The main disadvantage of a market order is that the trader has no control over the execution price. If the price rises at the last moment, the order will be executed at inflated quotations. Therefore, this method is not suitable for high-frequency traders.
Stop-Limit. This is another tab that allows you to configure the parameters of the deal. Such an order allows you to configure the execution conditions. For example, an order to buy ETH is activated when quotations reach a certain line - a trigger. Or, conversely, the exchange can automatically reset coins to lock in smaller losses in a falling market.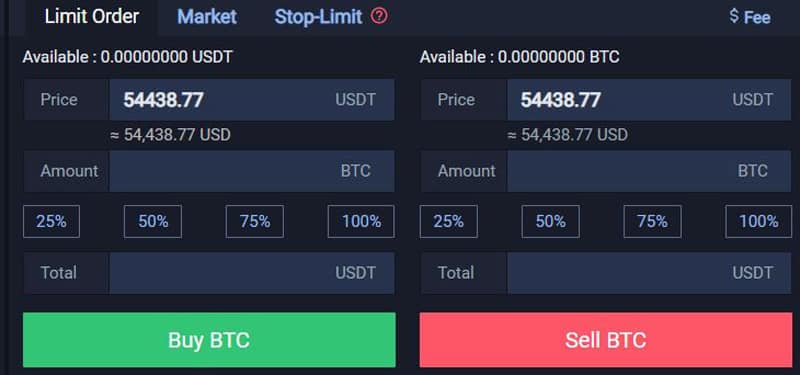 OceanEx has excellent liquidity - the average daily trading volume on the exchange reaches half a billion dollars. The technical equipment of the trading terminal is also excellent. Therefore, orders are executed quickly, with no losses due to price fluctuations during order processing.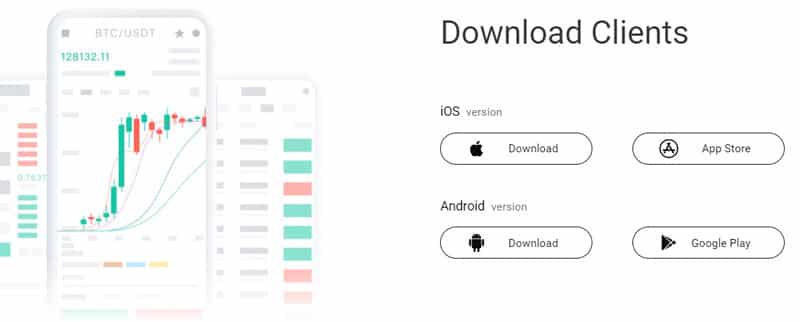 Verification on the platform oceanex.pro
By default, new users get a zero account level. If you raise it, the deposit and withdrawal limits are expanded, and there is an opportunity to use the fiat gateway. To be verified, you need to enter the profile settings and select the section with the same name.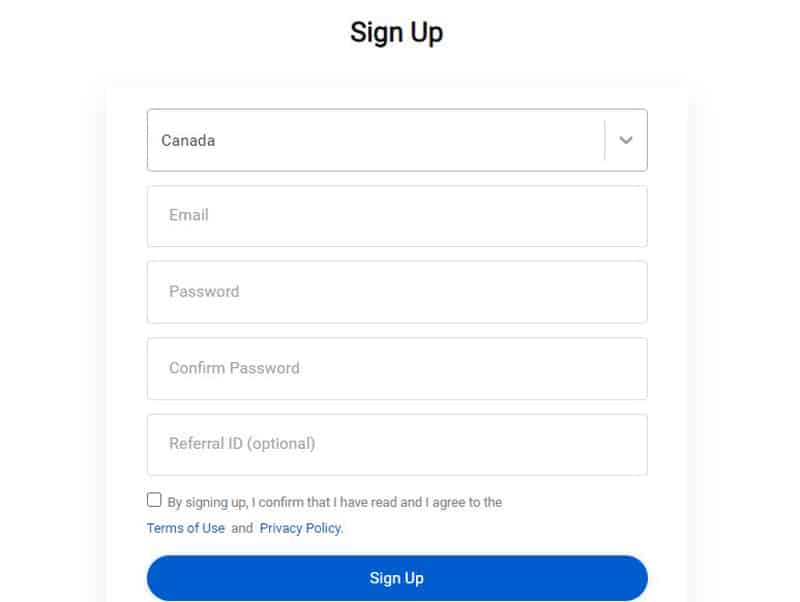 OceanEx invites customers to fill out an extended verification form, with proof of home address:
Select your country of citizenship from the drop-down list.
Specify the first and last name. Fill it out in Latin letters, as listed on your passport, driver's license or bank card.
Gender and date of birth.
Type of document. It can be an ID-card or a passport. It is important that the documents are in English.
Enter the passport or ID number, and in the next field the date of expiration of the document.
Next, you will need to upload scans or photos of the document. If you have chosen passport, you will need image of the main page. If ID - scan of front and back sides, in two files.
Upload a selfie with your document in hand and a piece of paper. On the paper, write OceanEx, the upload date, and your own signature.
Next, you need to confirm the residence address. In the list, select the country of residence, and then select the city on the right. Enter the exact address, also in English. In the Postal field, enter the zip code. Then you must upload the documents, confirming the residence. This can be a utility bill, bank statement, or tax form. All documents must be within 90 days, except the declaration. It is valid for 1 year. You can try to upload a scan of your driver's license. The administration of the exchange assures that the verification of identity will not take more than three working days. But the reviews found on the Internet show that sometimes the verification takes up to a week.

Deposit and withdrawal
You can replenish the balance in three ways:
By transferring cryptocurrency from third-party wallets.
Buy Bitcoin or other crypto with your bank card.
Transfer funds to a fiat account in USD.
The last two methods are available only after verification. But cryptocurrency transactions can be used immediately after opening an account. To make a deposit in BTC or altcoins, you need to go to My Wallet, in your profile. Or click Deposit in the Funds tab. A page with a drop-down list will appear - you can choose the desired cryptocurrency there. Quick access to individual wallets is possible using the buttons under the list.

Let's take Bitcoin as an example. The exchange creates an internal wallet and a public address for the client. It is necessary to send funds to it from a third-party wallet. A QR code is available for a quick transaction using a smartphone. If the verification is passed, it is possible to use fiat currency. There is a corresponding item in the menu - Fiat. If to go to this section, the system will offer to create a Fiat Account. This account will have details and you can send money to them by any banking method, including through mobile banking.
Finally, you can use a bank card in the Buy Crypto section. This replenishment is done through an intermediary. OceanEx works with Banxa and Simplex. These providers take additional commission from 0.5% to 3% depending on the amount of transaction. After clicking on the Buy button, a form appears where you need to select the cryptocurrency to buy and specify the amount of coins to be purchased. The system itself will calculate how much the purchase will cost. Then the gateway will ask for information about the card - number, expiration date, CVV code. Depending on your banking settings, SMS confirmation may be required.
Withdraw money through the Withdraw menu. Payouts are available in cryptocurrency and in USD. Choosing fiat withdrawal, you need to specify bank account details, where funds should be sent. It will not be possible to send money to a card or an e-wallet. If you choose cryptocurrency withdrawal, then verification is not required. But then there is a limit of 2 BTC per day. Customers who passed KYC can withdraw up to 50 BTC every day from the platform.
In the Withdraw menu, select the cryptocurrencies to be paid. Two lines will appear. In the top one, you need to specify the address to send coins, in the bottom one - the amount. Then click Submit and confirm the operation. Under the form, the exchange administration reminds - you can't withdraw cryptocurrencies to investment accounts, in ICOs or on the exchange. After all, coins are sent from the purse of the exchange, which means that income from investments will return there. If money is intended for investment, you should first place it in your own controlled vault.
Cryptoexchange Commission
Cryptocurrency exchange OceanEx does not charge for deposits. But if funds are deposited through a fiat gateway, the service is paid to the provider.Trading commissions are fixed - 0.1% maker and 0.1% taker. There is a temporary discount on pairs VTHO/VET, VTHO/BTC, VTHO/USDT - 0.05% discount for makers and takers.

How do I get a discount on commissions?
Users can get a discount of up to 90% on commissions. To do so, you must place OCE tokens in your own account. The program looks like this:
A customer holding less than 2,000 OCE does not participate in the loyalty program and does not receive a discount. He pays the standard 0.1%, regardless of the position in the transaction.
First level: at least 2,000 OCE tokens are placed on the balance. Such a participant receives a 20 percent commission discount
Second level from 200,000 to 5 million OCE tokens on the account. Discount - 35%.
Level 3: 5 million to 20,000,000 OCE. Discount is 50%.
Fourth: from 20 to 50 million, the discount - 70% of the starting commission.
Fifth level: on a balance of 50 million OCEs or more, a 90% discount is available.
To activate the discount, you need to buy the required amount of OCE on the exchange. Then go to the account settings and enable the item Use OCE deduction, in the Fee section.
Withdrawal fees
OceanEx charges withdrawal fees. Here are the rates for popular cryptocurrencies:
Bitcoin: 0.0005 BTC.
Ethereum: 0.007 ETH.
Tether: 30.27 USDT.
Ripple: 0.2 XRP.
Litecoin: 0.01 LTC.
Bitcoin Cash: 0.001 BCH.
Dash: 0.001 DASH.
Dogecoin: 2.0 DOGE.
The cost of withdrawal in BTC corresponds to the market average. Ethereum is slightly more expensive than the market average, on many exchanges the commission will be 0.005 ETH. The output to Tether can be considered expensive - $30 per transaction. While competitors ask for about 9 USDT. But Ripple, DASH and BCH are cheaper than on other platforms.
OceanEx bonuses
OceanEx has abandoned promotions and bonus contests to attract customers. Therefore, there are practically no events on the site to increase activity.
Periodically, bonuses are given out to CryptoFarm investors. For example, charging additional 8% of profitability for regular blocking of funds in USDT pool. But such rewards are not regular and are not positioned as a regular bonus.
Referral program
On the site oceanex.pro There is an affiliate program with standard rules for modern crypto-exchanges. A participant can create his own referral link and invite his friends with it. It is also possible to use an identification code. When an invited user starts trading on the platform, the client who invited him receives a percentage of the commission paid.

The starting bet is 20% of the commission. In this case, the referral does not lose anything - for him the level of commission does not increase. Program participants can increase their share of profit if they buy and keep OCE tokens on their balance. The maximum level is 50% from referral commissions. This reward is given to the client who holds 5 million OCEs or more. OceanEx also has an affiliate program for bloggers, webmasters and arbitrageurs. The participant who has joined it can receive up to 80% from the commission of the resulted clients. There are no exact conditions for "affiliate": they can be set individually, depending on the capabilities of the entrepreneur and the volume of traffic.
Complaints about OceanEx
OceanEx has a good reputation in the cryptocurrency industry. Most online reviews praise the platform. Customers note:
High liquidity and quick exchange at the auction.
Low trade commissions.
Fast withdrawal of funds.
The ability to recharge the balance with a bank card.
Additional in-house products: steaking and futures.
There are also negative assessments. Many users are dissatisfied with the way the security system is implemented. For example, when entering a login and password to sign in to an account, users have to confirm their login every time through a code sent to an e-mail. This is inconvenient, especially if you use a mobile app. The second problem is high commissions for fiat deposits. Sometimes transactions are covered by a 3% rate. The management of the company should negotiate with providers to make the service cheaper. Another problem is the need for full verification, along with address confirmation. For customers from Russian-speaking countries, identification is delayed because the support service takes a long time to translate receipts and address references.

If there are any reviews about OceanEx Crypto Exchange, we will definitely publish the information on social networks. Sign up so you don't miss anything!
Please keep yourself informed about news and complaints. We copy the most valuable information to social networks, so please sign up!
Regulation of the crypto exchange oceanex.pro
Crypto exchange OceanEx is owned by BitOcean Global Limited. This legal entity is registered in the Bahamas. There is also information on the Internet that OceanEx's office is registered in the Cayman Islands. But in the user agreement, it is the Bahamas corporation that acts on behalf of the exchange. It is considered the parent corporation. And in the Cayman Islands there is a subsidiary organization dealing with financial products of the exchange.
The Bahamas is a popular offshore jurisdiction offering convenient tax and licensing terms for cryptocurrency projects. Nevertheless, despite its status as a "tax haven," the Bahamas regularly reports to global financial supranational organizations and complies with the law. Local companies are required to find out the identity of clients before allowing them to conduct large monetary transactions. Therefore, OceanEx restricts customers who do not show identification. The company's management is based in China, Hong Kong. There are official representative offices in Europe, South Korea, Singapore and the USA.
User Agreement oceanex.pro
All interaction between the client and the company is based on a user agreement. It is available on the website of the crypto exchange oceanex.pro. The document reveals the concepts used on the platform. An important obligation of users is the "exclusive personal responsibility" to pay taxes in the country of residence. That is, by working with the platform, the client automatically agrees to pay taxes on cryptocurrency investments and trade. The agreement provides a list of prohibited jurisdictions. Along with North Korea, Iran, Somalia, the list includes the Republic of Belarus. Therefore, Belarusian clients may be denied service or withdrawal of assets from their accounts.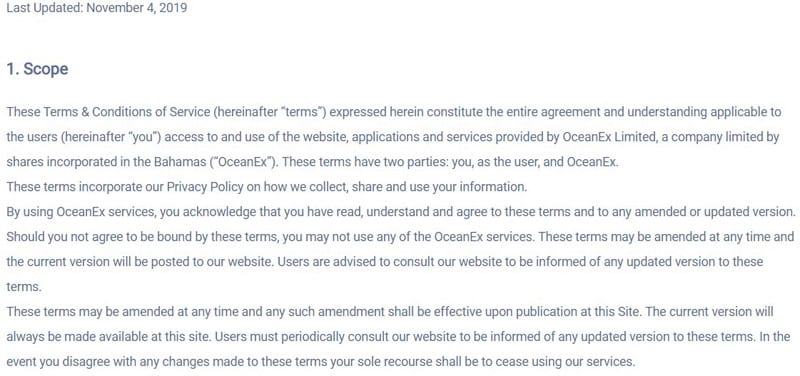 Customer Service
OceanEx has a fast and responsive support team. It employs not only hired specialists, but also cryptocurrency enthusiasts who support the project. Users can leave a requisition with a problem and wait for an e-mail response. Support responds in social networks. The exchange is represented on Twitter, Facebook and Reddit. There is a blog on Medium.
Is OceanEx a scam?
Cryptocurrency platform OceanEx appeared quite recently, but it has already grown considerably. Now the site is regularly in the top lists in terms of trading volume and offered liquidity. The company stakes on an extended service - in addition to trading, clients can invest and earn additional income. Fiat accounts are available, which means that the company works closely with banks and complies with compliance regulations.
In our opinion, OceanEx is not a scam, but a stable exchange with a decent level of service. The project has accumulated a lot of positive feedbacks from clients. The company does not hide the faces of the founders and provides information when requested by publications from the crypto-industry. The company has not been seen in scandals or scams. There are no hacking incidents and no major thefts. The high level of security is confirmed by the trust rating from CoinGecko portal - OceanEx received 7 points out of 10.
Conclusion
Exchange OceanEx is suitable for both beginners and experienced traders. OceanEx allows not only trading popular cryptocurrencies, but also investing in promising altcoins. After identification, deposits and withdrawals are available in U.S. dollars, which adds convenience. The service is clear and the site can be used even without Russian language.
The project has prospects related to NFT investments and over-the-counter transactions. Perhaps in the future there will be an internal simplified exchanger, allowing to sell cryptocurrencies without placing orders on the auction. This will add even more opportunities for the site's clients.
Robots for cryptocurrency