Alfa-Forex is a reliable brokerage company offering a convenient service for online trading, regulated by the Central Bank of Russia.
Forex broker
Website
Social media
Date of foundation

2016

Head Office

г. Moscow, Masha Poryvaeva St., 7, p. 1, bld. 1

The owner of the company
Types of support

Post: 7, Masha Poryvaeva St., bld. 1, Moscow, 107078. 1

Live Chat

Help Center

Feedback form on the site

WhatsApp

Telegram

WhatsApp

Support by phone
Languages

Russian

Terminals

MetaTrader 5 (PC, Web, Mobile)

Broker fee

All commissions are embedded in the spread (the difference between buying and selling) and Swaps

Lot volume
Leverage

To 1:40

For investors recognized as qualified

To 1:49

Leverage, at which there is a forced closing of positions (stop out)

Spreads
Free Demo Account
Adjustable
Regulators
Licenses

Licensed

Central Bank of Russia № 045-14070-020000 dated 20.12.2018

(Active)

Types of accounts

With and without netting on open positions

Margin call / Stop out
Features of trade

Safe Forex trading with a licensed Forex dealer

Execution of orders

Instant Execution, Market Execution, Stop Orders, Limit Orders, Take Profit Orders, Trailing Stop Order, Exchange Execution

Methods of replenishment

Bank transfer, Bank card (Visa/MC/MIR), Alfa-Click

Withdrawal methods

Wire transfer

Number of assets
Types of assets

Currency pairs

EUR/USD, GBP/USD, USD/JPY, USD/CHF, etc.

Account currencies

RUB, EUR, USD

Liquidity providers

ALFA BANK, Alfa Capital Holdings (Cyprus) Limited

Mobile Trading
Weekend trading
Tournaments / contests
Trader training

Webinars, market analyses

Contract Difference Commission
Swaps
PAMM trading
Analytics

Daily market reviews based on information from authoritative publications, Reuters and Bloomberg news agencies, official portals of Russian and foreign government institutions. Economic calendar, calculator and currency rates

Margin Trading

Even more opportunities for substantial income

Affiliate Program

Registration

Additional income from attracting traders to the platform

Benefits

Good speed of opening and closing transactions (even telephone dealing is possible)

No minimum deposit limits

Individual floating spread for each currency pair

No commissions for opening and closing transactions

Round-the-clock service from 00:00 Mon. to 23:55 Fri. (by Moscow time)

Disadvantages

Trading only currency pairs

No cent, PAMM or ECN accounts

Long wait for deposit/withdrawal of funds

Company requisites

Legal name:

Limited Liability Company "AlfaForex

Legal address:

20 Bolshoi Balkansky pereulok, bld. 20, bld. 1, Moscow, 129090. 1

Trading robots

Robots are allowed to trade

Date of update

12.07.2022

Overall assessment
Address
Moskva, ul. Mashi Porivaevoy, d. 7, str. 1, et. 1
Map
Subscribe to this company
Alfa-Forex is it a scam? Reviews and description
On the Russian market
Alfa-Forex
is one of the most powerful
forex brokers
offering clients favorable conditions for online trading. The connection with Alfa-Bank's assets excludes any risks in terms of fraud from the brokerage company. Alfa-Forex is directly related to this credit organization. The fact is that
Alfa Bank
- is the sole founder of Alfa-Forex. Traders' funds are kept in nominal accounts opened with this bank.
The company performs the activity of a forex dealer in over-the-counter settlement forward contracts. The broker assures that Internet trading on its platform gives an opportunity to receive stable earnings from fluctuations in exchange rates. But it is necessary to understand whether Alfa-Forex is a scam and a swindler, which is not worth messing with or it is a conscientious company. Let's deal with these questions in our review.
Terms of trading with Alfa-Forex
This broker started working in 2016, which means it is not a newcomer to the market. In March 2018, Alfa-Forex Cypriot company announced that it had stopped serving Russians in order to obtain a permit to operate in Russia in the future. The company had to apply for an official license to the Central Bank of the Russian Federation. And in December 2018, the broker received a permit to operate as a forex dealer.
Now a subsidiary of Alfa-Bank is considered a legal member of the AFD - the Association of Forex Dealers. This is a self-regulating financial company that unites all the Forex organizations operating on the Russian market. Alfa-Bank is a part of banking group, the parent structure of which is ABH Holdings S.A. It is one of the largest investment holdings in Europe and CIS countries. Its history dates back to 1990. Professional development, attention to business ethics and customer orientation are important for this group. Therefore, working on the platform alfaforex.ruYou don't have to worry about safety and quality of service.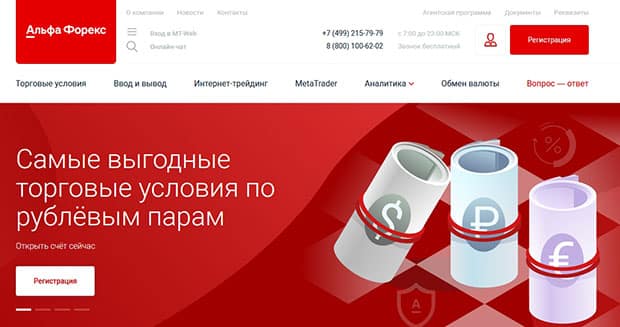 A Forex dealer offers two types of trading accounts:
account with netting - an agreement providing for agreed and reciprocal offsetting of counterparties' obligations;
account with no netting on open positions.
Alfa-Forex works according to the highest industry standards and offers users professional support and up-to-date analytics. This broker is distinguished by belonging to a brand with an impeccable business reputation, tight spreads and Russian licensing. One of the main directions of its development strategy is the improvement of products and services. And when the client has a question about the minimum deposit in rubles, the company declares the absence of any restrictions. The trading conditions here are as follows:
trading instruments - 29 currency pairs (the range can be called limited, but it can meet the needs of most Forex traders);
account maintenance in 3 currencies - RUB, USD and EUR;
The minimum transaction amount is 0.01 lots (1000 base currency units);
spreads from 1.7 pips;
moderate leverage - 1:40 for investors recognized as qualified and 1:49 - leverage, at which there is a forced closure of positions (stop out);
high stop out - 85% (if the trade will bring a material loss in excess of 15% of the amount invested in the opening of the position, it will close immediately).
As you can see, the conditions of Alfa-Forex cannot be called strong. But this is due to the requirements of the regulator - the Central Bank of Russia. Here you can trade only currency pairs. There is no cent and ECN-accounts. Unfortunately, there is no PAMM-accounts. Clients of this financial company cannot open them due to legal restrictions. Among the advantages of working with Alfa-Forex are:
Good speed of opening and closing transactions (even telephone dealing is possible);
No minimum deposit limits;
safe and fast withdrawal of funds;
individual floating spread for each currency pair;
No commissions for opening and closing transactions;
24-hour service from 02:00 Mon. to 23:55 Fri. (on MSC).


The clients of this forex dealer can be individuals, but not individual entrepreneurs. It is important that the user has full legal capacity and is a citizen of the Russian Federation. On the site alfaforex.ru presents financial analytics. Here you can see the exchange rates of the Bank of Russia and Forex currencies, as well as market reviews. Information from sources whose reliability is beyond doubt is processed by the analytical department. The information is taken from authoritative publications, Reuters and Bloomberg news agencies, from official portals of Russian and foreign state institutions.
The "Analytics" section also includes an economic calendar. It covers real-time economic events and indicators from all over the world. It is published for information purposes only. It means that information from this calendar cannot be used when making trading decisions.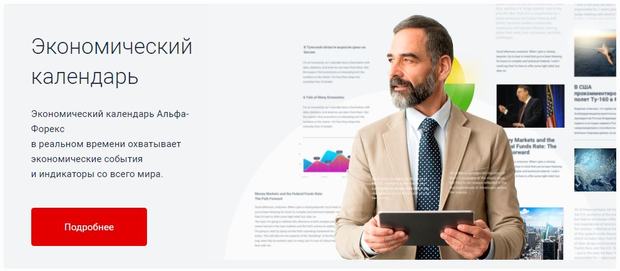 Alfa-Forex offers training as well. Beginner traders can participate in webinars, read market analyses and practice in their personal accounts on a demo account (forex trading training). Over the past three months a series of webinars on creating trading strategies has been published. All parts can be viewed in the "Analytics" section. Also on the broker's information portal there is a section "Market review", where the current events affecting the market are collected.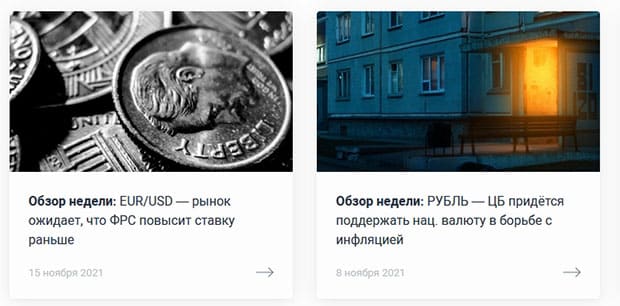 Platform alfaforex.ru
Trading operations are performed through the free MetaTrader 5 terminal. This is a reliable platform where you can work in the Forex market in a single convenient environment. It has access to online quotes and interactive charts. Using this trading software, it is possible to conduct the analysis of quote charts, copy deals of other exchange players and use algorithmic trading programs. Advantages of MetaTrader 5:
unified environment and powerful MQL5 language;
82 analytical tools - graphical objects and oscillators;
more than 30 charts of currency pairs;
Free database of technical indicators;
timeframes from 1 minute to 30 days;
support for all types of orders.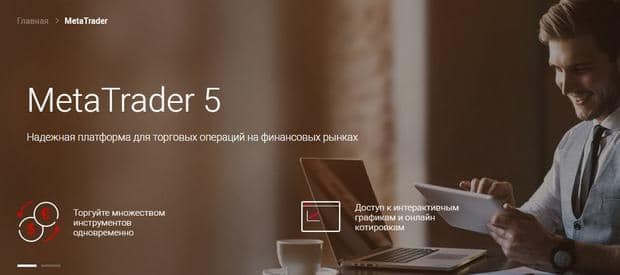 On the information portal alfaforex.ru there is a login to MT-Web. MetaTrader 5 allows you to do internet trading without an application. For trading in the forex market it is enough to have access to the Internet. Access to it must be stable, uninterrupted. The company's website also has free applications for iOS and Android mobile devices. This allows trading currency pairs from anywhere in the world, at any time. Alfa-Forex clients can install trading software on their smartphones or tablets and trade 24 hours a day. Mobile versions also offer the most popular analytical tools, interactive charts and a full range of orders.
The world's most popular trading terminal, MetaTrader, fits in the palm of your hand because you can take it everywhere you go. With it you can easily monitor your trading account, buy and sell financial instruments in 1 click!
Broker quotes
The liquidity provider of the forex dealer is two companies:
Alfa Capital Holdings (Cyprus) Limited;
JOINT-STOCK COMPANY "ALFA BANK".
The first quotation provider is registered under the laws of the Republic of Cyprus under registration number 78416. The second quotation provider is located in Russia, in Moscow. The information coming from them helps compare asset prices. The current market quote is compared with a price/rate source that has analogues in the Russian and/or foreign exchange market. During the process of online trading it is important to note that during the night time from 23:55 to 01:30 Moscow time the price fluctuations of currency pairs can be absent. This is due to the fact that during this period of time the liquidity on the market of exchange-traded assets is limited.
Alfa Forex Demo Account
A demo account allows beginners to learn the basics of trading. It can be obtained only after completing the registration procedure on alfaforex.ru. It can be renewed an unlimited number of times. But if a client will not use a demo account for 90 days in a row, it will be closed automatically.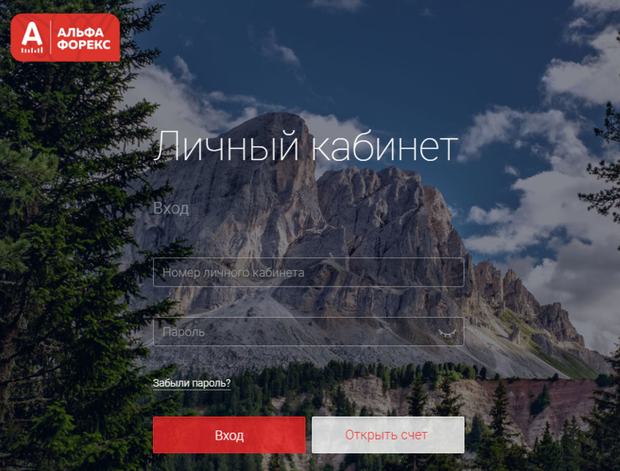 Mobile application
By installing the MetaTrader 5 for iOS or Android application on your tablet or smartphone, you can participate in trading. Thus, you will be able to keep abreast of the financial market and perform trading operations whenever it is convenient for you. The trading platform will always be with you! Download the application from the App Store or Google Play directly from the broker's website. This will give you these opportunities:
Internet commerce from anywhere in the world;
round-the-clock trading - in a cafe, at home, on the road;
investing morning, noon and night;
high duration of operation on all exchange-traded asset markets;
convenient PUSH-notifications.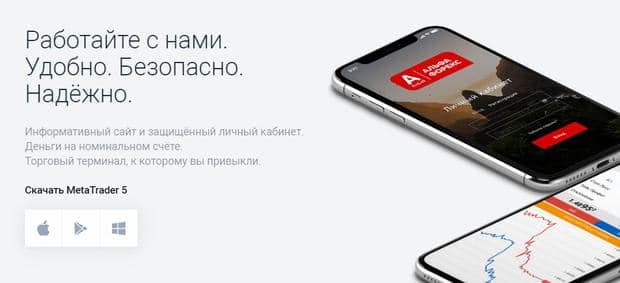 With a mobile trading platform, you can use the most popular features and tools to make trades at any time. Work will progress even more efficiently than on the trading software with a standard interface. Use the tools of technical analysis, work with charts, open orders of all types, and view quotes in real time. With the mobile terminal all this is possible!
Bonuses at Alfa Forex
The company does not hold any promotions or offer bonuses to clients due to legal restrictions. Regular clients of Alfa-Forex can only hope that one day their favorite financial company will be able to make interesting bonus offers.
Affiliate Program
This program allows you to receive agent commission without having to trade on the Forex market. The company offers its partners unlimited opportunities to monetize their traffic. Here you can ensure a stable commission income. To do this, you need to register in your personal cabinet, log in and read the terms of the agency agreement. Then you will receive a unique link. Now you can attract clients, manage the number of transactions and receive remuneration. Advantages of the agent program:
quality promotional materials;
stable commission income, with no limits on size;
reliability of payments from the dealer;
No limits on the number of clients and transactions.
The agency fee is formed as % of the dealer's commission on clients' trading operations. Alfa-Forex evokes high confidence among wealthy investors. And it positively affects the volumes of trading operations, and the percentage of conversion of the partners' traffic.
Deposit and withdrawal
Alfa-Forex offers to replenish the deposit via bank transfer (methods of bank transfer execution: Internet Banking, mobile bank, at the company's branch). Deposits can be made in Russian rubles, dollars or euros. Funding the account at Alfa forex takes 1-2 working days, which is quite a long time. It is a pity that it is not possible to deposit funds to the trading account via electronic payment systems. It is also possible to withdraw money by bank transfer to the account in Alfa-Bank or other credit institution.
Complaints against Alfa-Forex
This broker is famous for its good opening and closing speed. And there is practically no slippage. But sometimes the connection with the trading software is lost. Many good things are written about Alfa-Forex, but usually without any specifics. There is little negativity. Having studied the reviews, we noticed that many traders consider Alfa-Forex to be a reliable company. There are few complaints, but still they are there. Basically, exchange players are dissatisfied with the long waiting period when depositing to the account and withdrawing funds from it.
There is no commission for opening or closing trades. But, judging by recent reviews of the broker's activity, it is embedded in the spread. The minimum indicator is on average 1.2 points, and the maximum - 320. The Russian broker appeared at the end of 2018. But many are convinced that it is not a newcomer, but their old acquaintance Alfa-Forex (now called Alfa Capital), which has returned to the Russian market. However, in a year of operation of the company, there are almost no complaints about the malfunctioning of the trading software, execution of orders, non-payment of earnings and spread widening.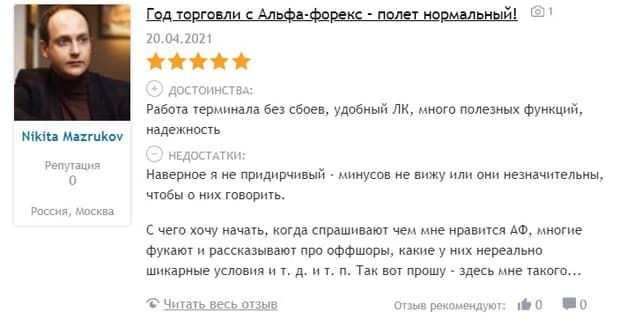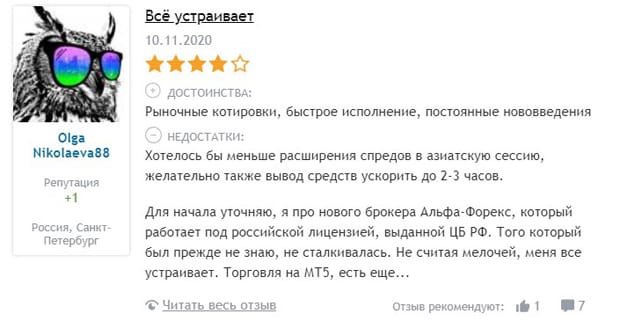 If there are any reviews about Alfa-Forex broker, we will definitely publish the information in social networks. Sign up so you won't miss anything!
Please keep yourself informed about news and complaints. We copy the most valuable information to social networks, so please sign up!
Broker regulator
Alfa-Forex LLC is a licensed brokerage company, licensed by the Central Bank of Russia on December 20, 2018. The broker is included in the register of licensed forex dealers of the Bank of Russia and is a member of the SRO AFD "Association of forex dealers". That is, this financial company operates legally, legally provides services in the territory of the Russian Federation.
Check the perpetual license of a professional participant of the securities market to carry out the activities of a forex dealer №045-14070-020000, issued to Alfa-Forex by the Bank of Russia on 20.12.2018 (See);
Check the certificate of SRO membership in AFD dated 24.12.2018. (Alfa-Forex LLC, No. 009) (See);
Read the "User Agreement" on alfaforex.ru (See).
User Agreement alfaforex.ru
The "Agreement" of Alfa-Forex contains information about the company itself, general provisions, rights and obligations of the broker with users. The client can terminate the contract unilaterally, request copies of documents from the company representatives, withdraw funds from the special nominal account, etc. But the obligations should not be forgotten either. The trader must fill in the client questionnaire and other documents required of him by Alfa-Forex under the contract. And this cannot be done by third parties without the consent of the company itself:

A forex dealer may refuse to execute a client's request if the client does not have a sufficient amount on the deposit. He may also reject the request to withdraw funds from the account. And he has the right to do this without explaining the reasons: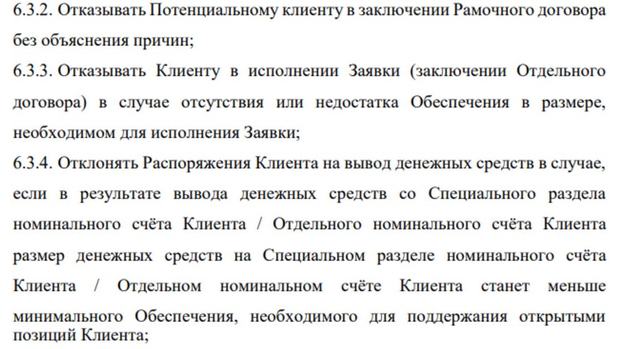 The "Agreement" specifies the terms of service, information on fees and tariffs. It is said that the client himself chooses the currency for online trading:

Also here we can see the order of the contract conclusion, the terms of quotations, terms of reporting to the traders. And the ways the client can contact the company's representatives: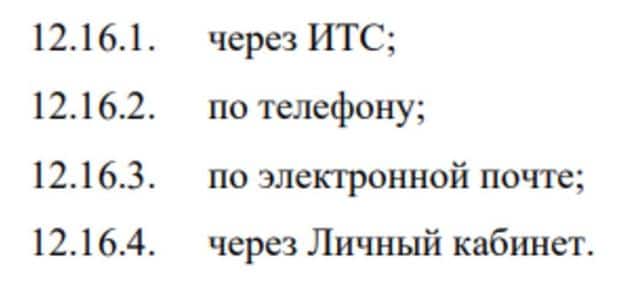 Before you start working with Alfa-Forex LLC, familiarize yourself with the risks associated with the conclusion, performance and termination of obligations under the framework agreement and individual contracts. In this way the broker will know that you are aware of all the risks involved in online trading.
Is Alfa-Forex a scam?
Alfa-Forex Although it works on the stock market for only 1 year, but it has already proved its reliability. Bank liquidity for trading instruments, market execution of transactions, popular trading software, convenient service, availability of a license for financial activity - all this testifies to the legality of the broker. Alfa-Forex LLC is part of a banking group that has access to the interbank market. But still warns exchange players about the possible expansion on the background of significant news and pronounced trends. There are no limitations on the trading account amount, which is very convenient for the novice traders. It is enough to have on deposit the sum which is enough for opening a position of the minimum volume (0.01 lot).
In addition, there is MetaTrader Market, which offers a universal selection of indicators and scripts. Trading robots relieve users from such routine work as analyzing quotes according to set parameters. They are able to conduct any number of trading operations according to a set algorithm. Also Alfa-Forex offers training, news, analytics and economic calendar. A fraudulent office would not try so hard to lure clients to their site. This broker, even though it hasn't been on the Russian market for long, is clearly not a scam or a scam.
Conclusion
To summarize, it can be said that Alfa-Forex offers a convenient and high-quality service. Users deal with narrow spreads and do not pay any commissions. The company's activity is rampant with the Central Bank of Russia, the broker has the appropriate license. There is a small selection of trading instruments on the site. There are no cent, PAMM and ECN accounts. But still it is a reliable broker with a good history! Leave your comments about Alfa-Forex activity, help us to evaluate the quality of this broker more accurately.
Rating of reliable brokers