An experienced broker offers traders a wide range of trading platforms, a large number of assets, commission-free withdrawal of earnings, training lessons and much more.
Read completely
Forex broker
Official website
Social media
Date of foundation

2009

Head Office

2118 Guava Street, Belama Phase 1, Belize City, Belize

The owner of the company
Types of support

[email protected]

Chat

Callback from the website

access is required from the administration

Telegram

Tickets in my personal cabinet

Support by phone
Languages

English, Thai, Polish, Spanish, Italian, German, Czech, Latvian, Hungarian, Malaysian, Portuguese, Ukrainian, Chinese, Korean, Estonian, Vietnamese, Croatian, Russian

Terminals

MetaTrader 4, MetaTrader 5, cTrader, R WebTrader, R MobileTrader, R StocksTrader

Min. first deposit
Broker fee

From $0.01 on R Trader account, on the rest are included in the spread

Lot volume

From

0.01

On all types of accounts

Maximum open positions

No limit - on MT4 (on ProCent the maximum number of positions is 200); on MT5 - 1000 + 500 active orders

Bonuses
Leverage

Until 1:2000

Depends on the type of account

Spreads
Free Demo Account
Adjustable
Regulators
Types of accounts

Prime, ECN, R Trader, ProCent, Pro

Margin call / Stop out

from 40%/from 10% (depending on account type)

Transaction volume

0.01 (depends on the type of account)

Features of trade
Execution of orders

Market Execution (at market price)

Methods of replenishment

Sepa, Wire Transfer, Skrill, Neteller, Advcash, Perfect Money, Bank Card (Visa/MC), JCB, Kassa24

Withdrawal methods

Sepa, Wire Transfer, Skrill, Neteller, Advcash, Perfect Money, Bank Card (Visa/MC), JCB, Kassa24

Number of assets
Types of assets

Currency pairs

More than 40 currency pairs

Stocks

CFDs on Amazon, Facebook, Siemens and over 12,000 other assets

Indexes

More than 10 in-demand tools

ETF

Investing money in ETFs will help diversify your investment portfolio at minimal cost

Raw materials

CAFE, CORN, SGAR, SOYB and other commodity ETFs

Metals

Invest in Gold (XAUUSD) and Silver (XAGUSD) and trade more than 20 ETFs on copper, nickel, palladium and platinum

CFD

On stocks/ETF, US, DE, UK, Swiss, etc.

Energy Carriers

Demanded energy commodities such as oil, natural gas, and ethanol

Cryptocurrencies

CFD on Bitcoin, Binance Coin, Solana, Stellar, Ethereum, Ripple and cryptocurrency-related ETFs (BLOK, META, XBTF)

Account currencies

EUR, USD

Liquidity providers

Not specified

Mobile Trading
Weekend trading

Only cryptocurrencies are traded on the weekend

Tournaments / contests

At the time of updating the review there were no competitions

Trader training

Webinars, training videos, FAQs, etc.

Contract Difference Commission
Swaps
PAMM trading

Investments in financial assets through CopyFX platforms, where you can copy individual trades and whole trading strategies, create unique tactics of interaction with other traders and increase your potential earnings

Analytics

Forex forecasts and analysis, RoboForex analytics center, blog, economic calendar

Margin Trading
Affiliate Program
Benefits

Fast withdrawal of earnings without commission

Quality technical support, training materials and analytics

Affiliate program and profitable bonuses

Wide range of terminals and trading accounts

Disadvantages

Complicated registration procedure

Company requisites

Legal name:

RoboForex Ltd.

Legal address:

9724 9724 Ramiro Duran Street, Belize City, Belize

Date of update

12.02.2023

Overall assessment
Address
2118 Guava Street, Belama Phase 1, Belize City, Belize
Map
Subscribe to this company
RoboForex is this a scam? Reviews and description
RoboForex
- is a successful
Forex broker
which has been providing financial market access services to its clients for many years. The broker continues to move in the direction of developing and offering new services to clients for
forex trading
and investing capital. It is probably the only company that has a whole line of in-house developed software solutions suitable for both trading and investing.
These programs are far ahead of MT4 and MT5, which are more popular among traders, by their functionality and convenience, and the latter are also part of the company's arsenal. You can find out if RoboForex is a serious company, if it's a scam or an honest organization by reading our review.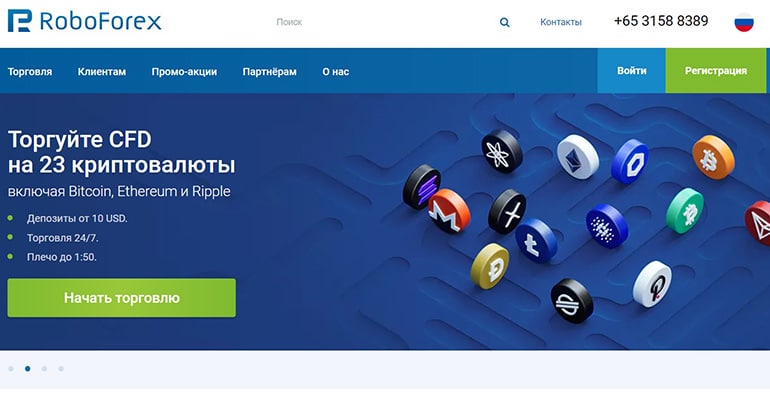 Terms of trading with RoboForex
RoboForex broker offers a range of assets for trading, the total number of which is more than 12,000 trading instruments. These are forex currency pairs, CFDs on stocks, indices, cryptocurrencies and others. But different types of accounts and a significant number of instruments are not the main distinguishing feature of the company, or to be more precise, not its main distinguishing feature. Despite the fact that it does not call itself innovative, its range of services includes the possibility of not only trading, but also investing funds, forex trading trainingincluding in the form of client participation in various contests, which you can read about on the website roboforex.com (The whole truth about forex). And most importantly, for each of these points here is a separate program of its own design, able to greatly simplify the trading for existing and future clients.

RoboForex platform
During its almost ten-year successful history, the broker has significantly expanded the number of terminals. They can be divided into trading and investment terminals, which include a set of algorithmic tools, i.e. capable of creating automated trading systems without having to learn programming languages. Apart from MT4 and MT5, which are already familiar to the market, RoboForex has added two terminals of its own design to its arsenal. A number of functions realized in them are very convenient for professionals, though not the most up-to-date solutions on the scale of the world's trading industry.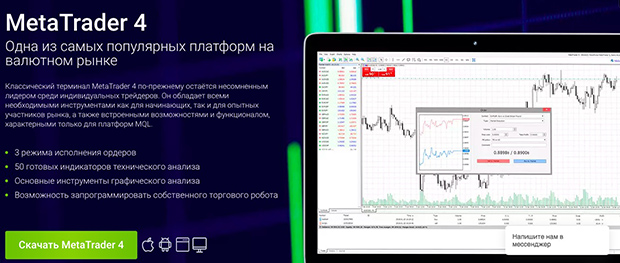 R StocksTrader terminal
R StocksTrader is a trading terminal created by RoboForex, which, in principle, does not stand out among similar solutions and its functionality is quite similar to the usual MT4. Most likely, it has been created by the company to replace MT4 for mobile and desktop devices in order to reduce the expenses on license fees charged by MetaQuotes Software Company for the use of their terminals. According to statistics, the number of mobile devices with which clients trade and simply use the Internet is growing every year, and the availability of such a terminal can definitely be called a promising direction for the work of any serious broker.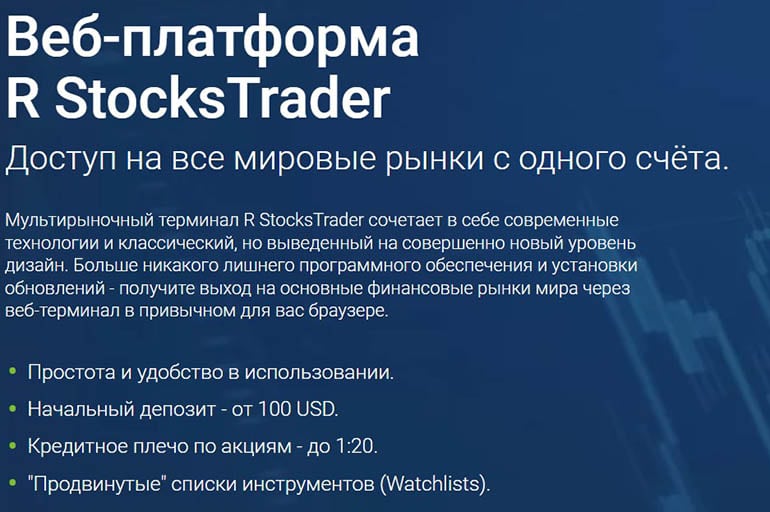 R Trader is an online platform also developed by the broker, which does not need to be downloaded from the website roboforex.comit means that all its functionality is open to any client who has a computer and any browser installed, regardless of its power. Since one of the main objectives of online platforms is to make mastering the functions of the terminal for customers faster and easier, this has been implemented in R Trader.
The interface of the start page of the program begins with three blocks, in the first of which the client can see two charts of various trading instruments. The developers have made it clear from the start that the platform can work with several assets, simultaneously observing their dynamics on the main screen. Examining the block with charts in more detail, it should be noted immediately that there may be more charts displayed on the main page and they can be grouped according to different principles. For example, you can display three charts of the same instrument, but with different time values. You can display several charts of different instruments and thus track the appearance of the signal for a large number of assets, increasing your chances of making a profit by finding a familiar and proven entry point for different instruments.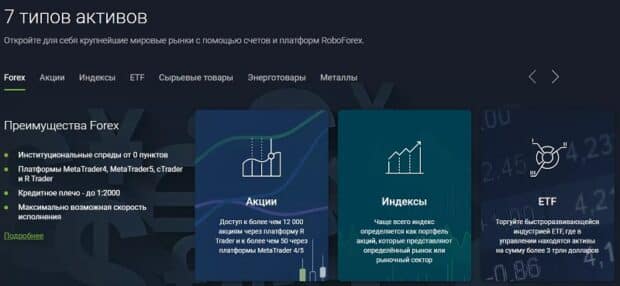 But perhaps the most important feature of the block with charts is the possibility to analyze correlations of trading instruments (analysis of two different charts on one screen). Of course, we cannot speak about this function as simple, nor can we say that any trader can use the analysis of correlations without prior preparation. However, the mere presence of this option turns the terminal from the category of ordinary programs into a more professional one allowing traders not only to trade instruments directionally, but also to make money in arbitrage trading by analyzing not the trends but the deviation of two assets from each other. Below in the program there is a block where the information about active trading positions, history of transactions and failed orders is displayed.
But one of the most interesting tabs of the program is the strategies. When passing to them, the trader is immediately offered 4 simple strategies for trading with their detailed description, as well as the opportunity to add your own strategy here. This feature is innovative. Even though the 4 strategies are not new and simple enough, for any beginner using these ready-made solutions will allow to immediately move on to training such important for him qualities as discipline or execution of actions clearly described in the strategy, instead of wasting time on testing his intuition in the market.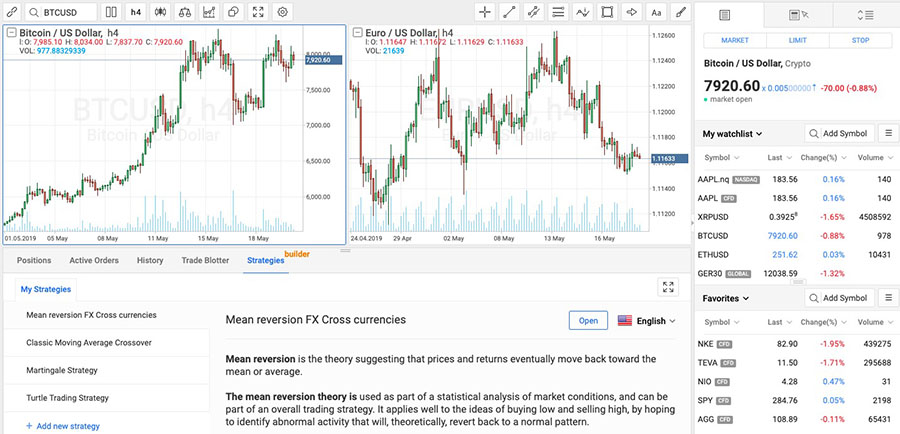 Studying this block, it is impossible not to emphasize the possibility of adding your own strategy here, editing the already existing techniques, which in many ways can also have a great positive effect for any trader. Putting your own trading strategy into the platform, which will always be at your fingertips and open along with the charts, also contributes to discipline. This partially solves the issue of having a trading journal, the first page of which always describes the strategy, and the trader usually rereads it before proceeding. This option makes the functionality of the platform simply unlimited.
The third block of the terminal can make any client of the company, who has any experience in trading, delighted. It includes 3 tabs, the first of which is Whatchlist, a feature little familiar to MT4 and MT5 users, but one of the main features available in all terminals used for professional trading. The Whatchlist is a list of trading instruments that the trader selects before the start of trading based on a pattern that has formed or is forming, on which he can get a forex market signal during the trading session.
That is, it is a kind of homework, by doing which the trader discards all instruments that do not show a good technical or other model for trading, thereby increasing his chances of a good trade. Also for those who trade stocks, Whatchlist already has pre-installed stock filters that show the top 10 best rising and top 10 best falling stocks, which also greatly simplifies the trading process here, because stocks don't just turn around and a strong trend decline can continue for days on end.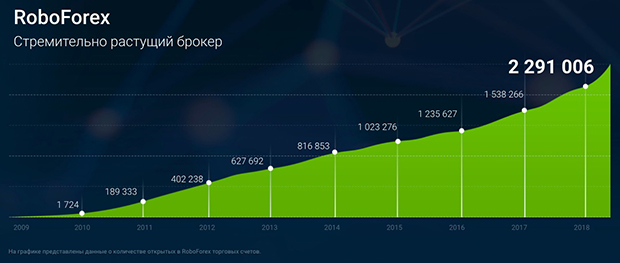 And perhaps the most important feature of the R Trader terminal is the third tab, by going to which the client can see professional tools: a real stock market glass, and, most surprisingly, a print feed - a block that sequentially shows all incoming buy or sell orders in the market with the purchase price and transaction volume. Here any client of the broker can get valuable information, which is available only to professional traders, working in paid terminals.
cTrader
Another one of the terminals offered by the company, which is quite serious, is cTrader. RoboForex considers the main advantage of this platform to be the speed of transactions execution. In addition, the program has the ability to configure the trader's desktop completely according to his preferences, changing all the blocks in their places and setting them in any sequence. Also, the possibility to create your own forex robots is presented here, which is similar to the one described in the terminal above.
But the main feature of the terminal is the ability to view the depth of the market, or as it is also called - the level2 glass. Here you can see not only the nearest to the price buy or sell orders, but also more distant, so-called "icebergs". That is, in fact, you can see the so-called big player and even try to understand the course of his actions not at a certain moment, but in the future.
Looking at RoboForex terminals, it's worth noting that while offering such multifunctional programs to traders, the broker also took care to professionally prepare its clients for trading on the market. The "Training" tab at roboforex.com offers a free video course with 16 videos that might well "wow" some experienced Wall Street trader's book. Just look at such lesson titles as "Stock Selection in the Reporting Season", "Trend Shaping and Classification Rules", "Basic Rules for Swing Positions". This allows us to talk about free training at RoboForex as a minimum, claiming to have a high-quality and professional education in trading.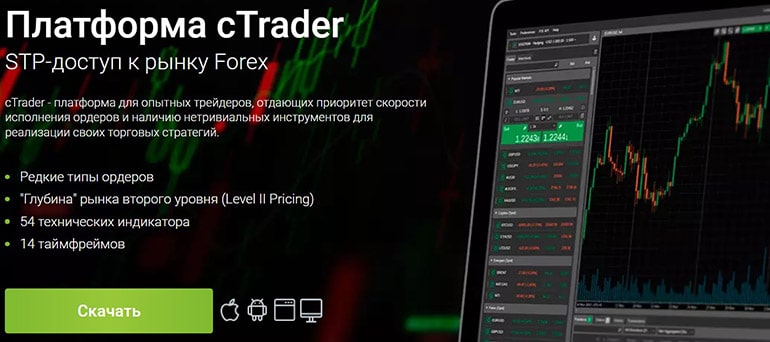 Broker quotes
Like most brokers, the company is also in no hurry to disclose on the website roboforex.com information relating to liquidity providers, and this is no coincidence. The broker offers different sources of such information in order to make the quotes really the most relevant: these are prime brokers, exchanges, aggregators, banking institutions, etc. This list is constantly changing for different types of accounts and assets, so it would be irrelevant and incorrect to specify any specific liquidity providers.
Demo account roboforex.com
Broker RoboForex offers on the website roboforex.com The possibility of opening a demo account in MetaTrader 4 and MetaTrader 5. In addition, the client can explore the functionality of the R Trader terminal by simply pressing the "Continue as a guest" button. However, it should be noted that the platform will not allow any trading operations, even with virtual money, when using this option.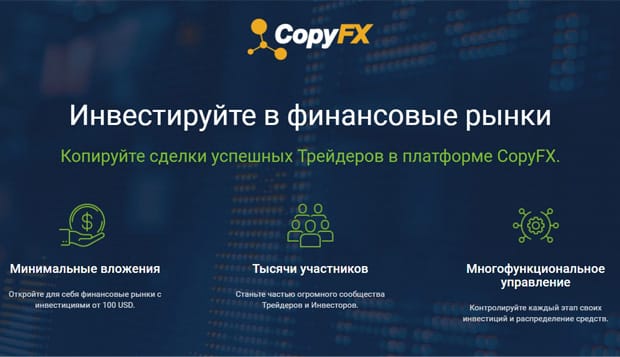 Mobile application
RoboForex has mobile terminals in its arsenal, which can be used by clients to perform trading operations via tablets and mobile devices. This will allow them to easily use the advantages of mobile trading.

Bonuses at RoboForex
A bonus program in any brokerage company serves to attract new partners. Participation in such actions gives the chance to a beginning trader to increase his initial deposit. Most newbies immediately lose their starting capital without having enough time to acquire initial trading skills. Bonus offered by trader gives wider perspectives in this respect. Beginners have more chances to overcome the so-called psychological barrier that a vast majority of beginning traders have. The RoboForex project takes into account user demand and offers several types of bonuses to its clients.
Profit Share bonus
Gives an opportunity to increase the deposit by half on the first deposit and thus increase the trading turnover. Bonus funds can participate in unprofitable trading and allow limiting losses of trader's capital. The amount of bonus depends on the deposit sum: up to $300 you get 25%, over $300 you get 60%. You can get the bonus on all standard and cent accounts of the broker. Profit Share is not available for an account that already has capital from other promotions. The total reward amount cannot exceed $10 thousand on one account and $20 thousand on all accounts.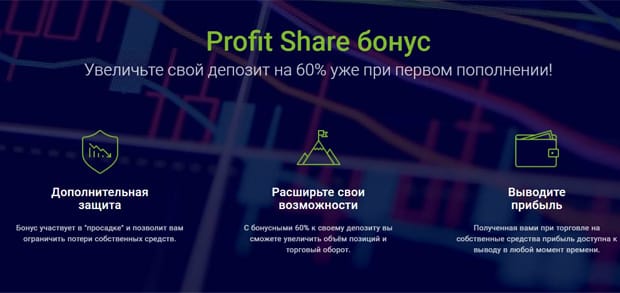 Classic bonus up to 120%
Given at the first deposit to the account in the form of a percentage of the payment amount. The promotion is aimed at increasing the client's trading turnover. The reward size depends on the replenishment sum: you get 50 % up to $300, from $300 to $500 you get 100%, from $500 - 120%. The promotion is valid for standard and cent types of accounts. The number of deposits is not limited. There is no limit on the number of accounts. If the conditions of the trading turnover are met, the profit made with the use of the bonus is available for withdrawal.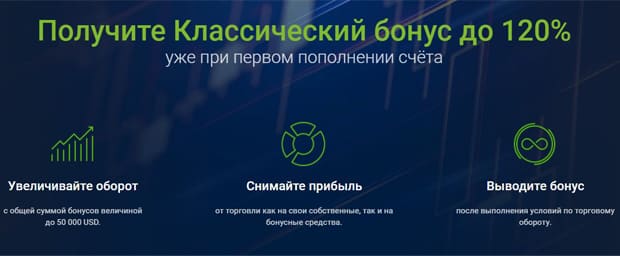 Promotions and contests
As promotions, the project offers unique services.
Cashback (Rebates)
Cashback depends on the trading turnover for the month on already closed orders. CFD trading operations are not taken into account. Cashback can be managed at your discretion. Rebates are available from 10 lots and more. Payments are made monthly from the 1st date.

Up to 10% per account balance
This is a monthly accrual in the form of annual interest on the balance of the trading account of the user (excluding bonuses). The funds can be disposed of at your discretion. The program takes into account the turnover of transactions with currency pairs and metals. CFD trades on stocks, indices, and commodities are not considered in the calculation of the trading turnover.

Affiliate Program
As part of the affiliate program you can get up to 70% from the broker's profits with instant commission. There is also an additional loyalty program of up to 20% from the entire amount of affiliate commission.

Deposit and withdrawal
Depositing an account at RoboForex is possible by different methods: bank cards, electronic wallets. At the same time, the number of ways to withdraw money is a little less than the number of ways to deposit money. After registration in your personal cabinet, you can deposit money to the system in the following ways:
Withdrawal methods: Skrill, NETELLER, Perfect Money, AdvCash, Visa, Mastercard, JCB.

Complaints about RoboForex
RoboForex has a considerable work experience in the CIS countries, which allows you to find a sufficient number of traders' reviews in the Internet, on the basis of which certain conclusions about the company can be drawn. As for RoboForex, the first ones to appear in the list of reviews are the negative ones, which are rather long and contain detailed information and digits. If we analyze the total mass of negative feedbacks, then the complaints about "wrong" quotes by RoboForex are standing out, as they seem to make the volatility corridor wider in some cases, thereby causing traders' stop orders to trigger.
We, in our turn, are not going to make any hasty conclusions based on such feedbacks, designating only that the managers of the company responding to such feedbacks refer in this case to their liquidity providers and the impossibility to compare quotes data a priori. And this answer may well suit us, but we will consider this situation in more detail when analyzing the client agreement. In addition, there is a positive feedback from traders about the broker: they praise it for the accurate execution of applications, fast withdrawal of funds, a lot of terminals, high-quality tutorials, etc.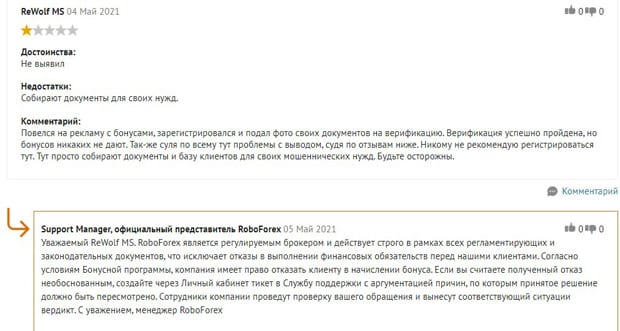 If there are any complaints about RoboForex, we'll be sure to post them on social networks. Sign up to not miss anything!
Please keep yourself informed about news and complaints. We copy the most valuable information to social networks, so please sign up!
Regulator of the broker RoboForex Ltd.
The presence of a regulator at any broker increases its reliability and causes more trust on the part of users. Since the activities of companies providing brokerage services on the market are subject to mandatory certification, they place information about registration and availability of a license on their websites.
It is important to check it, especially for those traders who start in the market with large sums. Without accurate information about the reliable regulation of the broker, it would be extremely frivolous to hope for a withdrawal from your account. RoboForex Ltd. has been working on the market since 2009. The project itself has a brokerage license FSC (Belize Commission for International Financial Services) number 000138/210.
The Belize International Financial Services Commission oversees the work of the non-banking sector. Controlling brokers, the body informs them about changes in financial services and innovations. The credibility of FSC is high and is supported by an interesting fact: for violation of the rules of providing services the regulator annulled licenses of 48 companies. It's not by chance that many traders trust it, and consequently, the brokers it controls. RoboForex Ltd. is also an official member of the international organization The Financial Commission.
roboforex.com User Agreement
Continuing to study more closely the activities of a forex broker RoboForexLet's move on to the study of its Client Agreement, as it is often the document that describes the possible negative aspects that a trader may encounter in the process of interaction with the company. It is worth noting that no broker hides possible trader's pitfalls and describes them in its agreement one way or another. It cannot be interpreted as cheating or fraud, because the broker does disclose this information, even if it is negative for the client.
RoboForex is not an exception in this case. To begin with, let's highlight the point that can confirm that most of the negative feedbacks about the company described by us above. Paragraph 14.6.3 says that the company does not accept claims from clients, if the reason for this is the difference in quotes with any other resources: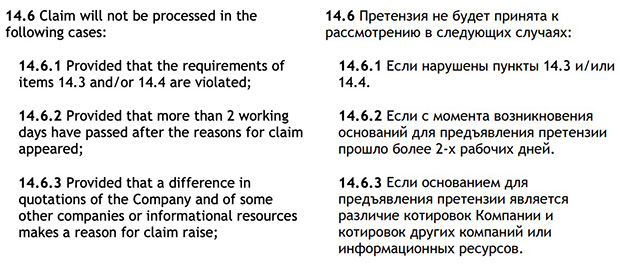 This point makes all the previously described claims of traders to RoboForex concerning quotes quite logical. And, it would seem, it's absolutely normal, if not for one "but". On the main page roboforex.com as one of its main advantages, the broker says that all its clients receive insurance against a negative balance. This means that if the account goes into deficit, the company will not require the trader to return the amount of the negative balance. When trying to find out the details of this detail and clicking on the item with the insurance against negative balance, the client gets to a page where it is explained in more detail that a negative balance is not a problem for the client, this zeroing procedure is performed by the broker automatically.

How to interpret this inconsistency - unfortunately, the broker does not explain it in his Agreement. And another point that strongly contrasts with common notions about the brokerage account is the point 3.5, which says that the company has the right to refuse the client to perform operations on his account if it is revealed that it is not used for the purpose, and as an example of this the currency conversion is described here. The question arises at once - if buying/selling currency on the exchange through the broker is a non-purpose use of the account, then for what purpose, according to the broker, the client opens an account with him, and will the company refuse to conduct operations after a series of exchange transactions, which brought profit to the client?

Is RoboForex a scam?
Forex broker RoboForex - is an experienced financial company. Let's try to understand in detail why this is the case and understand what prospects this picture promises for future clients of the broker. To begin with, on the homepage of roboforex.com you can find information about various awards the company has received at the events held in different EU countries. The very fact that a broker without a license issued by a European regulator (and RoboForex doesn't have one) participates in European competitions and receives awards doesn't seem quite logical. One of the brightest examples of this is a publication on the RoboForex website about a prize in the "Safest Broker" category, received by the company during the London Investor Show, which was held in 2018.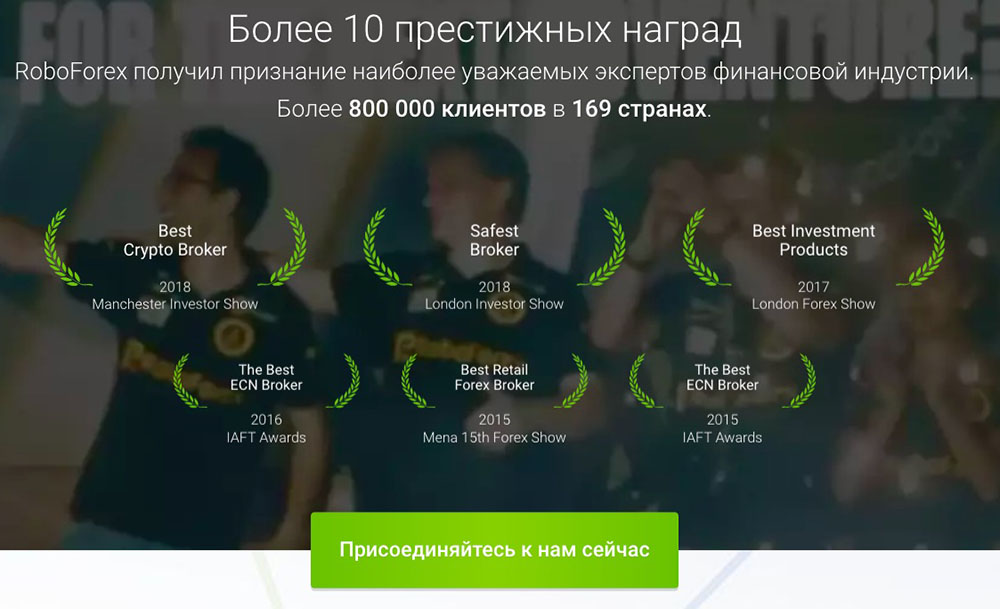 But looking at the official website of the event organiser, a trader cannot find information about RoboForex here. The company has a small disadvantage: the registration procedure is complicated (even for demo trading).

Conclusion
Forex broker RoboForex - is an experienced financial company that offers clients trading in different assets, training materials, analytics, professional trading terminals, etc. And yet, despite the large number of its own developments for clients, it does not look the best when studying its activities and agreement details in depth. Let's try to understand in more detail why this is the case and understand what prospects such a picture promises to future clients of the broker.
The company in the ratings
Rating of reliable brokers
Activity
New

0

Resolved

0

Not resolved

0