Bitso is a service for exchanging cryptocurrencies for Mexican peso with free deposit and withdrawal, low commissions, a convenient mobile app and referral program.
Read completely
Cryptocurrency exchange
Website
Social media
Date of foundation

2014

Head Office

México, Campos Eliseos, 400 601B

Types of support

Telegram: @itso_MX

Feedback form on the site

Twitter

Instagram

Facebook

Help Center

Languages

English, Spanish, Portuguese

Founder

Ben Peters, Daniel Vogel, Pablo Gonzalez

The owner of the company

Ben Peters, Daniel Vogel, Pablo Gonzalez

Manager
Maximum input amount

Verified

Fiat

Bank transfer, Ripple gateway, SPEI:

to 18 000 USD / For 1st level clients

Bank transfer, Ripple gateway, SPEI:

to 54 000 USD / For clients of the 2nd level

Bank transfer, Ripple gateway, SPEI:

Individual conditions for clients of the 3rd level

Maximum withdrawal amount

Verified

Fiat

Bank transfer, Ripple gateway, SPEI:

to 18 000 USD / For 1st level clients

Bank transfer, Ripple gateway, SPEI:

to 108,000 USD / For 2nd level clients

Bank transfer, Ripple gateway, SPEI:

Individual conditions for clients of the 3rd level

Exchange Commission

Commission for processing transactions:

0.1

%

Terminals

Author's platform, TradingView

Age restrictions
Trading volume per day
Number of users
Number of cryptocurrencies
Margin Trading
Leverage

Depends on the pair traded

Tokenized assets
Free Demo Account
Types of accounts
Execution of orders

Market Execution (at market price), Limit Orders

Methods of replenishment

Bank transfer, Ripple gateway, SPEI, Cryptocurrencies

Withdrawal methods

Bank transfer, Ripple gateway, SPEI, Cryptocurrencies

Account currencies

MXN, Cryptocurrencies

Types of cryptocurrencies

Bitcoin, Decentraland, XRP, Ethereum, Litecoin, Basic Attention Token, Bitcoin Cash, TrueUSD, DAI

Licenses

Licensed

FSC1348B issued by the Gibraltar Financial Services Commission

(Активна)

Mobile applications
Trader training

Training videos, instructions

A way to store cryptocurrencies
Fiat accounts
Scalping
Stop Loss and Take Profit Function
Exchangeability for fiat currencies
Basic verification
Extended AML verification
Regulatory laws

Legislation in Mexico

Gibraltar Legislation

API
Affiliate Program
Benefits

Free Deposit and Withdrawal

Tutorial videos and instructions

Integrated Resource Center

There is a handy mobile app

Additional safety provided by advanced KYC standards

Disadvantages

Problems with phone number verification

No Russian language support

Registration from the Russian Federation is not available

Limited choice of cryptocurrencies

Company requisites

Legal name:

Badger Technology Company

Legal address:

México, Campos Eliseos, 400 601B

Overall assessment
Date of update

27.04.2022
Bitso is it a scam? Reviews and description
Bitso - is a service for exchanging various cryptocurrencies for the Mexican peso. Founded in 2014 by Ben Peters, Daniel Vogel (platform manager) and Pablo Gonzales, the company has become a pioneering cryptocurrency exchange in Mexico. It is the first cryptocurrency exchanger to offer cryptocurrency trading with the Mexican peso. You can work on the exchange through a website platform and a mobile app.
There are not many reviews about the company, and among them there are complaints about the exchange. That's why we compiled this review to understand whether Bitso is a scam.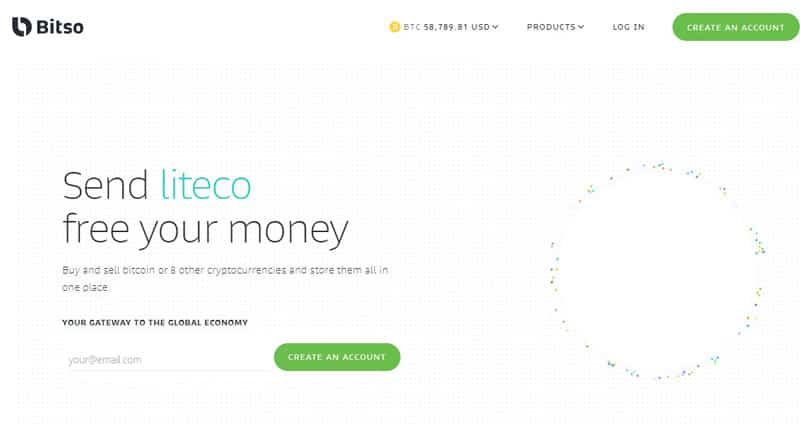 Why Bitso?
Bitso is a service where you can send and receive cryptocurrency between friends around the world in seconds, buy and sell coins. You can make deposits in local currency, dollars, or any cryptocurrency and have funds on hand in one account. Benefits of the platform:
Fiat currency trading;
A comprehensive referral center;
Low commissions;
Enhanced KYC Standards;
Deposit and withdrawal of funds without commission;
High level of security;
API support;
A mobile app for ease of use;
Videos and instructions for beginners;
Checking the currency before listing.
On the home page crypto exchanges There is a link to a page with a description of the company's mobile app, a link to a page with a description of the company's mobile app. There is also a link to the page with a description of the company's mobile application. The help center contains many answers to popular questions, guides and tips.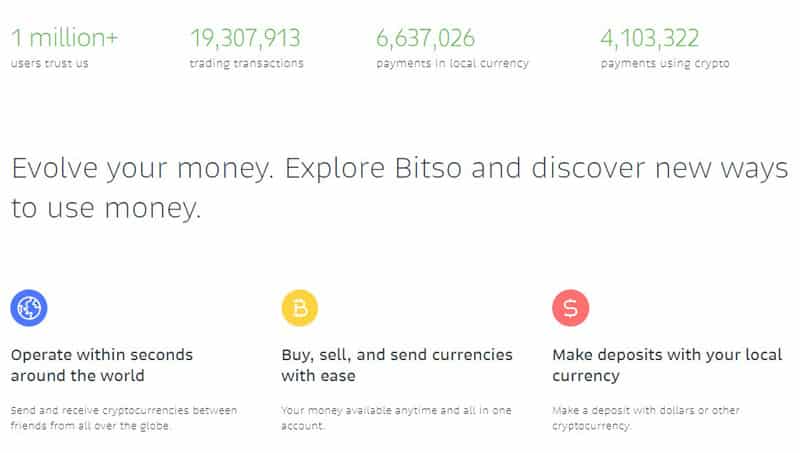 How to exchange cryptocurrency on the Bitso platform?
Now the service works with the following cryptocurrencies: Bitcoin, Ethereum, TrueUSD, BitcoinCash, Ripple, DAI, Litecoin, Decentraland, BAT. You can use the platform as a wallet or to exchange cryptocurrency. When you register on the service's website, you will have access to both services. In the wallet, you can deposit and withdraw cryptocurrencies and convert them to other cryptocurrencies. The exchange service, on the other hand, is more focused on cryptocurrency trading.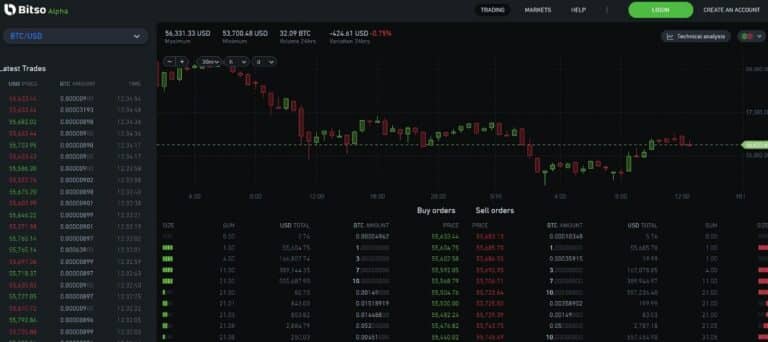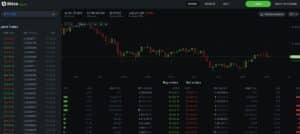 The work takes place on the Bitso Alpha platform, which is designed only for traders. It has the necessary tools for work. The service offers popular order types, including the top 10 buy and sell orders. Market overview and transaction information is also available. It is not possible to set your own time frame for analysis, the options available are: 1, 3, 6 minutes, a week, since the beginning of the year and 12 months. You can buy coins on Bitso in 3 easy steps:
Log in to your account or register on the site bitso.com.
Deposit funds in Mexican pesos. Make a deposit using one of the deposit methods (SPEI or Oxxo transfer). The minimum transfer amount via SPEI is 50 pesos.
Buy currency at the best market price or place a position for a certain value.
The minimum purchase amount is the equivalent of 100 Mexican pesos. The company also has a handy app. Bitso App is the only app in Latin America that allows you to check market trends and buy cryptocurrency at the same time. Start with 100 Mexican pesos and buy or sell cryptocurrency from your smartphone. The app allows you to check the price to stay up to date on market trends and cryptocurrency performance in real time. You can fund your account with cash at OXXO in the country or from the banking app via SPEI transfer.
Verification on the bitso.com platform
Before you can be verified, you need to create an account. To do this you will need an email and a cell phone number to receive a confirmation code. Note that at the moment registration from the Russian Federation is not available. Registration stages:
Log in to Bitso and fill out the form with your personal information and cell phone number.
Enter the code you receive on your phone, choose a password and the NIP of the transaction.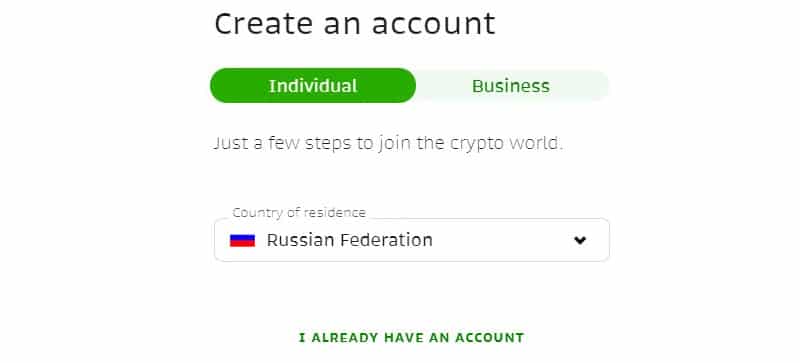 After registering, you will be assigned a user ID which you will use to log in to your Bitso account. You will receive an email notification of a successful login to the account, which will include the registration data and the user ID. As for verification, there are 3 levels on Bitso:
At Level 1 you can deposit and withdraw up to $5,300 per day. To receive it, confirm the phone number you entered during registration with an SMS code from the service.
At level 2, the amount increases to $150,000 per day. To reach it, provide your passport and proof of address. You must also carry out transactions of at least 5,000 pesos and fund your account through the Spei service.
Level 3 - corporate with no restrictions on deposits and withdrawals. To obtain it, conclude an agreement with BITSO, providing your documentation.
Deposit and withdrawal
Since bitso.com is focused on cryptocurrency trading in Mexico, it is possible to deposit and withdraw funds through the Mexican SPEI banking network. There are a total of 3 ways to deposit:
International bank transfer;
Ripple Gateway;
SPEI Network.
To deposit Mexican pesos (MXN) into your Bitso account, log into your account, go to the "Wallet" section and click "Balances". Go to the MXN section and click the "Fund" icon. Select the method you are going to use to fund your account. It can be cash, a coupon, or SPEI. Follow the instructions on the screen to proceed with the payment. Check the funding limits corresponding to your account level before depositing funds.

If you want to deposit bitcoins, click the "Deposit" button in your wallet. Send BTC from your wallet to the address displayed on the screen. You can also use a QR-code - the address to refill in graphic form. The BTCs will appear in the account as soon as they are confirmed by the blockchain 4 times (average time varies from 30 to 60 minutes per confirmation). Before that they will appear as "outstanding deposit".
To withdraw money, click on "Wallet" and choose one of the withdrawal methods. This can be done from SPEI, to a bank card or cell phone number. Fill out the form that will appear on the screen with the information to make the transfer, and click "Send". If the data is correct, a green message will appear indicating that the withdrawal has been received by the system and will be automatically processed shortly. You can withdraw cryptocurrencies to your personal wallet, to another page or make online payments with them. To do this, do the following:
Go to the page with the output methods in the account bitso.com.
Fill out the form, enter the amount you want to withdraw and the destination address. The minimum withdrawal amount is 0.001 BTC.
Enter the NIP of the transaction and click Submit.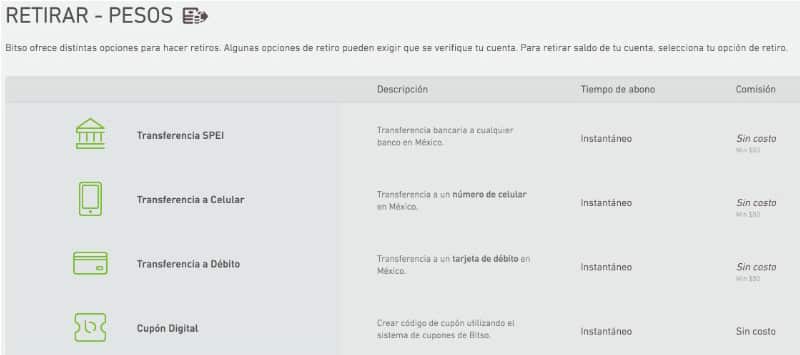 Bitso Crypto Exchange Commission
For trades that meet the minimum trading volume, the commission charged by Bitso is on average 1%. For volume trades, the service offers discounts depending on the amounts. Thus, the commission can be reduced to 0.1%. When making a deposit, no commission is charged.
Withdrawal fees
There is no fee for withdrawal via SPEI and Ripple Gateway. But for withdrawals via Bitcoin and Etherium the fee is 0.001 BTC and 0.0025 ETH respectively.
Bitso bonuses
The service offers volume trading discounts that reduce commissions from 1% to 0.1%. Bitso has also developed a referral program.
Bitso referral program
The Bitso referral program is a system through which you can receive 10% commissions on the amount of transactions of the users you attract. For this purpose, the client receives a link that can be used by his friends and acquaintances. You can see the list of referrals and their profit in your Bitso account. Both the partner and the referral must be of level 2.
Complaints about bitso.com
In the Russian-speaking segment of reviews of the service bitso.com We were not able to find it. So far it is not popular with users from Russia. There are comments about the platform on Facebook and on several third-party sites. Alongside positive reviews, there are complaints about the slow operation of the platform and high commissions. But the average score for the service is 4.2 out of 5.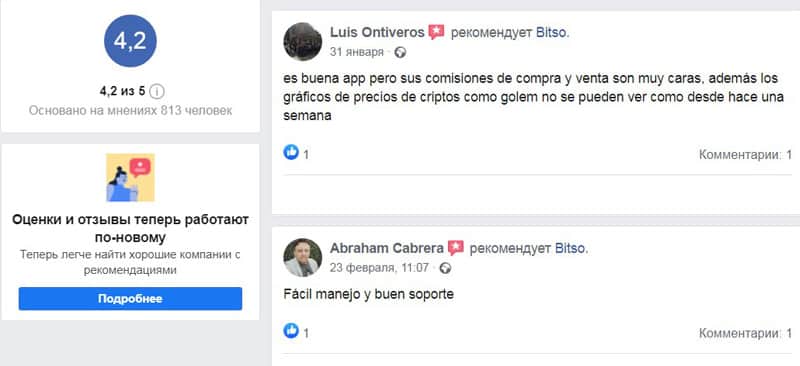 If there are any complaints about Bitso, we'll be sure to post on social media. Sign up so you don't miss anything!
Please keep yourself informed about news and complaints. We copy the most valuable information to social networks, so please sign up!
Crypto exchange regulation
The Legal Information page has information about BITSO BRAZIL, BITSO INTERNATIONAL, NVIO ARGENTINA, and NVIO PAGOS MEXICO. All cryptocurrency-related transactions are handled by Badger Technology Company Limited, registered in Gibraltar at 117775. Bitso International is a regulated DLT provider licensed by the Gibraltar Financial Services Commission under the Investment and Fiduciary Services Act with license number FSC1348B.
Bitso User Agreement
The site has all the terms of cooperation and rules for working with the service. The documents contain clauses on registration, parties' obligations, deposits, transactions, withdrawals, fees, transfers and conversions, and force majeure.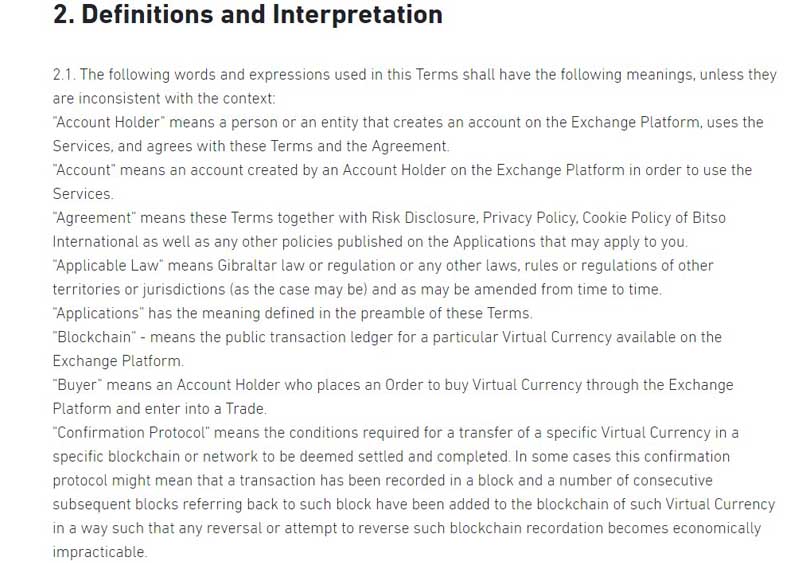 If Bitso International suspects that you may have been manipulated by the market, they will contact you to discuss your strategy. If they are not satisfied with your explanation of your strategy, they will notify you that your trading authorizations will be suspended for the next 24 hours. After that, the account will be closed and you will have 72 hours to withdraw your funds.
Customer Service
Bitso Customer Support is a comprehensive help center with the ability to create a feedback ticket. The help center contains frequently asked questions, buying guides, video tutorials and tips.
Is Bitso a scam?
Bitso - is a secure cryptocurrency exchanger. The Mexican service also supports deposits in fiat currency. Commissions at the exchange are low, and several types of cryptocurrency trading are supported, not just bitcoins. The help center contains a lot of materials to help even beginners to trade cryptocurrency. Reviews about the service are mixed, there are both positive and negative user comments. But given that the site has detailed guides and legal information about Bitso, we can conclude that this is not a scam.
Conclusion
Having studied the work of BitsoWe have noticed that users from Russia are not yet in demand. Not everyone manages to register on the site, so clients often choose other platforms for trading. I wonder if our readers have not used the service. In order to assess the work of the platform objectively, we would like to know the opinion of those who have had experience with the exchange. You can leave your feedback about the company in the comments below.
Robots for cryptocurrency