Tokocrypto is an Indonesian cryptocurrency exchange that offers favorable terms of cooperation and a high level of security.
Cryptocurrency exchange
Website
Social media
Date of foundation

2017

Head Office

AXA Tower, Jln. Profesor Doktor Satrio, Kavling 18, Lantai 37, Suite 3, Karet Kuningan, Setiabudi, Jakarta Selatan 12940, Indonesia

Types of support

FAQ

WhatsApp: 0811-1945-432

Feedback form on the site

Chat

Instagram

Facebook

Telegram

Languages

English, Indonesian

Founder
The owner of the company

PT. Crypto Indonesia Berkat

Manager
Minimum entry amount

Verified

Fiat

Gopay, OVO, Mandiri:

to 50,000 IDR

Unverified

Cryptocurrency

Not available

Maximum input amount

Verified

Fiat

Mandiri:

to 30,000,000 IDR / Daily limit

Unverified

Cryptocurrency

Not available

Minimum withdrawal amount

Verified

Cryptocurrency

From 0.001 BTC
From 0.0013 ETH
From 0.01 BNB
From 0.17 ADA
From 2 USDT

Fiat

Bank card (Visa/MC):

to 100,000 IDR

Unverified

Cryptocurrency

Not available

Maximum withdrawal amount

Verified

Fiat

Bank card (Visa/MC):

to 3,000,000,000 IDR.

Unverified

Cryptocurrency

Not available

Exchange Commission

Trade Commission:

0.1

% for taker /

0.1

% for maker

Withdrawal fee:

0.0005

BTC /

0.000066

ETH /

0.0005

BNB /

0.083

ADA /

From

0.8

to

50

USDT /

5500

IDR

Terminals

Author's platform

Age restrictions
Trading volume per day
Number of cryptocurrencies
Number of trading instruments
Margin Trading
Leverage
Tokenized assets

The company offers a currency of its own design - TCO

Free Demo Account
Types of accounts
Execution of orders

Stop Limit Order, Market order, Limit Order

Methods of replenishment

Cryptocurrencies, OVO, Mandiri, Gopay

Withdrawal methods

Cryptocurrencies, Bank card (Visa/MC)

Account currencies

Cryptocurrencies, IDR

Types of cryptocurrencies

BTC, ETH, BNB, ADA, USDT, ETC, DOGE, XRP

Mobile applications
Trader training

Tutorial videos and reference center

A way to store cryptocurrencies
Fiat accounts
Scalping
Stop Loss and Take Profit Function
Exchangeability for fiat currencies
Terminal capabilities

Working with indicators, graphical tools

Basic verification
Extended AML verification

KYC (passport, passport or driver's license. Photo with document (selfies). Proof of address (bank statement, utility bill, etc.)

Regulatory laws

Indonesian law

International data protection law

FATF (Financial Action Task Force)

API
Bonuses
Affiliate Program
Benefits

Loyal terms of cooperation

Fast verification process

Easy withdrawal procedure

Disadvantages
Company requisites

Legal name:

PT. Crypto Indonesia Berkat

Legal address:

AXA Tower, Jln. Profesor Doktor Satrio, Kavling 18, Lantai 37, Suite 3, Karet Kuningan, Setiabudi, Jakarta Selatan 12940, Indonesia

Overall assessment
Date of update

11.07.2022
Address
AXA Tower, Jln. Profesor Doktor Satrio, Kavling 18, Lantai 37, Suite 3, Karet Kuningan, Setiabudi, Jakarta Selatan 12940, Indonesia
Map
Subscribe to this company
Tokocrypto is it a scam? Reviews and description
Tokocrypto
- that
cryptocurrency exchange
which appeared on the digital asset market in 2017. It is registered in Indonesia. It is partly owned by
Binance
, which is licensed to conduct exchange trading. The platform includes several cryptocurrency services, including a platform for selling tokens
NFT
.
In this review, we will consider whether Tokocrypto crypto exchange is a reliable company. Or is it just another online scam? Let's look at how to exchange cryptocurrency on the platform tokocrypto.com, study user ratings and make appropriate conclusions.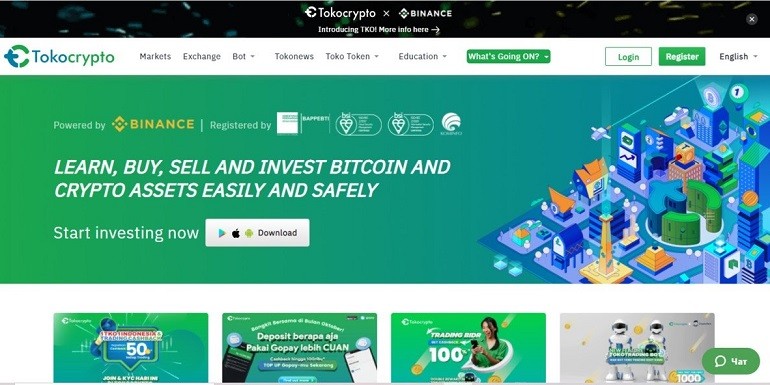 5% discount on exchange commissions by promo code 3ZG434XZ.
Discount 10% on exchange commissions by promo code 7697LP1X.
Why Tokocrypto?
This platform takes advantage of the decentralization of blockchain. It will allow Indonesians to become part of the modern global financial system, stimulating new business opportunities. The platform offers a wide range of features that appeal to a growing range of customers. Digital currencies can be accessed here such as BTC (Bitcoin), ETH (Ethereum), BNB and many others. Tokocrypto also has its own cryptocurrency TKO.
Website tokocrypto.com is not russified, it is presented in English and Indonesian. The trading platform has a simple and intuitive interface that even a beginner can understand. The platform has a 24-hour history, charts and indicators, pair selection, current orders, etc. - In general, everything that is required for trading cryptocurrencies. Among the advantages of tokocrypto.com are the following:
You can deposit money into an account not only in cryptocurrency, but also in the form of fiat money.
Dozens of common and rare cryptocurrency tokens can be exchanged.
The platform is supported by Binance's Smart Chain network, thereby guaranteeing the speed of transactions.
Easy and quick withdrawal of earnings.
KYC check according to a simplified scheme.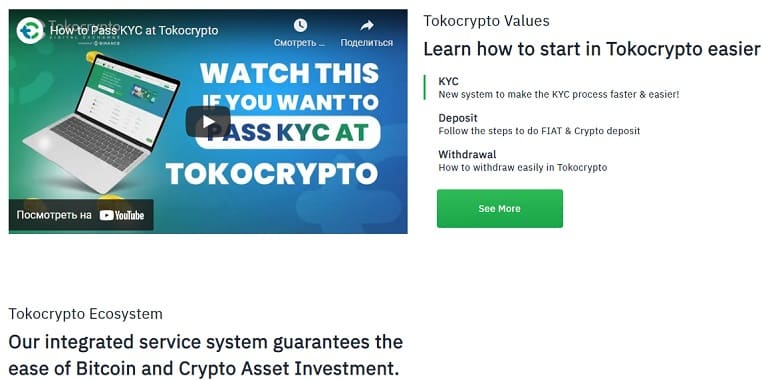 How to exchange cryptocurrency on the platform tokocrypto.com?
To exchange cryptocurrencies, you need to click on the Exchange button on the main page, and then select the necessary trading pair and specify the desired amount of cryptocurrency to exchange. After that, you need to click on "Buy" or "Sell".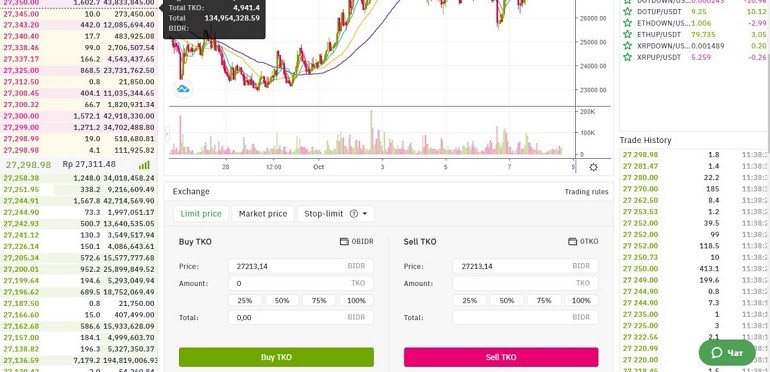 Verification on the Tococrypto platform
Tokocrypto offers a two-level identity verification. To pass the 1st level, you need to specify your nationality and upload a copy of your passport with a residence permit (temporary or permanent). You also need to provide personal information and take selfies. Your KYC information will be processed and it will take at least a business day. After that, you can withdraw 3 BTC or Rs 250,000,000 per day.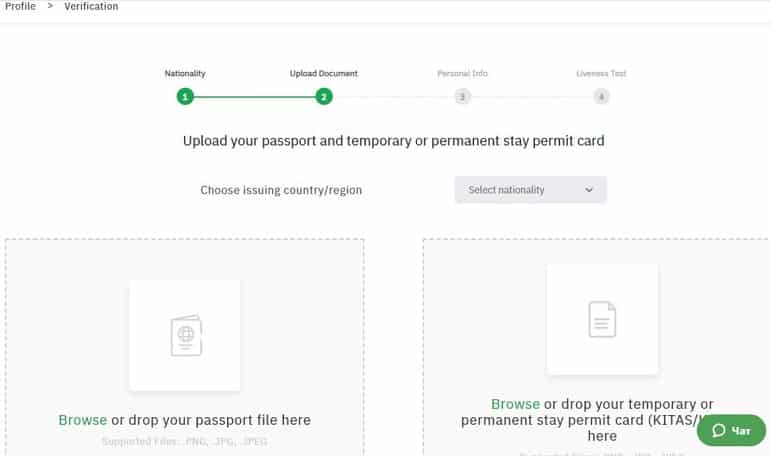 Passing the 2nd level of identification requires more personal data and documents. But after successful verification, you can withdraw up to $50,000 per day.
Deposit and withdrawal
You can top up your wallet only after verifying your identity. Go to your personal cabinet in the "Verification, Payment & Limits" section. Here choose one of the pairs BTC/BIDR, BTC/BUSD, BTC/.DAI, BTC/.USDC, BTC/.USDT and buy digital assets. There are two deposit options on the menu, there are fiat and crypto deposits. As for fiat deposits, the minimum denomination is 50,000 rupees. It is also possible to deposit via OVO or Gopay e-wallet. The time to deposit is about 3-5 minutes. To withdraw funds you have to go to "Withdraw" section in the personal cabinet (there is also a separate tab "Wallet" or "Wallet") and go to the withdrawal of funds. In the form that opens it is necessary:
specify the address of the wallet to which the money will be withdrawn;
enter the number of coins you want to withdraw;
read the information about the fee and the final amount that will be received on the specified number of the purse;
click the "Output" button.
Tokocrypto Crypto Exchange Commission
The transaction fee for TKO withdrawal is Rs 5,500 per withdrawal. A small fee of 0.1% is charged on deposit. In other cases, replenishment of the wallet is free of charge. For withdrawal, the fees are as follows:
Polygon - 0.15;
Ripple - 0.25;
Icon - 0.02;
Dash - 0.02;
Bitcoin - 0.0005, etc.
You can learn about other cryptocurrencies and tokens in the FAQ's in the "Withdrawal" section. The list contains more than 130 currencies, which can be traded on the cryptocurrency exchange tokocrypto.com.
Tococrypto bonuses
At this time Tococrypto offers such bonuses: 
Cashback 50% for each BUSD connection transaction c

 6 other selected crypto-assets that are announced daily via Tokocrypto's Instagram social network.

The minimum transaction size is $150 for the daily cashback, and the cashback is received in the form of TKOs. Valid for all TokoCrypto customers who passed KYC level 1. Selected coins are valid for 48 hours.

100% cashback and additional prizes when you connect BIDR with any coin.

We need to trade BIDR with other stable coins, for example, ADA/BIDR. Minimum transaction is 1,500,000 BIDR, total cashback is 65,000,000 IDR every day. You can get 100% cashback and additional prizes of more than 2,000,000,000 Indonesian rupiah.

Cashback 3-4% from depositing via Gopay. The action is valid until October 31.

Free TKOs when trading through CryptoHero Bot. You need to register a CryptoHero Bot account using a special link that you can get from the support service, and make sure that the BIDR balance in your Tokocrypto account is at least 1,000,000 BIDR.
Discount 5%
By promo code 3ZG434XZ you can get a discount on exchange commissions of 5% .
Discount 10%
By promo code 7697LP1X you can get a 10% discount on exchange commissions.
Affiliate Program
Every Tokocrypto customer who has registered and passed KYC 1 receives a referral link. This link can be shared with any number of friends. Referral links can be used for Tokocrypto registration. Referral link users are required to successfully complete KYC1 and have an accumulated trading volume of $100. If the referral link user does so, the link owner and the user will receive a prize of 75,000 BIDR each.
Complaints about Tokocrypto
Site Reviews tokocrypto.com are varied. Some note the officiality of the site and the minimal commission fee. They write that everything is official and legal, express their gratitude to the developers, they note that everything is thoroughly thought out. With ease, you can understand and make real money. Excellent technical support service, if there are unclear questions, you can get answers.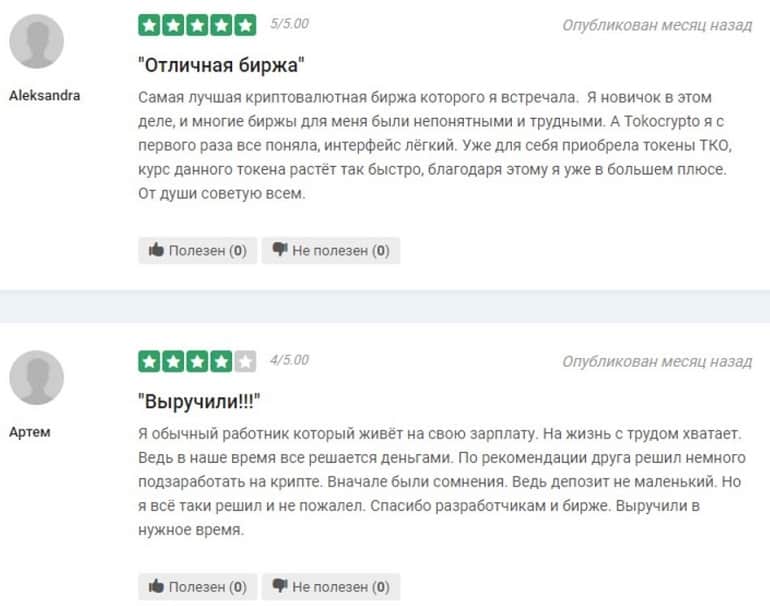 Others express their dissatisfaction with the service. They do not like the fact that the platform is oriented to the Asian market, the interface is not translated into Russian. In addition, margin trading is not supported. Among the disadvantages also note the work with a small number of coins and the high volatility of the rate.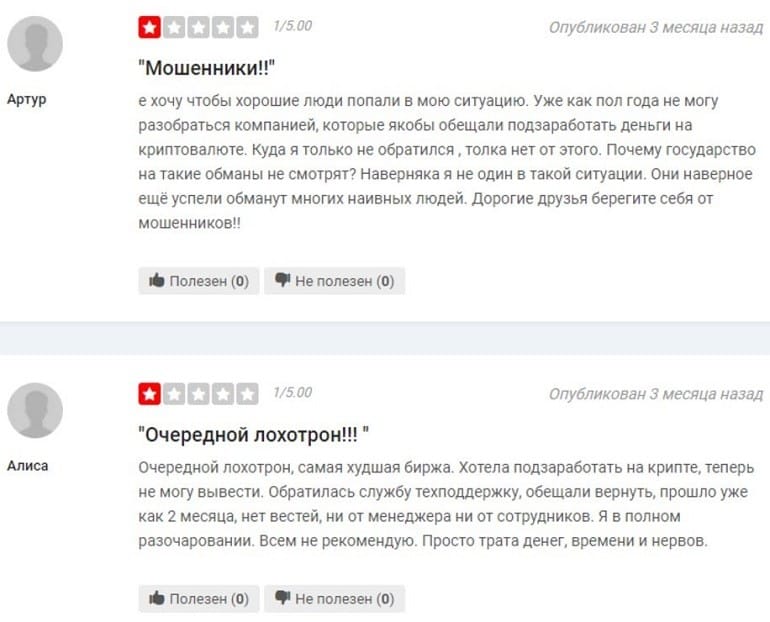 If there are any complaints about Tokocrypto, we'll be sure to post on social media. Sign up so you don't miss anything!
Please keep yourself informed about news and complaints. We copy the most valuable information to social networks, so please sign up!
Regulation of crypto exchange tokocrypto.com
Among crypto exchanges there are both honest companies and scammers. To understand the integrity of a crypto exchange, it is necessary to study its regulation and check whether it has a license. That's what we're going to do next.
Regulator
The organization does not have a license to operate with cryptocurrencies. However, it does everything possible to ensure maximum security of work on the site. Tokocrypto activity is controlled by the legislation of Indonesia, where the headquarters of the project is located. The contact information of the organization is in the public domain. The company is credible, as it is partially owned by the popular cryptocurrency exchange Binance.
Tokocrypto User Agreement
Manual Tococrypto warns that the user must be at least 17 years old, as well as the risk of losing all funds, because trading digital assets is very risky business.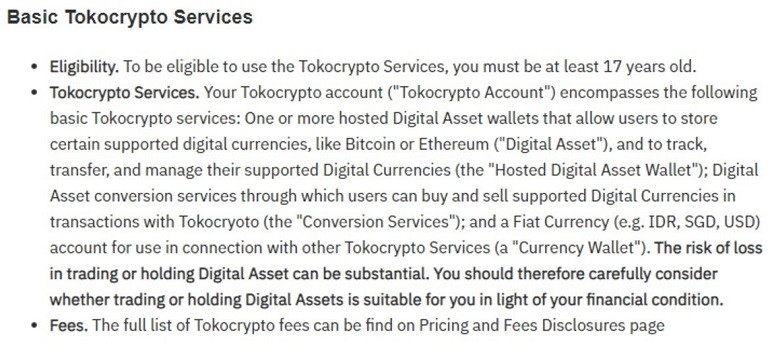 Confirmation of identity is a mandatory procedure. The user may be required to:
name, address, phone number;
email address;
date of birth;
taxpayer identification number;
state identification number;
bank account information (e.g. bank name, account type and number).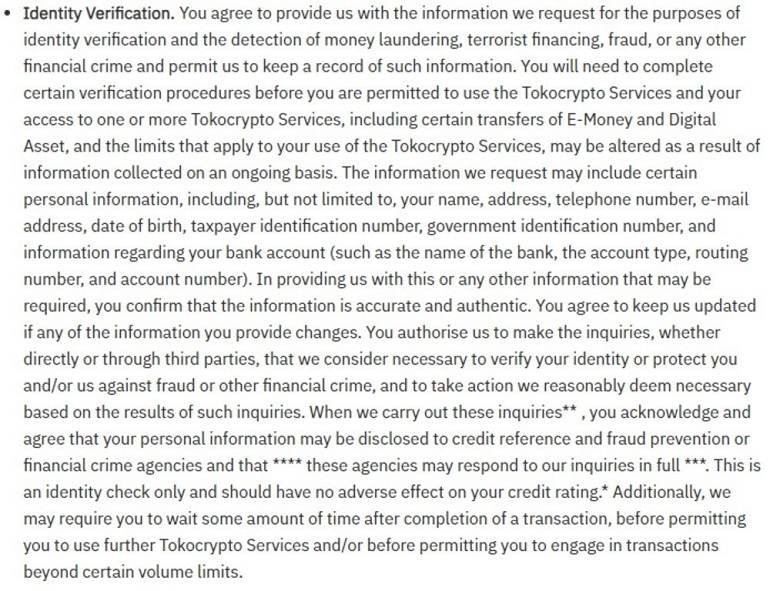 In the case of unauthorized use of funds or performing improper transactions, be sure to contact support.

The document includes information about transaction limits and advanced due diligence.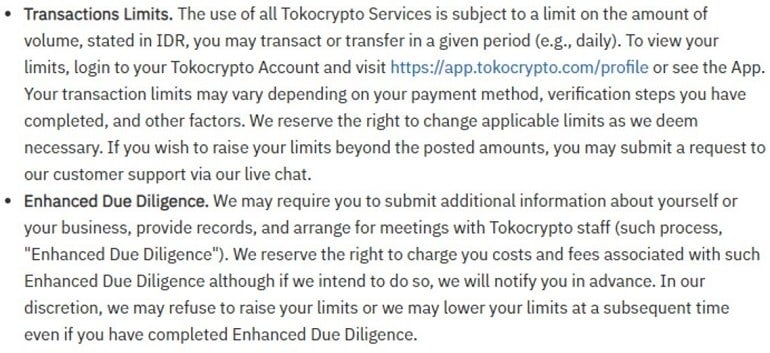 There are also cases when a transaction can be cancelled. This can be a suspicion of an erroneous transaction or fraud on the part of the user.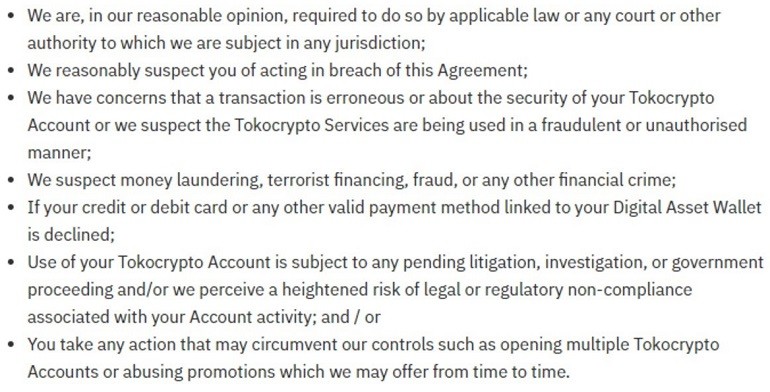 Users' personal data is reliably protected, Tokocrypto guarantees it. The company's customers are warned that they are obliged to read the "Privacy Policy" and provide the necessary information about themselves.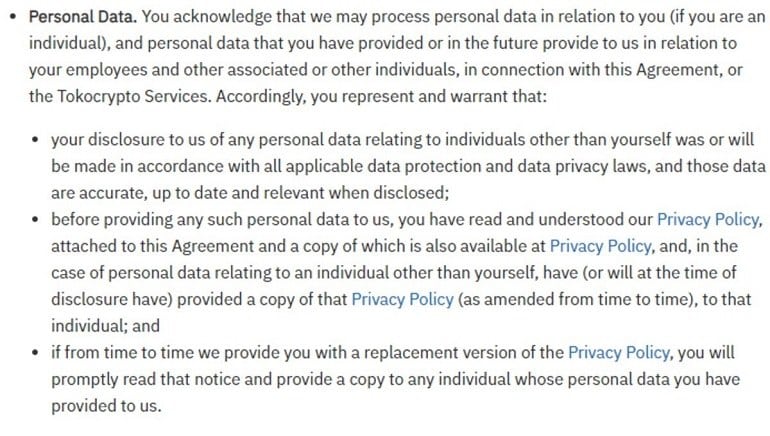 Customer Service
Support specialists can be contacted via Telegram, Chat and WhatsApp (0811-1945-432) or by e-mail at [email protected]
Is Tokocrypto a scam?
The company Tokocrypto hides its location. It does not have a license for financial activity. It is only known that it is registered in Indonesia and is partly owned by the popular cryptocurrency exchange Binance. This suggests that the company may not be a scam and a scam. It is difficult to judge the honesty of the company by the reviews, because they are too diverse.
Most users like working on this exchange. They write that this is a great cryptocurrency exchange and everything is fair here. No complaints about the withdrawal of money, all in time without delays. One positive emotions. But there are those who accuse the company of dishonest transactions and unfair blocking of accounts. Despite the lack of license and the confusion with the regulation tokocrypto.com cannot be called a hoax. The company does not hide its contacts, you can contact the support team 24 hours a day. Support specialists answer questions promptly.
Conclusion
Tokocrypto - is a crypto exchange that gives users access to popular digital assets. The company also offers its own developed currency - TKO. Clients will find a high level of security, intuitive interface and 24-hour support. Unfortunately, the site is not translated into Russian, the emphasis is on the Asian audience. It is good if you know English. If not, the site will be somewhat difficult to understand, but still possible - the interface is simple and straightforward. Leave your feedback about tokocrypto.com platform!
No reviews yet. Be the first!
Robots for cryptocurrency