A universal trading platform where you can merge all your cryptocurrency exchange accounts and trade through a single interface.
Read completely
Cryptocurrency robot
Website
Social media
Date of foundation

2017

Head Office

Rotermanni tn 18, 10111, Tallinn, Estonia

The owner of the company
Types of support

Live Chat

Forum

Facebook

Twitter

Telegram

Languages

English

Bonuses
Minimum input limit

From

19

USD

Depends on the selected tariff plan

Exchange Commission
Age restrictions
Free Demo Account
Types of accounts

Demo, Basic, Advanced, PRO

Methods of replenishment

Cryptocurrency wallet, PayPal, Bank card (Visa/MC)

Withdrawal methods

Cryptocurrency wallet

Account currencies

USD, EUR, Cryptocurrency

Mobile applications
Trader training
A way to store cryptocurrencies
Fiat accounts
Scalping
Exchangeability for fiat currencies
Number of connected exchanges
Margin Trading
Extended AML verification
Basic verification
Stop Loss and Take Profit Function
Affiliate Program
API
Benefits

Comfortable platform and quick start

Choice of tariff plans and a demo account for 7 days

25+ supported exchanges and over 10,000 trading pairs

Local currency conversion and cryptocurrency exchange

Affiliate program and many handy tools

Disadvantages
Trading signals

Market

Trading strategies

GRID, TWAP, Exit Strategy

Company requisites

Legal name:

Bitsgap Holding OU

Legal address:

Rotermanni tn 18, 10111, Tallinn, Estonia

Overall assessment
Date of update

05.09.2022
Address
Rotermanni tn 18, 10111, Tallinn, Estonia
Map
Subscribe to this company
Bitsgap is it a scam? Reviews and description
Bitsgap
- is a universal trading platform where you can combine all cryptocurrency exchange accounts and trade through a single interface. The service has integrated more than 25 major
cryptocurrencies
including market leaders such as
Bitfinex
,
Binance
,
Kraken
,
Poloniex
,
Coinbase Pro
. The services are the same for each exchange:
Trade - Trade all exchanges from one page using tools such as Smart Trade, Stop-Limit and Shadow.
Automatic bots - earn on every price movement and make a profit.
Portfolios - track the status of funds and what you actually earn in a portfolio created in real time.
Arbitrage - get a head start on the price difference between two or more exchanges.
Signals - watch for any market anomalies and make the right decisions.
To understand how convenient and efficient it is to work with cryptocurrency robot Bitsgap, we compiled this review. It will give us a chance to understand whether this service is a scam or not.
Bitsgap registration
To get started with Bitsgap, create a new account. To do this, go to the website bitsgap.comClick "Sign Up" or "Get Started Free," enter your email address and password, read and accept the Terms of Use and Privacy Policy, and agree to receive emails (optional). You can also use your Facebook or Google account to sign in. Go to your inbox and confirm your registration with the link in the email.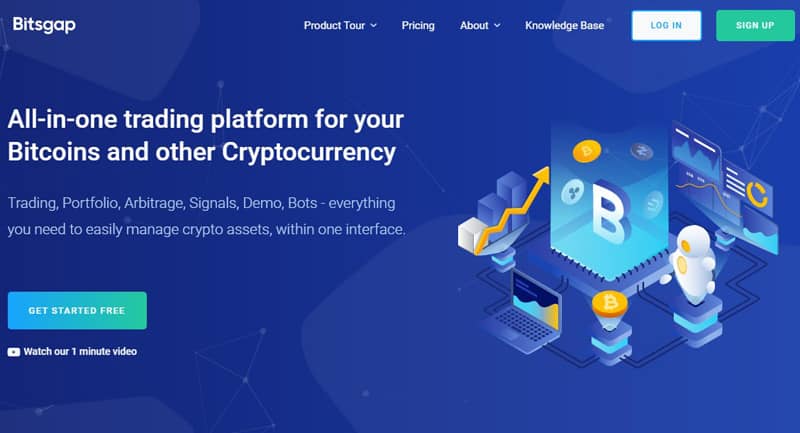 After registering, you will receive a 14-day trial of the Basic package. You can practice with DEMO tools or connect exchanges to trade in LIVE mode. After completing the trial, you will be offered to choose one of the paid plans in order to enjoy the extended functionality of the platform in real time. If you decide to stay on the free plan, you will lose some of the features.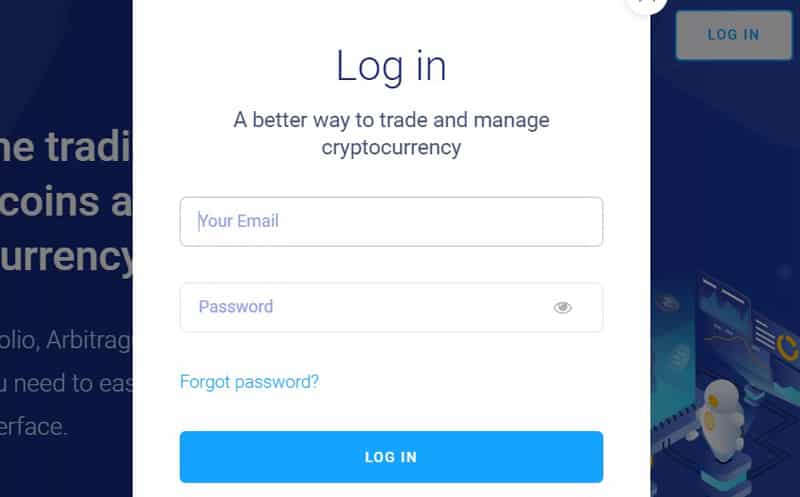 Trading platform bitsgap.com
The platform is simple and easy to use. It works in Russian, French, English, German, Danish, Portuguese, Spanish and Turkish. In Bitsgap you can combine more than 25 crypto exchanges to work in one place (How to make money on cryptocurrency?). The personal account interface has several sections for using each tool. To test the service, connect a 14-day trial period. After that, choose one of the tariffs to work with:
Basic for $19 per month. It includes standard features, unlimited exchange, monthly trading limit of $25,000, 2 active trading bots, trading signals, advanced order types and demo trading.
Advanced for $44 per month. The trading limit is increased to $100,000. The plan additionally has 5 active trading bots and arbitrage.
PRO for $110 per month. Features: all Advanced plan features, unlimited monthly limit, 15 active trading bots and priority support.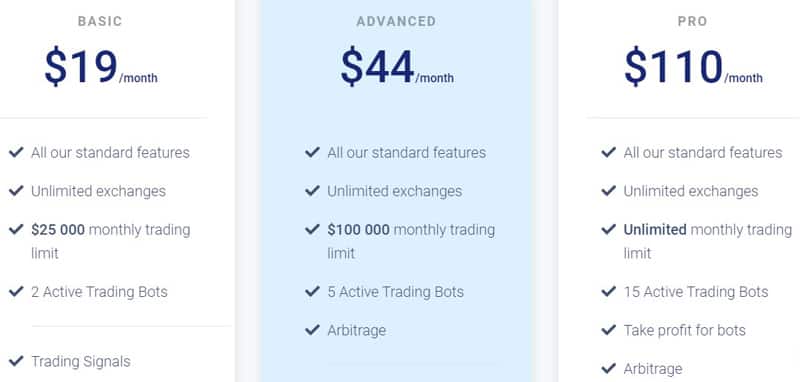 A free plan is also available. It includes all the standard features. The monthly trading limit is $1000. The free plan may have limited access to some features of the platform.

All plans include:
25+ supported exchanges;
10,000+ trading pairs;
desktop and mobile versions of the site;
demo mode;
portfolio management;
trading bot strategies;
signals (detection of market anomalies);
market overview list;
stop-limit and limit orders;
market, shadow, smart (stop loss/stack profit) orders;
order management;
graphics TradingView;
75+ technical indicators;
no additional commissions for trading;
conversion of local currency;
cryptocurrency exchange;
day/night mode;
user-friendly interface;
affiliate program;
email support.
The monthly trading limit refers to trading activity with Bitsgap. It includes:
the volume of trade used by the bots;
executed limit, shadow and market orders;
cancelled and closed smart orders;
volume used for arbitrage transactions.
The rest of the features, such as portfolio management and cryptocurrency monitoring, can be used without restrictions. Bitsgap has no access to users' funds - they are stored on exchanges and are linked with fully encrypted API keys. The API allows the platform to execute trades and build a portfolio of assets in a secure way without revealing any information. All information delivered to the Bitsgap servers is encrypted using standard 2048-bit protocols and stored on a secure network protected by a firewall.
Trading
With Bitsgap you can trade on any cryptocurrency exchange. The multi-exchange platform offers convenient tools without additional trading fees. The service integrates with Binance, OKEX, Kraken and 25 other exchanges. The trading terminal has such additional functions:
TradingView charts;
100+ popular indicators;
50+ "smart" drawing tools;
12 customizable chart types;
trade visualization;
change/cancel an order from the chart;
day and night modes.

Types of orders:
Smart. Protect your funds by setting a stop loss and a take profit at the same time. If the price changes for the worse, the platform will execute orders for you while you're away.
Shady. Make shady trades with order books without reserving an available balance on the exchange. Orders will be placed only after the price reaches your target.
Stop Limit orders. This order will be executed at the specified (or better) price once the specified stop price is reached. Once the stop price is reached, this order becomes a limit order to buy or sell at the limit price or better.
Market Limits. Buy or sell cryptocurrency at the best available current market price.
To get started, register on the website bitsgap.comopen a free account, connect the exchanges and start trading.
Bots
Bitsgap has a bot for trading bitcoins and other cryptocurrencies. Set up automated bots on Binance, Bitfinex, Kraken and more than 25 other exchanges. When the price moves, the algorithm automatically sets buy and sell orders if there is an opportunity for profit. Check your bot's performance in demo or test mode for free before making investment decisions.
Functions:
Develop a smart strategy. Create your strategy in a few clicks.
Test before investing. The test will show how the settings will react to profit and loss.
Pre-defined strategies. Choose one of the predefined strategies based on successful test results.
TradingView charts to evaluate bot performance.
No downloads. Cloud-based online services are used.
Trading signals
Bitsgap algorithms analyze more than 10,000 cryptocurrencies every second to identify growth potential. Capabilities:
Monitor pairs 24/7 to detect anomalies.
Appearing on the list of coins with the highest growth potential.
Checking the chart to decide if the signal is worth using.
Setting a reasonable order to minimize risk.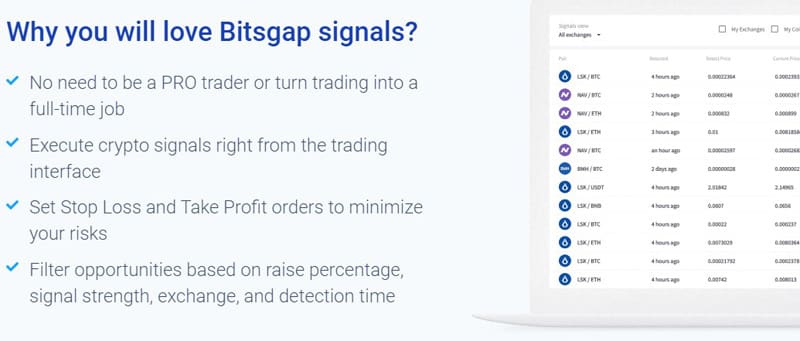 Arbitrage
The Bitsgap cryptocurrency arbitrage tool allows you to track the best opportunities in the market to exploit price differences between exchanges. How it works:
Transactions are calculated based on the user's account balance.
Choose between cryptocurrency and fiat arbitrage options.
Commissions charged by exchanges are included in profits.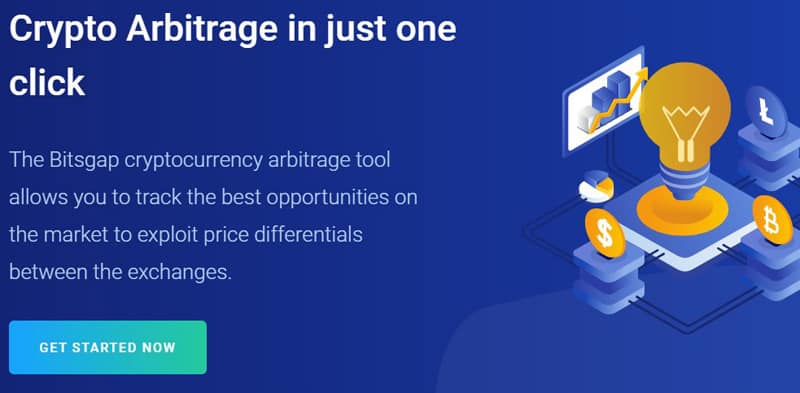 Portfolio
Bitsgap easily imports and tracks all information from cryptocurrency exchanges on one simple dashboard automatically and for free. Bitsgap Portfolio features:
Without adding transactions or coins manually.
Accurate tracking based on trading history.
Without entering several exchanges.
All crypto-assets in one place for easy management.
View balances, trades and results in real time.
Free use with no restrictions.
Bitsgap demo account
Sign up for a free demo account and get experience with real market data. The Bitsgap account will be funded with demo money, allowing you to get trading experience with zero risk. Demo account features:
Practice trading with virtual funds 5 BTC.
5 popular crypto exchanges.
Live Market.
Testing strategies on the go with the mobile web version.
The opportunity to try arbitrage, signals and trading bots.
Mobile application
Bitsgap does not have a mobile app. The platform works in the cloud, so there is no need to install software.
Bonuses from the Bitsgap robot
Bitsgap offers participation in an affiliate program. There is no information about other bonuses on bitsgap.com.
Affiliate Program
By inviting your friends to a cryptocurrency trading platform, you will receive 30% from each purchase of such a user. Where to start:
Get an affiliate link. Copy your personal referral link and share it on social networks.
Invite friends. The more traders you attract with your referral link, the more money you can get.
Earn 30% commissions. Get money for every package that attracted users buy.
Links to active bots and trading charts you share through Bitsgap already include an affiliate tag. You can organically invite new users by sharing your results and ideas without actively promoting the platform. The affiliate program is not only an additional income, but also an opportunity to start your own business. You can launch a website or blog related to cryptocurrency, share trading results and attract traffic from social networks and other sources.
You do not have to be a trader to get started. It is enough to have a blog, a website, subscribers in social networks or other sources of traffic, the choice of which is almost unlimited. Every time someone visits Bitsgap with an affiliate code, a tracking cookie is placed in the user's browser. Even if it comes back a few days later, the cookie will tell you who it came from. The validity period of the cookie is 30 days, and it is automatically updated every time a person visits the site.
Inside the platform you will see a list of user emails with the registration date, ID and link. There are three statuses: "Free", "Trial version" and "Converted" (client has paid at least once). All users, invited through affiliate links, automatically receive Bitsgap PRO plan without any trading volume limitation and with extended functionality during the 14 day trial. All calculations on the program are made in euros and paid in USDT ERC-20 at the exchange rate at the time of payment. Minimum amount of payment is 25 euros. Money is transferred to the wallet within 5 days.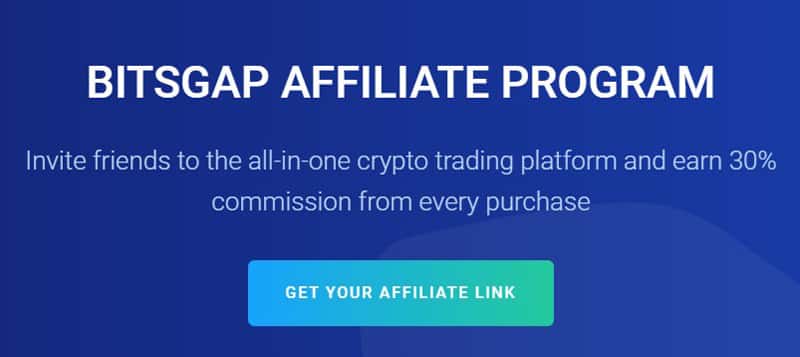 Deposit and withdrawal
For monthly payments, recharge is available from Visa, Mastercard and Paypal. If you want to prepay for services, choose to pay in cryptocurrency (BTC, ETH, BNB, LTC, XRP, etc.). All sent information is encrypted, so you can be sure that your bank card data is safe. There are no commissions from transactions on Bitsgap. You only pay a monthly subscription fee to use the platform to have access to tools that make trading and managing cryptocurrencies more efficient. You can cancel your subscription at any time. The service does not pay refunds or refunds for partial use of the service or the remaining time of the subscription.
Complaints about Bitsgap
Bitsgap is well-reviewed. Users find the platform useful, because many convenient tools are gathered in one place. The service is regularly improved and updated so that it solves most of the traders' problems.

If there are any reviews about Bitsgap Cryptobot, we'll be sure to post the information on social media. Sign up so you don't miss anything!
Please keep yourself informed about news and complaints. We copy the most valuable information to social networks, so please sign up!
Robot controller
The service is owned by Bitsgap Holding OU, registered in Estonia under the number 14004763. This means that the platform works according to Estonian laws.
bitsgap.com User Agreement
The text of the User Agreement can be found at bitsgap.com. The document describes the terms and conditions that you should study before you start. There is a privacy and cookie policy on selected pages.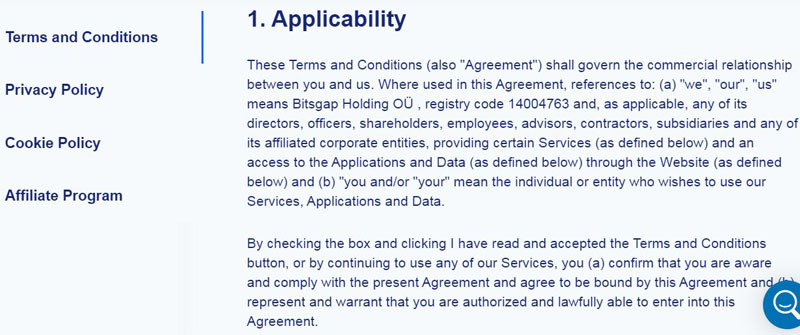 Bitsgap cryptocurrency trading robot is a scam?
Bitsgap - a convenient platform to connect more than 25 crypto exchanges to work in one place. The service has many useful tools that automate and simplify trading. There are no complaints about Bitsgap's performance, users like the functionality of the robot and the ability to test the platform with a 14-day trial. The site has legal information, the text of the user agreement and privacy policy.
Conclusion
Having studied the work of Bitsgap and reviews about the service, we concluded that it is a convenient platform with a wide functionality, affordable prices, several tariffs and a 14-day free test period. If you are looking for a cryptocurrency trading robot, try Bitsgap for 2 weeks to test all its features.
Rating of reliable brokers
New companies
AverBot

Robots for cryptocurrency trading

Pump Bot

Robots for cryptocurrency trading