The first officially regulated crypto-exchange and tokenized exchange assets platform focused on the CIS countries.
Cryptocurrency exchange
Website
Social media
Date of foundation

2018

Head Office

Suite 23, Portland House, Glacis Road, Gibraltar, GX11 1AA

Types of support

Feedback form on the site

Telegram

Facebook

Twitter

VK

Twitter

Viber

WhatsApp

Chat

Support by phone
Languages

English, Korean, Chinese, Indonesian, Malaysian, Vietnamese, Thai, Spanish, Portuguese

Founder

Currency Com Limited ("Carrencie Com Limited")

Manager

Managing individual entrepreneur Shevchenko Alexander Petrovich

External auditors
Minimum entry amount

Unverified

Cryptocurrency

From 0.001 BTC
From 0.03 ETH
From 0.1 LTC
From 0.05 BCH
From 30 XRP
From 20 USDT
From 1 LINK
From 1.4 UNI
From 0.07 COMP

Fiat

Bank card (Visa/MC):

to 750 RUB

Bank Transfer:

to 3 500 RUB

YuMoneu:

to 3 500 RUB

Faster Payments:

No limit

Maximum input amount

Unverified

Fiat

Bank card (Visa/MC):

No limit

Bank Transfer:

No limit

YuMoneu:

to 500,000 RUB

Faster Payments:

to 35,000 GBP

Minimum withdrawal amount

Unverified

Cryptocurrency

From 0.001 BTC
From 0.03 ETH
From 0.1 LTC
From 0.05 BCH
From 30 XRP
From 50 USDT
From 2 LINK
From 3 UNI
From 0.15 COMP

Fiat

Bank card (Visa/MC):

to 750 RUB

Bank Transfer:

to 3 500 RUB

YuMoneu:

to 7 000 RUB

Faster Payments:

to 50 GBP

Maximum withdrawal amount
Exchange Commission

Trading fee (with leverage):

0.75

% for taker /

-0.25

% for 0 % Tokenized assets (stocks, ETFs, indices and commodities) / 0 % Tokenized currencies

Exchange fee:

0.2

% / Cryptocurrencies /

0.05

% / Tokenized assets (stocks, ETFs, indices and commodities) /

0.03

% / Tokenized bonds / 0 % Tokenized currencies / 0 % Company tokens, acquisition /

1.5

% / Company tokens, alienation

Age restrictions

From

18

years

In the conditions of use of the platform, it is written that you must be at least 18 years old to start using the crypto exchange

Trading volume per day
Number of users

300000+

The number of users is growing daily

Number of cryptocurrencies
Number of trading instruments

1780

In particular, tokenized shares of the world's largest companies, major global indices, popular exchange-traded commodities and a wide range of the most commonly traded cryptocurrencies and currency pairs

Margin Trading
Leverage
Tokenized assets

Stocks, bonds, futures, indices, commodities, commodities, currencies, tokens, currency tokens, company tokens

Free Demo Account

In the web version, click the Live button in the upper right corner of the screen to go to the demo account. In the mobile version, go to "account" and click "Go to demo account".

Open Demo Account

Types of accounts
Execution of orders

Market orders, Limit Orders, Stop-Loss, Take Profit Orders

Methods of replenishment

Bank card (Visa/MC), Wire transfer, Cryptocurrencies

Withdrawal methods

Bank card (Visa/MC), Wire transfer, Cryptocurrencies

Types of cryptocurrencies

BTC, BCH, LINK, Compound, ETH, LTC, XRP, USDT, Uniswap

Mobile applications
Trader training

Free courses Currency.com Academy: lessons, articles, videos

A way to store cryptocurrencies

Hot:

yes

The hot wallet is securely protected by the company and has a private key for it

Fiat accounts
Scalping
Stop Loss and Take Profit Function
Exchangeability for fiat currencies

Fiat currencies can be exchanged and withdrawn to a card or bank account

Terminal capabilities

Powerful charts and 75 technical indicators, protection against negative balance and guaranteed stop loss, instant price alerts and high speed transaction processing

Innovations

Currency.com is the first cryptocurrency exchange that has connected the worlds of cryptocurrency and traditional finance through thousands of tokenized exchange-traded assets

Awards

"Best CIS Crypto Exchange" Blockchain Life Award 2019; "Breakthrough in Cryptocurrency Trading" ADVFN International Financial Awards 2020

Security

The platform is developed by an experienced team using advanced technologies in creating transparent, reliable and secure crypto-platforms

Basic verification
Extended AML verification

KYC (passport, passport or driver's license). Photo with the document (selfies). Proof of address (bank statement, utility bill, etc.)

API

Read more

Opening an account, getting access to market information, making transactions and complete security

Bonuses
Affiliate Program
Benefits

Quick verification procedure

Low trade commissions and tight spreads

Simplicity and efficiency of the crypto platform

Compliance with global AML and KYC standards

Advantageous affiliate and referral programs

Over 2,000 tokenized assets and cryptocurrencies

Investments in tokenized stocks and bonds, as well as company tokens

Disadvantages
Company requisites

Legal name:

Carrencie Com Bel LLC

Legal address:

Suite 23, Portland House, Glacis Road, Gibraltar, GX11 1AA

Overall assessment
Date of update

20.09.2022
Address
Suite 23, Portland House, Glacis Road, Gibraltar, GX11 1AA
Map
Subscribe to this company
Currency.com is it a scam? Reviews and description
currency.com
- This is the first officially regulated
crypto platform
(trading platform) on which tokenized exchange-traded assets are traded. A crypto platform is a kind of bridge between
cryptocurrencies
and regulated financial markets.
Crypto-platform appeared two years ago and is gradually gaining popularity. In our review, we will take a closer look at the opportunities the crypto-platform offers and find out if currency.com is a scam or a reliable crypto-platform.
Why currency.com?
currency.com is a young crypto exchange that appeared in early 2019. The company is focused not only on the domestic market, but also on the international market, in particular, the market of the CIS countries, so the interface of the mobile application is available in two languages: Russian and English. Cryptoexchange implemented the possibility to invest in cryptocurrencies, tokenized shares, tokenized bonds, tokenized futures, tokenized indices, tokenized exchange and commodities, tokenized currencies, tokens, currency tokens, company tokens (How to make money on cryptocurrency?). Headquartered at Suite 23, Portland House, Glacis Road, Gibraltar, GX11 1AA, it is governed by the laws of this country.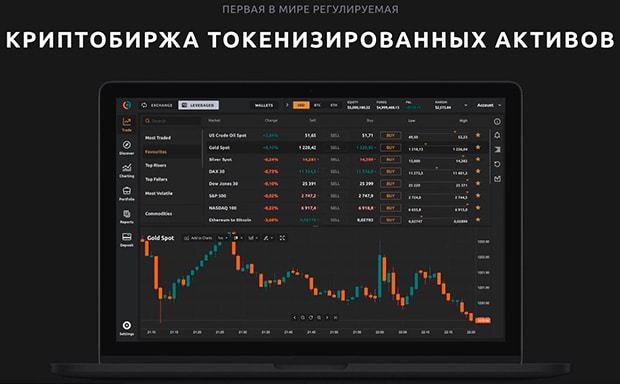 The company offers comfortable and favorable conditions for its clients. The variety of assets provides clients with an opportunity to protect their capital from possible risks. Recently, the crypto exchange has significantly reduced commissions for a number of transactions, which has significantly improved the terms of cooperation for users. The crypto platform supports 2 transaction modes: trading and trading with leverage (cryptocurrency trading strategies). At the moment there are more than 2,000 assets available for users, the number of which is planned to increase to 10,000 or more.
You can replenish your account and withdraw income in cryptocurrencies such as BTC, BCH, ETH and LTC, as well as in fiat currencies: EUR, USD, RUB, BYN. Also on the main page of the site currency.com There is a large amount of useful information for the user: articles on financial topics, market news, economic calendar and more. The site has a simple and intuitive interface. An experienced client will need no more than 15-20 minutes to learn the basic functionality of the cryptoplatform, but a beginner will need additional time to understand how the site is set up. The cryptoplatform is well optimized for clients. The most important elements are in plain sight, which is quite convenient. The main tools for trading, analytics and account settings are grouped together and have a convenient layout that allows you to manage in one window. The crypto platform opens the following opportunities for clients:
participation in trading both with and without leverage;
the ability to add markets to favorites for quick access;
operations with tokenized assets with leverage up to 1:100;
operations with tokenized currencies;
the use of professional tools to reduce risks.
In order to provide users with round-the-clock access to the crypto exchange, a mobile application was created. It is especially convenient for those customers who are often on the road and do not have the opportunity to use a computer or laptop to monitor or make transactions. The mobile app is available for both Android and iOS. The main advantages of Currency.com crypto exchange include:
a wide variety of tokenized assets;
operations with leverage up to 1:100 (for currencies the maximum leverage is 1:500);
Russian localization;
high site speed;
cold storage 97% funds;
intuitive interface;
low trade commissions;
a large number of tools;
quick verification procedure;
mobile app.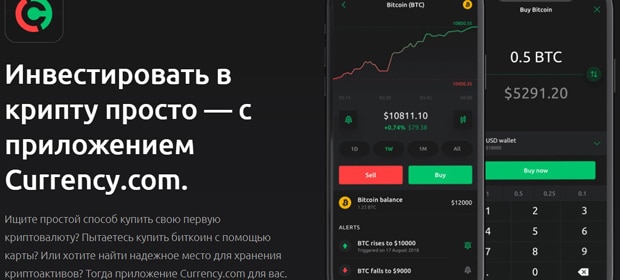 How to exchange cryptocurrency on the crypto platform Currency.com?
To exchange cryptocurrency, the client can choose:
transferring money from the account to a bank account, including an account that is accessed through a bank payment card using third-party resources;
withdrawal through a crypto-exchange;
exchange through a cryptocurrency exchange.
Verification on the crypto platform Currency.com
In addition to the usual registration, the user must also confirm the country of residence and undergo verification. The verification procedure takes a couple of hours. To confirm your identity, it is enough to upload scanned copies of documents. There is also a deferred verification (2 weeks).
Account replenishment and withdrawal
Crypto-exchange allows depositing to the account and withdrawing income as by means of classic bank transfers, as well as by using payment bank cards of payment systems Visa, Mastercard (Maestro). For residents of Russian Federation was opened a bank account to receive payments from Sberbank. The minimum amount to deposit the account is 10 US dollars - if you make a bank transfer via payment card and 50 US dollars for an ordinary bank transfer. The maximum transfer amount is 24,000 U.S. dollars.
The crypto platform works with a Russian provider, which means that card transactions are converted into Russian rubles if funds are withdrawn to cards issued outside the Republic of Belarus. Funds can be withdrawn to a bank account, including the account that is accessed through a bank payment card. On the site currency.com specified that withdrawal to a bank account opened with a bank in the territory of the Republic of Belarus takes up to 1 business day. Withdrawal to a foreign bank account can take from 3 to 5 business days.
Cryptoexchange Commissions
Transaction fee:
Tokenized markets with leverage: 0.075%.
Tokenized shares with leverage: 0.0125%.
Tokenized commodities: 0.05%.
Tokenized shares: 0.05%.
Tokenized indices: 0.05%.
The crypto exchange also charges an exchange fee, a leverage fee, and a hedging fee. In general, commissions range from 0.2 to 0.5% depending on the transaction.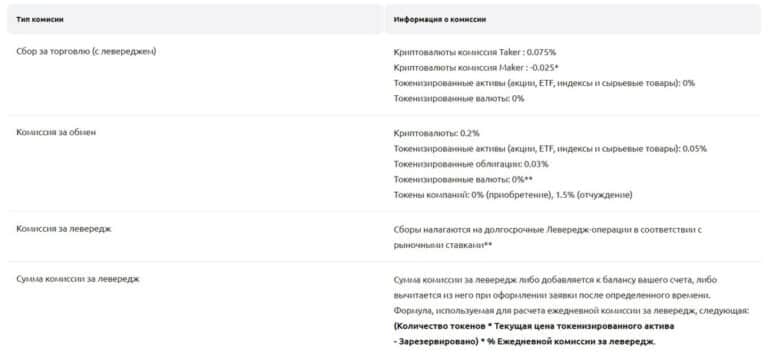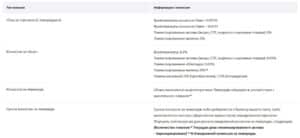 Commission for deposit and withdrawal
To replenish your account and withdraw funds, you must pay a fee. Depositing your account via Visa and Mastercard bank cards is 3.5%, via the service YuMoney - 3%. If you deposit your account via Bank Transfer, there will be no fee. There are also different fees for withdrawals for residents and non-residents of the Republic of Belarus. So, the client will have to pay:
2.4% + 150 rubles for withdrawal of funds from the card Visa;
1.9% + 150 rubles for withdrawal of funds from the Mastercard;
300 rubles for withdrawal via Bank Transfer;
3% of the amount when withdrawing funds through the UMoneu service;
0.15% (min 20 USD, max 150 USD) for non-residents of the Republic of Belarus.

Currency.com Bonuses
Currently on the website currency.com you can find only one bonus for clients. Users are able to make transactions in both crypto and fiat currencies with 100x leverage in the most popular tokenized markets (Bitcoin, Facebook, gold and oil).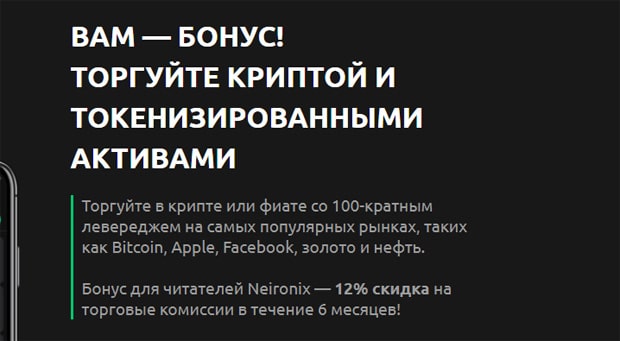 Discount on trade commissions
For Neironix readers there is a 12% discount on trading commissions for six months when you go to special link.
Referral and affiliate program
According to the terms of the affiliate program and inviting new users to the cryptoplatform. According to the terms of the affiliate program: a partner gets $100 for each attracted user.
Complaints against Currency.com
Although the crypto exchange appeared two years ago, you can already find a considerable amount of user feedback on the Internet. At the moment, the crypto-platform has a rather ambiguous reputation, as there are both positive and negative opinions from customers. From the positive points, users note the user-friendly interface, fast site operation, relatively low commissions. From the negative - sometimes there are difficulties in withdrawing funds from the account. However, any arising problem can always be discussed with the support team of the cryptocurrency exchange in the Telegram chat or by mail.
If there are any reviews about Currency.com, we'll be sure to post them on social media. Sign up so you don't miss anything!
Please keep yourself informed about news and complaints. We copy the most valuable information to social networks, so please sign up!
Regulation of the crypto-platform Currency.com
The financial sphere is one of the most popular among fraudsters. That is why you should always carefully check the information about the company. Let's take a closer look at how a company is regulated.
Regulator
Currency.com operates in Gibraltar. The crypto-exchange is secure because two-factor authentication is used at all stages of the platform. Data encryption and a discrete system for secure loading are used to protect against hacking. The servers are housed in a secure private facility operated by LD4 Equinix, which is a leading data storage and processing center. Its services are also used by well-known stock exchanges and forex brokers.
Contract with Currency.com
"Terms of use of a crypto-platform (trading platform)" (hereinafter - the Terms) is the main contractual document of a crypto-exchange. The document describes the main aspects of operation and use of the service, as well as the rights and obligations of both parties. Let's consider some points in more detail. The Terms contain information that the crypto platform cannot unilaterally extrajudicially refuse to fulfill obligations on its own tokens or terminate the "White Paper" declaration.

Cryptoplatform has the right to make changes to the Terms and Conditions unilaterally at any time, except for the "White Paper" declaration. Changes are posted on the cryptoplatform's website with notification of the client in the account.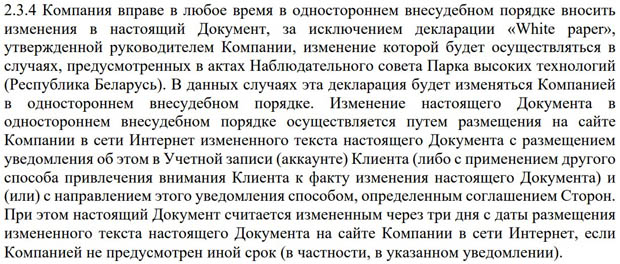 The Client acknowledges that any transactions made with tokens may be risky and accepts these risks. In turn, tokens are not legal tender and are not required to be accepted as a means of payment. The user must also be aware that the purchase of tokens can lead to a total loss of money or investments. The customer acknowledges that having tokens on deposit and trading them creates certain risks, including various security breaches or targeted hacking attacks. In turn, the company declines responsibility for any losses, thefts, failures, violations, errors, etc., which the user may encounter when trading, except for cases when this occurred due to the fault of the crypto-platform.

The crypto platform can check the qualification level of the user. For this purpose, a small test appears on the website, which the client must pass in order to start trading. If the account has not been used for more than six months, then it is considered unused and must be deactivated. The client receives a letter to the specified email address 15 days prior to the deactivation date. If there are funds in the account balance, the client undertakes to withdraw them within the next two months. At the end of this period, the client loses access to the funds.

Customer Service
You can contact the support service by one of the suggested options:
Is Currency.com a scam?
cupergepsu.com - is a young crypto exchange which appeared two years ago. In such a short period of time, the crypto-platform has attracted the attention of a large number of users and is actively gaining popularity. The main office of the crypto-platform is located at Suite 23, Portland House, Glacis Road, Gibraltar, GX11 1AA, Gibraltar legislation and regulates its activity. The crypto platform is constantly updating and increasing the number of instruments a client can use for transactions. Training programs are available for beginners.
Transactions are conducted on a simple, intuitive trading platform. To create an account, the client needs to specify his personal data, including the place of residence. Also, each user needs to be verified. Also, customers periodically receive nice bonuses. And those who want to earn extra income can participate in a referral program. In order for users to have access to the platform 24/7, a mobile application was developed. Its versions are available for both Android and iOS.
Although the crypto-platform appeared only two years ago, you can already find a lot of feedback from customers on the Internet. There are both positive and negative comments. After analyzing the functionality that cryptoplatform provides, we can conclude that cryptoplatform currency.com is not a scam or fraud, as cryptoplatform currency.com successfully operates on the crypto market, and its activity is fully regulated by the law.
Conclusion
Cryptoplatform currency.com - is a young regulated crypto exchange of tokenized assets, where you can invest in cryptocurrencies and various tokenized assets. Having appeared not so long ago, the cryptoplatform has managed to gain popularity among its users. The cryptoplatform offers favorable conditions for cooperation, as well as a wide range of different instruments. The cryptoplatform is regulated by Gibraltar legislation. Using the services of the crypto-exchange, customers should carefully read the Terms and Conditions, understand and accept the possible risks of the corresponding operations. At the moment, the crypto-exchange looks good among its competitors, but it also has a number of disadvantages that need to be worked on. If you cooperated with Currency.com, leave your impressions about the work of the crypto-platform on our website.