<
Cryptocurrency exchanges without verification
Place
Exchange
Reviews
Rating
Bonuses
Cryptocurrencies
Cryptocurrency exchanges without verification: myth or reality?
Verification is a confirmation of identity and provision of personal data of a crypto-exchange user. The user is required to provide contact information, scans of documents proving his identity and place of residence and other information. And not all users like it. Therefore, for customers who want to preserve their anonymity when trading, there are cryptocurrency exchanges without user verification - but such cryptocurrency exchanges are becoming less and less, and the functionality for unverified users is severely limited.
Yobit (review)
Yobit (Figure 1) is most likely the most popular cryptocurrency exchange among users right now and with the highest volume of cryptocurrency trading, including bitcoin, an exchange without user identity verification in the full sense. Here you can receive funds and trade cryptocurrencies without verifying your identity with documents and personal information. From Yobit exchange users without verification can transfer funds to Qiwi, AdvCash, Payeer, Capitalist, Perfect Money, Webmoney and to Visa/Mastercard cards. On the platform you need to confirm the transaction with a special link, which comes to the user's email.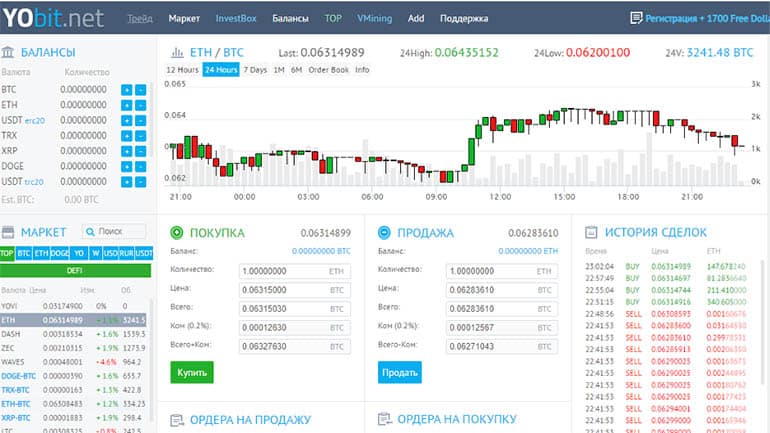 Image. 1
This exchange has an unusual versatility, you can trade bitcoins and other cryptocurrencies, you can buy initial public offering (ICO) tokens, you can participate in investment rounds, as companies place their startups right here, gambling, a cryptocurrency tap, virtual bitcoin mining, DeFi-project are available. The Yobit exchange is also a wallet, which is automatically generated for bitcoin and each cryptocurrency in the account (rating of cryptocurrencies). Now the "InvestBox" section of the exchange is actively promoted among users - investing with a fixed income in new coins.
Registration on Yobit exchange is standard for users - login, password, email address, captcha, email confirmation, no unnecessary information. Because it is possible not to verify the user, it is recommended to make up (and not to forget) complex passwords, and the mailbox to have a reliable Gmail. Cryptocurrency exchange is positioned not only as an anonymous exchange, but also follows its privacy policy - it does not collect user data, claims that it does not pass user information even to the authorities, the exchange site has disabled cookies and search engine analytics tools. Read more about the best exchange and cryptocurrency mining on it in our review.
Kuna (review)
Next in the review of exchanges Kuna (Fig. 2) is one of the best cryptocurrency exchanges without verification in 2021, cryptocurrency exchange in RussianThe main audience of the exchange is Russian-speaking users, but now the exchange is moving beyond Eastern Europe. The main functionality of the exchange is aimed at buying and selling bitcoins and other cryptocurrencies for fiat currencies. The platform works in web format and as a mobile application, it is possible to use Telegram bot.
A special tool of the exchange is the "Kuna code", which allows users to transfer bitcoins and other assets between accounts of this cryptocurrency exchange, it can also be used to transfer bitcoins through exchangers. This code is personal, nobody but the user to whom the code belongs knows its data and cannot use it. Under certain conditions - even he himself, for a certain period of time, when it is necessary.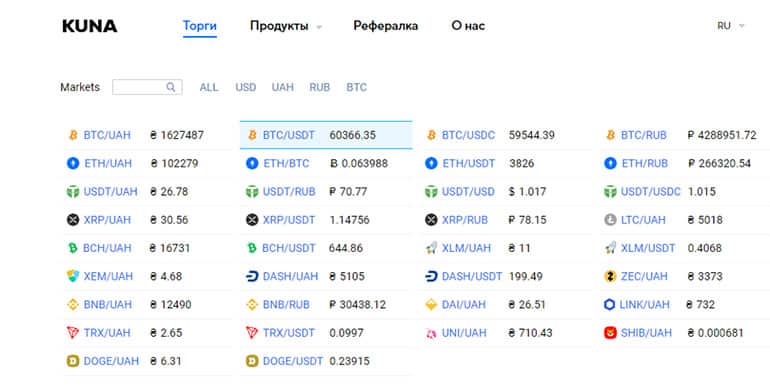 Image. 2
User registration on the exchange is standard, verification and entry of personal information is not required, but the bitcoins and cryptocurrency from the card users can buy without registration at all (cryptocurrency rating). Traders can start trading on the exchange immediately after registering an account and crediting the generated account. The exchange supports transactions with MasterCard, Visa, Payeer, Perfect Money, AdvCash, GEO Pay.
It is not required to apply for verification at any stage, but users can purchase a PRO account on the exchange, which provides access to normally closed features and reduced commissions. A premium account on the exchange is purchased exclusively for KUN tokens. To buy it, users need to fund their accounts with the right amount of tokens and contact the support team with the necessary information. Read more in our review.
Bybit (review)
Bybit (Figure 3) is one of the best cryptocurrency exchanges without verification, which specializes in perpetual derivative contracts on bitcoin and cryptocurrencies with leverage up to 100x and is considered a good exchange in this direction. Perpetual contracts are similar to futures with no set expiration date, allowing the user to hold positions for as long as they need. As a result, users can hold positions for as long as they see fit. Also, perpetual contracts on the exchange mimic a spot margin index and track the underlying price based on information from the major three spot crypto exchanges using a funding mechanism. There are also a number of other features that differentiate the contracts from other assets.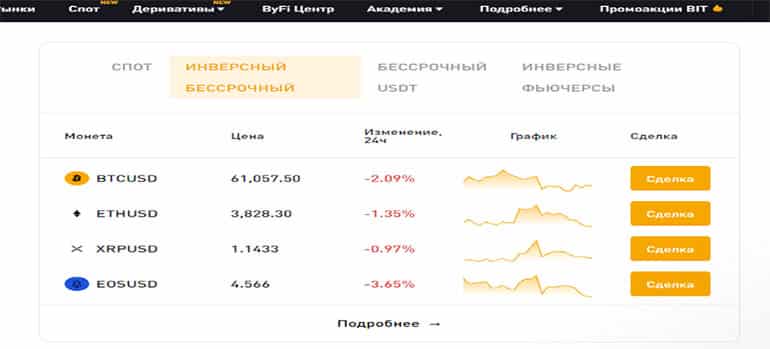 Image. 3
Given the specifics of trading contracts, it is considered very correct to first study all the presented training materials on the platform and undergo training in the demo mode on the exchange, for this purpose before registration you need to click "Trade in test mode" on the trading monitor. It offers test cryptocurrencies, including bitcoins, you need to select them and you can start test trading. Traders can start trading cryptocurrency on the exchange after registering via email, phone and code, other data is not requested, verification is not required. After registration, the exchange offers a variety of bonuses, a small amount of money that is credited to the trading account. Read more about the best platforms in our reviews.
KuCoin (review)
KuCoin (Fig. 4) consistently ranks among the top-rated best cryptocurrency exchanges without verification. The exchange works in browser and mobile versions, translated into 20 languages. Exchange supports spot trading, margin trading with 10x leverage, futures trading with up to 1:100 leverage, cryptocurrency stacking, cryptocurrency banding and other.
Cryptocurrency exchange is considered one of the most attractive for bitcoin trading for beginners, because it has no minimum deposit requirements and relatively low commissions, on spot - 0.1%, on futures - 0.02%. Technical options for trading in general are standard - charts, market depth, indicators, for futures trading a simplified interface is offered.
Earlier the exchange was exposed to hacking, but now it is considered a safe platform, has a set of security features, typical for any modern crypto exchange - Google authentication, trade password, IP-address restriction, etc. Verification on the exchange is required neither for trading bitcoins, nor for funds transfer, but the limit for receiving money without providing personal data and verification - up to 5 BTC per day. Read more about the exchange in our review.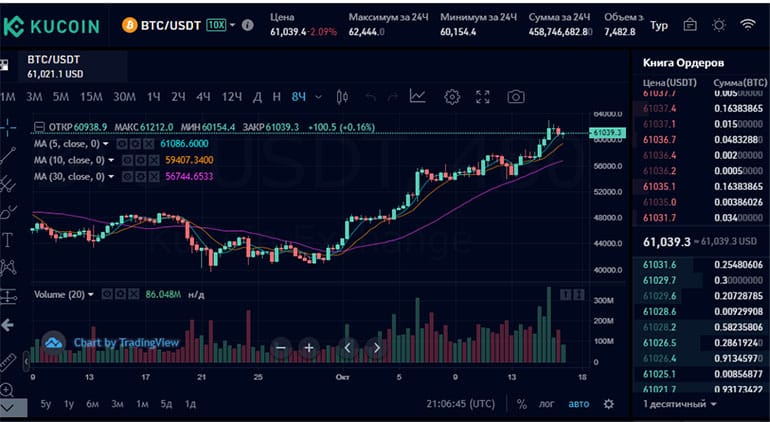 Image. 4
Crex24 (review)
Crex24 (Fig. 5) is a frequent listener of the best crypto exchanges where traders can work without verification. But also this exchange often appears in scam lists and simply has a lot of negative reviews.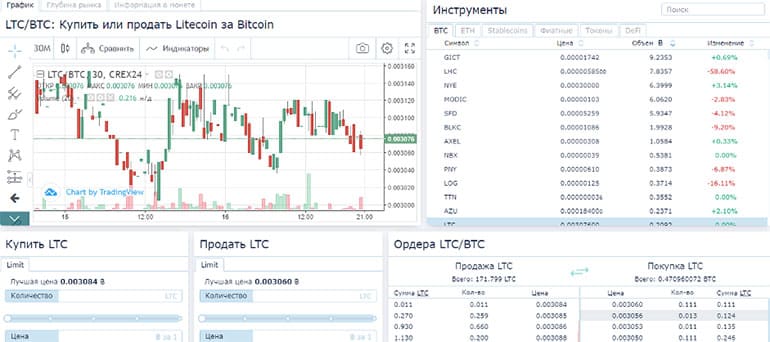 Image. 5
The exchange supports transactions with digital assets and fiat money - dollars, euros, yen, yuan and ruble. The trading terminal is standard, based on TradingView. Funds can be deposited and paid out in many ways, - by Visa and Mastercard, payment systems YuMoney, QIWI, Perfect Money, WebMoney and others. The exchange is also usually positioned as a project to get free coins, the so-called "faucet" is a separate section of the exchange, which is designed to attract new customers. Each coin on the exchange, including bitcoin, is collected on its own terms.
Registration on the official website of the cryptocurrency exchange is usual and allows you to trade cryptocurrencies and transfer cryptocurrencies, including bitcoins to third-party wallets. Verification (entering personal data) on the exchange is required to work with fiat money, and the confirmation of personal data is required when entering money from bank cards, through JuMoneu or Webmoney. Read more about the platform in our review.
Nominex
https://nominex.io/
Nominex (Fig. 6) is the next in the list of the best cryptocurrency exchanges without verification, which is positioned as an exchange for beginners. In addition to the fact that the exchange has no mandatory verification system, an impressive library of educational materials on cryptocurrency and bitcoin trading provides an easy start to trading. Many traders, including not just beginners, are attracted to this exchange by the opportunity to farm DeFi NMX tokens and other tokens. Users send NMX and USDT to the pool and are rewarded with NMX. There are two farming modes available on the exchange - personal and team farming with different reward conditions. Mining is not available.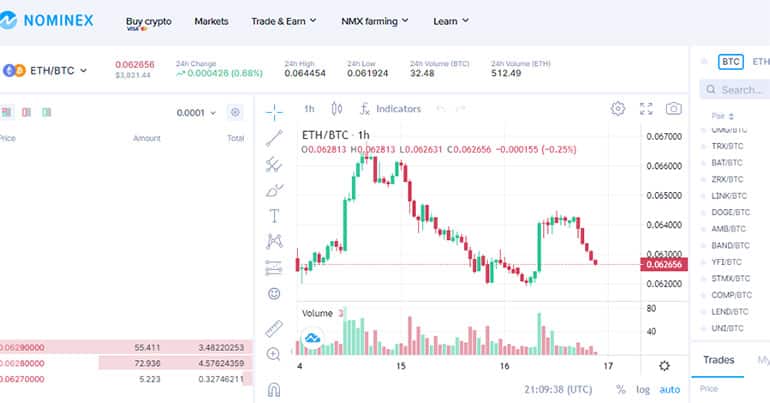 Image. 6
There are three levels of registration on Nominex, for four types of accounts. Level zero is limited to registration. Other levels require personal data; the higher the level, the more information. Among provided accounts - demo account for training, main account - for trading cryptocurrencies, including bitcoins, trust account - for trading under management and demo tournament account - daily tournaments with prizes are held on the exchange.
In addition to several types of account, the exchange also provides several types of balances - basic, for profit and for loss. Non-obligatory verification on Nominex exchange is allowed for trading and other ways to earn money, if the transfer to the wallet is less than 3 bitcoins.
Payeer Exchange
Payeer is a popular payment system, and Payeer Exchange is a cryptocurrency exchange, part of the infrastructure of this system, as well as a wallet in the Payeer payment system. Next in the top cryptocurrency exchanges without verification. Provides spot trading in cryptocurrencies and fiat. This platform is light and fast, but the functionality is limited compared to most crypto exchanges - on Payeer Exchange. A trader can place only one type of order when trading, the exchange has little liquidity, a small selection of traded assets and relatively high fees for money transfers. Payeer Exchange is convenient for quickly exchanging digital assets, including bitcoins within this infrastructure, it does not have enough options in terms of trading.
To get started, it is necessary to register an account via email, without verification, a wallet is generated along with the account. Traders can trade cryptocurrencies and transfer funds without verification, however, there are restrictions - $999 per day. Verification of identity, respectively, removes it. And it is possible to be verified as a personal user, as well as a legal entity.
OKEx (review)
OKEx is an example of an exchange that is tightening its identity verification requirements. It is one of the best exchanges for bitcoin trading, has a huge turnover, is very popular and presents great opportunities for crypto-trading. The cryptocurrency exchange website is translated into 20 languages (not entirely) and offers one of the largest selections of trading pairs among all exchanges.
In addition to cryptocurrency on the exchange bitcoin about 500 more coins and new ones are being added all the time. Own OKB token is available, traders can use it in trading and can use it to reduce transaction costs on this exchange. OKEx provides training opportunities, guides and a demo account on the cryptocurrency exchange - are available. Registration is done via E-mail and phone number with the country. To trade cryptocurrencies, indexes, futures, you do not need to be verified.
But in order to withdraw fiat money from the exchange, you need to be verified to level 1 - provide a scan of passport data, date of birth and real name. The exchange encourages users to disclose more information - the higher the level of verification, the lower the commission. The above-listed crypto exchanges without verification are not all, but in the full review there are a little more of them.
Alternative
Most likely, soon all centralized exchanges will begin to introduce the obligatory verification, detailed or not. The largest crypto exchanges will definitely require full verification and new cryptocurrency exchanges in 2021 and later, without verification requirements, will not appear.
Thus, the crypto exchange binance is an example - binance has long held the ability to trade bitcoins without verification as a competitive advantage, surrendered in August 2021. Usually exchanges say verification is needed to improve customer security. This is partly true, for example, a verified account is easier to recover or, more importantly, easier to recover funds lost in a hacking attack.
But the main reason for the introduction of verification is the pressure of the authorities, the requirement to comply with KYC (know your customer) rules to prevent money laundering and crypto exchanges have to comply in order not to violate the law. The alternatives to this are. DEX decentralized exchangesThe Bitcoin and other currencies are exchanged directly between the parties and no verification is required. These exchanges have limited functionality and do not offer stacking, mining, lending, or other services. But these are not the safest exchanges yet.
Read completely
revieweek.com
- is a large informational service of company reviews that everyone has heard of and not only. Post complaints, reviews, and company reviews. It's invaluable!
163211