OVEX is a South African crypto exchange that offers cryptocurrency trading and fiat. As of 2019, the company offers trading via a convenient terminal on its website and an OTC department for large clients.
Read completely
Cryptocurrency exchange
Official website
Social media
Date of foundation

2019

Head Office

Unit 501 The Point, 76 Regent Road, Sea Point, Cape Town, 8005

Types of support
Support by phone
Languages

English

The owner of the company
Manager
Minimum entry amount

Verified

Cryptocurrency

From 0.0003 BTC
From 0.02 ETH

Unverified

Cryptocurrency

Unavailable

Maximum input amount

Unverified

Cryptocurrency

Unavailable

Minimum withdrawal amount

Verified

Cryptocurrency

From 0.0003 BTC
From 0.015 ETH

Unverified

Cryptocurrency

Unavailable

Maximum withdrawal amount

Verified

Fiat Currency

To 5 000 ZAR / For the 2nd level of account verification

Unverified

Cryptocurrency

Unavailable

Exchange Commission

Withdrawal fee:

0.00015

BTC /

0.007

ETH

Terminals

Author's platform

Age restrictions
Number of cryptocurrencies
Margin Trading
Leverage

Opening leveraged positions for OTC trading

Tokenized assets
Free Demo Account
Types of accounts
Execution of orders

Market order

Methods of replenishment

Wire transfer, Cryptocurrencies

Withdrawal methods

Wire transfer, Cryptocurrencies

Account currencies

ZAR, USD

Types of cryptocurrencies

BTC, ETH, BUSD, PAX, TUSD, USDT, etc.

Mobile applications
Trader training

Free courses on cryptocurrencies, trading and investing

A way to store cryptocurrencies
Fiat accounts
Scalping
Stop Loss and Take Profit Function
Exchangeability for fiat currencies
Basic verification
Extended AML verification

Provide a picture of an ID card, selfies with a document, utility bill, or bank statement. Corporate clients must provide legal documents

Regulatory laws

South African law

UK law

International data protection law

Canadian law

API
Bonuses
Affiliate Program
Benefits

Convenient trading terminal

Presence of a department of OTC operations

Ability to deposit and withdraw in fiat

Remuneration to the interest account for funds on the balance of the exchange

Company requisites

Legal name:

Ovex (Pty) Ltd

Legal address:

Unit 501 The Point, 76 Regent Road, Sea Point, Cape Town, 8005

Overall assessment
Date of update

21.02.2023
Address
Unit 501 The Point, 76 Regent Road, Sea Point, Cape Town, 8005
Map
Subscribe to this company
OVEX is this a scam? Reviews and description
OVEX - a digital asset trading platform in South Africa that has been operating since 2019. The company offers trading in 26 different cryptocurrencies and two fiat currencies (South African rand ZAR and US dollar). OVEX has not only an online terminal, but also an OTC trading department for large clients. To find out if it is reliable exchange and whether the information published on the site is true, we have studied the work of the company and compiled this review. It will allow us to find out if OVEX is a fraudulent scheme.

Why OVEX?
OVEX is a South African crypto exchange that offers trading in 26 different cryptocurrencies (Options for Earning on Cryptocurrency). The trading terminal of the company is standard, intuitive interface allows you to quickly conduct operations. You can replenish the balance by bank transfer, and withdraw in cryptocurrency or fiat to the bank account. Interest account is also available, which will accrue interest on the funds on the balance of the exchange.
For active users are invited to participate in the referral program. Commissions at the exchange are fixed, and not the lowest, especially if the amounts are small. But those who need to trade in South African rands should pay attention to this company. The advantages of the exchange include:
convenient trading terminal;
the presence of a department of over-the-counter operations;
the ability to deposit and withdraw in fiat;
interest-bearing account with the accrual of remuneration for the funds that are on the balance of the exchange.
How to exchange cryptocurrency on the platform OVEX?
The site of the exchange has a "Buy/Sell" section, where an exchange request form is available. In it, you need to select the direction, the desired action and specify the amount to sell or buy. At the bottom there is a "Get offer" button. After submitting the request, current offers, if any, will appear on the right.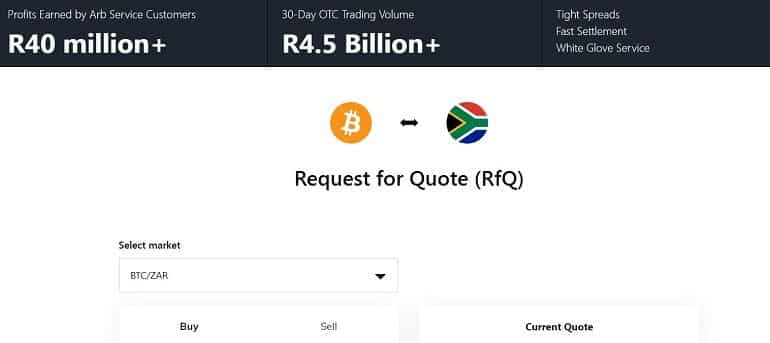 A high volume OTC department is also available. It is the largest floor in South Africa, providing services to large customers 24/7. OTC trading is performed using open exchange order books OVEX. The company offers a secure private service. The minimum order size is R50,000. Features and benefits:
Post-trade settlement. The Exchange may open large lines of credit to provide immediate execution of trades with deferred settlement.
Ultra-deep liquidity. Transactions with high volume at one price with zero slippage.
Full asset support. In addition to OTC trading BTC/ZAR, OVEX OTC supports ZAR pairs and cryptocurrency for all digital assets listed on the exchange OVEX.
24/7 support. Setting up a 24/7 line of communication between you and the sales counter.
Margin Services. Opening positions with leverage for maximum efficiency.
Narrowest spreads. Tiered spread structure. Traders with large volumes pay lower spreads.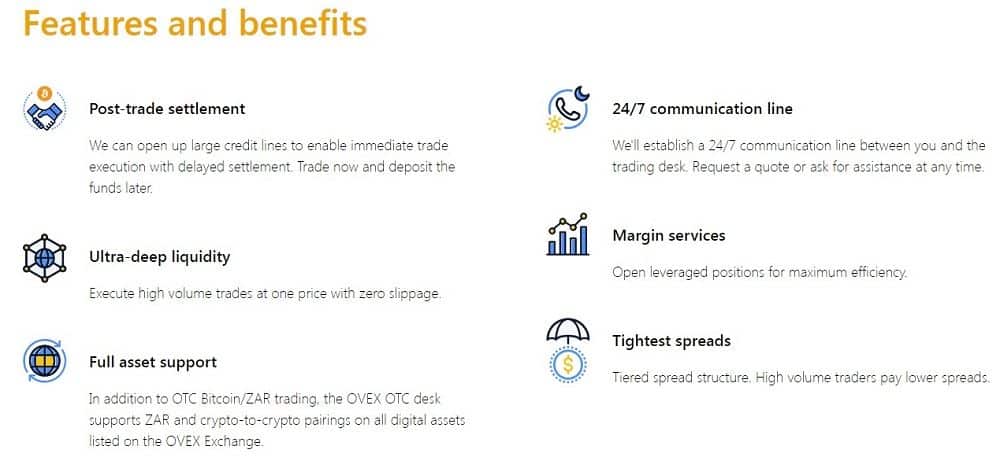 Verification on the ovex.io platform
To start working with the exchange, you need to register. To create an account in the registration form enter your email, password and referral code (optional).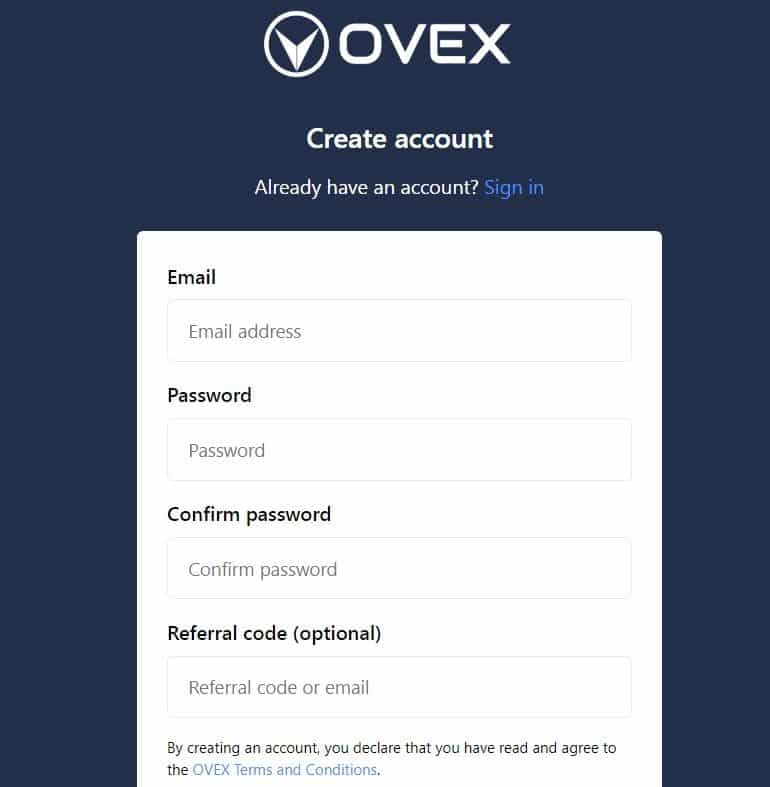 It is also necessary to pass verification. The exchange has several levels of account verification. It determines the amounts that can be traded, and the limits on withdrawals. To pass the account verification it is necessary:
On the control panel in your personal cabinet, go to "Account verification level" and click confirm.
Select the type of account, answer the suggested questions, and upload the required documents. For personal accounts, all you need to do is confirm your identity and address. For corporate accounts, you will be asked to upload legal documents and confirm company information.
To pass the verification for a personal account, you must provide the following documents:
Photo of passport or other state-issued ID. It is necessary to take pictures of the front and back sides of the document.
A bank statement or utility bill that shows your residential address.
Selfies with a passport or other ID.
Deposit and withdrawal
You can deposit money into your wallet from your South African rand account. Go to "Wallet" in the drop-down menu and select "Deposit". From the list offered, select "South African Rand" and the bank. Make a bank transfer (EFT) to the specified details. Check that the reference is correct when transferring funds. Each client has its own unique link. If it is entered incorrectly, the exchange will not be able to credit the balance. Also, OVEX accepts cryptocurrency deposits for all digital assets represented on the exchange.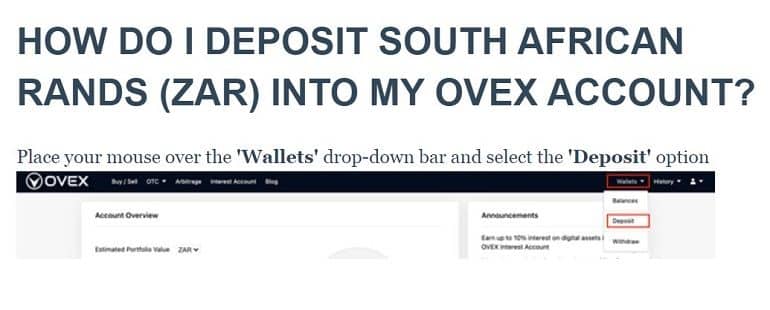 A user can withdraw cryptocurrency from the exchange to a third-party wallet. To do this, hover your mouse over the "Wallets" drop-down panel and select the "Withdraw" option. Select a cryptocurrency from the drop-down list and enter your withdrawal details. You'll also need a 2FA code as an extra layer of security. You can also withdraw your cryptocurrencies into a personal ZAR bank account. To do this, you must first sell your cryptocurrencies for ZAR using the OVEX RfQ system:
Log in to your OVEX account.
Go to "OTC" on the menu and click "Request for Quote (RFQ)" on the drop-down list.
Under "Request Quote (RfQ)" select the asset you want to trade. In this case, you must select either ZAR or the cryptocurrency you want to sell.
Select the appropriate trading pair.
Click "Sell" and enter the amount of cryptocurrency in the top bar.
Then an offer will appear. You can choose whether or not to accept this offer.
To get the ZAR out of ovex.io, click "Wallets" and "Withdraw". Change the withdrawal asset to "South African Rand (ZAR)", enter the withdrawal amount, bank details and 2FA code. Withdrawals can take up to 2 business days to process due to standard bank delays. There is a withdrawal limit of 50 million South African Rand for verified users of OVEX Level 2 exchange. There is no limit on the number of withdrawals for verified Level 2 customers. If the user has not passed Level 2 verification (KYC), the ZAR withdrawal limit will be R20k for users. This applies to both fiat and cryptocurrency withdrawals (P2P cryptocurrency trading). There are also minimum amounts that apply to withdrawals of different assets. Withdrawal minimums for assets supported by OVEX are listed on the exchange website.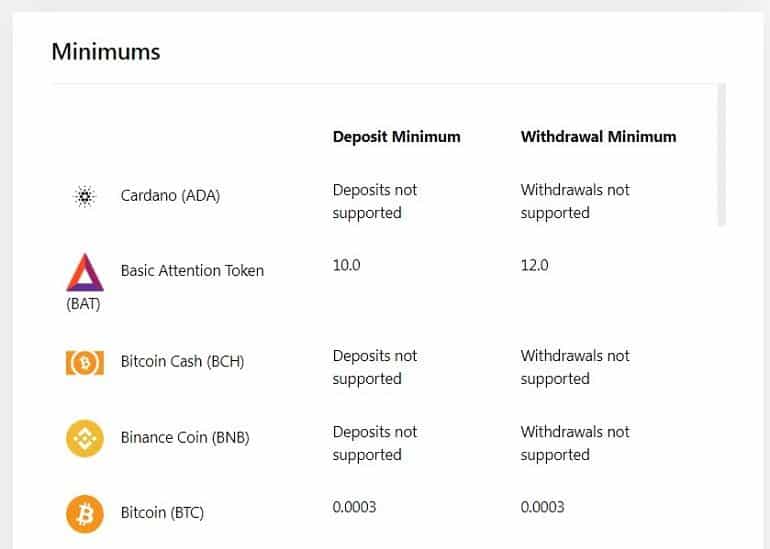 Because OVEX is a market maker, the company gets a small spread when selling cryptocurrency for ZAR. This is how the exchange allows market participants to instantly execute market orders at the market price. The commission charged by OVEX for each transaction can be seen in the transaction history. These spreads are variable and depend on trading volume.
Cryptoexchange Commission
The exchange does not charge a commission for depositing an account. For withdrawals, the user pays an amount, which is specified on the site in the table. The commission depends on the currency, which is withdrawn. For example, for BTC it is 0.00015, and for ETH 0,007.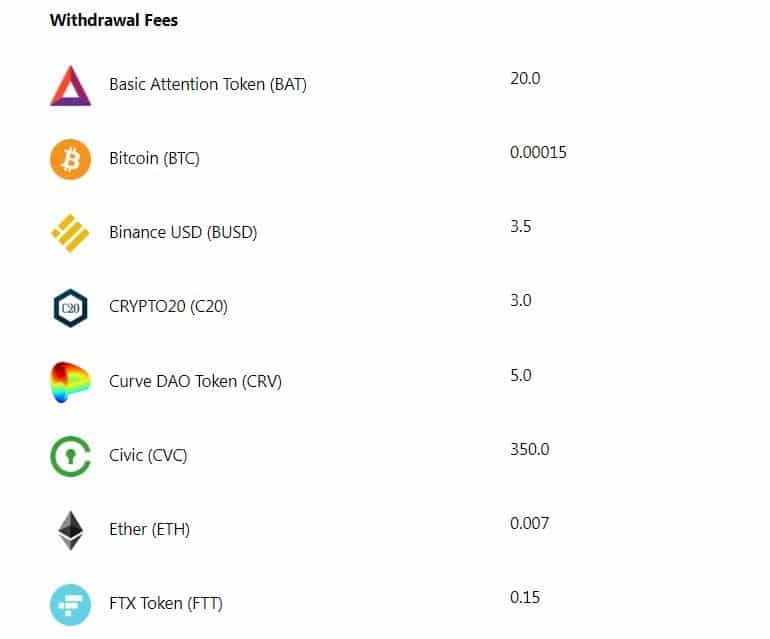 OVEX does not charge a commission for direct OTC trading either. Instead, a spread is charged. The OTC spread displayed in the client's trading history is indicative so that the user can know what portion of the trading price is the spread.
OVEX bonuses
The exchange offers to create a percentage account and become a partner of the company, attracting referrals to use its services.
Percentage account
An interest-bearing account is a product that allows a user to earn up to 20% per annum on certain cryptocurrencies. Interest is paid in the cryptocurrency that was deposited into the account. Interest is paid daily at 5:00 p.m. SAST. For example, an account with 10 BTC will earn up to 0.4 BTC in interest for one year. Interest accounts are available for the following cryptocurrencies: BTC, USDT, BUSD, TUSD, USDC, ETH, BNB.
For deposits over R500 000 it is possible to increase the rate to 20%. In case of placement of such amount you should request a callback and inform the manager of ovex.io.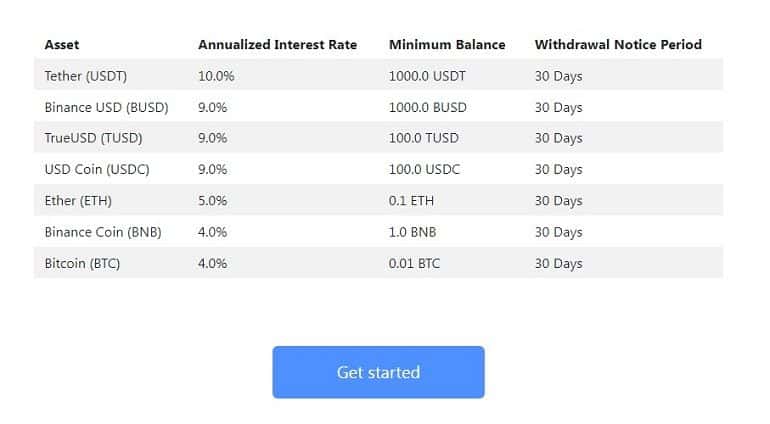 Referral program
Every active user of ovex.io can get a referral link to attract acquaintances. When registering on the site, a referral has to enter the link, code or e-mail of the person who invited him to use the services of the exchange. Remuneration depends on the number of attracted clients and is calculated as follows:
1-10 - 1000 ZAR;
11-20 - 2000 ZAR;
21-30 - 2500 ZAR;
31-1000 - 3000 ZAR;
1001+ - 5,000 ZAR.
Funds will be credited to the user's OVEX exchange account in the then equivalent value in TrueUSD (TUSD) or any other cryptocurrency at the exchange's discretion.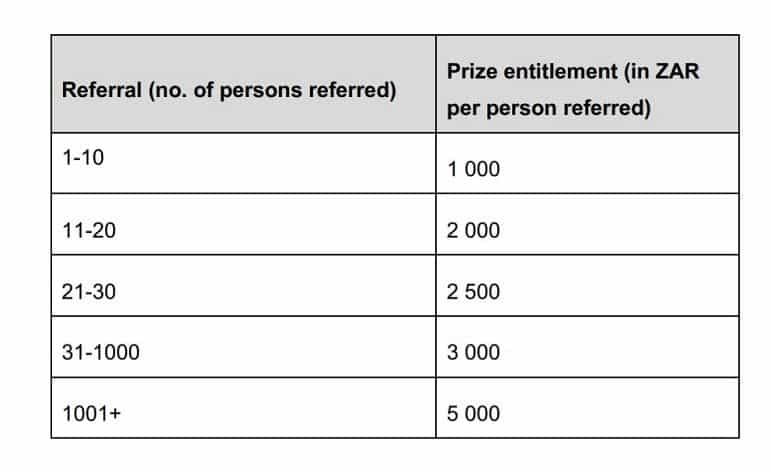 Complaints about ovex.io
There are no reviews on the Internet about the work of the exchange. Perhaps this is due to the fact that it has recently entered the market. As long as there are no positive or negative comments we cannot say whether the company is reliable or not.
If there are any complaints about OVEX, we will be sure to post on social media. Sign up so you don't miss anything!
Please keep yourself informed about news and complaints. We copy the most valuable information to social networks, so please sign up!
Regulation of the OVEX crypto exchange
Before you start trading on a crypto exchange, it is important to find out if it has a license, study the terms of cooperation, privacy policy and other documents. They should be published on the company's website.
Regulator
There is no information about the license of OVEX. The website contains information about the companies registered in Great Britain and South Africa, which manage the exchange:
User Agreement ovex.io
You can read the agreement by going to the "Terms and Conditions" section. This will open a .pdf document that describes the company's services. It says that depending on your location, the agreement will be between you and:
Ovex (Pty) Ltd. registered in South Africa under 2018/218598/07 if you are accessing the service from South Africa or trading cryptocurrency/rand pairs.
Ovex (UK) Limited, registered in the UK, if you are in another country or trading cryptocurrency/US dollar pairs.
There are items with the conditions of creating an account, a description of KYC and AML procedures, information on deposits and withdrawals. It is specified that withdrawal requests are processed within 5 business days. Exchange services, rights and obligations of the parties, limitation of liability, measures to ensure security of customer accounts are also described.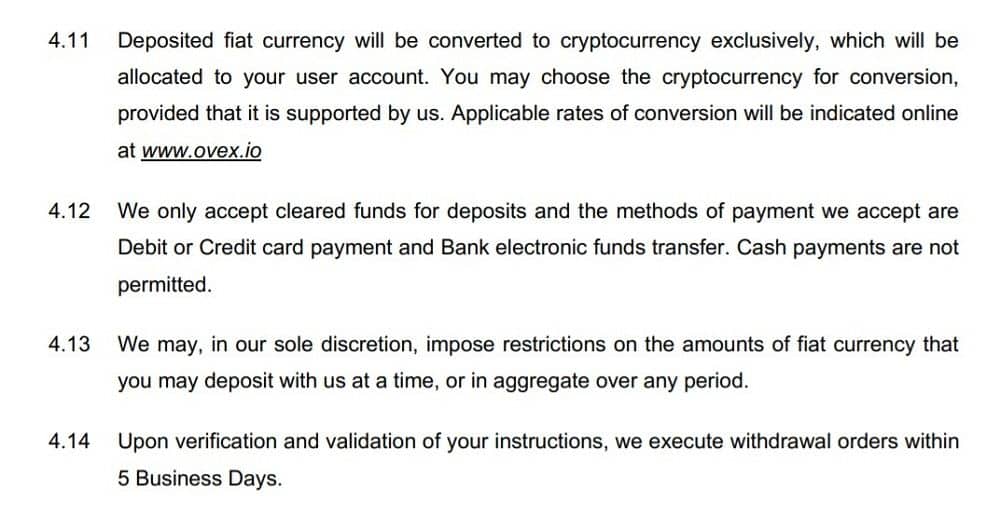 Customer Service
Channels through which you can contact customer service specialists:
online chat;
email: [email protected];
WhatsApp for business: 064-960-52-80;
WhatsApp support service: 072-456-88-88;
phone number: 021-213-68-39.
Is OVEX a scam?
OVEX - a South African exchange where cryptocurrencies and fiat funds in ZAR and USD can be traded. Since 2019, the company offers transactions through a terminal on the site and OTC trading for large customers. It is possible to fund the account by bank transfer, fiat and cryptocurrency are available for withdrawal. For regular clients an interest-bearing account with remuneration and a referral program are developed. The user agreement contains information about the companies that manage the exchange. But there are no complaints or positive comments about the company. Therefore, we cannot say yet whether the exchange is not cheating its customers. OVEX cannot be called a scam, because the company has taken its place on the market since 2019 cryptocurrencies. But without user feedback, it's hard to evaluate its performance.
Conclusion
Having studied the work of OVEXWe found out that the exchange offers the same services as other similar companies. There are online and OTC trading, referral program, percentage account, the ability to deposit and withdraw funds in fiat currency. But without reviews it is difficult to objectively assess the work of OVEX. If you have used the services of the exchange, write your opinion about it in the comments below.
No reviews yet, be the first!
The company in the ratings
Robots for cryptocurrency
Activity
New

0

Resolved

0

Not resolved

0
New companies on the site