Felixo is a promising Turkish cryptocurrency exchange with low trading fees, passive income opportunities and support for popular cryptocurrencies.
Read completely
Cryptocurrency exchange
Official website
Social media
Date of foundation

2018

Head Office

Merdivenköy Mah. Dikyol Sk. Business İstanbul İş merkezi B blok No:2/91 34732 Kadıköy, İstanbul, Türkiye

Types of support
Languages

English,

Founder

Felixo Technology and Software Inc.

The owner of the company

Felixo Technology and Software Inc.

Manager
Minimum entry amount

Verified

Cryptocurrency

From 1e-8 BTC
From 1e-8 Dash
From 0.0002 ETH
From 0.01 TRX

Fiat Currency

Bank card (Visa/MC):

from 10 TRY

Unverified

Cryptocurrency

Unavailable

Maximum input amount

Unverified

Cryptocurrency

Unavailable

Minimum withdrawal amount

Verified

Cryptocurrency

From 0.001 BTC
From 0.004 Dash
From 0.01 ETH
From 2 TRX

Fiat Currency

Bank card (Visa/MC):

from 100 TRY

Unverified

Cryptocurrency

Unavailable

Maximum withdrawal amount

Verified

Cryptocurrency

To 50 BTC / Day, for level 2 accounts

Fiat Currency

Bank card (Visa/MC):

To 25,000,000 TRY / per month

Unverified

Cryptocurrency

Unavailable

Exchange Commission

Withdrawal fee:

0.0005

BTC /

0.002

Dash /

0.00625

ETH /

1

TRX

Trade Commission:

From

0.105

To

0.2

% for maker /

From

0.105

To

0.2

% for taker

Terminals

Author's platform

Age restrictions
Trading volume per day
Number of cryptocurrencies
Number of trading instruments

20+

Signals, alerts, graphical tools, etc.

Margin Trading
Tokenized assets

FLX - the platform's own token

Free Demo Account
Types of accounts
Execution of orders

Market order, Limit Order, Stop Limit Order

Methods of replenishment

Bank card (Visa/MC), Cryptocurrencies

Withdrawal methods

Bank card (Visa/MC), Cryptocurrencies

Account currencies

TRY, Cryptocurrencies

Types of cryptocurrencies

BTC, ETH, TRX, DASH, DOGE, etc.

Mobile applications
Trader training

Felixo Academy, training articles, instructions, blog

A way to store cryptocurrencies

Cold:

yes

Assets are stored in an off-line vault

Hot:

yes

Hot wallets hold assets for daily turnover

Fiat accounts

TRY only for Turkish citizens

Scalping
Stop Loss and Take Profit Function
Exchangeability for fiat currencies
Alarm

Audible notification when the price is reached

FIP

The system of instant transfers between users of the platform

OTC Trading

Platform for large market players, separate registration required

Felixo Academy

Trader training

Basic verification

Confirmation of email, phone number

Extended AML verification

Downloading of identification document, bank account statement

Regulatory laws

Turkish Legislation

International data protection law

Canadian law

API
Bonuses
Affiliate Program
Benefits

Support for 20+ popular cryptocurrencies

OTC trading for major market players

Passive income opportunity

Profitable referral program

Disadvantages
Company requisites

Legal name:

Felixo Technology and Software Inc.

Legal address:

Merdivenköy Mah. Dikyol Sk. Business İstanbul İş merkezi B blok No:2/91 34732 Kadıköy, İstanbul, Türkiye

Overall assessment
Date of update

20.02.2023
Address
Merdivenköy Mah. Dikyol Sk. Business İstanbul İş merkezi B blok No:2/91 34732 Kadıköy, İstanbul, Türkiye
Map
Subscribe to this company
Felixo is this a scam? Reviews and description
Felixo
- a dynamically developing Turkish
cryptocurrency exchange
with its own internal token, bonuses, exchange to the Turkish lira and over-the-counter trading. The project was launched in 2018 and immediately gained popularity among Turkish traders. Over time, the platform entered the international market, offering foreign clients transparent trading conditions, fast withdrawal of funds and low commissions.
Beginner traders will find here an integrated module of instant exchange of cryptocurrencies, and professionals have a convenient terminal with a large selection of tools. In this review, let's take a look at the cryptocurrency exchange features available Cryptocurrencies and user reviews to see if Felixo is a scam or a reliable platform for safe cryptocurrency trading.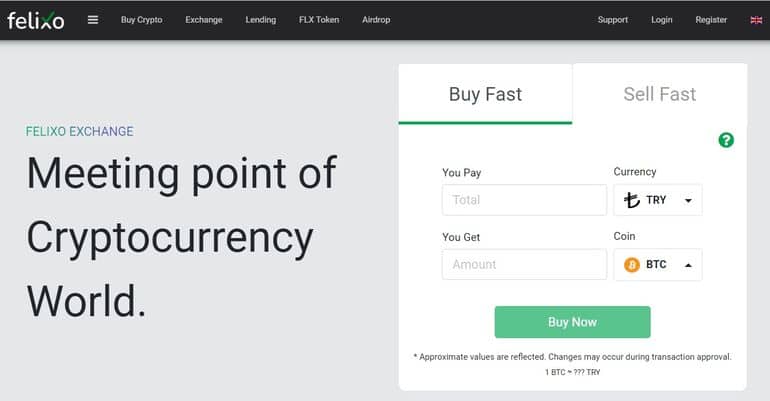 Why Felixo?
Felixo - Turkish cryptocurrency exchange with a stable daily trading volume and a constantly expanding list of assets available for trading. Moreover, the exchange offers some of the lowest commissions on the market. In addition, according to the information on the platform, the crypto exchange provides traders with maximum asset security by storing most of their funds in cold wallets. In addition to standard trading, the platform offers over-the-counter trading on personalized terms.
The OTC trading platform is designed for large market players and requires separate registration. Another interesting feature of the exchange is alarm. This function allows you to set the price at which you are ready to make a deal. As soon as the price of the asset reaches the established mark, you will receive the notification. The exchange's trading terminal is a proprietary platform with support for instruments TradingView.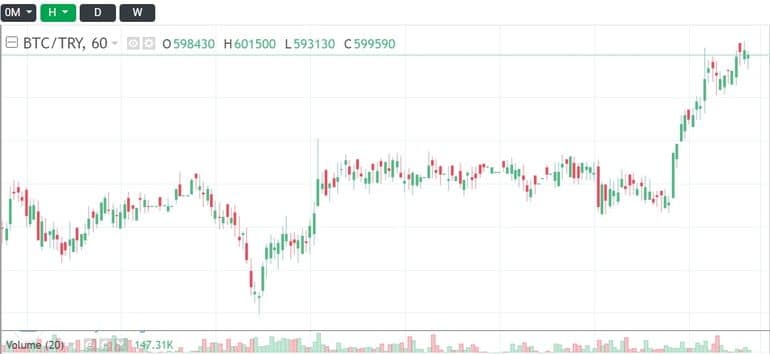 How to exchange cryptocurrency on the Felixo platform?
On the Felixo platform there is a simple exchanger digital currencies. Coins can be exchanged here at the market price within seconds. To make an exchange, specify a currency pair and number of tokens. The exchange is also available during extended trading on the platform.
Verification on the felixo.com platform
To work on the exchange felixo.com registration followed by identity verification is required. Verification is not required, but unverified accounts have a number of restrictions. To register on the platform, follow the link in the upper right corner of the home page. All you have to do to create an account is provide your email address and password. After filling out the data, agree to the terms of use, and click "Register." After that, confirm the email address to activate the account. After registration and account activation you are assigned level 0. At this level you can only view information on the platform.
There are three stages of user verification on the platform. The first stage is confirmation of the phone number and connection of google-authentication. After these actions the account is assigned to level 1, at which only input and trading are available. The second step is confirmation of identity by uploading documents. After uploading a scan of your ID the account is assigned to level 2 with a withdrawal limit of 50 BTC per day.
To remove the withdrawal limit and be able to withdraw fiat money you need a full identity verification. For verification you need to upload a document proving your identity and a bank statement (at the request of the administration). You will also need to take a selfie with uploaded document to verify your identity.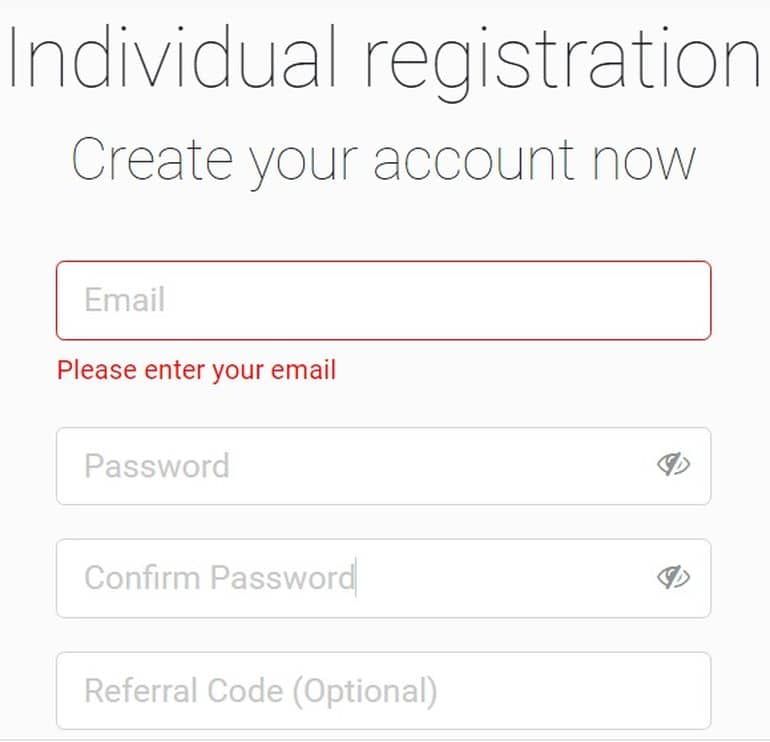 Deposit and withdrawal
Deposit is available only after confirming the phone number. To deposit funds, log in to your account and click "Deposit". Select the currency and specify the number of coins. Copy the crypto-address and write it in your cryptocurrency wallet. Confirm the transfer. You can also fund your account by buying cryptocurrency with a credit or debit card. The minimum deposit amount depends on the selected cryptocurrency, for example: BTC - 0.00000001; DASH — 0,00000001; ETH - 0,0002; TRX - 0,01.
Withdrawal of earnings is carried out on the reverse scheme. Login to your account, click "Withdrawal" button. Specify the cryptocurrency and amount. Enter the address of your cryptocurrency wallet. Confirm the transfer. Minimum withdrawal amount is determined by the cryptocurrency to be withdrawn, for example: BTC - 0,001; DASH - 0,004; ETH - 0,01; TRX - 2. Maximum withdrawal amount depends only on account status.

Commission of the crypto exchange felixo.com
On the cryptocurrency exchange felixo.com There are 2 types of commissions - withdrawal and trading fees. The amount of trading fees can be reduced by paying them with an internal FLX platform token.
Withdrawal commission
The amount of withdrawal fee is determined by the cryptocurrency being withdrawn, for example: BTC - 0.0005; DASH - 0.002; ETH - 0.00625; TRX - 1. The amount of commissions can be adjusted depending on blockchain conditions. There is no deposit fee, except for buying cryptocurrencies with a debit or credit card. In this case, the commission is calculated personally and depends on the amount of the purchase.
Trade commissions
The total trading commission of the platform is 0.2% for makers and takers. But by increasing the monthly trading volume, commissions can be reduced to 0.105%. The minimum commission for users with a monthly trading volume of 150 BTC or more.
Felixo Bonuses
Felixo platform users can receive various bonuses, discounts on trading commissions and rewards through the referral program.
Discounts on trade commissions
Discounts on trading commissions can be obtained not only by reaching a certain monthly trading volume, but also by holding an internal FLX platform token in your account. Discounts are distributed according to the amount of tokens in the account: 50,000 to 1,000,000 discount 10%; 1,000,000 to 5,000,000 discount 20%; 5,000,000 to 10,000,000 discount 30%; 10,000,000 to 50,000,000 discount 40%; over 50,000,000 discount 50%.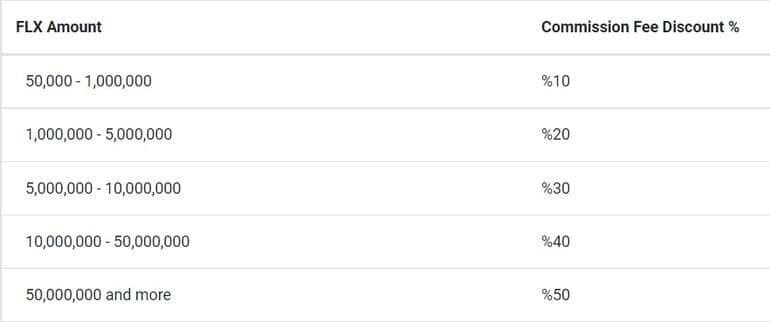 Bonus 10 USD
Bonus is available for clients who participate in Felixo-OKEx bonus program. Register on the partner's site and get 5 USD when depositing in the account and earn 10 USD more when trading for 100 USD and more.

Error detection awards
Look for problems and errors on the platform, send reports to the support service and get remuneration. The amount of reward depends on the error danger level: low - 100-200 USD, medium - 200-500 USD, high - 500-2000 USD, critical - 2000-5000 USD.

Referral program
On the platform felixo.com There is an eight-level referral program. By registering on the exchange, you can earn income by inviting referrals. As the number of referrals increases, so does your referral income, which is calculated as a percentage of commissions paid by referrals:
0-9 referrals - 20%.
10-49 referrals - 25%.
50-99 referrals - 30%.
100-249 referrals - 35%.
250-499 referrals - 40%.
500-999 referrals - 45%.
1000-1999 referrals - 50%.
2000+ referrals - 60%.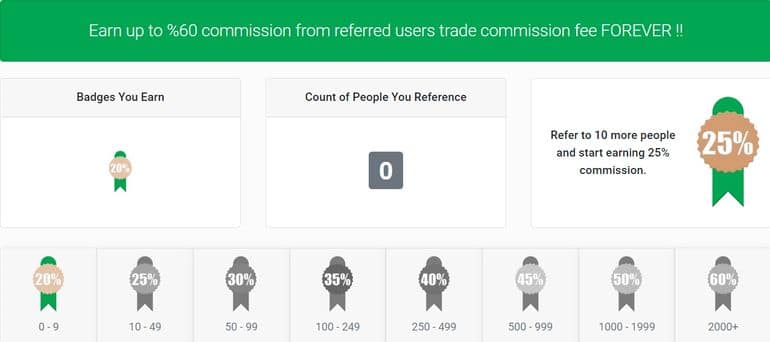 Complaints about Felixo
Unfortunately, there are no reviews about Felixo Crypto Exchange on the Internet. If you have experience of trading on this platform, write your review under this review.
If there are any complaints about Felixo, we will be sure to post on social media. Sign up so you don't miss anything!
Please keep yourself informed about news and complaints. We copy the most valuable information to social networks, so please sign up!
Regulation of Felixo crypto exchange
Regulation of a crypto exchange is an important component of user asset security. By having a regulator, the platform ensures transparency of working conditions and fulfillment of all obligations to the trader.
Regulator
Felixo Cryptocurrency Exchange is managed by Felixo Technology and Software Inc. The company is registered in Turkey and its activity is regulated by Turkish law. Documents felixo.com:
User Agreement
Under the terms of the user agreement on the platform, users over the age of 18 are entitled to register. Level 1 and 2 users have the right to register only one account. If multiple registrations are detected, the administration reserves the right to delete the account without prior notice.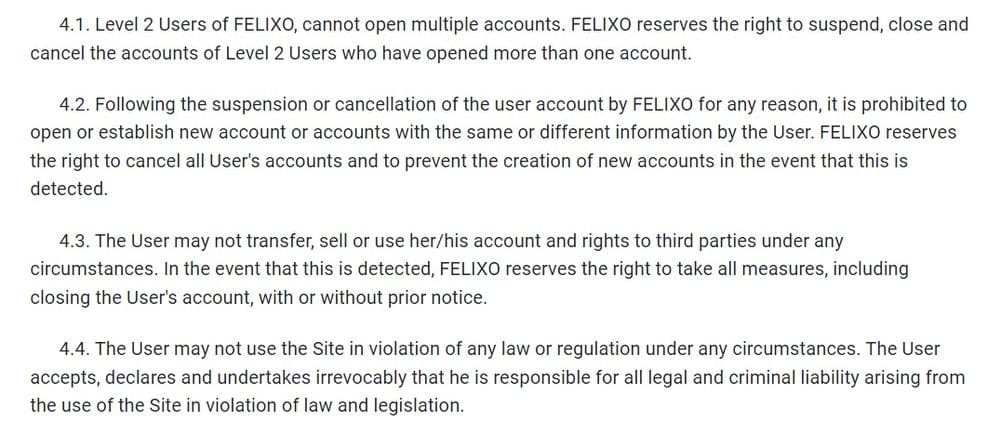 The User Agreement, like other Platform documents, is written in Turkish. In case of inconsistency in translation, the original text of the document shall prevail. The Platform is governed by Turkish law, and all disputes are resolved in the courts of Istanbul and Anatolia.

Customer Service
Customer support is available 24 hours a day, 7 days a week. You can send your request by e-mail or via social networks, contacts:
You can also find information on working with the platform on the "FAQ", "Help Center" and "Felixo Academy" pages.
Is Felixo a divorce?
Felixo - an actively developing Turkish cryptocurrency exchange. The platform offers not only standard trading, but also a number of additional services, such as OTC trading, internal transfers, price alerts, instant exchange and credit earnings. The company provides secure storage of clients' assets in cold wallets. Having analyzed the work of the platform and the legal documents of the company, we came to the conclusion that Felixo is not a scam. The company works in accordance with the Turkish and international legislation, completely fulfilling its obligations to the traders.
In addition to trading on the web portal, traders have access to the Felixo mobile app, which gives them round-the-clock access to trading regardless of their location. Overall, the company can be called reliable, as evidenced by the stable daily trading volume. Also in favor of the platform is its tracking on coinmarketcap.com.
Conclusion
Cryptocurrency exchange Felixo meets all international standards and is regulated by the Turkish legislation. The company offers traders transparent working conditions, a high level of security and low commissions. Trading in popular cryptocurrencies is available for Russian traders here. Turkish citizens can also trade in local currency. Holders of the platform's token receive special benefits. By keeping FLX in your account, you can receive additional bonuses and discounts on trading commissions.
No reviews yet, be the first!
The company in the ratings
Robots for cryptocurrency
Activity
New

0

Resolved

0

Not resolved

0
New companies on the site