A social network for traders and a powerful platform for technical analysis, it offers tools for viewing and creating trading ideas.
Forex broker
Website
Social media
Date of foundation

2011

Types of support

Chat

Feedback form on the site

Help Center

Facebook

Twitter

Languages

English, Russian, Chinese, Italian, French, etc.

Terminals

TradingView

Broker fee
Bonuses
Free Demo Account
Adjustable
Types of accounts

Basic, PRO, PRO+, PREMIUM

Methods of replenishment

PayPal, Bank Card (Visa/MC)

Withdrawal methods

PayPal, Bank Card (Visa/MC)

Types of assets
Account currencies

USD, EUR

Mobile Trading
Weekend trading
Tournaments / contests
Trader training

Traders learn from each other's experience

Contract Difference Commission
Swaps
PAMM trading
Analytics
Margin Trading
Affiliate Program
Benefits

Powerful social tools for user interaction and an intuitive platform

Personalized technical analysis, more than 100 technical indicators for a thorough analysis of the market

A huge number of charts of different types, a variety of data and exchanges

Alerts in the cloud, instant notifications on market events

Ability to create and distribute their own ideas, financial shows

Paper Trading tool for free trading simulation

Screener for stocks, forex pairs and cryptocurrencies

Excellent reputation in the crypto industry

Regular addition of new features

Demo account and support of popular brokers

Regular addition of new features

Personal Technical Analysis and Mobile App

Disadvantages

Few ways to communicate with technical support

Paid subscriptions to get access to all platform features

Company requisites
Date of update

01.09.2022

Overall assessment
Subscribe to this company
TradingView is it a scam? Reviews and description
TradingView
- is a powerful technical analysis platform and social network for traders. Thanks to real-time quotes and charts in the browser, users of the platform can follow the market and make predictions. The platform allows users to analyze charts, view trading ideas, and share their trading ideas.
But is the site really tradingview.com is a reliable web platform for technical and graphical analysis in real time? Or is it another scammer who decided to get rich at the expense of clients by offering subscriptions to its services? Let's answer these questions in our detailed review!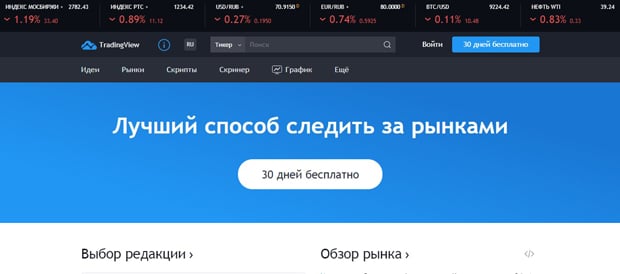 New TradingView users will receive 30 $ in TradingView Coins when they sign up with our button (10$ in TradingView Coins when they buy a monthly plan).
TradingView platform
The TradingView platform is full of all sorts of menu buttons, as well as various areas with text and graphical data. At the top you see the quotes of the market assets, and immediately below them there is a panel with the "TradingView" logo, the "What's new" button (platform news), the interface language selection menu and the search form. When you log in, a drop-down menu appears here, titled with the name of the user. Through it, you can go to settings and profile data, statistics on referrals, financial information, subscribers and published ideas. There is also a switch that allows you to activate the dark theme of the TradingView site interface.
By using HTML5 web standard, tradingview.com has the flexibility to customize and scale the graphical information. There are unique graphical tools and chart types. Users have access to spread charts, flexible price scale, more than 50 graphical tools and much more. The TradingView platform contains 5 main sections.
Ideas
This section includes trend analysis, harmonic and chart patterns, indicators, gann and more. Traders can share ideas here, any speculator has the right to publish their ideas. Ideas can be trading or educational. The former are characterized by an indication of possible entry points into the market, the latter are characterized by training, which is evident from the name itself. These can be posts about risk management, necessity of following trading rules etc.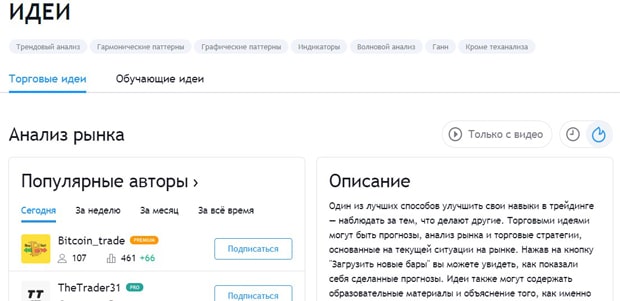 Markets
The section provides access to information on all monitored financial assets. For example, if you open the category "Cryptocurrencies"The list of coins sorted by capitalization will appear in front of you. The trading volume, price and other important data will be shown next to each coin.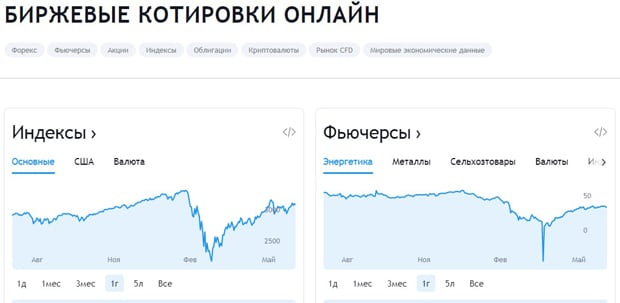 Scripts
In this section technical indicators are available and trading strategies. The scripts are categorized, but you can also set other sorting parameters - for example, by popularity, type, or publication time. Each script is described in detail, with its source code and user manual.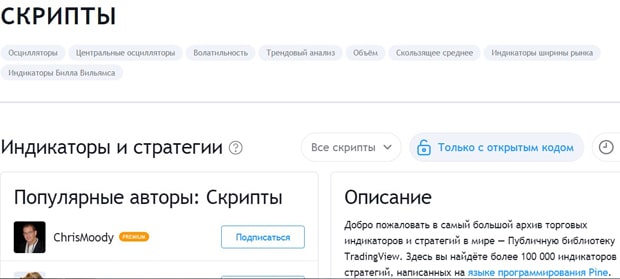 Screener
Here we are talking about sorting trading instruments according to different indicators. In this tab you will find the stock screener as well as forex signals and cryptocurrency pairs.
Schedule
In this section, clients of TradingView can work with both traditional and exotic types of charts - Japanese candles, e.g. "Live Chart" is the main category of the platform, here users can create trading charts and open existing ones. And most importantly - communicate with each other and share experiences.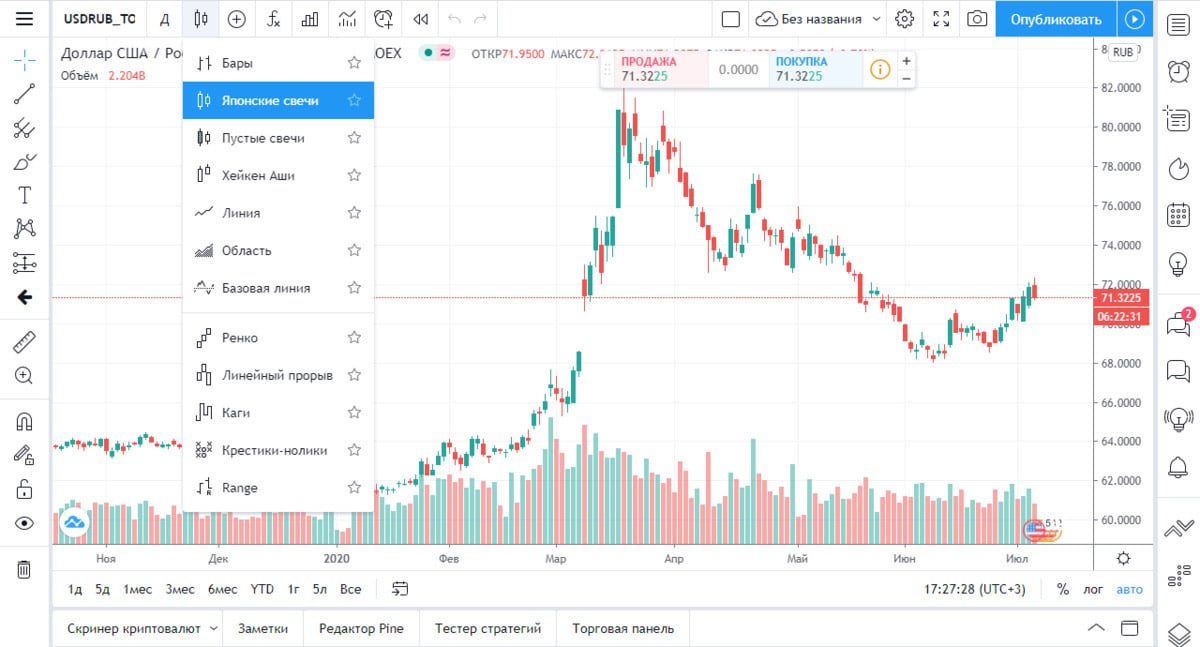 The interface of the platform is very concise and intuitive. Visually, on the main chart screen you can identify 4 control areas, each of which has a specific functionality. The left vertical panel is used to manage the graphical tools, the right vertical panel displays the economic calendar, the idea feed, chats, etc. The lower horizontal panel contains the screener windows with various selection parameters, the trading panel and the strategy tester, while the upper horizontal panel is the toolbar. This includes selecting a timeframe and a trading instrument, attaching ready-made strategy templates, technical indicators, etc.
There is also a "More" section on tradingview.com. It contains information about the project, its features, prices, solutions for brokers and other useful information. And in the "Show" section there are thematic selections of videos, with the best ideas from the most popular and authoritative representatives of the financial industry. One of the main components of the TradingView platform is a social network. It includes ideas, chats, videos, graphs and reputation. All materials can be liked, commented, reposted and applied to yourself with the author's permission. Traders communicate in public groups on suitable topics and can create new chats - provided that a chat room with such a topic does not already exist. At the moment on TradingView it is possible to trade through such brokers:
TradeStation;
Alpaca;
iBroker;
AMP;
CQG FCM;
Saxo;
Tradovate;
WH Selfinvest;
Alor.
You can also use the Paper Trading simulator: all trades are simulated on TradingView servers and you don't need a brokerage account for this.
TradingView rates
The creators of the project offer the Basic tariff for beginner traders and investors. Absolutely free of charge to the users of the site the following functions are available:
testing of trading strategies;
12 customizable graph types;
more than 100,000 technical indicators;
world market data;
multifunctional screener;
the charts where it all began;
50+ handy drawing tools.
You can also activate one of these paid subscriptions:
PRO: $14.95 per month
PRO+: $29.95 per month
PREMIUM: $59.95 per month
TradingView charts are one of the most powerful graphical analysis tools. Their basic functionality is available in the basic subscription, and the Pro status additionally opens the following features:
Create an unlimited number of charts and lists of quotes;
the use of an unlimited number of indicators;
simultaneous display of several graphs in one window;
customizable timeframes (time intervals);
market volume profile;
additional options for graphical design of graphs;
the ability to turn off advertising.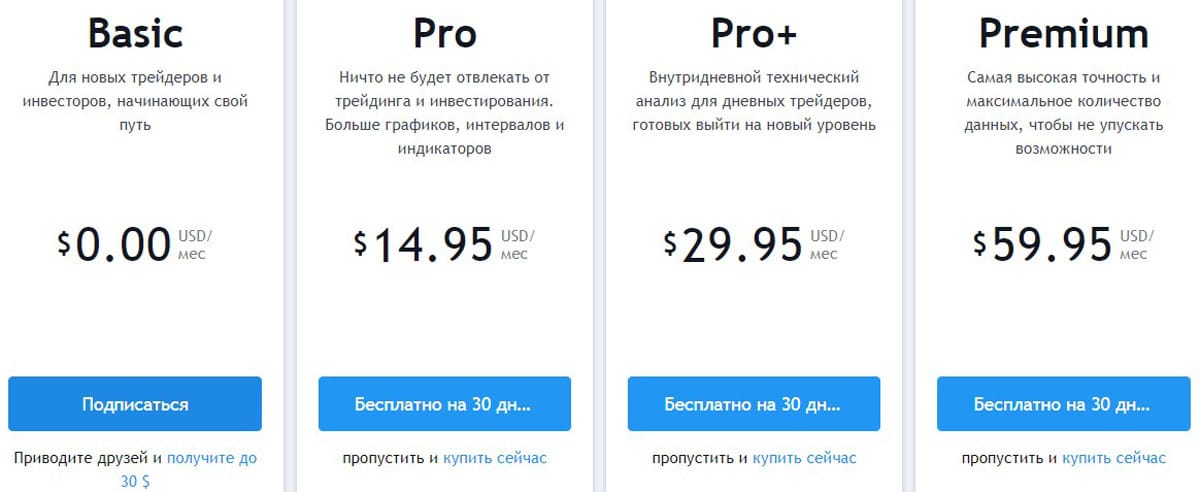 TradingView: your profitable investments
TradingView clients can successfully trade a variety of assets. They have access to online stock exchange quotes for such financial instruments:
Currency pairs
Everything related to traditional currencies - overview, heat map, cross rates, currency indices. Rare and exotic currencies from Africa, Asia, and the Pacific are supported.
Futures
Allow you to work with contracts to buy or sell currencies, energy resources, metals, currency indexes, agricultural commodities and interest rates.
Stocks
You can choose the stocks with the highest capitalization, the leaders in growth or decline, the most volatile, etc.
Indexes
These include currency indices, S&P index sectors, U.S. indices. Major stock exchange indices follow the exchanges of developed countries, and their names often indicate the number of companies they include. Tracking major indices is important because they often reflect the state of the economy as a whole.
Bonds
Bonds are issued by governments of different countries to attract funds into the economy by issuing low-interest loans. On TradingView, you can work with bonds of all countries and select all available bonds with a ten-year maturity.
Cryptocurrency
General market overview, market capitalization charts, charts for certain selected cryptocurrencies.
CFD market
Represents derivative financial instruments, so-called contracts for difference. They are concluded between two parties and allow the exchange of the difference between the current price of the asset and the price at the end of the transaction.
Register at tradingview.com
To register on the TradingView platform, you need to click on the "Login/Register" button in the top bar. To log in, you can use an existing account on a social network or another site: Twitter, Facebook, LinkedIn, Google, Yahoo or Stock Twits.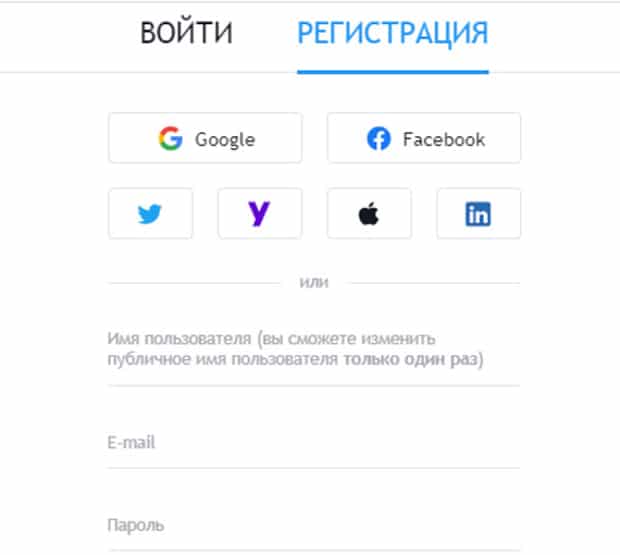 Or you can register by filling out a special form on the site. You need to enter your username, email address and password, and then click "Register". Then you specify your name and add a photo, and that's the end of the registration! Now you can choose the tariff, each of which is free for a month. In order to connect the subscription you have to confirm your account with a cell phone number (you must enter the code from the SMS). Then you have to enter your bank card or account details PayPal. If you sign up for a trial subscription, it will be charged $1, which will be refunded immediately in the currency of your account. This is how the verification is done. After that, you can proceed to full-fledged work on the trading platform TradingView.
Demo account
TradingView provides all the tools you need to practice and become a successful trader. Trading financial assets is quite a risky business. Therefore, before you start trading for real money, we recommend that you first practice on a demo account. You can place orders by opening an account with a supported broker and connecting it to TradingView. Place orders and track your profits and losses in real time. Practice trading stocks, bitcoins, currency pairs or futures without the risk of losing real money.
Mobile application
TradingView has a mobile app for Android and iOS which can be downloaded from Google Play or the App Store. Real-time data will always be at your fingertips. Saved graphs will be available anywhere and anytime. You will be able to communicate and discuss ideas using instant private messages.
TradingView bonuses
TradingView has a "Bring a Friend" program. You can share a link with a friend via e-mail or Twitter/Facebook and get up to $30 from a new user. Once your friend creates a profile and buys a paid subscription, each of you will get money in your account. The amount of reward depends on what kind of subscription the new user connects.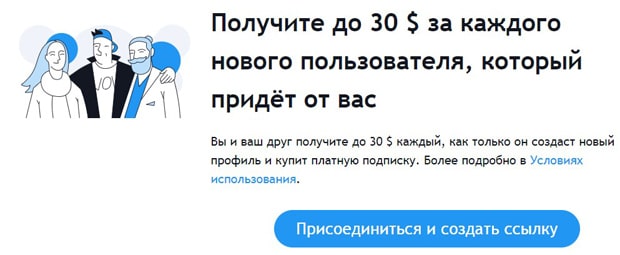 New TradingView users will receive 30 $ in TradingView Coins when they sign up with our button (10$ in TradingView Coins when they buy a monthly plan).
Affiliate Program
Using the affiliate program, you can earn on referrals, and use the advertising section to promote your brand, product and analytics on TradingView. To become a partner of this powerful site, you need:
Register at tradingview.hasoffers.com;
Get a unique referral link and ID;
Use this link to invite new users;
Follow the changes and get rewarded.
You'll have a steady income here. You'll get 30% commissions from all the payments your users make.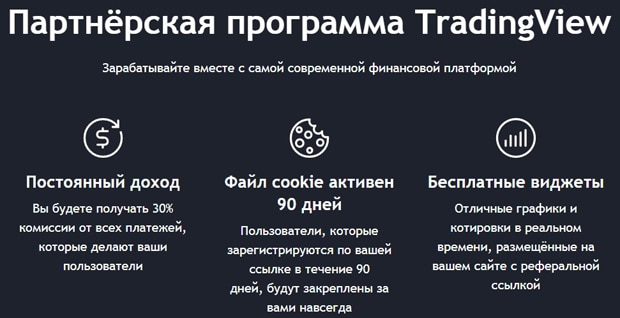 Advantages of TradingView
One of the most important advantages of TradingView is the possibility of "live" communication with other exchange players. This is what the project was created for. On the site tradingview.com you can get acquainted with the trading ideas of your colleagues, see their forecasts, and then track their performance. You can also post your own ideas and forecasts. Advantages of TradingView:
powerful social tools for user interaction;
a huge number of different types of graphs;
support for all trading instruments - from cryptocurrencies to government bonds;
the opportunity to create and disseminate your own ideas;
diversity of data and exchanges;
personalized technical analysis, more than 100 technical indicators for thorough market analysis;
Screener for stocks, forex pairs and cryptocurrencies;
alerts in the cloud, instant notifications on market events;
Paper Trading tool for free trading simulation;
Demo account and support of popular brokers;
excellent reputation in the crypto-industry - TradingView charts can be found on almost all cryptocurrency exchanges;
a special programming language for creating scripts;
regular addition of new features;
News and notes.
The professional version of TradingView will greatly expand your possibilities, with the help of this service you will be able to avoid serious losses on the exchange.
Complaints about TradingView
The TradingView platform is full of tools for trading and analytics. Therefore, it is not surprising that there are a lot of positive reviews about this project on the web. Judging by the comments on the Internet, most users really like this service. They write that the money spent on the subscription is returned in the process of using the tools provided by the platform.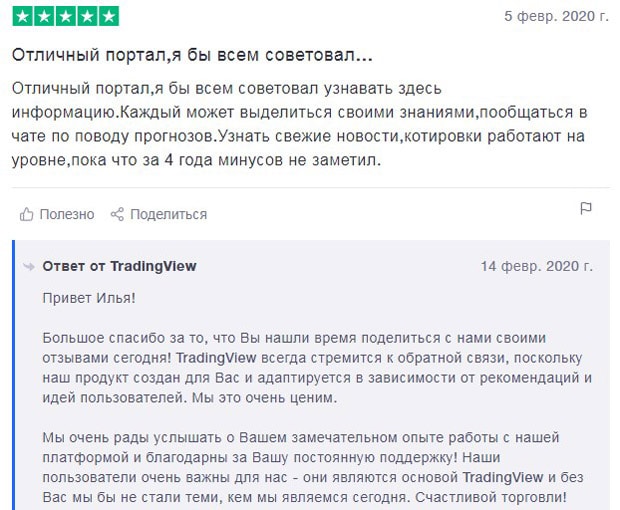 Of course, there is a lot of negativity, too. But mostly they are complaints about paid subscriptions, which give access to important functions for technical and graphical analysis. But, as we noted above, these costs as a result of working with the site justify themselves. Some also point out that the site design has not been updated for a long time. But otherwise the service works great, so many traders and investors give it a good rating.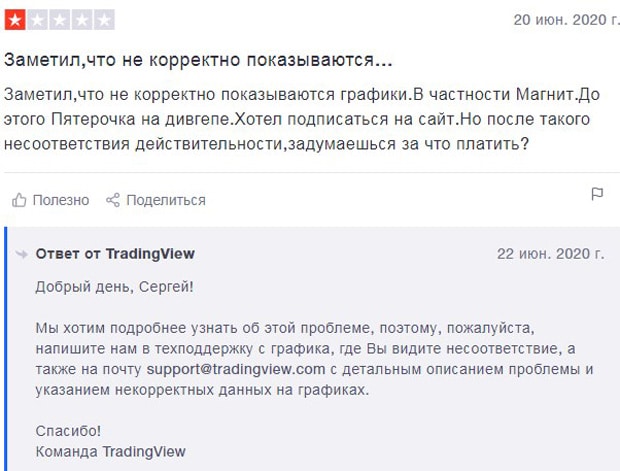 If there are any reviews about the TradingView platform, we'll be sure to post them on social media. Sign up so you don't miss anything!
Please keep yourself informed about news and complaints. We copy the most valuable information to social networks, so please sign up!
TradingView regulator
TradingView is an analytical platform, that is, the company does not provide investment or legal services. Therefore, the company is not regulated by the regulatory authorities. Thanks to this platform, users all over the world learn about markets by discussing investment ideas on an open platform. TradingView is headquartered in New York and has a head office in London for the European market. There are development offices in Rostov-on-Don, St. Petersburg and Moscow.
Tradingview.com User Agreement
The "agreement" specifies the terms of use of the platform, the company's policy and disclaimer of liability. TradingView cannot guarantee to each user that the information presented on the site will be complete and up-to-date and will be suitable for their needs:

The document states that the user must cancel the subscription after the free period of use, otherwise the payment will be made automatically according to the selected tariff:

When registering on the portal tradingview.com the user agrees that he will receive special offers and messages from TradingView to his email:

Is TradingView a scam?
TradingView - is a simple platform for beginners and powerful for experts in technical analysis. The service has all the tools to create and view trading and training ideas. Browser charts and real-time quotes allow you to make predictions and follow markets anywhere and anytime.
Judging by online reviews, TradingView is liked by many users - both beginners and experienced traders and investors. On this site, you can get real-time information and opinions about financial markets, analyze charts, view trading ideas and share your own on social networks or other sites! TradingView is clearly not a scam or fraud, this project has already attracted millions of speculators. Without a doubt, this project can be called one of the best platforms available today for traders and analysts who need an extensive set of customizable tools for working with charts.
Conclusion
TradingView - is a unique platform, a "live chart" for market analysis and a social network for traders. Users of the service have access to expert opinions, quotes and free real-time charts. Join a community of investors and traders in forex, stocks and futures on TradingView and you'll never regret it! You'll be able to study trading and learning ideas from experienced speculators and make your own, and you'll always have a wide range of tools at your fingertips for gaining insight into the financial markets.
Rating of reliable brokers