Bitcoin.com is a crypto exchange founded in 2019 that offers several tools for trading different cryptocurrencies. It is possible to earn passive income for the use of funds not involved in trading.
Read completely
Cryptocurrency exchange
Official website
Social media
Date of foundation

2019

Head Office

858 Zenway Blvd Frigate Bay, St. Kitts and Nevis

Types of support
Languages

English, Chinese, Russian, Spanish

The owner of the company
Minimum entry amount

Verified

Cryptocurrency

From 0.0001 BTC
From 0.0001 ETH
From 0.0001 USDC

Unverified

Cryptocurrency

From 0.0001 BTC
From 0.0001 ETH
From 0.0001 USDC

Maximum input amount
Minimum withdrawal amount

Verified

Cryptocurrency

From 0.0001 BTC
From 0.0001 ETH
From 0.0001 USDC

Unverified

Cryptocurrency

From 0.0001 BTC
From 0.0001 ETH
From 0.0001 USDC

Maximum withdrawal amount

Verified

Cryptocurrency

to 10,000 USDC / for check level 1
to 10,000 USDC / per day (for Level 2 verification)

Unverified

Cryptocurrency

Unavailable

Exchange Commission

Trading commission:

0.2

% for taker /

0.15

% for maker

Terminals

Author's platform

Age restrictions
Trading volume per day
Number of cryptocurrencies
Number of trading instruments
Margin Trading
Leverage
Tokenized assets
Free Demo Account
Types of accounts

Verification level 1, Verification level 2, Verification level 3

Execution of orders

Limit Order, Market order, Stop Limit Order

Methods of replenishment

Cryptocurrencies

Withdrawal methods

Cryptocurrencies

Account currencies

Cryptocurrencies

Types of cryptocurrencies

BTC, USDC, BCH, ETH, XRP, Aave, SHIB, LINK, BNB, USDT, DASH, SUSHI, UNI, DOGE, etc.

Mobile applications
Trader training
A way to store cryptocurrencies
Fiat accounts
Scalping
Stop Loss and Take Profit Function
Exchangeability for fiat currencies
Perpetual contracts

Traded at the price level of the underlying asset

Futures

With up to 100x leverage

AMM+ tool

Opportunity to earn passive income from idle assets

FlexUSD

Coin retention interest, payable every 8 hours

Gifts

Creating printed or digital Bitcoin Cash wallets

Map

Search for stores where you can pay in cryptocurrency

Widgets

Displaying information about cryptocurrencies on the user's site

Bitcoin Cash address conversion

New CashAddr or Legacy format available

OTC trading

For large transactions

Markets

Tracking market trends in real time

SLP Dividend Calculator

Transactions to send dividends to SLP token holders

Basic verification
Extended AML verification

Level 2 requires personal and ID information. For Level 3 verification you need a photo with the document

Regulatory laws

International data protection law

FATF (Financial Action Task Force)

API
Bonuses
Affiliate Program
Benefits

Convenient trading terminal

Disadvantages

Lack of investment solutions

Company requisites

Legal name:

Saint Bitts LLC

Legal address:

858 Zenway Blvd Frigate Bay, St. Kitts and Nevis

Overall assessment
Date of update

21.02.2023
Address
858 Zenway Blvd Frigate Bay, St. Kitts and Nevis
Map
Subscribe to this company
Bitcoin.com is this a scam? Reviews and description
Bitcoin.com - a company that provides a suite of trading tools and services based on the bitcoin network. It has developed crypto exchange exchange.bitcoin.com, on the platform of which you can trade cryptocurrencies, receive passive income and interest for flexUSD on the account. The service is registered in St. Kitts.
You can trade popular digital assets on the Bitcoin.com platform, including BTC, ETH, LTC, BCH, BNB, XRP and XLM. Although the exchange belongs to a well-known company in the world of cryptocurrencies, it is worth investigating whether Bitcoin.com is a fraudulent scheme.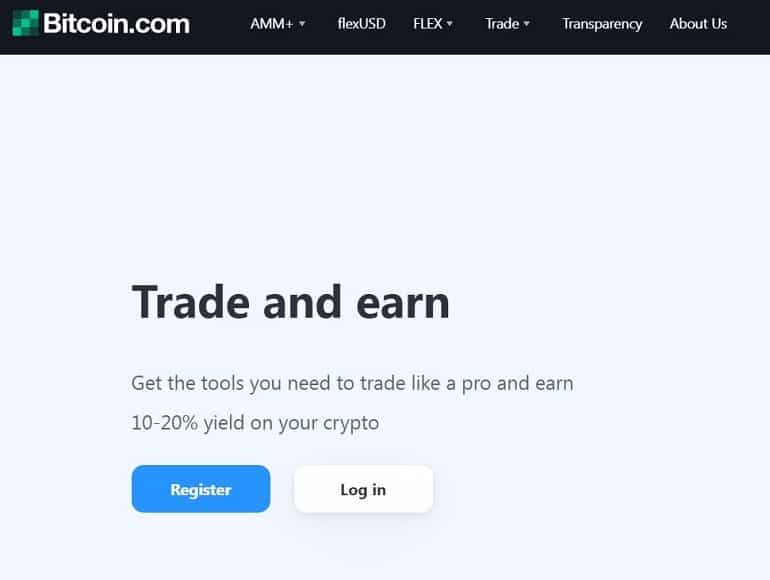 Why Bitcoin.com?
Bitcoin.com Exchange is a cryptocurrency exchange that offers spot trading many cryptocurrencies, perpetual contracts and futuresThe platform is compatible with a variety of devices and the ability to receive passive income with the AMM+ tool and interest for holding flexUSD. The trading platform is compatible with different devices. Mobile applications are available for smartphones and tablets, which can be downloaded from the App Store and Google Play.
The company has its own wallet - Bitcoin.com Wallet. It is a software wallet that can be installed on a PC or smartphone. In it you can buy and sell digital assets. You can trade using a bank card, account, or payment application. You can store access to assets in the wallet, protecting them with biometrics and a password. There is an automatic backup and restore access with a single password. You can create different wallets in the program, add notes to transactions and view the history of all transactions.
A blockchain reviewer, emails, and Satoshi Nakamoto messages are available for novice traders to help them understand Bitcoin more quickly. The company also offers several tools:
Trading pairs.
Gifts. You can create printed or digital Bitcoin Cash wallets, give them to people you know, and get notifications when they are used.
Map. Search for the nearest stores where you can pay in cryptocurrency.
Widgets. Display current asset prices, news and more on the user's site.
Bitcoin Cash address conversion to the new CashAddr or Legacy format.
OTC trading.
Markets. Real-time market trending for hundreds of coins.
SLP Dividend Calculator. Creating a transaction to send dividends to SLP token holders.
The main advantages of the platform are considered security and fast 24/7 support. Users also like the user-friendly terminal, several handy tools, and the opportunity to earn passive income for the use of funds not involved in trading.
How to exchange cryptocurrency on Bitcoin.com?
For starters. cryptocurrency trading You need to register an account at exchange.bitcoin.com. To do this, enter your email and password in the "Registration" form and agree to the terms of the user agreement. A code will be sent to your e-mail address, which you must enter in the box on the registration page to confirm the creation of your account.
More than 40 pairs are available for spot trading, including BTC, BCH, ETH, FLEX, SHIB, LINK, XRP, etc., 34 primary and futures pairs with leverage up to 100x. There is a trading terminal where you can place orders. The platform has charts, prices and price changes, trading volumes, order book, and the ability to create limit, market and stop-limit orders. In addition, the exchange offers perpetual and index contracts, and futures.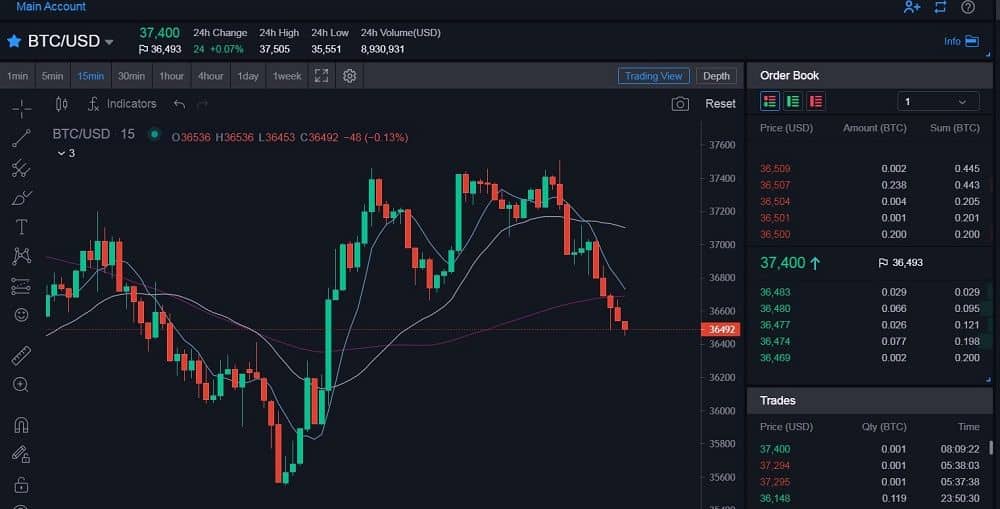 The exchange also allows you to generate passive income with idle assets. By providing liquidity in AMM+, it is possible to earn commissions on the futures markets. AMMs are revenue generating products that allow lenders to earn commission income by providing liquidity to the exchange. An automated market maker is a type of protocol that allows assets to be traded automatically and without authorization, using pools of liquidity rather than a buyers and sellers market. AMM+ users receive a 0.03% discount on every trade. The parameters in AMM+ are easily customizable. There are three strategies: "Buy", "Sell" and "Neutral" so users can choose what is more profitable. The site has an "AMM+" section where you can customize the tool's parameters.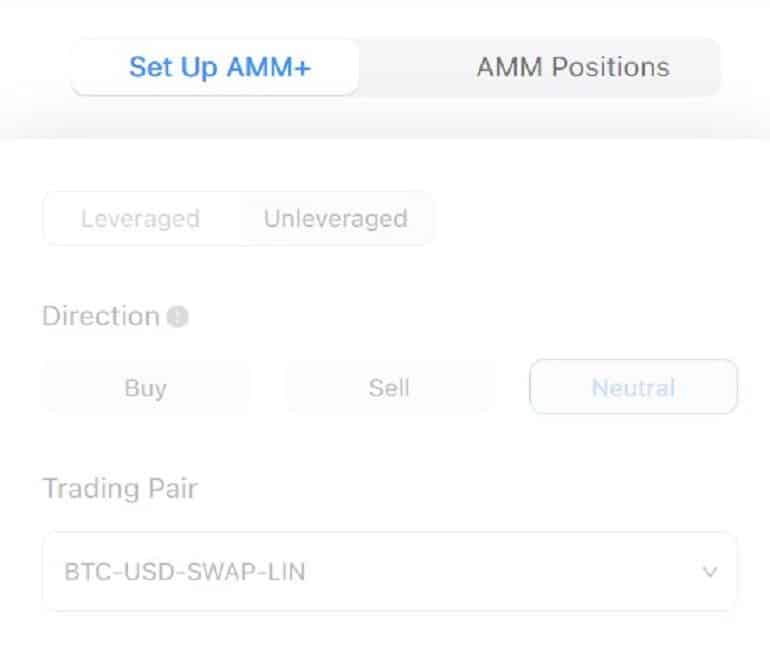 Those who have flexUSD, a stable U.S. dollar-linked coin in their account, secured USDC at a ratio of 1:1, can earn interest every 8 hours. It is available to use stabelcoin as collateral to make profits and trade at the same time. The flexUSD section has a form with several tabs for different settings. On the main page. exchenge.bitcoin.com there is a calculator in which you can calculate the approximate yield for a period of 1 to 12 months.
Verification on the exchange.bitcoin.com platform
Immediately after registration, the first level of account verification is available. Such users can withdraw a maximum of 10,000 USD. There is a "KYC" section in the cabinet, where you can go through the following levels of verification. At the second stage, it is necessary to provide personal data and information about the identity card. After verification, withdrawal of 10,000 USD per day will be available.

Deposit and withdrawal
You can replenish your account after logging into your personal cabinet. You need to go to the section "Wallet and order" - "Deposit". In the opened window you can choose the cryptocurrency to see the number of the wallet for deposit and QR-code. For each currency the minimum amount for deposit will be indicated. At the bottom of the page you can see the history of your deposits for the last week.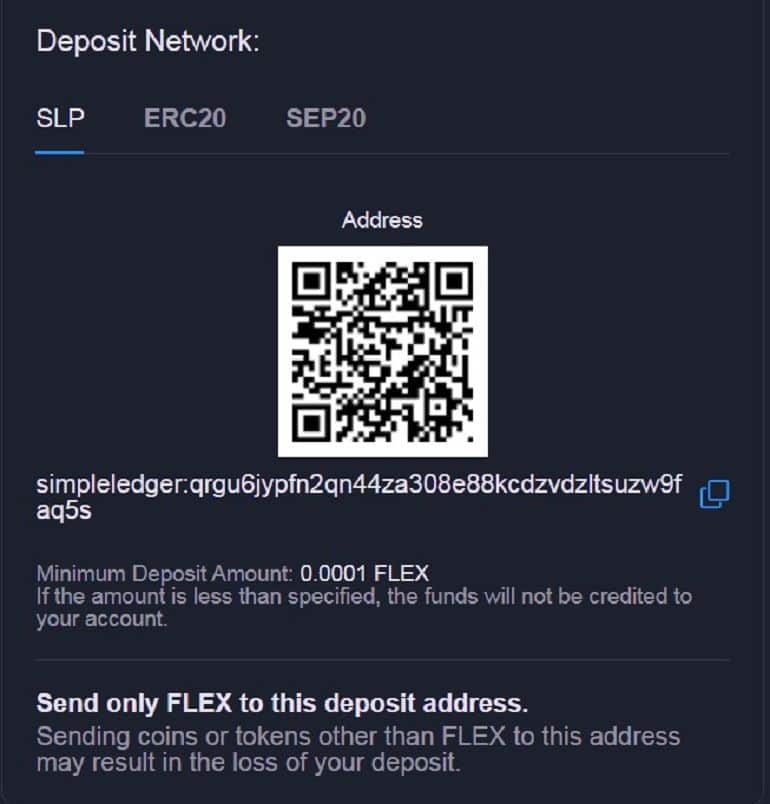 To display the Bitcoin.com a separate page is available in the "Wallet and Order" section. In the form on it you also need to select the currency and specify the amount. For USDC there is a maximum amount to withdraw - 10 000. For other currencies there is no limit.
Cryptoexchange Commission
The platform charges from takers commission of 0.2% per transaction. Makers pay 0.15%. Bitcoin.com Exchange does not charge a fee when withdrawing funds from its account.
Bonuses exchenge.bitcoin.com
The company does not yet offer a referral program. There is an opportunity to play bitcoin casino and receive remuneration in cryptocurrency.
Casino
Crypto Exchange has developed a casino with a lot of interesting games available. The company offers up to 25% cashback for registering in it and games on the machines, casino. Table games are also available. To start, you need to register at games.bitcoin.com and make a deposit from 0.0001 BTC. For visitors to the casino every week promotions and tournaments with prizes.
For those who are ready to make big bets, they offer registration in the exclusive VIP-program. It gives deposit bonuses, large cashback and other special offers. Technical support casino operates around the clock, and you can withdraw funds in a few minutes with a commission of 0.0001 BTC. Deposit can be made in several ways: from a bank account or card, through e-wallets GPay, Samsung Pay. Local payment methods are also available for different countries.

Complaints about Bitcoin.com
There are many reviews on the Internet about the work of the crypto exchange. In positive comments, users note that they like the user-friendly trading terminal, adaptation of the site for mobile devices, high speed of transaction processing. The pluses include the absence of a minimum deposit and deposit and withdrawal commissions. As for the disadvantages, users note the absence and investment solutions. Also not everyone likes high trading commissions, but they are partially compensated by the absence of deposit and withdrawal commissions.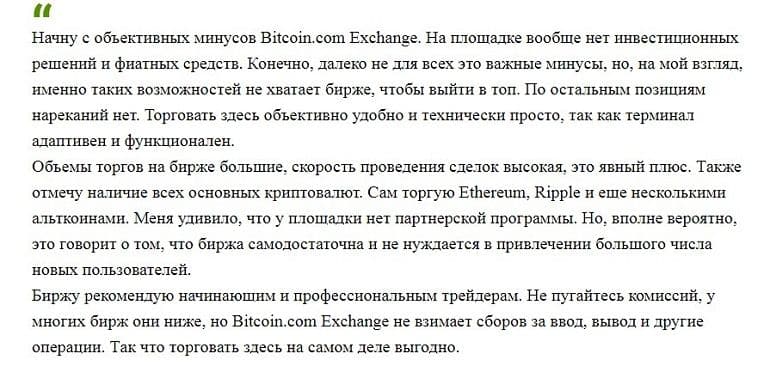 If there are any complaints about Bitcoin.com, we'll be sure to post on social media. Sign up so you don't miss anything!
Please keep yourself informed about news and complaints. We copy the most valuable information to social networks, so please sign up!
Regulation of Bitcoin.com crypto exchange
Every user who wants to trade in cryptocurrency should, before starting cooperation with any of the exchanges, clarify the information about it. It is important to find out if the company has a license and read the texts of all documents on the website.
Regulator
The exchange is owned by Saint Bitts LLC, registered on the island of Nevis. The site has a "Legal Information" section, where the text of the user agreement is published.
User Agreement exchange.bitcoin.com
The document describes the terms of use of the site and exchange services. The user must keep the credentials secret and is responsible for managing any information related to the account. There is also information about the risks associated with digital assets. The administration is not responsible for the cryptocurrency market and makes no guarantees about the real value of the assets.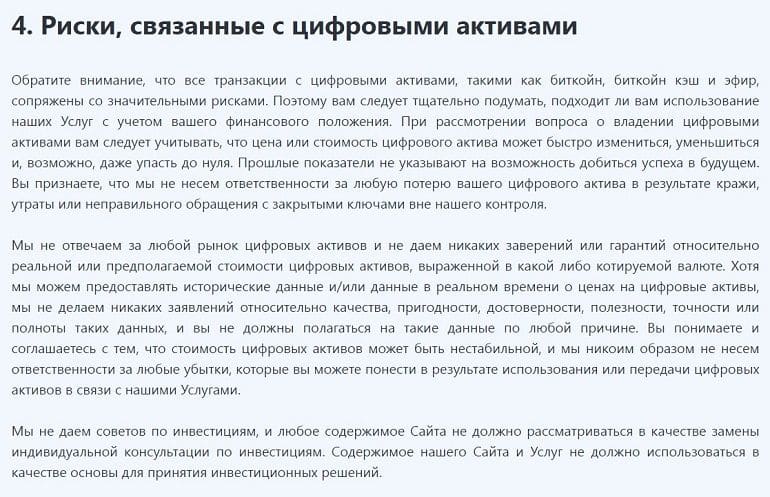 Disclaimer of warranties, limitation of liability and indemnification are described. The user agrees to indemnify and hold harmless employees from claims and expenses, including court costs, related to the use of the site and violation of the agreement.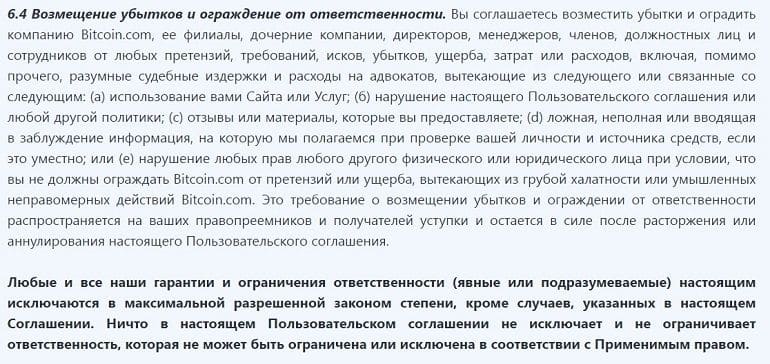 Customer Service
In the "Contacts" section you can go to the feedback form. After answering a few questions, you can leave your message to technical support. You can also write to the company's employees at [email protected] and study the information in the support center. The exchange also has pages on Instagram, Twitter, Facebook and a channel in Telegram.
Is Bitcoin.com a scam?
Bitcoin.com - a company that has developed cryptocurrency trading tools and an exchange for buying and selling digital assets and generating additional income. Transactions are processed quickly, the terminal is simple and convenient. The pluses include the absence of deposit and withdrawal commissions. Not everyone likes high trade commissions. Taking into account all the nuances of the exchange, we can conclude that Bitcoin.com is not a scam.
Conclusion
Bitcoin.com - cryptocurrency exchange, which offers several convenient tools to buy and sell digital assets. It does not offer participation in a referral program, but passive income is available with the AMM+ tool and interest for holding flexUSD. If you've used the exchange, leave a comment below this review.
No reviews yet, be the first!
The company in the ratings
Robots for cryptocurrency
Activity
New

0

Resolved

0

Not resolved

0
New companies on the site