Futures trading in cryptocurrency: exchanges and features
Futures trading cryptocurrency - is a new type of trading. The idea is that traders bet on the future price of a cryptocurrency. Futures trading has a number of features, advantages, but also disadvantages that one should be aware of before embarking on it.
What is cryptocurrency futures trading?
Cryptocurrency trading is a type of speculation without actually owning the cryptocurrency, but with actual profit (or loss) on future price fluctuations. The trading process itself does not differ from spot trading, traders as usual make forecasts about the price development, open and close orders, fix profit or loss. In fact, futures contracts are very different from spot trading, because there is no real asset behind them, only a guess as to what the price of the asset will be in the future. The "presumptive" nature of trading makes futures trading easier and more dynamic, allowing you to trade with more leverage.
Futures contracts belong to the category of derivatives, that is, trading instruments derived from an asset. Derivatives, particularly futures, are a very popular trading instrument that was created a long time ago to speculate on the value of commodities and raw materials. The strategies that are used in trading such futures are generally applicable to cryptocurrencies as well. A futures contract in cryptocurrency trading is an agreement between two parties to buy or sell a cryptocurrency that is to occur on a certain date, at an assumed certain price. If the user believes that the cryptocurrency will rise in price by the end of the month, the user opens a long (up) position on the cryptocurrency by buying a futures contract for the month. If the price is expected to fall, the user opens a short (downside) position. When the contract expires, both parties involved in the transaction settle and the contract is closed.
Types of futures contracts
There are several types of futures contracts that traders on some cryptocurrency exchanges can choose from. It is hardly possible to find all types of contracts on one and the same cryptocurrency exchange, so you have to register on several ones, or you have to operate only with a certain type of futures.
Standard futures contracts
Standard futures contracts are like futures for any commodity. They have an implied price, an expiration date, and a settlement. Standard futures contracts are represented by such crypto exchanges as Binance (go online) or Bybit. Generally, there are quarterly bitcoin futures offered against the U.S. dollar.
Futures with physical delivery
Futures with physical delivery (for bitcoin) are offered, in particular, on the Bakkt platform (bakkt.com) (Figure 1), a company that Intercontinental Exchange (ICE), the parent NYSE (New York Stock Exchange). Physical delivery futures are characterized by the fact that the cryptocurrency is delivered during the settlement process - bitcoin is delivered at expiration to those who bought futures on it.
Image. 1
Perpetual contracts
Perpetual contracts differ in that they do not depend on an expiration date. The price of an open-ended contract trades close to the spot price of the cryptocurrency, and the object of the trade is the interest rate that long and short traders pay each other depending on the dynamics. Perpetual contracts are available at BitMEX (bitmex.com) , Bybit (go online) (Figure 2) and Binance . As the name suggests, these futures have no expiration date. They are traded as futures, that is, at the future price of the asset.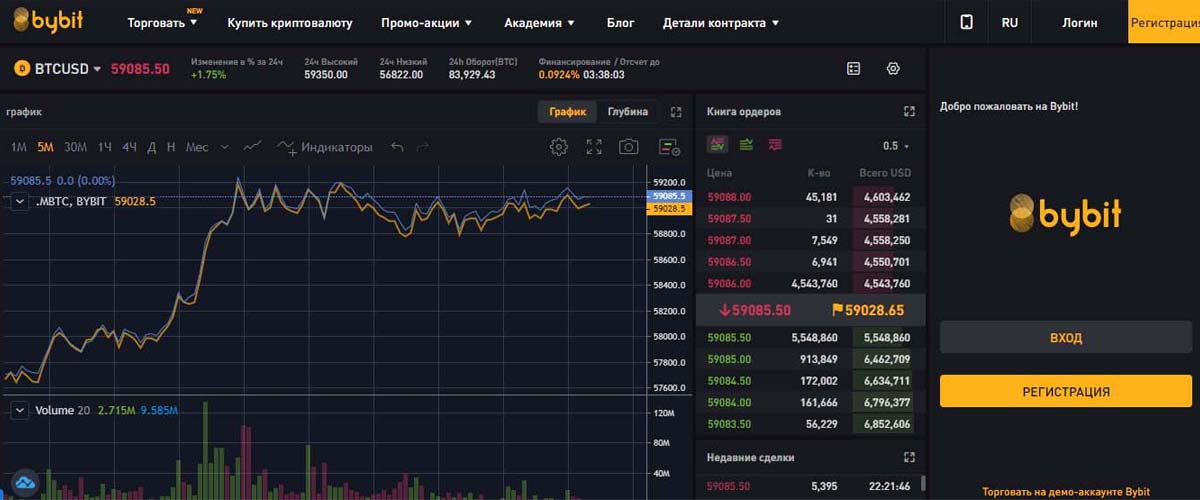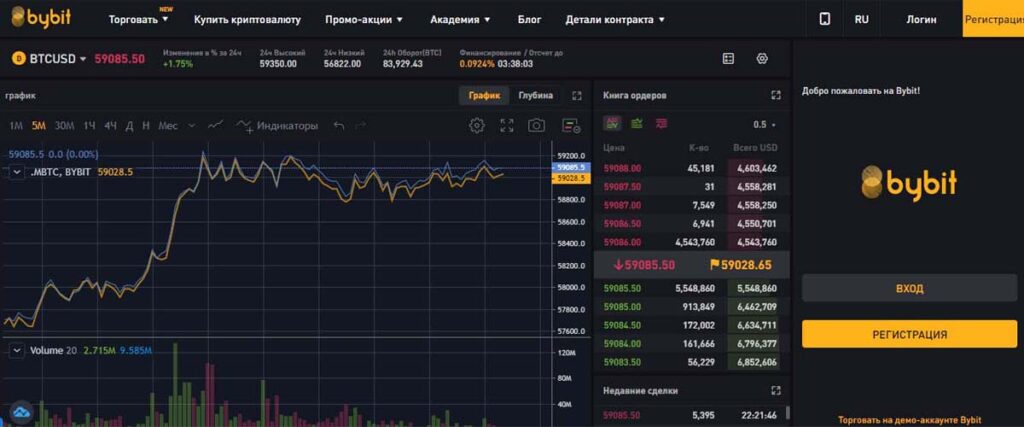 Image. 2
Advantages of futures trading
Let's look at the benefits of futures trading:
Ease of trading. Futures trading is easier than cryptocurrency trading itself. In theory, it doesn't even require a cryptocurrency wallet, and there's no need to delve particularly deeply into the study of the crypto-industry. That is, if the user has some experience trading commodity futures and other assets, he can just as well start trading cryptocurrency futures. For this reason, the volume of crypto futures turnover is now greater than the volume of spot trading.
High Profit. This plus should be understood as "currently high profits. The cryptocurrency market is currently on the rise, prices are rising with small pullbacks, so, in general, cryptocurrency futures now promise high profits. In addition, crypto exchanges offer leverage, - leverage, even up to X100, which in a good scenario leads to very large profits.
More strategies. Futures are a more flexible financial instrument than spot trading, which allows you to implement more strategies with greater effect. Futures trading allows you to open shorts without restrictions, which is an additional advantage when conducting fast strategies.
Hedging. Crypto-futures is a kind of hedging, preserving crypto-assets because the price of a futures contract has an expiration date. The price will be preserved even if the price of the asset itself drops before the contract is executed.
Diversification. Crypto-futures allow you to diversify your capital by investing in futures of different cryptocurrencies and/or on different crypto-exchanges. Of course, the crypto market functions very synchronously, following the dynamics of bitcoin, but sometimes in different directions, and you can earn on changes in the price of some altcoin, which goes against the market.
Entering the cryptocurrency market. Crypto-futures can remain an independent way of trading, but they can also be an entrance to the cryptocurrency market. To trade futures, you will need to register an account, learn the functionality of the cryptocurrency exchange, and learn how to trade on the trading terminal, all of which will come in handy later when trading cryptocurrencies directly.
Down play. When the price of cryptocurrency falls, spot traders (not hodlers) are forced to go into some more stable assets, but futures trading allows you to make money on falling prices, by opening short positions (How to make money on cryptocurrency).
Smaller deposit. With futures trading, you don't have to keep large funds in your cryptocurrency account to conduct transactions, because you can conduct transactions with leverage.
Disadvantages of crypto-futures trading
Let's analyze the disadvantages of futures trading:
Leveraged trading. One of the most attractive and yet most dangerous features of futures trading is the ability to trade with leverage. All or almost all crypto exchanges with futures offer this feature. Trading with leverage can bring relatively huge profits, for example, if you trade with $10 with a leverage of X100, it is realistic to earn $1,000. But there is one "but" - this is a very risky way of trading, which can only be done by qualified traders, who definitely do not trade with $10. Usually crypto exchanges offer leverage up to X50, but there are more. If an inexperienced trader decides to try his or her luck and trade with leverage, he or she should avoid betting with high leverage. The leverage chosen determines the margin required for trading, so if leverage of X20 is chosen, then 20% of funds are involved in the position - the rest will have to be borrowed from the exchange or traders, of course, with interest. It is easy to calculate how big the losses will be if the bet is wrong.
Volatility and lack of knowledge. The basic disadvantage of futures trading is the volatility of cryptocurrencies. This quality leads to both high profits and large losses. It is difficult to guard against this because the cryptocurrency market is unpredictable. The problem is exacerbated by the fact that the ease of entry into the futures market leads under-qualified traders who trade at random or with poor strategies and leverage, which inevitably leads to losses in the cryptocurrency market (cryptocurrency trading strategies).
Details of futures trading
Let's look at the most important details to pay attention to when trading futures:
Liquidity Assessment. In order to trade cryptocurrency futures efficiently, you need to assess several parameters: the liquidity of the assets, the exchange and the market. That is, you need to consider whether there are buyers, sellers, other market participants, how active they are; how significant and valuable the chosen asset is, what is the situation on the market in general. Generally, the liquidity of the futures markets is higher than of the spot ones, because the contracts are settled in fiat currencies.
Expiration date. You should always pay attention to the expiration date of the futures contract, namely the date of receipt of money at settlement. It may be more appropriate to sell the open contract before the expiration date in order to have time to lock in a profit or loss, depending on the behavior of the price of the asset.
Necessary funds. When trading futures, it is even stricter than in spot trading to adhere to the rule of not investing more than can be lost in the event of an erroneous bet, taking into account the size of the leverage, if trading is conducted with leverage.
Training on a demo account. Futures trading is not technically different from spot trading. In either case, before investing real money, you should practice on a demo account, which simulates spot trading.
Choosing an exchange. When choosing a crypto exchange, of course, first you need to clarify whether the exchange has futures trading; how high transaction fees; features of registration, deposit, withdrawal and so on.
Deposit and maintenance margin. The exchange charges a margin for opening a position, which can be a significant percentage of the current market value of the underlying asset. Margin is charged to buyers and sellers to protect the broker from possible default on the transaction. Maintenance margin is the amount in an account that is required to keep a position open in order to avoid a forced closing of the position by the broker (margin call). Forced closing will fix the loss of the trader, respectively, the trader will incur losses.
Futures Specification. For the futures the exchange develops a document, the specification, in which the conditions are fixed. These, in particular, include the contract name, abbreviated (ticker), description; contract size; type (deliverable or settlement); minimum price step (points); delivery date; contract circulation terms and other.
Deliverable futures and settlement futures. Futures are deliverable futures, where the buyer undertakes to buy and the seller undertakes to sell the asset on the contract expiration date (also called the "expiration date") in accordance with specified specifications. Settlement futures offer only cash settlement in the amount of the difference between the contract price and the value of the asset on the date of execution; delivery of the underlying asset is not assumed.
Participants. There are two main participants in the futures market - the maker, which provides liquidity, and the taker, which, respectively, takes the liquidity of the stock market.
Crypto-futures exchanges
Cryptocurrency exchanges have been offering derivatives trading since not too long ago, and futures are among them. Advanced traders use them to hedge risks or to lock in profits (losses) in moments of high volatility.
Binance
The Binance cryptocurrency exchange (binance.com) has a special "Derivatives" section with two subsections for futures (Fig. 3) (How to make money on the Binance cryptocurrency exchange). Among the presented derivatives COIN and USDT-Margin for open-ended and quarterly futures. COIN-Margin futures are presented as quarterly and open-ended futures. USDT-Margin futures are in the form of open-ended, have margin and are calculated instead of an asset (that is, in cryptocurrencies). Trading can be done with a very risky leverage of X125. Initial margin 0.8%, maintenance margin 0.4%, funding rate 0.01%, funding interval: every 8 hours, commission maker 0.02%, taker 0.04%. The futures trading platform on Binance provides options such as setting up and checking leverage - a trader can afford X20 leverage at the start. Also, the trader can monitor the mark-to-market price, when the positions reach it will be liquidated, can control the time to delivery of financing, observe positions in the auto-deleverage queue, monitor the price dynamics and trading volume over 24 hours.

Image. 3
Bybit
Bybit exchange (bybit.com) (Fig. 4) offers futures trading with cryptocurrency bonuses with leverage up to X100. Futures contracts are open-ended. Initial margin is calculated as a result of multiplying the order amount by the initial rate, which depends on the leverage selected. Initial and maintenance margin 0.5%, 1%, funding rate 0.0148% for 3 hours, funding interval: every 8 hours, leverage X100x, commission maker 0.025%, taker 0.075%. Features of futures trading include the fact that users are offered one trading account to trade open-ended and futures contracts on bitcoin. There is also a common insurance fund with a perpetual contract. The exchange allows users to hold either a single position - short or long - or hedge short and long at the same time. Also, the exchange does not pay a financing fee for holding a position. The exchange offers BTC/USD futures: bitcoin is used as the initial margin, and profits and losses are also calculated by closing the position in bitcoin.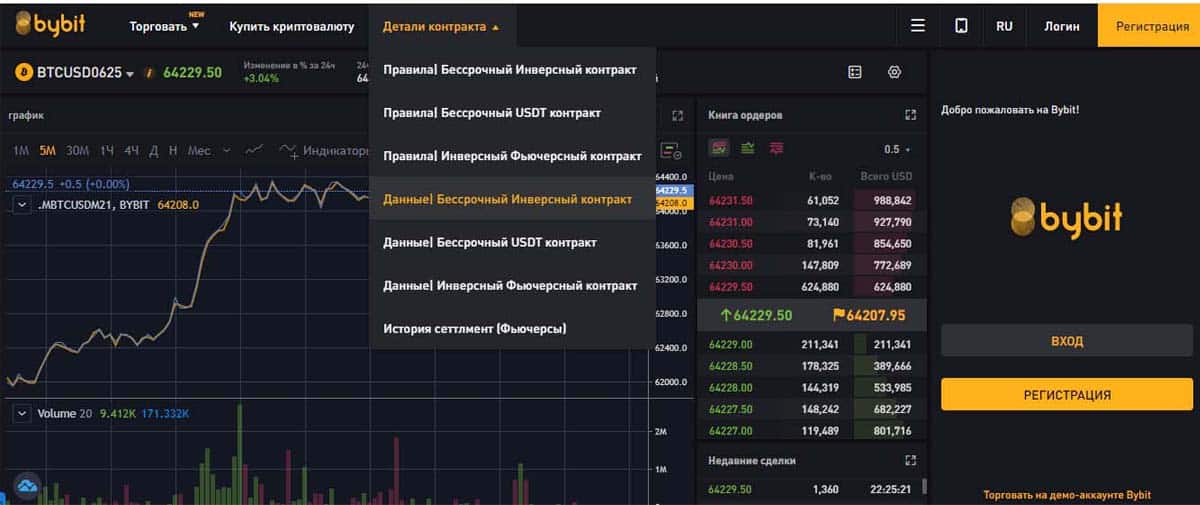 Image. 4
Bitmex
Crypto Exchange Bitmex (go online) (Fig. 5) is trading bitcoin and ethereum futures with leverage up to X100 (for futures up to X50). The contract types are open-ended (quarterly futures). Initial margin is 1%, maintenance margin 0.5%, funding rate 0.01%, funding interval every 8 hours, the commission of tokers is 0.075%, commission of makers - 0.025%. An interesting feature of futures trading on the crypto exchange is the "Quanto Futures" developed on it. This is a futures in which the underlying asset is denominated in one currency and settled in another currency at a certain fixed rate. The exchange claims that the contracts are designed to be easy to trade. The instrument's base margin and PNL (profit and loss calculation) are calculated in BTC. Accordingly, price risk is assessed in the bitcoin/USD pair when trading quantofutures, even if the base currency and quote currency are not bitcoin. Inverse (inverse) contracts with a fixed value in the quoted currency are also practiced on the exchange. For example, bitcoin futures are inverse; they are quoted as bitcoin to dollar, but the underlying asset is dollar to bitcoin. This tool is useful for fixing the dollar value of bitcoin.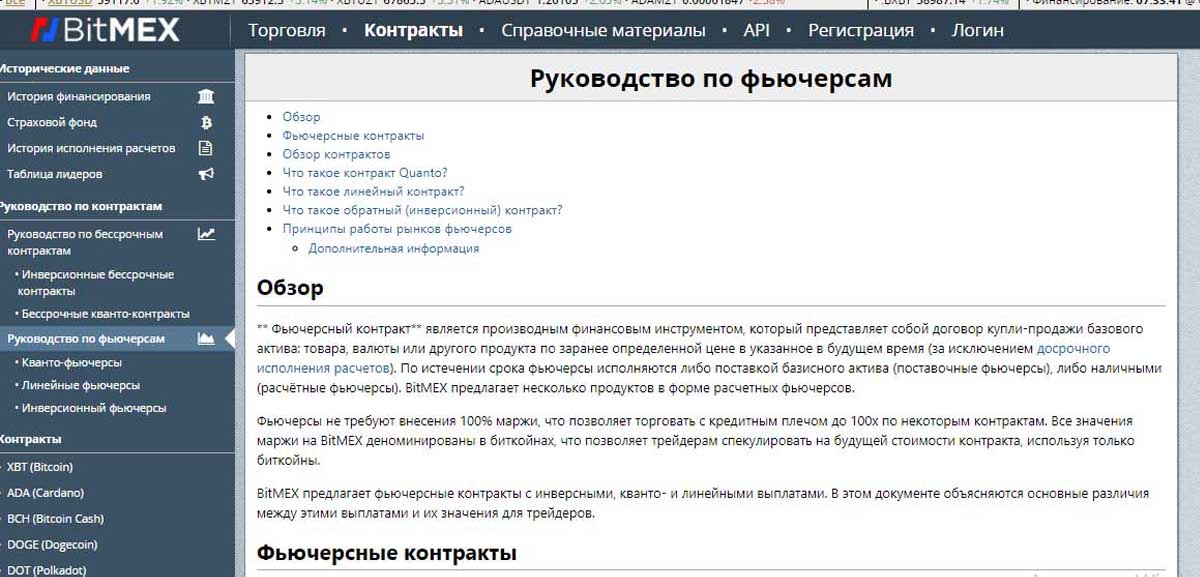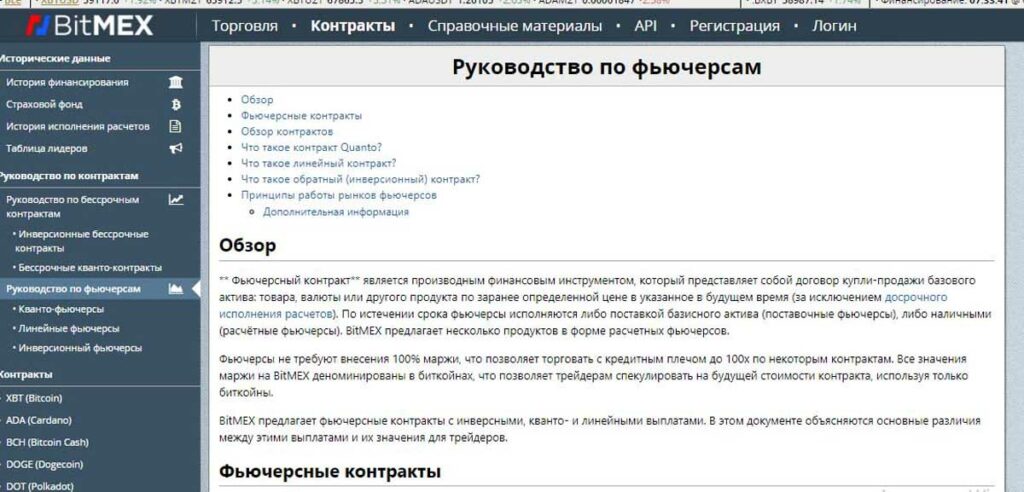 Image. 5
FTX
FTX (go online) (Figure 6) is a specialized exchange for cryptocurrency derivatives, including futures on many coins. FTX features a variety of futures, from open-ended to quarterly futures. Types of contracts: perpetual, quarterly futures, initial margin and funding rate are calculated according to certain formulas, which you should read on the exchange. Financing interval: every 60 minutes, leverage: up to X100. Commissions for the broker, depending on the level can be 0.02%, 0.015%, 001%, 0.06%, 0.055%, 0.045%, 0.04%. When placing orders on the exchange, you can select the direction, price and volume and you can select a complex order type. The complex type allows simultaneously opening positions with additional functions like limit order, stop loss, take profit and others.
Bitforex
BitForex (go online) (Fig. 7) is a crypto exchange with perpetual contracts on BTC/USD pair with leverage up to X100. Initial and maintenance margin is calculated by the formula, which should be seen on the exchange. The funding rate is 0.07%, the funding interval is every 8 hours.
Deribit
Exchange Deribit (go online) (Figure 8) specializes in trading cryptocurrency derivatives. It supports bitcoin and ethereum futures with X100 leverage. Contract types are perpetual, initial margin 1%, supporting margin 0.5%. The funding rate is calculated on a case-by-case basis based on the difference between the mark-to-market price of the perpetual contract and the Deribit BTC internal index. Bitcoin futures are not denominated in bitcoin, but in the cash equivalent of bitcoin, meaning the cryptocurrency is not involved in the buy/sell transactions. Instead, only a loss or gain is recorded at the average bitcoin price over the last 30 minutes. The funding interval is every 8 hours, with the futures ending on the last day of the month at 8:00. There are two quarterly futures on the exchange. But there are also open-ended futures on the exchange. Deribit is a relatively new exchange and not so well known, but in terms of flexibility of the presented derivatives trading tools it is not inferior to the famous giants and is gradually gaining popularity.


Huobi
One of the most popular crypto exchanges Huobi (go online) (Fig. 9) provides futures contracts on BTC, ETH, LTC, EOS, BCH, XRP, TRX with a weekly, fortnightly, quarterly expiration date with a leverage of X20. Contracts are executed on Fridays - weekly contracts are executed on the next Friday, two-week contracts, respectively, on Friday after one week; quarterly contracts are executed on the last Friday of March, June, September, December. Initial margin depends on asset price movements, maintenance margin - 0.5%, funding rate is calculated on a case by case basis. Financing interval every 8 hours.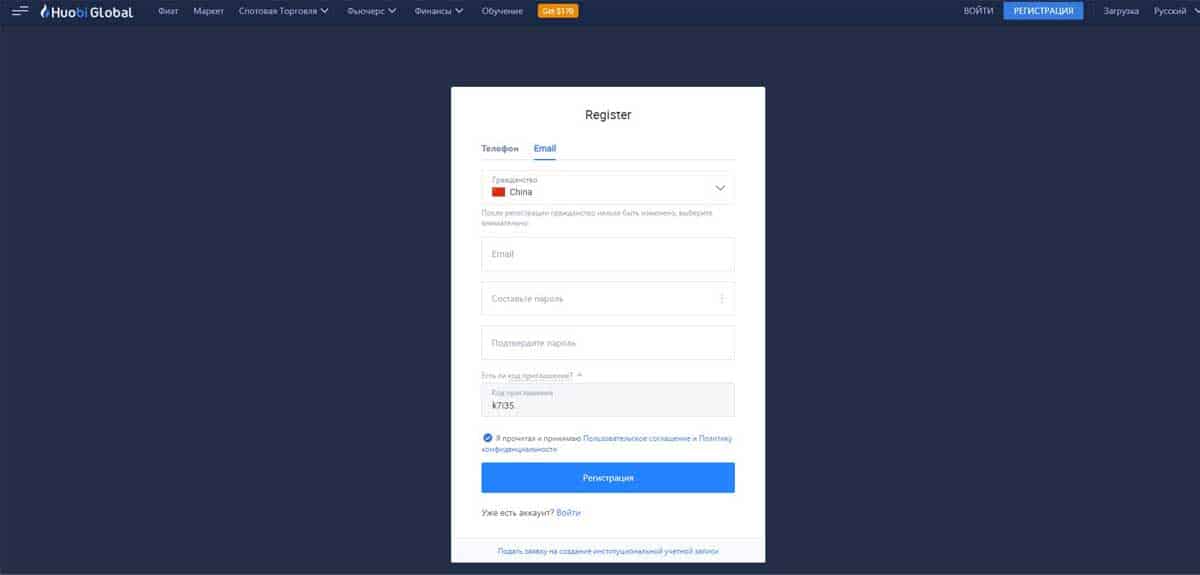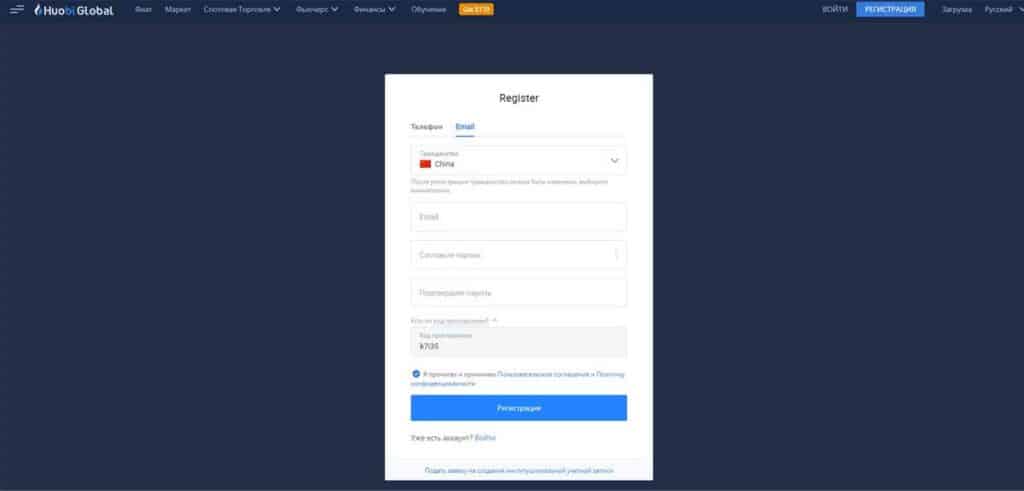 PrimeXBT
Exchange PrimeXBT (go online) (Fig. 10) offers several tools for trading, including cryptocurrency trading. In particular, it offers perpetual contracts on futures pairs BTC/USD, ETH/USD, ETH/BTC, etc. with a leverage of X100. Initial margin 1%.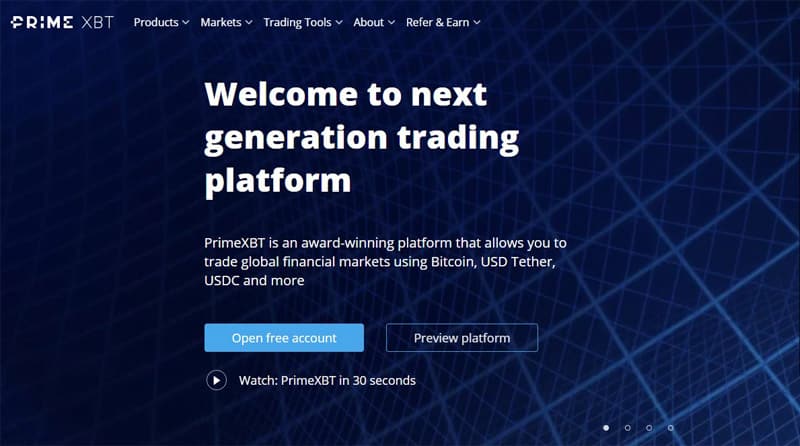 Xena Exchange
Exchange Xena Exchange (go online) (Fig. 11) specializes in cryptocurrency derivatives, including perpetual futures with leverage X20. Initial margin changes depending on price dynamics, the minimum level is 5%, the maximum - 100%, supporting margin also changes depending on price dynamics, but the minimum level is 1.25%, the maximum - 25%. The funding interval is 60 minutes. The peculiarity of the crypto-exchange is the closing of positions after confirmation of price changes, which should protect against attempts of price manipulation. Therefore, the crypto-exchange is positioned as a platform with zero risk of derivatives trading. Crypto-exchange protects from liquidation of positions in margin - this happens due to sharp price fluctuations, which triggers a margin call and positions are liquidated. The exchange uses a price corridor to prevent this phenomenon. If the price of the asset sharply leaves the corridor, but the price confirmation does not receive, and the price quickly returns to the initial, the trader's positions will not be liquidated.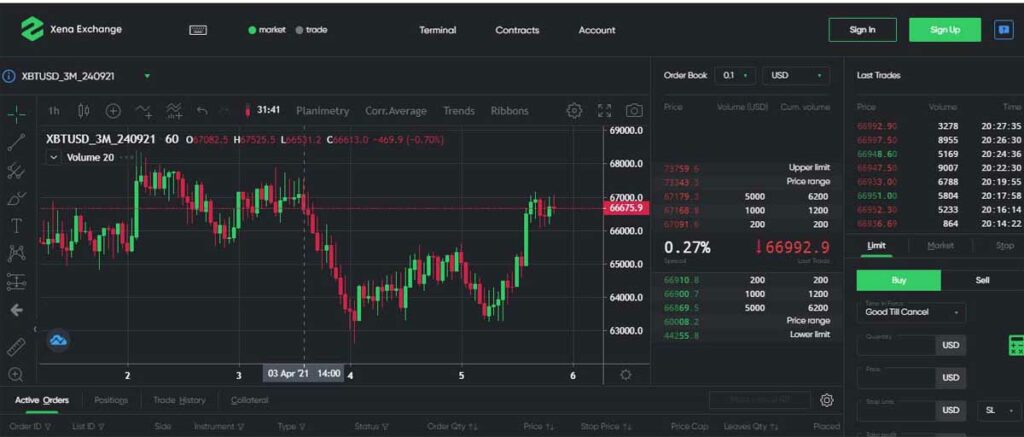 _
Okex
One of the most famous crypto exchanges, Okex (go online) It also provides opportunities to trade futures - open-ended and weekly, fortnightly, quarterly. Perpetual futures can be traded with a leverage of X100, futures with a leverage of X20. Initial and maintenance margins are calculated by a formula to be specified on the exchange. The funding interval is every 8 hours.
An OKEx futures contract is calculated in the dollar equivalent of a certain amount of bitcoin. This price structure is affected by volatility, so it is not recommended to use such contracts for hedging. As a variation of the problem, the value of a bitcoin quantity contract of exactly $100 is used. In this case the leverage is fixed and already the futures can be used for hedging.
Kraken
Cryptocurrency exchange Kraken (go online) (Figure 12) offers futures trading in bitcoin, ethereum, ripple, litecoin, bitcoin cash to dollar and bitcoin to ripple with leverage up to X50. Types of contracts are offered perpetual and fixed-term - for a month and a quarter. The initial margin is calculated by a formula to be specified on the exchange. Financing rate is calculated as a time-weighted average premium. The funding interval is every 8 hours. Kraken is positioned as an exchange for professionals, and there are optimal conditions for futures trading as a risk hedge.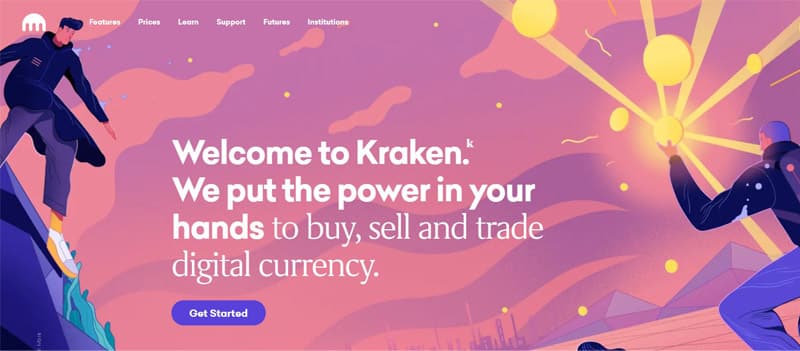 Gate.io
Gate.io (go online) (Fig. 13) provides trading in futures contracts for pairs BTC/USD, ETH/USD, BCH/USD with a gentle leverage of X3. Supporting margin 0.5%, funding rate 0.063% (in pair bitcoin/dollar), funding interval every 8 hours.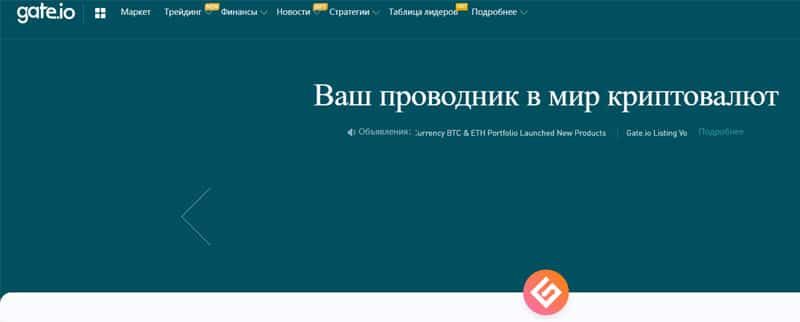 How to choose a cryptocurrency exchange?
A crypto exchange must meet a number of criteria in order to be able to trade futures on it. First, it must have these derivatives. Second, it must have good trader reviews - reviews that relate directly to futures trading. The pluses are the long existence of the exchange, without serious excesses, in a jurisdiction with which there will be no problems with depositing/withdrawing money, in general a good reputation among users.When determining the prospects of futures, you need that the exchange maintains a high level of liquidity, offers a sufficient number of trading pairs, offers a sufficient choice of contracts, has acceptable fees and adequately communicates with users, especially with beginners. Separately, you should make sure that the exchange has acceptable deposit/withdrawal functions. Of course, the exchange must provide a strong protection of clients' money. It is important that the crypto exchange has comprehensive material explaining the basics of futures trading, terms, listing of risks, full list of commissions and so on.
7 April 2021 in 17:50

20 April 2021 at 00:17

24 July 2021 at 20:00

6 April 2021 in 23:43