Convenient and functional exchanger, allows you to save on commissions, offers a comfortable affiliate program.
Cryptocurrency exchange
Official website
Social media
Date of foundation

2018

Head Office

Cale Germán Bernacer, 65, 03203, Elche, Alicante, España

Types of support
Support by phone
Languages

English, French, Italian, Portuguese

The owner of the company
Manager
Age restrictions
Number of cryptocurrencies
Margin Trading
Tokenized assets
Free Demo Account
Methods of replenishment

Mastercard, Sepa, SWIFT, Tikebit, VISA

Withdrawal methods

HalCash, Mastercard, Sepa, SWIFT, Tikebit, VISA

Account currencies

EUR

Types of cryptocurrencies

Bitcoin, Bitcoin Cash, Ethereum, Litecoin, DASH

Licenses
Mobile applications
Trader training

Blog, market news, knowledge base, training channel

A way to store cryptocurrencies
Fiat accounts
Scalping
Stop Loss and Take Profit Function
Exchangeability for fiat currencies
Terminal capabilities

Exchange, cryptocurrency, converter

Basic verification
Extended AML verification
API
Affiliate Program
Benefits

Relatively low commissions

Transparent terms and conditions

Ability to sell cryptocurrency for cash

Many services: cryptocurrency wallet, converter, mobile application, etc.

Disadvantages

Large number of complaints

Overall assessment
Date of update

04.03.2023
Address
Cale Germán Bernacer, 65, 03203, Elche, Alicante, España
Map
Subscribe to this company
Bit2Me is this a scam? Reviews and description
Service
Bit2Me
was opened in 2015 by the Spanish company BITCOINFORME S.L.
The Exchange
has strict territorial restrictions and only works with users from 41 countries. Its audience is modest and feedback is not always the best.
Based only on facts, let's try to understand whether Bit2Me is a scam or just a victim of a competitor's marketing policy. And let's start with the advantages of the platform.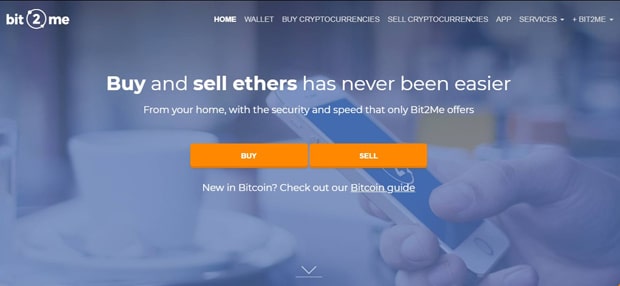 Why Bit2Me?
Although Bit2Me does not offer a large variety of currencies, it is still distinguished by its functionality: you can buy and sell cryptocurrencyYou can also save money by transferring it to your card, wallet, payment service, or even your cell phone balance (HalCash system). And besides, you can save on fees by using a cryptocurrency wallet provider (How to Make Money on Cryptocurrency?). By the way, the commissions here are not the highest: the maximum amount of fees is 3%. And in some cases (say, when exchanging bitcoins for euros using SEPA) - and at all absent. The pluses also include:
handy abundant app;
support services (currency converter, knowledge base, training channel, etc.);
the possibility of working with an OTC broker and rate fixing (no slippage);
a nice referral program;
round-the-clock operation.

Customer support is provided by phone, e-mail, as well as through a feedback form and online consultant on the site, social networks, and messengers. The service has many awards and is often mentioned in the European press, but is not widespread in Russia.
How to buy cryptocurrency at bit2me.com?
For buying/selling cryptocurrency Through Bit2Me, first open the corresponding section on the site bit2me.com: Buy Cryptocurrencies or Sell Cryptocurrencies. Then select the type of currency in the first point of the exchanger and the payment method in the second. The available stock of currency is displayed in brackets.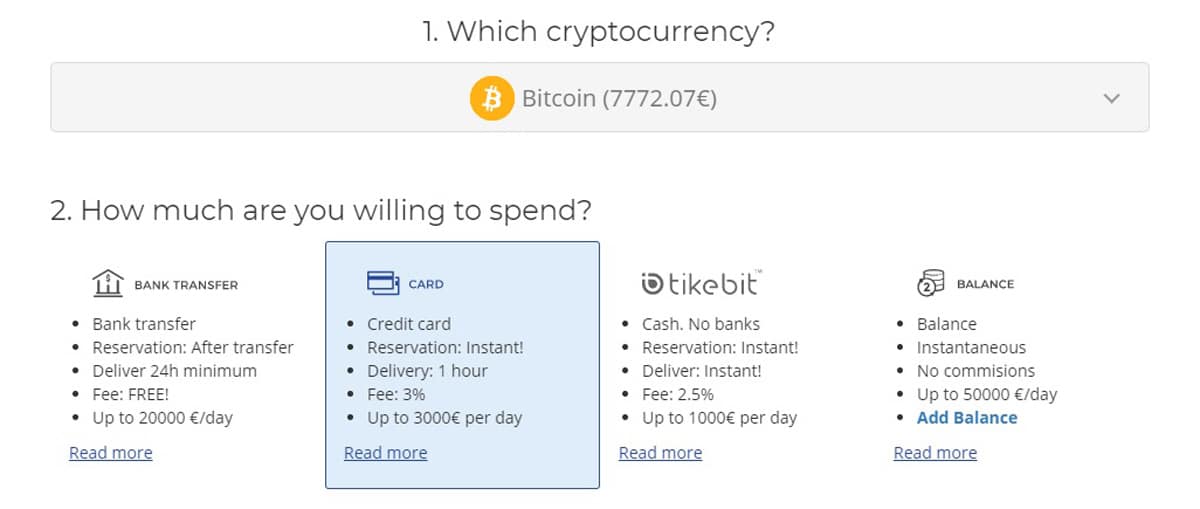 Now specify the desired amount (the right side will show how much we will get in return) and specify the destination details (or create a crypto wallet on Bit2Me) and confirm the creation of the application with the Buy button. After that the system will ask your contact data for registration: name, surname, e-mail address, password (we make it up ourselves), phone number. And it will ask you to confirm your identity (more about verification in the next section of our review). Now log into your account (check Yes, I log in, specify your email and password), pass the captcha and send a request. We are redirected to the payment page. As soon as you pay for the order, it remains only to wait for crediting the balance.
Verification on the Bit2mi platform
Verification is a mandatory procedure when purchasing currency on the site bit2me.com. Each client is asked to upload, first, a photo of the passport pages (the main one, with the registration), and second, a selfie with the document in hand and a piece of paper with the name of the exchanger written on it. In addition, you must pass a simple captcha (check the box that you are not a robot) and accept the terms of the user agreement (Terms and Conditions).

Terms of buying cryptocurrency
Only adults who are registered and have documented their identity and age can work with the service. In addition, there are strict territorial restrictions: The exchanger is available to residents of 40 plus countries/territories (Russia, Austria, Belgium, Bulgaria, Croatia, Cyprus, Czech Republic, Denmark, Estonia, Finland, France, Germany, Greece, Hungary, Ireland, Italy, Latvia, Lithuania, Luxembourg, Malta, Netherlands, Poland, Portugal, Romania, Slovakia, Slovenia, Spain, Sweden, United Kingdom, Argentina, Bolivia, Brazil, Chile, Colombia, Costa Rica, Dominica, El Salvador, Mexico, Panama, Puerto Rico, Peru and Uruguay).
It supports 5 types of crypto: Ethereum, Bitcoin, Bitcoin Cash, Litecoin and Dash. Fiat is represented only by Euros. Deposits are made from VISA/MasterCard (within 25 minutes), Tikebit exchange (instantly), cryptocurrency wallet and via SEPA (within 24 hours). Withdrawal is made to cryptocurrency wallet (instant), mobile or cash (HalCash coupons) or account (bank transfer within 24-72 business hours).
Providers do not compensate for fees charged by processing companies (the same SEPA, for example), and also set their own exchange fees. In the process of executing the transaction the c.u. exchange rate may change, there is no guarantee that you will receive exactly the amount you saw in the converter.
Deposit and withdrawal limits
Depending on the type of currency and payment method used, Bit2Me has certain exchange limits:
The minimum is 200€ for SEPA, SWIFT, Tikebit, 30€ for cards when buying crypto, 20€ for HalCash, 50€ for SEPA, 100€ for SWIFT when selling cryptocurrency.
Maximum - 20 000€/day for SEPA, SWIFT, 3€/day for cards, 5000€ for Tikebit when buying crypto, 200€/day for HalCash, 20 000€/day for SEPA, SWIFT when selling cryptocurrencies.
All these values are shown in the table in the corresponding section of the site bit2me.com.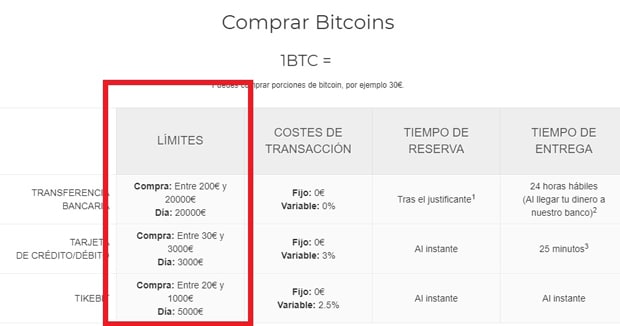 Bit2Me Commission
The fee of the exchanger (not counting the fees charged by payment services), as well as the limits, is fixed and specified in the table on the page Fees and limits (transition from the footer of the resource):
3% is taken when you buy virtual uk via bank transfer and card.
2.5% - for enrollment via Tikebit.
1% + 1.5€ - in case of selling cryptocurrency through HalCash.
0.5% - when output via SEPA
0.5% + 30€ - for withdrawal via SWIFT.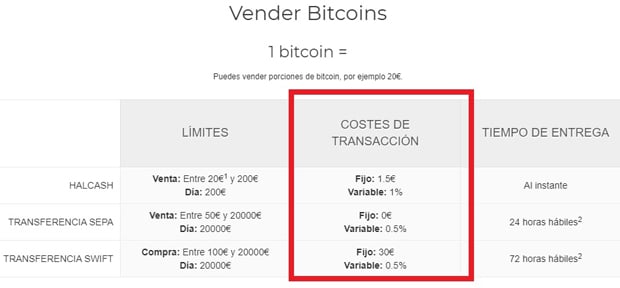 Bit2Me bonuses
Bit2Me does not have its own bonus program: rewards are only offered to clients participating in the referral (affiliate) program.
Referral program
As part of the referral program, Bit2Me users receive up to 50% of the commissions of their referrals, those people who came to the service using a unique link.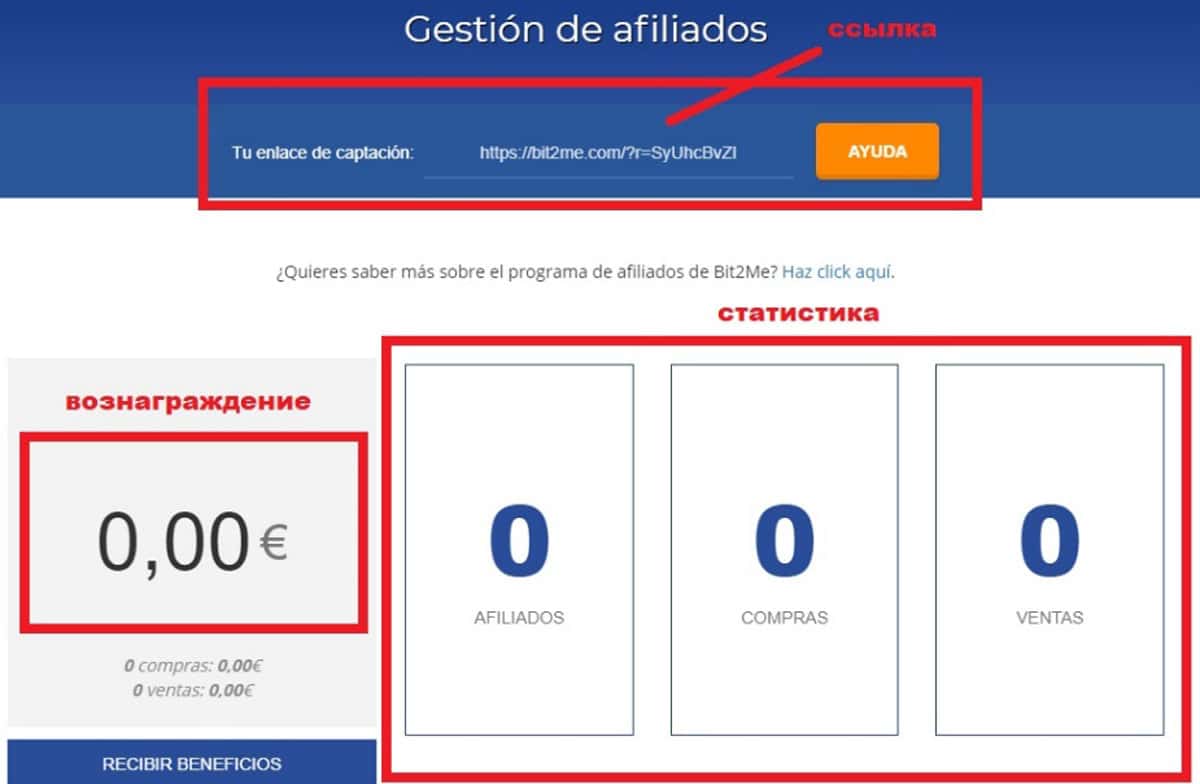 This link is automatically created after registration and is reflected in your personal cabinet. After you place it on your website, blog, social network page, chat, forum or any other legal resource without violating the rights of others, each click on it will be recorded by the system. And if the visitors of the exchanger subsequently make a transaction, it will be reflected in the reports, and you will get your bonuses.
Complaints about Bit2Mi
Reviews about Bit2Me are few and mostly negative. Users complain about frequent failures, cancellations of transactions, as a result of which they lose some of their funds due to exchange rate fluctuations (refunds are made at the exchange rate current at the time of sending funds). In addition, crediting has to wait a long time.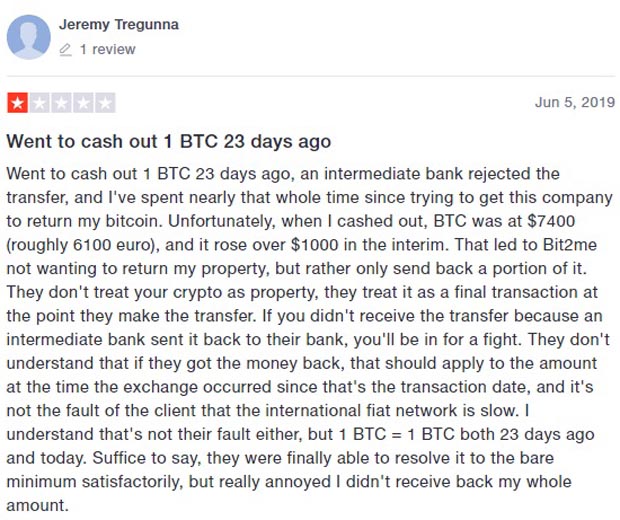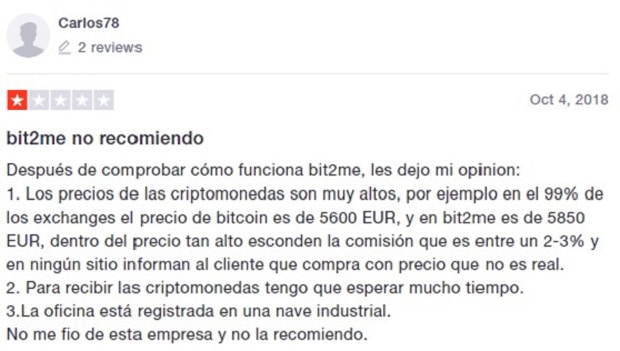 If there are any reviews about Bit2Me service, we will definitely publish the information in social networks. Sign up so you don't miss anything!
Please keep yourself informed about news and complaints. We copy the most valuable information to social networks, so please sign up!
Bit2Me regulation
Most virtual currency operators do not have licenses due to imperfections in the legal systems of the countries in which they operate. However, those that operate officially are still registered. Let's see if Bit2Me owners are among them.
Regulator
Bit2Me ownership rights belong to the Spanish company BITCOINFORME S.L., registered with el Registro Mercantil de Alicante under the number (CIF) B-54835301 in 2015. The registration can be checked in the body's official register, Infocif. But this jurisdiction does not issue a license to create a cryptocurrency wallet and conduct operations with cryptocurrency.
Check the registration of BITCOINFORME S.L. in the Infocif register
Bit2me.com User Agreement
The Terms and Conditions of the resource sets out the rights and responsibilities of the company and its internet users to each other. Let's look at a few points as an example. For example, clause 5 says that Bit2Me reserves the right to unilaterally change the terms of working with the system without notifying you in advance. You have to follow the corrections yourself by rereading the document.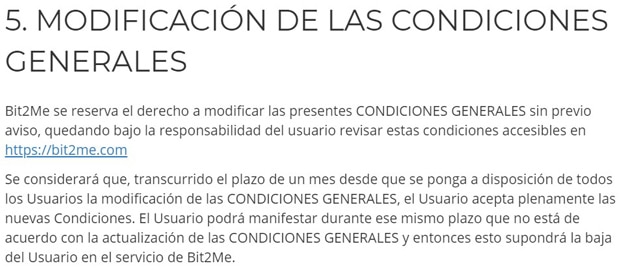 Links to external sites on the resource are not regulated by the provider. The latter is not responsible for possible losses due to their use (clause 6).

If necessary, the administration of the service can temporarily freeze your deposit in order to request additional information on it. When returning the payment in this case a penalty of 15 euros will be withheld (clause 13.4.1).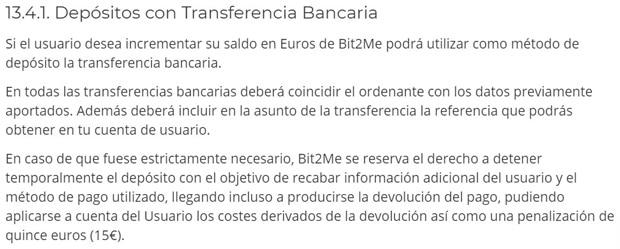 If you have violated any requirements of the agreement or Spanish law (the provider is subject to it), Bit2Me is relieved of any responsibility against you, even if you are right (clause 16).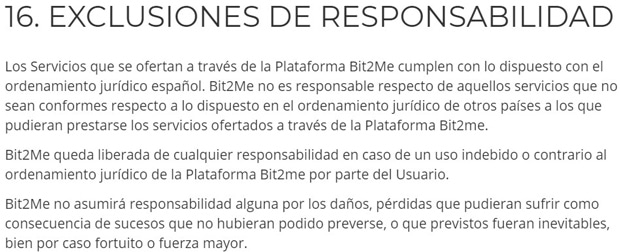 Is Bit2Me a scam?
Bit2Me is notable for its convenience and functionality, but the legal side of the issue is not completely solved here. The exchanger works without a license (on the basis of registration alone) and does not give its users any guarantees of execution of transactions: the processing part it transfers to third-party operators (SEPA, VISA, etc.), and failures in the Internet network and the resource does not consider a basis for claims.
At the same time, users complain about long refunds as a result of such mistakes and loss of c.u. on the difference in exchange rates, which the service provider does not compensate for. It does not seem that Bit2Me is a scam, but the quality service is not observed here, in our opinion.
Conclusion
Platform Bit2Me offers transparent terms, relatively low commissions, various deposit/withdrawal methods, as well as a rich set of services and training materials. However, Bit2Me support, as we found out, leaves a lot to be desired: customer questions are not often resolved promptly (if we believe the reviews of confirmed clients in official feedback pages), and the terms of the public offer agreement (Terms and Conditions) do not allow to file an official complaint, since the provider does not take any responsibility. As a result, we get a standard automated platform, poorly focused on the user.
The company in the ratings
Robots for cryptocurrency
Activity
New

0

Resolved

0

Not resolved

0
New companies on the site