Bitget is an international cryptocurrency trading platform operating since 2016. Bonuses and gifts when registering and depositing.
Cryptocurrency exchange
Official website
Social media
Date of foundation

2016

Head Office

Singapore, the company works remotely without a central office

Types of support
Languages

English, Chinese, Turkish, Spanish, Russian, Korean

Founder
The owner of the company
Minimum entry amount
Maximum input amount
Minimum withdrawal amount
Maximum withdrawal amount

Verified

Cryptocurrency

Up to 200 BTC
Up to 1,000,000 USDT
Up to 100,000 EOS
Up to 2,000 ETH
Up to 3,000 BCH

Unverified

Cryptocurrency

up to 0.1 BTC
Up to 1,500 USDT
Up to 10 EOS
Up to 2.5 ETH
Up to 0.6 BCH

Exchange Commission

Contract Commission:

0.04

% for maker /

0.06

% for taker

Spot Commission:

0.2

% for maker /

0.2

% for taker

Withdrawal fee:

0.0006

BTC /

From

0.8

To

15

USDT /

0.1

EOS /

0.006

ETH /

0.0001

BCH

Single Contract:

0.04

% for maker /

0.06

% for taker

Terminals

Author's platform

Age restrictions
Trading volume per day
Number of cryptocurrencies
Number of trading instruments
Margin Trading
Leverage
Tokenized assets
Free Demo Account
Types of accounts

USDT, Inverse, Demo account

Execution of orders

Market orders, Limit Orders, Take Profit Orders

Methods of replenishment

Bank card (Visa/MC), Cryptocurrencies, Google Pay, Apple Pay, Samsung Pay

Withdrawal methods

Cryptocurrencies

Account currencies

Cryptocurrencies

Types of cryptocurrencies

BTC, USDT, EOS, ETH, BCH, BGB, LTC, ETC, XRP, etc.

Licenses

Licensed

Licenses obtained in Canada, Singapore, USA and Australia

(Active)

Mobile applications
Trader training

Blog and background information

A way to store cryptocurrencies
Fiat accounts
Scalping
Stop Loss and Take Profit Function
Exchangeability for fiat currencies
Terminal capabilities

Installing software, working with indicators, graphical tools, displaying all the changes in the exchange, customizing the interface, viewing the history of orders

Analytics

Trading and Order History

Additional features

Help Center, Blog, Jobs, Phishing Checks

Basic verification

Through a link sent to the specified email address

Extended AML verification

KYC (passport, passport or driver's license. Photo with document (selfies). Proof of address (bank statement, utility bill, etc.)

Regulatory laws

International data protection law

FATF (Financial Action Task Force)

API
Affiliate Program
Benefits

Round-the-clock deposits and withdrawals

A world-renowned company with branches all over the world

Large selection of currencies/currency pairs

There is a mobile app and a desktop version

Corporate gifts for partners

Professional customer support

Disadvantages

The site is not fully translated

Company requisites
Overall assessment
Date of update

27.04.2022
The address is
Singapur, kompaniya rabotaet offline bez centralynogo ofisa
Map
Subscribe to this company
Is Bitget a scam? Reviews and description
Cryptocurrency exchange
Bitget
: a world-renowned company, 25 currencies, 36 currency pairs, bonuses for newbies and regular traders, proprietary terminal and mobile applications. The company operates remotely from Singapore, opening language offices in different countries and obtaining local licenses for financial activities.
Bitget has an active social life, cooperates with investors and recently became a partner of Juventus Sports Club. To find out if trading with bitget.com is profitable, let's understand how the company works.

Why Bitget?
Centralized crypto exchange Bitget has been operating since 2016. The company develops, adding new services and bonuses every year. Advantages of trading via the terminal Bitget:
24-hour support service;
36 currency pairs;
multi-signature and digital asset protection;
proprietary terminal, API, mobile applications;
a relatively low commission;
high performance;
vacancies in the language branches;
is considered to be the largest platform for copy trading;
The interface supports six languages.
The Help section is available in Russian and there you can always find answers to the most frequently asked questions. The blog publishes news, information about new promotions, bonuses.

How to exchange cryptocurrency at bitget.com?
Crypto Exchange bitget.com works with 25 known currencies. The exchange is possible through a personal account, also internal transfers and purchase for fiat money are available. KYC confirmation is required for any monetary transaction.
Verification on Bitget platform
To get started, you need to register with all the contact information and open a personal account. It is possible not to undergo verification, but then the withdrawal amount will be much smaller and some services will not be available. Account verification is done by entering and checking personal data: passport or ID card, bank card and other documents. Company registration cards may be required to verify the personal account of legal entities.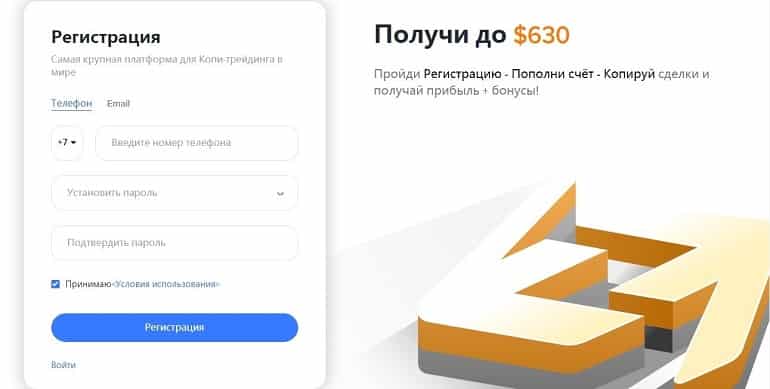 Deposit and withdrawal
The exchange supports the service of exchanging fiat money for cryptocurrencies. To do this, you need to log in to your personal cabinet, select the amount and buy it. The commission depends on the type of currency. It is possible to withdraw earnings to your own cryptocurrency wallet.
Cryptoexchange Commission
Bitget.com. charges a commission for transactions and currency purchases from bank cards.
How do I get a discount on commissions?
There is no discount on the commission.
Withdrawal fees
If you choose any currency, the commission will be the same: 0.04% for maker and 0.06% for taker.
Bitget bonuses
The company has prepared a good selection of bonus offers. Bonuses will be available to both regular players and newcomers to the exchange.
Up to 630$ to your trading account for registration and completion of tasks
An interesting offer for new participants. Sign up, get verified and start completing the company's tasks. Each participant will get up to 630$ to their trading account. Bonuses can only be traded, they cannot be cashed out. The program works so that for each task bonuses are transferred separately, not the whole amount at once.
Bonus 10$
Welcome bonus to all participants - $10. It is credited to the account immediately after registration and verification.
Cumulative bonus
After the opening of three trades on contracts bitget.com gives a discount of 10% on commissions on these transactions. The maximum amount is 200$.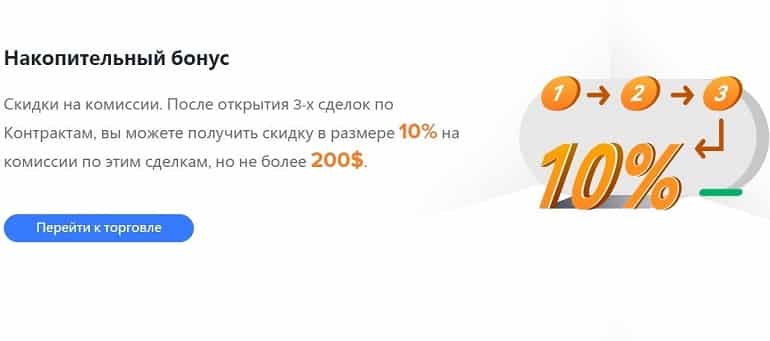 Bonus for active trading
The company pays 100$ for active trading within 15 days, the amount of bonus cannot exceed 200$.
Affiliate Program
The exchange works with investors and cooperates with legal entities. The partnership program of the company is mostly designed for commercial partners. The full list of privileges is available after registration.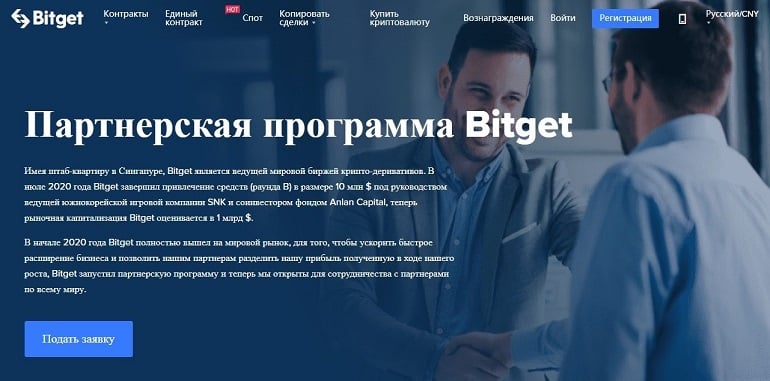 Complaints about bitget.com
We were able to find feedback on the work of BitgetThe players praise the terminal, the mobile app, and the work of the exchange as a whole. Players praise the terminal, the mobile application and the entire work of the exchange in general. But most often write about the function of copying transactions, which is liked by many customers. There are almost no negative reviews.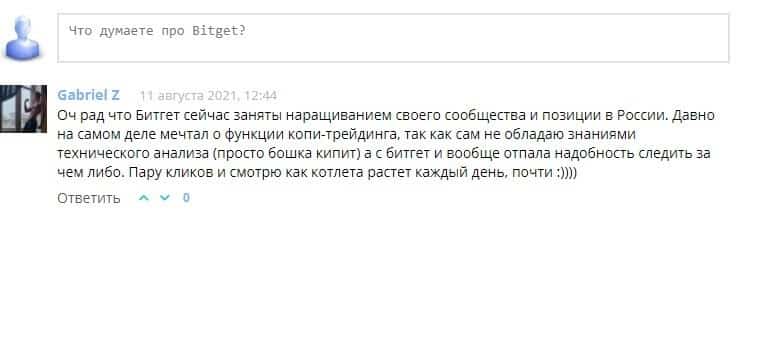 If there are any complaints about Bitget, we'll be sure to post on social media. Sign up so you don't miss anything!
Please keep yourself informed about news and complaints. We copy the most valuable information to social networks, so please sign up!
Regulation of Bitcoin Crypto Exchange
The organization operates remotely, is registered in Singapore, and confirms the legality of its activities in each country where it starts operating by obtaining local licenses. There is no data on the website about the legal office and place of registration.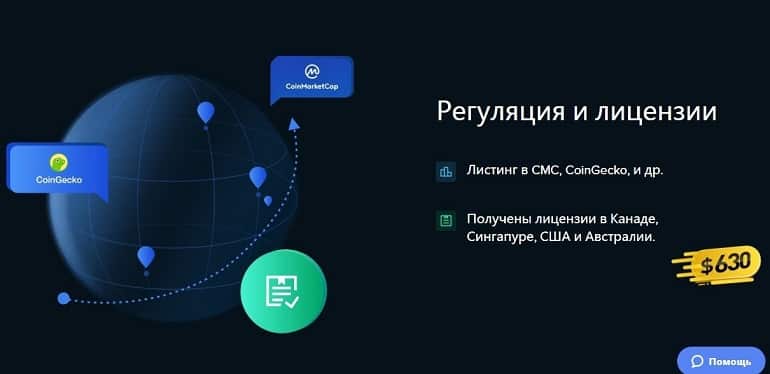 Bitget.com User Agreement
The user agreement is a standard document, on its pages the legal moments connected with work of the trading service, registration and depositing are spelled out. Rules of use of the site are placed on the site. The agreement is in English, but machine translation is available.
The document is quite detailed and the first thing the company warns about: there are risks and the possibility of losing investments. That is why it is better to consult with a financial expert before starting work.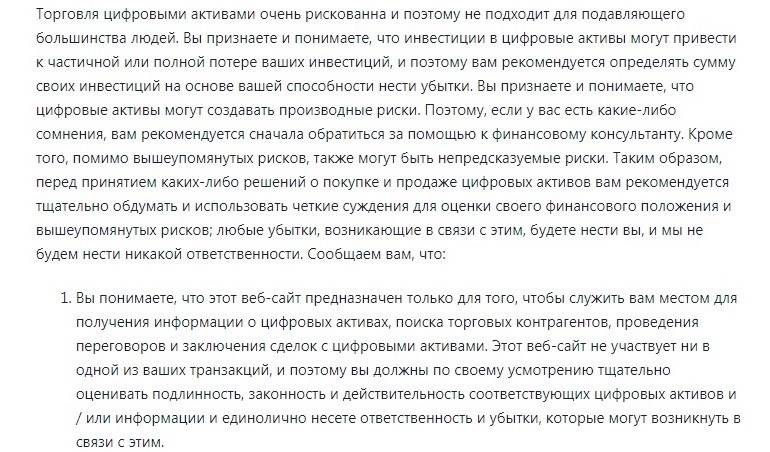 On the pages of the agreement there is a list of organizations whose employees cannot be bidders.

In the case of technical errors during trading, if these errors lead to losses, the company pays compensation.

Bitget is not responsible: for losses, gambling, loss of business and other financial damages related to unsuccessful investments.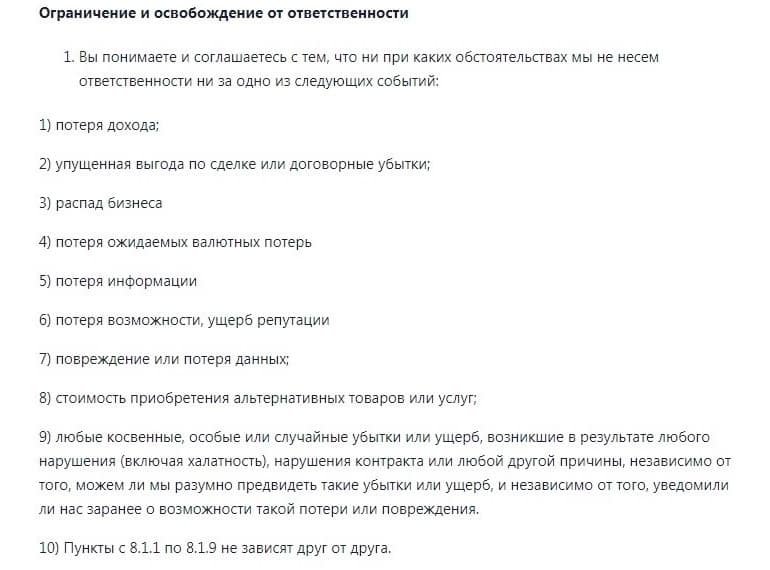 Customer Service
The site has a detailed help section, including in Russian. If you have any questions, there is a form to request technical support. Exchange consultants are available 24 hours a day.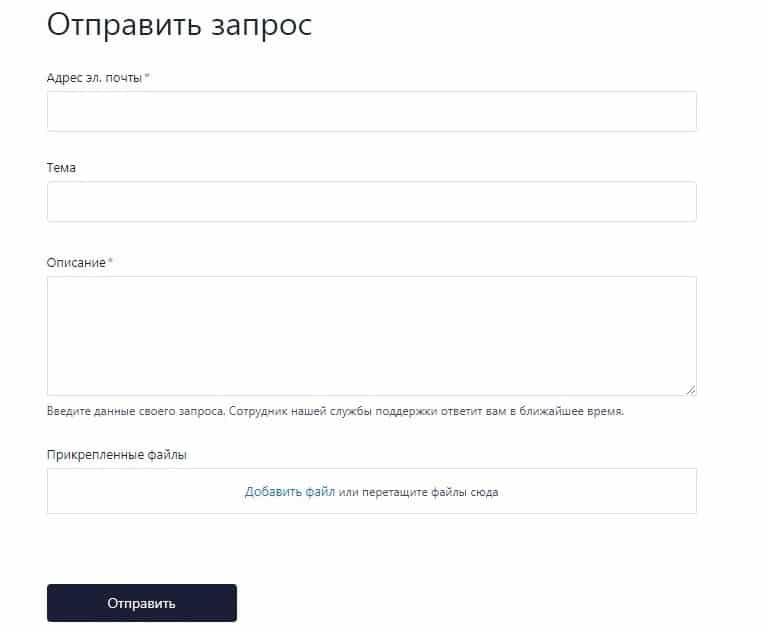 Is Bitget a scam?
Bitget - is not a scam. Cryptocurrency exchange differs from other portals by the function of automatic copying trades of experienced traders. This will allow earning even for beginners who do not have enough experience and skills to conduct independent trades. But this is a customizable function where you can set stop-loss levels as well as entry and exit times.
From technical advantages: own terminal, API, reliable verification system, multilingual platform, mobile application and mostly non-machine (adaptive) translation of pages. Advantages: fast cryptocurrency deposit and withdrawal, multilingual support service, relatively low flat fee, high-level digital security certificates, bonuses, 25 currencies and 36 currency pairs. The exchange is developing, opening branches in different countries and obtaining trading licenses. Feedback from customers is predominantly positive.
Conclusion
Another advantage and indicator of the reliability of the exchange BitgetThe company's social activities include: working with legal entities, partnerships and an active social life, which the company leads by participating in various events. Bitget opens new branches and recruits employees, giving everyone the opportunity to become part of the team.
The company in the ratings
Robots for cryptocurrency
New companies on the site