AscendEX is a crypto exchange with a suite of products, including spot and margin trading, futures, wallets and betting for popular blockchains.
Read completely
Cryptocurrency exchange
Official website
Social media
Date of foundation

2018

Head Office

114 Lavender Street, Singapore, 999002, SG

Types of support
Languages

English, French, Spanish, Turkish, Brazilian, German, Japanese, Vietnamese, Chinese, Russian, Korean

Founder
The owner of the company

AscendEX Technology S.R.L.

Manager
Minimum entry amount
Maximum input amount
Minimum withdrawal amount

Verified

Cryptocurrency

From 0.01 BTC
From 0.1 ETH
From 21 XRP
From 0.01 LTC

Unverified

Cryptocurrency

From 0.01 BTC
From 0.1 ETH
From 21 XRP
From 0.01 LTC

Maximum withdrawal amount
Exchange Commission

Withdrawal fee:

0.0005

BTC /

0.01

ETH /

0.1

XRP /

30

DOGE /

0.001

LTC

Terminals

NetTradeX proprietary platform

Age restrictions
Trading volume per day
Number of cryptocurrencies
Margin Trading
Leverage

Before 1:25

Margin Trading

Tokenized assets
Free Demo Account
Types of accounts
Execution of orders

Limit Order, Market order, Stop Limit Order

Methods of replenishment

Cryptocurrencies,

Withdrawal methods

Cryptocurrencies

Account currencies

Cryptocurrencies

Types of cryptocurrencies

BTC, ETH, ASD, XRP, DOGE, UNI, LTC, BCH, DASH, etc.

Mobile applications
Trader training
A way to store cryptocurrencies
Fiat accounts
Scalping
Stop Loss and Take Profit Function
Exchangeability for fiat currencies

Buying cryptocurrency with a bank card

Basic verification
Extended AML verification

KYC (passport, passport or driver's license). Photo with document and piece of paper with date, e-mail and site name

Regulatory laws

International data protection law

Canadian law

API
Affiliate Program
Benefits

Large number of cryptocurrencies and tokens to trade

Several types of trading: margin, spot and futures

Several investment programs

Russian version of the site

Disadvantages
Company requisites

Legal name:

AscendEX Technology S.R.L.

Legal address:

114 Lavender Street, Singapore, 999002, SG

Overall assessment
Date of update

27.04.2022
The address is
114 Lavender Street, Singapore, 999002, SG
Map
Subscribe to this company
AscendEX is a scam? Reviews and description
AscendEX - global crypto exchange with a suite of trading products. Spot and margin trading, futures, wallets and betting for popular blockchains are available on the platform. The company was registered in Singapore in 2018. The exchange used to be called BitMax, but it was renamed AscendEX in 2021. Today, it serves more than a million customers from 200 countries.
In this review we will try to find out if this project is reliable and if AscendEX is not a fraud scheme. To do this, we have studied the operation of the exchange and the terms of trading on it.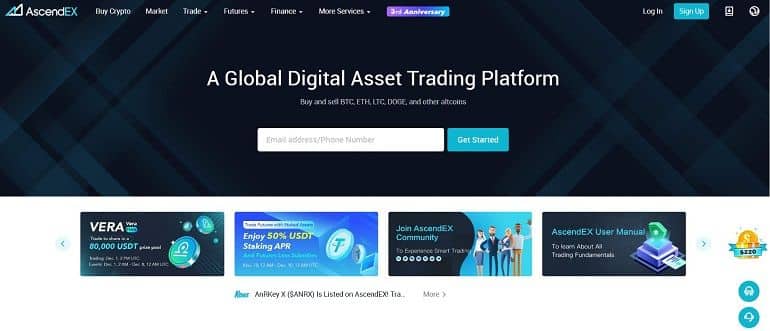 Referral code - U4DWWHUHN (to be specified at registration).
Why AscendEX?
AscendEX - a cryptocurrency exchange offering not only cryptocurrency trading on a highly liquid platform, but also secure storage services. Today the service supports trading of a large number of cryptocurrencies. Fiat, margin and derivatives trading products are among the most liquid with an average volume of over $400 million per day.
More than 190 trading pairs are available on the platform, margin and spot trading, futures. The exchange also offers investment solutions, including steaking, farming, service deposits and ASD (the company's own token). The platform is available not only in the PC version, but also for mobile devices on popular operating systems - Android and iOS. The exchange's high-performance infrastructure can process 400 thousand transactions per second, providing good throughput and low connection latency.
AscendEX offers cloud-based solutions for building your own digital asset trading platform. They feature deep liquidity, high level of security, quick setup. Support of more than 20 public networks ensures operational independence and autonomy for coin listing. To get started, you need to apply by email, specify your requirements, prepare the necessary materials, develop and launch your platform.
The exchange also has its own token - ASD. Coin holders can bid for APYs, use it to invest and earn rewards, get discounts and buy cards to reduce interest on margins. Users can also use auctions, learn price forecasts and participate in private sales of digital assets. Pros of AscendEX include:
a large number of cryptocurrencies and tokens to trade;
several types of trade;
mobile application;
several investment programs;
user-friendly interface;
leverage;
bonuses for deposits in the exchange's own token and discounts on commissions for coin holders;
awards for active trading;
News and notes.

How to exchange cryptocurrency on the AscendEx platform?
The platform offers spot, margin trading and work with futures. Spot trading is available with several pairs of digital assets. Prices are displayed at the top of the terminal, the order book is on the right, and pairs are listed on the left. The total volume can be seen at the bottom of the price chart. Margin trading is available for bitcoins and altcoins. It is possible to use leverage up to 1:25. When you open an account, a margin account is set up automatically. In case of repayment within 8 hours, no interest rate will be charged.
Futures contracts are available for 15 pairs. They have no expiration date, so one can hold different positions for any period as long as there is enough margin. For such trading, the leverage can reach 1:100, which is beneficial for traders. The interest rate may be 0.01% per day. But it depends on the transaction and may differ from this indicator. Trade copying is also available, which allows you to buy a subscription to leading traders and imitate their trades. User accounts will follow the traders' instructions. Therefore, trades will be executed like theirs. Information about traders can be studied on the website, where their profits/losses, assets and subscription fees are listed.
To start trading, open the application ascendex.com and click the "Trade" button. Select a trading pair, order type and place a buy/sell order. You can choose a limit order (at a specific price or better) or a market order (immediately buy or sell at the best price on the market). When the order is executed and you are worried that the market may go against the trade, you can set a stop loss to limit potential losses.

Verification on ascendex.com platform
To start working at the exchange, you need to go to the website ascendex.com and go to the account creation form by clicking the "Register" button. Confirming the account can be done over the phone or via e-mail. The user must also provide proof of identity and a selfie with a piece of paper on which the date, site name and mail address used to register the account must be entered.
The exchange cares about the safety of its customers. There are several ways to protect personal information. These are passwords and 2-factor authentication via Google Authenticator. To enable it, you need to go to the security settings and enable 2FA. The service will prompt you to enter a key or scan a barcode. Once enabled, you will need to enter the code available on Google Authenticator each time. To qualify for exclusive benefits and higher withdrawal limits, you have to go through identification. To do this, you need to:
Open the AscendEX app and click the profile icon to go to your personal account page.
Click on "Confirm identity", click "Confirm". The service will redirect you to a page with personal information.
Select your country and enter your first and last name.
Select the type of document to scan. Place the document in the frame until it is automatically captured. Scan both sides of the document.
Make sure your face is in the center of the frame and follow the on-screen instructions to complete the Face Detection Scan.
Wait for the system to process facial recognition. Once it is complete, the account is confirmed.
Deposit and withdrawal
You can replenish the account in two ways:
Cryptocurrency deposit. The wallet selects a token and copies the deposit address to deposit from a wallet in another system.
To allow users to deposit from a bank card, the crypto exchange made an agreement with Simplex, a company licensed in the EU. Depositing funds through this service takes rather 10-30 minutes. The commission of the system is 3.5% of the amount. The minimum deposit amount by this method is 50 US dollars. To withdraw tokens, you must enter the address of the external wallet on a special page. After checking the correctness of the number, click "Confirm" and you will receive the coins.
Cryptoexchange Commission
Commissions for spot, margin and futures trading depend on the VIP level. The Exchange uses a VIP transaction fee structure. They depend on the 30-day trading volume and the average 30-day ASD stock. Amounts are calculated daily at 0:00 UTC based on a user's average currency pair price and average stock, respectively. There are 9 VIP levels, each offering a different commission and discount. To reach one or another level, a certain volume of trades within a month is required.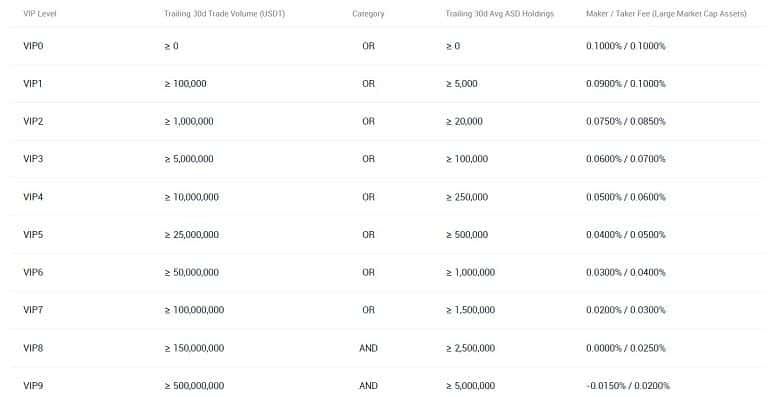 Daily rates for margin trading may change depending on market conditions. Before you start, you should check the "Commissions" section to find out the current interest rate. Withdrawal fees depend on the cryptocurrency. The rates are not higher than those of other exchanges, for example, bitcoin withdrawal is charged 0.0005 BTC.
AscendEX bonuses
The exchange has developed an incentive system for market makers and a referral program.
Market Maker Incentive Program
The Exchange has developed a development incentive system for liquidity providers. Features of this program:
profitable commissions;
direct access to the market;
receiving a monthly bonus;
co-location.
Users with good maker strategies and high trading volume are invited to participate in the program. Those who have a trading turnover of more than $150 million over the last month on any exchange are invited to send their information to [email protected] In the subject line of the letter it is necessary to specify: "Application for encouragement of the market-maker". The message should explain the method of market-making and include an estimate of the percentage of the maker's orders.
Referral program
The affiliate program is designed for users who want to recommend AscendEX to their friends. They will receive rewards if the referred referrals fulfill the company's requirements. Meanwhile, users can redistribute any part of their rewards among their referrals as a discount for mutual benefit. Due to the different nature of trading, AscendEX will implement different referral programs for cash and margin trades and futures. The terms of the program for cash and margin trading:
Users must invite friends to sign up for AscendEX through a personal link.
Affiliates will receive 25-40% from the trading commission as referral fees paid to invitees who sign up through the link and complete a cash or margin trade (valid for 365 days). If VIP level is 0-3 during the referral period, users will receive 25% of trading commission. If VIP level 4 or higher, there is no eligibility for commissions.
Referral program for futures:
Users must invite their friends to sign up for the AscendEX via personal link.
The invitee will receive a 10% discount on trading commissions for 365 days after registration.
Users will receive a portion of the referral trade commission (valid for 365 days after registration).
Clients can redistribute a portion of their futures commission to invitees by setting a bonus multiplier.
Referral program volume applies only to VIP0-VIP4 invitees. If a VIP invitee's VIP level is VIP5 or higher, users are not entitled to receive commissions for the invitee.
The table explains the level of referrals and the ratio in relation to the total volume of trades from all invitees: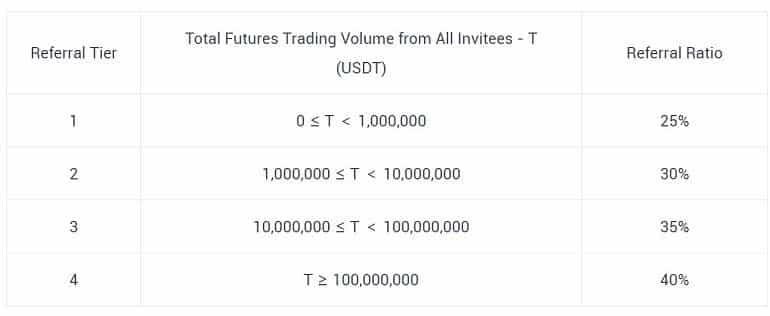 Complaints about AscendEx
There are many reviews on the Internet about the work of the exchange. Often users write that they like the convenient terminal, the ability to work with a mobile device, low commissions, several ways to deposit, a large number of cryptocurrencies and additional services.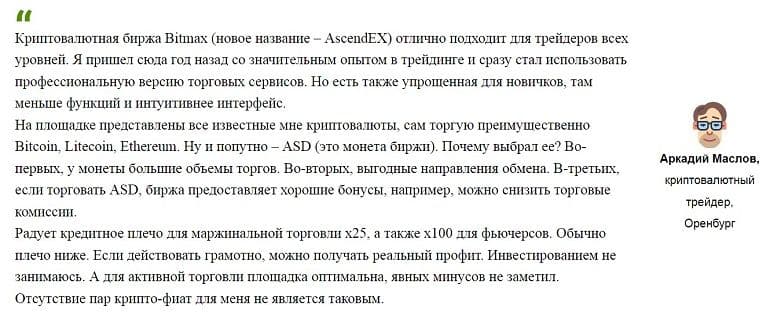 As for the disadvantages, among them note the lack of demo accounts, which is inconvenient for beginners.

If there are any complaints about AscendEX, we will be sure to post on social media. Sign up so you don't miss anything!
Please keep yourself informed about news and complaints. We copy the most valuable information to social networks, so please sign up!
Regulation of AscendEX crypto exchange
Today there are more and more crypto exchanges. But not all of them work honestly and transparently. There are fraudulent schemes among such companies. To avoid falling into the net of scammers, you should always check the license and study the texts of documents published on the exchanger's website.
Regulator
The user agreement states that the exchange is owned by AscendEX Technology S.R.L., a company registered in Singapore. The site has sections with information about the crypto exchange and working conditions:
User Agreement ascendex.com
The document describes terms of service usage, information about account creation, account types. It is indicated that the user confirms that by registering on AscendEX, he agrees to act in accordance with and comply with the terms and conditions, applicable laws and regulations.

There are clauses on confidentiality of personal information of users and means of protection from accounts that have violated the terms of the agreement. If an account is determined to be one that has violated the terms, the exchange reserves the right to deduct from the account the value of any trading commission.

The terms of trade and the rules of conduct on the market are also described. Before you start working with the exchange, you should familiarize yourself with this document so that you know all the terms of cooperation.
Customer Service
You can find the information you need in the help center. Support can be contacted via chat, a feedback form, or in the Telegram group. You can write to exchange employees on Facebook, Instagram and Twitter.
Is AscendEX a scam?
AscendEX - an exchange that offers not only cryptocurrency trading. The peculiarity of the exchange is that it offers a whole range of services, from standard trading and several types of trading to investment tools. It is possible to receive rewards, use the platform's token, participate in the market maker incentive program and referral program. The pluses of AscendEX are called a large number of services, digital assets, a lot of alternative coins. The terminal has not only a convenient PC interface, but also a mobile application to work with gadgets. As for the disadvantages, among them are called commissions, which are slightly higher than on other exchanges. Given the conditions of the company, we can conclude that AscendEX is not a scam.
Conclusion
AscendEX - exchange, which from 2018 to 2021 was called BitMax. Therefore, the company can be considered experienced and reliable, which has worked for more than a year in this sphere. Users note the many advantages of trading on the exchange and the availability of additional services. The disadvantages of the company's work are virtually nonexistent. If you have used the services of AscendEX or BitMax, share your opinion in the comments below this review.
No reviews yet, be the first!
The company in the ratings
Robots for cryptocurrency
New companies on the site