Mandala is a young cryptocurrency exchange with a high level of security and the largest liquidity pool in the world. The platform offers a large selection of cryptocurrencies, customizable interface and low commissions.
Read completely
Cryptocurrency exchange
Official website
Social media
Date of foundation

2020

Head Office
Types of support
Languages

English, Chinese, Korean, Indonesian

Founder
The owner of the company
Manager
Minimum entry amount
Maximum input amount
Minimum withdrawal amount

Verified

Cryptocurrency

From 0.0000088 BTC
From 1.7 DOGE
From 0.004 Dash
From 0.00012 ETH

Unverified

Cryptocurrency

From 0.0000088 BTC
From 1.7 DOGE
From 0.004 Dash
From 0.00012 ETH

Maximum withdrawal amount
Exchange Commission

Trade Commission:

0.1

% for maker /

0.1

% for taker

Withdrawal fee:

0.0000044

BTC /

0.85

DOGE /

0.002

Dash /

0.00006

ETH

Terminals

Author's platform

Age restrictions
Trading volume per day
Number of cryptocurrencies

300+

The number of cryptocurrencies may change

Number of trading instruments

20+

Trading bots, signals, graphical tools

Margin Trading
Tokenized assets

MDXT - internal platform token

Free Demo Account
Types of accounts
Execution of orders

Market Order, Limit Order, Iceberg Orders

Methods of replenishment

Cryptocurrencies

Withdrawal methods

Cryptocurrencies

Account currencies

BTC, ETH, XRP, SOL, ADA, DOT, etc.

Types of cryptocurrencies

MDXT, BTC, ETH, XRP, VAB, SOL, ADA, LINK, DOT, etc.

Mobile applications
Trader training

Reference materials and general information about the cryptocurrency market

A way to store cryptocurrencies
Fiat accounts
Scalping
Stop Loss and Take Profit Function
Exchangeability for fiat currencies
Trade Bot

On the platform you can connect the bot CryptoHero

Signals and graphical tools

Multifunctional TradingView tool is available on the platform

Basic verification

Confirming an email address

Extended AML verification

Identity document, selfies with this document

Regulatory laws

International data protection law

FATF (Financial Action Task Force)

API
Bonuses
Affiliate Program
Benefits

Convenient platform user interface

Variety of cryptocurrencies available

There are bonuses to reduce commission

Stable daily trading volume

Fast transaction processing

Disadvantages

There are failures in the mobile app (according to online reviews)

Company requisites

Legal name:

Mandala Exchange, Ltd.

Legal address:

Seychelles

Overall assessment
Date of update

17.02.2023
Subscribe to this company
Mandala is this a scam? Reviews and description
Mandala
- first private
cryptocurrency exchange
launched on the Binance Cloud platform. The platform started operating in 2020, but the company is already positioning itself as the leading platform for trading digital assets with the largest liquidity pool in the world. The platform offers traders a wide range of
cryptocurrencies
The company has a wide range of tools for effective trading, safe storage of assets, and the necessary tools for effective trading.
Unlike similar projects, this exchange offers traders much more than spot trading. Here you will find trading bots, analytics based on Big Data and personalized trading strategies. In this review, let's take a closer look at the functionality and features of the crypto exchange and find out user reviews about the platform to understand whether Mandala is a scam or a really unique crypto exchange with universal tools.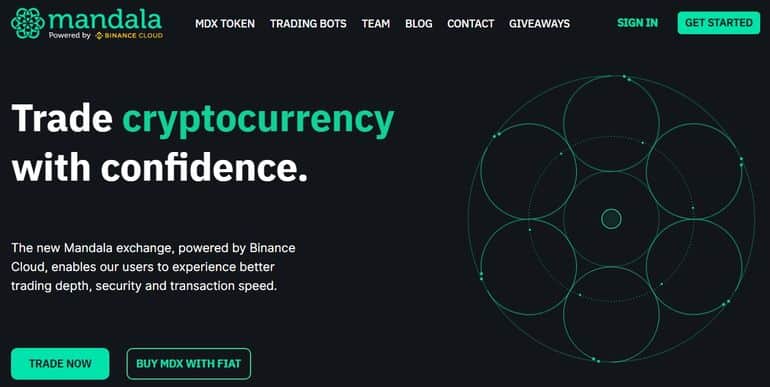 Why Mandala?
Appearing on the market in 2020, the cryptocurrency exchange Mandala immediately became popular among professional traders. The fact is that from the very beginning the platform sought to provide clients with two main factors for successful trading - absolute safety and a variety of instruments. Today it is one of the few crypto exchanges offering its users Cryptocurrencies with three-stage protection, which greatly increases the security of asset storage.
In addition, the crypto exchange offers traders a modular customizable interface, a large selection of cryptocurrencies, trading bots and advisors, fast transaction processing and an internal social network for user communication. The platform has a powerful analytical tool TradingViewwhich allows you to conduct technical analysis and create your own trading strategies, as well as trade bot CryptoHero, which allows you to automate cryptocurrency trading. Advantages of a cryptocurrency exchange:
High level of security.
Stable daily trading volume.
Low trade commissions.
Support for 300+ cryptocurrencies.
Fast transaction processing.
Large selection of tools.
Round the clock support service.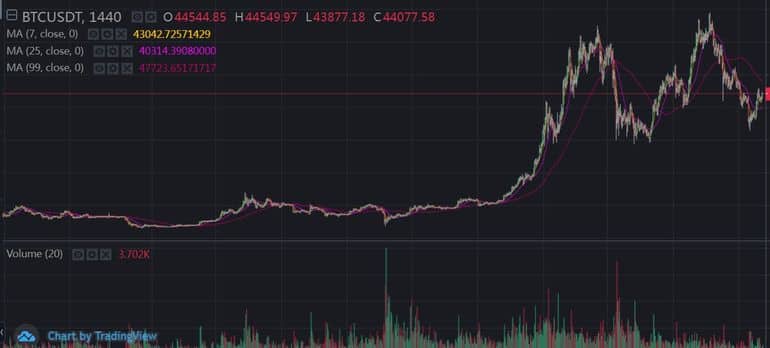 How to exchange cryptocurrency on the trade.mandala platform?
Built-in exchanger digital currencies on the platform trade.mandala no. Cryptocurrencies are exchanged during trading. To exchange, select a cryptocurrency pair, for example, XRP/USDT, ETH/USDC or DOT/USDT, and open a market order. When the trade is complete, you will receive the desired coins into your account.
Verification on the mandala.exchange platform
Before trading on the exchange mandala.exchange you need to create an account. Registration takes no more than 5 minutes, after which an account and personal account are generated for the user. To create an account, click the "Registration" button on the main page of the service. In the registration form that opens, you need to specify an email address and password. After filling in the data, a confirmation code will be sent to the specified email, which must be entered at the next stage of registration.
The next step for working at trade.mandala is to connect two-factor authentication. To do this, go to the "Security" tab in your personal cabinet. Here you need to allow 2FA connection. After that download the application, scan the QR code and generate a backup key. Two-factor authentication is used for secure withdrawals. Users who have not enabled 2FA will not be able to withdraw funds.
Next, you need to activate SMS-authentication. This security measure is also used when withdrawing funds. Connecting it takes no more than 1 minute. To do that you have to specify your cell phone number and enter the password received in the sms-message. After that it is recommended to connect the anti-phishing code. After the account security settings, you can start trading.
Verification on the platform is not mandatory. But unverified users have restrictions on daily withdrawals. To remove these restrictions, you need to confirm your identity. To do this, you need to specify:
Download a document proving your identity.
Upload selfies with an ID.
After uploading the documents, you need to submit the form for verification. After verification, the account will be assigned "Verified" status. From this moment all restrictions on withdrawal of funds will be removed.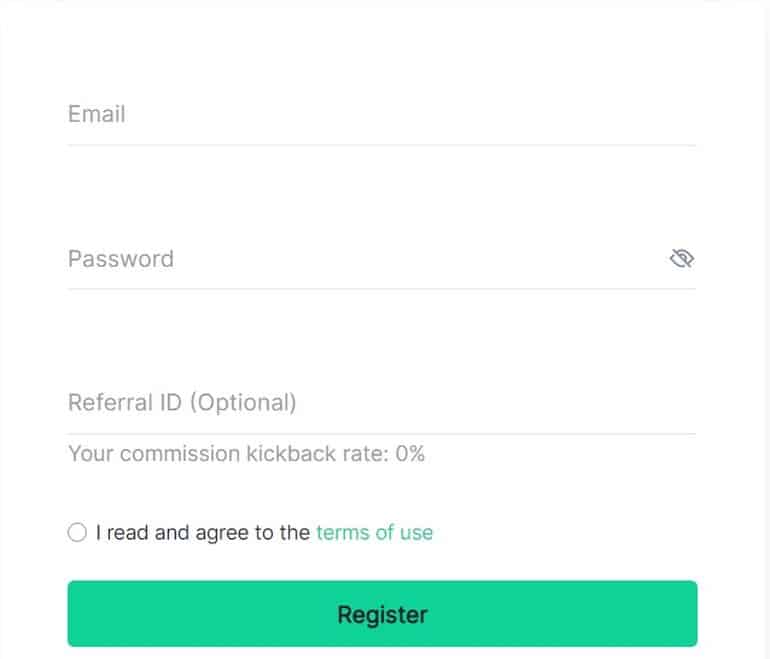 Deposit and withdrawal
Replenishment of deposits at the exchange mandala.exchenge is available in all cryptocurrencies supported by the platform. To make a deposit, go to the "Deposit" tab in your personal cabinet. Select a token and generate a crypto address. Copy this address and specify it in your crypto wallet. Confirm the transaction. When funding your account with ERC-20 standard coins, you need to use compatible crypto wallets, for example, Metamask. When selecting a coin, you will see compatible networks. Fiat deposits are not available on the cryptocurrency exchange.
Withdrawal is also available in your personal cabinet. To withdraw, go to the "Withdrawal" tab and select a currency. Specify the amount to withdraw and your cryptocurrency address. For unverified users the withdrawal limit is 2 BTC per day. Minimum withdrawal amount is 0.0000088 BTC or equivalent in other cryptocurrency.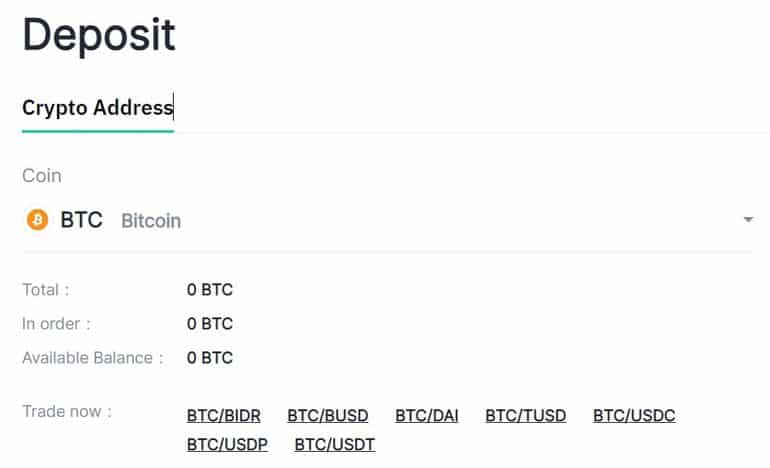 Commission of the crypto exchange trad.mandala
The base commission for makers and takers for spot trading on the exchange is 0.1% of the transaction amount. The exchange also has a withdrawal fee. For withdrawals, the exchange commission is 0.0000044 BTC or the equivalent in another cryptocurrency.
Mandala Bonuses
Mandala crypto exchange users can get discounts on trading commissions and earn money by taking part in a referral program.
Discounts on trade commissions
The basic trading commission on the crypto exchange is 0.1% of the amount of the stake. It can be reduced to 0.065% by blocking MDXT tokens in your wallet. The exchange has the following conditions for discounts: 5000 MDXT - 5% discount, 20 000 MDXT - 10%, 40 000 MDXT - 15%, 70 000 MDXT - 20%, 120 000 MDXT - 25%, 200 000 MDXT - 30%, 300 000 MDXT - 35%. To get a discount on trading commissions, tokens must be blocked for 30 days.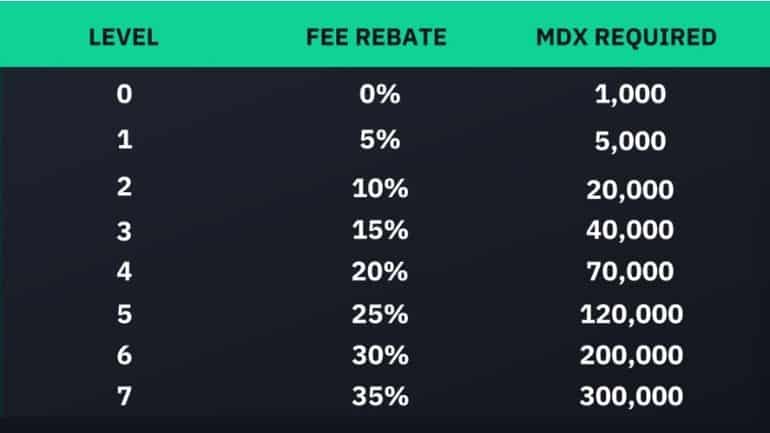 Referral program
By registering on the platform, every user can take part in the referral program. By inviting friends to trade on the exchange, you can earn up to 10% from commissions paid by referrals.

Complaints about the Mandala
Having analyzed reviews of the cryptocurrency exchange mandala.exchange, we came to the conclusion that the platform is not yet in demand among Russian-speaking traders. There are no reviews of the exchange on Russian-language thematic forums and sites. But we found them on English-language resources. Reviews about the exchange are few, but the vast majority of them are positive. Users note the high reliability of the platform, the simple interface and low commissions.

But along with the positive reviews, there are also complaints about Mandala. So users complain about failures in the mobile application, which caused the loss of money. Also dissatisfied are the residents of the United States, who were restricted access to the platform without warning.

If there are any complaints about Mandala, we'll be sure to post on social media. Sign up so you don't miss anything!
Please keep yourself informed about news and complaints. We copy the most valuable information to social networks, so please sign up!
Regulation of Mandala Crypto Exchange
The financial risks associated with trading cryptocurrencies increase when trading on platforms that do not have a regulator. For this reason, you can only make money on cryptocurrencies on official platforms with registration.
Regulator
The cryptocurrency exchange mandala.exchange is managed by Mandala Exchange, Ltd. The company is registered in the Seychelles. Documents of mandala.exchange:
Mandala.exe User Agreement
The relationship between users and the cryptocurrency exchange is governed by the user agreement. This is an electronic agreement, by accepting the terms of which the user gets access to trading on the platform. According to the terms of this agreement, persons over 18 years old can register on the site. By registering on the site, you accept and agree that the company may terminate the site at any time, as well as terminate your account for any reason and without prior notice.

Under no circumstances will the administration of the site be liable for any damages arising from the use of the resource. Also, the company declines responsibility for any lost, lost income, or any losses incurred.

Customer Service
The support service of the cryptocurrency exchange works round the clock. You can send your request in the feedback form on the website or by mail: [email protected], as well as contact the support team in social networks:
Discord.
Telegram.
Facebook.
Twitter.
Before contacting customer support, users are advised to visit the Help Center, where answers to frequent trader questions are published.
Is Mandala a divorce?
Mandala - a young cryptocurrency exchange positioning itself as a platform with the largest liquidity pool in the world. The platform offers traders a large selection of cryptocurrencies, trading tools and bots for trading automation. After analyzing the work of the crypto exchange, legal information about the company, as well as user reviews, we came to the conclusion that Mandala is not a scam. The platform has been working since 2020, constantly developing and offering users new services.
Now the platform is also under development and improvement. In the near future, it will offer margin and futures trading, exotic order types, trading contests, drawings, and other privileges for MDXT token holders.
Conclusion
New generation cryptocurrency exchange Mandala - is a platform with minimal trading risks. Thanks to AI-driven trading bots, traders are safe from fatal mistakes, and TradingView's free signals and charting tools allow even beginners to create their own strategies. The platform also allows you to view the strategies of experienced traders, which further increases the chances of good profits. Register on the exchange, buy platform tokens and get community privileges.
No reviews yet, be the first!
The company in the ratings
Robots for cryptocurrency
Activity
New

0

Resolved

0

Not resolved

0
New companies on the site