A cryptocurrency exchange focused on derivatives trading and the use of loans. Characterized by easy navigation, clear interface and low commissions.
Read completely
Cryptocurrency exchange
Official website
Social media
Date of foundation

2020

Head Office

Mahé, Beau Vallon, Seychelles

Types of support
Languages

English, German, Spanish, French, Italian, Portuguese, Turkish

The owner of the company

Margex Trading Solutions Ltd.

Minimum entry amount
Maximum input amount
Minimum withdrawal amount
Maximum withdrawal amount
Exchange Commission

Trade Commission:

0.019

% for taker /

0.06

% for maker

Terminals

Author's platform

Age restrictions
Number of cryptocurrencies
Margin Trading
Leverage
Tokenized assets
Free Demo Account
Types of accounts
Execution of orders

Limit Orders, Market orders, Stop-Loss, Stop-market, Take Profit Orders

Methods of replenishment

Bank card (Visa/MC),

Withdrawal methods

Cryptocurrencies

Account currencies

Cryptocurrencies,

Types of cryptocurrencies

BTC, ETH, EOS, LTC, XRP, YFI

Mobile applications
Trader training
A way to store cryptocurrencies
Fiat accounts
Scalping
Stop Loss and Take Profit Function
Exchangeability for fiat currencies
Basic verification
Extended AML verification
Regulatory laws

International data protection law

Canadian law

API
Bonuses
Affiliate Program
Benefits

Simple and intuitive interface

Profitable referral program

Multifunctional trading terminal

Buying cryptocurrency for fiat

Company requisites

Legal name:

Margex Trading Solutions Ltd.

Legal address:

Mahé, Beau Vallon, Seychelles

Overall assessment
Date of update

27.04.2022
The address is
Mahé, Beau Vallon, Seychelles
Map
Subscribe to this company
Is Margex a scam? Reviews and description
Margex
- a cryptocurrency exchange that focuses on derivatives trading and the use of loans. The company was registered in the Seychelles in 2020. The platform is characterized by easy navigation, clear interface, high level of security and all the necessary features. In this review, let's understand the features provided by
exchange
and find out if Margex is a scam.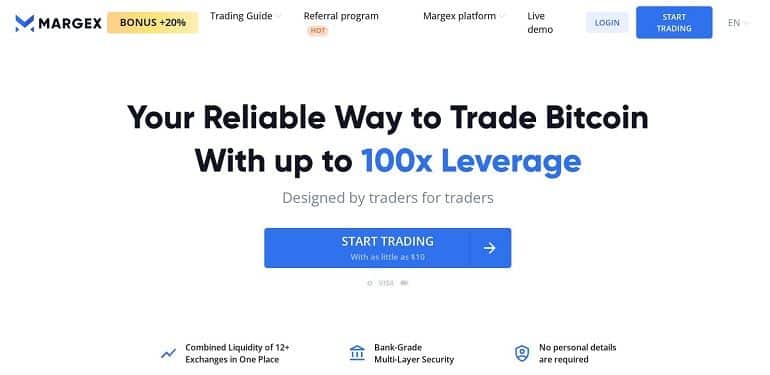 Why Margex?
Margex appeared on the market a year ago. During this time, many have had time to appreciate the user-friendly interface of the trading platform and available commissions. The exchange gives access to the digital currency market and provides a leverage of 1:100. The peculiarity of the company is that the platform allows you to deposit fiat currency. The terminal has enough features for experienced traders, but at the same time, the interface is so simple that even beginners will quickly understand it.
The trading platform gives customers the opportunity to use candlestick charts, which are based on the prices of digital currencies against the U.S. dollar. The charts have all the indicators to thoroughly analyze the market and make decisions.

The exchange offers several types of orders. In addition to standard market orders, limit and stop orders are available. Take Profit and Stop Loss can be used for a deal at the same time. Due to the work of indicators in real time, there are no delays in the display of data. The platform allows an indicator of losses and profits, which shows how profitable the trader's activity is and how much money was gained or lost. If the user performs additional calculations himself, he will be able to estimate the potential profit or loss of an open position.
The exchange supports isolated margin trading, which is considered the safest. By placing an order, a trader receives the amount he or she is risking. Margin for all currency pairs is the same. The exchange website has a brief user guide, information on commissions, and a referral program. Navigation of the site is clear, it is not overloaded with unnecessary information. The advantages of Margex include:
low commissions;
simple interface;
profitable referral program;
multifunctional trading terminal;
opportunity to buy cryptocurrency for fiat.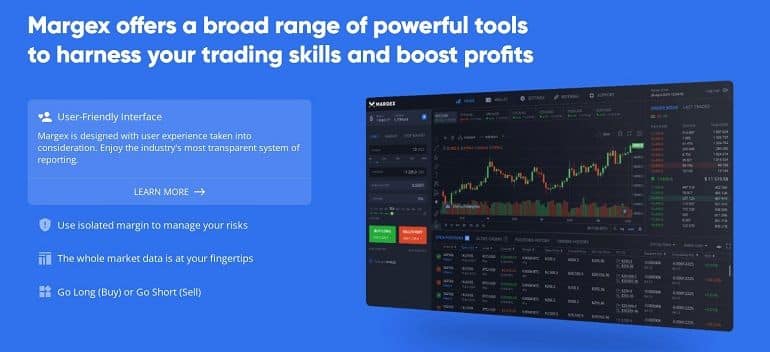 How to exchange cryptocurrency on the Margex platform?
margex.com offers the most liquid cryptocurrency trading pairs: BTC/USD, ETH/USD, LTC/USD, XRP/USD, EOS/USD and YFI/USD (options for earning on cryptocurrency). In order to make an exchange, go to the trading page of your account. Select the trading pair you want to trade and the order parameters such as type, order quantity (size), leverage, and in the case of a limit or stop order, the price. Place your order by clicking "Buy" or "Sell" to place a long or short order, respectively.
Active orders will be reflected in the section of the same name. This section allows you to manage, edit and cancel any orders. To cancel an open order, tap (X) to the left of it. You can add stop loss or take profit to positions. S/L and T/P orders can be placed from the Open Trades module. When adding S/L or T/P to a position, enter the desired price.

The order placement module, located on the left side of the trading interface, is used to place orders and displays balance information and such data:
Balance - the total amount in the wallet.
Available balance - funds that can be used to open new trades, pay commissions and cover any losses (available balance = total balance - margin value of open positions).
The size of the order USD, taking into account the selected leverage.
The size of the order BTC, taking into account the selected leverage.
Leverage - is used to select the leverage for new orders.
Buy / Sell - placement of a long (buy) or short (sell) order.
Margin value - the amount of personal funds that are needed and reserved to open a position.
Funding - funding countdown timer.
Verification at margex.com
To start working on the exchange, you must register an account. Go to the registration page and enter the necessary information. Click "Register" and receive an email confirming your registration. There is information about additional verification in the terms of service. The document states that the exchange, at its sole discretion, may at any time require verification of identity and other verification procedures with respect to the user or transactions associated with their account. These procedures may include, but are not limited to, verification of information provided to the Exchange.

The customer may be required to provide certain personal information, including name, address, telephone number, e-mail, date of birth, passport information or a photograph. By agreeing to cooperate with the exchange, the user authorizes any requests that relate to identity verification or fraud protection, either directly or through a third party. Margex may request personal information that is in publicly available reports, account details related to a bank account, take actions that will be deemed reasonable based on the results of such requests.
Deposit and withdrawal
The "Wallet" page reflects the statistics of the current wallet and allows you to deposit and withdraw funds to and from your account. There is also a detailed transaction history log showing all transfers made to/from the wallet. In the exchange, you can deposit BTC to your account or buy BTC through Changelly through your Margex account. To deposit funds, go to "Wallet - Deposit". A deposit menu will appear. There are 2 deposit options here:
Deposits BTC from personal wallets to a Margex account wallet. Copy your Margex BTC address, paste the address into the destination field of the website/wallet you're transferring funds from (or scan the QR code).
Buying BTC via Changelly using a bank card. Enter your currency and amount, click "Exchange". You will be redirected to Changelly where you can enter your payment details and confirm your purchase. BTC deposit requires 1 block confirmation.
To withdraw funds, go to the "Wallet" page and click "Withdraw". A withdrawal widget will appear where you will need to enter your withdrawal parameters:
Output address.
2FA code (if the function is enabled).
The amount of BTC you want to withdraw.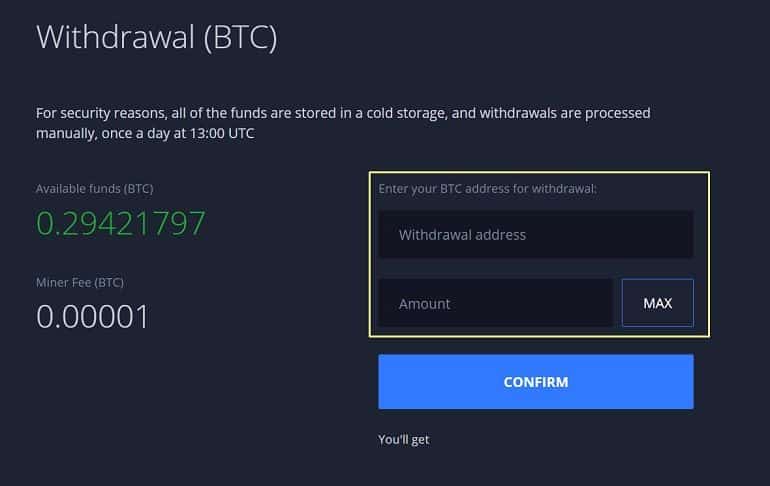 Once you've selected the desired withdrawal options, click "Confirm". All deposits and withdrawals are available in BTC. For security reasons, Margex keeps most of its funds in a cold wallet, while keeping a limited amount of funds in its hot online wallet. All pending withdrawal requests are processed daily at 13:00 UTC. The minimum withdrawal amount is 0.002 BTC.
Cryptoexchange Commission
Margex provides the most competitive commissions and trading conditions. Two types of commissions are charged: dealing commissions and financing commissions. Funding is the interest payment (cost) of borrowing Margex assets to lend trades. Financing rates are directly related to the current ratio of longs to shorts and market volatility. Financing charges are due every 8 hours. If a position is closed before the funding cutoff time, it will not be charged a fee.
When an order is executed in the market, it is charged a Maker or Taker commission. Maker Commission is charged when liquidity is added to the order book by placing a pending order that does not immediately match an order in the order book: that is, limit orders placed below the current price for a Buy order or above the current price for a Sell order. This includes conditional Take Profit orders.
Taker commissions are charged when liquidity is removed from the order book by placing an order that is immediately matched against an order already in the order book: market or conditional orders that are converted to a market order when executed, such as a stop loss. Trading commissions and funding rates:

Margex bonuses
The crypto exchange offers bonuses that can be used to pay commissions, and participation in the referral program.
Bonuses for participation in marketing campaigns
Bonuses can be earned by participating in different Margex marketing campaigns. The amount of points you earn will depend on the terms and conditions of each individual campaign. The bonus balance is reflected in your wallet.

Bonuses are used to pay trading fees and financing. When closing an open position, any trading commissions and finance charges incurred for that position will instead be deducted from the bonus balance (if greater than 0 and sufficient to cover trading commissions).
The initial trading fee incurred for opening this position will be reimbursed to the wallet balance and can be withdrawn or used for trading. If the bonus balance is 0, any trading fees and funding costs will be deducted from the wallet account.
Referral program
The crypto exchange offers participation in a referral program. Margex guarantees remuneration in the amount of 40% from trading commissions of all referred users. Everyone receives a referral link, after registering with which an attracted client starts generating income. The Referral page reflects basic information about the referral network. It has statistics, information about payments and a unique code.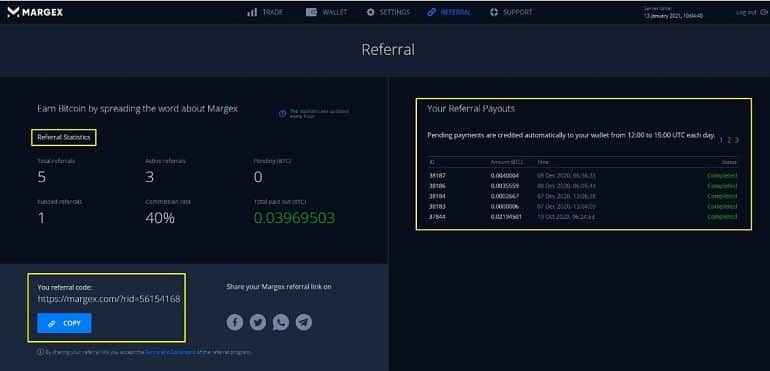 The referral page also contains suggestions for improving and developing the network, a downloadable marketing kit to maximize an affiliate's potential income. Referral payouts are processed once a day from 12:00 to 15:00 UTC. Expected referral payouts are updated hourly on the "Referrals" page and are credited to the account wallet balance and can be later withdrawn or used for trading.
Complaints about Marjax
There are few reviews on the web about the work of the exchange, which may be due to the fact that the company entered the market only last year. Evaluations and reviews suggest that the project is reliable, with a simple interface, fast response tech support and low commissions.
But there are also negative comments. They concern problems with the withdrawal of funds, the slow operation of the platform and the incompetence of technical support.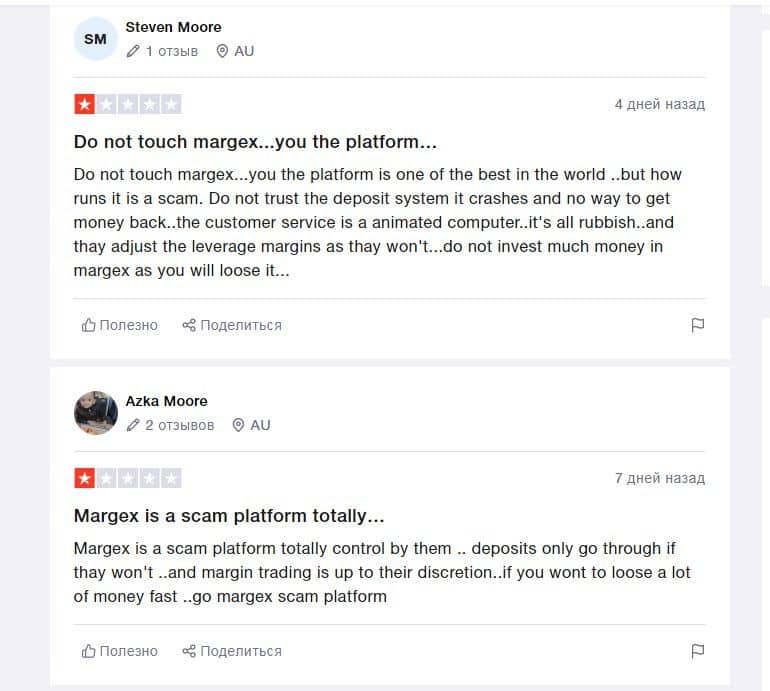 If there are any complaints about Marjax, we'll be sure to post on social media. Sign up so you don't miss anything!
Please keep yourself informed about news and complaints. We copy the most valuable information to social networks, so please sign up!
Regulation of the Margex crypto exchange
There are a lot of people working on the Internet today cryptocurrencies. But not all of them are conscientious, and there are scammers. To avoid falling into the net of scammers, it is important to check the license and other documents on the exchanger's website.
Regulator
The company's website has several sections with information about the company and working conditions:
Margex.com User Agreement
The user agreement of the cryptocurrency exchange is published on the Terms of Service page. They describe the services the platform offers, customer requirements, and account creation terms. It is indicated that Margex can offer additional enhanced security features for the account, including two-factor authentication.
Regardless of whether or not the user enables such advanced features, it is the user's responsibility to maintain control of any device for the account that is linked to the exchange at all times. There are items with information about the company's services and financing, including commissions.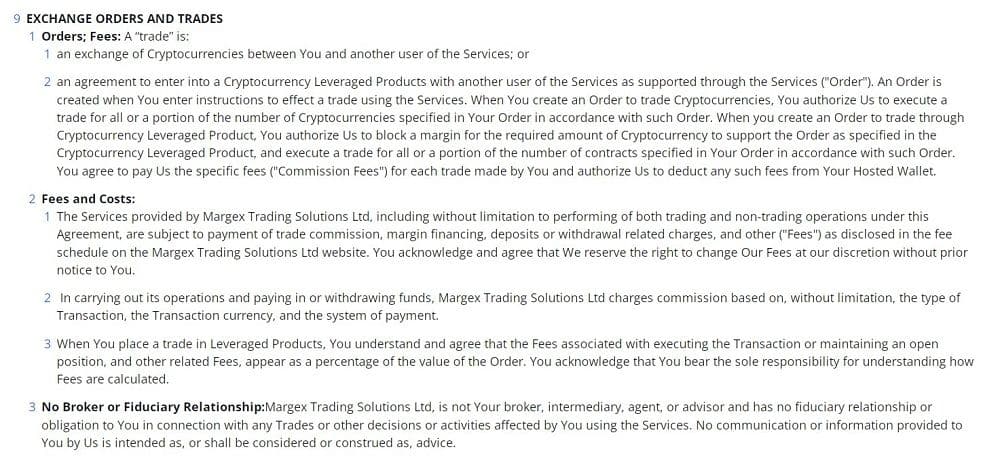 Customer Service
There are several ways to contact technical support:
You can also ask your question through the Help Center.
Is Margex a scam?
Margex - a young crypto exchange that offers derivatives trading and the use of loans. The platform has a user-friendly interface, low commissions and a simple trading terminal. Both beginners can work with the exchange (a user manual is available for them to quickly familiarize themselves with the work) and experienced traders. There are all the tools you need to trade. Reviews about the exchange are still scarce, but based on ratings and comments, which are available on the Internet, we can conclude that Margex - not a scam.
Conclusion
Margex - a cryptocurrency exchange that started its operations in 2020. It offers a convenient trading terminal, several currency pairs, buying BTC for fiat, low commissions, and a detailed beginner's manual. If you used the exchange, tell us whether you agree with those who positively assess its work. You can do so in the comments of this review.
No reviews yet, be the first!
The company in the ratings
Robots for cryptocurrency
New companies on the site