ChainEX is a young South African crypto exchange with support for popular cryptocurrencies, different order types and staking.
Cryptocurrency exchange
Official website
Social media
Date of foundation

2018

Head Office

2A Da Gama Rd, Jeffreys Bay, EC, 6330

Types of support

[email protected]

Knowledge Base

Help Center

Feedback form

Twitter

Facebook

Telegram

Instagram

Languages

English

Founder
The owner of the company
Manager
Minimum entry amount

Verified

Fiat Currency

Bank Transfer:

from 10 ZAR

Unverified

Fiat Currency

Bank Transfer:

from 10 ZAR

Maximum input amount
Minimum withdrawal amount
Maximum withdrawal amount

Verified

Fiat Currency

Bank Transfer:

to 1 000 000 ZAR

Exchange Commission

Trade Commission:

From

0.05

To

0.25

% for taker

Withdrawal fee:

Until

0.0003

BTC /

Until

0.0082

ETH /

Until

1.3

LINK /

Until

0.01

LTC

Terminals

Author's platform

Age restrictions
Trading volume per day
Number of users
Number of cryptocurrencies
Number of trading instruments
Margin Trading
Tokenized assets
Free Demo Account
Types of accounts
Execution of orders

Limit Order, Market order, Stop Orders, Scaled Orders

Methods of replenishment

Cryptocurrencies, Wire Transfer

Withdrawal methods

Cryptocurrencies, Wire Transfer

Account currencies

ZAR, Cryptocurrencies

Types of cryptocurrencies

BTC, USDT, XRP, DOGE, ETH, XTZ, LTC, ADA, ZRX, etc.

Mobile applications
Trader training
A way to store cryptocurrencies

Cold:

yes

Assets are stored in an off-line vault

Hot:

yes

Hot wallets hold money for withdrawal

Fiat accounts

Refills are only available in South African rand (ZAR)

Scalping
Stop Loss and Take Profit Function
Exchangeability for fiat currencies

Exchange is possible only in ZAR

ChainEX Shop

The platform store offers home goods, art, children's products, and more.

Basic verification

Basic verification requires a first name, last name and email address

Extended AML verification

To pass the KYC you need to upload a screenshot of your passport, selfies with your passport, a document confirming residence registration

Regulatory laws

International data protection law

FATF (Financial Action Task Force)

API
Bonuses
Affiliate Program

Registration

From 2 to 16% from the referral's payment of trade commissions

Benefits

Support for popular cryptocurrencies

Different types of orders

Disadvantages
Company requisites

Legal name:

ChainEX (Pty) Ltd.

Legal address:

2A Da Gama Rd, Jeffreys Bay, EC, 6330

Overall assessment
Date of update

21.02.2023
Address
2A Da Gama Rd, Jeffreys Bay, EC, 6330
Map
Subscribe to this company
ChainEX is this a scam? Reviews and description
ChainEX
- centralized
cryptocurrency exchange
based in South Africa. The exchange has been operating since 2018, offering traders
cryptocurrency trading
, referral program and low commissions. In this review we will consider the features of the crypto exchange, customer reviews, promotions and discounts of the company. We will also try to understand whether ChainEX is a scam or a stable reliable cryptocurrency exchange for safe trading.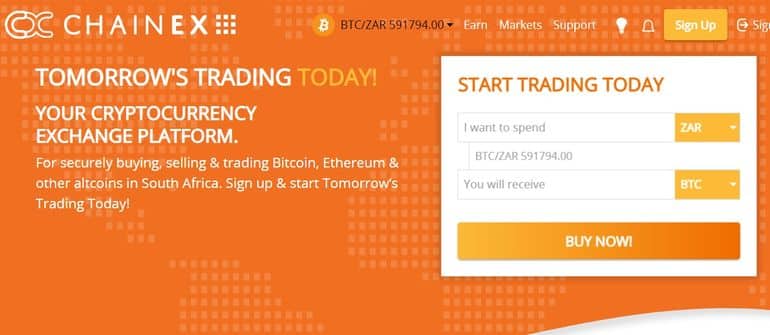 Why ChainEX?
Cryptocurrency exchange ChainEX Offers traders 20+ trading cryptocurrencies in 30+ cryptocurrency pairs. You can start trading on the platform immediately after registration and identity confirmation. Also the platform supports fiat accounts and ZAR deposit is available by bank transfer.
The most popular currency pairs at the exchange are: BTC/ZAR, USDT/ZAR, XRP/ZAR, DOGE/ZAR, ETH/ZAR and XTZ/ZAR. When trading cryptocurrencies, the following order types are available to traders: Limit order, Market order, Stop order, Scaled order. The platform also has an Accumulation Distribution indicator, which will help to make a deal at the best price in time. Advantages of the exchange ChainEx:
Support for popular cryptocurrencies.
Low entry threshold.
Different types of orders.
Quick start of trading.
Operational support service.
Crypto exchange ChainEX provides secure storage of users' digital assets. The vast majority of assets are stored in the exchange's offline vault. Hot wallets store funds for quick withdrawal. The number of assets in hot wallets is limited to the expected daily payout amount. In addition to trading, the platform offers its own store, where you can buy clothes, home goods, art, children's goods and stationery. You can also become a seller here, offering your goods to customers.
How to exchange cryptocurrency on the ChainEx platform?
Cryptocurrency exchange on the ChainEX platform is done during the trading process. To make an exchange, select a currency pair and make a purchase. After closing the transaction, the purchased cryptocurrency will be reflected in your account. You can also buy cryptocurrency here for fiat, but you can only top up your account in South African rand and only by bank transfer, which is inconvenient for users from Russia.
Verification on the chainex.io platform
It should be noted right away that verification on the platform chainex.io is not mandatory. But without verification, traders are limited in withdrawals and trades. Let's consider step by step registration and verification on a cryptocurrency exchange.
Step 1: Registration. To register a new account, click the "Register" button In the registration form that opens, fill out the fields: First Name, Last Name, Email Address, Password. After completing the data, confirm that you do not live in a country where there is a ban on trading in cryptocurrencies, these countries are: USA, Algeria, Bolivia, Ecuador, Kyrgyzstan, Bangladesh, Nepal, Cambodia, Macedonia. Click the "Register" button. After registration, email address confirmation is required.
Step 2: Verification. There are several types of account verification on the platform. Depending on the completeness of the data provided, the account is assigned a level from 0 to 2. Accounts with level 0 and 1 have a restriction on withdrawals and trades.
Level 0. A zero-level account does not require proof of identity. Its registration requires only a first and last name and an e-mail address. The level has a daily withdrawal limit of up to 2 BTC. Users cannot trade on the ZAR and USDT markets.
Level 1. To get the first level it is required to specify and confirm a cell phone number. Users of the first level have no access to withdrawal of fiat money.
Level 2. To get the second level you need to upload a scan of your passport and a document confirming residency. Second level accounts have the right to withdraw digital assets up to 100 BTC per day and fiat funds up to 1,000,000 ZAR per day if the bank account is confirmed.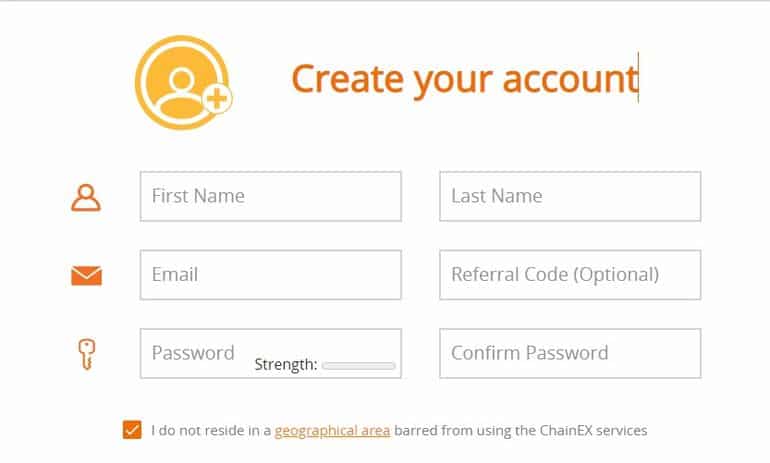 Deposit and withdrawal
To deposit to your account at the ChinExchange, you need to log in to your account and go to the "Balances" tab. Here you should choose the cryptocurrency to top up your account. The account can be deposited in BTC, ETH, LTC, ADA, BTCV, SNT, BNT, CVC, BAT and ZRX. To deposit, select a cryptocurrency and click the "Deposit" icon. If this is your first deposit, generate a crypto address. Then copy the address and specify it in your cryptocurrency wallet. Confirm the transfer. The minimum top-up amount is 10 ZAR.
To withdraw funds, you also need to select a currency and specify the number of coins to be withdrawn. When withdrawing funds, pay attention to the cryptocurrency wallet address. If you withdraw currency to incorrect address, funds will be lost. Also pay attention to the daily withdrawal limits, depending on the account level. Unconfirmed account can withdraw up to 2 BTC, for level 2 - up to 100 BTC per day.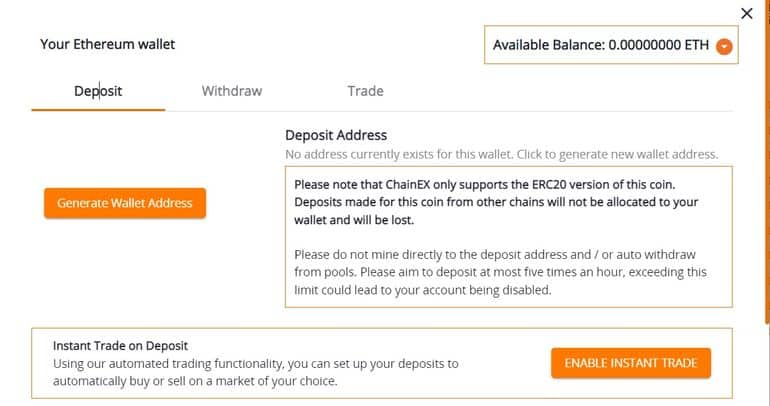 Commission of the crypto exchange chainex.io
On the platform chinex.io there are two types of commission fees. Traders will have to pay a trading commission and a withdrawal fee.
Trading commissions. Trading commissions at the crypto exchange are paid only takers. The standard size of the trading commission is 0.25% of the transaction amount. It is possible to reduce the amount of commission when a certain monthly trading volume is reached.
Withdrawal fees. The withdrawal fee is calculated automatically when you apply for withdrawal. The amount of commission depends on the currency to be withdrawn. For example: BTC - 0.0003, ETH - 0.0082, LINK - 1.3, LTC - 0.01.
To calculate the exact withdrawal fee, you need to create a withdrawal request and specify the withdrawal amount. The system will automatically calculate and show you the withdrawal amount including the commission.
ChainEX bonuses
By registering on the ChainEX exchange, each client can receive discounts and bonuses from the platform. The company regularly holds promotions among its clients. At the time of writing the review, the site offers discounts on trading commissions and earnings from the referral program and staking.
Discounts on trade commissions
You can get discounts on trading commissions by maintaining a monthly trading volume of 100 BTC or more. The maximum discount can be obtained with a monthly trading volume of 5000 BTC. In this case, the trading fee will be 0.050% instead of the standard fee of 0.25%.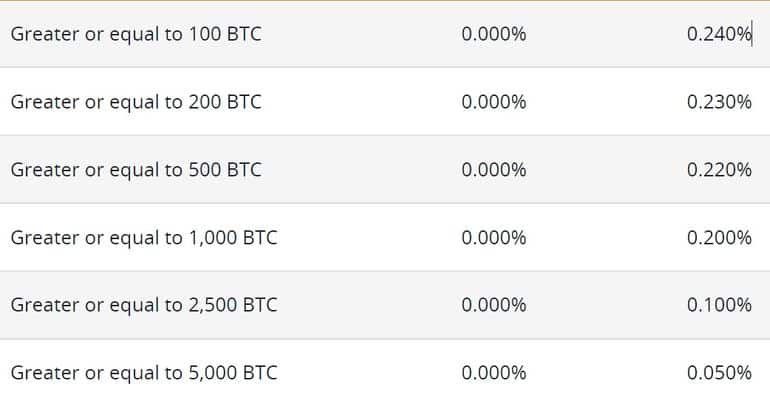 Steaking
Store your digital assets on the platform and earn passive income of up to 8% per annum. To start earning, choose a currency and make a deposit. Determine the holding period and earn interest at the end of the contract.

Referral program
By inviting your friends to register on the crypto exchange, you can earn a stable passive income. The referral program of chainex.io has six levels, according to which you can earn from 2 to 16% from paid commissions of your referrals.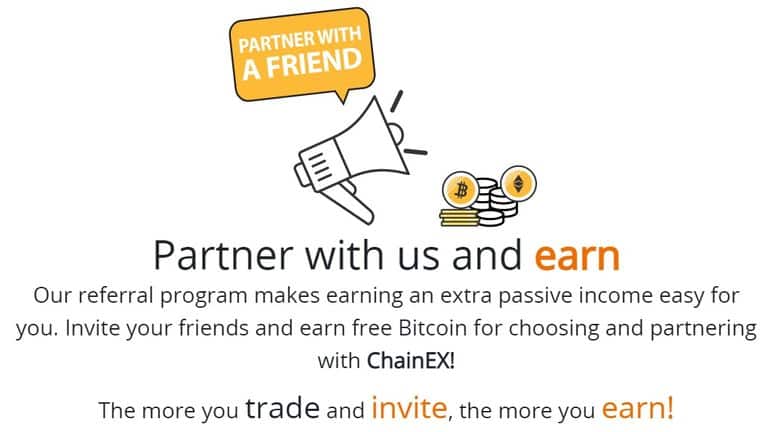 Complaints about ChainEx
Despite the fact that the exchange has been operating for 4 years, there are no reviews about it on the Internet. If you have any experience with the ChainEX cryptocurrency exchange, we are waiting for your feedback about the platform under this review.
If there are any complaints about ChainEX, we will be sure to post the information on social media. Sign up so you don't miss anything!
Please keep yourself informed about news and complaints. We copy the most valuable information to social networks, so please sign up!
Regulation of the Crypto Exchange ChainEX
Before registering on any of the cryptocurrency exchanges, carefully read the documents published on the website and make sure that the project is officially registered and regulated by the laws of the country of registration. Let's take a look at the documents of the cryptocurrency exchange ChainEX.
Regulator
Cryptocurrency exchange ChainEX is officially registered in South Africa and has registration number 2017/439541/07. The company is private and operates under the laws of South Africa. Documents chainex.io:
Chainex.io User Agreement
According to the terms of the user agreement, registration on the site is available to legally capable adult users. You can create only one account, providing full and truthful information about your identity. If any discrepancies are found or if incorrect information is suspected, the administration has the right to delete the user account and deny access to the site.

By registering on the site, you take full responsibility for complying with the laws of your country, including the payment of taxes. You also confirm that all the assets transferred to the exchange are legally obtained by you. In case of suspicion of illegal origin of the assets, the administration of the service may request the user to provide documents confirming the legitimacy of the source of income.

Customer Service
The chainex.io platform provides users with professional support. Customer requests are accepted and processed around the clock. Channels for contacting the support team:
Mail [email protected]
Knowledge Base.
Help Center
Twitter.
Facebook.
Telegram.
Instagram.
When contacting the support service, remember that the support team does not support the Russian language, and all appeals must be written in English.
Is ChainEX a scam?
ChainEX - centralized South African exchange. The company is officially registered in South Africa and offers traders legitimate trading in cryptocurrencies on favorable terms. For Russian users, the exchange may not be very convenient due to the lack of input of the usual fiat currencies. But if you have crypto-assets, you can register on the platform and not only trade in cryptocurrencies, but also receive passive income from staking and referral program.
Having analyzed the legal information about the company and the work of the platform, we came to the conclusion that ChainEX is not a scam. The administration of the service carefully monitors the legality of funds deposited on the platform, provides safe storage of assets and guarantees a quick withdrawal of earnings.
Conclusion
Cryptocurrency centralized exchange ChainEX - is an opportunity to trade popular currencies, earn on staking and participate in a lucrative referral program. The platform is more suitable for beginners in crypto trading, because it doesn't have the tools necessary for experienced traders, such as margin trading and technical analysis. But for the beginning of trading the platform is perfect. Here you will find several types of orders, free signals and a large selection of popular coins.
No reviews yet, be the first!
The company in the ratings
Robots for cryptocurrency
Activity
New

0

Resolved

0

Not resolved

0
New companies on the site