Digital currency investment service with a large selection of assets and relatively low buy and sell commissions.
Cryptocurrency exchange
Official website
Social media
Date of foundation

2014

Head Office

A-1020 Vienna, Campus 2, Jakov-Lind-Straße 2

Types of support

Feedback form on the site

Telegram

Languages

English, French, German

The owner of the company
Age restrictions
Number of cryptocurrencies
Margin Trading
Tokenized assets
Free Demo Account
Execution of orders

Market Execution (at market price)

Methods of replenishment

Giropay, iDeal, Mastercard, Neteller, Sepa, Skrill, Sofort, VISA, Zimpler

Withdrawal methods

Neteller, Sepa, Skrill

Account currencies

EUR, USD, GBP, CHF

Types of cryptocurrencies

Bitcoin, Ripple, Pantos, IOTA, Bitcoin Cash, DASH, Litecoin, OmiseGO, Augur, Stellar, 0x, NEO, NEM, Tezos, Chainlink, Cardano, Ethereum Classic, Waves, Lisk, Cosmos, USD Coin, Tron, Tether

Licenses
Mobile applications
Trader training

Reference materials, news

A way to store cryptocurrencies
Fiat accounts
Scalping
Stop Loss and Take Profit Function
Exchangeability for fiat currencies
Basic verification

2FA (two-factor authentication)

Extended AML verification
API
Affiliate Program
Benefits

Large selection of products

Relatively small transaction fees

You can use your wallet or register it on the service

Two-factor authentication (using one-time passwords)

Disadvantages

Not aimed at Russian-speaking users

Lack of direct communication with technical support

Overall assessment
Date of update

20.02.2023
Address
A-1020 Vienna, Campus 2, Jakov-Lind-Straße 2
Map
Subscribe to this company
Bitpanda is this a scam? Reviews and description
Bitpanda
- is a digital currency investment service opened in 2014 by Eric Demuth, Paul Klanscheck and Christian Trummer, who are now part of the Bitpanda GmbH directorate. Users are offered 30-plus assets: bitcoins, ethereum, digitized gold, etc. More than a million people visit the official website every day
exchanges
.
But what is hidden behind the beautiful "shell" of the company? Is Bitpanda a scam or a profitable resource? Let's try to find out.
Why Bitpanda
Bitpanda is a wide range of tools for buying and trading bitcoins as well as other assets:
Bitpanda Global Exchange. A digital asset exchange for professional traders, market experts and organizations from 54 countries (not available to US and Chinese residents). Access to market data in the real market via API, trade bots setup, direct transfers via the global network.
Bitpanda Ecosystem Token (BEST). Investing in digital asset trading with the possibility of receiving rewards based on achievements (a kind of loyalty program).
Bitpanda Pay. Exchange euros into digital currency via IBAN (International Bank Account Number). We register, add a currency wallet, fill in a standard form, confirm the operation and the funds are received by the recipient. Confirmation by means of one-time passwords sent to you by SMS-message.
Bitpanda Savings. Another investment project that includes a Russian translation of the "savings plan," according to which you still buy bitcoins, but with a choice of one or another strategy for the day, week, month.
Bitpanda Metals. Buy shares of gold, silver, platinum, palladium (precious metals are in the Swiss vault).
Bitpanda Swap. Instant transfer from one cryptocurrency to another with no transaction size limitations. It is performed between wallets registered in the system.
Bitpanda To Go. Paper wallets for exchanging digital currency in Austrian post offices (not supported in other countries).
Bitpanda Plus. Direct over-the-counter buy/sell services for the equivalent of €1,000,000 or more. Program for exclusive clients.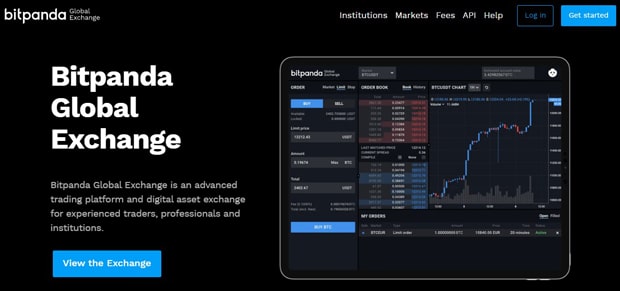 The service is characterized by high security. It is registered in the EU and complies with the PSD2 directive. All client assets are placed in "cold" vaults (offline), which minimizes the risk of their loss/theft (exception: the very moment of the transaction). On the website bitpanda.com introduced two-factor authentication (one-time passwords in addition to the standard login and password, reCAPTCHA).
Commissions on transactions, as stated by users, are quite low. There is a good base of information FAQ, divided into blocks (with search by key phrases) and news blocks. However, there are no online courses or other training materials. And, what is really frustrating about Bitpanda is that it is not focused on Russian-speaking users. There are only 3 language versions of the platform (English, German, and French).
The same applies to the helpdesk: in order to ask a question to a specialist, you will need to either know a foreign language or use an online translator. In most cases, this is not critical, but the translation is not always of high quality. And it is especially important for politics, where ignorance of the rules can lead to financial losses. Support is provided by email (feedback form), chatbot Telegram and social networks Facebook, LinkedIn, Twitter, Reddit. In addition, you can evaluate the quality of service by putting from 1 to 5 stars in the online module of the site bitpanda.com.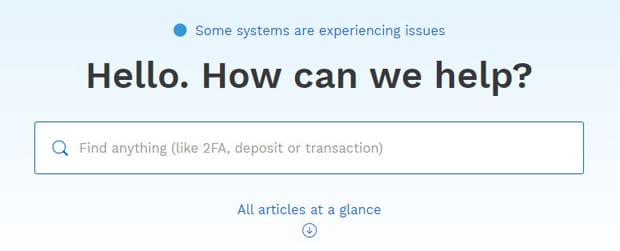 How to buy cryptocurrency on bitpanda.com platform
To purchase cryptocurrencies on the Bitpanda platform, you will first need to register on the site bitpanda.com or in the mobile app. Click on the "Get started now" button on any of the pages and you will get to the form where you need to enter your First name, Last name, English e-mail address and country of residence, as well as a password and accept the terms of the policy. You will receive an email to confirm your registration.
Now you only need to log in to your account under a given username (email address) and password, and you can recharge your account (Deposit tab of your personal account).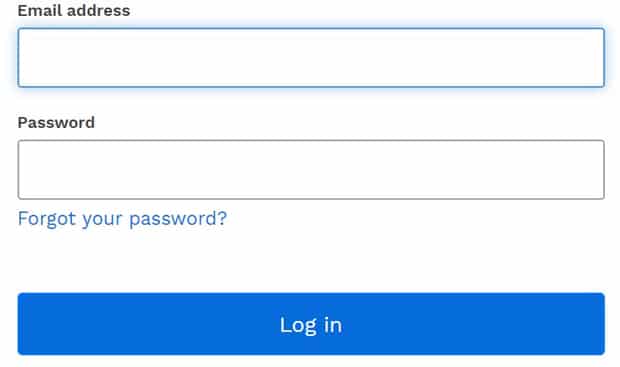 The minimum deposit is 25 euros (0.0010 BTC and equivalents). You deposit funds to a fiat wallet, selecting a cryptocurrency, then plan the transfer (there are about 30 in total). The key is copied in a line or using a QR code scanner. Trading is done with the "Buy" and "Sell" buttons of the top menu of the account. In addition to currency, you can use Amazon vouchers (coupons).
Verification on the Bitpanda platform
After registering your profile with e-mail confirmation (following the link from the e-mail sent by Bitpanda) you also have to pass the verification, the notification about that will appear in your personal cabinet.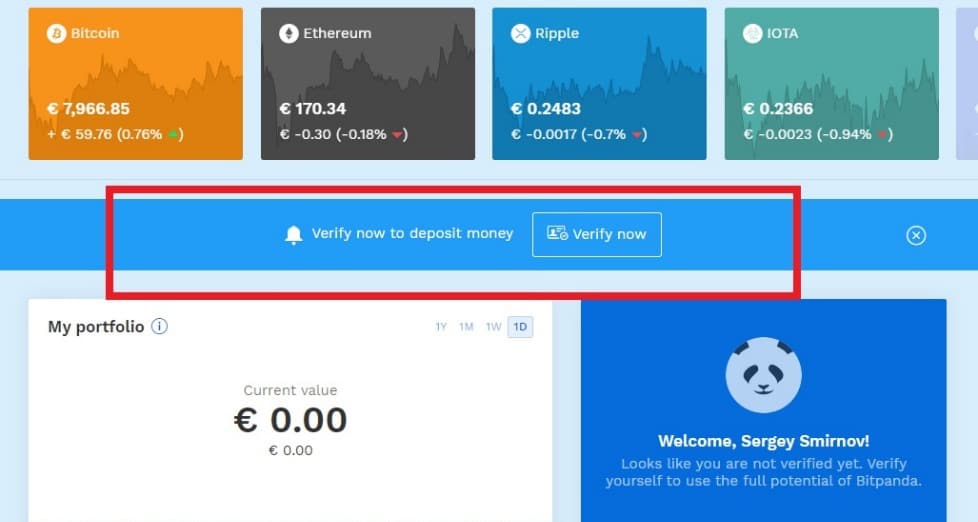 In order to pass the check, you must provide your date of birth, your actual residential address with zip code, and your phone number. Each country has its own procedure. For example, for Russia there is no procedure at all, and for Spain it is to send scans of your passport or ID-card. Depending on how much information you are willing to provide, you will be allowed to use a certain set of features of the platform.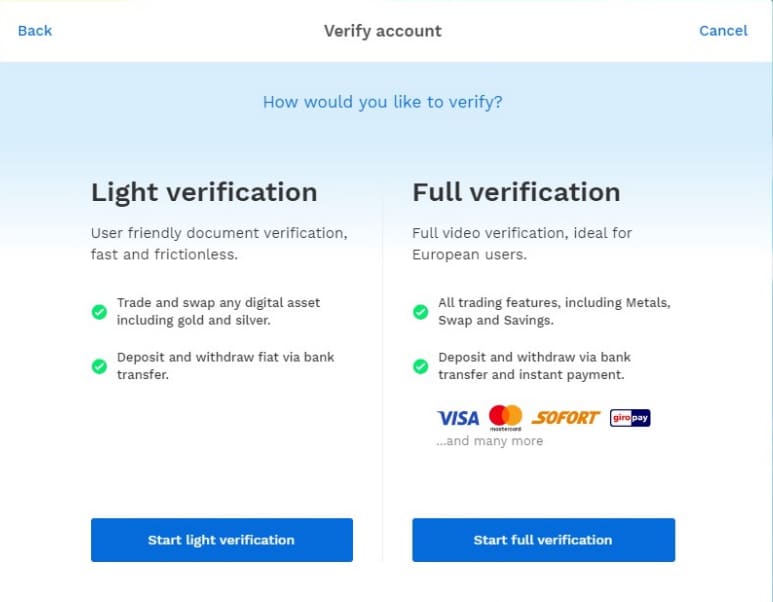 In the first case these are screenshots of documents and biometric data, in the second - video chat (you will need to install the IDnow application). In this case, you agree to all necessary policies.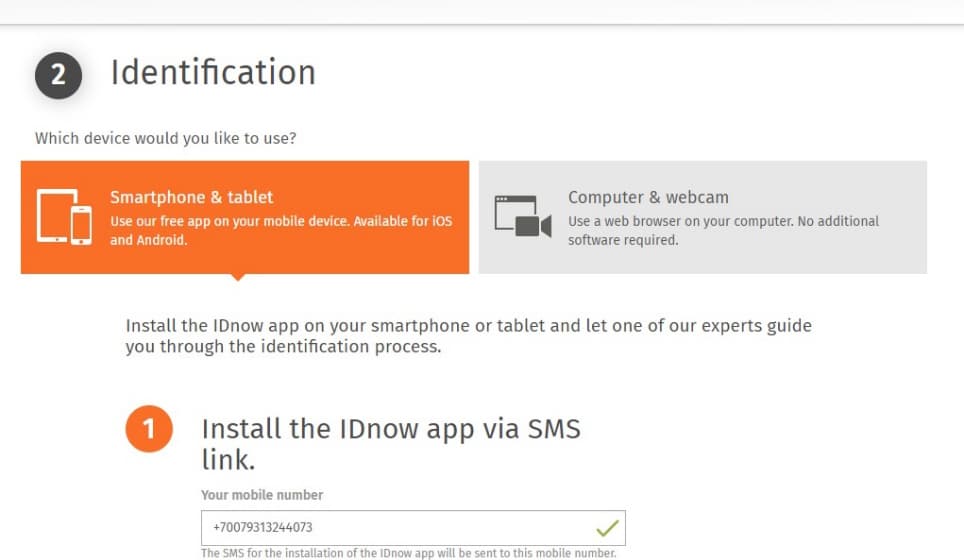 Terms of buying cryptocurrency
Any adult user can buy/exchange digital assets on the Bitpanda platform, but it is closed to residents of the USA and China (How to make money on cryptocurrency?). Only one account can be registered per person. In most cases, you have to wait for the results of verification in order to use exchanger/exchanger. Exception: Bitpanda To Go, but the program works only in Austria, as we said before. Cold storage of cryptocurrency is used - this means that the wallet is not connected to the web server and is protected from fraudsters. The transaction execution model is market-based.
Deposit and withdrawal limits
Bitpanda does not set trading limits, you can set any amount you want. To deposit to your wallet the limits are set taking into account the payment method, currency and verification method (without confirmation, basic, full). You may deposit up to 10 000€ per day, up to 300 000€ per month and up to 100 000 000€ for the whole time of use of the platform and the equivalent of this currency unit in other currencies: American Dollars, British Pounds, Swiss Francs. Withdrawal limits are almost all higher: up to 100,000€ per day, up to 2,000,000€ per month and up to 10,000,000€ over the whole period. The following payment methods are used: SEPA, GIROPAY/EPS, iDEAL, SOFORT, NETELLER, Skrill, Zimpler, Visa, MasterCard. If we talk about the cryptocurrency, there are strict rates: from 0.00100000 for deposit and minimum 0.00150000 for BTC and BTC withdrawal, from 0.01000000 for deposit and withdrawal for DASH.
Bitpanda Commission
The trade commission of the service is set based on the type of currency and the nature of the transaction. For example, when you buy bitcoins you give the service 1.49%, when you sell - 1.29%. For gold and silver bullion weighting less than 20 grams the exchange premium is 0.5%, over 20 grams - 0.0125%. Interest for deposit and withdrawal are fixed for each asset and are already deducted from the balance (including currency): 0.20000000 ZRX, 0.05000000 BTC, 0.01000000 BCH, etc. (cryptocurrency trading strategies).
Bonuses bitpanda.com
Bitpanda has a program of customer rewards based on their status, which is assigned on the basis of BEST trading volumes (Bitpanda Ecosystem Token):
Level 1 (minimum 5000 BEST). Access to exclusive programs, voucher discounts, etc.
Level 2 (minimum 50,000 BEST). All the same plus a reduced commission on deposits via SOFORT and credit cards, as well as from 14%, not from 10% in the referral program (on it we will still stop in detail).
Level 3 (minimum 500,000 BEST). All of the above, but the minimum cashback when you participate in the referral program is 18%.
In addition, Bitpanda Global Exchange offers a 25% discount on fees when using BEST.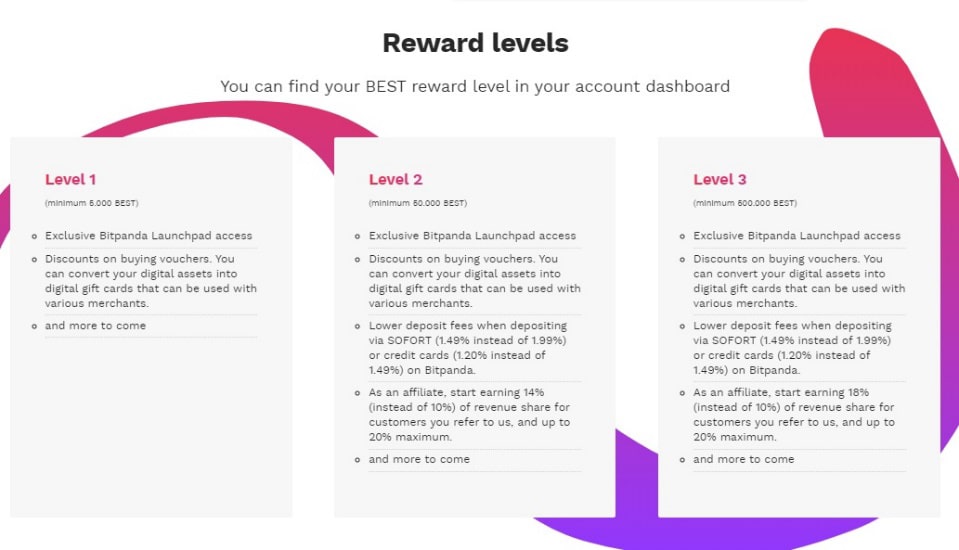 Referral program
Every user of the service can earn cashback up to 20% from new Bitpanda clients. This requires that they come by your recommendation. The participants of the company's affiliate program receive unique (referral) links, which are placed on your website, blog or page in a social network. The clients, who come with your help, are tracked through your account. The minimum percentage you get back depends on your status in the loyalty program and ranges from 14-18%.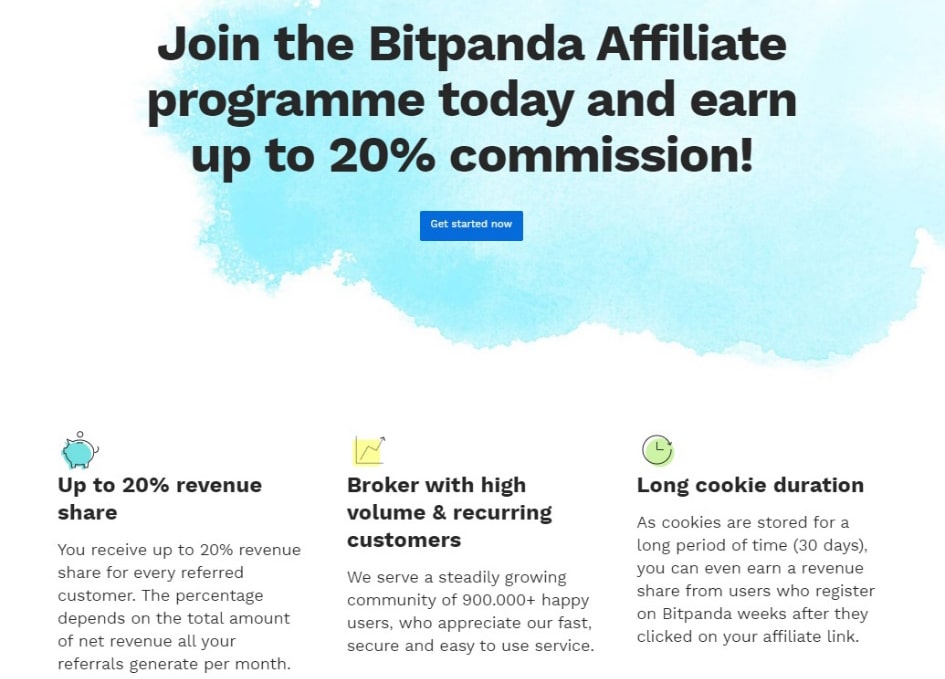 Complaints about Bitpanda
We found very few reviews about Bitpanda on the web and among them there are critical ones. The list of comments includes high spreads on deals, violation of terms of deals and account blocking. However, it is difficult to make a clear idea about the service with such a scarce set of information. We will keep track of possible changes and update this review. If you have had a chance to assess the work of the exchange, we will be happy to post your feedback about it after proper verification (moderation).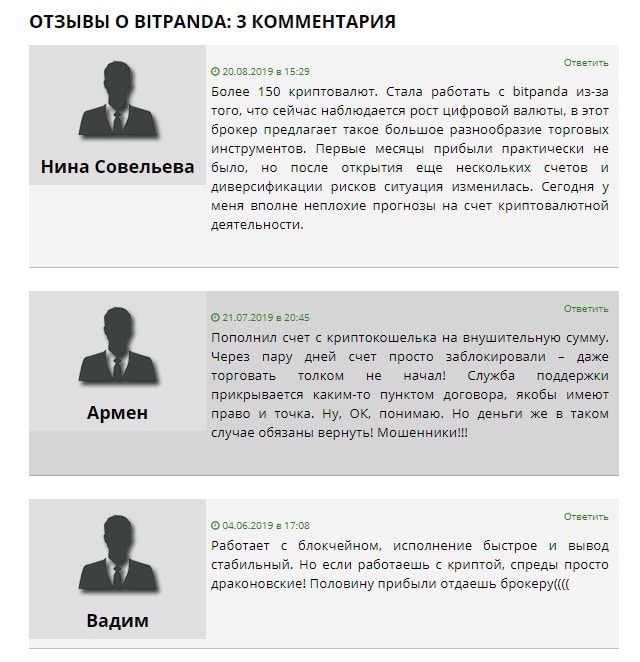 If there are any reviews about Bitpanda, we'll be sure to post the information on social networks. Sign up so you don't miss anything!
Please keep yourself informed about news and complaints. We copy the most valuable information to social networks, so please sign up!
Regulation Bitpanda GmbH
Cryptocurrency trading carries the most risks due to the irreversibility of transactions. That's why it is so important to carefully study the documentation on the exchanger/exchange's website and check the license/regulator. Let's see how Bitpanda GmbH - the owner of Bitpanda trademark - is regulated.
Bitpanda regulator
The service has been developed in accordance with the European Payment Services Directive PSD2 and is regulated by this policy. Bitpanda GmbH is regulated by Austrian law - registration number FN 423018 k in the Commercial Register. All legal questions are stated in the "Terms and Conditions" user agreement on bitpanda.com.
Bitpanda.com User Agreement
"Terms and Conditions" is a document that regulates the legal relationship between the owners of the service and its users. And it is worth knowing its terms so as not to risk your assets (for example, due to the blocking of your profile).

Thus, clause 2.3. says that the account is opened only for yourself, without transferring access to third parties.

You must notify the service provider of any changes in the information provided during registration. The company does not guarantee uninterrupted operation of the service (clause 3.4). And it is not responsible for any problems/losses you have incurred as a result of delays and failures.

Any of your transactions may be blocked without notice. The same applies to blocking an account. Among the possible reasons - violation of the law or simply the existence of an official investigation against the client, opening several accounts for one person and other violations of the rules of the agreement, concealing truthful information about yourself, providing incorrect data, delayed payment, etc. (clause 4.2. (п. 4.2).

You alone are responsible for verifying that the payment information is correct (clause 8.17). If, for example, you entered an incorrect wallet number, the eToken can no longer be returned to you.

Is Bitpanda a scam?
Bipanda offers really favorable conditions of cooperation: small commissions, support of all 4 major fiat currencies and almost 30 cryptocurrencies, a wide range of services and programs, reward system, etc. At the same time, the service is regulated by the EU and operates under the PSD2 directive, which makes the user feel more protected. "Cold" storage of assets reduces the probability of losing funds.
However, the platform also has disadvantages. First of all, it is focused on the European user. Despite the fact that Russia is not on the provider's list of banned countries, Russian clients are not allowed to verify their profiles. Without it, they can't use Bitpanda's features. Besides, it is impossible to contact the support service directly. The maximum you can do is to contact the chat-bot or social networks. And there are almost no reviews about Bipanda, despite the fact that the resource has existed since 2014, which adds doubts. In our opinion, Bitanda is not a scam, but you should use the services of the platform with caution, starting with small deposits.
Conclusion
Bitpanda combines the capabilities of an exchange and a digital asset exchanger with the ability to instantly transfer one cryptocurrency to another (for example, from BTC to ETH) within a single account. It opens wide opportunities both for professional traders and beginners. Of course, the system cannot be called perfect. Especially if you read comments online (even if there are not many of them) and carefully examine the user agreement, by which the provider removes all responsibility for anything and lays it on you. And yet, by and large, it is not a bad resource for making money.
The company in the ratings
Robots for cryptocurrency
Activity
New

0

Resolved

0

Not resolved

0
New companies on the site