Swyftx is a crypto exchange that offers a feature-rich platform, low commissions and excellent customer support.
Cryptocurrency exchange
Official website
Social media
Date of foundation

2019

Head Office
Types of support
Languages

English

Founder

Alex Harper and Angus Goldman

The owner of the company
Manager

Alex Harper and Angus Goldman

Minimum entry amount
Maximum input amount
Minimum withdrawal amount
Maximum withdrawal amount
Exchange Commission
Terminals

TradingView

Age restrictions
Number of users
Number of cryptocurrencies
Margin Trading
Tokenized assets

DeFi coins such as UniCoin

Free Demo Account
Types of accounts
Execution of orders

Stop Limit, Market order, Limit order

Methods of replenishment

Bank card (Visa/MC), Cashless transfer for legal entities, POLi pay, PayID, OSKO

Withdrawal methods

Cryptocurrencies

Account currencies

Cryptocurrencies

Types of cryptocurrencies

Bitcoin, Ethereum, Ripple, Litecoin

Mobile applications
Trader training

There are instructions for verification, deposit and withdrawal, etc.

A way to store cryptocurrencies
Fiat accounts
Scalping
Stop Loss and Take Profit Function
Exchangeability for fiat currencies

You can exchange cryptocurrency for fiat

Basic verification
Extended AML verification

KYC (passport, passport or driver's license. Photo with document (selfies). Proof of address (bank statement, utility bill, etc.)

Regulatory laws

Legislation in Australia

International data protection law

FATF (Financial Action Task Force)

API
Bonuses
Affiliate Program

Registration

Up to 30% commission on payments of invited users

Benefits

280 digital assets and tokens

Low trading commissions and spreads

Advanced charting and trading functions on the TradingView platform

No deposit or withdrawal fees in Australian dollars

Deposits that automate cryptocurrency investments

Downloadable tax reports for seamless bookkeeping

Demo trading for fine-tuning any trading strategy

Access to a self-administered savings fund

Disadvantages
Company requisites

Legal address:

Australia, Queensland

Overall assessment
Date of update

30.01.2023
Subscribe to this company
Swyftx is a scam? Reviews and description
Swyftx
- that
crypto exchange
which was developed by Alex Harper and Angus Goldman in 2017. But the swyftx.com platform was launched later in 2019. The company offers a feature-rich terminal, zero inflation, real spreads and low commissions. This platform is suitable for both experienced traders and beginners. The exchange focuses mainly on traders from Australia and New Zealand. In this article, we will examine what exactly Swyftx offers and whether this project is a scam.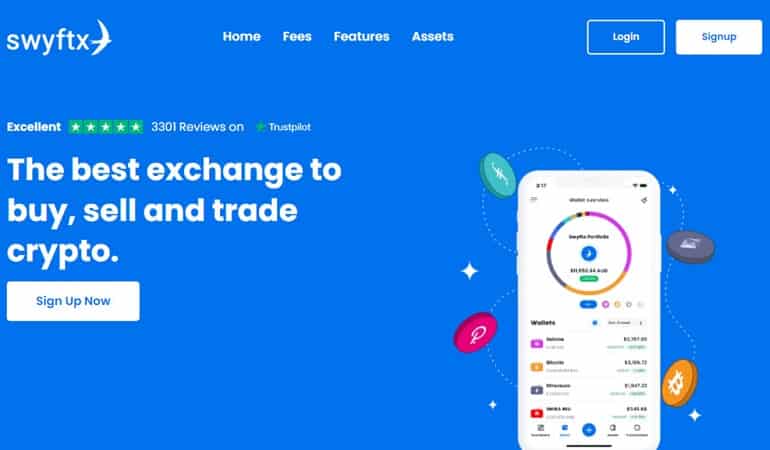 Why Swyftx?
At swyftx.com more than 280 assets can be traded, including Bitcoin, Ethereum, Ripple and Litecoinas well as coins DeFisuch as UniCoin. The site offers low commissions and small spreads, allows you to display cryptocurrencies on the platform TradingViewIt has an incomparable demo mode for learning to trade and exceptional customer support, as well as real-time streaming and two-factor authentication for added security. Platform Features:
customizable toolbar for viewing the most frequently used technical indicators;
powerful graphical interface TradingView;
extended order types;
deposits that automate investments in cryptocurrency;
downloadable tax reports for seamless maintenance accounting;
Demo trading for fine-tuning any trading strategy;
access to a self-administered savings fund.
How to exchange cryptocurrency on the platform swyftx.com?
To exchange cryptocurrency, enter the Assets section and select the coin you want to buy in the list that opens.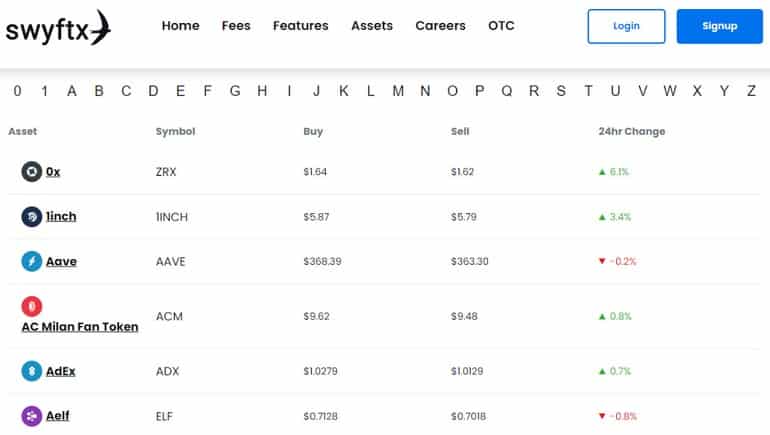 In the form, specify how many coins you want to get, the system will automatically put the amount in dollars (American, Australian or New Zealand). Then click on the Buy button and complete the exchange by completing the transaction.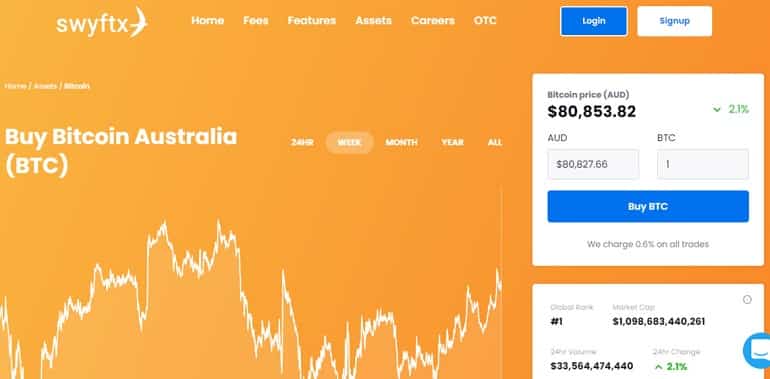 After registering at the site swyftx.com You can exchange cryptocurrency in your personal cabinet. The Trade section has Buy and Sell buttons. Just choose a coin, specify the amount and exchange cryptocurrencies into fiat money and vice versa.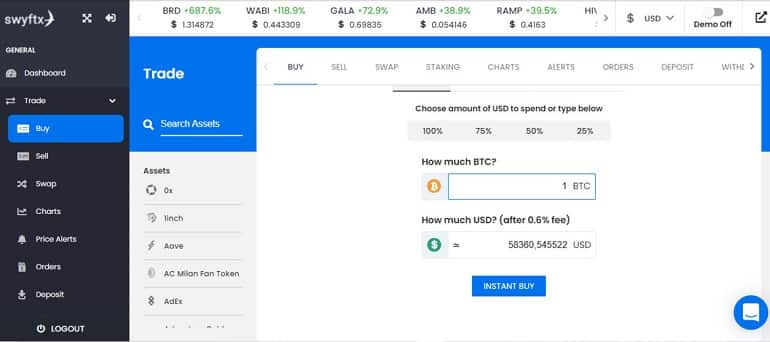 Verification on the Swyftx platform
First you need to create a free account by simply entering your email address and phone number, creating a unique password and agreeing to the company's terms and conditions.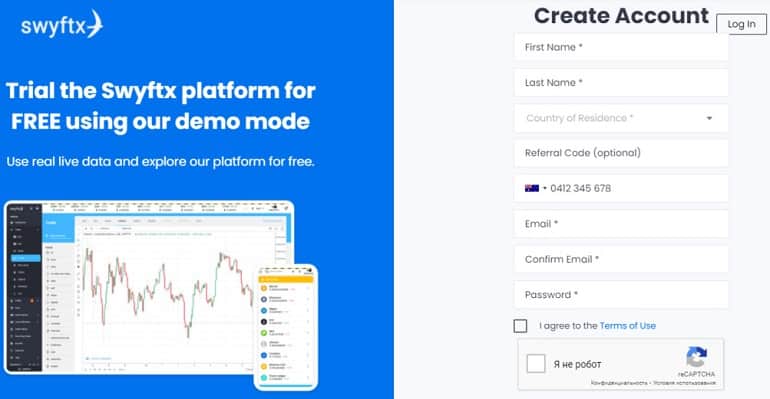 After you create an account in your personal account, you need to confirm your identity. This is an easy online verification process of your email and phone number without the need to upload any documents. This simple verification can be done in the Profile section. After it has been passed, you can withdraw maximum amounts from the site.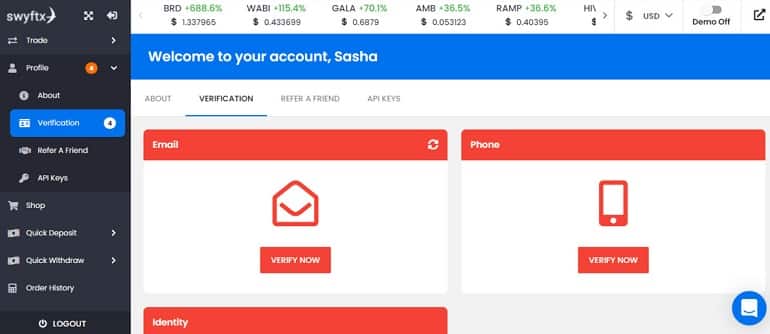 Deposit and withdrawal
After confirming your account, you can use bank transfer, POLi pay, PayID or OSKO to send funds directly to your Swyftx account. Once your deposit is funded, you can start selling, buying and trading over 280 digital currencies and tokens. In your personal cabinet, enter the menu, scroll to the left column and select Quick Deposit. Or enter Deposit through Trade. Choose the currency you want to deposit your account in. The system will automatically create an address where you want to make the transfer.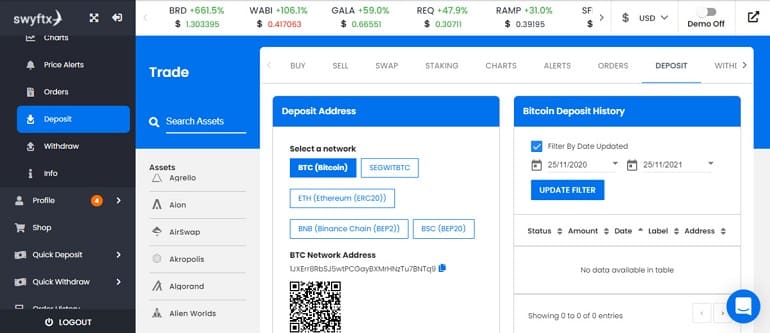 The situation is the same for withdrawals. You must enter the Withdraw section and select the asset you want to withdraw from the left menu of assets and click on it to go to the withdrawal page for that asset.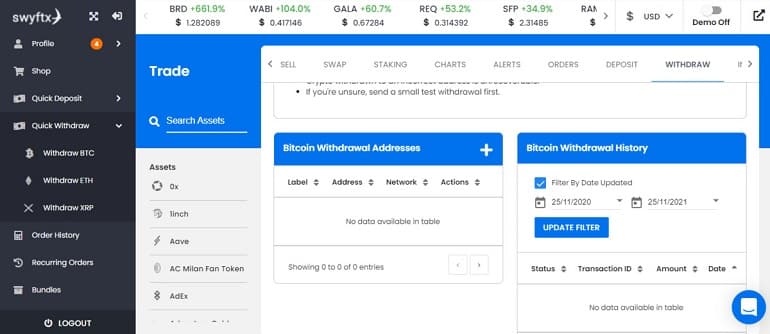 Then you need to add and confirm the address for withdrawal. To do this, you need to go to the withdrawal tab for the asset you want to withdraw, and press the "+" button in the table of addresses for withdrawal. The address must be added and confirmed by a code from the SMS. To it you will withdraw the assets, specifying the amount you want to withdraw.
Commission of the crypto exchange Swyftx
The withdrawal fee is only 0.6%. Unverified users can withdraw up to $50,000 per day, while verified users can withdraw up to $100,000. No other crypto-exchange offers such conditions.
Swyftx bonuses
The project offers commission discounts, a welcome bonus, and an affiliate program. That's what we're going to talk about now.
Discounts on commission fees
Swyftx already charges a minimal percentage, the withdrawal fee is only 0.6%. But you can pay even less if you trade more. The size of the discount is calculated individually, based on the total volume of trades.
Welcome Bonus
Swyftx is offering a $20 bitcoin bonus for individuals who create an account and complete the identity verification process.
Affiliate Program
You can invite your friends to the site swyftx.com on the referral link and receive income. You can get up to 30% commissions from payments of invited persons.
Complaints about Swyftx
Clients speak positively about this crypto exchange. They write that it is an excellent platform for trading digital assets. It offers a huge selection of coins available for trading. They note the excellent work of the staff, who will quickly help with any problems. Also, the commissions here are very transparent and low. Everything works and the customer service is excellent. You can chat whenever you want and get a quick response. Traders feel safe using the platform, they don't have any problems. We have not found any complaints on the net. The only thing we have found is a request to increase the number of indicators for the trading chart.
If there are any complaints about Swyftx, we will be sure to post on social media. Sign up so you don't miss anything!
Please keep yourself informed about news and complaints. We copy the most valuable information to social networks, so please sign up!
Regulation of the crypto exchange swyftx.com
Cryptocurrency exchanges, like any financial companies, can be good or fraudulent. That's why let's look further into the project's regulation.
Regulator
Swyftx Crypto Exchange is registered in Queensland, Australia. It is regulated by Australian law. Nothing more is known about the regulation.
Swyftx User Agreement
The document states that people over the age of 18 can trade in digital assets.

It also says that when you register and activate your account, you provide personal information such as your name, email address, and other information. It is your responsibility to keep this information up to date and accurate.

There are actions prescribed in case you do not go through the account verification process or if you are sent a notice to close your account for a specific reason.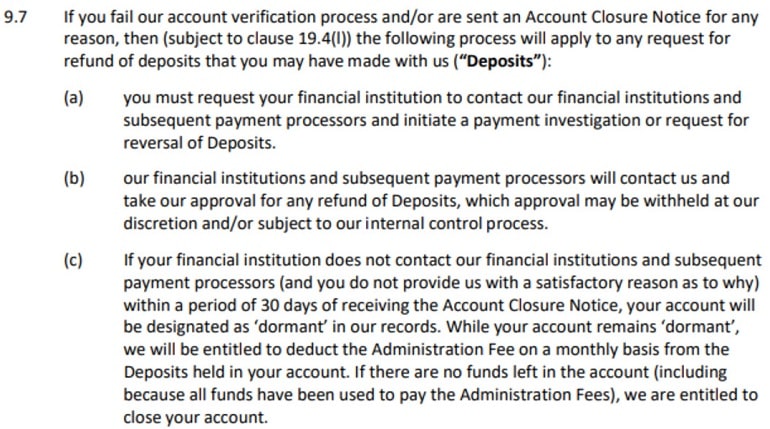 Problems with the terminal, difficulties with the withdrawal of profits are solved with the support service by e-mail.

Customer Service
The support team can be contacted as follows:
Is Swyftx a scam?
Swyftx is not a scam and fraud, although it does not have a license to carry out financial activities. This is evidenced by the positive feedback from clients. The platform is suitable for both experienced traders and beginners. The emphasis is on the audience from Australia and New Zealand. Apparently, this is why the site is not presented in Russian.
This exchange is considered one of the best in Australia, it has become a reliable and reputable platform with more than 350,000 users. Individuals can buy, trade and sell 280+ cryptocurrencies for AUD using a secure and beginner-friendly terminal. Since its inception in 2019, Swyftx has become a popular exchange best known for its feature-rich platform, low trading fees, and excellent customer support.
Conclusion
Swyftx - is a reliable cryptocurrency exchange that has become popular worldwide in just 2 years of operation. The company offers a simple and transparent way to buy and sell more than 280 cryptocurrencies. Users have access to an easy-to-use platform, with rich functionality for beginners and professional traders. There is also a demo account where you can practice trading digital assets and understand the functionality of the terminal.
No reviews yet, be the first!
The company in the ratings
Robots for cryptocurrency
New companies on the site