VPN service for any device that uses modern encryption technology and additional tools to protect data privacy.
Read completely
The company
Official website
Head Office

Wickhams Cay I, Road Town, Tortola, British Virgin Islands

Date of foundation

2018

The owner of the company
Manager
Types of support

[email protected]

Live Chat

Feedback form on the site

Help Center

Facebook

Twitter

Instagram

Social media
Languages

English, Ukrainian, German, Chinese, Turkish, Russian, etc.

Bonuses
Rates

For 1 month

/

942.66

RUB

per month

For 6 months

/

472.42

RUB

per month

For 24 months

/

181.92

RUB

per month

Free version

7 days trial access for mobile VPN

Payment methods

Bank card (Visa/MC), American Express, Discover, Giropay, PayPal, Sofort, Google Pay, Amazon Pay, Webmoney, Cryptocurrencies

Project Features

VPN service that uses modern encryption technology and additional tools to protect data privacy

Protection against viruses

Blocking unwanted software and malware

Anti-spam protection

Hides user data from unwanted advertisers

Password protection

Protection with AES-256-GCM encryption and additional tools

File Protection
Restore infected files
Webcam protection
Online banking protection

Protection for online payments via VPN-connection

Mobile device protection

VPN service for Android/iOS devices

Parental Control
Creating a bootable disk
Cloud scanning
Device type

Computer, Mobile Devices

Operating system support

Android, iOS, Linux, MacOs, Windows

Compatibility

Android 5.0 and later, iOS 10.3.3 and later, macOS 10.12 and later, Windows 7 and later, Ubuntu, Debian

License term
Additional services

Surfshark Alert

Receiving data breach notifications

CleanWeb

Blocking ads, banners, trackers and phishing attempts

MultiHop

Connecting via 2 VPN servers at the same time

GPS coordinates spoofing

Android only

Whitelister

Permission to bypass VPNs for individual sites

Surfshark Search

Hiding a user from search engines

Mobile applications
Affiliate Program
Work experience
Regulatory agencies and laws
Benefits

Ability to connect all home devices to one program

Modern encryption technologies

Ability to work in countries with blockages

One account for all devices

30-day refunds and 24/7 support

Affordable prices for up to 2 years

Disadvantages

Problems with connection and refunds (according to online reviews)

Company requisites

Legal name:

Surfshark Ltd.

Legal address:

Vanterpool Plaza, 2nd Floor, Wickhams Cay I, Road Town, Tortola, Virgin Islands

Overall assessment
Date of update

14.02.2023
Address
Wickhams Cay I, Road Town, Tortola, Britanskie Virginskie Ostrova
Map
Subscribe to this company
Surfshark is this a scam? Reviews and description
Surfshark
- is a software that was developed in 2018 to protect user privacy and access to any content online. In 2019, the company received the quality mark from AV-Test. Now the program is supplemented with useful tools that ensure online security and privacy of customer data.
Most of the reviews of the software are positive. So we decided to check if it's true that antivirus Surfshark is not a scam, but a safe VPN service?
Why Surfshark
Surfshark encrypts traffic coming from your device, hides your IP address, and blocks adware, viruses, trackers, and phishing attacks. The software is top-rated by Cnet and Techradar. Surfshark can be used to keep your privacy and location private. When you connect to the Internet via VPN, the first point of contact is a VPN server where data goes through an encrypted tunnel. Surfshark uses AES-256-GCM (the fastest encryption method), OpenVPN and IKEv2 protocols.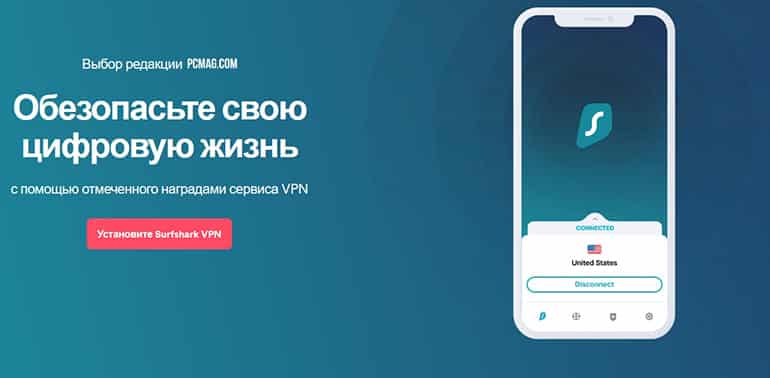 The Surfshark team is working on improving the program and adding new features to it. Additional tools are now available to help improve security and encrypt all user data. On the website surfshark.com There is a description of the software features, rates, an order form for one of the plans, information about the affiliate program, reference and training materials. The Surfshark team tries to explain to users in as much detail as possible how a VPN works, and to familiarize them with the features of their product. Separately, you can visit the helpdesk site, which has materials for getting started, answers to popular questions, the opportunity to chat with employees of the company in chat or fill out a feedback form.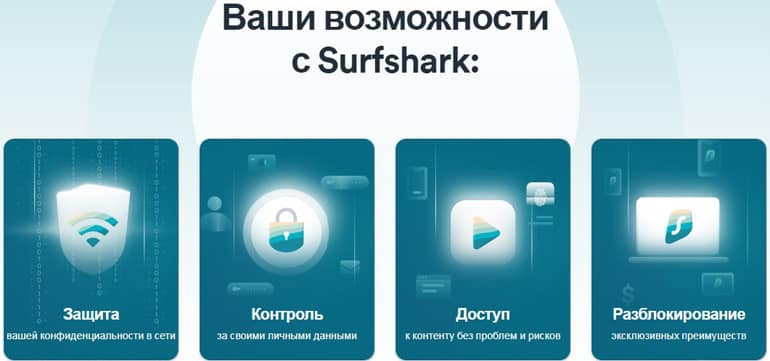 Advantages of Surfshark Antivirus
The pluses of the service include:
Lack of logs of user actions.
Modern encryption technologies.
Connecting all home devices to one program.
Work in countries with blockages.
Large selection of regions.
Unlimited bandwidth without routing jumps.
One account for all devices.
30-day refund.
Round-the-clock support.
Affordable prices if you pay for a period of 2 years or more.
In the section "Surfshark VPN" there is a table comparing the characteristics of this program with similar programs.

Types of antivirus
The company has developed one program with several tools and features:
Protect your privacy and all your online activities.
Keeping the IP address secret.
Encrypting the data you receive and send.
Protect online activities from bots, hackers, and companies that engage in surveillance and identity theft.
Ad blocking.
Kill Switch. A secure network that connects if the connection to the VPN server goes down.
Private DNS and the use of the IPv4 stack.
Autoconnect.
Protection when connecting to public Wi-Fi.
Secure file sharing for those who download and share files via "torrents". VPN hides your download history.
Camouflage Mode. A mode that prevents even your ISP from knowing that you are using a VPN.
Whitelister. Select the applications for which a VPN will be enabled and allow certain sites to bypass this connection. Suitable for mobile banking.
NoBorders. A mode that bypasses regional restrictions, including Internet TV.
Streaming privacy. View online content without restrictions. View sports events without buffering and advertisements.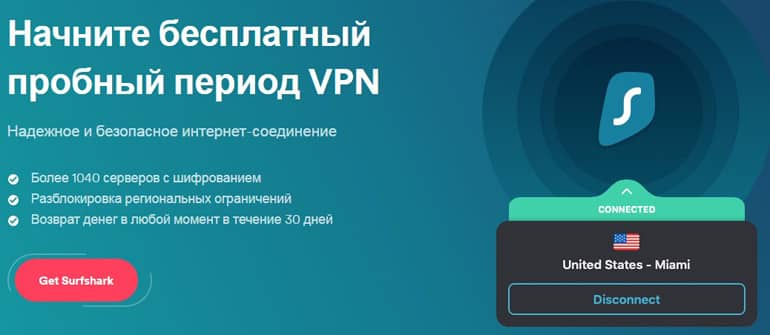 What Surfshark protects against:
From hacker attacks. By not using encryption, you are exposed to attacks from those who steal personal data. Such attackers easily gain access to devices that are not protected.
From viruses and phishing attacks.
From identity theft. Accounts of those who do not use security software can be stolen.
From advertising manipulation. It's easy for advertisers to know your browsing history if you don't encrypt the data. That way they can manipulate you into showing targeted ads.
From Internet activity tracking. The provider can collect information about users' actions and sell it to advertisers.
From the price difference. Often companies show high prices for those who live in big cities. By turning on your VPN, you will see the real prices.

Technologies that are used to secure customer data:
WireGuard, IKEv2/IPsec, Shadowsocks and OpenVPN protocols.
Private DNS.
AES 256 GCM encryption.
Servers with RAM.
2-factor authentication.
Other useful tools are also included in the program.
CleanWeb
Another tool that blocks ads and malware before they start downloading. It stores mobile data, increases browsing speed and helps avoid phishing attempts. The tool's capabilities:
Ad blocking in browsers and applications. Not yet available for ads on YouTube.
Privacy. VPN hides online identity and IP address, protects data, and helps bypass geoblocks and censorship.
Minimizes the risks of viruses. The tool blocks malicious programs. Databases are regularly updated to contain most infected sites.
Saving mobile data. If you're not connected to Wi-Fi, ads and popups use a lot of mobile data. CleanWeb blocks them from showing.
Increasing browsing speeds. Ads slow down your internet connection. Pages will load faster with CleanWeb turned on.
Since the CleanWeb function is disabled when you boot the Surfshark, you must enable it yourself. To do this, go to the "Functions" tab in the program interface and select the checkbox or change the position of the switch (the option depends on the device's operating system).
MultiHop
Dual VPN function. By connecting through two different servers, you can get an additional level of security. Advantages of the tool:
Reliable concealment of the real location.
Increased privacy.
Improvement of connection speed in some cases.
GPS spoofing
An additional feature that can be enabled in the settings. You can not use additional third-party applications, as offered by other VPN programs. You can change your GPS coordinates to any other. For now, the function is only available for Android devices.
How to buy surfshark.com antivirus?
On the home page and in the "Cost" section, you can explore the tariff descriptions and prices. The company offers three plans:
Monthly for 12.95 USD.
For 2 years - 2.49 USD per month. You will be charged for the entire subscription period. The next bill is after 2 years.
For 6 months - 3.99 USD per month.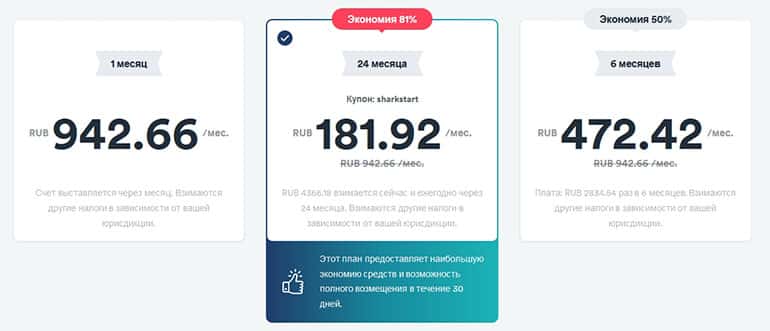 Included in each rate are tools such as:
CleanWeb
MultiHop
Whitelister
Kill Switch.
You can subscribe to an unlimited number of devices. You get unlimited access to content, a high level of security and privacy, and 24/7 service. There are free trials for Android, iOS, and macOS devices. A 30-day money-back guarantee is available for all plans, allowing you to test the software's performance on all platforms. Within a month, you can request a refund if you don't like the work of the program and won't use it. You can also order the Alert and Search tools for €0.81 per month. There are several payment methods available:
VISA, American Express, Mastercard, Discover cards;
Google Pay, Amazon Pay;
cryptocurrencies Etherium, Bitcoin, Ripple.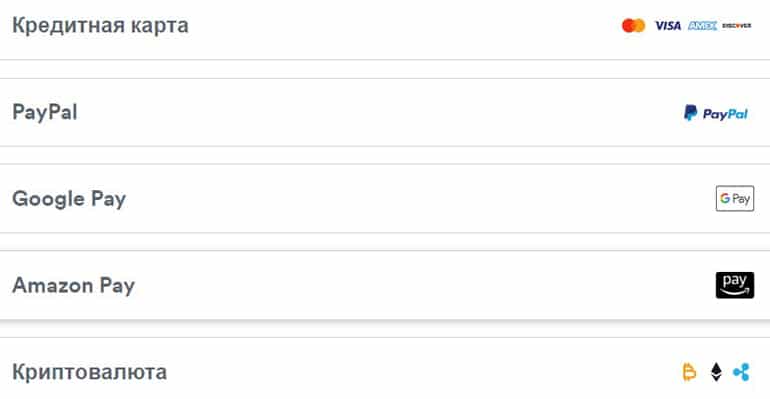 Personal account on the Surfshark website
To create an account, you need to pay for one of the plans. To do this, go to the "Login" section, select the appropriate plan from the list. In the second step, specify the email that will be used for the account. If you wish, you can enable additional tools Surfshark Alert and Search. In the next step, select the payment method and complete the purchase. You will get access to your personal account. You can connect any number of devices running on any major OS to one account. Extensions for Chrome and Firefox browsers, apps on iOS, Android, Windows, macOS, Linux, and Fire TV are developed.
Instructions for installing Surfshark antivirus
Installing the application is simple and straightforward. After paying for the tariff on the website surfshark.com download the program to your PC or the application to your smartphone or tablet. After downloading to your computer, run the installation by clicking on the software file.
How to run antivirus
After the installation procedure is complete, the program will start automatically. To work with Surfshark, log in to your account or register a new one. In the program you can connect to the fastest or nearest server. Under "Locations" you can choose from 3,200 servers in 65+ countries. Each position in the list of locations has an asterisk icon next to it, which allows you to add the server to your list of favorites for quick inclusion. On the connection country page, you can explore details about the connection, including the new IP address, the amount of data transmitted. There is also a button to enable Kill Switch. The rest of the tools are collected in the "Feauters" section. Also in the menu there is "Settings". In the section you can:
Change password.
Keep track of your subscription expiration date.
Earn free months by joining the Surfshark referral program.
Turn on dark mode.
Change the application language.
Configure connection settings such as "Start with OS", "Auto-connect", "Kill Switch" and "Status Notifications".
Configure advanced settings: protocol settings, borderless mode, crash reports, device invisibility and speed test.
Additional services surfshark.com
The company has developed 2 additional tools that can be connected for a fee to work in the program.
Surfshark Alert
An optional tool that checks for potential hacks and sends online hack alerts. You will receive an immediate alert if an e-mail is caught in a hacked database. The tool allows you to check your passwords. You'll see how many times they've been hacked so you know if it's safe to use them. If someone tries to withdraw money from your bank card, you'll hear about it from Alert, too. You can set up to receive quarterly or annual security reports so you know the security status of your personal information.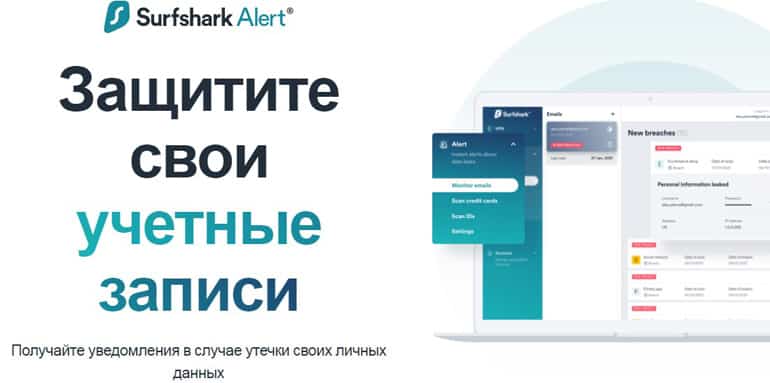 Surfshark Search
The feature provides hiding from search engines, protecting you from being tracked as you browse the web. By enabling this tool, you can avoid personalized ads and get organic results.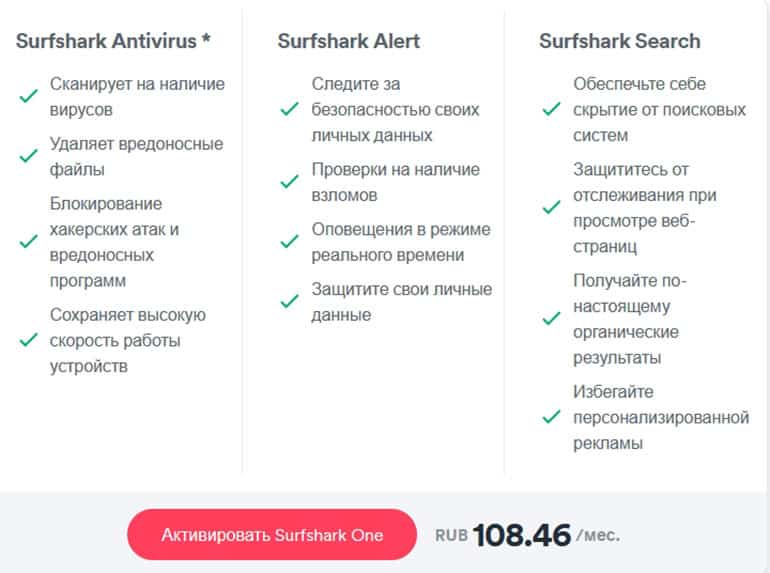 Surfshark Bonuses
The Surfshark team has developed an affiliate program. They also offer discounts if you pay for the program for 6 months or more and the opportunity to get free months of subscriptions for referring people you know.
Discounted VPN 81% + Antivirus for free
Right now there's a promotion, you can buy a discounted VPN 81% and get Antivirus for free. Hurry up, the promotion is limited!

"Bring a friend" promotion
Each customer can get up to 19 months of free subscriptions by inviting acquaintances. In turn, referred users receive a free month of subscription. The company has developed three rewards:
Bronze - 1 month of free use for one referred acquaintance who will keep the subscription for 30 days or more.
Silver - 6 months free for attracting 3 or more clients.
Gold - 12 months as a gift for attracting 5 or more users.
How the service works:
Share the invitation link with your friends via messengers and social networks by email or other convenient means.
Wait for a friend to sign up and keep the subscription for 30 days or more. As each new reward level is reached, the subscription will renew automatically.
The invite link can be found under "Settings - Earn Free Months Subscriptions". Clicking this button generates the link.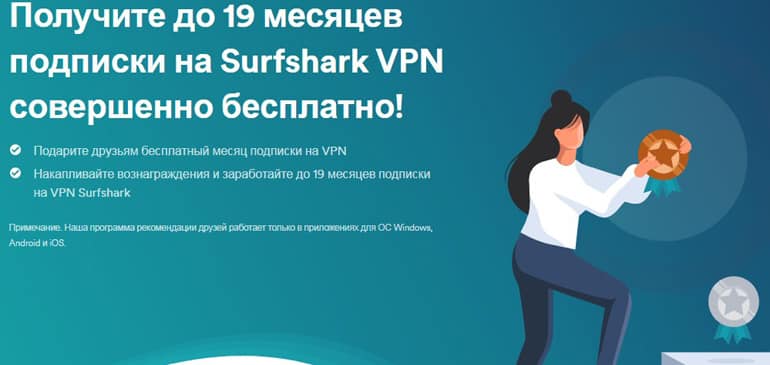 Discounts
By paying for a six-month subscription, you can save 50%. The cost of the program for 2 years is reduced by 81%.
Affiliate Program
By promoting a VPN service with a high user attraction rate, you can earn high commissions. Each affiliate receives quick payouts, sales tips, and help optimizing the engagement of acquaintances. Active partners receive performance bonuses, additional support and materials. Account managers also help users by teaching them how to make and implement sales plans. To participate in the program you have to register in the affiliate network, get a unique link and materials for marketing and start promoting Surfshark. From the affiliate network Admitad There is a reward for each paid order.
Complaints about Surfshark
On the company's website surfshark.com there are many positive reviews of the software. On third-party sites, most comments are also left by satisfied users. They note that the program works without failures and problems, provides security and protects data from hacking and hacker attacks. The connection is stable and the speed is high. If you pay for a subscription for 2 years or more, you can save a lot - the price of the program will be lower than that of software from other manufacturers.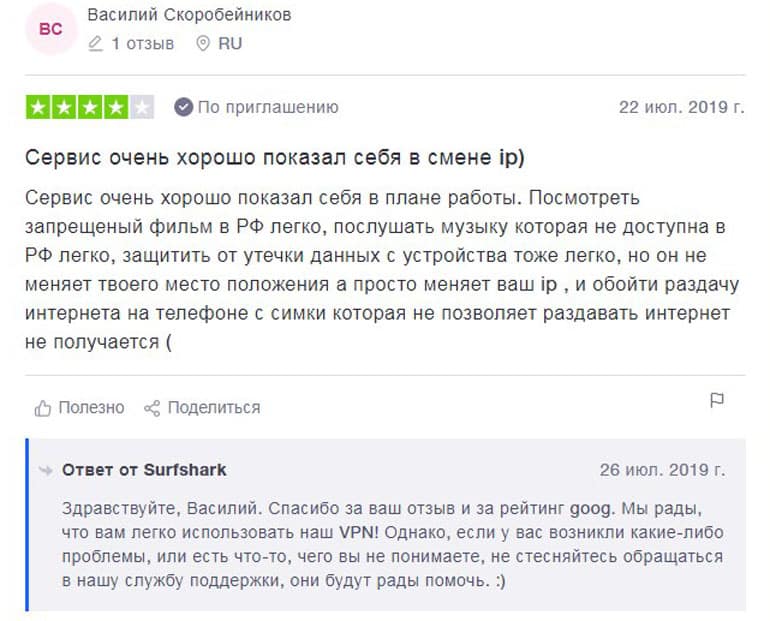 Complaints are also common. They concern problems with the connection, including the need to turn on the VPN yourself, long waits for answers from support, refunds for less money.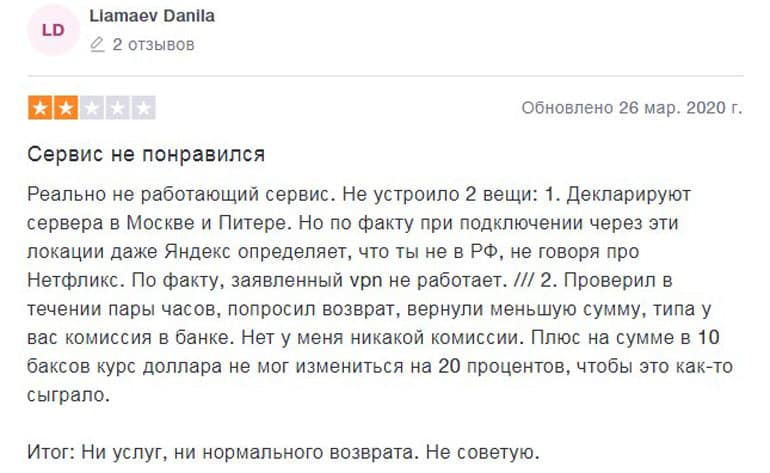 If there are any reviews about Surfshark antivirus, we'll be sure to post the information on social media. Sign up so you don't miss anything!
Please keep yourself informed about news and complaints. We copy the most valuable information to social networks, so please sign up!
Regulatory agencies and laws
Before placing an order for a program, you should study the legal information and the texts of the documents published on the site.
Legal information about the company
Surfshark Ltd. - a company registered in the Virgin Islands (UK) in 2018. There is a "Canary Certificate" on the website, which says that the company has not received disclosure warrants. This means that the government does not interfere with Surfshark or request information about users. Such a statement indicates a high level of privacy.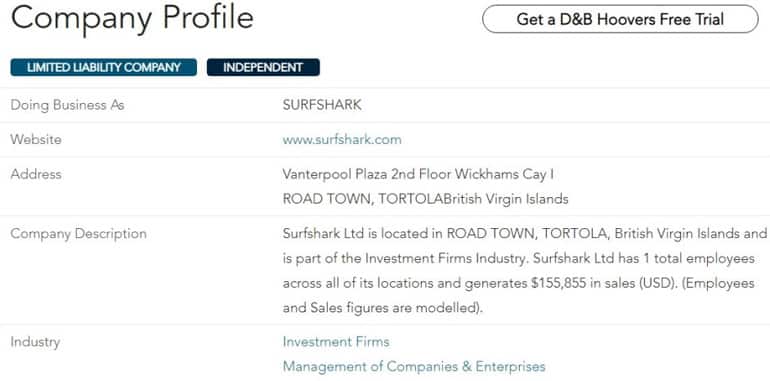 SurfShark License
The text of the license agreement is not available on the site.
User Agreement surfshark.com
The user agreement is described in the "Terms and Conditions" section. The text is published only in English. There are several clauses in it:
Surfshark Services. This section also describes the no logging policy. This means that your activities are not logged, saved, or shared with third parties when you connect to the company's services. No data is collected about IP addresses, browsing history, information about sessions, bandwidth used, connection time stamps, network traffic, etc.
Creating an account.
Payment and return policy.
Age of users.
Compliance with intellectual property laws.
Prohibited activities.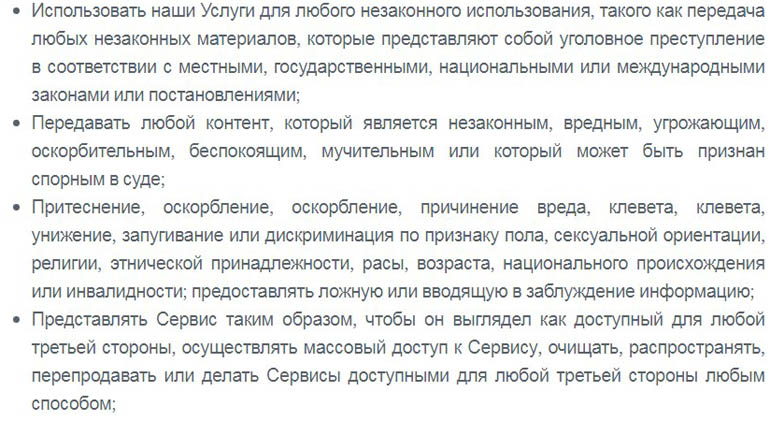 Fair Use Policy.
Disclaimer and limitation of liability.
Indemnification.
Regulatory Law.
Update Terms of Use.
Customer Service
The company has developed a help center, whose site has a lot of useful information about the program's operation. For convenience, there is a search bar, where you can enter the keywords of your question. If you can't find the information you need, you can contact Surfshark employees through chat or by filling out a feedback form. You can also send an e-mail to [email protected]
Is Surfshark a scam?
Surfshark - is a VPN service that uses state-of-the-art encryption technology and additional tools. They help ensure the privacy of user data and protection against hacks and viruses. Reviews say that it is a convenient software that works steadily and efficiently. If you pay for a 2-year subscription, you can save significantly. The price will be 2-3 times lower than if you buy a similar program from other companies.
The SurfShark site has a description of the service's features, rates, references, and training materials. Also available are the texts of the privacy policy and "Terms and Conditions", which are obligatory to study before you start using the program. Taking into account the small number of complaints and advantages of the project, we can note that Surfshark is not a scam. This is a reliable service that offers a stable VPN connection at affordable prices.
Conclusion
Having studied the work of SurfShark, we concluded that it can be recommended to users who are looking for a service for a stable and secure VPN connection. If you care about your data privacy, want to change IP-addresses and locations, hide browsing history, block ads, protect your devices from viruses and hacking, use organic search, choose Surfshark. There are many payment methods, including cryptocurrency, several tariffs (the most economical is for 2 years) and additional tools. If you have used the service, share your opinion about it in the comments of this review.
The company in the ratings
Providers and cellular operators
Activity
New

1

Resolved

0

Not resolved

1
New companies on the site