A cryptocurrency exchange that offers a platform with a user-friendly interface, easy trading of popular digital coins and low commissions.
Read completely
Cryptocurrency exchange
Official website
Social media
Date of foundation

2017

Head Office

Suite 305, Griffith Corporate Center, PO. Box 1510, Beachmont, Kingstown

Types of support

[email protected]

Online Chat

Feedback form on the site

FAQ

Telegram

Twitter

Facebook

Instagram

Languages

English, German, Spanish, Turkish, etc.

The owner of the company
Minimum entry amount
Maximum input amount
Minimum withdrawal amount

Verified

Cryptocurrency

From 0.0006 BTC
From 0.0036 ETH
From 0.2 LTC

Unverified

Cryptocurrency

From 0.0006 BTC
From 0.0036 ETH
From 0.2 LTC

Maximum withdrawal amount
Exchange Commission

Withdrawal fee:

0.0005

BTC

Terminals

Author's platform

Age restrictions
Trading volume per day
Number of cryptocurrencies
Margin Trading
Leverage
Tokenized assets
Free Demo Account
Types of accounts
Execution of orders

Stop Limit Order, Market order, Limit Order

Methods of replenishment

Bank card (Visa/MC),

Withdrawal methods

Cryptocurrencies

Account currencies

Cryptocurrencies

Types of cryptocurrencies

BTC, ETH, LTC, BNB, Waves, etc.

Mobile applications
Trader training
A way to store cryptocurrencies
Fiat accounts
Scalping
Stop Loss and Take Profit Function
Exchangeability for fiat currencies

It is possible to buy cryptocurrency for fiat from bank cards

Terminal capabilities

Working with indicators, graphical tools

Basic verification
Extended AML verification

Working with indicators, graphical tools

Regulatory laws

International data protection law

FATF (Financial Action Task Force)

API
Affiliate Program
Benefits

Loyal terms of cooperation

Popular cryptocurrencies and different trading pairs

More than 90% of assets are stored in offline wallets

High level of security and low commissions

Intuitive interface, 24-hour support

Disadvantages
Company requisites

Legal name:

Localtrade Limited

Legal address:

Suite 305, Griffith Corporate Center, PO. Box 1510, Beachmont, Kingstown

Overall assessment
Date of update

27.04.2022
The address is
Suite 305, Griffith Corporate Center, PO. Box 1510, Beachmont, Kingstown
Map
Subscribe to this company
Is LocalTrade a scam? Reviews and description
LocalTrade
- is a cryptocurrency exchange, which offers convenient functionality for trading digital coins. The platform localtrade.cc has a user-friendly interface for novice traders. The main feature of the service, which attracts traders is cloud EDR mining.
The company differs from its competitors by its low commissions for trading transactions. And in today's review, we'll look at what it offers crypto exchange LocalTrade and whether this project is a scam.
Why LocalTrade?
Benefits:
popular cryptocurrencies - Waves, Binance Coin, Ethereum, Litecoin, Bitcoin et al;
A wide selection of trading pairs - LTC/BTC, Waves/USDT, ETC/ETH, etc;
LTT is a token developed in-house by LocalTrade;
platform in English, German, Spanish, Turkish, and other languages;
simple and intuitive interface;
low commissions - 0.5% from each transaction;
affiliate program;
spot and margin trading;
more than 90% of assets are stored in offline wallets.

How to exchange cryptocurrency on the platform localtrade.cc?
To exchange cryptocurrencyenter the "Trade" section, here select "Fast Exchange". In the form that opens, specify the amount you want to deposit, and the system will automatically put the number of coins. It remains only to click on the "Exchange" button and conduct the exchange operation.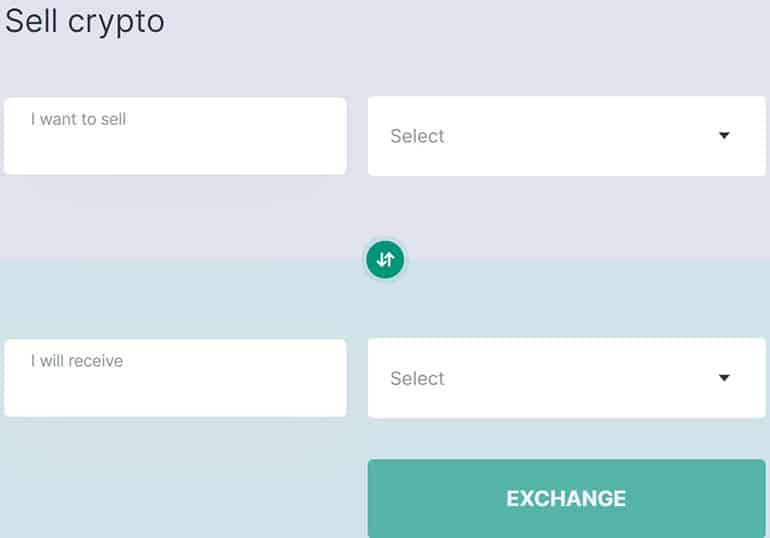 Or you can exchange one cryptocurrency for another directly on the trading chart. There are Classic Spot Trading and PRO SPOT Trading. The charts differ in terms of functionality and features of exchange operations. The first option is designed for beginners, the second - for professional traders who like to experiment with graphical tools. Here you need to select trading pairs and make buy and sell transactions. You can go to the exchange directly on the main page of the site localtrade.cc. All you have to do is select a currency and the system will automatically redirect you to the trading chart.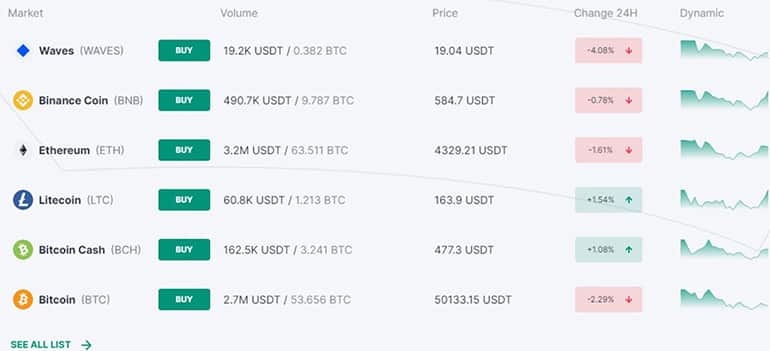 Verification on the LocalTrade platform
Without verification, account functionality will be limited. Unverified users can't withdraw more than 1 BTC weekly or access advanced features: create codes, participate in trading competitions, etc. You can verify your identity in your personal cabinet on the website localtrade.cc. This is where you need to specify:
personal information - name, date of birth and sex;
information about your residential address;
information from documents (passport, passport, driving license).
The last step requires uploading selfies so that you can compare the photo with the photo from the uploaded documents.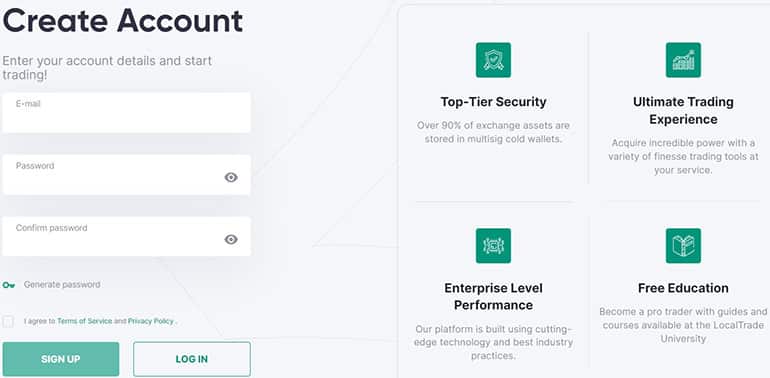 Deposit and withdrawal
On the "Wallet" tab, click the "Balance" button, then select "Deposit" in the upper right corner of the screen. Select the cryptocurrency you want to deposit from the list. Copy the deposit address by tapping the "Copy" button, or simply scan the QR code with the wallet app.
Send cryptocurrency to your deposit address. Always send the crypto that corresponds to your deposit address. Sending other assets may result in loss of funds. Coins will be transferred to your account after the transaction receives enough confirmations in the blockchain. To withdraw a cryptocurrency, you need to select the "Withdraw" button next to the coin in the same list. Select the cryptocurrency you want to withdraw from the list. Enter the data for the withdrawal: the destination wallet address and the withdrawal amount. Confirm the withdrawal by pressing the button.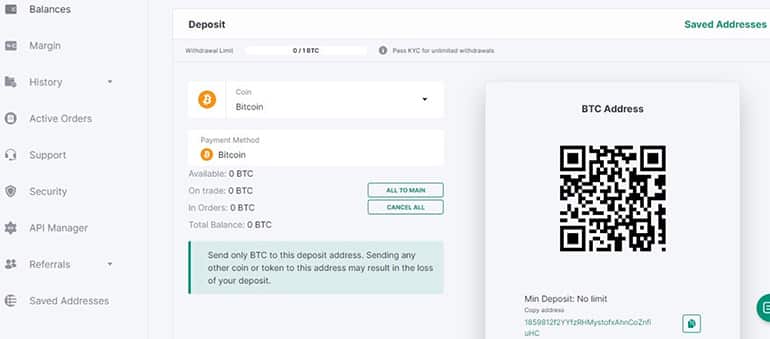 Cryptoexchange Commission
When withdrawing most of the crypto coins, a commission of only 0.5% per transaction is charged. For 1INCH, ADA, ATA, BAKE, BCH and a number of other cryptocurrencies there is a 0% fee.
LocalTrade bonuses
LocalTrade offers discounts on commissions and an affiliate program.
Discounts on commission fees
LocalTrade offers trading commission rebates. Holders of LTT's proprietary tokens can receive up to 100% discounts on trading commissions.
Affiliate Program
LocalTrade offers a referral program to increase traders' income. To do this, you need to generate a code in your personal cabinet, which the referral will then use during the registration process. The bonus amount depends on the referral's level and the amount of his deposit. For example, a level 1 referral will give you 25% from his deposit amount, level 5 - 3%.
Complaints about LocalTrade
Users speak positively about this company. They write that the exchange on this site is excellent. Like the simplicity of managing the interface, you can quickly learn how to use it. There are low commissions, support is all online and very friendly. Customers are happy with the service and responsiveness of the managers. It is clear that the company is trying not only to provide quality services, but also to protect and strengthen their own exchange.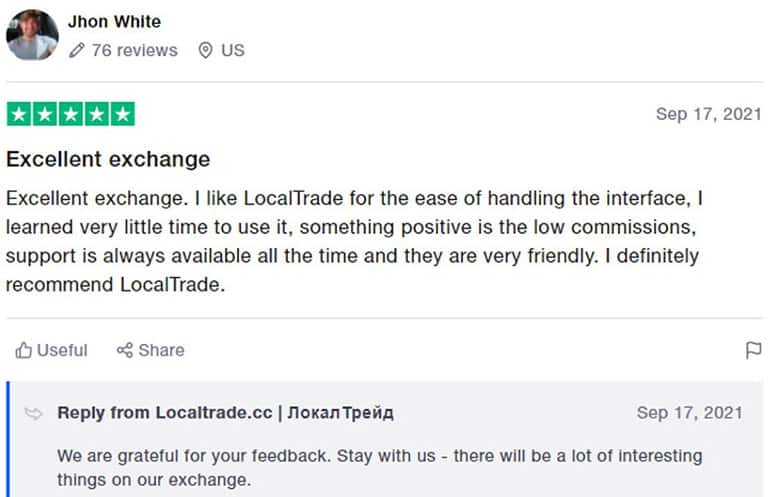 If there are any complaints about LocalTrade, we will be sure to post on social media. Sign up so you don't miss anything!
Please keep yourself informed about news and complaints. We copy the most valuable information to social networks, so please sign up!
Crypto exchange regulation
An exchange can operate honestly and openly, or it can turn out to be a fraud. So next we will talk about regulation.
Regulator
Localtrade is a regulated entity Localtrade Limited, licensed and existing in the jurisdiction of St. Vincent and the Grenadines. It is registered with the registry number 26387 BC 2021 and its address is Suite 305, Griffith Corporate Center, PO. Box 1510, Beachmont, Kingstown. Documents from localtrade.cc:
Localtrade.cc User Agreement
The document states that the user, depending on where they live, may not be able to use all the features of the platform.

The company has the right to suspend the user's account and block all and/or part of the cryptocurrency contained in it in case of non-compliance or improper compliance with the terms of use of the service.

Only legally capable persons over the age of 18 can register an account and trade in digital assets.

The user must guarantee that he will not use the service for the purpose of money laundering, sale of illegal goods and services, etc.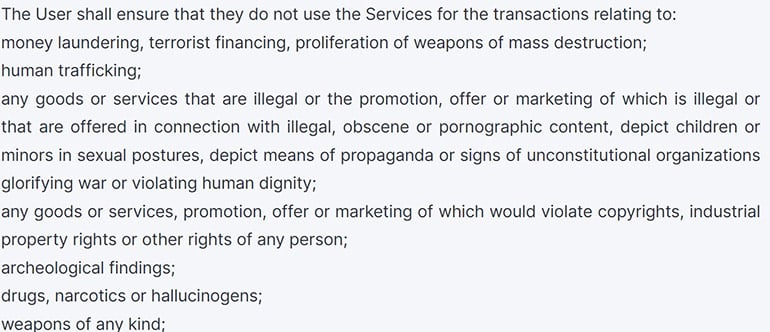 Customer Service
The support team can be contacted as follows:
email: [email protected];
online chat and feedback form on the site;
Telegram: t.me/localtradecc;
Twitter: twitter.com/LocaltradeC;
Instagram: www.instagram.com/localtrade.cc;
Facebook: www.facebook.com/localtrade.cc;
Linkedin: www.linkedin.com/company/local-trade;
Medium: medium.com/@localtradecc.
Is LocalTrade a scam?
LocalTrade is not a scam or fraud. This company is registered as Localtrade Limited, its activity is regulated by the laws of Saint Vincent and the Grenadines. The organization does not hide its contacts, the support service is always in touch with you. All correspondence can be sent to Suite 305, Griffith Corporate Center, PO. Box 1510, Beachmont, Kingstown. But it's quicker to contact a support specialist by online chat or email.
Reviews of LocalTrade are positive. They say it's a reliable and trouble-free offshore platform with large transaction volumes. And the coolest part is that LocalTrade has a very low commission. For most tokens, it is fixed at 0.5% (significantly lower than competitors). For others, it is zero. For those who know how to identify potentially promising cryptocurrencies, this exchange is a real discovery.
Conclusion
LocalTrade - is a reliable cryptocurrency exchange that offers a platform with a user-friendly interface and low commissions of 0.5% per transaction. The company is regulated by the laws of St. Vincent and the Grenadines, this exchange is licensed and operates legally. Judging by the reviews, the site satisfies traders with everything - the interface, order types, charting tools, etc. The support team responds quickly to questions, and the site has an online chat for quick communication with specialists.
No reviews yet, be the first!
The company in the ratings
Robots for cryptocurrency
New companies on the site