The broker offers ample opportunities for beginners and experienced traders, simple trading conditions, loyal requirements at the start.
Forex broker
Website
Social media
Date of foundation

2015

Head Office

AJC, Govant Building, Kulum Highway, Port Vila, Vanuatu

The owner of the company
Types of support
Support by phone

Languages

English, Russian

Terminals

MetaTrader 4, MetaTrader 5

Min. first deposit
Broker fee
Lot volume
Bonuses
Leverage
Spreads
Free Demo Account
Adjustable
Regulators
Licenses
Types of accounts
Methods of replenishment

Advcash, Neteller, Payeer, Perfect Money, Skrill, Webmoney, Wire Transfer, Cryptocurrencies, Bank Card (Visa/MC)

Withdrawal methods

Advcash, Neteller, Payeer, Perfect Money, Skrill, Webmoney, Wire Transfer, Cryptocurrencies, Bank Card (Visa/MC)

Number of assets
Types of assets

CFD

on stocks, raw materials, metals

Account currencies

EUR, USD

Mobile Trading
Weekend trading
Tournaments / contests
Trader training

Webinars, online course, individual consultations by Alexander Gerchik, training blog, books

Contract Difference Commission
Swaps
PAMM trading
Analytics

Expert reviews, economic calendar, Real Market Volume indicator, online trade journal, algorithm constructor

Margin Trading
Affiliate Program

Registration

Referral program (4 USD and up to 22% from referrals' transactions), White Label, TIMA-agent (15% from manager's profit)

Benefits

Transparent terms and conditions

All types of trading: independent, trust management, automatic, using advisors

A large number of tools, training materials

Investment protection (risk manager)

Relatively small starting deposits (from 100 USD)

Spreads are really from 0 pips, as the operator states

The company earns on a fixed commission and is not interested in "losing" the trader's deposit

Profitable affiliate program

Disadvantages

A number of verified feedbacks with complaints about inaccurate quotes

The User Agreement contains tough-to-customer clauses

Company requisites

Legal address:

AJC, Govant Building, Kulum Highway, Port Vila, Vanuatu

Markets

All the world except the U.S., Japan, Canada

Functions

Withdrawal fees, Asset management, Trading robots/automatic trading, Manager assistance, IIM, Trust management

Date of update

01.09.2022

Overall assessment
Address
AJC, Govant Building, Kulum Highway, Port Vila, Vanuatu
Map
Subscribe to this company
Gerchik & CO is it a scam? Reviews and description
Gerchik & CO.
-
brokerage company
The service was founded in 2015 by traders from Ukraine, Alexander Gerchik and Ivan Kroshny. The service, initially oriented only at clients from the CIS, has now reached the European level and is distinguished by its functionality and democratic policy.
But is everything as good as it seems at first glance? Gerchik & CO - a divorce or a profitable solution for financial investment? Let's try to find out.
Terms of trading with Gerchik & CO
Broker gerchik.co offers a lot of opportunities for beginners and experienced traders.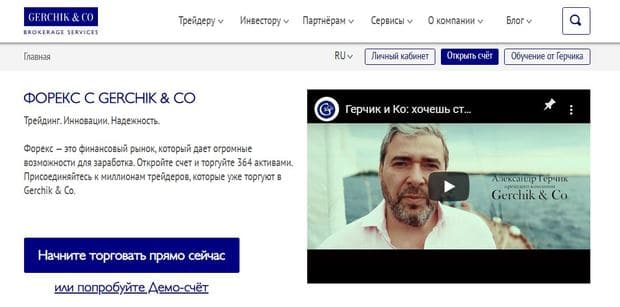 First, the 6 types of dollar and euro accounts of independent trade:
"Easy Start" with a minimum deposit of $100, lot from 0.01 pips and spread from 0.4 pips. The commission of $10 is charged from each lot. For beginners (forex trading training).
Mini with deposit from $500, lot from 0.01 and spread from 0.4. The commission of the broker also makes $10. The account is more focused on users with experience, not wishing to invest big.
Simple with deposit over $1000, lot from 0.1 and spread from zero. Commission - $10 from each lot. Here the service "trader's statistics" is connected (estimation of profitableness of transactions on your personal history).
Silver with a minimum deposit of $10,000, lots from 0.1 and spreads from 0 pips. The commission is already lower: $9 per lot.
Gold with a deposit of $25,000. Commission: $8 per lot. All other conditions are the same as in the previous tariff.
Platinum - trade big with a deposit of $100,000 or more, lots starting from 0.1 and spreads from zero. Commission is $7, and for more "output" there is an option of automatic trading and personal consultations from the founder of the company - Alexander Gerchik.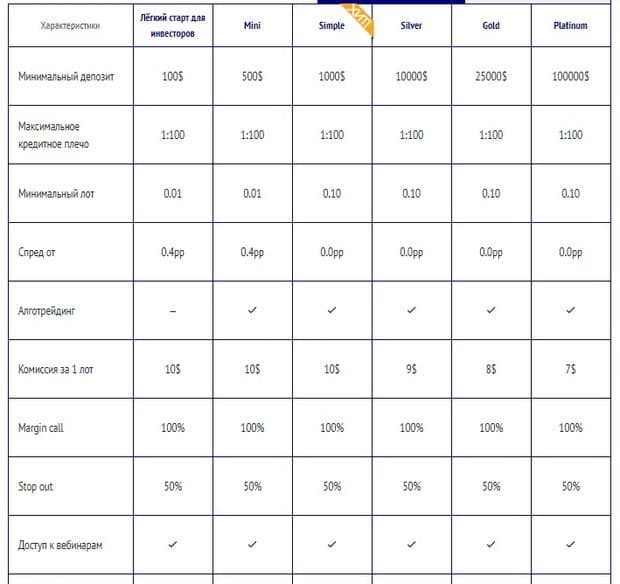 Leverage in all cases is floating and can reach a maximum of 1:100, which reduces the degree of risk. In favor of the company also speaks a fixed commission: in Gerchik & CO they earn not on spreads, the operator is not interested in the fact that you quickly "lose" the deposit. In addition, stop-out in 50% and Margin Call protect against a large "drawdown", although for market professionals create certain restrictions. Secondly, there are two types of trust management accounts with a minimum investment of $1000 and the same leverage up to 1:100:
TIMA Mini - more cautious trading lots from 0.01 with a commission of 10 dollars per lot.
TIMA Simple with a minimum lot from 0.1 pips and the same commission. Additional difference - connected "Trader's statistics".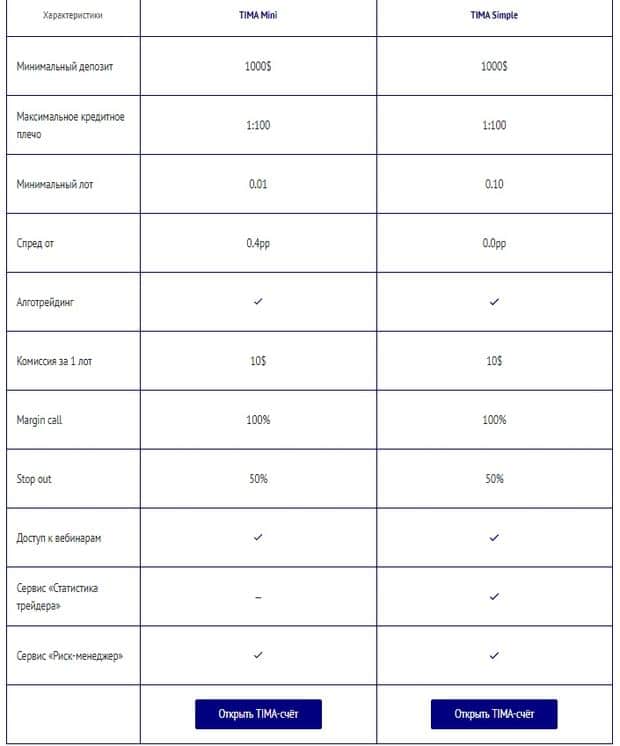 This is a kind of analogue of PAMM-trading, in which the manager also trades his assets, and all his transactions are copied into the client's clearing account. Profits and losses are distributed in proportion to investments (they can be calculated in a special calculator). The commission usually ranges from 30 to 50%. The difference is that you yourself set the maximum level of drawdown, in case of which all transactions are closed automatically.
There is a rating of managers with an indication of the profitability graph and the current percentage of profitability, as well as the amount under management, so that you can not only assess the potential of the trader, but also to choose the strategy that meets your interests (say, scalping, which, incidentally, is allowed in some cases).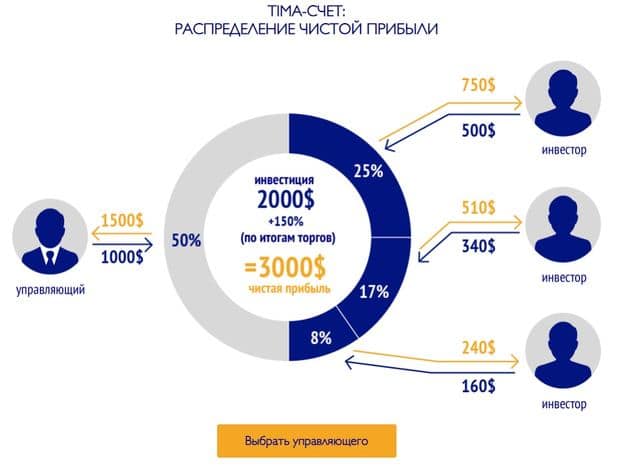 Third, asset insurance with the "Risk Manager" option. Works for free on any type of account - you activate / deactivate it in your personal cabinet and set the allowable percentage of loss, and the program performs the necessary calculations and in appropriate circumstances stops the trade, so that the user is not overdrawn. The "Risk Manager" algorithm has been developed over several years based on an analysis of real market conditions.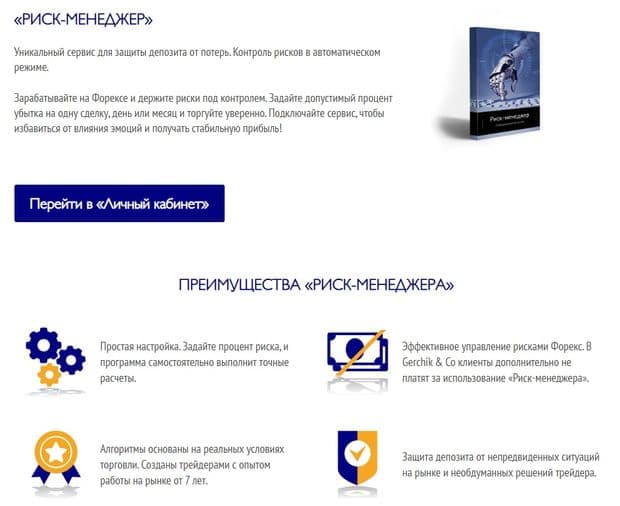 Fourth, the presence of automatic trading ("Algotrading") with the execution of transactions in 1 ms. Or a little longer. There are no restrictions on the number of connected robots, trading advisors and open transactions - you can invest and make a profit without restrictions. In addition, the broker promises no slippages and failures. And to reduce the likelihood of "plummeting", the "Risk Manager" is also connected.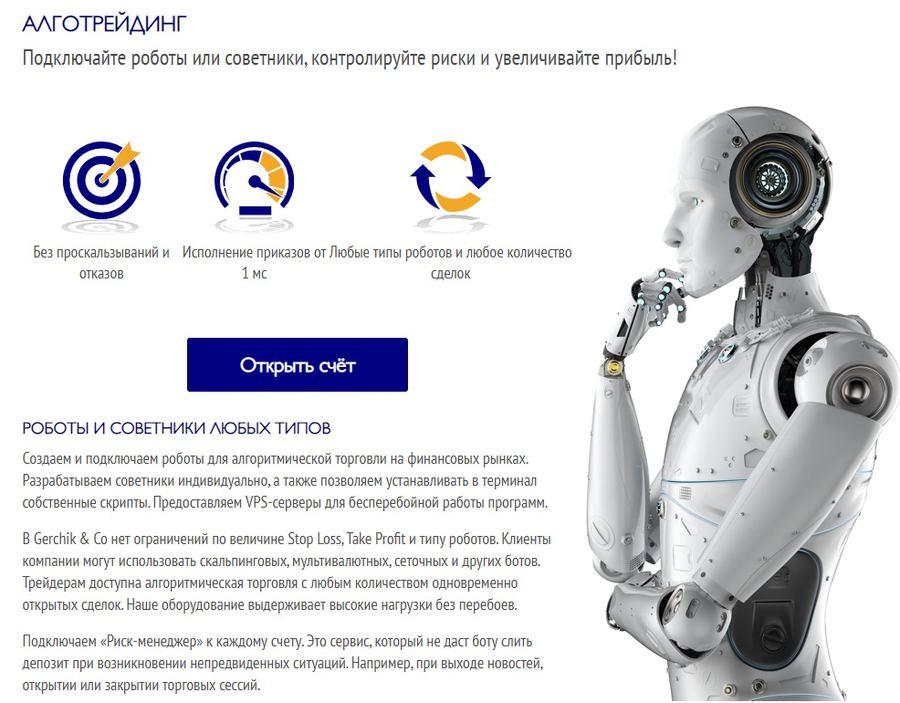 Fifth, the richest collection of analytical services and training materials (most are available to all, some are part of separate packages):
The program Real Market Volume is a horizontal volume indicator that captures the number of orders (Ask and Bid) in each point. It helps to predict further price movement and thus increase profitability.
Trader's calculator - calculating profitability of a trade, risks (taking into account your statistics) or point value in 1 second. A clear display that even a novice user can understand.
"Algorithm Builder" to create your own strategy, form a checklist, sequence of actions, setting up charts, taking into account the peculiarities of the market and the capabilities, weaknesses and strengths of the trader.
"Trader's statistics", which was mentioned above, - evaluation of profitability by 37 parameters (time intervals, buy/sell positions, etc.). Analyzes trades, sorts positions by a given parameter (even the emotional state at the moment of trade start, if you noted it in the journal) and "gives out" the most effective ways to increase the margin.
"Investing Academy with Victor Makeev" and "Initial Training in Trading" - training courses on trust management. Conducted with bots in the messengers Telegram, Viber, Facebook and Vkontakte chats.
Courses from the founders of the company - at the moment they are "Reset by Gerchik" (theory and practice, detailed analysis of transactions and market situations, performance of tasks and tests) with a free training schedule.
Blogs, books, expert articles, economic calendar, market news and more.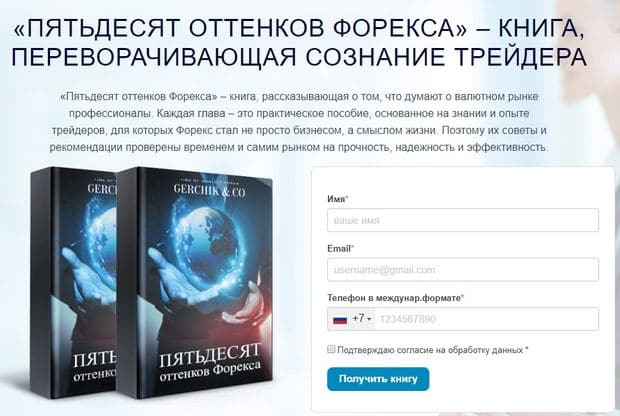 A total of 360 assets are available in Gerchik & CO: currency pairs, indices, cryptocurrencyThe company has a number of partners, as well as contracts for stocks, metals and raw materials. There is an opportunity to join affiliate programs (3 types: referral, White Label, representation - we will describe them in more detail) and to participate in contests and promotions (the latter, unfortunately, are not many). The site provides comprehensive and detailed information about everything, which again speaks in favor of the broker. It is obvious that he has nothing to hide.
Trading platform gerchikco.co
Gerchik & CO works with the most popular platforms - MetaTrader 4 (MT4), and MetaTrader 5 (MT5). It is available in all versions: web (no installation, requires internet connection), mobile (downloadable application for narrow format devices) and PC (installation for computer, works in offline mode).
Terminals are popular primarily because of their high functionality:
All basic chart types (bars, candlesticks, lines and their modifications).
30 technical indicators, 24 analytical objects (lines, channels, Gann and Elliott instruments, etc.).
9 timeframes (M1, M5, M15, M30, H1, H4, D1, W1, MN).
Interactive features (scrolling, zooming, color schemes) and notifications (PUSH, sound).
General chat with traders and communication with the consultant.
And also simplicity: even inexperienced traders will be able to understand the interface. Of course, it will take a few hours, but it is faster than in the case of other programs.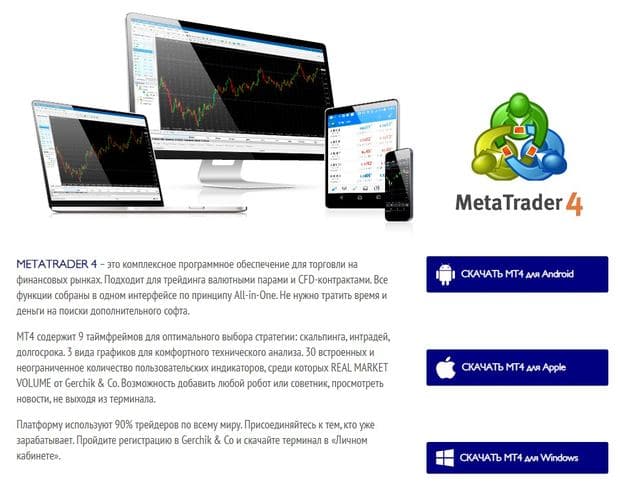 Client accounts are placed in dedicated accounts (the company has no access to them). And all transactions are protected by SSL encryption protocol to eliminate the risk of losing finances.
Quotes from Gerchik & Co.
The broker works on the STP model and assures: you are given access to the real financial markets, quotations of liquidity providers, which he is not able to influence.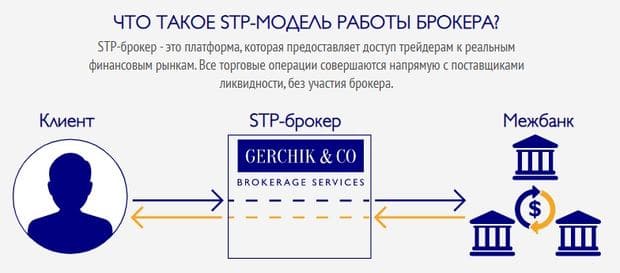 We were not able to compare quotes with the data of other providers, and we found only 1 review, the author of which tells about the detected inaccuracies (there are no other positive or negative user opinions on this subject).
Gerchik & CO demo account
To sharpen your skills or to learn forex trading in practice, the operator offers to open a demo (test) account. In it you make transactions not for real currency, but for "nickels" (without the risk of losing money).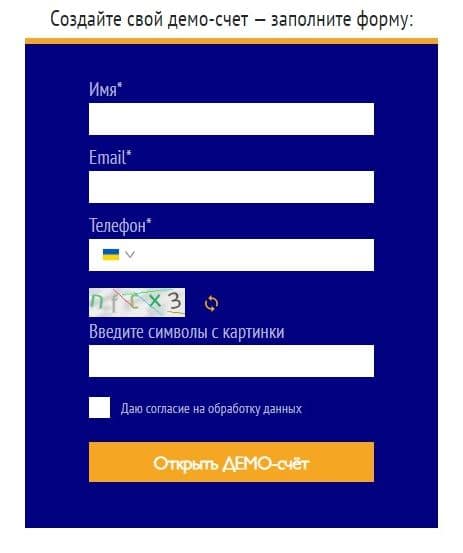 The MT4 training terminal is provided for this purpose. There is no time limit, and if you feel that you are ready for real trading, a trading account is connected in the same account. To get access to the demo account and platform, you need to register on the website gerchikco.co.

Gerchik & Co. mobile app
Gerchik & CO does not have its own mobile application, the broker works with the MT Mobile application for Android, iOS and Windows. It can be downloaded for free from App Store, Google Play Market and Windows Store. When selecting a provider, the name of the company is indicated, the login and password are used (set during registration).
The software offers all the features of the full-size version, and is rated by users in general quite well: 4.6-4.7 points on a five-point scale. Some dissatisfaction is caused by occasional technical errors after updates, but this problem, as far as we can judge, is present in all trading services for smartphones and tablets.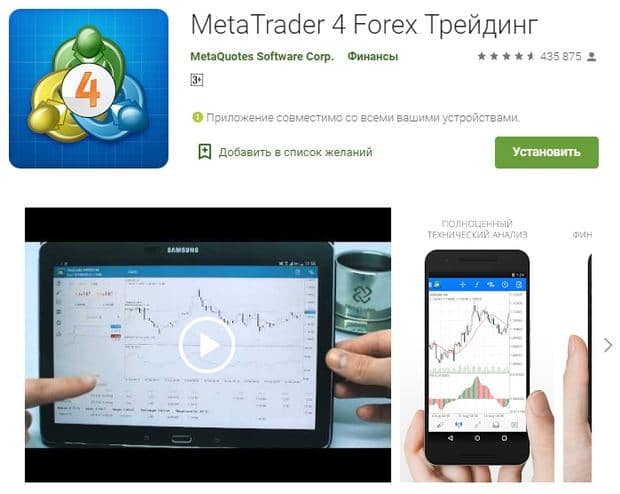 Bonuses at Gerchik & CO
The company offers bonuses in the form of a cashback, if any, very rarely. In our case they were not offered at all. But contests are organized on demo accounts. In these contests market newcomers compete to make profit. At stake is a cash reward of $1,000 to users from the first 55 lines of the rating.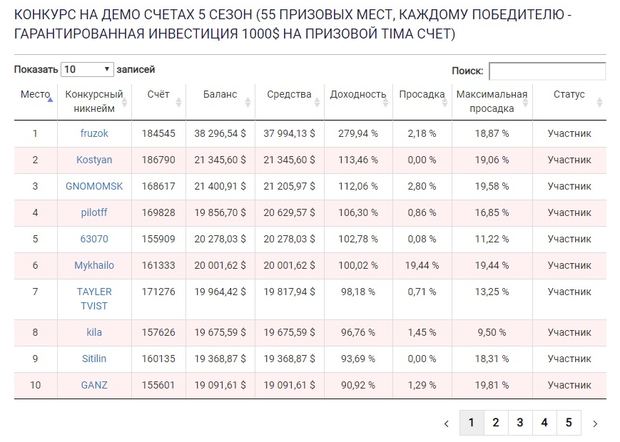 And there are 3 options for affiliate programs:
Referral ("Web-partner") - compensation up to 40% from the commission of the transactions of referrals (who went to you by the individual link / banner / RSS feed, placed in a social network, on the site, etc., and connected to the service of users) and another $ 4 from each of their offera.
White Label - providing access to software and liquidity sources for you to open your own brokerage company (under your brand).
Agent program "TIMA-agent" - mediation between investors (Gerchik & CO clients) and managers (traders) with a share of profit of the latter. You attract new users, advise them on the strategy and earn from each successful transaction, which was executed for them by the manager.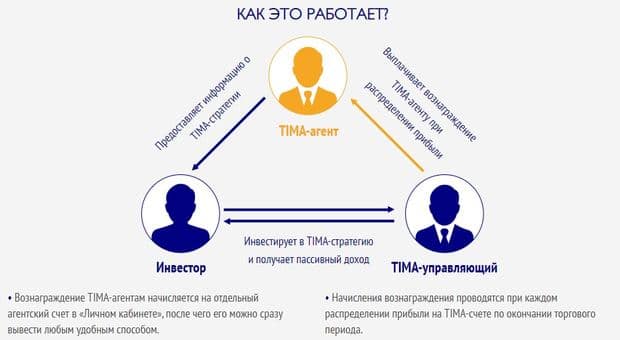 Deposit and withdrawal
Gerchik & CO uses many methods to make deposits/withdrawals. In the first case it is bank cards VISA/MasterCard, bank transfers, payment systems and wallets Skrill, Neteller, AdvCash, WebMoney, Perfect Money, Payeer and Crypto (Bitcoin, Ripple, Ethereum, Litecoin). In second place Neteller takes QIWI. The fee for a transaction you pay yourself: on average, it is 0.5%-4% (exception: AdvCash, which does not charge a fee for the transfer).
Deposits are credited to the account within 1 business day. Payouts - from 1 to 5 business days depending on the method. In addition, for security purposes, clients are verified (verification): you provide a certified copy of your passport and a document confirming the address (say, a receipt for housing and utility services).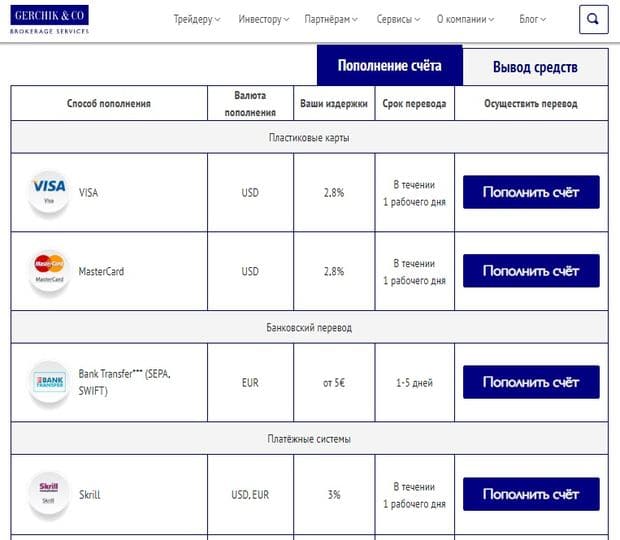 Conversion is carried out at the rate determined by the company and its partners (it is mentioned in paragraph 3.10 of the User Agreement).

Complaints against Gerchik & CO
The company openly listens to customers' opinions about their work and to this end has created special platforms for comments both on the website gerchik.coWe also have a large number of reviews dedicated to Gerchik & CO in reviews boards and forums. Among other things, there are a large number of reviews devoted to Gerchik & CO on reviewers and forums.
If we focus on the verified ones, the reputation of the broker is ambiguous. The authors of individual posts speak well of Gerchik's training program, note the high speed of transactions and the absence of problems with withdrawal. However, traders believe that the platform needs to be invested in a big way.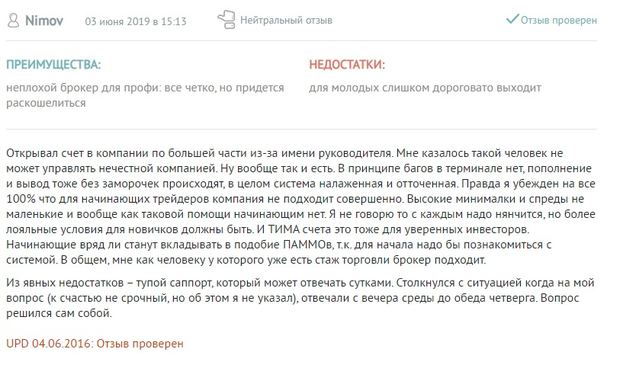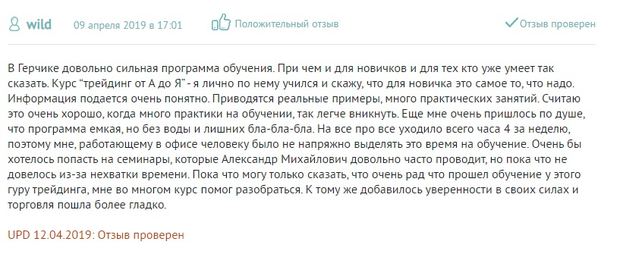 And many visitors to Internet sites talk about the discrepancy between quotes and market conditions and slow execution.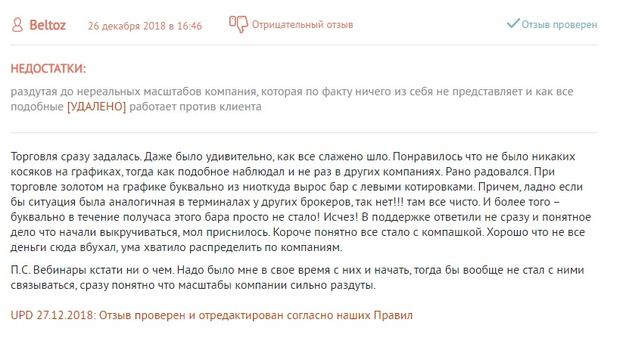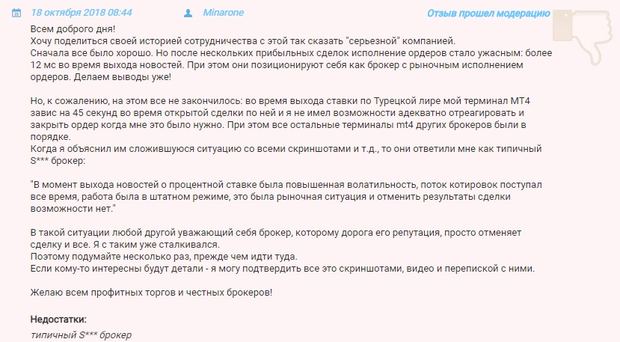 If there are any reviews about Gerchik & CO, we'll be sure to post them on social media. Sign up so you don't miss a thing!
Please keep yourself informed about news and complaints. We copy the most valuable information to social networks, so please sign up!
Regulator of the broker gerchik.co
Gerchik & CO Limited is registered with the Vanuatu VFSC under the number 40512. It is quite a reliable regulator, which provides support to consumers, so the service operators who have received a license from it, also enjoy confidence. You can check the status of the document on the official website of the jurisdiction.
Gerchik & Co. User Agreement
The user (customer) agreement defines the rights and responsibilities of the service provider and the customer to each other, so it's important to read the document before registering and signing up for an account. To make it easier for you, we decided to tell you about its main provisions. So, clause 2.3 says that when you make transactions, there is no physical delivery of currency. This means: trading is carried out, so to speak, within the service. And the operator, despite his assurances, has the ability to influence the quotes.

Responsibility for all executed trading operations lies entirely on you - the broker does not act as your agent (clause 3.4).

If you violate the instructions given by the company in the process of providing mutual settlement (deposit/withdrawal), the latter is not responsible for possible financial losses (clause 3.7). Quite a "slippery" condition, which allows, if the operator is unscrupulous, to set unfulfilled requirements and on this basis to say that it is impossible to complete the transaction.

And point 3.8 describes the possible cases of Gerchik & CO charging additional commissions and cancellation of the contract: late payments, no transactions on the account within 12 months, failure to contact the managers of the organization "for a significant period" (which is not stipulated), top up the balance currency different from the account currency, etc.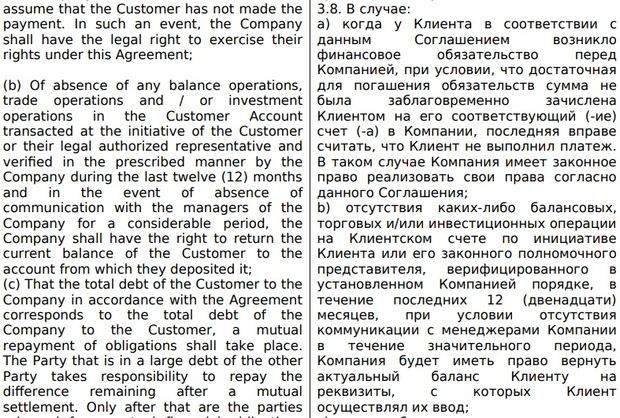 You compensate any costs incurred by the service provider due to inaccurate information provided by you, within the legal regulations and terms of the agreement (clause 4.2.1).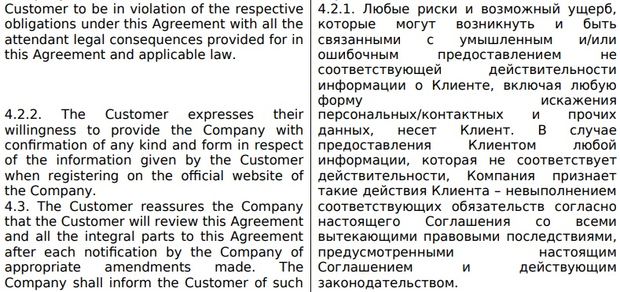 And are obliged to confirm the information specified in the registration and use of its resources (clause 4.2.2).

If your account has been accessed using your username and password, any actions within it will be deemed to have been performed on your behalf, unless you have been notified that your personal information was inadvertently disclosed to third parties (clause 5.1.5 of "Rights and obligations of the parties").
You can't create more than 1 account and 1 client account on one name or register third parties in the system without the knowledge of the broker. Such actions are considered a violation and lead to the blocking of all accounts and additional investigations (clause 5.2.4).

The company has the right at its own discretion to limit the number of open transactions by you and to refuse to open them (clause 5.3.3), and also to increase the amount of the security deposit (clause 5.3.4).

And in case of non-compliance with the terms of this policy to deny service (clause 5.3.6).

Even to transfer (assign) his obligations under the agreement to a third party (clause 5.3.9).

In this case, the contract with you is terminated by the operator unilaterally - with prior notice (without giving reasons) or without it (in the case of spreading information that defames the reputation of the company). This is stated in paragraph 5.3.10.

Just in case of suspicions about you the account is blocked (clause 5.3.11).

Interestingly, Gerchik & CO is not responsible for losses incurred by customers as a result of the negligence of agents and partners of the broker (clause 6.1.3 of the section "Liability of the company").

And accuracy, completeness of the information, recommendations provided in the framework of cooperation and/or use of the broker's resources (clause 6.1.8).

Any complaints are sent within 2 working days of the occurrence of the relevant events to the email address of the provider. Otherwise will not be accepted (clause 13.4).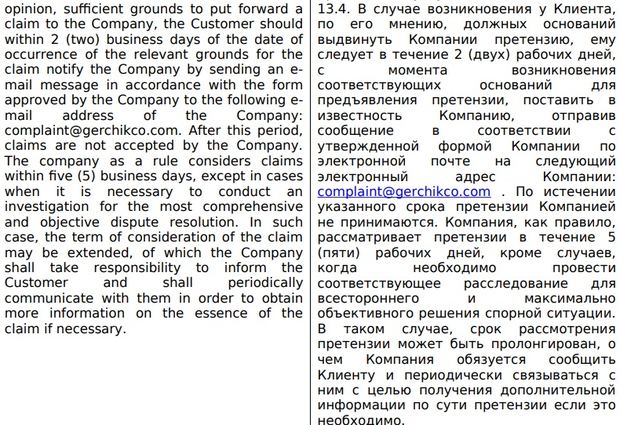 Is Gerchik & CO a scam?
Gechik & CO.In our opinion, it offers quite favorable conditions of cooperation:
Many useful services, most of which are free.
All trading schemes - independent trading, trust management, auto-trading and trading robots (algorithms).
Protection of investments according to the risk management program.
Relatively small starting deposits.
Interesting affiliate program.
However, if you believe the words of traders from verified sites, you need to invest in the service in a big way, and the quotes do not always correspond to the market ones. And the system for encouraging ordinary users (not attracting new clients) looks weak. In fact, at this point we have only found a contest of demo accounts, although with a good prize fund. The client agreement contains a number of clauses that put traders at a disadvantage (e.g., disclaimer of responsibility to compensate losses in case of partners/agents negligence, assignment of obligations to third parties, etc.).
But all trading conditions are described on the website (to view them you do not need to register), and earnings are not spreads, which creates a direct correlation between client losses and profits, but fixed commissions: Gerchik & CO earns in any case, you win back the deposit or "sell". We believe Gerchik & CO is not a scam, but a serious broker, though it has certain drawbacks.
Conclusion
Overall. Gerchik & CO. demonstrated itself quite well: loyal requirements at the start, fixed fees, clarity and simplicity of trading conditions, user-friendly and accessible interface, interesting functionality. However, the bonus program is weak here. And so far, in our subjective opinion, a certain imbalance has not been fully resolved: focusing on young traders in terms of profitability combined with serious financial requirements. In general, this is a pretty solid broker, which in most cases is pleasant to deal with. If you don't get too deep into the flaws that almost every service provider in the industry has.
Rating of reliable brokers