The company's activity is to provide brokerage services on the Internet for retail-clients using electronic payment systems.
Read completely
Forex broker
Official website
Social media
Date of foundation

2007

Head Office

Suite 305, Griffith Corporate Centre, P.O.Box 1510, Beachmont, Kingstown, St. Vincent and the Grenadines

The owner of the company

E-Global Trade & Finance SVG Ltd.

Types of support
Support by phone

Languages

English, Ukranian, Russian

Terminals

MetaTrader 4, WebTrader, Forex4you Desktop

Min. first deposit
Broker fee

$8 per lot on Pro STP account and $10 per lot on Cent NDD account

Lot volume
Bonuses
Leverage
Spreads

Fixed from 2 pips, floating from 0.1 pips

Free Demo Account
Adjustable
Regulators
Types of accounts

Demo, Cent, Classic, Cent NDD, Pro STP

Margin call / Stop out

from 50% / from 10% depends on the type of account

Transaction volume
Features of trade

Different types of accounts and more than 150 instruments for trading Forex, indices, commodities, stocks and cryptocurrencies. Transaction copying, automatic trading

Execution of orders

Instant Execution,

Methods of replenishment

Bank card (Visa/MC)

Withdrawal methods

Bank card (Visa/MC)

Number of assets
Types of assets

Currency pairs

More than 50 currency pairs

Cryptocurrency

Bitcoins, Lightcoins, Ethereum, Ripple

Stocks

more than 50 companies

Raw materials

Gold, Brent, WTI, etc.

Account currencies

EUR,

Liquidity providers

LMAX Exchange,

Mobile Trading
Weekend trading
Tournaments / contests
Trader training

Q&A section, study materials

Contract Difference Commission
Swaps
PAMM trading

Thanks to the social trading app, you can see the trades of experienced traders, follow them and copy them

Analytics

Economic calendar, market news, Trading Central

Margin Trading
Affiliate Program
Benefits

Fast order execution from 0.1 second

Low spreads and wide leverage

More than 150 tools for trading

Company requisites

Legal name:

E-Global Trade & Finance SVG Ltd.

Legal address:

Suite 305, Griffith Corporate Centre, P.O.Box 1510, Beachmont, Kingstown, St. Vincent and the Grenadines

Date of update

23.08.2022

Overall assessment
The address is
Suite 305, Griffith Corporate Centre, P.O.Box 1510, Beachmont, Kingstown, St. Vincent and the Grenadines
Map
Subscribe to this company
Forex4you is a scam? Reviews and description
Brand
Forex4you
begins its history at the time when most forex brokers were based in Central Europe. In 2007, when Forex4you (E-Global Trade & Finance Group Corporation) was just taking its first steps, its trading volumes left much to be desired: only $50 million, which was a disappointingly low figure even for that period. Nevertheless, due to the very good trading conditions and excellent service, the company still began to develop dynamically, to expand its field of activity, systematically taking over a really large part of the forex market. What do we see now? A staggering figure of 200 billion in annual trading volumes and about 40 offices around the world.
Forex broker Forex4you is registered in the British Virgin Islands (BVI) and is licensed by the Financial Services Commission (FSC) under the Securities and Investments Act 2010 (SIBA). The BVI has always been one of the most popular jurisdictions for offshore forex brokers due to its uncomplicated setup, confidentiality of owners and shareholders and, most importantly, relatively low required paid-up capital, usually in the range of $100,000.00 - $250,000.00. It can be noticed that Forex4you broker works mainly with investors from European and Asian countries: Ukraine, the countries of South-East Asia. For example, as a confirmation of this, one of the awards received - "IAIR Southeast Asia Award 2017". Awards are good, but what kind of accounts and spreads does this broker offer, what are the advantages? And, most importantly, could it be that Forex4you is a scam? Let's look into this pressing question together.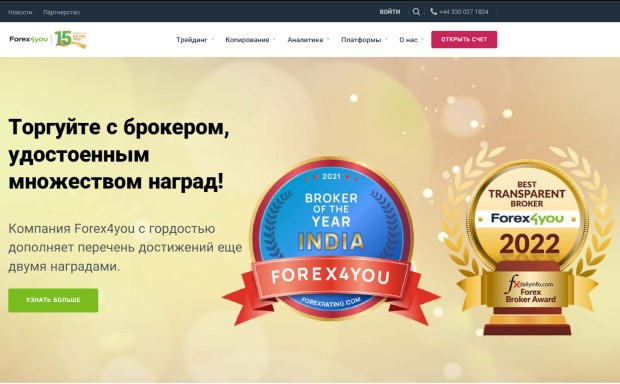 Terms of trading with Forex4you
Forex4you is first and foremost an MT4 trading terminal broker, offering different types of accounts for every type of trader. They currently give their traders access to more than 150 instruments, including Forex, commodities, stocks, indices and cryptocurrencies. What sets the company apart from a number of competitors is that Forex4you has its own social trading network - Share4you (go online). It allows anyone to copy trades of successful traders and allows profitable traders to become so-called "leaders" and share their trades with others for a generous reward. It's a really great service that has all the necessary features for copy trading, and at the same time is very simple and intuitive.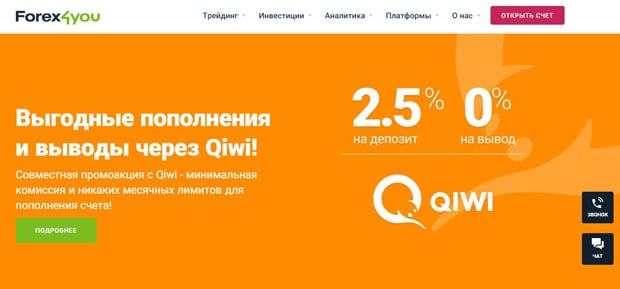 One feature of Share4you that deserves a mention is the client's ability to adjust the size of copied positions and set their own notes. Most platforms limit clients to a percentage distribution of copied trades, whereas Share4you allows clients to set specific numbers limiting the size of orders. In addition, Share4you provides a full report and overview of each leader, allowing you to view and copy their successful trades.
In addition to all the reporting features, Share4you provides one feature that is often overlooked by investors, but plays an important role - the ability to see all previous leader accounts. For complete information about the Share4you social trading network, visit the official website forex4you.ru.com.
Forex4you also offers 2 affiliate programs: affiliate program "Partner" with 3 levels of referrals and affiliate program "Markup ProSTP". The "Partner" affiliate program is very simple and does not offer anything unusual. The basic idea is that an affiliate receives 50% commissions from the spread of Level 1 clients, 16.7% from the spread of Level 2 clients and 5.6% from the spread of Level 3 clients. If you have an account available, all you have to do to create a new account is click "Create Account" - your affiliate account will be ready within seconds and you can instantly access all the marketing materials in your affiliate area.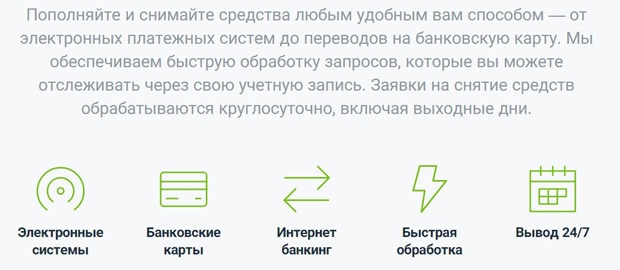 The "ProSTP Markup" affiliate program is a relatively common affiliate program, but not widely used because affiliates can choose their own markup, which creates a less favorable environment for the trader. Clients can log in with any login created and switch between affiliate accounts without leaving their accounts. Forex4you allows its clients to make internal transfers between their own trading and commission (affiliate) accounts. Internal transfers are instant and usually take no more than a few seconds.
One interesting feature of Forex4you is the client's ability to make external transfers in the brokerage system. Clients can transfer funds to any other client of the company without any certain restrictions. However, if the company suspects foul play, suspicious activity will be stopped and accounts will be immediately suspended and investigated. Forex4you allows traders access to 41 currency pairs, CFDs on the biggest and best known NYSE-listed companies, CFDs on Silver and Gold, CFDs on cash instruments such as WTI, BRENT, Indices and Crypto. Forex4you applies swaps just like any other Forex broker - automatically at the time of rollover (when an order is rolled over to the next calendar day). Swaps are tripled from Wednesday to Thursday and increase or decrease according to national interest rates. Swaps are applied to all types of trading accounts, as accounts without swap are not available.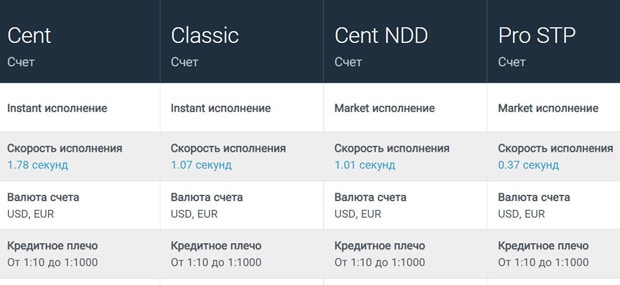 Forex4you has an advantage for investors - PAMM accounts - they include the ability to earn on transactions in the Forex market without any direct action. Investors entrust their funds to an already successful trader and have the opportunity to diversify their investments and reduce investment risk.
With PAMM accounts, traders can increase the total amount of capital they can trade with reduced leverage requirements and reduced trading risk. They can also attract an unlimited number of investors and investments. Both PAMM accounts automatically provide income every week. It is necessary to remember about the "inactivity fee". Recently, many brokers have decided to charge their clients so-called "inactivity fee", each broker has its own approach to this point. Forex4you charges 10 euros or 600 rubles for every month of inactivity until the account balance reaches zero. The inactivity fee was introduced at the end of 2017 and is still in effect today.

Forex4you guarantees the separation of client funds by separating client funds from the company's operating funds. According to Forex4you, clients funds are kept in different banks at the same time in order to reduce risks. The segregation of funds ensures investors safety in the unlikely event that the company becomes insolvent. Forex4you does not disclose information about its liquidity providers, but they claim to deal only with regulated financial institutions and have established several FIX API connections with several European regulated liquidity providers. Unlike some other offshore regulators, the BVI FSC does not require that forex brokers only have regulated liquidity providers, so this information cannot be verified (The whole truth about forex).
Platform forex4you.ru.com
The process of opening an account with Forex4you is simple and surprisingly fast. To get login credentials and enter the client area, a trader must fill out a short registration form and provide his or her phone number. Admittedly, this process is quick and easy only if you live in the country that Forex4you accepts and is actually listed on the registration form. There is a statement on the broker's website with a list of countries whose residents are not accepted, but the list is obviously incomplete, there are more countries missing from the registration form than officially declared.
The company claims to check all documents of new traders in less than 5 hours on average if the package of documents was submitted within a week and the application comes from an individual. Checking the documentation of corporate clients usually takes more time. Full functionality, as well as the ability to deposit funds, becomes available as soon as the documents are successfully checked.
In the personal cabinet traders can choose platforms (you can read more and download on the website forex4you.ru.org) and Cent, Classic, Cent NDD or Pro STP accounts for Instant Execution and Market Execution trading. Instant Execution accounts have fixed spreads and NDD and SPT accounts have floating spreads, but what is more unusual is that Forex4you has no minimum deposit requirements for any type of account. Trading accounts can only be denominated in US dollars or euros, there are no other base currency options. All trading accounts provide similar trading conditions, except for a few differences that come from the type of execution.
Cent & Cent NDD accounts are great for novice traders who have decided to switch from demo trading to real trading, but are not yet ready to make a significant deposit. Cent accounts are usually used by traders to test new strategies and experts in real market conditions. In addition to spreads, NDD accounts have a commission of $10 cents per lot. Classic & PRO STP accounts are suitable for traders with real experience and confidence in their trading style or with Expert Advisors ready to be deployed in a live environment. STP accounts have a trading commission of $8 per lot. Forex4you offers each account two different methods of order execution:
Instant Execution. All orders are executed exactly at a specified price. No order can be opened or closed unless the trader accepts a certain price. This is the most suitable option for traders who value execution at a specific price. Traders who are not used to instant execution should keep in mind that not every EA is capable of trading with instant execution. In addition, trading during news and high market volatility can be very difficult or even impossible because there is no guarantee that the selected price level will have enough liquidity to execute the order.
Market Execution. It guarantees the execution of an order "at any price" at the first available price - in other words, when the broker has enough liquidity at a certain level to execute the order. It is worth noting that during times of high market volatility, orders are likely to be affected by slippage, although as long as the broker is decent, it is always possible to execute the order at a better price. Traders who prefer to fill an order at any relatively close price should always choose Market Execution.
Please note: all trading accounts have very low stop-out levels: for regular accounts the stop-out level is 10%, while for NDD/STP accounts it is 20%. The lower the stop-out level, the more money a trader can lose if proper risk management has not been implemented and trades are left unattended (forex trading training).
Broker quotes
Forex4you offers charts, which are a method of technical analysis where the trader can study and analyze price movements. These charts indicate the future price movement of an asset and are an important tool for technical analysis. There are two main methods of graphical analysis:
Manual chart analysis involves the trader looking at the charts to determine the directions that will serve as a guide for selecting a trading position.
Automatic chart analysis involves the use of automated software that can be plugged into charts as plug-ins, and this software identifies chart templates and displays their names on the charts. The trader can then already take actions based on the chart pattern created by the software.
There is also a fairly informative chart that compares all accounts and data related to the trading of major currencies and commodities.
Demo account Forex4yu
Forex4you broker offers its clients a demo account, which gives traders a great opportunity to feel the real world of traders, to look at it from the inside and to experience the functions of the platform without risking any real money. The demo account uses the MetaTrader4 (MT4) platform, which can be easily downloaded to both desktop and mobile devices. A demo account offers real market trading, full functionality with no money down and no risk trading. A demo account can only be opened with a Cent account. Opening a demo account is relatively easy, although you have to provide, admittedly, a lot of personal information to do so.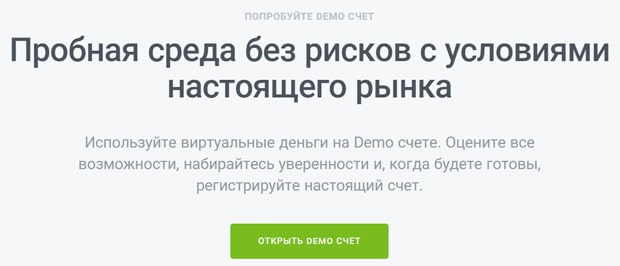 Mobile application
As mentioned earlier, Forex4you is an MT4 broker, but the company has also developed its own trading platform compatible with Windows and Mac. Forex4you Mobile App does not differ much from Mobile MetaTrader 4, but visually more pleasant looking. The application is available in English, Chinese, Vietnamese and Thai. The interface of the Forex4you MobileApp is user-friendly and at the same time has some features that are not present in MetaTrader 4. One of the most notable features is Slippage Control - it allows traders to set a slippage limit and allows for zero slippage, but in this case execution is not guaranteed at all times.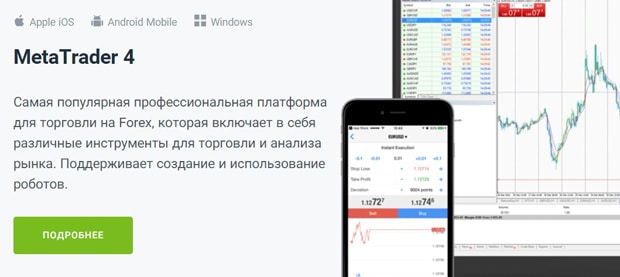 Equity Stop Loss is for traders who prefer to manage risk with specific numbers. Equity Stop Loss is the ideal solution, it allows you to forcibly close all trades as soon as the stock reaches a certain level. This feature is also available for MetaTrader, but only as an additional Expert Advisor. Last but not least is liquidity pool monitoring, which displays the available amount of liquidity at prices from different liquidity providers.
Forex4you bonuses
Forex4you quite often conducts interesting contests and promo campaigns. At the moment, the brokerage company offers three bonus programs:
50% Cashback Program. Participants get up to 50% cashback on commissions and spreads.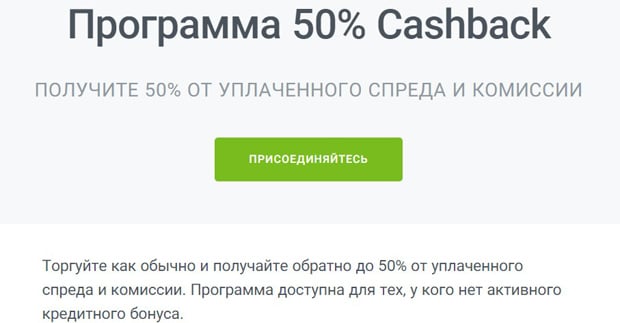 Current bonuses, promotions, great deals and useful services (for example, Expert Advisors, robot analytics and VPS-hosting) of the broker can be found at forex4you.ru.com.
Deposit and withdrawal
Forex4you offers several methods of depositing and withdrawing funds. Any deposits and withdrawals must be made using your own accounts, no third-party payments are allowed. Let's find out more about deposit and withdrawal methods:
Credit/.debit card. Cards issued by VISA, MasterCard and Maestro are the only cards authorized for use at Forex4you through the SOREXPAY payment processor. By bank card are charged with a transfer fee of 2.8% + a fixed fee of 0.5 USD.
Alternative methods. Neteller and Webmoney (WMZ/WME) for all, and Skrill as an option for several regions. Neteller and Skrill have maximum deposit limits of $50,000 each, and on the other hand, Webmoney has no restrictions. Wallets are also available Qiwi and Yandex.Money.
Online banking methods. Bank deposits depend on the country at Forex4you. CIMB Bank, Verata Bank, BCA are just some of the online banking methods that have been created for Indonesian clients. However, bank deposits are available in a very limited number of regions, mostly in Asia and a few CIS countries.
Complaints about Forex4yu
Forex and financial trading in general are one of the most discussed topics on forums and social networks. Reading various opinions can be very useful, but quite often the number of negative comments prevails over positive ones, which can give you the feeling that many services are fraudulent and no one can make real money looking at the monitor and trading online. As we can see, they can.
Forex4you has to be one of the most controversial rating brokers, on a scale of 1 to 10, the broker would have an average score of 7.5 if you take into account both positive and negative reviews. Most of the negative reviews mention customer service, price manipulation, and occasionally unstable app performance. Positive trader reviews vary, and mostly come from traders who tend to emphasize their extensive trading experience and have actually benefited from trades.
If there are any complaints about Forex4you, we will be sure to publish information on social networks. Sign up to stay up-to-date with news.
Please keep yourself informed about news and complaints. We copy the most valuable information to social networks, so please sign up!
Forex4you broker regulator
Forex4you is weak in terms of regulation, because it has only one regulator - the FSC in the British Virgin Islands. This regulator is not a very reputable institution among Forex traders.
User Agreement forex4you.com
The broker provides its traders with all the important documentation freely available on the website forex4you.ru.com. Here you can find and read the full list of documents:
Return Policy.
Know Your Customer Policy.
Complaint Policy.
Terminology.
Notice of Risk.
End User License Agreement.
Free Account Exchange Agreement.
Customer Agreement.
Regulations.
Anti-Money Laundering Policy.
Partnership Agreement.
For example, the user agreement contains important information about resolving disputes and claims. If a dispute situation is not described in the customer agreement, policy, or risk notice, the company may address the issue in accordance with its practices for resolving such situations: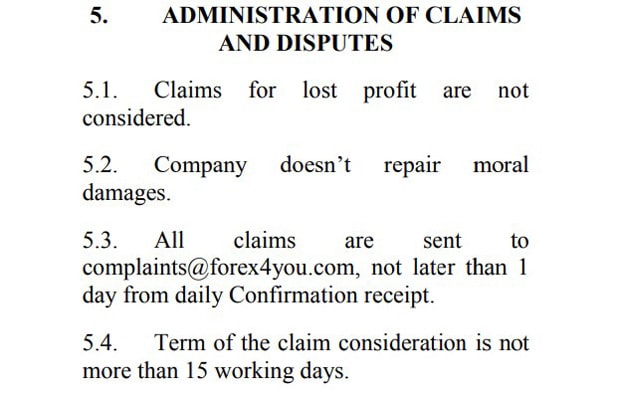 The same document provides standard information about the legal relationship between the company and the client, including important details such as the fact that the client can withdraw any amount of money from his account, but the account must always have a minimum balance to avoid closure: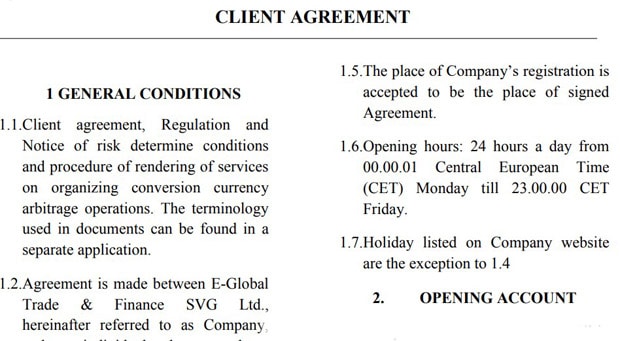 Is Forex4you a scam?
Forex4you not the first year in the forex market, they have a good track record, not too many complaints, and the only really serious problem is the lack of Islamic (non-cash) accounts. But it's a respected, without a doubt, broker with a huge variety of trading instruments. Its own social trading platform, a multicurrency robot (the reviews of which are very positive) and a special convenient account for beginners and those who want to safely test their abilities and strengths in the world of trading.
Yes, the broker does not have the largest list of deposit and withdrawal methods, customer support can sometimes be slow, problematic access for US and Japanese clients. But could these minor factors lead us to believe that Forex4you is a scam? No, of course not. You can always freely create a demo account to see for yourself the reliability of the broker and to discover new opportunities in the forex market.
Conclusion
Forex4you has long been quite popular among retail traders because of its commitment to providing quality service to every single trader regardless of their trading volume. It is also one of the few forex brokers that have Cent accounts, which are ideal for novice traders with a small budget. The most important feature of Forex4You is that no minimum deposits are required for any of their accounts. Regardless of the size of the trading volume, this broker will make you feel - special. Their cent accounts make it easy for novice traders to immerse themselves in Forex trading and feel comfortable. Forex4You offers traders almost everything they need, and the quality of their support services is excellent.
The company in the ratings
Rating of reliable brokers
New companies on the site