International forex broker provides access to financial markets to invest in currency pairs, CFDs, cryptocurrencies, etc.
Forex broker
Website
Social media
Date of foundation

2013

Head Office

5 Cork Street, 2nd Floor, Belize City, Belize, C.A.

The owner of the company
Types of support

WhatsApp: +62-813-190-737-04

Telegram

Chat

Twitter

Support by phone
Languages

English, French, Turkish, Arabic, etc.

Terminals

MetaTrader 4 (PC, Web, Mobile)

Min. first deposit
Broker fee
Lot volume
Bonuses
Leverage
Spreads
Free Demo Account
Adjustable
Regulators
Types of accounts

Demo, Standard, Swap Free, No Spread, Micro Cent, Profi STP, Crypto, ECN

Margin call / Stop out
Transaction volume
Execution of orders

Instant Execution (exact execution), Market Execution (at market price)

Methods of replenishment

FasaPay, Neteller, Payeer, Perfect Money, Skrill, STICPAY, Bank Transfer, Cryptocurrencies, Bank Card (Visa/MC), etc.

Withdrawal methods

FasaPay, Neteller, Payeer, Skrill, STICPAY, Wire Transfer, Cryptocurrencies, Bank Card (Visa/MC), etc.

Number of assets
Types of assets
Account currencies

More than 20 types of currencies

Liquidity providers

BNP Paribas, Natixis, Citibank, UBS

Mobile Trading
Weekend trading
Tournaments / contests
Trader training

Training centers, seminars, videos, glossary, indicators

Contract Difference Commission
Swaps
PAMM trading
Analytics

News, technical analysis, reviews, forecasts

Margin Trading
Affiliate Program
Benefits

Available minimum deposit

A variety of trading tools

Disadvantages

Delayed withdrawal of earnings

Company requisites

Legal name:

Finateqs Corp.

Legal address:

5 Cork Street, 2nd Floor, Belize City, Belize, C.A.

Date of update

26.07.2022

Overall assessment
Address
5 Cork Street, 2nd Floor, Belize City, Belize, C.A.
Map
Subscribe to this company
SuperForex is it a scam? Reviews and description
SuperForex is a major international Forex broker specializing in providing trading and investment services in financial markets. The company broke into the Forex market in 2013 and continues to develop dynamically.
Over the years, it has mastered many financial tools. With its help, it can earn individual and corporate customers. SuperForex's team of professionals provides services in Forex trading and other markets to residents of 150 countries around the world and strives to make the foreign exchange market closer for each trader. But how reliable is the company? Is SuperForex a scam or an honest broker? Answers to these questions are in our material.
SuperForex trading conditions
SuperForex, working with financial markets, pays much attention to innovative approach to trading, is ready to offer the customer only high-quality service. Becoming a broker's customer, an investor can choose an account to work with: MLP, STP and ECN. Each of them is supported by the documentation, where the terms of the account usage, rights and obligations of the investor are detailed. To open an account on the broker's website superforex.com, you need:
to set up an account;
to familiarize yourself with the peculiarities of the accounts.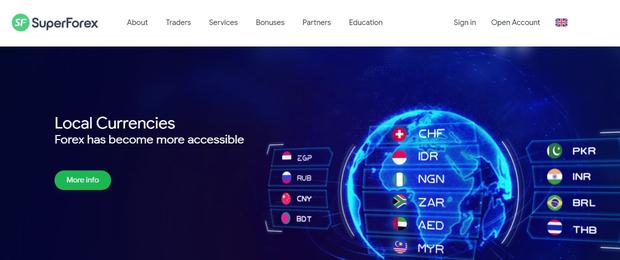 When entered into the international market, the has «grown» a huge arsenal of tools that are available to every trader:
convenient conditions for depositing and withdrawing funds;
attractive spreads, which will be appreciated by experienced market players;
wide choice of trading tools;
high speed of order execution (does not exceed 0.04 s);
safety of funds in case of risk of losses;
a ForexCopy system to duplicate successful transactions;
training programs;
a lot of quality analytics;
prompt response of technical support on weekdays.
Compared to similar offers of the market, SuperForex stands out favorably. It is also attractive due to the absence of cloud deposits and annoying calls to customers. Special attention should be paid to various bonuses and contests provided by the platform. Let's talk about them more detailed below.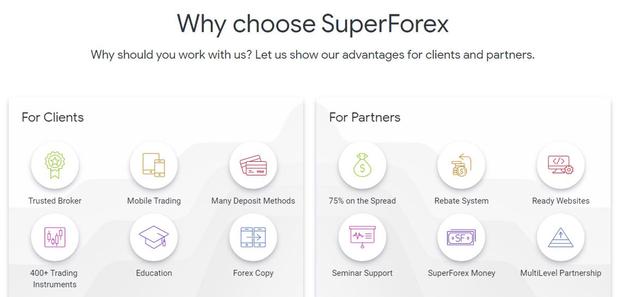 In addition to the demo account, SuperForex provides customers with the option of training in Forex trading, which will be useful for both pioneers in the Forex market and experienced traders. Here the company's customers participate in seminars, courses, training videos. There are a lot of analysts, market reviews and various tools available on the site. For those traders who decided to become partners of the company, there is a special training on business development together with a broker.
SuperForex platform
According to the broker, customers have access to advanced technical equipment. Traders can use such programs:
MetaTrader 4 is a powerful free platform where you can trade, analyze the market and use trading robots and advisors. This tool is very popular with players.
Pattern Graphix is also a useful trading advice program that works in conjunction with MT4. With its help users get useful recommendations on transactions and tools.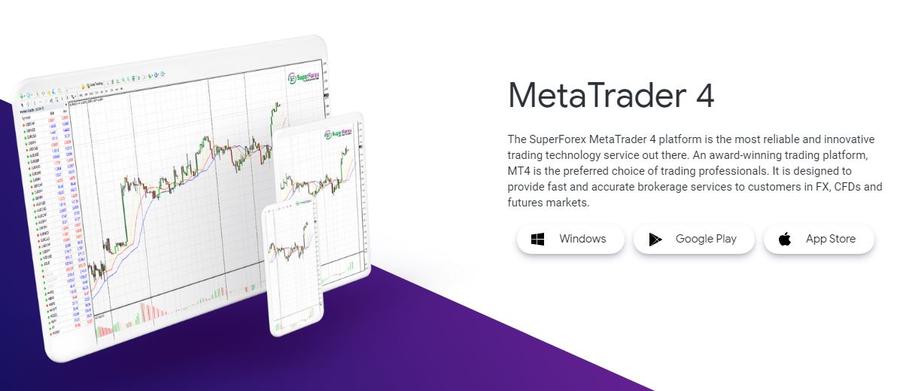 SuperForex broker quotes
A lot of things happen on the Forex market like in the old saying: «First come, first serve» (full truth about forex). This requires vigilance in order to keep up with the constant shakes that the market is going through. A broker provides his customers with only actual quotes, cooperating with reliable liquidity providers for this purpose.
Due to the high speed of order execution (0.04 s) traders can trade in the market and increase their earnings. On the website superforex.com you can study the direct and reverse quotes: in the first case, the U.S. dollar or euro is equal to other currencies, and in the second – any currency is equal to the U.S. currency or the European Union. SuperForex liquidity partners are:
BNP Paribas.
Natixis.
Citibank.
UBS Group AG.
SuperForex demo account
In order to interest newcomers to trading, SuperForex broker offers them a Forex demo account, where they can test their knowledge and strategy. Due to this, the player:
will appreciate the capabilities of the trading terminal;
will understands the principle of its main functions;
will study the settings of the terminal charts;
will «take his first lumps» and gain the valuable trading experience.
The demo account is in three currencies: dollars, euros, pounds sterling. Leverage is 1 to 10, lots from 1 cent to 100 dollars are available. There are no bonuses here and you cannot see the deals of successful traders through ForexCopy.
SuperForex mobile application
Following the trends of online trading, the broker provides customers with the opportunity to work in the mobile application of the author's development. The broker has taken care of his customers and created a software, in which you can open accounts, replenish the balance, check trading operations, track quotes and more from your smartphone. Here you can also read useful thematic articles, take successful traders as an example and keep track of global economic news.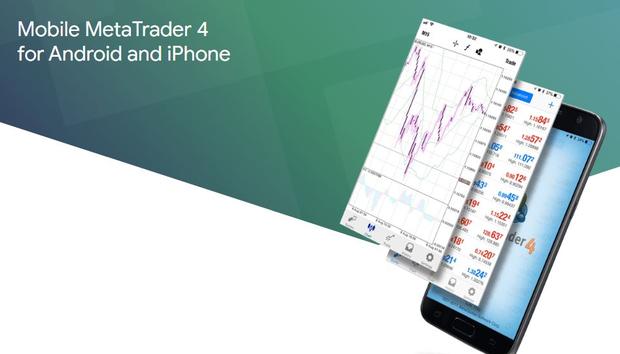 The mobile platform is a resource that allows players to always be aware of market fluctuations regardless of the location and time of day. It has a user-friendly interface, requires minimal traffic for work, allows you to easily perform standard operations, making trading really comfortable.
SuperForex bonuses
As for the issue of bonuses, there are many of them available on the platform. Bonuses here perform both motivational and incentive functions. At the beginning of its development the company tried to attract attention of traders (bonuses of Forex brokers). It's hard to surprise demanding traders, who are not the first day of Forex, but SuperForex managed to do it too. The company offers the following bonus programs:
On the official website of superforex.com there is a comparative table of all programs, which can be used to easily assess the merits of a particular offer. Some of the bonus programs can be combined with others, thereby increasing their profits. One of the best offers can be called «Dynamic Bonus». In spite of the fact that it does not give out +1000% on the account, nevertheless inside the system it is considered real money. That is, in addition to the earned funds, the player can cash and accrued bonus. The company offers the following bonus programs:
No deposit.
Easy Deposit.
Welcome+.
Energy.
Hot.
Dynamic.
On the official website superforex.com there is a comparative chart of all the programs, it is easy to judge this or other offer. Some of the bonus programs may be combined with others, increasing their profit this way. One of the best offers we can call the «Dynamic bonus». Despite of the fact that it does not pay +1000% to the account, however inside the system it is considered the real money. That is, except of the earned funds the gambler can convert into cash the accrued bonus, too.

Beginners should take a closer look at high leverage offers. «Bonus +1000%» will allow you not to risk your money earned and try your hand at Forex trading with minimal investment. For example, you are afraid of losing money and are not ready to invest $100 in the platform at once. When you deposit $10 into your account, you can't count on effective trading. For this amount you can afford a few trades and they will be unprofitable, because everything will go on margin. When you go into minus, there is a lack of margin for drawdown, which leads to a stop-out. Forced or independent completion of the transaction will not bring the desired results, but if you have patience and wait just one day, you can avoid losses. One day will be enough to increase the size of the invested money and from your own 10 dollars you get 100, for which you can trade.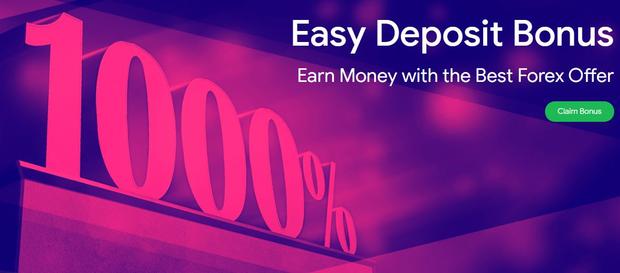 Another interesting offer is the «60%» bonus, which will be an ideal solution for active traders.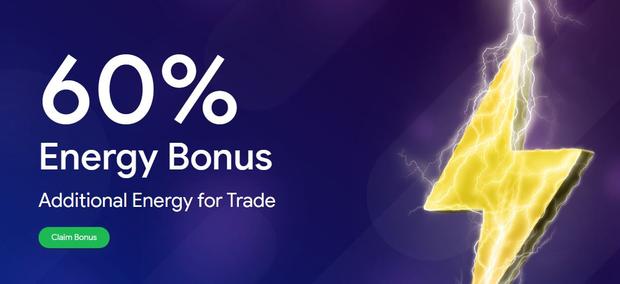 There are also a lot of contests, in which traders participate.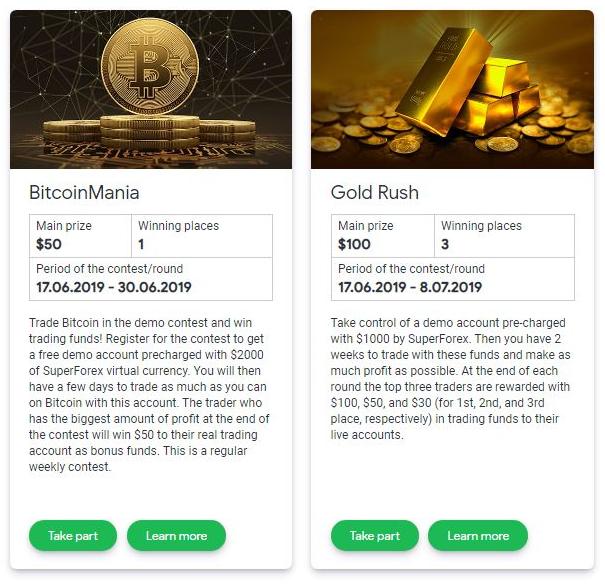 Deposit and withdrawal
It will take a few minutes to deposit funds into your balance sheet or withdraw your earnings. SuperForex guarantees prompt transfers of funds with transparent conditions. The list of available payment methods is replenished periodically. For 29 countries it is allowed to top up your account in local currency. You can top up your account through:
Bank transfer.
Bank card Visa/MasterCard.
E-wallets.
Cryptocurrency.
For each transaction there is a certain commission and different terms of processing the request. If the broker does not charge a commission for depositing the account regardless of the chosen method of money transfer, there are the following commissions for withdrawal:
3% + $35 for bank transactions;
1,5% + $7,5 for the dollar account for cards;
0,9% for cryptocurrency wallets;
0,1-3,9% for e-wallets.
When replenishing the account the money is credited for a few minutes, and when withdrawing – within 1-3 working days.

Complaints against SuperForex
In the network there are ambiguous responses about the newbies broker SuperForex. The company deserves attention, but it is difficult to call it a leader in its industry. Traders consider the following aspects to be positive:
Minimum deposit amount.
6 various bonuses.
Official license.
Quality analytics.
Various trading tools etc.
The disadvantages singled out are:
Low training quality.
Profit withdrawal delay etc.
As a result, the traders' opinions differ: some of them prefer SuperForex, others – categorically against it.
SuperForex broker regulator
Offering services in financial markets, the broker has the necessary license for that. Its regulator is the international financial company IFSC, one of the most reliable commissions from an offshore zone. After checking the broker and confirming the presence of his authorized capital (from 500 thousand dollars) IFSC issued the project a license to conduct brokerage activities.
SuperForex User agreement
Before you start working with the SuperForex broker platform, you should pay attention to the «User Agreement». For each type of account there is an official document regulating the powers and duties of the broker and trader. Besides, it is necessary to study documents «Complaint investigation policy» and «Order execution policy». Having got acquainted with them, the player will be able to estimate the risk and chances of further earnings in partnership with the broker.
As for the document «Terms of SuperForex application», it is in English, only. Still, it is worth studying its provisions. For example, it is said here that the broker has the right to change these rules without warning. All the users are responsible for the fact that they have not got acquainted with their updates:

In addition, the broker declines the responsibility for the information provided on the official website superforex.com. That is, all information should be questioned, since SuperForex does not guarantee its reliability:

The «Complaint investigation policy» states that any complaint will be investigated within 4 weeks:

The «Order Execution Policy» states that the broker reserves the right to reject orders at the first available price:

Is SuperForex a scam?
The company sets as a principle of success an innovative approach to trading, working on the quality of service, ready to offer its customer the best trading conditions. There are also training materials here, there is an opportunity to work on a demo account. In addition, the broker has a license, various reviews, including positive ones.
Still, SuperForex is a swindle? At the moment we will not make such a conclusion, but we recommend to invest a small amount of money in trading to test the broker in the case. Of course, there are negative responses from dissatisfied traders of the platform in the network, but there are also positive responses among them. The loud accusations that the company is a cheater are not supported by reliable facts in most cases. Some traders have been making money here for several years, recommending the platform to their acquaintances, while others cannot withdraw even the first payment.
Summary
SuperForex Forex broker offers for traders the access to the foreign exchange market, as well as other opportunities: training in trading, the option of copying transactions, demo account, etc. By general standards, this company is not a bad one, it is aimed more at the audience of Forex beginners. Still, before joining the full-fledged trading on the market, it is worthwhile to study the project more carefully and invest small amounts of money in it.
Rating of reliable brokers