Dcoin Exchange is a crypto exchange that offers favorable terms of cooperation, a variety of trading pairs, convenient terminal and low commissions.
Read completely
Cryptocurrency exchange
Official website
Social media
Date of foundation

2018

Head Office
Types of support
Languages

English, Chinese, Korean

The owner of the company
Minimum entry amount

Verified

Cryptocurrency

From 0.001 BTC
From 0.05 ETH
From 0.1 XRP
From 0.1 EOS
From 0.004 BCH
From 0.001 LTC

Unverified

Cryptocurrency

From 0.001 BTC
From 0.05 ETH
From 0.1 XRP
From 0.1 EOS
From 0.004 BCH
From 0.001 LTC

Minimum withdrawal amount

Verified

Cryptocurrency

From 0.01 BTC
From 0.1 ETH
From 20 XRP
From 1 EOS
From 0.01 BCH
From 0.1 LTC

Unverified

Cryptocurrency

From 0.01 BTC
From 0.1 ETH
From 20 XRP
From 1 EOS
From 0.01 BCH
From 0.1 LTC

Maximum withdrawal amount
Exchange Commission

Trade Commission:

0.2

% for maker /

0.2

% for taker

Withdrawal fee:

0.0005

BTC /

0.005

ETH /

0.25

XRP /

0.1

EOS /

0.001

BCH /

0.001

LTC

Terminals

TradingView

Age restrictions
Trading volume per day
Number of cryptocurrencies
Number of trading instruments
Margin Trading
Leverage
Tokenized assets
Free Demo Account
Types of accounts
Execution of orders

Market order, Limit order

Methods of replenishment

Cryptocurrencies

Withdrawal methods

Cryptocurrencies

Account currencies

Cryptocurrencies

Types of cryptocurrencies

BTC, ETH, XRP, EOS, BCH, LTC, BNB, etc.

Mobile applications
Trader training
A way to store cryptocurrencies
Fiat accounts
Scalping
Stop Loss and Take Profit Function
Exchangeability for fiat currencies
Terminal capabilities

Working with indicators, graphical tools

Basic verification
Extended AML verification

KYC (passport, passport or driver's license. Photo with document (selfies). Proof of address (bank statement, utility bill, etc.)

Regulatory laws

Chinese law

International data protection law

FATF (Financial Action Task Force)

API
Bonuses
Affiliate Program
Benefits

Large selection of trading pairs

Fast and secure transactions

Convenient and simple trading terminal TradingView

Good protection against hacking

Low spreads on major trading units

Disadvantages

There are complaints about problems with the terminal

Company requisites

Legal name:

Davox Technology AG

Overall assessment
Date of update

04.02.2023
Subscribe to this company
Dcoin Exchange is a scam? Reviews and description
Dcoin Exchange
- that
cryptocurrency exchange
which was launched in August 2018. On this platform it is possible to work with digital assets and all kinds of derivatives. Traders have access to a secure trading environment, for the functioning of which special software based on Google Cloud and Amazon AWS technologies is responsible. In this article, we will examine what exactly dcoin.com offers to its customers and whether this project is a scam.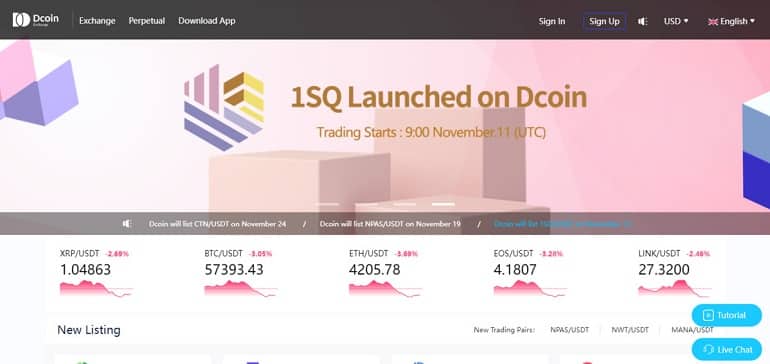 Why Dcoin Exchange?
Features of the platform dcoin.com:
user-friendly and simple trading terminal TradingView;
interface in English, Chinese, and Korean;
low spreads on major trading units;
large trading volumes;
good protection for exchangers from hacking;
own cryptocurrency DT;
Quick verification and low commissions;
No service fees for the trading account;
there are applications for mobile devices.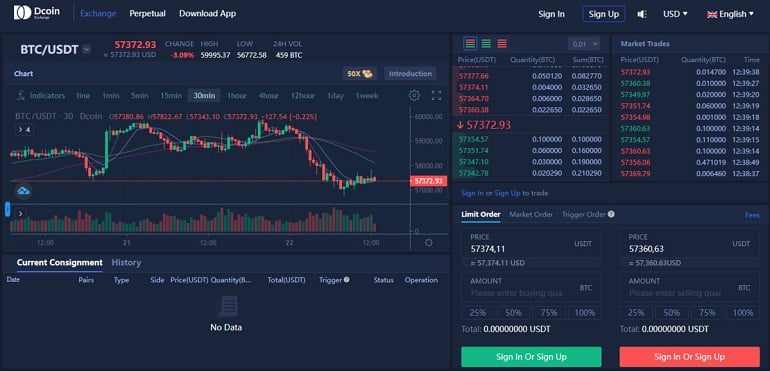 How to exchange cryptocurrency on the platform dcoin.com?
Special form for exchange on the site dcoin.com is not presented. You can deposit your balance in dollars, Chinese yuan or South Korean won, choose trading pairs and trade digital assets in the "Exchange" section. In the process, you will exchange one cryptocurrency for another and make a profit.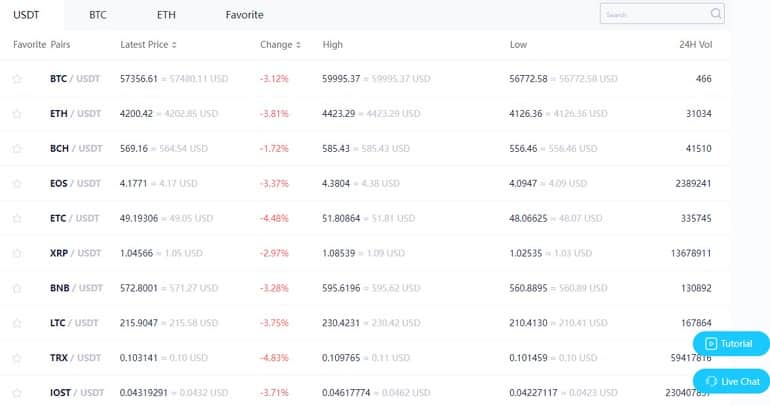 Verification on the Dkoin Exchange platform
To perform verification, go to your personal cabinet. Then click on the "Verification" tab on the left side of the window. In the opened form you need to specify your full name and upload a photo of your ID card and a photo with the document in your hands.
Deposit and withdrawal
To deposit funds, go to "Balances" and select "Assets". Then click on "Deposit" and you will get to the "Manage funds" page. In the form you will have to choose a coin. The system will form the address of the deposit (you can copy the address or use a QR-code), by which you need to make a transaction. Minimum deposit amount is 0.001 BTC, deposit less than minimum amount is not counted and can not be sent back.

To withdraw funds, you must also go to "Balances" and select "Assets". Then click on "Withdraw", choose a coin and specify the address cryptocurrency walletto which you want to transfer funds. If you do not pass the verification process, you will not be able to withdraw funds.
Dcoin Exchange Crypto Exchange Commission
For depositing your account in Dcoin Edge no commission is charged. For the Takers and Makers the commission is 0.2%. Withdrawal commissions are as follows:
Bonuses dcoin.com
The exchange conducts lotteries, gives discounts on commissions, and offers an affiliate program. That's what we'll talk about next.
Lottery ticket for mining DT
This promotion works all the time. One lottery ticket is drawn every time a trader makes a trade. The main goal of the promotion is to develop interest in the DT cryptocurrency. The lucky trader receives a direct reward to the trading account from the total prize pool. After the payout, the lottery is not drawn for a week.
Discounts on commission fees
You will receive a 35% discount on the commission fee. You need to use your own Dcoin Exchange token - DT.
Affiliate Program
You can use the invitation discount (in your personal cabinet "Referral Bonus") and invite your friends to the platform dcoin.com. For this you will receive a 10% commission discount. The commission rate for trading is 10%, and the bonus period is 90 days. It is calculated based on the actual time from the moment of registration of the invitee.
Complaints about the Dkoin Exchange
About this cryptocurrency exchange they speak mostly positively. They write that in general they have no claims to the exchange, applications are processed quickly, support responds to problems in a timely manner. The terminal is convenient, with a simple and clear interface. But sometimes it hangs, there are complaints about this. Sometimes transactions are carried out but the funds are not credited to the account. I have to turn to the support service, the problem is solved within an hour. There are complaints of hanging terminals. They also write that they often have to go through verification again, ask to send documents when withdrawing large sums.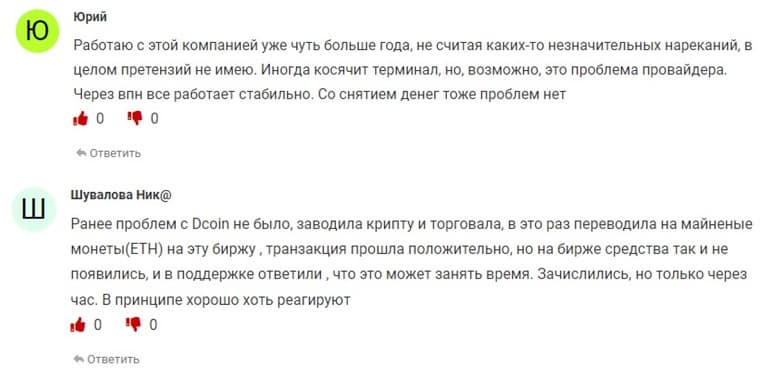 If there are any complaints about Dcoin Exchange, we will be sure to post on social media. Sign up so you don't miss anything!
Please keep yourself informed about news and complaints. We copy the most valuable information to social networks, so please sign up!
Regulation of the crypto exchange dcoin.com
Companies offering financial services can be both honest and fraudulent. So next we will talk about the regulation of cryptocurrency exchanges.
Regulator
Dcoin Edge is owned by the Swiss company Davox Technology AG. It has offices in Switzerland, South Korea, Hong Kong and Singapore. The company is headquartered in China and dcoin.com is regulated by Chinese law.
Dkoin Exchange User Agreement
The "agreement" warns users about the risks of trading digital assets.

It also states that the company does not give financial advice and is not responsible for client losses.

The document states that by registering on the crypto-exchange website, you agree to provide a valid email address, cell phone number and other necessary information.

It is stated that the company is not responsible for loss of information and funds, interruption of trade, loss of income.
Customer Service
The support team can be contacted as follows:
Is Dcoin a scam?
Dcoin Exchange is not a scam or fraud. This reliable digital asset and derivatives trading platform provides access to cryptocurrencies such as BTC (Bitcoin), ETH (Ethereum), LTC (Litecoin), XRP, BNB, etc. The project was founded by blockchain and digital asset enthusiasts. The core team consists of employees of Google, Amazon, Facebook and other world-renowned Internet companies, and investment institutions include JRR Crypto, CollinStar Capital, etc.
The main goal of dcoinExchange is to provide customers with a fast, simple and secure way to invest and trade digital assets with ease. The dcoin.com trading platform provides investors with a secure and stable trading environment, while ensuring efficient transaction completion. The company operates in an open, transparent manner.
Dcoin Exchange uses a world-leading technical framework and technical scheme based on Google Cloud and Amazon AWS that effectively prevents DDOS attacks, supports dynamic and static data, hot caching of data. As well as disaster recovery, parallel expansion and effectively prevents common vulnerability bugs to protect all user transactions.
Conclusion
Dcoin Exchange - is a reliable cryptocurrency exchange regulated by Chinese law. The company has been on the market of digital assets since 2018. It offers favorable conditions of cooperation, a variety of trading pairs, a convenient terminal and low commissions. There are lotteries, discounts on commissions and an affiliate program. The project is presented in English, Chinese and Korean. There is no Russian version of the site, you have to translate everything from English.
No reviews yet, be the first!
The company in the ratings
Robots for cryptocurrency
New companies on the site