Coinmotion is a unique Finnish cryptocurrency exchange with a number of additional services for private and corporate clients. Low commissions, fast withdrawal and the possibility of passive income.
Read completely
Cryptocurrency exchange
Official website
Social media
Date of foundation

2012

Head Office

Kauppakatu 39, 40100 Jyväskylä, Finland

Types of support
Support by phone
Languages

English, Finnish, German, Spanish, Dutch

Founder
The owner of the company
Manager
Minimum entry amount

Unverified

Cryptocurrency

Not available

Maximum input amount

Unverified

Cryptocurrency

Not available

Minimum withdrawal amount

Verified

Fiat

Bank card, bank transfer (SEPA), Sofort, Klarna:

From 10 EUR / Fee for withdrawal 0.9 EUR

Unverified

Cryptocurrency

Not available

Maximum withdrawal amount

Unverified

Cryptocurrency

Not available

Exchange Commission

Trade Commission:

From

0.8

To

2

% for maker /

From

0.8

To

2

% for taker

Terminals

Author's platform

Age restrictions
Number of cryptocurrencies
Number of trading instruments

5+

Technical analyses, fast transactions, intra-network transfers, etc.

Margin Trading
Tokenized assets
Free Demo Account
Types of accounts
Execution of orders

Market orders, Limit orders, Stop orders

Methods of replenishment

Bank card (Visa/MC), Cryptocurrencies, Bank Transfer (SEPA), Sofort, Klarna

Withdrawal methods

Bank card (Visa/MC), Cryptocurrencies, Bank Transfer (SEPA), Sofort, Klarna

Account currencies

EUR, Cryptocurrencies

Types of cryptocurrencies

BTC, ETH, Aave, LTC, XRP, XLM, etc.

Mobile applications
Trader training

Help on cryptocurrencies, useful articles, help center

A way to store cryptocurrencies

Cold:

Yes

User assets are stored in offline storage

Hot:

Yes

Hot accounts hold funds to ensure daily turnover

Fiat accounts

The account can be opened in EUR

Scalping
Stop Loss and Take Profit Function
Exchangeability for fiat currencies

Cryptocurrencies can be exchanged for EUR in the exchanger service

Credit account

Loans up to 2 000 EUR secured by cryptocurrency

Percentage account

Deposits with an interest rate from 1.5 to 5.5% per annum

Debit card

Prepaid debit card for payments in the Mastercard® network

Savings account

Savings account with automatic replenishment setup

Banking

Personal banking and counseling

Cold storage

Standalone storage for secure storage of assets

Transfers between users

Instant free transfers between network users

Corporate account

Corporate accounts for companies with enhanced security measures

Commercial Service

Cryptocurrency acceptance solution for online stores

API

Integration with additional system services

White Label

Ready-made solutions for corporate clients

Technical analyses

Analysis of current and past events in the market

Basic verification

Checking your email address

Extended AML verification

Uploading an identity document, proof of residency, selfies with an identity document

Regulatory laws

Finnish law

International data protection law

FATF (Financial Action Task Force)

API

Read more

Instructions and additional information

Bonuses
Affiliate Program
Benefits

High security of funds storage

Large selection of additional services

Support for popular cryptocurrencies

Fast deposit/withdrawal of funds

Discounts on trade commissions

Passive income opportunity

Disadvantages

Small number of cryptocurrencies (according to online reviews)

Company requisites

Legal name:

Coinmotion Ltd.

Legal address:

Kauppakatu 39, 40100 Jyväskylä, Finland

Overall assessment
Date of update

30.01.2023
The address is
Kauppakatu 39, 40100 Jyväskylä, Finland
Map
Subscribe to this company
Coinmotion is a scam? Reviews and description
Coinmotion
(formerly Prasos) -
cryptocurrency exchange
was launched by Finnish developers in 2012. The company is not a crypto exchange in the usual sense of the word. It is more than that, as the platform offers a variety of services to private and institutional traders, making
cryptocurrency trading
simpler, clearer and more accessible to all.
The platform offers not only active trading, but also earnings on deposits, credit account, and debit cardsCoinmotion is a cryptocurrency exchange that can be used to pay for goods and services on the Mastercard® network. In this review let's consider the features of the crypto exchange, its additional services, as well as user reviews in order to understand whether Coinmotion is a scam or a reliable service for trading with popular cryptocurrencies.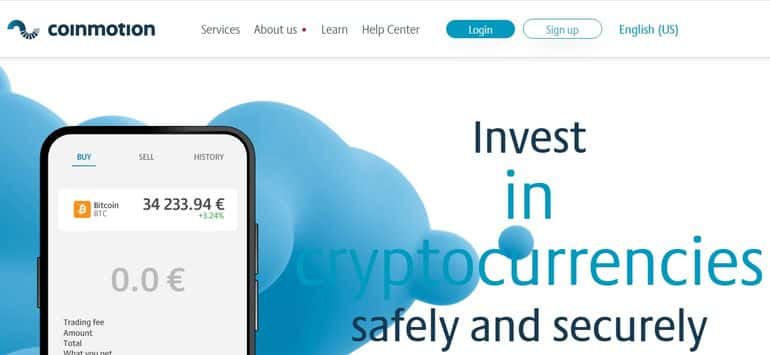 Why Coinmotion?
In creating the platform Coinmotion The developers had the task to make cryptocurrencies available to all user groups from professional traders to those who are new to crypto-trading. The developers successfully accomplished this task by creating a crypto exchange with a number of additional services that are available to everyone. Additional services of the exchange for private traders:
Credit account - you can get a loan of up to 2 000 EUR on the security of cryptocurrency.
Interest-bearing account - keep your cryptocurrencies in an interest-bearing account and earn by lending funds.
Debit Card - A prepaid debit card for payment of goods in the Mastercard® network.
A savings account is a piggy bank for your assets with monthly deductions set up.
Banking - personal banking as well as advice on cryptocurrency trading.
Cold storage - store your assets in offline wallets without the risk of unauthorized access.
User-to-User Transfers - instant free transfers between users and the ability to pay bills through the Coinmotion platform.
Additional services of the exchange for institutional traders, companies:
Corporate account - open a corporate account, trade, store assets with all security measures.
Merchant service - connect Coinmotion merchant service to your online store and start accepting cryptocurrencies as payment for goods and services.
API interface - additional API services allow you to link your Coinmotion account with other services to track prices, investments, portfolio control, etc.
White Label - the company offers ready-made solutions for implementing cryptocurrencies on the client's platform, as well as for creating their own tokens.
Also on the platform you will find technical analyses market and different types of orders. The platform offers an author's simplified terminal with support of take profit and stop loss functions. Here is available spot trading nine popular cryptocurrencies, including BTC, ETH, LTC, XRP, XLM, AAVE et al.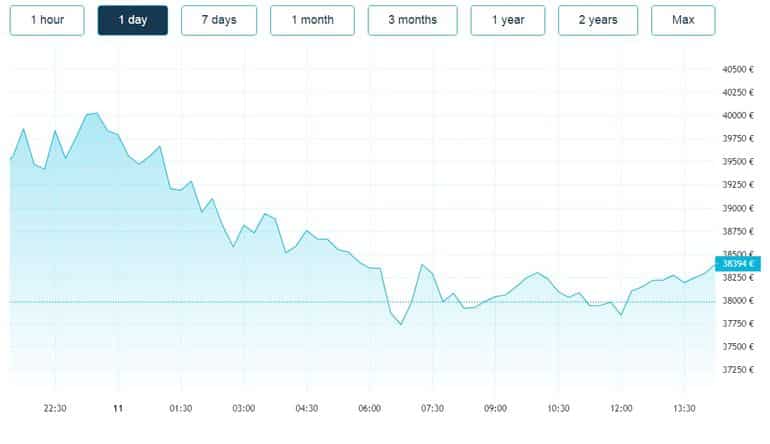 How to exchange cryptocurrency on the Coinmotion platform?
Cryptocurrency exchange on the platform is available in the built-in exchange site service. To exchange cryptocurrency, go to the "Convert" tab in the "Trading" section. Specify the cryptocurrency you want to exchange and the cryptocurrency you want to receive. Make the exchange at the market price.
Verification on the coinmotion.com platform
To work on the exchange coinmotion.com registration is required, as well as verification of identity. To register, you must provide an email address and come up with a password. After confirming the email address, a demo account will be created. Immediately after registration the functions of the account are limited. You have to verify your identity to add funds to your account and start trading. Verification of the account on the platform takes 4 steps:
Step 1. Confirm the phone number. In this step, specify the country code and enter the cell phone number. Confirm the number by entering the code you received in the sms message.
Step 2. Personal information. At this step, you need to fill out the form with personal information. All data must be truthful.
Step 3. Financial information. Now you need to specify the number of your bank account or bank card, which will be linked to the account to deposit and withdraw funds.
Step 4. Identity verification. At this stage, you need to attach a scan or photo of your ID document, proof of residency, selfies with your ID document.
It takes 1 to 5 days to verify your documents on the site. After that you will receive a notification that your account is open for deposit.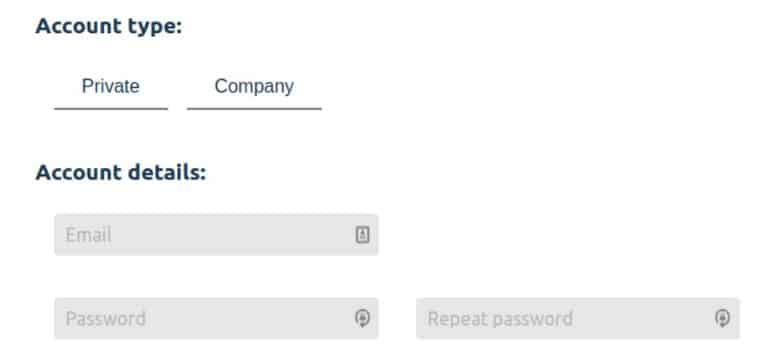 Deposit and withdrawal
Account replenishment on the platform coinmotion.com available after full identity verification. You can deposit your account in EUR and cryptocurrencies supported by the service. To deposit in fiat currency, go to "My Wallets" - "Deposit" tab. Select the method of deposit. Here you can make transfers from debit or credit cardThe transaction can be made through online banking or from a bank account. Specify the amount and confirm the transaction. To top up your cryptocurrency balance, select a token, generate a crypto address and specify it in your cryptocurrency wallet.
Withdrawals are available both in EUR and cryptocurrencies. To withdraw in fiat currency, first convert cryptocurrencies to EUR. Go to the wallet and order withdrawal. Specify the amount and method of withdrawal. To withdraw cryptocurrencies, select a coin and click the "Send" tab. Enter the cryptocurrency wallet address and the transfer amount. Confirm the transaction. The minimum amount for withdrawal is 10 UER.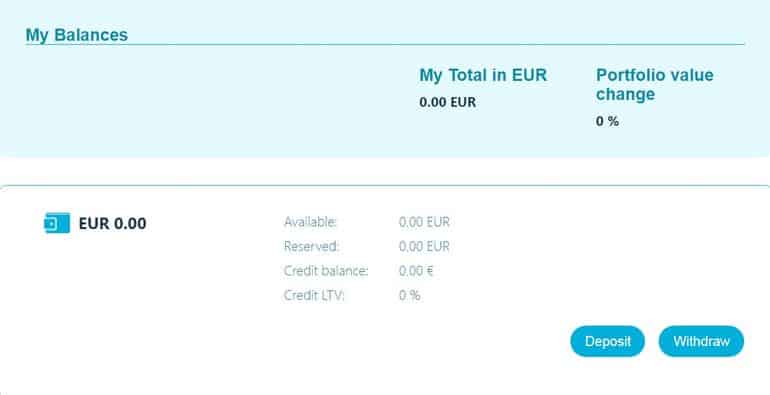 Cryptoexchange Commission
Crypto exchange users pay trading and withdrawal fees. The single standard trading commission for makers and takers is 2% of the transaction amount. Trading commissions can be reduced by reaching a certain volume of trades.
The withdrawal fee is calculated depending on the asset to be withdrawn. Crypto-transfers between exchange users are free of charge. For withdrawals in fiat money the commission will be 0,9 EUR. When withdrawing cryptocurrency outside the ecosystem the commission is calculated personally.
Coinmotion Bonuses
Users of the Coinmotion cryptocurrency exchange can receive discounts on trading commissions, earn deposits and participate in the referral program.
Discounts on trade commissions
In order to get discounts on trading commissions, you must reach a certain trading volume over the last 90 days. The discount system allows you to reduce commissions to 0.8%: Trading volume from 500 EUR - 1.8%, from 2 000 EUR - 1.6%, from 10 000 EUR - 1.4%, from 50 000 EUR - 1.2%, from 250 000 EUR - 1%, from 1 000 000 EUR - 0.8%.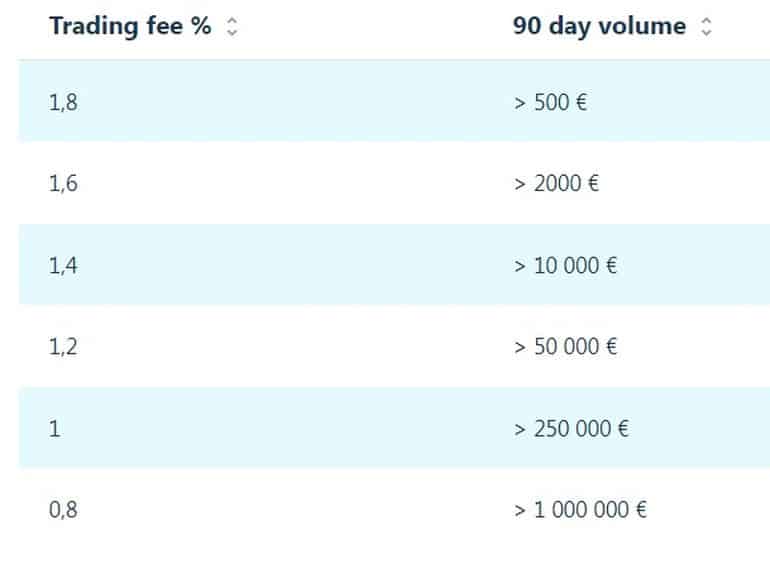 Deposit Fee
By keeping money in an interest-bearing account, you can earn rewards for your deposit. The annual interest rate on the deposit depends on the account currency, for example, BTC - 1.5%, LTC - 1.75%, ETH - 2%, XRP - 1.5%, USDC - 5.5%.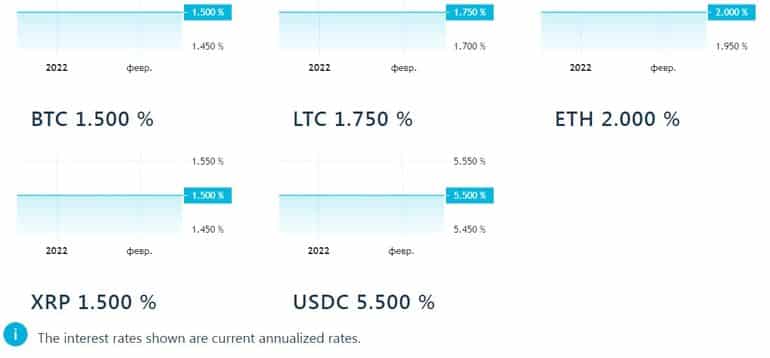 Referral program
Every registered and verified user can take part in the referral program of the service. Referral remuneration is 50% of the user's commissions paid within 12 months.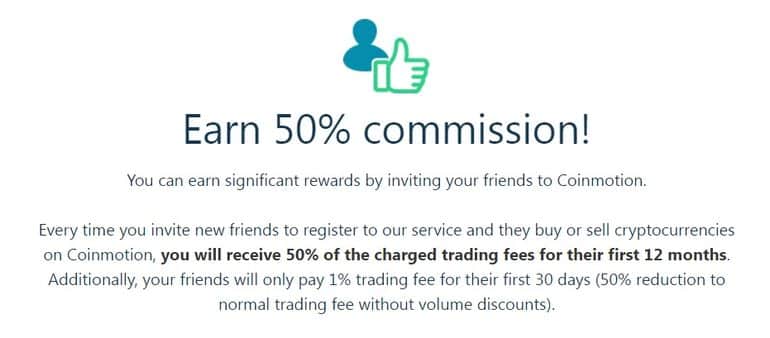 Complaints about Coinmotion
We did not find any reviews about Coinmotion crypto exchange on Russian-language platforms. This may be due to unpopularity of the project among Russian traders, because first of all, the platform is focused on inhabitants of Finland and Europe. Having analyzed English-language review resources, we came to the conclusion that in the vast majority of cases the platform completely satisfies the users. Traders speak positively about the crypto exchange, emphasizing prompt professional support, availability of additional services and high reliability of the platform.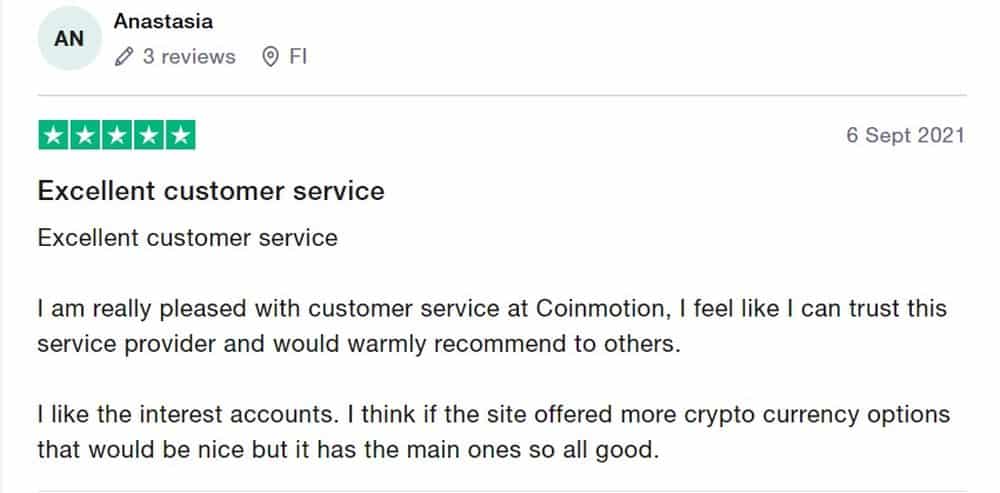 If there are any complaints about Coinmotion, we will be sure to post on social media. Sign up so you don't miss anything!
Please keep yourself informed about news and complaints. We copy the most valuable information to social networks, so please sign up!
Regulation of Coinmotion crypto exchange
Cryptocurrency trading involves high financial risks. To minimize these risks, you should choose reliable trading platforms that are regulated by the laws of the country of registration.
Regulator
Coinmotion Cryptocurrency Exchange is operated by Coinmotion Oy, a company officially registered in Finland. The company has registration number 2469683-1 and its activities are regulated by the laws of the country of registration. Documents coinmotion.com:
Coinmotion.com User Agreement
In accordance with the user agreement, registration on the site is available to persons over 18 years of age. Registration is prohibited for residents and citizens of the United States, due to strict FATCA regulations. By registering on the site, you confirm that you have read the user agreement, accept its provisions and undertake to comply with the rules of the service.

Finnish law applies to this agreement. By accepting the terms of this agreement, you confirm that you agree that any disputes or disagreements shall be subject to the jurisdiction of the courts of Finland, City of Helsinki. You also agree that the company shall be entitled to injunctive relief in any jurisdiction.

Customer Service
According to users' statements, the support service of coinmotion.com quickly responds to customer inquiries and gives detailed professional advice. You can contact the support team via the following channels:
E-mail: [email protected]
Phone: +358 (600) 30-08-8 (from cell phone).
Twitter.
Facebook.
Instagram.
You can also find the necessary information in the help center and on the service blog.
Is Coinmotion a scam?
Coinmotion - is a unique Finnish cryptocurrency exchange with low commissions, profitable referral program and a number of additional services. Having analyzed the platform's operation, legal information about the company and user reviews, we can state that Coinmotion is not a scam. The company has been on the market since 2012, offering traders not only active trading in cryptoassets, but also options for passive income. You can also order additional services here, such as a credit account, personal banking and a prepaid debit card.
According to customer reviews, the platform completely fulfills its obligations to users, ensuring the safety of assets, fast withdrawal of earnings and fair accrual of referral fees. The only drawback of the crypto exchange, according to the reviews on the Internet is a small number of supported cryptocurrencies.
Conclusion
Coinmotion - an interesting cryptocurrency exchange with a simplified interface and additional services. Both beginners and experienced traders can comfortably trade here. The goal that the creators of the project pursued was to bring cryptocurrencies to the masses, providing simple and convenient trading for all user groups. In our opinion, the platform certainly deserves attention and with increasing popularity can enter the top 50 cryptocurrency exchanges among Russian traders. Register on the website of crypto exchange and start your way in simple and clear trading.
No reviews yet, be the first!
The company in the ratings
Robots for cryptocurrency
New companies on the site