CoinGate is a crypto exchange founded in 2014 and registered in Lithuania. It offers digital asset trading and cryptocurrency payment processing services for companies.
Read completely
Cryptocurrency exchange
Official website
Social media
Date of foundation

2014

Head Office

Republic of Lithuania, LT-01108, Vilnius, 8-331 A. Gostauto str.

Types of support
Languages

English,

Founder

Dmitry Borisenko, Jonas Gilis, Irmantas Baciulis

The owner of the company
Manager
Minimum entry amount
Maximum input amount
Minimum withdrawal amount
Maximum withdrawal amount

Verified

Fiat Currency

to 10,000 EUR
to 11,400 USD

Unverified

Fiat Currency

to 10,000 EUR
to 11,400 USD

Exchange Commission

Buying and selling commission:

1

% / for SEPA bank transfer

Buying cryptocurrency:

8

% / using a credit card

Withdrawal fee:

1

EUR /

0.2

USD / international bank transfer

Terminals

Author's platform

Age restrictions
Number of users
Number of cryptocurrencies
Margin Trading
Tokenized assets
Free Demo Account
Types of accounts
Methods of replenishment

Sepa, Bank card (Visa/MC), Mobile payments

Withdrawal methods

Sepa, Advcash, SWIFT

Account currencies

EUR, USD

Types of cryptocurrencies

BTC, ETH, BNB, ADA, USDT, XRP, DOGE, UNI, LINK, LTC, BAT, BCH, etc.

Mobile applications
Trader training
A way to store cryptocurrencies
Fiat accounts
Scalping
Stop Loss and Take Profit Function
Exchangeability for fiat currencies
Merchants Guide

List of stores where you can spend cryptocurrency

Gift cards

Buying cards from different companies for cryptocurrency

Accepting cryptopayments

Several tools for setting up payments and sending invoices

Basic verification

Provide a copy of your passport or other ID

Extended AML verification

Passport information, information about the source of funds (for clients with a turnover of 15,000 USD or more per year), two-sided photo of the document, selfies via the Onfido app

Regulatory laws

Legislation of the Republic of Lithuania

International data protection law

FATF (Financial Action Task Force)

API
Affiliate Program

Registration

1-10% from the cost of referrals, 50-1000 euros for attracting companies

Benefits

Buying cryptocurrency from bank card and mobile account

A simple form of buying/selling digital assets

Setting up cryptocurrency payment acceptance with simple exchange tools

List of stores for buying goods for cryptocurrency

Ability to purchase gift cards from different companies for digital assets

Profitable referral program

Ability to add information about your company to the list of sellers

Company requisites

Legal name:

UAB "Decentralized"

Legal address:

Republic of Lithuania, LT-01108, Vilnius, 8-331 A. Gostauto str.

Overall assessment
Date of update

20.02.2023
Address
Litovskaya Respublika, LT-01108, Vilynyus, ul. A. Goshtauto, 8-331
Map
Subscribe to this company
CoinGate is this a scam? Reviews and description
CoinGate - crypto exchangewhich allows you to buy and sell Bitcoin, Ethereum and 70+ other digital assets using multiple payment methods. Trading is done through a simple buy/sell form on the homepage. Transactions are available via credit and debit cardor by bank transfer or mobile credit. Once the application is approved, the user receives cryptocurrency or fiat currency to your personal wallet.
You can also set up accepting cryptocurrency payments with several convenient tools and sending an invoice via email. There is a referral program with which you can earn money by attracting users and by advertising gift cards. To find out if the company is faithful in its commitments and to find out if CoinGate is scamming, we compiled this review.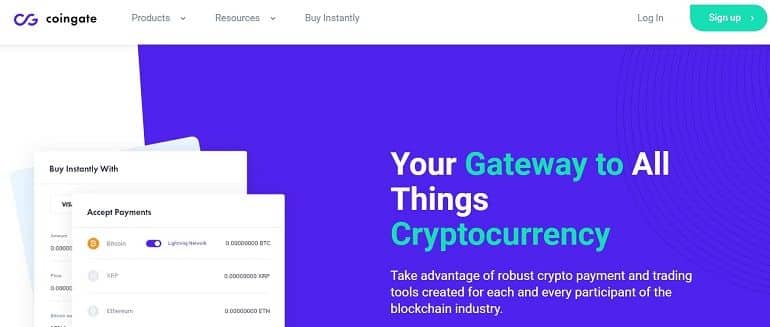 Why CoinGate?
CoinGate is a Lithuanian crypto exchange founded in 2014. The payment gateway offers cryptocurrency payment processing services for businesses. Fiat payments to a bank account and an email billing function are available. The company is bringing cryptocurrency closer to mass adoption by offering several ways to set up cryptocurrency payments for any website or physical store. Options include payment buttons, web-based PoS, API integration, and official plugins for major e-commerce platforms.
In addition to trading services, CoinGate also provides a platform for buying and selling numerous crypto assets with a single payment. Customers can choose from purchase methods such as debit/Credit Cards, SEPA bank transfer or mobile balance. The exchange allows you to accept payments in BTC, ETH, LTC and other cryptocurrencies with a business account.
Cryptocurrency payment infrastructure setup, order tracking, managing your revenue with a simple payment gateway, sending invoices, converting payments into fiat or other currencies, and storing assets on one platform are available. The service offers several payment tools:
API interface. Fully customizable tool applicable to any site.
Plugins. Installation in a few clicks.
Libraries. A versatile tool that is suitable for enterprise-level integration.
Payment Buttons. A simple solution for accepting simple payments and collecting donations.
You can issue scheduled or one-time invoices by requesting payments via link or email. A billing API is available. Ideal for subscription-based business. You can bill by link or email. There's also instant billing: sending one-time invoices for cryptocurrency via email or link without additional setup or coding.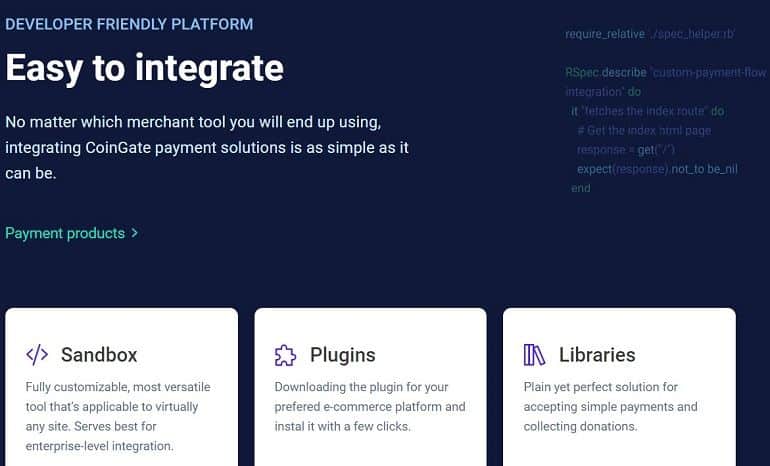 The site also has a directory of merchants. This is a list of stores where you can count on cryptocurrency. You can buy for digital assets and gift cards from different companies. Cards for buying goods, tickets, games, restaurants and entertainment are paid with any cryptocurrency and are sent to the user's email instantly. The Lightning Network option is available for transactions when purchasing gift cards with reduced fees.

Vendors who offer to buy their goods for cryptocurrency can promote their stores with logos and physical stickers CoinGate. Exchange offers to add information about themselves and in the directory of sellers, published on the site. The advantages of the service also include:
A simple buy or sell order form.
Quick verification. The trading account is verified almost instantly - usually in no more than 24 hours.
Multiple payment methods available in more than 100 countries.
Storage in the "cold" storage of most of the users' funds.
Ability to bill in cryptocurrency.
Profitable referral program.
Purchasing gift cards for cryptocurrency.
How to exchange cryptocurrency on the CoinGate platform?
To start buying and selling cryptocurrency, you need to create an account, confirm it and add a payment address. The Buy/Sell section has a simple form for buying, selling and exchanging assets. It has fields for entering amounts and selecting currencies, country and payment method (depends on where you live).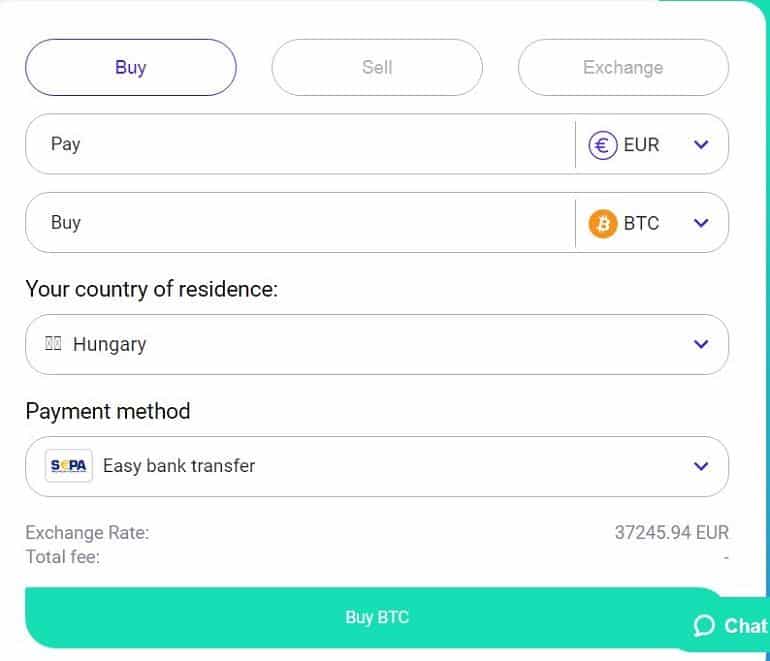 A quick purchase without creating an account with a bank card is also available. There is a "Buy instantly" section for this, which offers a purchase request form. In it, choose a cryptocurrency, specify the wallet address and the purchase amount from $50 to $20,000. Enter your payment information. The credit card transaction is processed by Simplex. Get a quick verification and get the cryptocurrency within an hour.
The payment gateway provides several ways to buy cryptocurrencies with a single payment through your personal account:
Bank transfer via SEPA in euros. Available for BTC, LTC, ETH, DASH, ZEC, BCH, XRP, NANO, TRX, DAI, BTT.
From a mobile account. You can buy the same assets as in the case of a bank transfer.

To buy with a bank transfer, go to the "Buy" section in your personal cabinet. The window will open a cryptocurrency purchase agreement, reminding you that the service recalculates the value of the currency every minute. After agreeing to such terms, you will go to the purchase form. In it, enter the amount and select the cryptocurrency. Go to the next page and complete the payment. Traders with European IBAN can buy cryptocurrencies via direct bank link. For this method, enter the amount, select the cryptocurrency, a simple bank transfer and the bank. You will get a direct transfer link. The purchase price is fixed at the moment of purchase. Funds will be credited to your account within 24 hours on business days.
Visa, MasterCard and some virtual prepaid debit cards are accepted for card purchases. Minimum amount is 50 euros or $57. Choose cryptocurrency, euro or other national currency, specify pickup address and proceed to checkout. Payments will arrive to your wallet within 1-2 business days. You can buy small amounts of different cryptocurrencies from your mobile balance. Depending on the circumstances, you can make a payment over the phone or by sending a text message (SMS). Funds are credited to a personal wallet within 24 hours.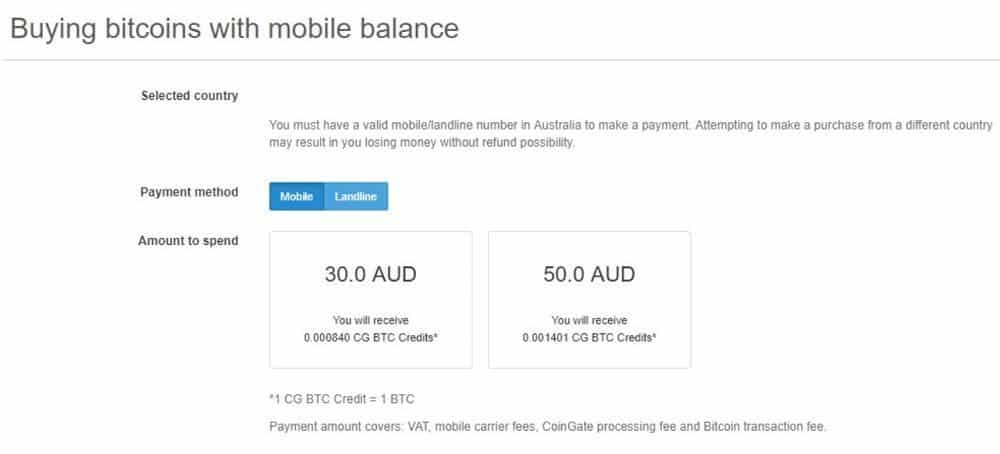 Verification on the coingate.com platform
Cryptoexchange offers 2 options of verification: simplified and conventional. In the first case, you can go through a simple identity verification procedure and cryptocurrency trading up to €1,000 per month with a total limit of €5,000. This KYC process allows new traders to quickly confirm personal accounts and use the full range of trading services.
Customers are verified in real time using Onfido. To pass a simplified KYC, go to your personal profile in "Control Panel - Account - Verification". Select the option "Continue Test Verification", fill in the blank fields and click "Next", upload a copy of your ID card or passport with a photo. The document must contain the following information:
first and last name;
photo;
nationality or citizenship;
date of birth or personal code;
signature.
Once the team reviews the application, it will send a notification to the specified email address. The process usually takes 1-2 business days.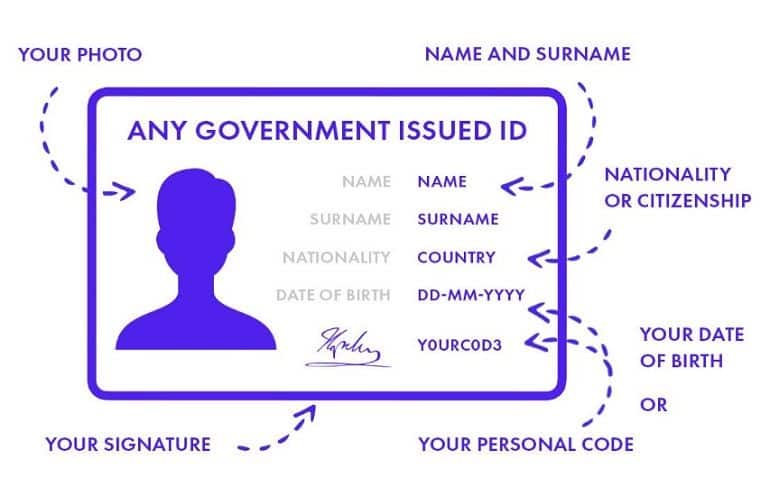 To pass the normal test, log in to your account coingate.comClick the Verification tab or select the "Verify" option on the main toolbar. The first verification step is to enter your full name, date of birth, and gender as they appear on your ID card.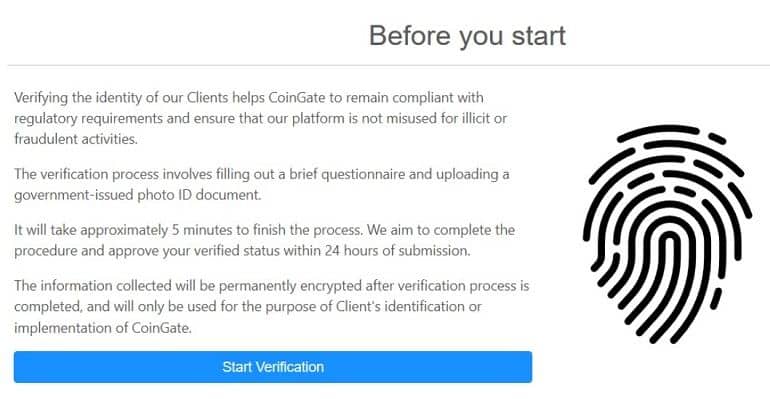 Next, fill in the document data, write down the personal code, the ID number and select the date of expiry. If there is no code, select the option "I don't have a personal code", enter the document number and its expiration date. In the next step, enter your residential address, citizenship and email address.
If you intend to make transactions in excess of €15,000 per year, indicate this. In this case, the exchange will ask for additional documentation confirming the source of funds. You must also choose whether you are working, doing freelance work, a student or a pensioner.
Select the preliminary amount in euros that you intend to trade per year and the countries from which you will receive funds. The last step involves uploading your ID card into the Onfido system. Click on "Confirm Trader" and select the type of ID. Click "Start" and enter your phone number. You will receive an SMS with a link to the confirmation page.
Open it and a verification application will appear. In it you have to take a picture of the front side of the ID card. The same procedure is repeated for the back side of the document. The last step is face verification in real time. To do this, you need to use the camera on your device. Press "Turn on the camera" and take selfies. You will see a confirmation window indicating that the upload is complete. Go back to your CoinGate account and click "Send Confirmation." Administration will verify the account within 24 hours. You will then receive an email notification.
Deposit and withdrawal
In myAlpari, it is possible to buy cryptocurrency, which will be in the user's account for trading and use in other cases. Withdrawal and history of such operations are also available in the cabinet.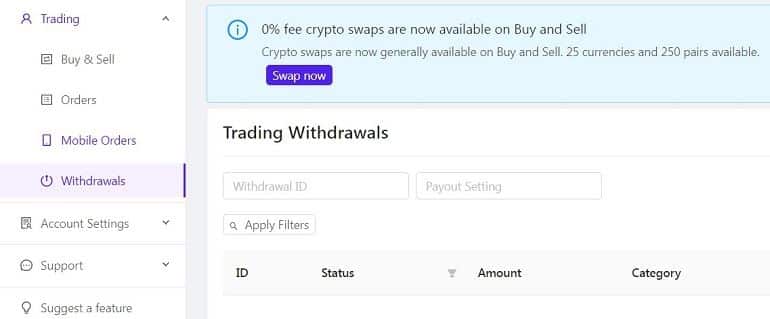 Cryptoexchange Commission
Cryptopayment processing fees are 1% for all buttons, plugins, webPoS, APIs and billing. SEPA bank transfer for purchase or sale is also charged 1%. For credit or debit card purchases, the fee is 8%.
Withdrawal fee is also charged. For withdrawals through an international bank in euros it is 1% (not less than 50 euros), in dollars - 0.2% (not less than 50 euros). For withdrawals via AdvCash 1% is charged. Other cryptocurrencies are withdrawn without a fee.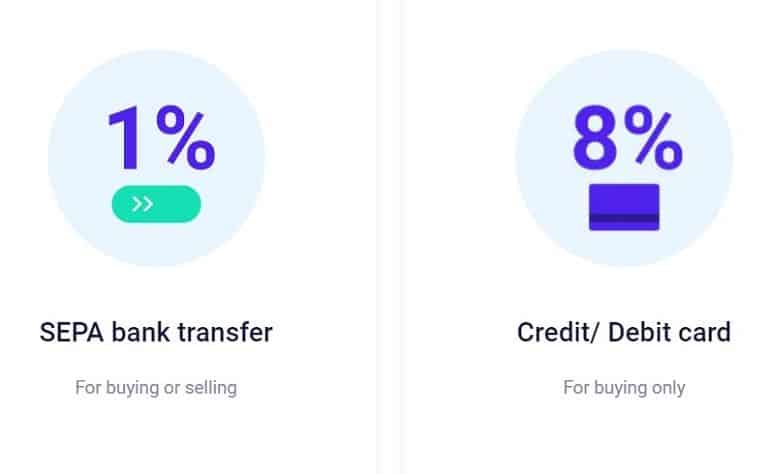 Bonuses coingate.com
Cryptoexchange offers participation in an affiliate program.
Referral program
The crypto exchange offers to earn 10% from the purchases of each attracted user. Another cooperation option is also available: by advertising gift cards, which can be purchased through CoinGate, you can receive a reward for each purchase.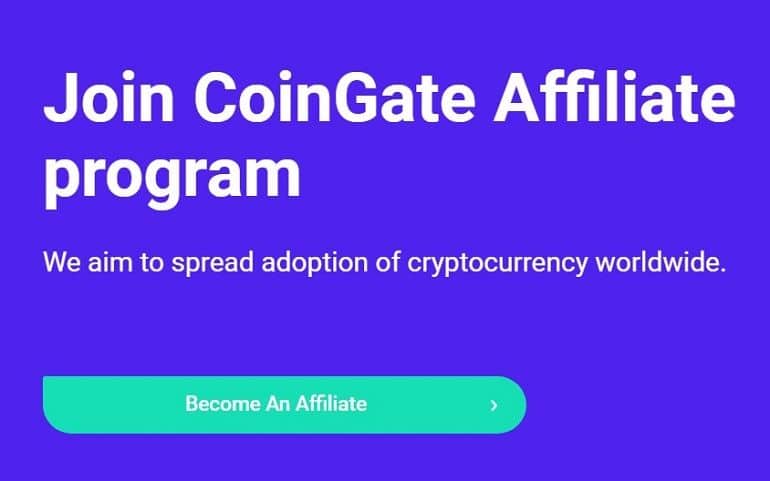 All new users who sign up for the account coingate.com by following the referral link and confirming the account, can process payments for 30 days without commissions and enjoy a free trader order when using trading services for the first time (available for SEPA bank transfer).
It is also possible to share your link with those who want to buy cryptocurrency with a credit card. In this case, the user can not register, only a simplified KYC procedure is required. For any purchase from the card the exchange partner will receive 1% of the amount.
New companies can also be invited to integrate the CoinGate trading solution and start processing cryptocurrency payments. Rewards for attracting new merchants are divided into 3 levels and are paid when certain conditions are met:
Level I (50 euros) - the company passes a full inspection and receives the first paid order.
Level II (200 euros) - the seller achieves a turnover of 100,000 euros.
Level III (1,000 euros) - the seller achieves a turnover of 1,000,000 euros.
You can withdraw money through your personal account by visiting the "Withdrawals" section. The minimum amount to request is 50 euros.
Complaints against CoinGate
There are not many reviews about the exchange. Some of them are positive, although users do not describe in detail what they like about the company. There are also complaints about the lack of help from technical support and problems with withdrawal of funds.

If there are any complaints about CoinGate, we'll be sure to post the information on social media. Sign up so you don't miss anything!
Please keep yourself informed about news and complaints. We copy the most valuable information to social networks, so please sign up!
Regulation of the CoinGate crypto exchange
To avoid problems when trading cryptocurrency, it is necessary to check the documentation on the company's website, reviews on the Internet, to clarify whether there are licenses.
Regulator
The user agreement states that the exchange is owned by UAB Decentralized, registered in Lithuania. There is no information about licenses. Several documents are published on the website.
Coingate.com User Agreement
Several agreements are published on the exchange site - for users, traders, sellers and buyers. In the terms and conditions for users there is information about the company and its address. It is indicated that it operates in accordance with the laws of the Republic of Lithuania. The rights and obligations of the parties are described, including the requirement that the client must be of legal age to use the service. The user undertakes to notify the administration, not later than within 10 days, about any changes in the information he has provided.

The Exchange may stop or suspend the use of the system if the administration has grounds to do so related to the security of the service or to its suspected fraudulent use. The platform is not responsible for losses incurred as a result of blocking access to the system and is not obliged to pay a fine.

Customer Service
You can contact CoinGate technical support by e-mail: [email protected] You can also write to the chat, study the information in the help center or fill out a feedback form. The company also has pages on social networks Facebook and Twitter.
Is CoinGate a scam?
CoinGate - a cryptocurrency exchange where you can buy and sell cryptocurrency using several payment methods, including credit or debit card and mobile account transfers. You can set up cryptopayments with convenient tools, add your company's information to the list of sellers, buy gift cards from different services for coins and become a member of referral program.
Reviews about the service are few, but mostly they are positive. Given these facts and the fact that the exchange belongs to a company officially registered in Lithuania, we can conclude that CoinGate is not a scam.
Conclusion
CoinGate - a cryptocurrency exchange that has been operating since 2014. It offers not only cryptocurrency trading, but also several additional features. This is a convenient platform for those who want to sell their goods with payment in cryptocurrency. For such customers, the exchange offers several convenient tools.
No reviews yet, be the first!
The company in the ratings
Robots for cryptocurrency
Activity
New

0

Resolved

0

Not resolved

0
New companies on the site