Cat.Ex is a crypto exchange that offers attractive trading conditions, low commissions and fast transactions.
Cryptocurrency exchange
Official website
Social media
Date of foundation

2018

Head Office
Types of support
Languages

English, Japanese, Korean, Chinese

The owner of the company
Minimum withdrawal amount

Verified

Cryptocurrency

From 0.001 BTC
From 0.02 ETH
From 0.01 BCH
From 0.5 ETC
From 0.05 Dash
From 8 USDT
From 0.1 LTC

Unverified

Cryptocurrency

From 0.001 BTC
From 0.02 ETH
From 0.01 BCH
From 0.5 ETC
From 0.05 Dash
From 8 USDT
From 0.1 LTC

Exchange Commission

Withdrawal fee:

0.0005

BTC /

0.008

ETH /

0.001

BCH /

0.01

ETC /

0.002

Dash /

5

USDT

Terminals

TradingView

Age restrictions
Trading volume per day
Number of cryptocurrencies
Number of trading instruments
Margin Trading
Tokenized assets

CATT - the platform's own token

Free Demo Account
Types of accounts
Execution of orders

Stop Limit Order, Market order, Limit Order

Methods of replenishment

Bank card (Visa/MC), Cryptocurrencies

Withdrawal methods

Cryptocurrencies

Account currencies

Cryptocurrencies

Types of cryptocurrencies

BTC, ETH, BCH, ETC, DASH, USDT, LTC, etc.

Mobile applications
Trader training

There are instructions on verification, deposit and withdrawal, commissions, etc.

A way to store cryptocurrencies
Fiat accounts
Scalping
Stop Loss and Take Profit Function
Exchangeability for fiat currencies

You can buy cryptocurrency for fiat

Terminal capabilities

Working with indicators, graphical tools

Basic verification
Extended AML verification

KYC (passport, passport or driver's license. Photo with document (selfies). Proof of address (bank statement, utility bill, etc.)

Regulatory laws

Chinese law

International data protection law

FATF (Financial Action Task Force)

API
Bonuses
Affiliate Program
Benefits

Loyal terms of cooperation

A wide range of trading pairs

The platform's own token - CATT

Unique trading charts - Basic and Advanced

Easy registration and verification

Discounts on trade commission

Disadvantages
Company requisites

Legal address:

China, Shenzhen

Overall assessment
Date of update

17.02.2023
Subscribe to this company
Cat.Ex is this a scam? Reviews and description
Cat.Ex
- it's a major
cryptocurrency exchange
, established in August 2018. The company has global communities in China, South Korea, Bangladesh, Russia, Turkey, India, Indonesia and the United States. The exchange uses a process called transaction mining so that users can receive dividends from the platform when distributing profits. In this review, we'll take a look at the features of catex.io and find out if it's a scam.

Why Cat.Ex?
Benefits of the platform catex.io:
simple and straightforward interface;
a variety of graphical tools;
The platform is available in English, Japanese, Korean, and Chinese;
unique trading charts - Basic and Advanced;
platform's own token - CATT;
discounts on trade commissions;
generous affiliate program;
simple registration and verification;
redemption and burning - dice profits, transaction fees, 60% of IEO listing fees, and CATT tokens used in the coin voting contest.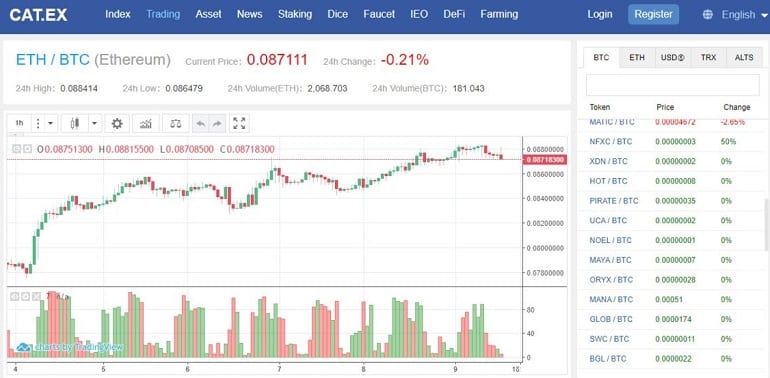 How to exchange cryptocurrency on the catex.io platform?
Special form for a quick exchange of some coins on the site is not presented. Here it is necessary to trade cryptocurrencyIn order to exchange one currency for another in the process of trading and make a profit. Go to the exchange directly on the main page of the resource by clicking on this or that trading pair, then you will be redirected to the trading chart. Or, you can get to the trading chart through the Trading section. Here you can select a trading pair and then sell or buy cryptocurrency.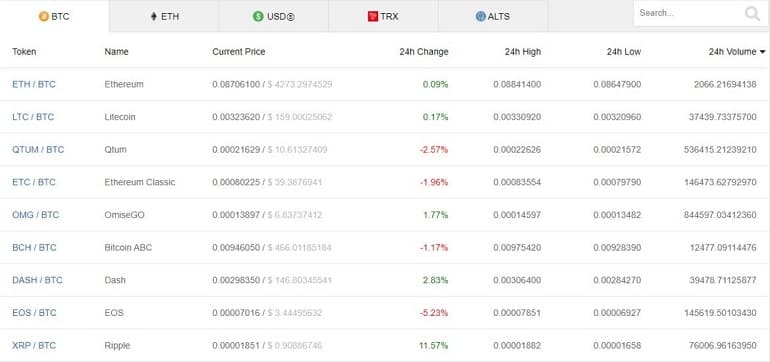 Verification on the Cat.Ex platform
To be verified, go to Profile and click on the "Auth" button next to KYC. In the form that opens, specify your full name, country of residence, and upload a scan of a document - ID card, passport or driver's license. Then enter the captcha and send the data. After their verification you will be able to withdraw larger sums.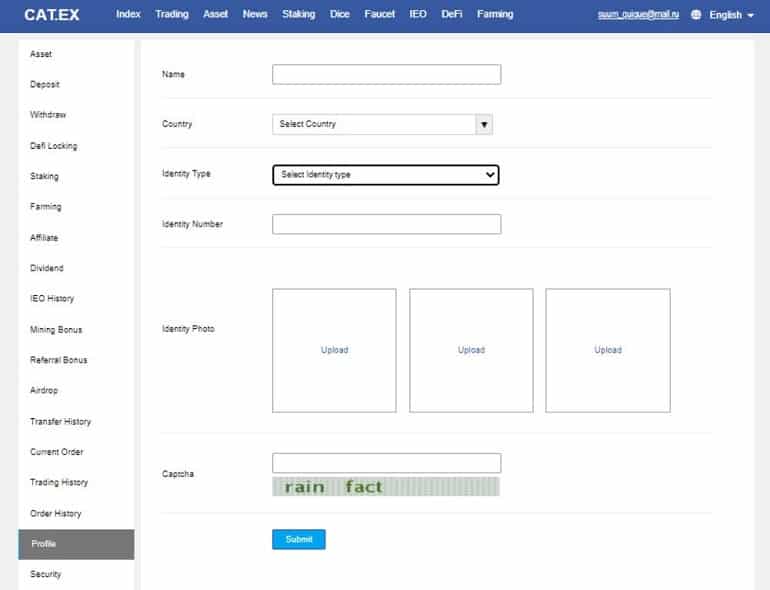 Deposit and withdrawal
Go to the Asset section and you will see a table with all active cryptocurrencies. Next to the coins, there are Deposit and Withdraw buttons. Choose an asset and click on one of them - this is the deposit and withdrawal of currency. Clicking on Deposit, you will see a window with a link to perform the transaction. There is also a QR code that you can scan. Copy or scan this address and make the payment.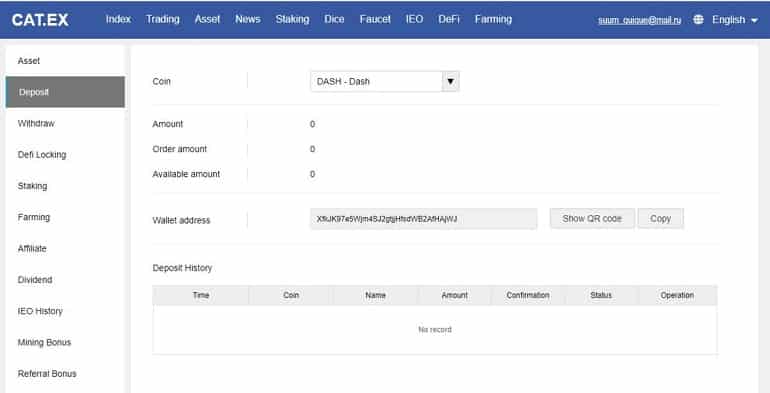 To withdraw funds, specify the address cryptocurrency walletto which you want to withdraw coins and click the Withdraw button. Funds are transferred quickly and easily.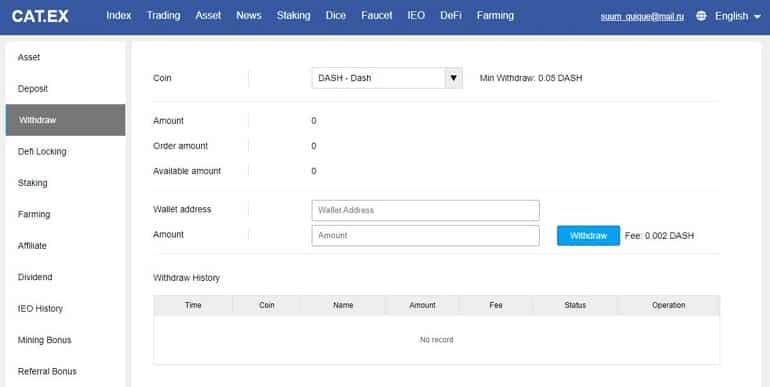 Catex Crypto Exchange Commission
The commission for the trade is only 0.1%. And the commissions for withdrawal of coins are as follows:
BTC - 0.0005 BTC;
ETH - 0.008 ETH;
BCH - 0.001 BCH;
ETC - 0.01 ETC;
DASH - 0.002 DASH;
USDT - 5 USDT, etc.
Cat.Ex bonuses
The exchange offers daily dividends, commission discounts, rewards through cryptocurrency giveaways, and a referral system. That's what we'll talk about next.
Daily dividends
Exchange Cat.Ex. provides a system of rewarding active investors, which is expressed in the receipt of daily dividends from the trading platform (up to 90%).
Commission discount
CAT.Ex tokens can be used to pay transaction fees. If you trade CATT tokens and execute a transaction, you will receive a 30% commission reduction. Depending on the amount of CATT you hold, you can get up to 100% commission reduction when you withdraw your assets. This is very important for those who like to cash out their dividends every day, you can save money that way.
Rewarding through coin giveaways
For contests and raffles, coins are usually distributed proportionally. The more CATTs you keep, the more free coins you get.
Affiliate Program
You can invite your friends to the site catex.io and receive up to 50% commissions. You can find the referral link in your profile settings after logging in.
Complaints about catex.io
There are all kinds of reviews about this exchange - both positive and negative. Some write that it is a reliable cryptocurrency exchange. They have been trading here for a year and are confident that they have not invested their money for nothing. The site supports margin trading, payments are not delayed, withdrawal fees are low.

There are complaints about high commissions, complicated verification and incompetence of the support service, but they are not justified. Above we described these points - the commissions are actually low, verification is easy and fast. Most likely, these reviews are written at the request of competitors.
If there are any complaints about the exchange Cat.Ex, we will certainly publish information in social networks. Sign up not to miss anything!
Please keep yourself informed about news and complaints. We copy the most valuable information to social networks, so please sign up!
Regulation of the Catex crypto exchange
An exchange can turn out to be both decent and honest, and a scammer. Next, let's look at the regulation of Cat.Ex.
Regulator
The company Cat.Ex has been operating since August 2018. It positions itself as the largest cryptocurrency exchange. The main office is located in China (Shenzhen). According to the information provided, this crypto exchange has communities located in China, South Korea, Bangladesh, Russia, Turkey, India, Indonesia and the USA. The company does not have a license to conduct financial activities. Nothing more is known about the company's regulation.
Cat.Ex User Agreement
According to the document, Catex reserves the right to cancel or modify the terms of the agreement at any time.

By registering for a Cat.Ex account, you certify that you are 18 years of age or older and that you are an individual or entity with full legal capacity.

To sign up for an account, you must provide your email address and password, and accept the Terms of Use and Privacy Policy.

The user is solely responsible for keeping their account and password secure.

By accessing the Catex service, you agree that Catex has the right to unilaterally determine whether you have violated any of the terms and conditions and to enforce the relevant rules without your consent or prior notice.

Support service catex.io
Support can be contacted in the following ways:
Cat.Ex is a scam?
Exchange Cat.Ex. Although it does not have a license to carry out financial activities, it is still not a scam or fraud. Clients speak positively about this company. They note the simple and clear interface, low commissions, fast transactions, generous referral system. There are also negative reviews, but they are few. And most likely they were written at the request of competitors - the text has no specifics, it just talks about the allegedly difficult verification and high commissions. And this is not true.
Cat.Ex is a reliable cryptocurrency exchange. One of the largest exchanges on the market of digital assets. It offers users an impressive line of trading pairs, cool interface, a lot of graphical tools, coin giveaway and commission discounts. On this platform you can trade digital coins profitably, exchange one cryptocurrency for another and make a profit. There is also redemption and burning - dice profits, transaction fees, 60% of IEO listing fees and CATT tokens used in the coin voting contest.
Conclusion
Cat.Ex - is one of the major crypto exchanges, which has been operating on the digital asset market for only 3 years. But during this time it has earned the trust of traders all over the world. The company offers attractive trading conditions, very low commissions, discounts on commissions, daily dividends and much more. Exchange Cat.Ex is not a scam or a scam, the trading turnover per day is 1,531 BTC. And these figures indicate the functionality of the platform, it means that traders trust their funds to this project.
No reviews yet, be the first!
The company in the ratings
Robots for cryptocurrency
Activity
New

0

Resolved

0

Not resolved

0
New companies on the site