A young cryptocurrency platform that combines the capabilities of an exchanger and a cryptocurrency exchange, offering more than 50 assets.
Cryptocurrency exchange
Website
Social media
Date of foundation

2018

Head Office

Herengracht 450, 1017CA, Amsterdam, The Netherlands

Types of support

Feedback form on the site

Office

Help Center

Languages

English, German, Spanish, French, Italian, Dutch

The owner of the company
Age restrictions
Trading volume per day
Number of cryptocurrencies
Number of trading instruments
Margin Trading
Tokenized assets

Basic Attention Token, VeThor Token

Free Demo Account
Types of accounts
Execution of orders

Stop Orders, Market Execution

Methods of replenishment

EPS Überweisung, MyBank, Sepa, Sofort, Giropay, iDeal

Withdrawal methods

EPS Überweisung, MyBank, Sepa, Sofort, Giropay, iDeal

Account currencies

EUR, Cryptocurrencies

Types of cryptocurrencies

Bitcoin, Ethereum, Litecoin, Monero, NEM, Tron, Bitcoin Cash, etc.

Mobile applications
Trader training
A way to store cryptocurrencies
Fiat accounts
Scalping
Stop Loss and Take Profit Function
Exchangeability for fiat currencies
Basic verification
Extended AML verification
API
Affiliate Program

Registration

15% of the amount of trade commissions of referrals

Benefits

No minimum deposit amount

Exchange and trade on the terminal

Rather low transaction fees

Serious user verification

Disadvantages

The company is not regulated by the Central Bank

Company requisites

Legal address:

Herengracht 450, 1017CA, Amsterdam, The Netherlands

Overall assessment
Date of update

27.04.2022
Bitvavo is it a scam? Reviews and description
Bitvavo
- is a relatively young cryptocurrency platform that combines the capabilities of an exchanger and
cryptocurrency exchange
. Managed by a company based in the Netherlands. It operates in 24 countries and offers just over 50 assets.
Is it worth paying attention to the service or is it better to bypass it for security reasons? Is Bitvavo a scam or a reliable crypto exchange? That's what we'll talk about.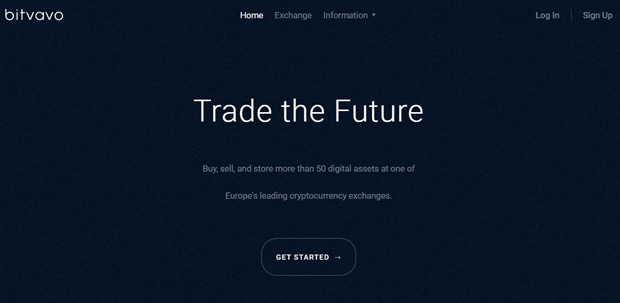 Invitation code: D459B8B988
Why Bitvavo
The advantages of Bitvavo are as follows:
There is no minimum deposit amount. You are free to deposit even 0.1 euros.
51 assets (cryptocurrencytokenized assets). There is a lot to choose from.
2 directions of work with the platform - exchange (quick conversion window) and trade on the terminal with basic functionality (instant / pending orders, viewing quotes, settings) and a good set of indicators from a well-known provider TradingView.
Keeping funds in a "hot" (in an account opened by the company) and "cold" (in your own account) wallets.
Ability to trade via API.
Rather low transaction fees.
Serious verification and setting up two-factor authentication (to protect against hacking and asset theft).
Quick conversion through the exchanger.
Availability of a physical office and company registration data. It is less likely that the exchange is run by fraudsters.
Despite the fact that the platform only appeared in 2018, it is popular and trusted.

How to exchange cryptocurrency on Bitvavo platform
To go to cryptocurrency trading online bitvavo.com, you need to register first. You can create a private or corporate account. Specify name and surname in Latin alphabet, e-mail, think of a password and accept the conditions of the policies of the site.
An email will be sent to the specified email address with a link to activate your account. Click on it and log in to the service. Now you need to fill out a small questionnaire: the purpose of registration (investing, trading, trade and exchange, online payments, other), the main source of income (savings, investments, gifts/inheritance, income - meaning salary, other) And finally proceed to verification (we will talk about it separately). This step is possible to skip, but unverified account has limited exchange limits and higher commissions. You can use the Dashboard in your personal cabinet for a simple exchange (no need to place orders and analyze quotes). It displays a list of available assets, their value and the last change in that value (rise/decrease).
A search bar has been added for simplicity, as a total of 51 units are available (cryptocurrency trading training). Choose the right one, click on it and the system redirects us to exchanger. Now it remains to specify the necessary action (Buy - buying cryptocurrency, Sell - selling it), select pair (in what c.u. conversion is made) and confirm your action with button below. The commission is displayed in the same window. Conveniently, the exchanger allows you to see a graph of prices for a certain period (H - 1 hour, D - 1 day, W - 1 week, M - 1 month, Y - 1 year). Cryptocurrency trading through the terminal is available by clicking on the Advanced menu item. The platform is created by Bitvavo, analytics are provided from a well-known provider of digital business solutions - TradingView. Main features:
View quotes and statistics of changes in numbers.
Analysis of charts (candlesticks, bars, lines and their variations).
Placing orders (instant execution, pending).
11 time scales (timeframes) of rate fluctuations.
The construction of trend figures and the use of indicators (about 80).
Scroll and zoom, color schemes, change time zone.
Screenshots and report uploading.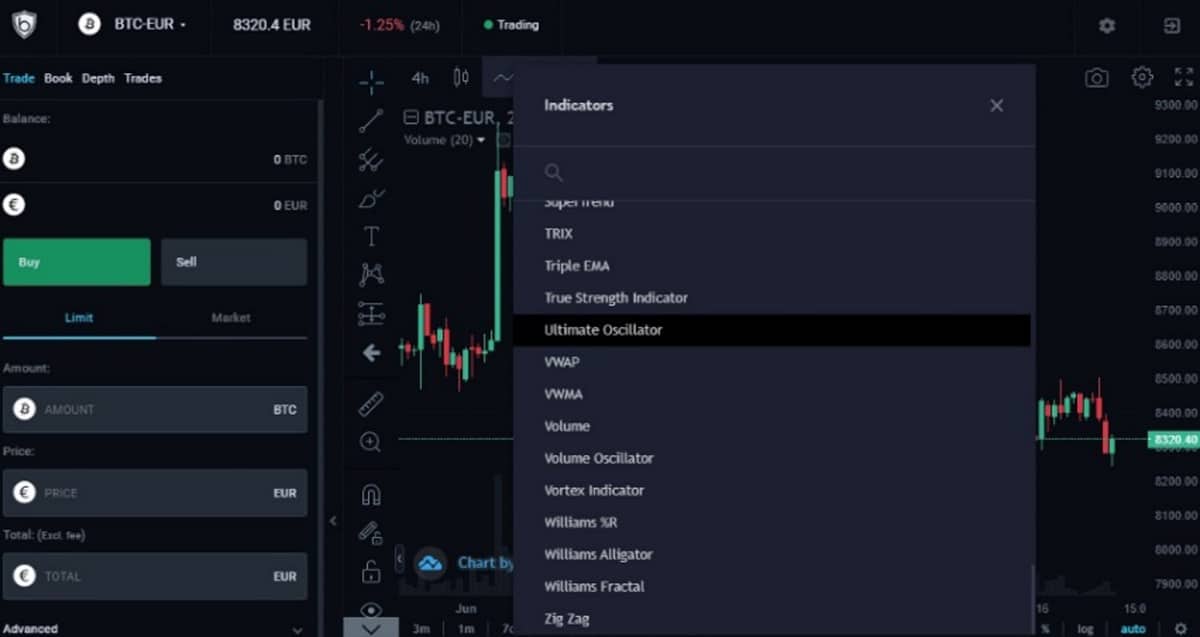 Verification at bitvavo.com
As already mentioned, verification directly affects the range of possibilities and limits of Bitvavo users. If we didn't go through the procedure at the registration stage, to go to the "Verification" section of the personal account on bitvavo.com. And select the items that were left out:
E-mail confirmation. You can't create an account without it, so this step is passed by everyone.
Additional questions. That questionnaire we described above.
Identity Confirmation. Upload a scan/photo of your passport, driver's license or ID-card (if you are an EU citizen).
Bank account linkage. It happens automatically as soon as you complete the first exchange/payment.
Proof of availability of funds. Indication of the source of income (details).
Data verification is usually carried out by the support team within 24 hours, but delays are possible due to its workload.
Deposit and withdrawal
The following methods are used for depositing in Bitvavo (some of them may not be available - it all depends on the user's country of registration): Bancontact, EPS Überweisung, GiroPay, iDEAL, MyBank, SEPA, SOFORT. There is a 24-hour cooling-off period during which you cannot withdraw funds deposited. However, buying and selling is available. Please note that you can only use cards and wallets that are in the name of the name listed during registration.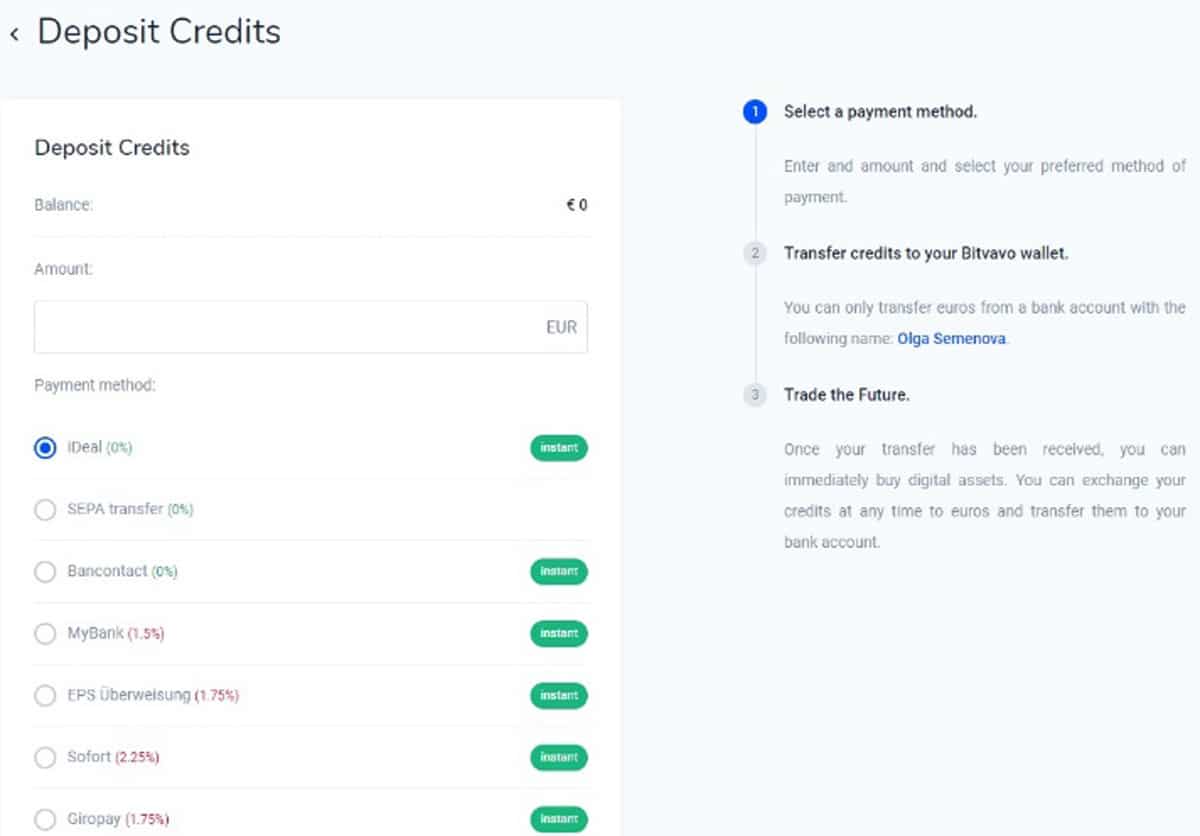 EPS Überweisung withdrawal is not available, but all other payment methods are supported. Limits (maximums) of transactions are set based on your verification status. For example, after confirming the e-mail address and completing the basic form (purpose of registration, main source of income) you may deposit and withdraw a maximum of 15,000 Euros per day, up to 30,000 Euros per week and up to 45,000 Euros per month. After successfully completing all the verification procedures the maximum operations are 25,000 euros per day, 50,000 euros per week and 90,000 euros per month. There is no minimum limit for making a deposit.
Cryptoexchange Commission
Bitvavo has transparent terms, all fees charged by the crypto exchange are listed in a special section of the website (Fees). Trading fees are set based on volume (trading volume of the previous 30 days is taken into account) and order type (instant/postponed):
Less than 50,000 euros - 0.25% for instant orders (Taker Fee) and 0.20% for pending orders (Maker Fee).
From 50,000 to 100,000 euros - 0.24% for instant orders and 0.15% for pending orders.
From 100,000 to 250,000 euros - 0.22% for instant orders and 0.10% for pending orders.
From 250,000 to 500,000 euros - 0.20% for instant orders and 0.06% for pending orders.
From 500,000 to 1,000,000 euros - 0.18% for instant orders and 0.03% for pending orders.
From 1 000 000 to 2 500 000 euros - 0.16% for instant orders and 0.01% for pending orders.
From 2 500 000 to 5 000 000 000 euros - 0.14% for instant orders and -0.01% for pending orders.
From 5,000,000 to 10,000,000 - 0.12% for instant orders and -0.03% for pending orders.
Over 10 000 000 euros - 0.10% for instant orders and -0.05% for pending orders. Fees for making a deposit to the account - taking into account the method of transaction (its size varies between 0%-2.25%). And when withdrawing, the fee is fixed and determined by the type of digital currency.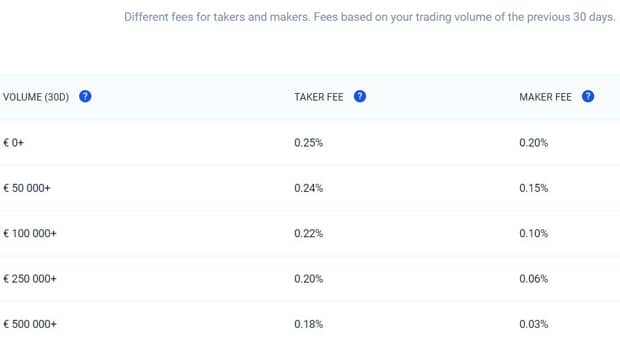 Bitvavo bonuses
Traditional bonuses (cashback, commission discounts, etc.) on the site bitvavo.com no. The only way to get remuneration is to participate in an affiliate (referral) program.
Referral program
Referral program Bitvavo provides earnings on new users you attracted to the exchange. How it works:
In my personal cabinet you get a unique affiliate code, which should be inserted at the end of the referral (affiliate link) - its example is also offered.
You place this link on your website, blog, social networking page, chat room/conversation, and any other resource where it does not violate the rules and human rights.
Each person who has followed the referral link and registered on the bitvavo.com will be considered as your referral (subscriber). For the duration of his account, you will receive 15% of all his commissions on transactions/exchanges. Statistics will be displayed in your personal cabinet (Affiliates section).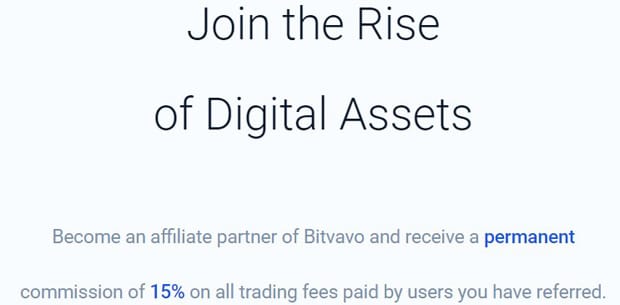 Complaints about Bitwavo
Reviews of Bitvavo on serious sites (with moderation and verification of transaction data) on 90% are positive. People like the accessibility (simplicity) of the service, the fast processing of transactions and the quality work of support.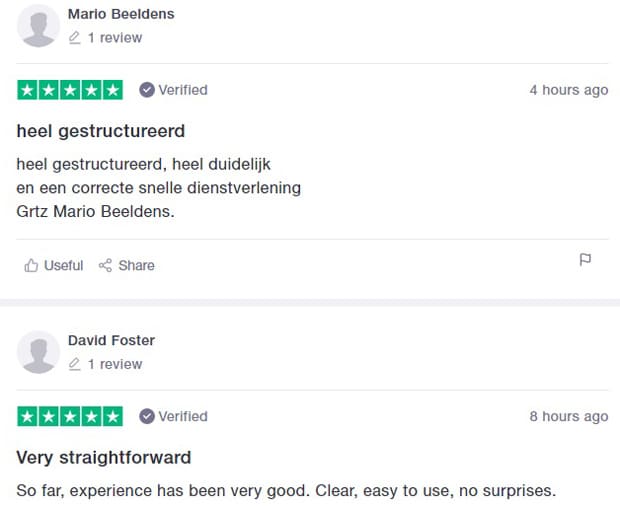 There are very few complaints. They are mainly related to technical problems and difficulties in working with the terminal, as well as delays in the execution of individual users.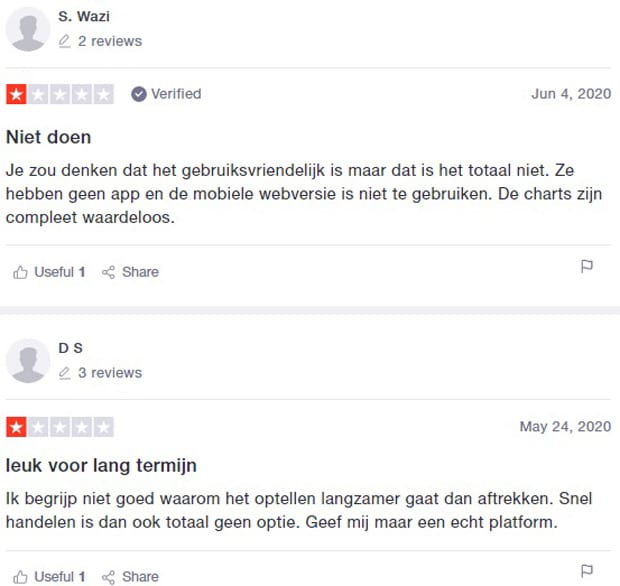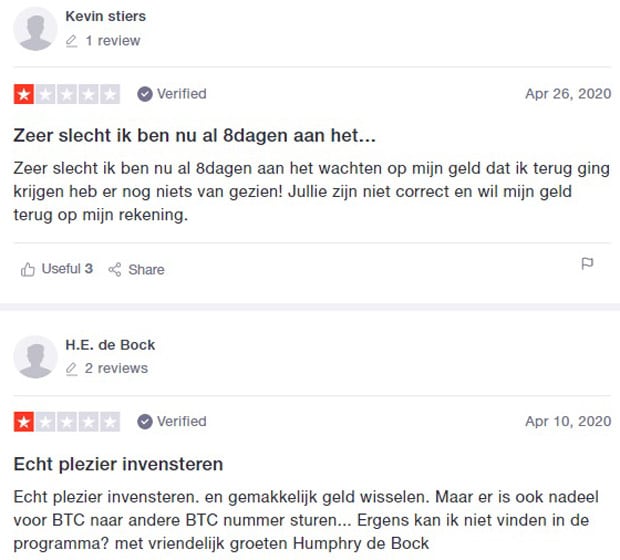 If there are any reviews about Bitvavo exchange, we will definitely publish the information in social networks. Sign up not to miss anything!
Please keep yourself informed about news and complaints. We copy the most valuable information to social networks, so please sign up!
Regulation of Bitvavo crypto exchange
Bitvavo.com is operated by a Dutch company with the same name - Bitvavo B.V., registered with the Dutch Chamber of Commerce under KVK number 68743424. This is confirmed by the register of the regulator itself on the website of the Dutch office kvk.nl. We have attached a link to check your active status below, but please note that the regulator charges 2.30-8.35 EUR for viewing the detailed questionnaire (by clicking on the name) depending on how detailed you need the document. However, as stated in the user agreement (discussed below), the company is not controlled by the Financial Markets Authority or the Dutch Central Bank.
Bitvavo.com User Agreement
The Bitvavo User Agreement Bitvavo B.V. is written in English. In this review, we will translate and review only some of the provisions, so you can get an idea of the policy. So, item 3.1 says that opening an account on the platform is available only for individuals and legal entities who are residents of the European Economic Union.

The age limit for bitvavo.com users is 18 plus. De- and legal capacity are also important criteria. When registering and during verification you must provide accurate, complete and up-to-date information about yourself. And in the future - to notify in a timely manner on the occurrence of changes. You may only create one account per person. And you can't give your account to another person. Bitvavo may cancel/block accounts which have not been verified or which contain data which the company deems sufficient (clause 4.5).

All transactions are irreversible: once executed, assets cannot be returned. If you are suspected of fraud, the administration has the right to freeze all of your transactions while the investigation is ongoing. There is no time limit for investigating the situation. Delays in processing deposits and payments are allowed through no fault of the exchange. If your account remains inactive (you do not log in and do not make conversions) for a long time (the exact terms are not specified), Bitvavo has the right to impose a monthly administrative fee on it, and in case of zero balance close your account (paragraph 6.8).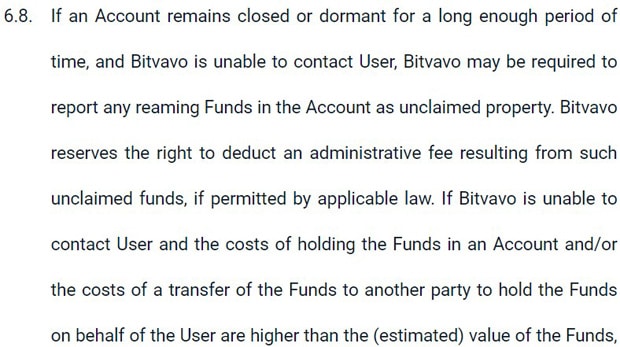 The company cannot guarantee the absolute safety of funds in client accounts - you assume all the risks associated with it. All services are provided "as is", without any guarantees: of uninterrupted operation of the service, access to the account, absence of errors, disappearance of data, etc. (п. 16.3). However, we are promised timely technical support.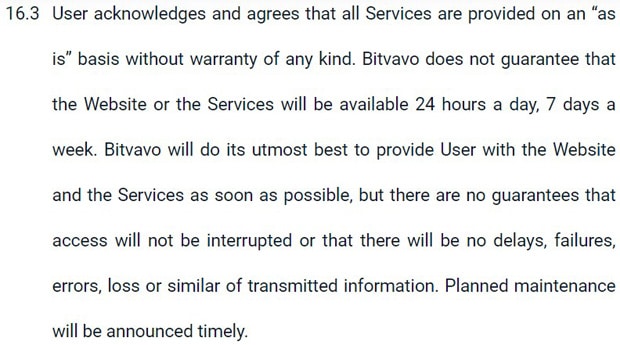 Customer Service
To contact bitvavo.com's support team are available:
It is also possible to send correspondence to the head office in Amsterdam (this way is quite long and more suitable for legal documentation) or try to find an answer to a question in the knowledge base (FAQ). The section is not russified though, and you will have to use an online translator (often built into your browser) if you do not speak English well.
Is Bitvavo a scam?
Bitvavo is managed by an officially registered company. True, the latter is regulated not by the Dutch (although the head office is in Amsterdam), but by the German financial authority, but this does not change the essence.
The exchange is well-reviewed by users. And trading conditions (limits, commissions, deposit/withdrawal methods, etc.) here are clearly and understandably enough. So there is no reason to claim that Bitvavo - is a scam.
Conclusion
Bitvavo has a lot of advantages: no restrictions on the minimum deposit amount, a serious verification before depositing and withdrawing to protect the user's funds, fast exchange and quality support (as confirmed by numerous reviews), official registration, pretty good functionality of the trading terminal and a good selection of assets.
From serious disadvantages we can note, perhaps, only the lack of russification (but this is understandable, given the fact that the service is focused on customers from Europe) and a 24-hour cooling period after making a deposit, during which it is forbidden to withdraw funds (an anti-money laundering measure). In our purely subjective opinion, Bitvavo is a reliable and very convenient cryptocurrency exchange.
Robots for cryptocurrency