WOO X is a crypto exchange for easy trading of digital assets that offers a simple terminal with 3 templates to choose from, margin trading and stacking.
Read completely
Cryptocurrency exchange
Official website
Social media
Date of foundation

2014

Head Office
Types of support
Languages

English

Founder
The owner of the company
Manager
Minimum entry amount

Verified

Cryptocurrency

From 0.0001 BTC
From 0.001 ETH
From 0.0002 LTC

Unverified

Cryptocurrency

From 0.0001 BTC
From 0.001 ETH
From 0.0002 LTC

Maximum input amount
Minimum withdrawal amount

Verified

Cryptocurrency

From 0.001 BTC
From 0.003 ETH
From 0.1 LTC

Unverified

Cryptocurrency

From 0.001 BTC
From 0.003 ETH
From 0.1 LTC

Maximum withdrawal amount
Exchange Commission

Trade Commission:

Until

0.05

% for taker

Terminals

Author's platform (3 templates to choose from)

Age restrictions

From

18

years

20 years for residents of Taiwan

Trading volume per day
Number of cryptocurrencies
Margin Trading
Leverage
Tokenized assets
Free Demo Account
Types of accounts
Execution of orders

Market order, Limit Order, Stop Limit, OCO Order

Methods of replenishment

Cryptocurrencies

Withdrawal methods

Cryptocurrencies

Account currencies

Cryptocurrencies

Types of cryptocurrencies

BTC, ETH, LTC, USDT, XRP, ADA, BCH, BUSD, DASH, DOGE, LINK, etc.

Mobile applications
Trader training
A way to store cryptocurrencies
Fiat accounts
Scalping
Stop Loss and Take Profit Function
Exchangeability for fiat currencies
Stacking

The opportunity to bet and get a passive income

Basic verification

Confirm email or phone number

Extended AML verification

For Level 1 - name, address, purpose of account creation, photo of document and selfies. For level 2 - proof of address, employment and source of funds

Regulatory laws

International data protection law

FATF (Financial Action Task Force)

API
Bonuses
Affiliate Program

Registration

10%-50% depending on the volume of trades referral

Benefits

Ability to bet and earn income

Protection against hacking and hacker attacks

Large selection of cryptocurrencies

Disadvantages
Company requisites
Overall assessment
Date of update

20.02.2023
Subscribe to this company
WOO X is this a scam? Reviews and description
WOO X - crypto exchangewhich has been offering trading in digital assets since 2014. Now a simple terminal is available (3 templates to choose from), margin trading, stacking. The fees are always zero for the maker, the taker can reduce the commission if he bets at least 1,800 WOO. To figure out if WOO X is a fraudulent scheme, we've compiled a review of the service.
Why WOO X?
WOO X is a crypto exchange that has been operating in Taiwan since 2014. Information about services, commissions and limits, KYC passing can be found in the company's help center. The site itself is not overloaded with information. From the main page you can immediately fill out a registration form, choose a template for the terminal and go to it to start cryptocurrency trading. In addition to buying/selling digital assets and margin trading, Wu X offers additional services.
The crypto exchange has developed a stacking program. A user can place a bet and earn passive income. To take advantage of the offer, go to the "Stacking" page, click on "Bet" and choose how many tokens you want to bet. The funds you contributed will be calculated starting at 1:00 a.m. (UTC) after the day you placed your bet. If users bet more than once per day, WOO X will calculate the total amount. Click "Next" and you will see a confirmation page that will show the status and level after this staking request. Click "Confirm."
Users can pay an additional fee for instant withdrawal of WOO tokens with a fee of 5%. Check "Instant Bet Cancellation" box to see what commission will be charged. The minimum instant bet cancellation amount is 300 WOO. The withdrawal fee will be used when tokens are burned. After confirmation, tokens will be debited and credited to the wallet at x.woo.org.

Users can bid at WOO to increase their levels to receive discounts or trade at zero commission. The current APY is calculated according to three criteria. All participants automatically join tasks to earn more. Users can increase their base income by completing each requirement within a task. All user actions will be recorded daily at 00:00 UTC and updated on the stakes page. Calculation criteria:
Base Rate - Calculated based on total rate participation. Calculated using the inflation rate of ecosystem rewards and the total of all bets.
Diamond Hands - the duration of the bets. The longer the period, the higher the multipliers (up to 1.3 if held up to 180 days).
Trading Arcade - the frequency of trades. The more trades, the higher multipliers (up to 1.11 for the amount of 500 bets in 30 days). Minimum amount - 100 USDT.
How to exchange cryptocurrency on Vu X platform?
WOO X offers a set of tools and an order book suitable for different trading strategies and ready to accommodate traders with different levels of experience. Three templates are available - standard, advanced and customized. Deals are executed through the terminal after selecting the template. Limit and market orders, Stop-Limit, OCO are available.

There is a list of all existing positions other than USDT, not including assets in stacking and information about pending orders. All deposits other than USDT are displayed in the portfolio as open positions. The data panel offers third-party sources of information for professional reference, including available funding rates on major exchanges.
Widgets can be grouped by trade pair. You can assign widgets to the same group by selecting the same number/color. You can also create multiple tabs to accommodate different work areas and edit or rearrange them at any time. Trading is also available through the mobile app. The app is designed for Android and iOS. In the iOS app it is also possible to verify, for Android gadgets this service is not yet available.
The exchange also offers margin trading. You can deposit cryptocurrency as collateral before it starts. WOO X determines the collateral ratio for each token. Most deposited assets can be used as discounted margin for leveraged trading on WOO X. The initial leverage is 3x. Up to a maximum of 5x can be selected. Available leverage will vary depending on position size.
Verification on the x.woo.org platform
First, you need to create an account. To do this, click "Register Now" in the upper right corner of the home page. In the window that opens, select your nationality and region, enter your e-mail address, create a password, and enter your referral code if available. After completing the application, read the user agreement. The system will send a confirmation code to the e-mail, which should be activated within 10 minutes. KYC verification is performed when a new customer registers. WOO X uses identity verification with three different levels:
Level 0. Only view information after email confirmation.
Level 1. withdrawal limit - 2 BTC per day. To pass, enter the name, address, purpose of creating an account, and provide a photo of the document and the user's face.
Level 2. No limits. In addition, address, employment, and source of funds are checked. Recent utility bill, bank statement, phone bill, lease/rental agreement, or tax return must be provided to verify address.
Traders from Russia, Ukraine, Taiwan and Canada must be verified to level 2 in order to use the service. Verification takes from 1 to 3 days. After the application is approved, the user will receive a notification on successful verification.
Deposit and withdrawal
To make a deposit, visit Wu X. and log in to your account. After logging in, click "Account - Wallet" at the top left of the page. Select the token you want to deposit and click "Deposit". Copy the deposit address and paste it into the section of the platform where you are going to withdraw your funds. When you have deposited to your WOO X account, you can go back to your wallet page and click on "Deposit History" to see detailed information and the status of your latest deposits.
To withdraw funds after logging in, click "Wallet", select the currency you want to withdraw. After confirming the address, copy it into the "BTC recipient address" field and enter the amount. The system will automatically calculate the withdrawal fee and display the amount the user will receive.
For unverified users the withdrawal limit is set at 2 BTC per day. After KYC the amount of withdrawal is not limited. All transactions are approved by the risk management team. Withdrawals are made manually for security reasons and may take up to 12 hours. For each cryptocurrency there is a minimum amount available for withdrawal. For Bitcoin this amount is 0,001 BTC, for Ethereum - 0.003 to 0.01 ETH, for Litecoin - 0.1 LTC.
Cryptoexchange Commission
Trading fees are set at 0% for the maker and 0.05% for the taker. Taker fees can be reduced to 0% if you bid a minimum of 1,800 WOO tokens.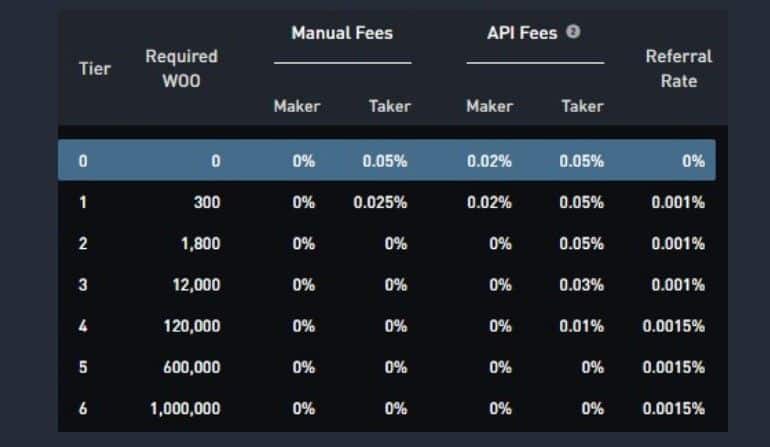 The withdrawal fee depends on the cryptocurrency. For Bitcoin this amount varies from 0.00025 to 0.0005 BTC depending on the network, for Ethereum - from 0.001 to 0.0055 ETH, for Litecoin - 0.008 LTC.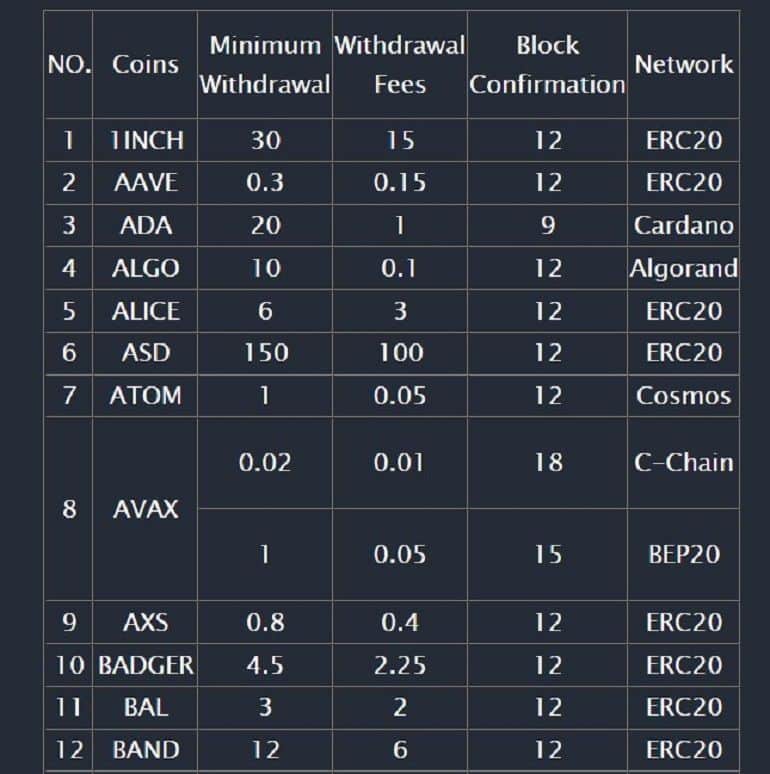 WOO X bonuses
Exchange x.vu.org offers participation in an affiliate program.
Referral program
The use of up to 4 referral links is available. Remuneration is calculated automatically depending on trading volume of the attracted trader. Commission is from 10 to 50%.
Complaints about Wu X
Although the company has been operating for more than a year, there are no reviews about it. Therefore, you should first carefully study the terms of use of the service, services, and only after that make a decision about cooperation.
If there are any complaints about WOO X, we'll be sure to post on social media. Sign up so you don't miss anything!
Please keep yourself informed about news and complaints. We copy the most valuable information to social networks, so please sign up!
Regulation of the WOO X crypto exchange
There are a lot of crypto-exchanges today. But not all of them are reliable and safe. To find out whether the selected company is a fraud scheme, it is necessary to study the information on the website, read the texts of documents, clarify the availability of licenses. It is also important to find reviews about the exchange on the Internet.
Regulator
The exchange belongs to the company Wootech Limited. There is no information about licenses on the site. There are texts of some documents.
User Agreement x.vu.org
There is a user agreement on the site. It contains information that the service can be used only by those who are at least 18 years old (20 years old for residents of Taiwan). If you register on behalf of a legal entity, you declare that the legal entity exists legally under the applicable laws of the jurisdiction. You must be authorized by that entity to act on its behalf.
You also agree to provide, upon registration and on an ongoing basis, any information that the administration may request for identity verification and detection of money laundering, fraud or other crime, including a copy of a photo ID or proof of address.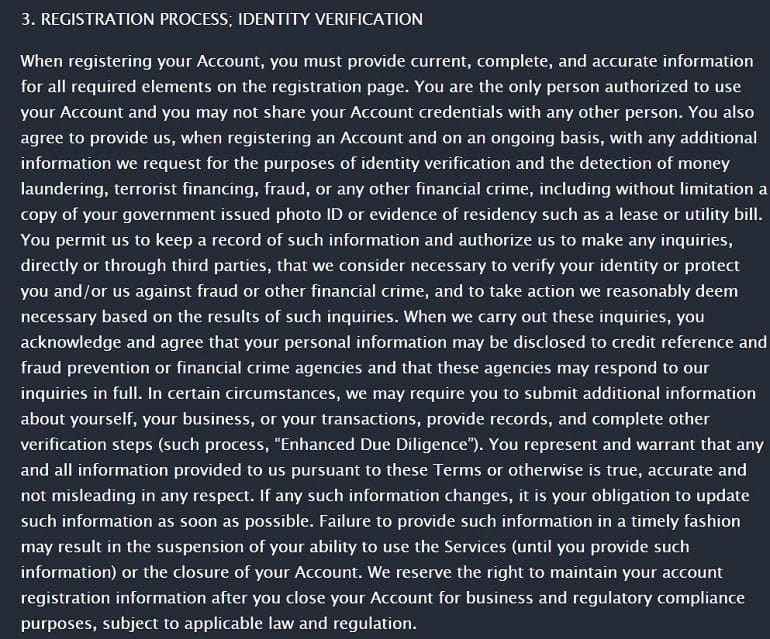 You must enable Google Authentication (2FA), set your withdrawal password, trade password, anti-phishing code and activate the address book feature to protect your account. Wootech shall not be liable for any loss or damage resulting from a security breach or external hacking that is caused by failure to set up such security measures.
The Company may, in its sole discretion, refuse to open an account, suspend it, or terminate the use of one of its services. Such action may be taken as a result of a number of factors, including a trader's inaction, failure to respond to support requests, failure to identify himself, a court order, a transaction deemed suspicious, or a violation of terms and conditions.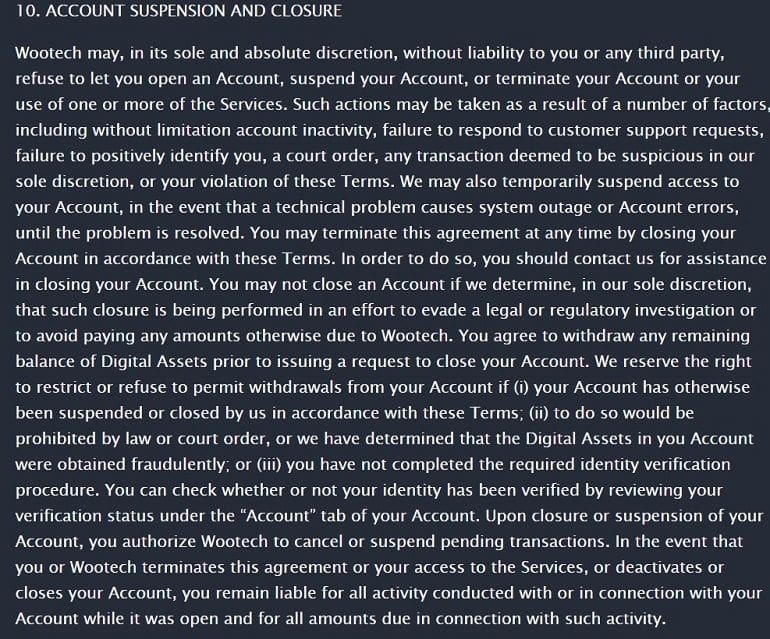 Customer Service
You can contact technical support via Telegram. There is also a help center where you can find answers to your questions. In the lower right corner, you can open the support window and select the topic of interest or ask your question.
Is WOO X a scam?
WOO X - an exchange that has been offering cryptocurrency trading on a simple terminal since 2014 (there are 3 templates to choose from). The company offers margin trading and stacking. The site is not overloaded with information. Already from the main page you can go to the terminal to start trading. All other information is available in the application center. There are no reviews about the work of the exchange. But given that it has been offering its services for more than a year, we can conclude that WOO X is not a scam, but a safe exchange with a simple trading terminal.
Conclusion
WOO X - cryptocurrency exchange for trading digital assets, including margin trading and stacking. There are 3 terminal templates for traders with different experience. If you have used the service, leave your feedback about it in the comments below this review.
No reviews yet, be the first!
The company in the ratings
Robots for cryptocurrency
Activity
New

0

Resolved

0

Not resolved

0
New companies on the site