Velic is a young cryptocurrency exchange that offers favorable trading conditions and has managed to gain the trust of traders around the world.
Cryptocurrency exchange
Website
Social media
Date of foundation

2018

Head Office
Types of support
Languages

English, Russian, Chinese, Turkish

The owner of the company
Minimum entry amount

Verified

Fiat

Bank card (Visa/MC):

to 50 USD

Unverified

Fiat

Bank card (Visa/MC):

to 50 USD

Minimum withdrawal amount

Verified

Cryptocurrency

From 0.005 BTC
From 0.035 ETH
From 31 ICX
From 20 USDT
From 0.6 EOS

Unverified

Cryptocurrency

From 0.005 BTC
From 0.035 ETH
From 31 ICX
From 20 USDT
From 0.6 EOS

Exchange Commission

Trade Commission:

0.1

% / From each transaction

Withdrawal fee:

0.002

BTC /

0.015

ETH /

1

ICX /

10

USDT /

0.1

EOS

Terminals

Author's platform

Age restrictions
Trading volume per day
Number of cryptocurrencies
Number of trading instruments
Margin Trading
Tokenized assets
Free Demo Account
Types of accounts
Execution of orders

Stop Limit Order, Market order, Limit Order

Methods of replenishment

Bank card (Visa/MC)

Withdrawal methods

Cryptocurrencies

Account currencies

Cryptocurrencies

Types of cryptocurrencies

BTC, ETH, ICX, USDT, EOS, BCH, XRP, etc.

Mobile applications
Trader training

There are instructions on verification, deposit and withdrawal, commissions, etc.

A way to store cryptocurrencies
Fiat accounts
Scalping
Stop Loss and Take Profit Function
Exchangeability for fiat currencies

You can exchange cryptocurrency for fiat

Terminal capabilities

Working with indicators, graphical tools

Basic verification
Extended AML verification

KYC (passport, passport or driver's license. Photo with document (selfies). Proof of address (bank statement, utility bill, etc.)

Regulatory laws

Laws of Singapore

International data protection law

FATF (Financial Action Task Force)

API

Read more

HTTP-based API provides full trading functions and valuable information for algorithmic and other active crypto traders

Bonuses
Affiliate Program

Registration

The amount of commission depends on the number of invitees and their sales turnover

Benefits

Loyal terms of cooperation

A wide range of trading pairs

Low commissions and affiliate program

Buy and sell digital assets at a fair market price

High level of account security

Disadvantages

Poor translation of the site into Russian

Company requisites

Legal name:

UNHA AG Pte. Ltd.

Overall assessment
Date of update

18.07.2022
Subscribe to this company
Velic is it a scam? Reviews and description
Velic
- that
cryptocurrency exchange
, created in 2018. Here transactions are conducted in digital coins, fiat money is not quoted. The company offers a convenient and secure platform for transactions. Today the daily turnover of the exchange is about 50 million rubles, which makes it one of the largest platforms for trading digital assets. There are hundreds of different coins in the assortment - from the top types
Bitcoin
(BTC),
Ethereum
(ETH) or
Litecoin
(LTC) to small little-known ones like CyberMiles (CMT) or ZCoin (XZC). In this review we will look at the advantages of the velic.io site and find out if it is a scam.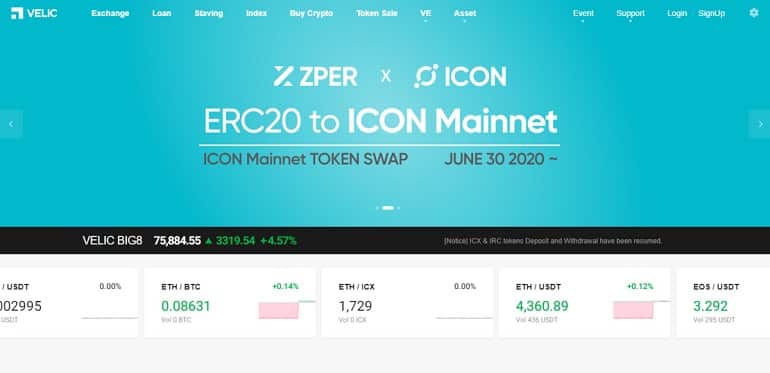 Referral code - 77N11203 (to be specified at registration).
Why Velic?
Benefits of the platform velic.io:
simple and straightforward interface;
low commissions - from 0.1% from each transaction;
housing of new promising cryptocurrencies at the stage of completion of their ICO;
account security, the work account is tied to the smartphone by the 2FA algorithm;
liquidity of digital assets, they can be bought or sold at any convenient time at a fair market price;
technology that uses Bike, allows you to process more than a million transactions per second.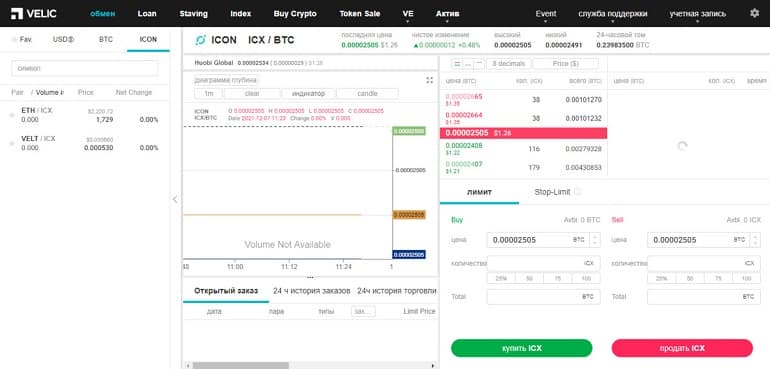 How to exchange cryptocurrency on the velic.io platform?
You can go to the "Exchange" section and a trading chart will open. Here you can trade cryptocurrency pairs, exchanging some coins for other coins and getting income. Or you can go to "Buy Crypto" section and specify in the form the amount you want to deposit. The system will automatically put the amount of digital coins, after that you will have to click on the "Buy Crypto" button to make the transaction.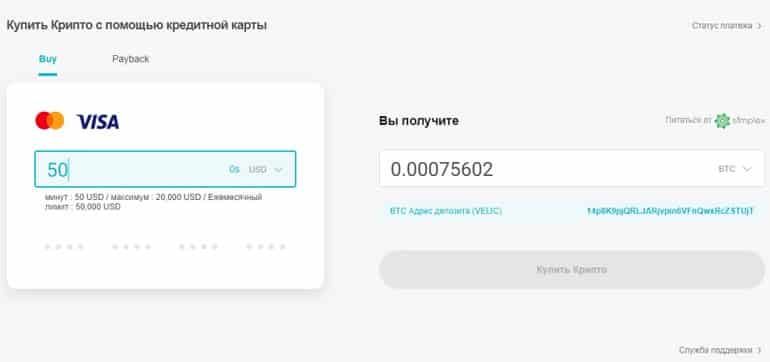 Verification on the Velic platform
Trading digital assets is available after registering and confirming your email address. But to withdraw large sums of money it is required to pass identity verification. It is necessary to go through Google-authentication and SMS-authentication, as well as to specify personal data and upload screenshots of documents.

Deposit and withdrawal
To make a deposit, go to "Assets" and select "Deposit". Click "Create Deposit Address. For example, if this is your first time depositing ICX, you won't have an ICX address. To create one, click "Create ICX Deposit Address".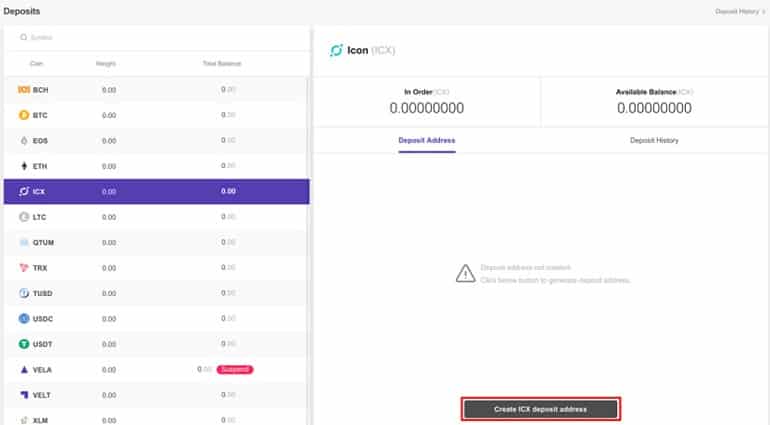 Copy the deposit address or scan the QR code to deposit the amount. Make sure you send the coin to the correct address.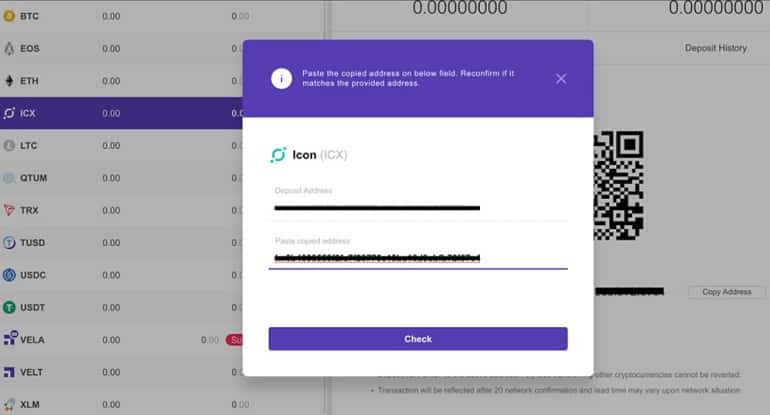 To withdraw your earnings, you need to enter the "Asset" section and select "Withdrawal". This function is available 72 hours after registration. You need to choose a coin and specify the amount to withdraw, and then make a transaction and withdraw funds to your cryptocurrency wallet.
Velic Crypto Exchange Commission
Exchange charges a small commission: 0.1% for each transaction. At the withdrawal of funds for each coin a different amount of commission:
BTC - 0.002;
ETH - 0.015;
ICX - 1;
USDT - 10;
EOS - 0.1, etc.
Commission is not charged only when withdrawing VELT - VELIC Token, a token of the exchange's own design.
Bonuses Velik
The company periodically conducts various events, which allows users to get free coins. There is also an affiliate program. About this we will now talk.
Coin distribution
Velic periodically conducts lotteries, participating in which you can get free coins. Sign up for the company newsletter to stay up-to-date with our events.
Affiliate Program
There is a referral link in my personal cabinet. You can share it with your friends and invite them in this way to velic.io. The amount of commission will depend on the number of invited persons and their trading turnover.
Complaints about Velic
Comments Off on velic.io There are few online, but they are positive. They write that on this site it is possible to profitably exchange cryptocurrency. The platform is simple and multifunctional, and it is easy to trade digital assets. Commissions are low here, for the exchange's own token it is zero at all. The commission for withdrawal of funds is spelled out in the table on the site. You can deposit money just like that. To withdraw, you need to be verified.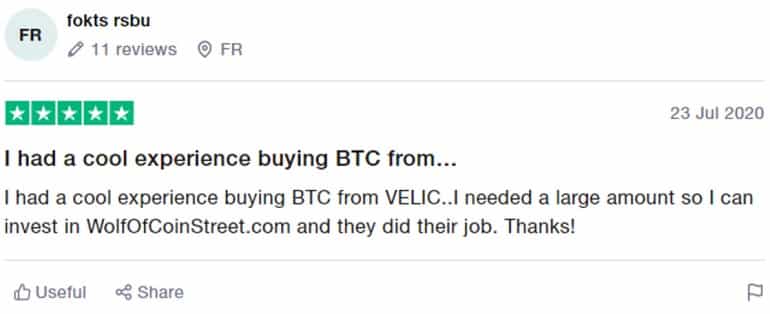 If there are any complaints about Velic, we will be sure to post on social media. Sign up so you don't miss anything!
Please keep yourself informed about news and complaints. We copy the most valuable information to social networks, so please sign up!
Regulation of the crypto exchange velic.io
A crypto exchange can turn out to be both virtuous and fraudulent. That's why let's look at the company's regulation.
Regulator
The Velic Exchange is registered as UNHA AG Pte. Ltd. in Singapore. It does not have a license to conduct financial activities. Nothing else about the regulation is known. The site is available in English, Turkish, Chinese and broken Russian. Not even everything is translated into Russian. And the documents are only in English.
Velik User Agreement
The agreement states that if there are any problems when working on the platform, you can always contact support.

Open an account and trade digital assets on the platform velic.io only legally capable persons over the age of 18 years.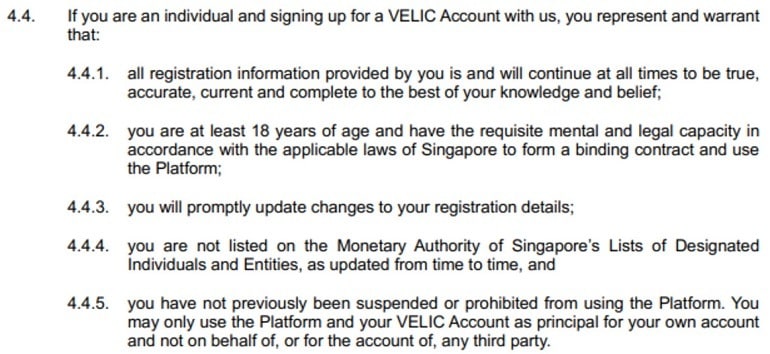 Velik may, from time to time, establish various security procedures for maintaining the account and using the platform. These procedures may include creating a unique password and using enhanced security features (including, for example, two-factor authentication).
The company warns that the platform may not always be accessible and safe to use. Hacks of the system are possible, but these problems are quickly resolved.

Users are warned about the risks associated with working on the trading platform.

Customer Service
The support team can be contacted as follows:
Is Velic a scam?
Crypto Exchange Velic is not a scam or fraud, despite the lack of a license. The company is registered in Singapore and is controlled by the laws of this island state. The exchange is registered as UNHA AG Pte. Ltd. The trading turnover per day is 14 BTC (about 50 million rubles), which is not a small amount. It can be concluded that the platform is in demand among traders, with exchanges and trading on velic.io being performed daily.
Judging by the reviews, Velik is a good crypto exchange. Here you can profitably exchange some coins for other coins and make a profit. After verification you can profitably trade assets and withdraw large sums. You can buy coins for dollars and euros with a bank card Visa/MasterCard. The platform has a simple and straightforward interface that even a novice can handle. Funds are withdrawn quickly, transactions are made instantly.
Conclusion
Velic - is a good cryptocurrency exchange, which has been operating on the digital assets market for only 3 years, but has already gained the trust of traders from all over the world. The trading turnover of 50 million rubles makes it one of the best exchanges. These figures prove the demand for the velic.io platform. Here you can easily and quickly exchange cryptocurrencies, the system processes more than a million transactions per second. If you have any questions, you can always contact the support service, which will quickly solve any problem.
No reviews yet. Be the first!
Robots for cryptocurrency