A young crypto exchange offering low commissions, fast transactions, fiat support, favorable conditions for margin trading.
Cryptocurrency exchange
Website
Social media
Date of foundation

2018

Head Office

Ternion OÜ, Roosikrantsitn 2, Kesklinnalinnaosa, Tallinn, Harju maakond, 10119

Types of support

Tickets in my personal cabinet

Languages

Russian, English, French, Spanish, German, Chinese, Vietnamese, Estonian, etc.

Age restrictions
Trading volume per day
Number of cryptocurrencies
Margin Trading
Leverage

To 1:85

At the current exchange rate of BTC

Tokenized assets
Free Demo Account
Types of accounts

Single account for exchange and margin trading

Execution of orders

Market Execution (at market price), Stop Orders, Limit Orders

Methods of replenishment

Mastercard, Sepa, SWIFT, VISA, Cryptocurrencies, World

Withdrawal methods

Sepa, SWIFT, Cryptocurrencies

Account currencies

EUR, USD, BTC, ETH

Types of cryptocurrencies

Bitcoin, Ethereum, EOS, Bitcoin Cash, Ripple, Zcash, etc.

Licenses
Mobile applications
Trader training
A way to store cryptocurrencies
Fiat accounts
Scalping
Stop Loss and Take Profit Function
Exchangeability for fiat currencies
Terminal capabilities

Numerous indicators, graphical elements, real-time charts, one-click trading

Additional features

Incentive actions and events for traders

Basic verification
Extended AML verification

Optional, but necessary for fiat transactions

API

Read more

REST API/ WebSocket/FIX API for institutional clients

Affiliate Program

Registration

25% from the amount of the taker commission and above

Benefits

Advantageous terms of margin trading

Low commissions, payouts for makers

Disadvantages

A limited number of fiat currencies are supported

Versions in different languages may be incomplete

Company requisites

Legal address:

Hunkins Waterfront Plaza, Suite 556, Mainstreet, Charlestown, Nevis

Overall assessment
Date of update

27.04.2022
Ternion Exchange is it a scam? Reviews and description
Cryptocurrency exchange
Ternion
- a relatively young platform, which enjoys success among traders, offering the user a comfortable resource for working with virtual coins with the support of fiat, instant transactions. Ternion also presents some of the most favorable conditions on the market for margin trading.
Exchange
Ternion is based in Europe and complies with EU security legislation. Ternion has established itself as a stable resource that provides ample opportunities for profitable exchange and margin trading of major digital currencies.
Still, is Ternion a scam and unsafe resource or a reliable exchange for cryptocurrency tradingthat guarantees stable, uninterrupted trading and fast transactions? We are ready to answer these questions in today's review.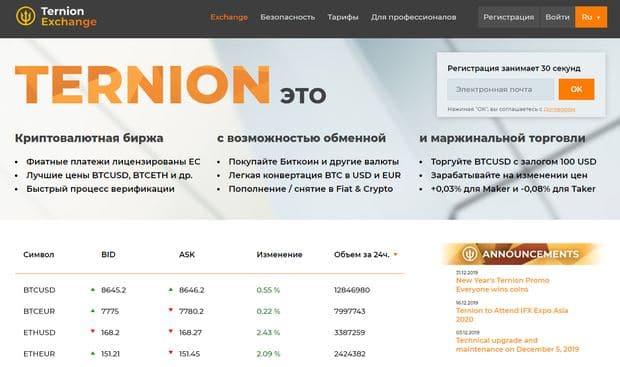 Why Ternion?
Ternion is a relatively young (established in 2018), but rapidly developing crypto exchange. A team of professional developers participated in the development of the company's functionality, providing the most comfortable conditions for exchange and margin trading on a unified platform in a single pool of liquidity.
A significant advantage of Ternion is the support of both major popular cryptocurrency pairs and fiat. The user can deposit and withdraw funds both in cryptocurrencyThe account must be verified in order to perform any transactions in fiat currency. Account verification is required for any fiat transactions. At the moment Ternion supports 13 most popular cryptocurrencies, at the same time the developers have an opportunity to submit a request to add their own coins.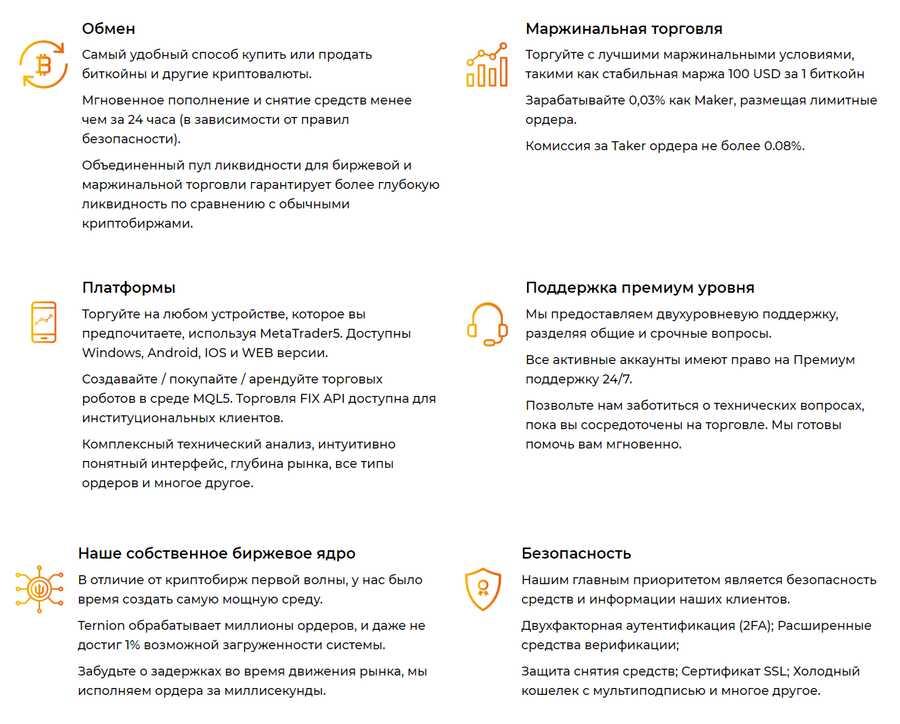 Exchange ternion.exchange provides extremely favorable conditions for margin trading with leverage up to 1:85 per bitcoin. That is, only $100 is required to trade one bitcoin position on margin. Margin trading provides opportunities to open long and short positions (up and down in the value of the currency). A small percentage is charged on the amount of leverage, which is comparable to the bank - 9% per annum. Crediting is automatic, and accrual occurs only on open positions.
Ternion features some of the lowest commissions on the market. Taker commissions are as low as 0.08%. And Ternion pays makers a commission of 0.03% of the transaction amount, thereby rewarding them for increasing market liquidity. With this approach, the liquidity of a relatively small crypto exchange can compete with the top venues.
The software is characterized by high performance and almost instant order execution. Two terminals are connected to the core of the exchange - the "classic" web terminal, as well as MetaTrader5 (which also includes support for a mobile version), which is well known to stock and currency market professionals. Both provide the opportunity to work with professional trading tools for advanced technical analysis of the market, which is also an advantage. Both platforms are linked to the same account and are fully redundant. A client can manage an account using either platform, including simultaneously.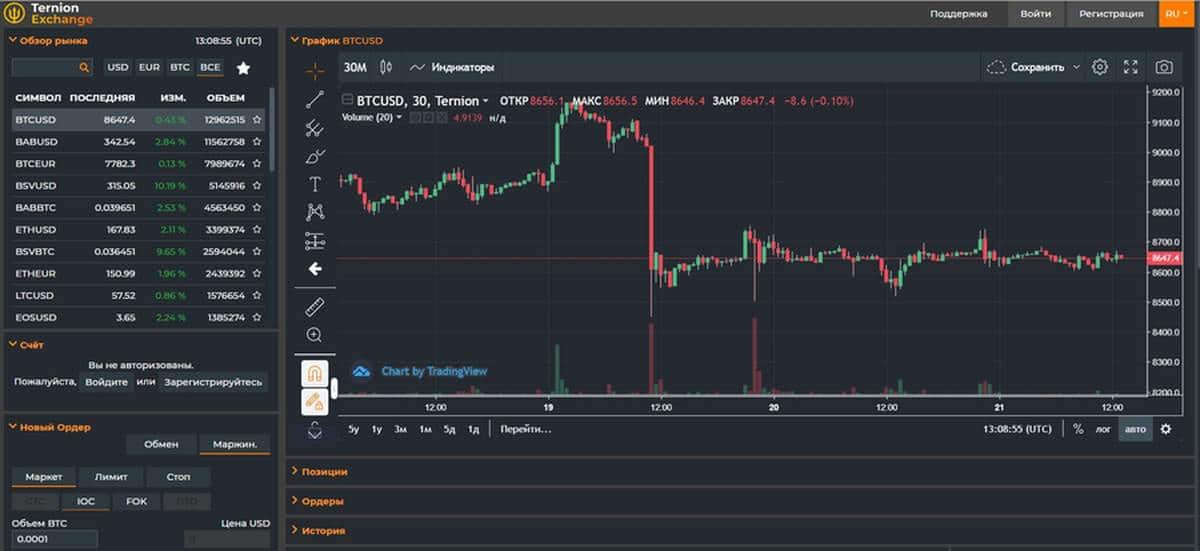 In addition, Ternion shows special attention to the security of user data and funds. The account can be protected by two-factor authentication, as well as other protocols that increase security: whitelisting of IP addresses, multilateral encryption at all stages and not only. Client's finances are stored on cold wallets with multisignature completely offline, in addition to the minimum operational amount of money, in order to avoid theft.
Official website ternion.exchange supports a number of popular languages (Russian, English, French, Spanish, German, Estonian, Chinese, Arabic, Turkish, Vietnamese, Malay, Thai), facilitating the work with the exchange for traders from different countries.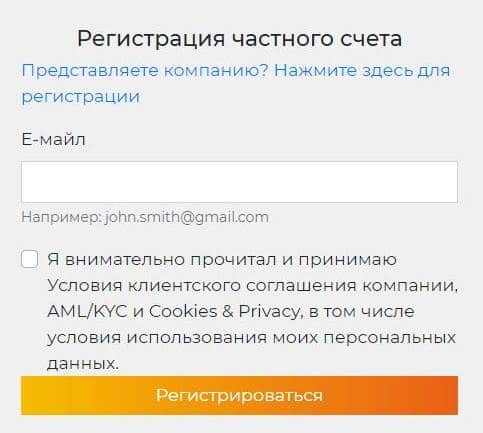 How to exchange cryptocurrency on the Ternion platform?
For a single transaction to buy/sell cryptocurrency, it is most convenient to use a web terminal (How to make money on cryptocurrency?). In the menu "New Order" you need to select the mode "Exchange" and go directly to the exchange trading. Before the beginning of trade it is necessary to define the trading pair.
After selecting the market and currency pair, the client is presented with detailed data on quotations, the price chart and other important information. Market and limit orders are available for exchange trading. For margin trading, market, limit and stop orders are available. Both exchange and margin trading are performed in a single liquidity pool at the same cryptocurrency rates and with similar commissions.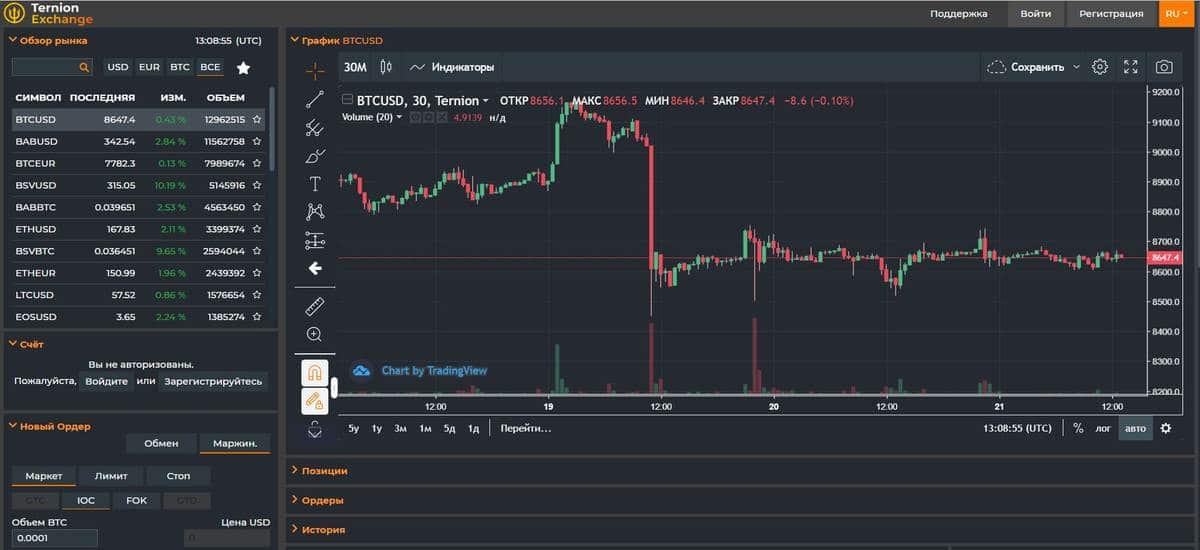 Verification on the ternion.exchange platform
Verification is not required to exchange one cryptocurrency for another or to open a margin position. But in order to access all the functionality of the exchange, including any fiat deposits and withdrawals, it is necessary to pass the verification process on the website ternion.exchange.
To verify the account, you need to fill in personal data in the personal cabinet: name, surname, patronymic, date of birth, contact phone number, citizenship, address with zip code. There are two levels of verification - Tier 1 and Tier 2, different requirements and available functionality. For the Tier 1 verification you should upload to the relevant section copies of a valid ID with full name and photo, and a document confirming the residence at the given address for at least 3 months (for example, it can be a utility bill).
The second level verification is available to those users who already have the first level of verification, and it is characterized by almost total absence of limits on operations. To verify the second level, you have to replenish your account by a bank transfer and upload your photo with a valid ID. The files must be original and of good quality only.
In most cases, verification takes 20-30 minutes. Ternion states that it makes every effort to provide services in real time and avoids queuing for verification. However, users are warned that the verification process may take a little longer if there are missing documents, scanned files are of poor quality, or forms have errors. In some cases Ternion reserves the right to request additional documents.
Deposit and withdrawal
Ternion supports both cryptocurrency and fiat deposits. To deposit or withdraw funds, you need to select "Deposit" or "Withdraw" menu in your personal cabinet, depending on the task, the required method, currency and deposit amount. Fiat deposits to Ternion can be made in dollars and euros, with fees varying depending on the method of deposit, as well as the stage of account verification. Cryptocurrency deposits have an obvious advantage - commissions are much lower, there are virtually no restrictions, and such operations can be performed even from an unverified account.
Ternion Crypto Exchange Commission
The scale of commissions for trading is flat. For all types of trading (both exchange and margin trading) there is a single commission - 0.08% for Takers and 0.03% for Makers. When using borrowed funds (margin trading) the payment for the loan is 9% per annum. It is charged on an open position 4 times a day (0.0062% from the volume of positions at once).
Deposit and withdrawal fees
Fiat deposits are traditionally more expensive than cryptocurrency deposits. Enrollment:
SEPA - commission 0.1% + 10 euros;
SWIFT - commission 0.1% + 30 euros;
VISA/MasterCard - 4.5%.
Conclusion:
SEPA - commission 0.5%, but not less than 10 euros;
SWIFT - commission 0.15% + 50 euros.
The maximum deposit for the 1st stage of account verification (Tier 1) is $1000 per day, $7000 per month. The maximum amount of withdrawal at this stage - $5000 a day, $25 000 a month; herewith, these restrictions are imposed only on the transfer of funds via bank card, while there are no limits on deposits via bank transfer. On the 2nd stage of account verification (Tier 2) there are no restrictions on the amount of fiat deposits and withdrawals.
The minimum deposit amount in bitcoins, at which no fee is charged, is 0.15 BTC; when the amounts below are credited, the fee for a small deposit is 0.0004 BTC. The same fee is charged when withdrawing bitcoins. More details about the conditions for other cryptocurrencies can be found in the next section. There are no restrictions on the amount of deposit and withdrawal of cryptocurrencies.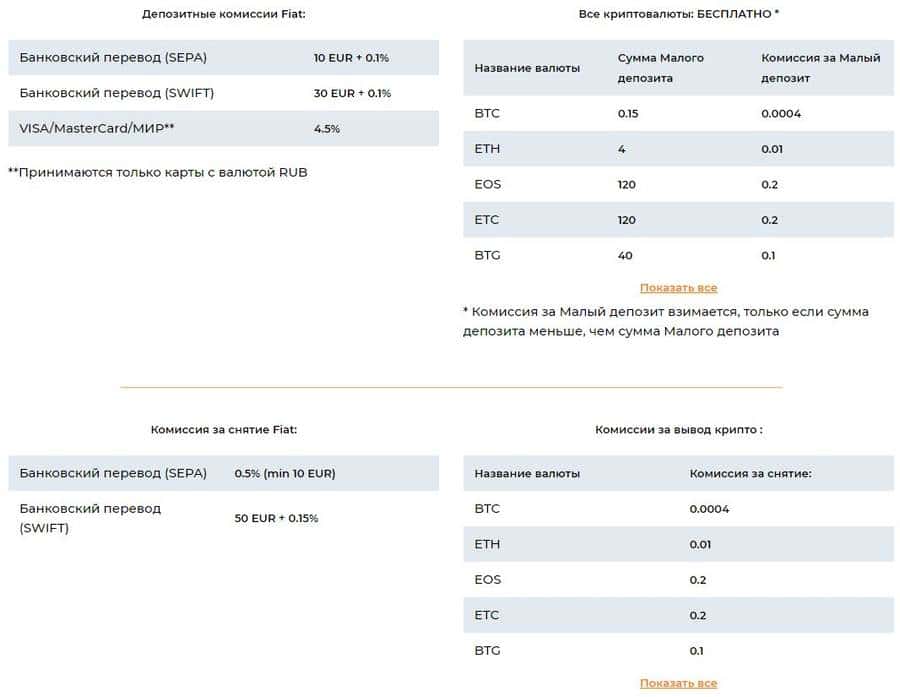 Ternion Exchange Bonuses
At the moment there are active bonuses for exchange customers, about this - below.
20% discount when you register online
When registering by invitation an active Ternion user receives a 20% discount on the Taker commission. This discount is valid for 3 months from the moment of account registration. At the moment there are no permanent active bonuses for clients, but from time to time the exchange holds various promotions: for example, at the moment of writing this review there is a promotion with a guaranteed distribution of various coins (from 1 EOS to 5 BTC) to encourage active users.

Referral program
For partners, there is an additional option of earning on the referral program. The program can be activated by any registered client in his personal cabinet, receiving a unique link, which he can place on any resource. The agent receives from 25% of the Taker commission credited to the attracted client immediately to his account and can exchange and withdraw the commission received according to the general terms and conditions.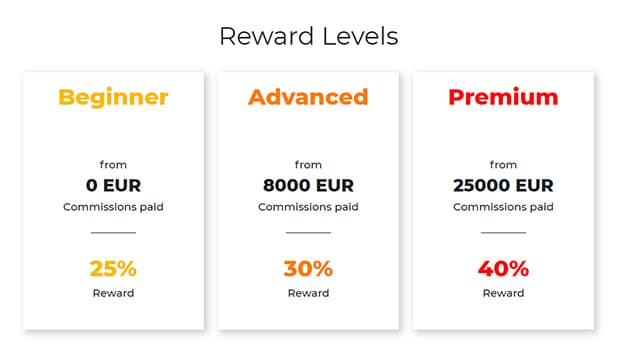 Complaints about Ternion
Ternion crypto exchange has been on the market relatively recently, since 2018, so it is not as popular as some of the old-timers. Nevertheless, users note positively such features of the site as smooth operation, high speed of trading operations, low commissions, very favorable conditions for margin trading, support for fiat currency and major cryptocurrency pairs, user-friendly interface with a lot of additional options, thought-out security conditions of the client's account.
As disadvantages of the platform we can consider a limited number of supported fiat currencies, lack of training materials, mobile application. The language versions of the site may be incomplete, occasionally there is a need to refer to the English-language version.
If there are any reviews about Ternion Exchange, we'll be sure to post the information on social media. Sign up so you don't miss anything!
Please keep yourself informed about news and complaints. We copy the most valuable information to social networks, so please sign up!
Regulation of Ternion crypto exchange
Ternion is a group of two operating units. Ternion OU performs fiat transactions and conversion from fiat to cryptocurrencies and vice versa. Registered in Estonia under number 14473720, it has two state licenses to provide cryptocurrency-fiat exchange and virtual wallet services.
Ternion Ltd conducts trading between cryptocurrencies and provides margin trading facilities, registered in St. Kitts and Nevis under number 50587. With EU registration, Ternion OU is subject to EU legislation on personal data and anti-money laundering and other illegal financial transactions, conducts AML/KYC procedures.
Refund policy
It is part of the policy to counteract illegal financial transactions. The organizer reserves the right to block access to personal data of the client, cancel the operation (with a refund to the account) in case of suspicious activity. In this case, funds may be returned to the sender within one month in the absence of trading activity.
Also, by starting work, the client agrees that he will not request a refund to the card if the crediting of funds has already been approved by the bank and the funds have already been credited to the account. Such an attempt is considered a violation of the agreement and may result in blocking the account and freezing (with subsequent cancellation) of transactions.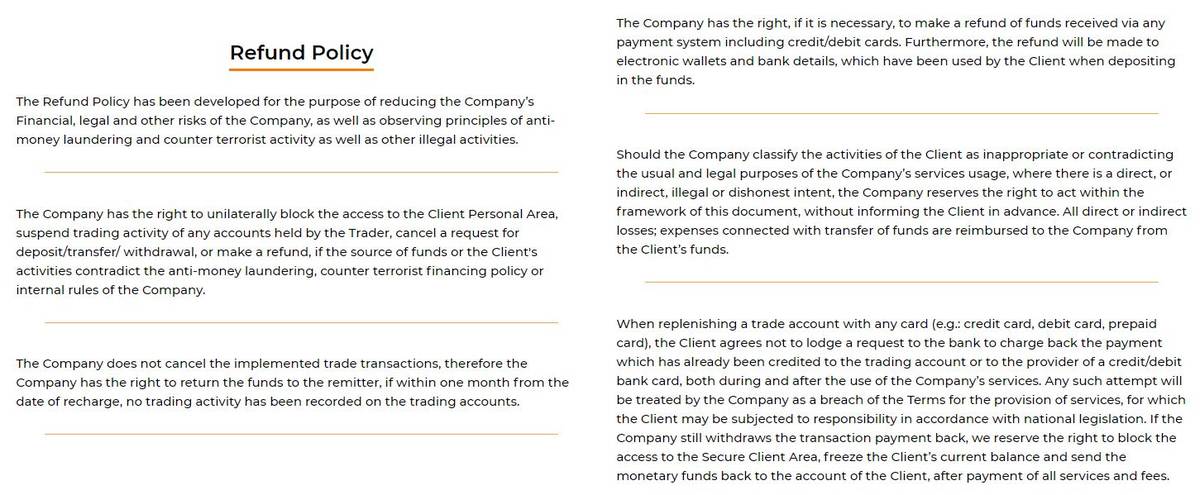 Safety precautions
To protect the client's finances, excess funds are immediately transferred to a cold wallet. Thus, most of the client's funds are stored in the cold wallet. Only the operational volume required for daily transactions is stored in the operational hot wallet. All clients are strongly advised to connect two-factor authentication when logging into their account to exclude unauthorized access in case of data compromise. In addition, if the client has a dedicated IP, you can set up an IP whitelist for access in your personal account.
There is a time interval between the withdrawal request and the actual transaction, so that the client has time to react in case the account has been compromised and he did not initiate the transaction. The waiting time depends on additional connected account security measures, the degree of verification, the amount and currency of the transaction. Before making the payment, it is possible to contact technical support with a special request for faster processing of the transaction. At the same time the client must understand and accept all the risks associated with avoiding additional security measures.
To ensure the security of personal data, encryption is used at all stages. Data storage systems are not only encrypted, but also independent of each other to prevent leaks. Both all user transaction data and all sensitive information, including copies of documents, are subject to encryption. Personal data is provided in order to pass the identification process in accordance with the law; the data is not disclosed to third parties. In case of suspicious or high-risk transactions (for example, a newly registered client credited the card and immediately requested withdrawal in cryptocurrency), additional data may be requested, which can only be provided by the real cardholder.
Support service ternion.exchange
You can contact Ternion Technical Support using the form on the official website ternion.exchange. The service is available 24 hours a day. In myAlpari, technical support works by ticket system. On average, the waiting time for a response to a request was from 10 minutes to 1 hour.
Is Ternion a divorce?
Exchange Ternion offers the client a convenient, fast and secure resource for trading cryptocurrencies, which is appreciated by both experienced and novice traders. Low commissions, unique margin trading conditions, functional trading interface, support for fiat and all popular cryptocurrencies favor trading on the resource. Advantageous leverage, low taker commissions and payouts to makeakers attract to Ternion professionals who have experience working on stock and currency exchanges. For new traders, in turn, the same platform provides ample opportunities for exchange trading in cryptocurrencies.
Users note positively the security and high speed of the site, functional interface, low commissions and favorable conditions for margin trading, support for fiat currency and major cryptocurrency pairs. At the same time, positive points prevail considerably. Among the negative points are such details as incomplete translation of some sections of the site, which are not operationally important, lack of training materials and its own mobile application. Also, users express hope for the expansion of the list of supported fiat currencies and cryptocurrencies.
And yet there is a reason to call Ternion a scam? Having studied the information about the resource and the reviews, the answer to this question is no. To date, the exchange is working and developing steadily, keeping promises to the user, providing a flexible and fast platform for trading, meticulously ensuring the safety of the user, stipulating the possible risks, and answering to the current legislation.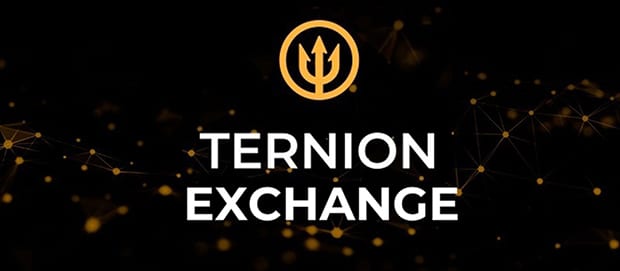 Conclusion
Cryptocurrency exchange Ternion is focused on creating the most favorable conditions for margin and exchange trading. Users can exchange cryptocurrencies as easily as they can speculate, significantly increasing exchange liquidity within just one account. Low commissions, favorable financing for margin trading, high speed of order execution without hiccups, fiat support - all this has a positive effect on the trading result.
Even a novice trader won't find the resource difficult, and it's easier to get the hang of than many other exchanges. And while there aren't many coins offered, Ternion's focus on the most popular currencies makes working with them more convenient than many of its competitors. But for trading rare altcoins, this crypto exchange is not suitable. After getting acquainted with the unique features of the exchange, we will not conclude that it is a scam and a scammer. And real reviews of traders to this review will help to work more effectively with the platform and will influence its rating on our site.
Robots for cryptocurrency