qMall is a new player on the crypto exchanges market that offers loyal cooperation terms and interesting products for trading digital assets.
Read completely
Cryptocurrency exchange
Official website
Social media
Date of foundation

2021

Head Office
Types of support
Languages

Ukrainian, Russian, English

Founder

Nikolai Udyansky and Bogdan Prilepa

The owner of the company
Manager

Nikolai Udyansky and Bogdan Prilepa

Minimum entry amount
Maximum input amount
Minimum withdrawal amount

Verified

Cryptocurrency

From 0.00051 BTC
From 0.0051 ETH
From 3 BUSD
From 26 REN
From 1.4 SUSHI
From 11 USDT

Fiat

Bank card (Visa/MC), :

from 200 UAH

Unverified

Cryptocurrency

From 0.00051 BTC
From 0.0051 ETH
From 3 BUSD
From 26 REN
From 1.4 SUSHI
From 11 USDT

Fiat

Bank card (Visa/MC), :

from 200 UAH

Exchange Commission

Withdrawal fee:

From

0.0005

To

0.0015

BTC /

-1

ETH /

From

1

To

3

BUSD /

From

25

To

75

REN /

From

1.3

To

3.9

SUSHI /

From

10

To

30

USDT

Terminals

Author's platform

Age restrictions
Number of cryptocurrencies
Number of trading instruments
Margin Trading
Leverage
Tokenized assets
Free Demo Account
Types of accounts
Execution of orders

Limit Order, Market order, Stop Limit Order

Methods of replenishment

iBox,

Withdrawal methods

Cryptocurrencies

Account currencies

Cryptocurrencies

Types of cryptocurrencies

BTC, ETH, BUSD, REN, SUSHI, USDT, Matic, DASH

Mobile applications
Trader training

FAQ (instructions for deposit, withdrawal, etc.)

A way to store cryptocurrencies
Fiat accounts
Scalping
Stop Loss and Take Profit Function
Exchangeability for fiat currencies

You can exchange hryvnias for bitcoins and vice versa

Terminal capabilities

Working with indicators, graphical tools

Basic verification
Extended AML verification

KYC (passport, passport or driver's license. Photo with document (selfies). Proof of address (bank statement, utility bill, etc.)

Regulatory laws

International data protection law

FATF (Financial Action Task Force)

API
Bonuses
Affiliate Program
Benefits

Loyal terms of cooperation

Advanced graphing functions

You can order a bank card for instant transactions

Low deposit and withdrawal fees

Direct top up through any of 10 000 IBox terminals across Ukraine

Company requisites
Overall assessment
Date of update

27.04.2022
Subscribe to this company
qMall is a scam? Reviews and description
qMall
- it's Ukrainian
cryptocurrency exchange
which has only recently appeared on the market. The presentation took place on November 3, 2021. The project positions itself as a safe space of opportunities on the digital asset market. Provides tools that make trading comfortable and profitable. In this review, we will consider what exactly qmall.io offers and whether this project is a scam.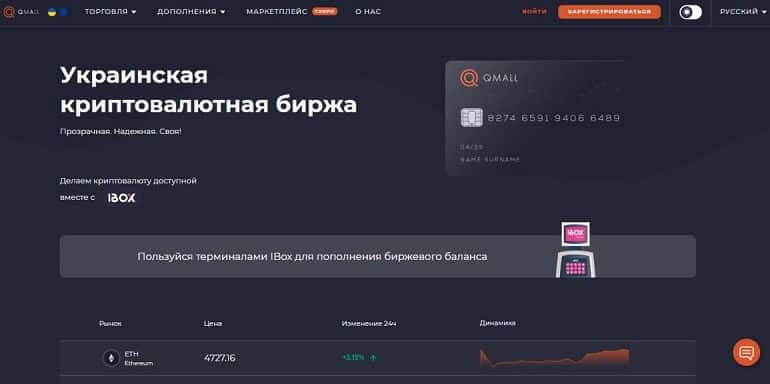 Why qMall?
Purchase cryptocurrencies at qmall.io can anyone, it is as simple as topping up a bank card using a terminal. To simplify the process of transferring cryptoassets between exchange users, an exclusive code generation function was offered. Thanks to it, transactions between exchange users are carried out instantly and no commissions are charged.
By generating an iSend key, you can create a unique code for each transaction on the exchange. Thus, transactions within the exchange are fast and secure. In addition, the exchange provides Mega qMall. This is mining for lazy users. Profits from investing in coins in qMall allows you to count on profits. The functionality of the exchange is quite extensive, and the interface is so simple that even someone who has only recently become interested in cryptocurrency and trading with it will understand it very quickly. There are basic and advanced trading.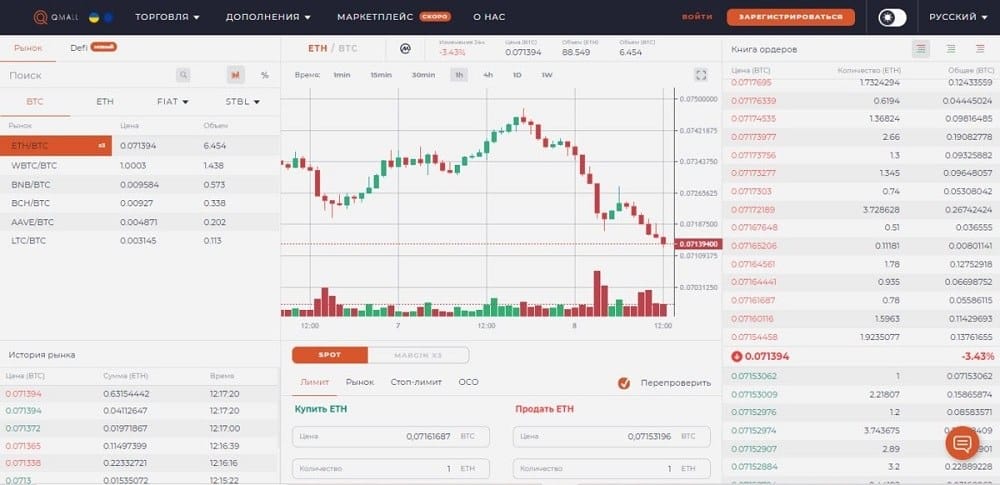 Advantages of qMall:
Advanced charting features that allow traders to visualize orders, positions and price warnings;
security - 98% client funds are stored offline;
you can order a bank card for instant transactions, so you don't have to waste time and money on conversion and transfer to pay;
low commissions for deposit and withdrawal - from 0 to 2%;
direct balance top up through any of 10 000 IBox terminals across Ukraine.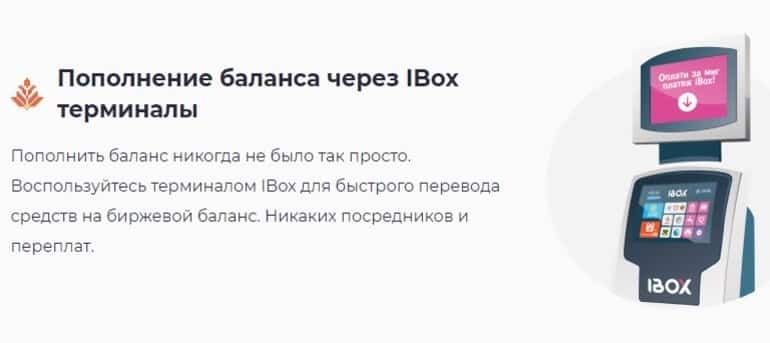 How to exchange cryptocurrency on the qmall.io platform?
Under "Trade" go to OTC. Here you can buy BTC for hryvnias and vice versa - to exchange bitcoins for hryvnias.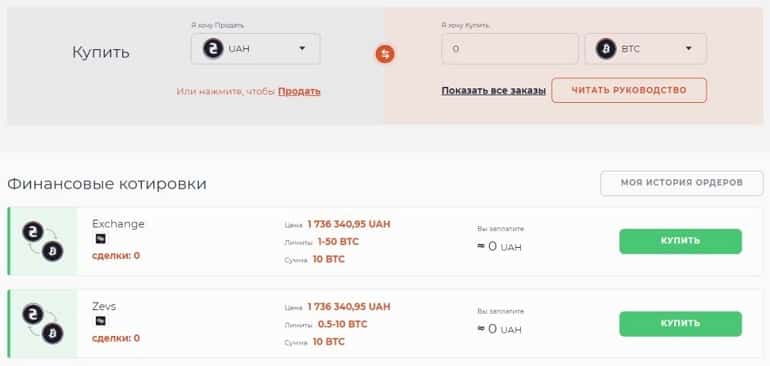 There is also a Fastline subsection in the Trading section. Here bitcoin can be exchanged for other cryptocurrencies - USDT, Dash, ETH, REN, MATIC etc. You need to specify how much you want to sell. The system will automatically give you the amount to be received. After that, click on "Exchange".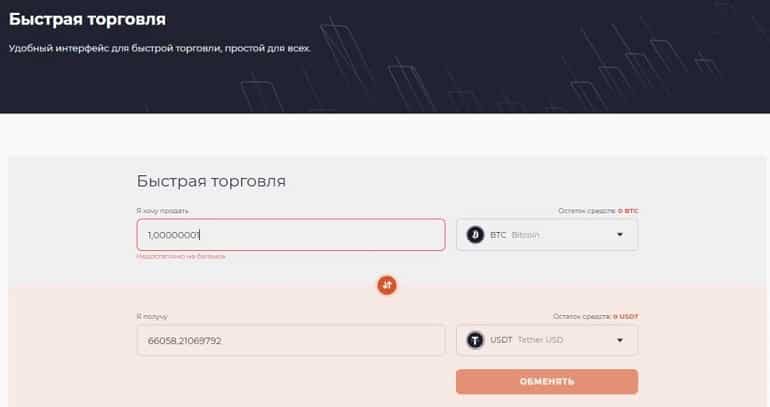 Verification on the qMall platform
In order to use all the services of the exchange and without problems to withdraw profits, you need to be verified. Go to "Profile", here you will see "Identity Verification". Click on the red button "Verification". On the form, provide information about yourself - full name, date of birth, gender, address, upload photos of documents and selfies. Wait until a decision is made on your case, processing information for verification may take some time.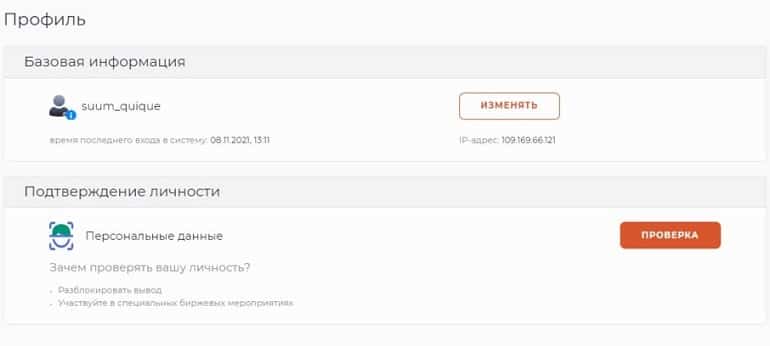 Deposit and withdrawal
To make a deposit or withdrawal, go to "Balance" in "Profile". Here, click on "Deposit" or "Withdraw" next to the selected cryptocurrency. Balance can be deposited via IBox terminal or bank card MasterCard/Visa.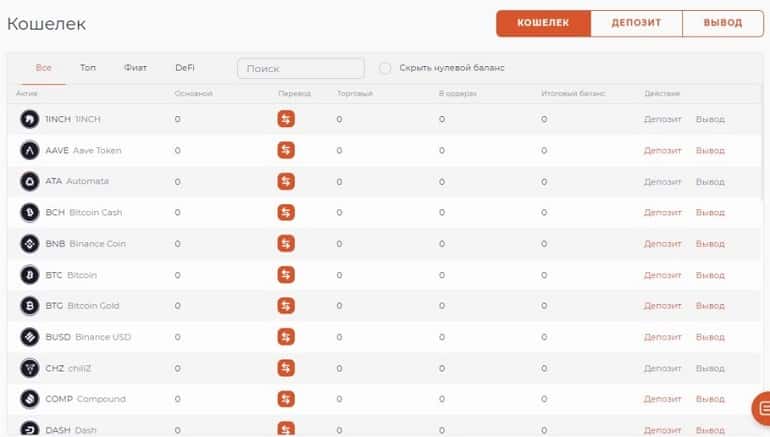 The form generates the address to perform the transaction.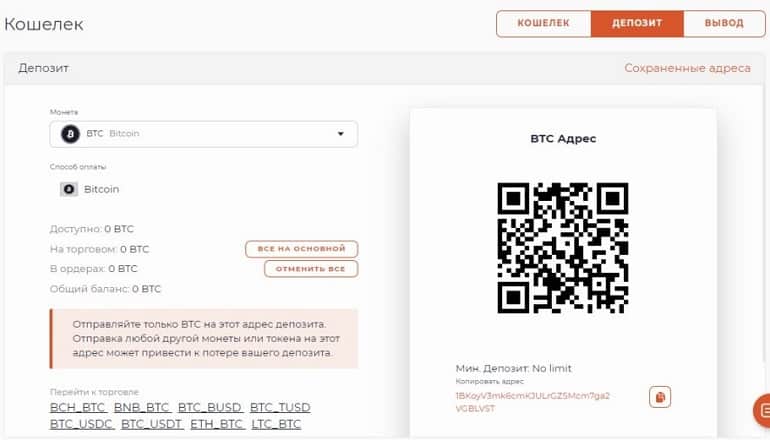 When making a withdrawal, you need to specify the address and number of coins yourself. But don't withdraw cryptocurrencies directly to a crowdfunding address or ICO, because tokens from such sales will not be credited to your account. After identity verification, all requests are processed within 3 hours.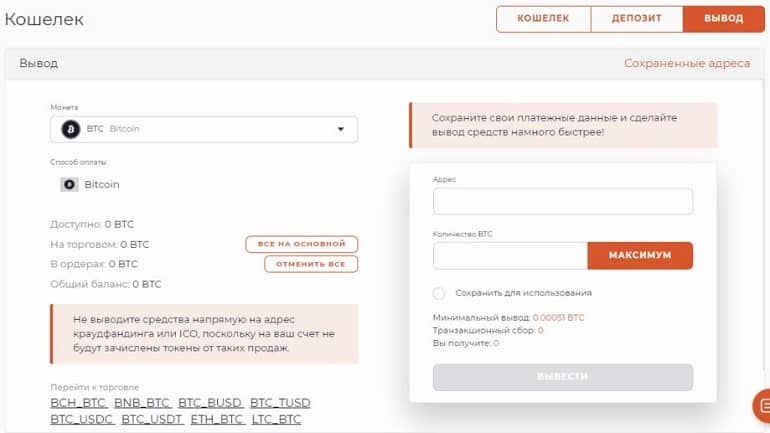 Commission of crypto exchange qmall.io
Trading commissions are determined based on the trading pair and range from 0 to 0.5%. Depending on the currency, deposit and withdrawal commissions can range from 0 to 2%. With qMall, free deposits and low withdrawal and trading commissions are possible. Withdrawal commissions are as follows:
BTC - 0.5% (Min: 0.0005 BTC, Max: 0.0015 BTC);
ETH is free;
BUSD - 0.5% (Min: 1 BUSD, Max: 3 BUSD);
REN - 0.5% (Min: 25 REN, Max: 75 REN);
SUSHI - 0.5% (Min: 1.3 SUSHI, Max: 3.9 SUSHI);
USDT - 0.5% (Min: 10 USDT, Max: 30 USDT), etc.
Qmall bonuses
Project qmall.io offers prizes for trading certain currencies, as well as an interesting affiliate program. This is what we are going to talk about next.
Reduced trade commission on 50%
When you use a QMALL crypto exchange service token to pay your trading commission, you get a 50% discount on any trading pair!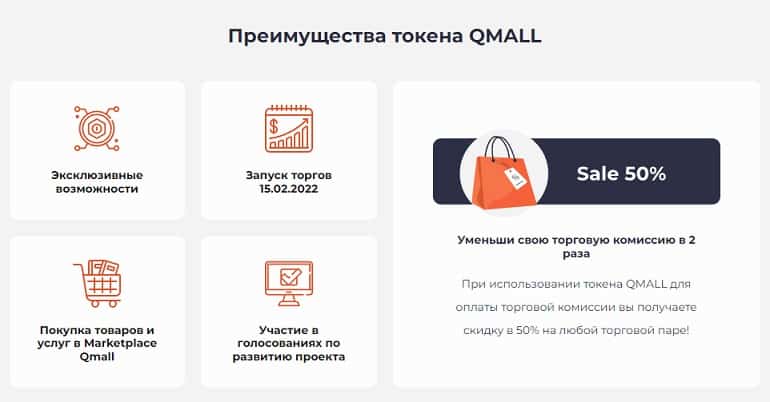 Affiliate Program
Qmall offers a five-level referral program. You can earn up to 25% in commissions by inviting friends through a referral link:
Level 5 - 3%;
Level 4 - 5%;
Level 3 - 10%;
Level 2 - 15%;
Level 1 - 25%.
The more friends you invite, the higher your referral level will be and the more % profit you will receive. Members receive a percentage of their affiliate network once a month.
Complaints about qMall
This crypto exchange just appeared on the market. We did not find any reviews about this project on the web. This is due to the fact that its launch took place on November 3, 2021. But you can leave your feedback on our review page. That way we will be able to give a more accurate assessment on the cryptocurrency exchange qmall.io.
If there are any complaints about qMall, we'll be sure to post on social media. Sign up so you don't miss anything!
Please keep yourself informed about news and complaints. We copy the most valuable information to social networks, so please sign up!
Regulation of the crypto exchange qmall.io
Among crypto exchanges there are both honest companies and scammers. To understand the integrity of a crypto exchange, it is necessary to study its regulation and check whether it has a license. That's what we're going to do next.
Regulator
We know about qMall that it is a new player on the market of crypto exchanges. Its founders are Nikolay Udyanskiy and Bogdan Prilepa. Exchange itself is registered in Ukraine. The crypto exchange is based on an exclusive technical solution, which has already been tested on other exchanges from the top 100. Now it is also implemented on the Ukrainian site. During the presentation Mykola Udyanskiy told that the company has invested more than 3 million dollars for 4 years in the development of a new platform. He is sure that the project will be in demand, as in the Ukrainian segment there is still no serious competition.
Qmall User Agreement
The "agreement" warns users about the risks of trading digital assets. Depending on where you live, not all features of the site may be available to you.

The crypto-exchange is not responsible for delays in payment processing and has the right to block a user's account if it notices a default on its part. qMall may provide information about the price or volatility of cryptocurrencies, but does not provide financial, investment or legal advice.

Transactions require identification and verification. The user is responsible for maintaining the confidentiality of their account data. It is recommended to periodically change the password to log in to your personal account.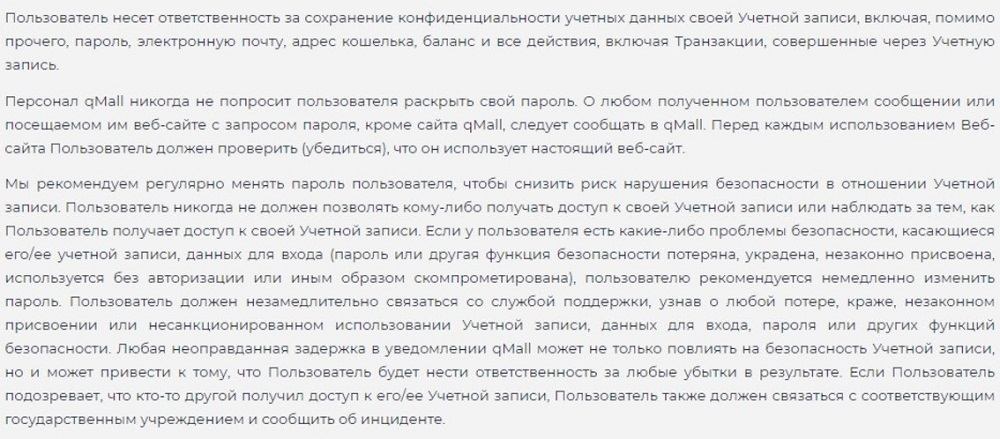 Customer Service
Ways to contact support:
Is qMall a scam?
qMall is not a scam or fraud. The company is registered in Ukraine and does not hide its contacts. The exact address is unknown, but it offers several ways to contact the support service. The founders of the project Nicholas Udyansky and Bogdan Prilepa are known in the IT-industry and their names are credible. It is unlikely they would invest millions in the development of a fraudulent project. You can't judge by the reviews, they are not online yet. The fact is that the project was opened only on November 3 of this year. Traders have not yet had time to assess the platform and find out how convenient it is for trading digital assets.
According to the creators, qMall provides tools that make trading comfortable and profitable. These include qMall LaunchPad, a platform for launching cryptocurrency projects, Mega qMall, a kind of mining for the lazy, and iSend, a code generation function to simplify the process of transferring cryptocurrencies between exchange users. Right on the qmall.io platform you can exchange hryvnias for bitcoin, and it for another digital currency. Transaction fees are insignificant, for some cryptocurrencies there are no fees at all. The interface is simple and straightforward, even a beginner will understand it. Exchange guarantees the safety of funds, its creators are constantly working to develop and improve the level of security.
Conclusion
qMall - is a new player on the crypto exchanges market, which offers unique cooperation conditions and interesting products for trading digital assets. The project is not fraudulent, it is not a scam. More than three million dollars were invested in it for 4 years. The launch of the project took place on November 3, very recently. That's why there are no reviews in the network yet, users have not yet had time to assess all the features of the platform. Leave your comments, participate in the discussion of the crypto exchange - it will help us to give an accurate assessment!
The company in the ratings
Robots for cryptocurrency
New companies on the site