BtcTurk PRO is a Turkish cryptocurrency exchange for exchanging lira into digital units, operating since 2013, offering discount coupons and rewards for discovering bugs.
Read completely
Cryptocurrency exchange
Official website
Social media
Date of foundation

2013

Head Office

Nispetiye Street, Akmerkez E Tower, 9th Floor, 34340 Besiktas/Istanbul

Types of support
Languages

English,

Founder
The owner of the company

Eliptik Yazılım ve Ticaret A.S.

Minimum entry amount

Verified

Cryptocurrency

From 0.001 BTC
From 1 ADA
From 1 LINK
From 1 ATOM
From 0.0005 Dash
From 1 EOS
From 0.0005 ETH
From 0.0005 LTC
From 1 NEO
From 1 DOT
From 1 XRP
From 1 XLM
From 1 USDT
From 1 XTZ
From 2 TRX
From 1 UNI
From 1 USDC

Minimum withdrawal amount

Verified

Cryptocurrency

From 10 TRY
From 0.005 BTC
From 20 ADA
From 1 LINK
From 1 ATOM
From 0.1 Dash
From 5 EOS
From 0.01 ETH
From 0.1 LTC
From 1 NEO
From 1 DOT
From 50 XRP
From 50 XLM
From 10 USDT
From 5 XTZ
From 500 TRX
From 1 UNI
From 10 USDC

Maximum withdrawal amount

Verified

Cryptocurrency

Up to 25 BTC / For verified clients of the 1st level
Up to 500 BTC / For verified clients of the 2nd level

Exchange Commission

Exchange fee:

0.01

% for maker / To buy cryptocurrency /

0.04

% for taker / To buy cryptocurrency /

From

0.01

To

0.1

% for maker / To purchase TRY /

From

0.08

To

0.18

% for taker / To buy TRY

Withdrawal fee:

11.78

USDT / Withdrawal of USDT

Terminals

Author's platform, Trading View

Age restrictions
Trading volume per day
Number of users
Number of cryptocurrencies
Margin Trading
Tokenized assets
Free Demo Account
Types of accounts
Execution of orders

Market Execution (at market price), Stop Orders, Limit Orders

Methods of replenishment

Cryptocurrency wallet,

Withdrawal methods

Cryptocurrency wallet,

Account currencies

TRY, BTC, ADA, LINK, ATOM, Dash, EOS, ETH, LTC, NEO, DOT, XRP, XLM, USDT, XTZ, TRX, UNI, USDC

Types of cryptocurrencies

Bitcoin, Cardano, Chainlink, Cosmos, DASH, EOS, Ethereum, Litecoin, NEO, Polkadot, Ripple, Stellar, Bitether, Tezos, Tron, Uniswap, USD Coin

Licenses

Licensed

#0332045014600001 issued by Istanbul Chamber of Commerce

(Active)

Mobile applications
Trader training
A way to store cryptocurrencies
Fiat accounts
Scalping
Stop Loss and Take Profit Function
Exchangeability for fiat currencies
Basic verification
Extended AML verification
Regulatory laws

International data protection law

FATF (Financial Action Task Force)

Act 6698 on Protection of Personal Data and secondary regulations

API
Affiliate Program
Benefits

2 modes of cryptocurrency trading in the terminal - for beginners and experienced traders

Zero deposit fee and (except for one c.u.) withdrawal fee

Transparent terms of cooperation

Availability of a physical office

Convenient mobile app for iOS and Android

Disadvantages

Complaints about loss of funds during exchange, account blocking, inability to receive payment

Complicated system of verification and logging into the account

Only Turkish liras are available from fiat

Company requisites

Legal name:

Eliptik Yazılım ve Ticaret A.S.

Legal address:

Nispetiye Street, Akmerkez E Tower 9th Floor, 34340 Etiler - Besiktas/Istanbul

Overall assessment
Date of update

27.04.2022
The address is
Nispetiye Street, Akmerkez E Tower, 9th Floor, 34340 Besiktas/Istanbul
Map
Subscribe to this company
BtcTurk PRO is a scam? Reviews and description
BtcTurk PRO (BtcTurk service) is the first and only cryptocurrency exchange launched in the country. The provider pays attention primarily to security, so its website has a very strict system of verification and authentication: through 2FA application, confirmation of email and phone number, provision of passport data and residency information.
Does it save from fraud and how honest will the company itself be? Is it possible that BtcTurk PRO is a scam? Let's study everything that is in the public domain and try to draw a conclusion.

Why BtcTurk PRO?
BtcTurk PRO is a transparent exchange: all its terms and conditions are publicly available on the website. Just open the knowledge base FAQ and you will find out the amount of commission, deposit and withdrawal conditions, verification methods, what currencies are available, etc. The company-owner of the exchange really exists, as evidenced by the records in the Turkish registries, as well as the presence of the office on the map. Also to the merits of BtcTurk PRO include:
2 cryptocurrency trading modes in the terminal (for beginners and experienced traders), different set of settings and options.
Zero deposit fee and (except for one c.u.) withdrawal fee.
Several types of bonus coupons - for a discount when charging a commission, as well as for crediting rewards in crypto or in fiat (Turkish Lira).
Convenient mobile app for iOS and Android (users rated it 4.5-4.9 out of five).
Traders trade on the company's proprietary terminal. The analytics are taken from a well-known supplier - TradingView. This is a free, but still quite reliable service, it is embedded as a plugin in the platform itself.
How to exchange cryptocurrency on the platform Btz Turk PRO?
Access to cryptocurrency exchange data and trading operations is available to registered users. To create an account, click Register in the right corner of the pro.btcturk.com header and fill in the form: enter your email address, first name, last name and country of residence, set a password, agree with the service rules, pass the check (captcha).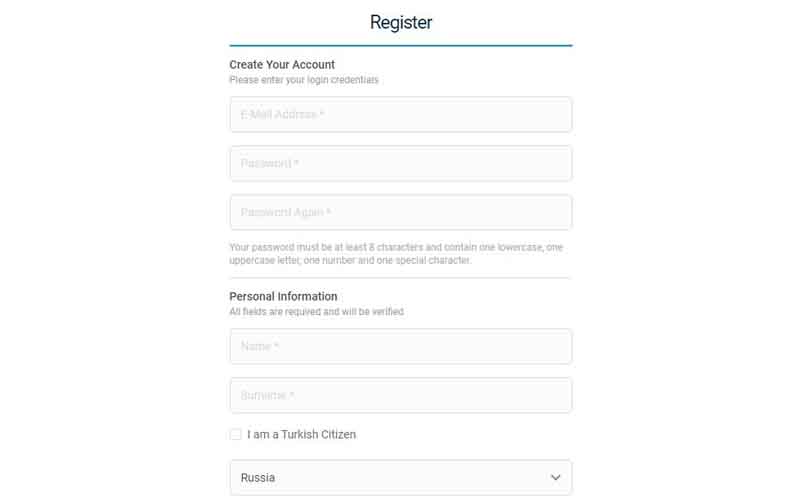 The system will ask for e-mail confirmation. To do this, follow the link from the letter from BtcTurk PRO (will come to the mail specified in the registration form). And authorize in the system, connecting the two-factor authentication. At this stage we had difficulties, because even if we successfully passed the check we still got to the unregistered user interface. BtcTurk offers 2 trading modes on the author's terminal:
Basic Trade. Reminds me of an ordinary exchanger. There are no charts with quotes and settings, but instead of setting c.u. in each of the fields (buy, sell) you choose a pair of assets at once, specify the amount and limits. There are market prices and limit orders to choose from. The commission is not displayed - it is included in the rate.
Advanced Trade. Closer to the exchange terminal. It is possible to study the analytics of TradingView, setting the timeframe, the type of chart display, using tools (indicators, oscillators, trend patterns). There are 3 types of deals - market, stop, limit. About 40 currency pairs of popular cryptocurrencies are available. Of fiat only Turkish lira is available.
Recharging the balance on the site crypto exchanges (without it you will not be able to place any orders) is carried out in the Wallet section of the bottom menu of the terminal. The history of transactions - in the Open Orders block of the platform.


Verification on the pro.btcturk.com platform
At the registration stage at pro.btcturk.com, you need to confirm your email address by following the link in the email you receive from the provider. And connection of two-factor authentication - a system of one-time passwords sent by the Google app or iOS (depending on the OS of your device) to confirm the login of the account owner. In the process of working with the exchange terminal, the user is assigned a verification level:
The first one is set after successful authorization and 2FA (two-factor authentication) setup. Allows to trade pairs with TRY, USDT BTC.
The second one is set after KYC (Know Your Client) procedure, where you have to upload a photo/scan of your ID card and selfies. It removes restrictions on the type of assets.
There are daily and monthly withdrawal limits for both levels.
Deposit and withdrawal
Replenishment and withdrawal of assets using VISA and MasterCard credit cards on the platform pro.btcturk.com is not provided. Deposit and withdrawal can only be done using cryptocurrency wallets and bank transfers. And BtcTurk PRO supports only local banks: Akbank Bank, Denizbank, Fibabanka, Vakifbank, Ziraat Bankasi, etc. The processing of transfers takes up to a day.
In addition, the service of instant payments Papara is used - with it ue are credited instantly. You withdraw money to requisites belonging to the same person that is specified in your profile and was specified in requisites from which you made a deposit. Important point: every transaction in BtcTurk PRO is protected with one-time password (within 2FA procedure). And before receiving each payout you need to confirm your identity by providing the support team with photos of IDs (passport, ID-card or driver's license).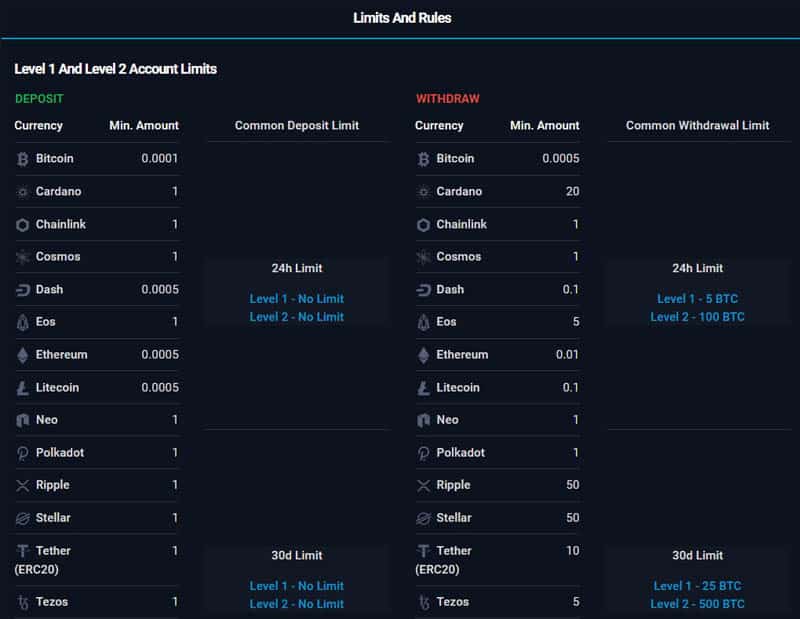 The minimum number of crypto units you can deposit to your BtcTurk PRO account within one transaction is 0.0001 BTC/1 ADA/1 LINK/1 ATOM/0.0005 DASH/1 EOS/0.0005 ETH/0.0005 LTC/1 NEO/1 DOT/1 XRP/1 XLM/1 USDT/1 XTZ /2 TRX/1 UNI/1 USDC. The upper limit of the deposit is not set. You can withdraw from 10 TRY in fiat currency. Or from 0.005 BTC/20 ADA/1 LINK/1 ATOM/0.1 DASH/5 EOS/0.01 ETH/0.1 LTC/1 NEO/1 DOT/50 XRP/50 XLM/10 USDT/5 XTZ/500 TRX/1 UNI/0 USDC in crypto. Payout limit depends on the level of verification:
For customers with the first level, it is 5 bitcoins (or the equivalent volume in other c.u.) per day and 25 bitcoins per month.
With the second - 100 bitcoins per day and 500 bitcoins per month.
Btz Turkmen PRO Stock Exchange Commission
BtcTurk PRO trade commissions are set based on the direction of the exchange and the size of the transaction. When buying crypto for Turkish lira it is:
0.05% maker, 0.09% taker if the transaction volume is less than 1000 TRY.
0.04% maker, 0.08% taker for a transaction volume of 1000 to 5000 TRY.
0.03% maker, 0.06% taker for a transaction volume of 5,000 to 10,000 TRY.
0.02% maker, 0.05% taker for a transaction volume of 10,000 to 50,000 TRY.
0.01% maker, 0.04% taker if the transaction volume is more than 50,000 TRY.

And when buying liras for cryptocurrency units:
0.10% maker, 0.18% taker if the transaction volume is less than 1000 TRY.
0.08% maker, 0.16% taker for a transaction volume of 1000 to 5000 TRY.
0.06% maker, 0.12% taker for a transaction volume of 5,000 to 10,000 TRY.
0.04% maker, 0.10% taker for a transaction volume of 10,000 to 50,000 TRY.
0.01% maker, 0.08% taker if the transaction volume is more than 50,000 TRY.
In all cases, the minimum amount of commission is 100 TRY/0.0003 BTC/10 USDT.
Withdrawal fee
There are no charges for deposits and withdrawals. Exception: withdrawal of Tether (ERC20) - you'll have to pay fixed fee of 11.78 USDT to provider if you request withdrawal in these units.
BtcTurk PRO.com Bonuses
Bonus system of cryptocurrency exchange pro.btcturk.com - are, first of all, coupons for discounts and rewards for detecting bugs. We could not find any information about BtcTurk PRO referral program.
Coupons
The company offers four types of single-use coupons:
The first give a discount on the commission when exchanging a currency pair, which contains TRY.
The second is a commission credit. You get a discount, which you then have to reimburse.
Others add to the balance cash in Turkish Liras.
The fourth adds crypto.
Coupons are given out without any clear system. You can get them for a holiday, for activity, as an incentive, etc. And to activate the bonus, all you have to do is enter a set of promo code symbols in the "Coupon to activate" field of your personal account. Only one coupon can be used at a time.
Bug Bounty
The basic fee for vulnerability detection is 100 USD. However, the amount can be higher, depending on the severity of the bug. To submit a notification to support, you need to fill in the form on the page with the program description. All other requests (sent by mail, chat, social networks) will be ignored. In one request, only 1 vulnerability is mentioned. If it entails another one, you need to fill out the form twice - for each vulnerability. It is important to indicate the whole sequence of your steps that led to the detection of the bug. The most unusual bugs are in the Hall of Fame - that is, they are published on the site with the names of the people who discovered them.

Referral program Btz Turk PRO
There is no mention of the referral program on the site of the cryptocurrency exchange. And on thematic sites describing "affiliate programs". It turns out that the company either did not organize it or has already closed it.
Complaints about BtcTurk PRO
Most of the online reviews devoted to pro.btcturk.com, negative. Users complain that they cannot withdraw funds from their wallets - due to technical failures, constantly changing verification conditions, blocking for unexplained reasons and other factors. Support, in their words, does not solve the situation. There are also positive comments, but they are few. Their authors, on the contrary, are satisfied with the BtcTurk PRO platform and talk about the company's bonuses and lack of problems with transactions.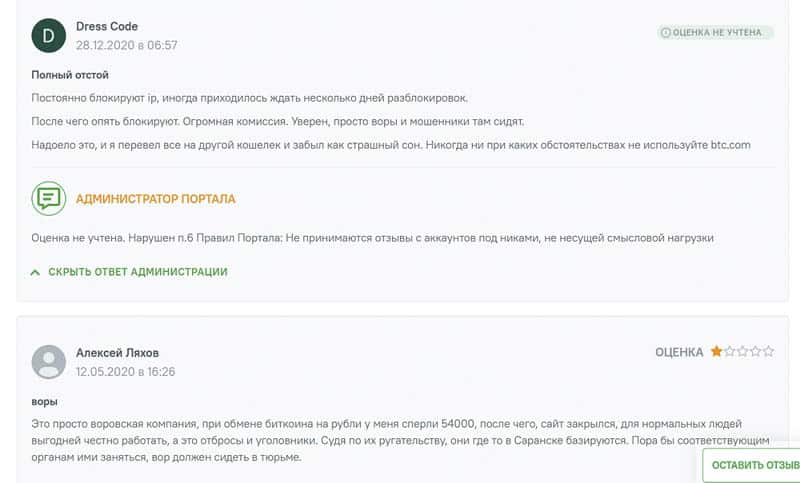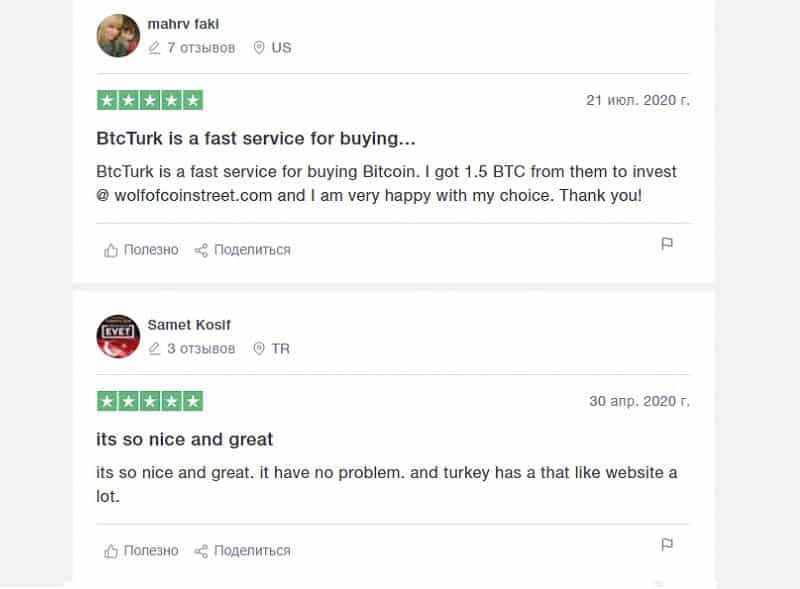 If there are any complaints about BtcTurk PRO company, we will definitely publish the information on social networks. Sign up so you don't miss anything!
Please keep yourself informed about news and complaints. We copy the most valuable information to social networks, so please sign up!
Crypto exchange regulation
According to the website, the legal owner of the crypto exchange is Eliptik Yazılım ve Ticaret A.S., registered in Turkey (registration number - 0332045014600001). However, in the public registry of companies of the jurisdiction, which the Federal Tax Service refers to in its database of foreign countries, the organization can be found - neither by name nor by ID. The legal entity is mentioned in the commercial register of Firma Rehberi. The year of registration indicated there is 2017. In addition, the company is present on Google maps and recruitment sites. So we can conclude that it does exist. Although it has not received permission to conduct operations with cryptocurrency. Turkey simply does not have a licensing body responsible for this area.
Btu Turk PRO User Agreement
The Terms of Use, - defines the rights and obligations of users (account holders) and administration, as well as the rules of the resource. Clause 3.3 describes the guarantees that you give by registering at pro.btcturk.com: open no more than one account per person, trade from a country/region where it is not prohibited by law, no blocking by the company and no economic sanctions by other authorities in the past.
When registering you need to specify your real data. The company has the right to refuse to create a profile for you without giving a reason (clause 4.1).

It is allowed to trade on the crypto exchange for adults of legal capacity (clause 4.2).

Supplier cautions you that transaction information sent to you in electronic notices may be erroneous or inaccurate. And that it will be accepted as true, however true, unless you are notified in writing that it is not (clause 4.8).

If you are suspected of violating the rules of the agreement and/or the law, your account may be "frozen" or closed permanently - along with all funds and assets in your balance. Access to your account will also be suspended during technical maintenance, system updates and other actions of the BtcTurk PRO technical service (point 4.11).

It is forbidden to use the crypto-exchange for commercial/business purposes. And to make transactions on behalf of other people or organizations (clause 5.1).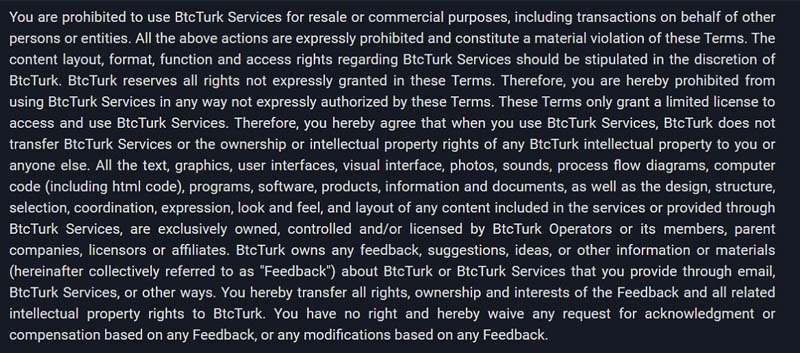 BtcTurk PRO services and services are provided "as is" and "as available". You are not guaranteed that the published information is accurate, complete and reliable and that orders will be fulfilled to the fullest extent. And that the platform is virus-free. The provider is not responsible for your losses incurred as a result of working with pro.btcturk.com (clause 8.1). On the contrary, you are obliged to compensate him and his partners any costs (losses) caused by maintenance of your account (clauses 8.2-8.3).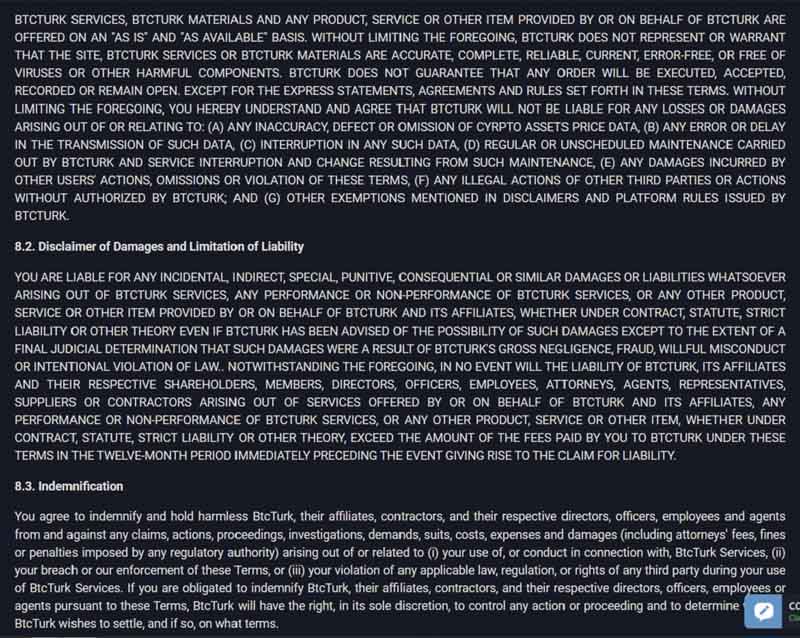 Customer Service
Support of clients of the company is provided mainly by e-mail - this is even emphasized in the user agreement of the exchanger's site. Two addresses are available - [email protected] (general questions) and [email protected] (complaints). You can also use the feedback form at pro.btcturk.com, contact the administrator of the BtcTurk PRO community in social networks or send correspondence to the Turkish office. Answers to common questions are given in the knowledge base of the provider - Knowledge Base. This is an analogue of the FAQ.
Is BtcTurk PRO a scam?
BtcTurk PRO - an offshore crypto exchange registered to a real Turkish company. It cannot be official, as there is no registration authority in the jurisdiction responsible for such a direction. Nevertheless, the vendor did not register the platform in another country. The exchange has existed for several years, but the reviews about it are not the best. Users accuse the provider of inability to obtain payment from it and unjustified, in their opinion, blocking of accounts. And they say that they lost c.u.u. on the exchange.
All terms and conditions of cooperation with the exchange are in the public domain. The User Agreement is also available for perusal. And it contains a standard disclaimer of any kind of liability for traders' losses. Therefore, to prove violations, even if they took place, will be problematic. At the same time the company has the right to block any client without warning, if they suspect fraud. And yet, the presence of a strict verification system at the stage of account creation and a strict screening before depositing to the account indicates the vendor's desire to really secure the system from offenders, criminals. Therefore, let's not claim that BtcTurk PRO is a scam. Although some procedural points of the providers look unclear.
Conclusion
BtcTurk PRO has a physical office in Turkey and has been on the market for 8 years. Such longevity speaks in favor of the provider, but does not cancel out its bad reputation among network users. And the company's reputation is really not the best: many complaints about the loss of funds when working with its terminal and the impossibility of withdrawing personal assets have been published on the feedback. The exchange has an extremely rigid verification system. You need to provide a lot of information about yourself before you are allowed into the account: e-mail, phone number, address, details, ID. And all to confirm in the appropriate checks. And before each login, the system will ask for a one-time code from the 2FA application from Google, which you will have to install.
The nice thing about all this is that there is a knowledge base (analog of the FAQ). The latter allows you to understand the terms of the exchange before creating an account. And decide whether it suits you, without passing personal information to the system for processing. In addition, BtcTurk PRO has a convenient mobile application for downloading to devices with Android and iOS. Its users rate it at 4.5-4.9 on a five-point scale. Of the pluses of the site also note the presence of coupons - for a discount and reward in the form of cryptocurrency or fiat units. And two trading modes, designed for different levels of market understanding: as an exchanger with statistics and as a full-fledged trading terminal with all the analytical and technical tools. Of disadvantages - scarce set of fiat. It is, in fact, limited to Turkish Liras.
No reviews yet, be the first!
The company in the ratings
Robots for cryptocurrency
New companies on the site