Australian forex broker offers trading in more than 40 assets: CFDs, currency pairs, metals, commodities and stocks.
Forex broker
Website
Social media
Date of foundation

2011

Head Office

Level 27, 25 Bligh Street Sydney NSW 2000 Australia

The owner of the company

Gleneagle Securities Pty Limited

Types of support

Chat

Feedback form on the site

Support by phone
Languages

English, Chinese

Terminals

MetaTrader 4, WebTrader

Min. first deposit
Broker fee

Pro accounts: 3.5 USD per lot

Lot volume
Bonuses
Leverage

To 1:100

Floating up to 1:400

Spreads
Free Demo Account
Adjustable
Regulators
Types of accounts
Transaction volume
Methods of replenishment

Mastercard, Neteller, POLI, Skrill, VISA, Bank Transfer

Withdrawal methods

Mastercard, Neteller, POLI, Skrill, VISA, Bank Transfer

Number of assets
Types of assets
Account currencies

EUR, USD, SGD, NZD, CAD, AUD, GBP

Mobile Trading
Weekend trading
Tournaments / contests
Trader training
Contract Difference Commission
Swaps
PAMM trading
Analytics
Margin Trading
Affiliate Program

Registration

Up to 200 USD from transactions under the IB program

Benefits
Disadvantages

Complaints of fraud by users

No analytics (only news in social networks) and training

Bidding closes at 11:57 p.m., not 11:59 p.m.

Company requisites

Legal name:

Gleneagle Securities Pty Limited

Legal address:

Level 27, 25 Bligh Street Sydney NSW 2000 Australia

Withdrawal fees

15 USD when withdrawing by international wire transfer

Date of update

26.04.2022

Overall assessment
Address
Level 27, 25 Bligh Street Sydney NSW 2000 Australia
Map
Subscribe to this company
FXTrading.com is it a scam? Reviews and description
FXTrading.com
- is a brand owned by the Australian company Gleneagle Securities Pty Limited.
Forex broker
offers trading in more than 40 assets: CFDs, currency pairs, metals, commodities and stocks.
On the Russian market it is not very common. So how much can it be trusted? Is FXTrading a scam or a serious service provider? Let's try to understand.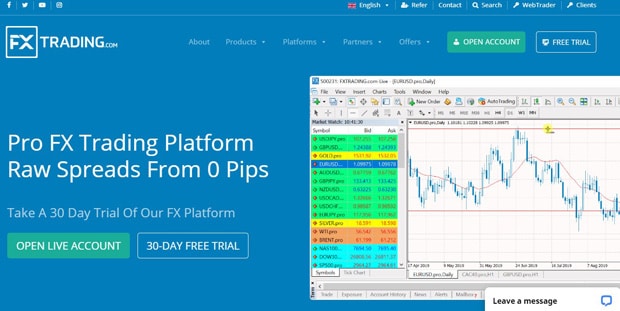 Terms of trading with FXTrading.com
FXTrading offers 2 types of accounts opened in 7 types of currency units (American/Australian/Singapore/Canadian dollar/New Zealand dollar, Euro or British pound sterling):
Standart. The minimum deposit for entry is 200 USD (or equivalent in another currency). Supports trading forex, indices, metals, commodities, CFDs from 0.01 to 100 lots worth 100,000. Spread is floating from 1 pip. No broker commission per lot - it earns on spreads. Supports 30+ currency units.
Pro. The entry deposit is the same: 200 USD. The main difference from the standard account is the broker's commission per lot (3.5 USD/3 EUR/3 GBP/3.5 NZD) and a wider currency range (40+). Spread from 0 pt.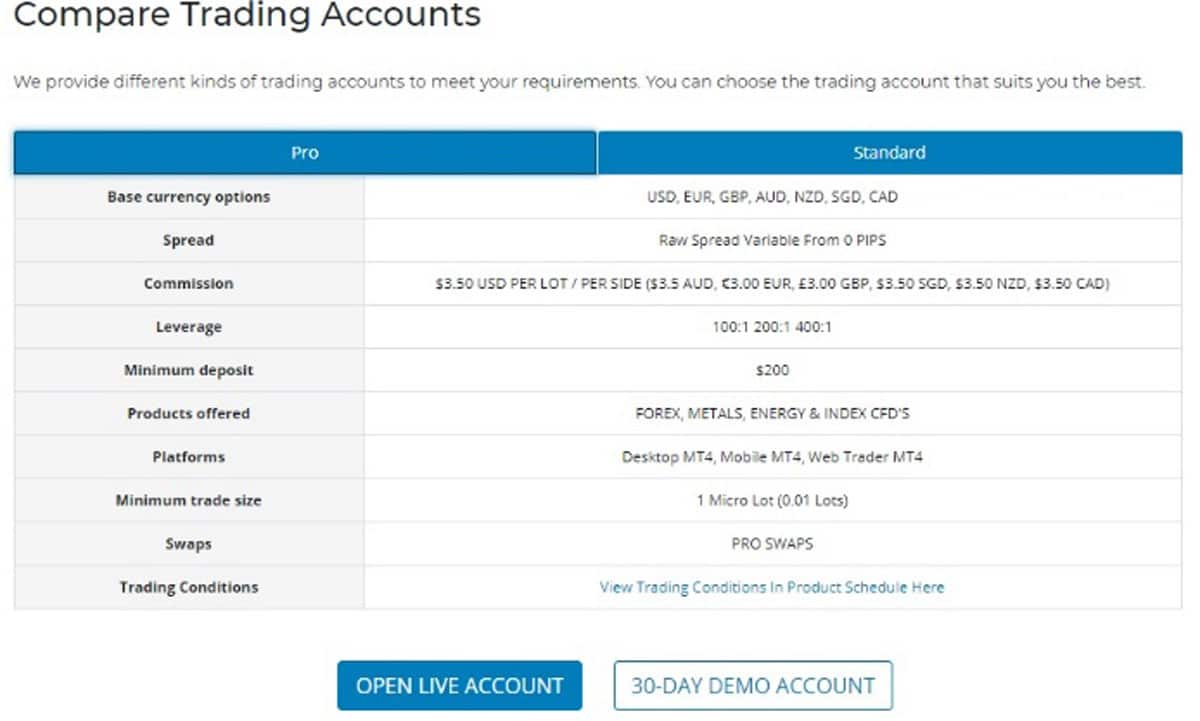 Can forex own funds or use leverage from 1:100 to 1:400. Taking into account the deposit, it is quite risky. Trading closes on Friday at 11:57 pm instead of 11:59 pm, which is very unpleasant because competing traders gain a two-minute advantage (for Forex it is very much). Therefore, for those who have little (or no) experience, it is proposed to invest in a PAMM or MAM. The idea is to create a single account, where the money of all investors is credited (yours as well, if you participate). The trader (manager) makes transactions in his account, and all his actions are copied in the single account, but proportionally.
That is, when the balance of the manager is $10 and the investment balance is $100, and as a result of the transaction the former increases 10%, the trader balance is $11 ($10 + 10% this amount), and the investment balance is $110 ($110 + 10% this amount). Your investor share is calculated on the same principle: if you invested a fifth of the total balance, you will end up with a fifth. This is called autosurvey. MAM works the same way, but allows you to set auto-exit parameters (under what conditions your funds are "frozen" and stop trading - for example, if it falls to 50% from the initial level).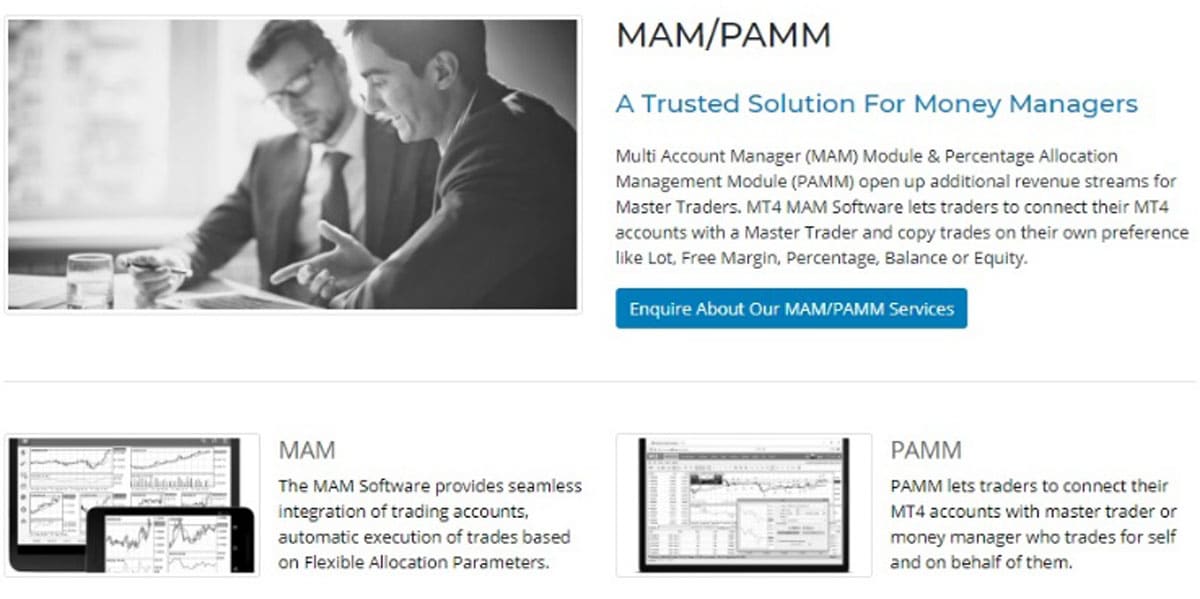 No analysis (at least not in the public domain) on the website fxtrading.com we did not find. There is, of course, news on social networks, but they are of little value, since they are broadcast from other sources (forex trading training). There are several formats of affiliate programs:
Introducing Broker (IB). You play the role of manager, attracting new clients to the company and getting a percentage of each of them (we are talking about those who contributed funds, not just registered). The amount of remuneration is not specified.
Manager. This is an option for experienced market participants, where you work with the PAMM direction (we talked about it above), trading indirectly with client funds (although you do not have access to them).
Prime brokerage. You get direct access to liquidity pools and become a market maker.

Counseling is provided on a general basis only: individual training, paid/free courses, and other training sessions are not offered. You can contact support by phone (Australian and international numbers), email, chat, or via the feedback form.
Platform fxtrading.com
FXTrading offers its clients two types of platforms: MetaTrader 4 (for downloading to a computer, smartphone and MacBook) and WebTrader. Both types of terminals are well known in the trading environment, but the first is more popular due to its high performance and - most importantly - speed. Features of MT4:
Supports 50-plus languages.
Easy to navigate charts (scaling, scrolling, etc.).
Up to 4 graphs can fit freely in one window.
Candlesticks, lines, bars with the ability to customize the color scheme.
There is no usage fee.
30+ technical indicators, 20+ analytical objects.
Notifications (Push and audible) of important events (customizable as you want).
WebTrader differs from its competitor in many ways for the worse. For example, it does not have panels of signals, experts, news, does not support autotrading, you can not put additional templates, indicators. In addition, "browser" slippage occurs more frequently here.

Broker quotes
Unfortunately, FXTrading does not provide quotes for public comparison, so it is not possible to assess their accuracy. The company refers to tier 1 liquidity providers (primers), but does not name them. Therefore, the only chance to at least partially get an idea of how much the broker's prices correspond to market prices is to read reviews on verified international platforms. FXTrading.com supports 40 currency pairs, of which 30 or so are available for the Standard account and a few more are opened on the Pro account.
Demo account FXTrading
To avoid risking your personal funds, before you get acquainted with the terminal, you can open a demo (test, demo) account and operate with virtual currency. Registration is required for this. Click Free Trail in the upper right corner of the site fxtrading.com and get to the page with the questionnaire. Enter your first and last name in English letters, your e-mail address, phone number, and country of residence. We agree to the terms of the policy.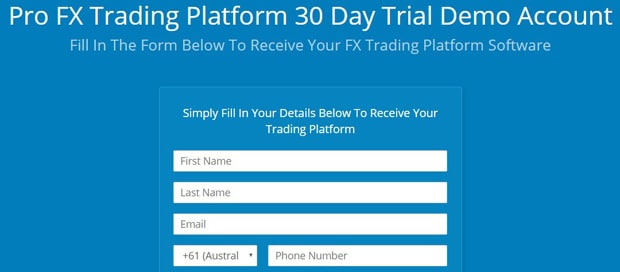 Then choose the version of the terminal (downloadable installation on PC, web, application for MacBook or smartphones). And log into the interface that appears (to avoid the system requiring a valid password from you, click "Demo" in the lower left corner): specify the name and last name again, set the type of currency in which we will trade, deposit size and leverage (by default they are set to the maximum), agree to the terms (check the box below).
After that a test account will be created with automatically generated login, password and name of investor (you will need it for PAMM). Now you can practice: open and close orders, customize charts, use technical tools. When you decide that you are ready to trade for real money, you can open a real account from the same account (Open Live Account in the top menu). It is important to remember that the demo terminal is designed to encourage you to invest real money, so the probability of winning transactions here will be higher than on the "live" market.
Mobile application
FXTrading does not have a mobile app. And the official website fxtrading.comIf you go to it from a narrow-format device, it does not always display correctly: one text "overlaps" the other, pictures are cut off at the edges, etc. Considering that the resource has been around for quite a long time, this looks like a clear flaw. As for the terminals, the mobile versions are presented by MT4 Mobile. They can be downloaded from the website or stores (Google Play Market, App Store) and at registration you simply specify the provider (FX Trader) and login / password to the account opened at the broker.
Bonuses at FX Trading
For individuals, the service provider offers two types of bonuses: cashback on the deposit and remuneration for attracted users.
Deposit Bonus
If you contribute $1,000 or more in one time, you get an additional 10% (but no more than $5,000 at a time, maximum $50,000) on top of that amount (valid through May 15, 2020). And so on until your total contributions reach $50,000. To participate in the promotion, you must apply to [email protected] from your registered mailing address (i.e., the one you provided when you registered). To keep your gift from being burned, you will need to meet certain conditions (to make the right amount of transactions within a certain period of time).

Bonus 10% when depositing from 1000 USD (credit bonus: deposit amount x 10%)
"Invite a friend."
For each new user who comes to the site, registers and connects an account, you get $200. But not immediately, but at the next deposit of more than $1000. The bonus conditions are the same as in the previous case: you send an application for connection, and to keep the gifted currency you fulfill the conditions of the broker (you will read them in your personal letter).

Deposit and withdrawal
Deposits and withdrawals on FXTrading are only available in 4 types of currencies: Euro, American dollar, Australian dollar and British pound. So if you open an account in another currency, the conversion will be made through EUR or USD at the local exchange rate. The minimum deposit accepted is 5 USD (and the equivalent of that amount in other units), but 200 will be required to connect the account. Methods of deposit:
In all cases, the transfer fee is covered by the broker. Crediting is promised to us instantaneous for almost all methods, except for banking (2-5 working days for international, and 1-2 working days for local).

Payments are processed 24 hours and longer (for banking - 2-5 working days, regardless of the country). Interestingly, the withdrawal methods are almost the same, but instead of POLi PayPal (a system known for the ability to revoke a completed transfer without unnecessary complications). It turns out that the broker will have no difficulty in cancelling the transaction, while you, having made a deposit, will hardly be able to get it back. Here the commission is not always covered by the company: if you choose an international bank payment, you will have to pay a fee equivalent to 15 USD. The minimum payment amount starts at $5.
Complaints about FXTrading
Reviews of FXTrading are available only on foreign resources and in English. And all of them are negative. Users accuse the company of withholding funds and even say that at the moment the domain and all information (including license information) was bought by another organization, which previously had nothing to do with the brand.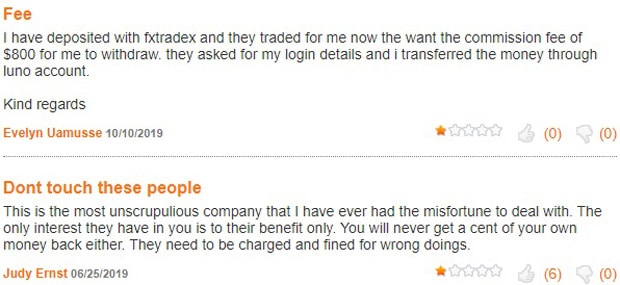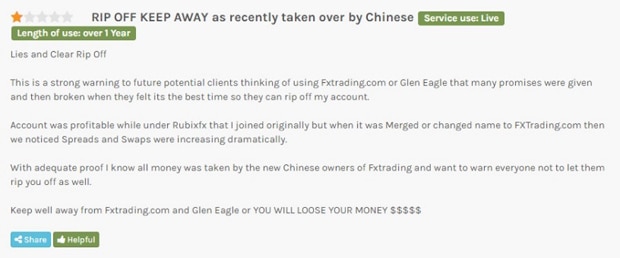 If there are any reviews about FXTrading.com broker, we will definitely publish the information in social networks. Sign up so you won't miss anything!
Please keep yourself informed about news and complaints. We copy the most valuable information to social networks, so please sign up!
Regulator of the broker FX Trading
The owner of FX Trading is the Australian company Gleneagle Securities Pty Limited, which is controlled by the local regulator - Australian Securities & Investments Commission (ASIC). The broker operates under two licenses: ACN 008-988-494 and ACN 067-130-189. The permissions are valid at the moment (their relevance can be checked at the links below).
User Agreement fxtrading.com
The FX Trading User Agreement consists of several sections regulating the legal relationship between traders and the broker in different directions. In this review, we will examine the general provisions. So, clause 3.8 states that the account can be managed not only by one person but also by several persons (joint tenants). In this case, they have equal financial shares and are equally responsible.
The broker is not responsible for your losses due to delays or errors in executing the instruction (clause 5.2) - except in cases regulated by law. But such cases are few in relation to trading, as you understand. In addition, you can at any time refuse to execute an order or place it on different terms for any reason (clause 5.3). The main reasons for refusal are listed in clause 5.4: an error, a requirement of the financial market or the legislature, on the principle of expediency (a very vague condition), and in the absence of instructions on your part in a disputed situation.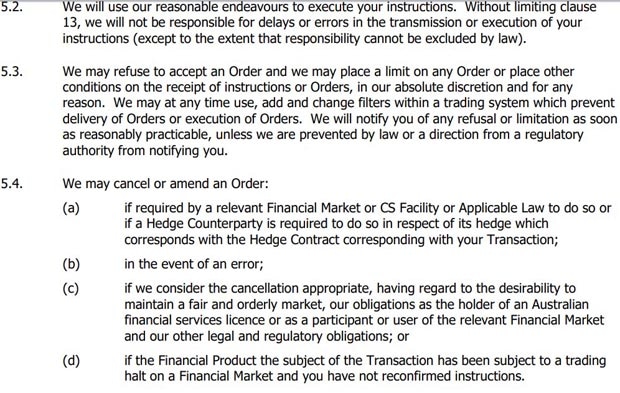 Even if there is a conflict of interest between you and the company (its partners), the latter may execute your orders (clause 5.6).

Margin Calls may be made by a broker more frequently than once a day and you must respond punctually. You are responsible for all legal and tax deductions for income earned in the course of trading (clause 13.4).

You can terminate the agreement with the broker at any time. But this will not cancel the financial and legal obligations to him (clause 16.2).
Is FXTrading.com a scam?
FXTrading.com On paper, it is operated by a company with an Australian license. However, traders on foreign feedbacks say that the real owners of the resource are other people, so much of what they present is not valid. It is difficult to prove, but a large number of complaints about deception when investing funds is still suggestive.
In addition, the site lacks everything that indicates the solidity of the provider, its qualifications and reliability: analytics, training courses, online webinar programs (an indicator that there is a real team, ready to dialogue). Of course, you can't say for sure that FXTrading is a scam. But we also can't say that it is a reliable market participant.
Conclusion
In the stated brokerage FXTrading There are many positive points: tight spreads, relatively low deposits, ASIC license, etc. But, in our opinion, there are significantly more controversial ones:
Closing of trades at 23:57 instead of 23:59 (creates room for adjustments to trades with rollover "according to expediency" mentioned in clause 5.4 of the General Terms and Conditions of the User Agreement).
In general, the very right of the broker not to execute or execute on his own terms your orders (especially combined with the right not to cancel transactions, even if there is a conflict of interest between you and the company, its representatives).
Large leverage (serious risks).
A modest set of currency pairs.
Complaints about deception by users.
Even if there is nothing reprehensible in the activities of the service provider, the conditions of cooperation are built in such a way that the user has a lot of chances to be in the negative.
No reviews yet. Be the first!
Rating of reliable brokers