FTX is a cryptocurrency exchange owned by professional traders, with the ability to trade fiat currencies and stocks, profitable referral and bonus programs.
Read completely
Cryptocurrency exchange
Website
Social media
Types of support

Telegram: FTX_Russian_Official

WeChat: ftexchange

FAQ

Blog

Feedback form on the site

Facebook

Twitter

Help Center

Languages

Russian, English, Chinese, Turkish, Korean, Thai, Vietnamese, German, Spanish, French, Italian, Dutch, Portuguese, Indian

Founder

Sam Bankman-Fried, Gary Wang

The owner of the company
Minimum entry amount

Verified

Fiat

Bank card (Visa/MC):

to 50 USD

Exchange Commission

Trade Commission:

From

0.0

to

0.02

% for maker /

From

0.04

to

0.07

% for taker

Commissions for borrowing/crediting spot margins:

20

% / C interest rate paid by the borrower

Leveraged tokens:

0.1

% / For the creation and exchange in the amount of /

0.03

% / Daily management fee

Age restrictions
Trading volume per day

600000000

USD

Cumulative total record volume set in 2021: $20,000,000,000,000

Number of cryptocurrencies
Number of trading instruments

6

Futures, stocks, fiat, tokens, etc.

Margin Trading
Leverage
Tokenized assets

FTX Token, BULL, ETHBULL. LTCBULL, SUSHIBULL, BEAR, ETHBEAR, ETHHALF, etc.

Free Demo Account
Types of accounts
Execution of orders

Market Execution, Limit Orders, Take Profit Orders, Stop Limit Order, Stop Market Order, Trailing Stop Order, Take Profit Limit, IOC, Reduce Only, Post Only, Retry until filled

Methods of replenishment

JCB, Electronic Wallets, Cryptocurrencies, Bank Card (Visa/MC), PayPal

Withdrawal methods

JCB, Electronic Wallets, Wire Transfer, Cryptocurrencies, Bank Card (Visa/MC)

Account currencies

USD, UAD, CAD, SGD, GBP, BRL, etc.

Types of cryptocurrencies

Bitcoin, Ethereum, Tether, DASH, LTC, etc.

Mobile applications
Trader training

Blog, market news, forecasts

A way to store cryptocurrencies
Fiat accounts
Scalping
Stop Loss and Take Profit Function
Exchangeability for fiat currencies

USD, UAD, CAD, SGD, GBP, BRL

Basic verification
Extended AML verification
Regulatory laws

Legislation of Antigua and Barbuda

API
Bonuses
Affiliate Program
Benefits

The company ranks 4th in terms of trading volume among all exchanges

Several types of assets: cryptocurrency, fiat, futures, tokens and stocks

Low commissions, especially when owning a FTT

Fast registration, innovative products: more than 70 assets are available for trading

Convenient authoring platform

User support bonuses and a referral program with a good rate

Mandatory 2FA, extended functionality of available orders

The exchange began to support a total of about 1,100 markets

Disadvantages

Limits for unverified users

The site provides little legal information about the exchange

According to the information provided in the agreement, any transaction and access to the trader's account can be closed without explanation and at any time at the discretion of the company

Company requisites

Legal name:

FTX Trading Limited

Overall assessment
Date of update

08.07.2022
Subscribe to this company
FTX is it a scam? Reviews and description
CEO FTX Sam Bankman Fried began by trading ETFs, stocks, currency pairs and futures before automating an OTC trading system. With his multinational team he created an exchange in which he combined his knowledge and experience with an original approach in which every trade generates both income and bonuses.
They consider it their mission to work on a platform that is reliable enough to justify the needs of pros and easy for beginners. How successful was the idea and is the service provider honest with clients? FTX - is it a scam or reliable service. We will find out in this review.

Why FTX?
Despite its youth, the platform is considered reliable. Statistical resource engaged in research on the cryptocurrency market, CoinMarketCap, included FTX in the top ten of reliable derivatives cryptocurrencies. The provider has emphasized trading in futures and tokens (there are even interesting ones, like a token for Trump's victory, as well as FTT's own token), and recently stocks were added to them. Fiat and crypto are scarce: BTC, ETH, USDT in the first case and USD, AUD, GBP, BRL, SGD, CAD in the second. The platform is multilingual and supports 14 languages, including Russian.

There are also Russian-speaking employees in the support team, so there are no problems with understanding. There is a web version and a downloadable mobile application for iOS and Android. Scalping is not prohibited, although there is not always enough liquidity for it (probably, liquidity is not enough only in some low-liquid instruments, in pairs with major cryptocurrencies there is enough liquidity, there are no large slippages on the stop). The provider cares about both safety and convenience of traders, so you can start without verification (only phone confirmation), and in the future - to increase withdrawal limits - provide your residential address and contacts. Or take a selfie with your passport to remove restrictions on withdrawals altogether. Available features:
Trading via the web interface. We have described it in detail below.
Exchange of crypto for fiat, fiat for crypto.
Margin lending and margin borrowing. They are essentially similar.
Stacking - storage at 4% per annum. The split is every hour: half is given out in open SRMs, half in blocked ones. Stackers also get a discount on fees if they are FTT holders.
Monitoring the global volume of cryptocurrency trading.
Table of leaders among the traders of the platform by 30-day volume. For the sake of anonymity only pseudonyms are specified.
Voting for groups of tokenized assets to be listed.
FTX donates funds to save people and environmental causes. Partners include GiveWell and Human League. The company donates 1% of its profits to charities.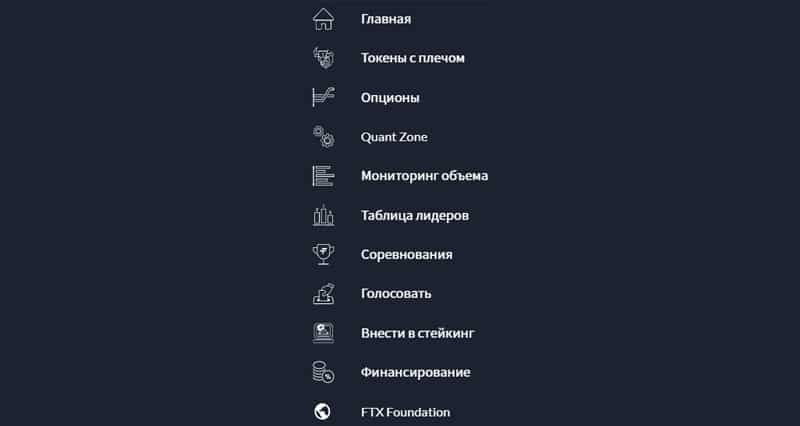 How to buy cryptocurrency on the MTF platform?
To have the right to sell and buy cryptocurrency in ftx.com, it is necessary to register. So go to the link button "Registration" in the right corner of the header of the site and fill out the form:
Specify an email address,
We come up with a password,
We pass a simple captcha (click on the button and solve the puzzle: you need to move the puzzle to a free cell),
Agree to the terms of service
Enter referral code, if we were invited by a partner of the company.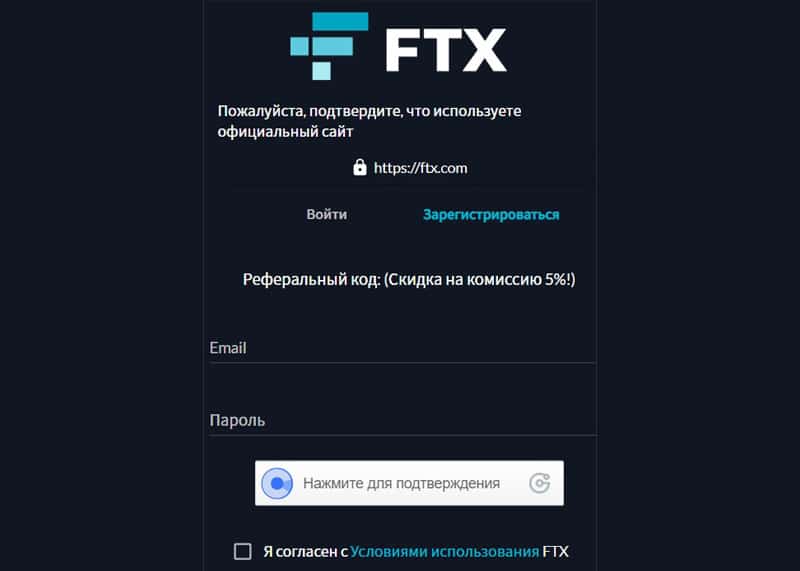 You will create an account and offer to explore the possibilities of the platform and set up two-factor authentication: not only by username and password, but also by entering a one-time code from SMS. If you do not comply with the conditions of the second point - they will not let you make a deposit (we will return to the deposit and withdrawal). Now you can proceed to the selection of assets. This is done from the menu "Markets". Choose the unit we want - let's say we decided to traditionally start with bitcoin. Specify the asset we want to buy (drop-down menu when you click on BTC). And select the action: buy or sell - in the right panel.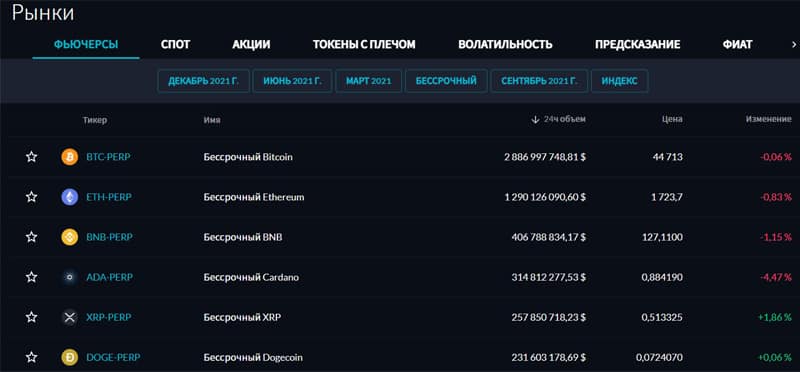 The order type (take-profit, stop-limit, market, etc.) is also configured there. All the usual exchange functions are available: several chart types and timeframes, indicators, scaling, scrolling, and the Depth of Market (here it is called "Book of Orders"). If desired, you can view statistics from TradingView (blue cloud icon in the lower left corner of the chart). Frequently used asset pairs are saved to favorites. There are additional settings: displaying execution notifications, order sizes and trades in USD, requesting confirmation before placing all orders, etc. Margin crediting is provided.
Transaction history and account balance (subaccounts) are displayed in the user profile - it opens by clicking on the login in the upper right menu of the interface. Another way to buy crypto is to refill your wallet: you deposit fiat with your bank card (conversion is in any case via dollar) and buy bitcoins. Read more about this option below. The fastest option - conversion from homepage. You choose direction (from fiat to crypto or vice versa), set amount and click "Conversion". Again, your balance must be replenished.
Verification on the platform ftx.com
At the stage of registration in the ftx.com You don't have to confirm your identity or personal information: you just enter your email address. You don't even have to follow the link in the email to activate your account. But before you start the exchange, you'll be asked to set up two-factor authentication: logging into your profile with a one-time code that the provider sends to your cell phone.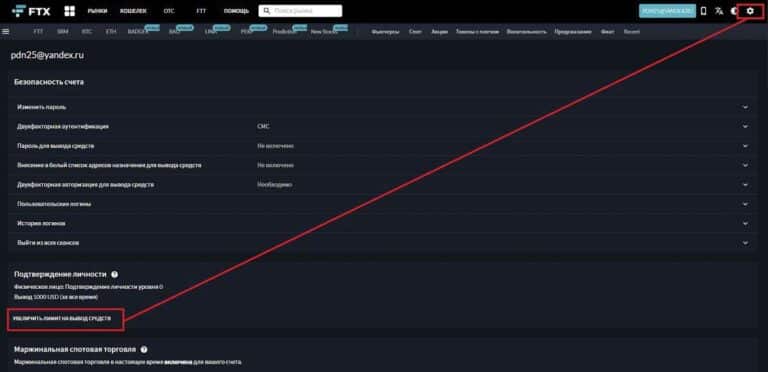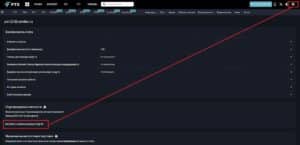 Thus, this phone number will need to be specified and confirmed: just enter the one-time 6-digit code that will come in the message. If you are not counting on a large turnover, it will be enough: your payout limit will be 1000 dollars at all times. To increase it, you will need to go through the verification procedure. To do this, go to the settings (the gear icon to the right of the login) and in the block "Identity Confirmation" click "Increase the withdrawal limit".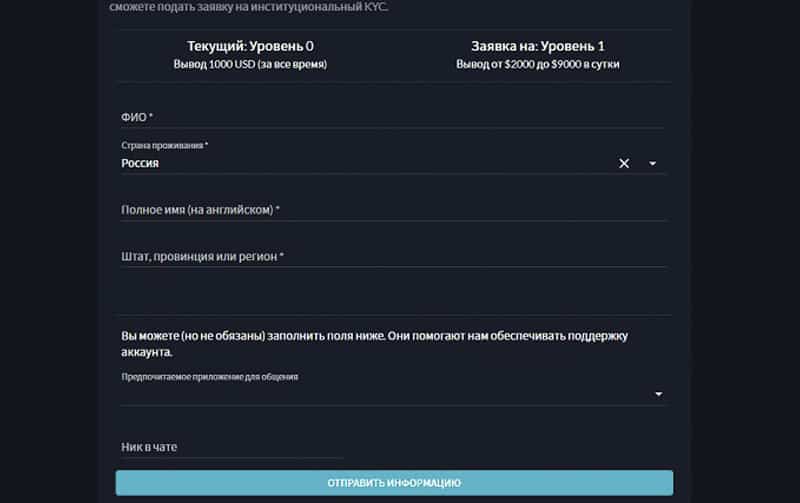 There are 2 levels of verification. The first one raises the withdrawal limit up to 2000-9000$ per day and requires sending personal data to the company: Full name, exact address, messenger to contact. The second one allows to withdraw funds without any limits. But you have to provide information about your source of income (employer, business) and take a selfie with your ID card in hand: when you click "Start", the camera will start. User limits don't apply to trading. But Level 2 allows you to make deposits not only from card and cryptocurrency wallet, but also from e-wallet.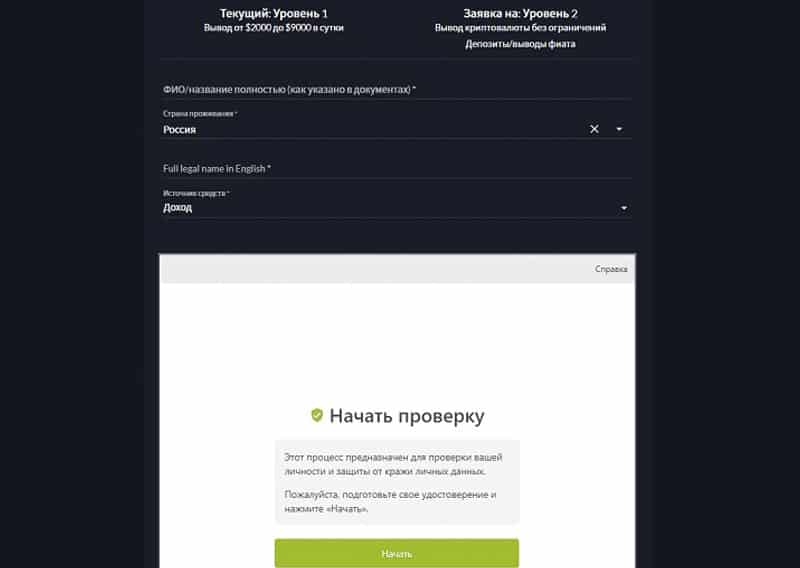 Deposit and withdrawal
These operations are performed in the "Wallet" section (switch from the top menu of the client interface) and directly in the trading window. By default, one account is created (main), but there is an opportunity to create sub-accounts to manage other people. You can replenish the balance in the wallet with a bank card - this is the item "Buy cryptocurrency with a credit card" - or by crediting ("Margin Loan"). In the first case, the minimum deposit is 50 USD. In the second, it is limited to the available volumes of the exchange.

When depositing in the terminal, you click "Deposit" and choose the cryptocurrency unit you want to sell, so that your account will have the right amount of money in the selected currency. All that remains is to copy the address of the wallet where you will transfer the virtual currency for its crediting to your balance. Here the limits are limited only by the reserves of the site. If you have already been verified and reached the second level, through this form you can deposit from e-wallets.
Cryptoexchange Commission
Crypto exchange trading commissions ftx.com depend only on the volume of turnovers of the trader, who is assigned one or another level in the system:
Tier 1. Assigned by default. Commission of the maker - 0.020% from the transaction amount, of the ticker - 0.070%.
Tier 2. It is awarded for achievement of the cumulative volume on transactions in the amount of 2000 USD. Maker - 0.015%, taker - 0.060%.
Tier 3. The cumulative volume on transactions - 5000 USD. Maker - 0.010%, taker - 0.055%.
Tier 4. The cumulative volume on transactions - 10 000 USD. Maker - 0.005%, taker - 0.050%.
Tier 5. The cumulative volume on transactions - 25 000 USD. Maker - 0%, taker - 0.045%.
Tier 6. The cumulative volume on transactions - 50 000 USD. Maker - 0%, taker - 0.040%.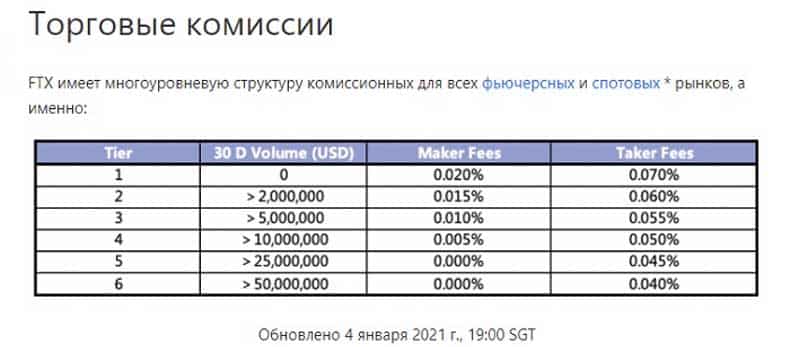 Using a x50 margin credit increases each of these values by 2%. FTT exchange tokenized asset holders receive discounts from 3% to 60% depending on the account balance, but cannot drop taker below 0.015% and maker below 0.0030%. Intra-wallet conversions, when you transfer one asset on your balance to another, are not subject to fees. When depositing and withdrawing you will pay a fee for the transactions themselves and the currency conversion (always occurs through the dollar). In addition, $75 USD from each transaction will be credited to your FTX account if the withdrawal is in fiat currency.
FTX Com Bonuses
В ftx.com There is a system of discounts, which is formed not only taking into account the turnover of the trader, but also taking into account the assets used by him. Bonuses are provided to token holders and participants in the VIP program. Among other things, there is a referral program.
Rewards for deposit and trading volume
You can receive a voucher for commissions from $25 to $1,000 for deposits ranging from $250 to $10,000. Cash rewards for the volume of transactions over 30 days:
$250 000: $50.
$500 000: $100.
$1 000 000: $250.
$2 500 000: $500.
$5 000 000: $1000.
$10 000 000: $2000.
$25 000 000: $5 000.
Discounts for FTT token holders
Clients who have purchased tokens from the FTX - FTT ecosystem receive rebates on trading commissions. The size of the latter depends on the FTT balance in USD equivalent on the client account:
3% if the balance is more than $100;
5% if >1000;
10% if >5000;
15% if >10,000;
20% if >50,000;
25% if >100,000;
30% if >200,000;
35% if >500,000;
40% if >1,000,000;
50% if >2,500,000;
60% if >5,000,000.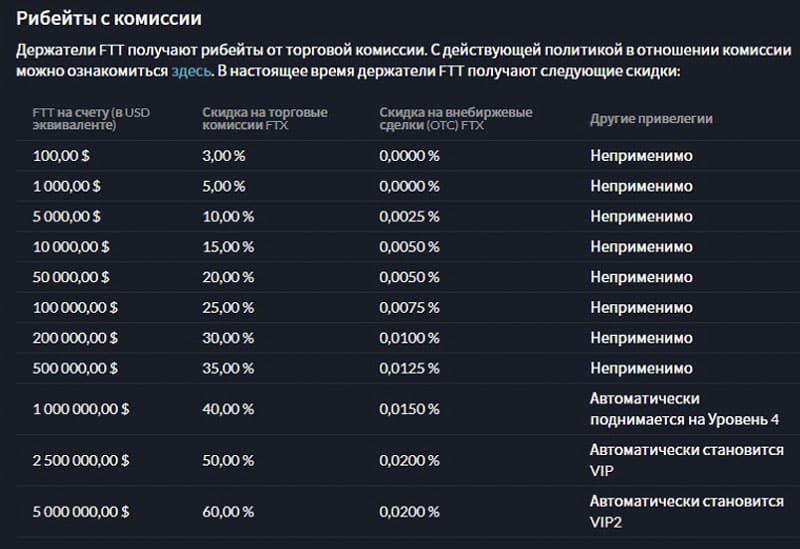 FTX Com VIP program
Those who accumulate a certain amount of FTT on their account automatically become members of the VIP program:
First level, if the balance is more than 2.5 million dollars (used as the equivalent of a token).
The second, - if the balance is more than 5 million dollars.
There is also a third level, which is given when the turnover of more than 2.5% of the volume of exchange trading. In addition to the discount from the commission, they get a personal manager, the opportunity to communicate with the senior developer of the exchange and influence the release of products in FTX, as well as personalized merch and participation in face-to-face (personal) meetings.
Trading contests
В ftx.com competitions and contests are regularly held for traders' trading activity. One of the most recent events was a competition on tokenized stock trading, where the leaders in turnover received shares, a Tesla Model S, and an iPhone 12. The total prize pool was $500,000.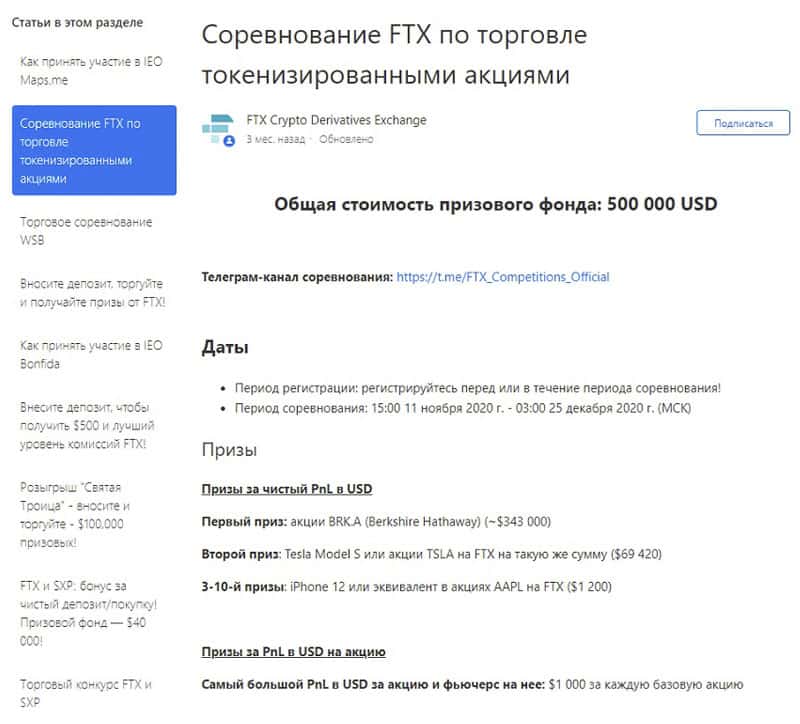 FTX Com referral program
Each registered client of the crypto exchange receives a unique referral link that can be shared with other internet users. If they create an account at ftx.com, a partner will receive from 25 to 40% of the commission paid by them (the exact amount depends on the amount of FTT tokenized asset on their balance). An invited user, on the other hand, if he or she provides a referral code when registering, will receive a 5% rebate on trading commissions.
Complaints about FTX
In general, customers are satisfied with the exchanger and note the rapid operation of all functions and friendly support. In addition, almost all like the interface of the platform. But some customers have problems with logging into the site (in the application) and restoring access to the account, due to which they lose their money.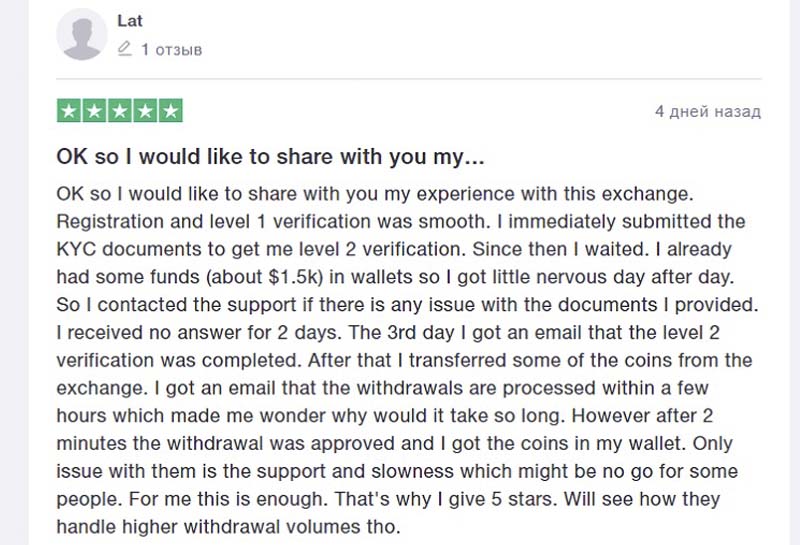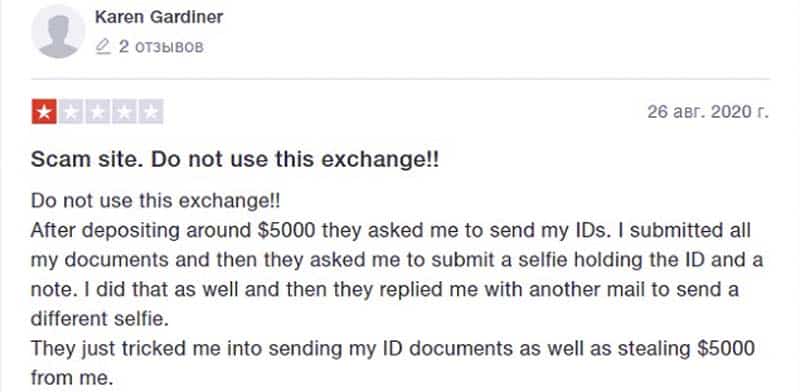 If there are any complaints about FTX, we will be sure to post on social media. Sign up so you don't miss anything!
Please keep yourself informed about news and complaints. We copy the most valuable information to social networks, so please sign up!
Regulation of the crypto exchange FTX
In the client agreement ftx.com FTX Trading Limited, registered in Antigua and Barbuda, is named as the legal owner of the crypto exchange. However, on the official website of the National Business Center of Jurisdiction, we did not find information about the organization. Just as there is no information about the legal entity, unrelated to the review of the exchange. The service provider did not publish any license or reference to the regulatory authority on the site. One gets the impression that the service is offshore.
ftx.com User Agreement
The client agreement of the exchange, FTX Exchange: Terms of Service, is not translated into Russian. We will take a look at a few provisions, so that you can get an idea of the document. So, item 2 says that only an adult who has not been previously blocked on the exchange can register on ftx.com.

When registering, you must provide accurate, complete and truthful information about yourself. Upon request, you must provide any information of interest to the company representatives, even if it is not specified in the basic verification list (clause 3).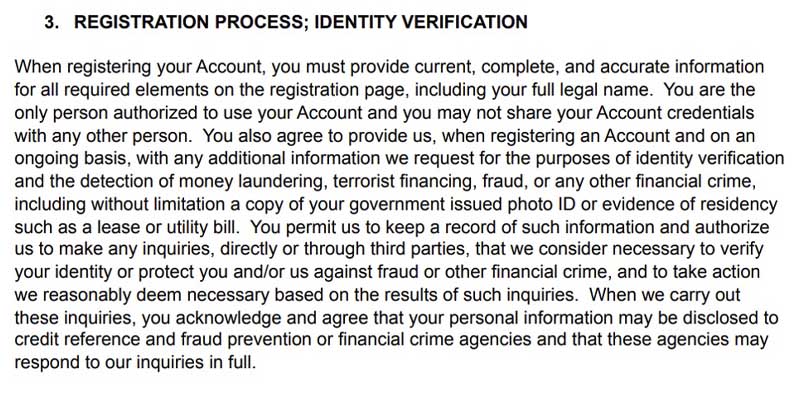 Access to the API exchange you get at your own risk. The company is not responsible for your actions (clause 10).

Your account can be closed at any time and without explanation (point 11). A complete list of possible reasons for this is not given, but it does mention lack of activity in your profile, inability to determine your identity, and requests from official bodies.
The same applies to trades, limits and access to functions: the provider sets them at his discretion and has the right to adjust them when he wants and regardless of the jurisdiction of the client's country of residence (p.13).

The services are provided "as is", with no guarantee that you will not suffer losses and will always have access to FTX services (clause 25).
The Exchange and all related services are governed by the laws of Antigua and Barbuda. If disputes arise, they shall be dealt with in the jurisdiction (clause 27).

MTF.com Customer Service
FTX customer support is provided:
By e-mail - [email protected] (mail for everyone), [email protected] (for Korean users)
Via Telegram chatbot @FTX_Official and WeChat (ftexchange).
On the blog forum, https://blog.ftx.com/.
Using the feedback form and online consultant on the website.
In the company's social media communities.
The support staff communicate in several languages, including Russian. And they are in touch 24/7. In addition, almost all important questions related to the use of the platform, deposits, withdrawals and asset management are in the knowledge base FAQ.
Is FTX a scam?
FTX belongs to a company which, according to the website, is registered in Antigua and Barbuda. However, there is no legal entity with such name in the jurisdiction's registries, and the crypto-exchange website lacks any registration documents and links to official bodies. It can be assumed that the company is offshore. Despite that, it is referenced by big stats like CoinMarketCap, which has a platform in the top 10 when it comes to derivatives. In the client agreement FTX there are overtly bondage conditions - for example, the right of administration at its sole discretion and without giving reasons to block transactions or trader's account, as well as the lack of responsibility for customer actions with the service. It is up to you to decide whether FTX is a scam based on the above.
Conclusion
Exchange FTX offers a variety of assets (fiat, crypto, tokens, futures, stocks) and a clear trading platform. Conventional conversion here is only possible with assets on the balance - in other cases, you trade using the author's terminal FTX. You will first need to register by providing an email address and confirming your phone number (two-factor authentication via SMS).
The withdrawal limits are small, as long as you have not verified your identity. But the procedure is quick: fill out the form, send the application, get access to the next level of verification. The bonus system is built around the exchange token - FTT. Its holders get a discount on trading commission (based on turnover), VIP status, and access to closed bonuses. Although commissions are already quite low if compared to competitors. But there are no guarantees: when the owner of the service wants this, your transaction or even your account will be blocked. And no one will explain anything to you. Feedback on the network confirms: it happens that the client simply cannot log on to the platform and loses money.
Robots for cryptocurrency