Decoin is a reliable crypto exchange offering a wide range of digital assets and trading pairs, its own cryptocurrency DTEP, and a generous affiliate program.
Read completely
Cryptocurrency exchange
Official website
Social media
Date of foundation

2017

Head Office

37 Stefan Stambolov Bvd. 4, Sofia 1303, Bulgaria

Types of support
Languages

English, Portuguese, Chinese, Korean, Russian, Japanese

The owner of the company
Manager
Minimum entry amount

Verified

Fiat

Bank card (Visa/MC):

from 50 USD

Unverified

Fiat

Bank card (Visa/MC):

from 50 USD

Minimum withdrawal amount

Verified

Cryptocurrency

From 0.002 BTC
From 20 DTEP
From 0.02 ETH
From 55 USDT
From 0.01 LTC
From 0.006 Dash

Unverified

Cryptocurrency

From 0.002 BTC
From 20 DTEP
From 0.02 ETH
From 55 USDT
From 0.01 LTC
From 0.006 Dash

Maximum withdrawal amount
Exchange Commission

Trade Commission:

From

0.035

To

0.075

% for maker /

From

0.04

To

0.075

% for taker

Withdrawal fee:

0.0005

BTC /

0.001

DTEP /

0.006

ETH /

0.0025

LTC /

0.004

Dash

Terminals

TradingView

Age restrictions
Trading volume per day
Number of cryptocurrencies
Number of trading instruments
Margin Trading
Tokenized assets
Free Demo Account
Types of accounts
Execution of orders

Stop Limit Order, Market order, Limit Order

Methods of replenishment

Bank card (Visa/MC)

Withdrawal methods

Cryptocurrencies

Account currencies

Cryptocurrencies

Types of cryptocurrencies

BTC, DOGE, EOS, ETH, XRP, DTEP, USDT, LTC, DASH, etc.

Mobile applications
Trader training

There is a section "Frequently Asked Questions", where you can learn about verification, deposit and withdrawal of funds, etc.

A way to store cryptocurrencies
Fiat accounts
Scalping
Stop Loss and Take Profit Function
Exchangeability for fiat currencies

You can exchange fiat to cryptocurrency and vice versa

Terminal capabilities

Working with indicators, graphical tools

Basic verification
Extended AML verification

KYC (passport, passport or driver's license. Photo with document (selfies). Proof of address (bank statement, utility bill, etc.)

Regulatory laws

Bulgarian legislation

International data protection law

FATF (Financial Action Task Force)

API

Read more

Official documentation for Decoin.io Rest API and Socket

Bonuses
Affiliate Program
Benefits

Advanced safety standards

Easy verification procedure

Variety of cryptocurrencies and trading pairs

Intuitive and simple interface

Multilingualism of the platform

Advantageous terms of cooperation

There is its own cryptocurrency

Disadvantages

Complaints about withdrawal problems

Company requisites

Legal name:

Moneta Argenta EOOD

Legal address:

37 Stefan Stambolov Bvd. 4, Sofia 1303, Bulgaria

Overall assessment
Date of update

30.01.2023
The address is
37 Stefan Stambolov Bvd. 4, Sofia 1303, Bulgaria
Map
Subscribe to this company
Decoin is a scam? Reviews and description
Decoin
- that
cryptocurrency exchange
which was created in 2017. The platform for trading digital assets is built on an independent blockchain. It provides maximum security and support for its users. The company's goal is to create the most secure exchange with an easy-to-use interface for both advanced traders and beginners. In this review we will examine what exactly decoin.io offers and whether it is a scam.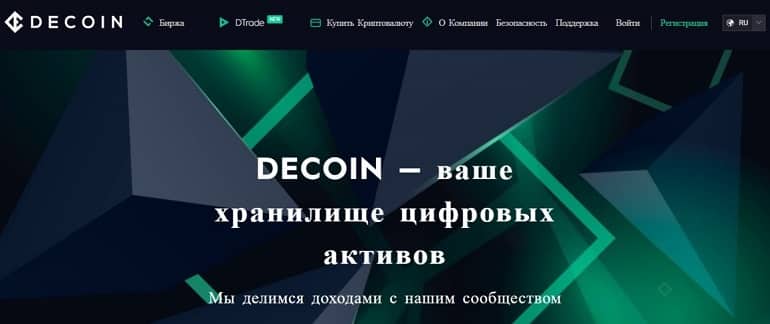 Why Decoin?
Benefits of the platform decoin.io:
proprietary token DTEP;
one of the advanced safety standards;
platform multilingualism;
maintenance of multi-currency smart electronic media, which enables integration with new currencies and exchanges;
program optimization mechanisms to complete internal transactions in milliseconds;
support of several regulations and legislation, combined with GDPR is the EU's data protection program;
simple, accessible interface for both advanced players in the investment market, and for beginners.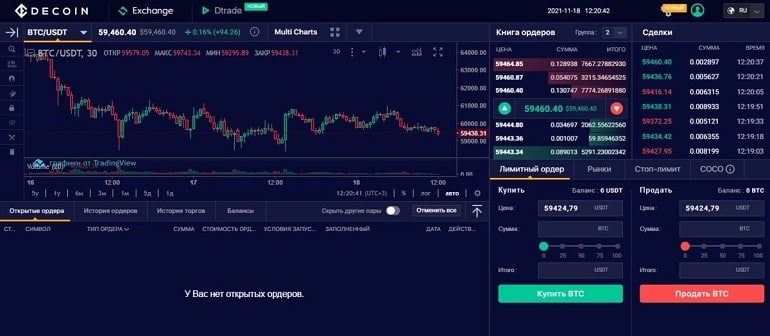 How to exchange cryptocurrency on the decoin.io platform?
To exchange cryptocurrency on an exchange decoin.io, visit the "Buy Cryptocurrency" section. Here you can buy currency with a credit card. In the form, you need to specify the amount you want to deposit, and the system will automatically put the amount of bitcoins or other cryptocurrencies. It remains to select the payment method and specify the data for the transfer.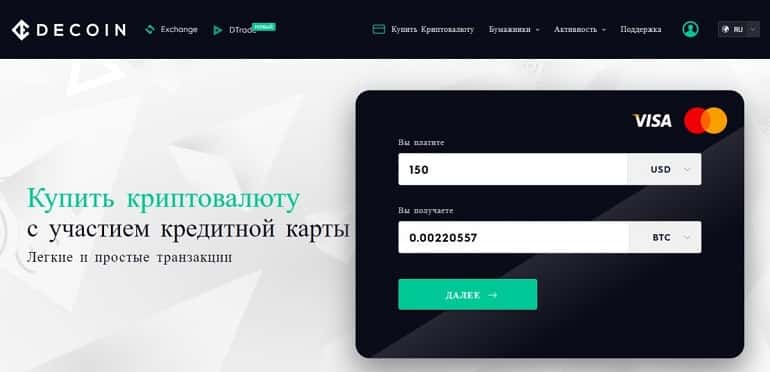 Verification on the Decoin platform
When logging into your personal account, the system automatically offers to increase the level of security. You can verify the authenticity by SMS or google-authentication. If you will withdraw no more than 2 BTC per day, then verification is not necessary. If you withdraw more than that, you'll have to pass KYC. To do this, you need to provide your full name, date of birth, address and upload your passport scan. The KYC procedure is aimed at preventing identity theft, money laundering, terrorist activity and financial fraud.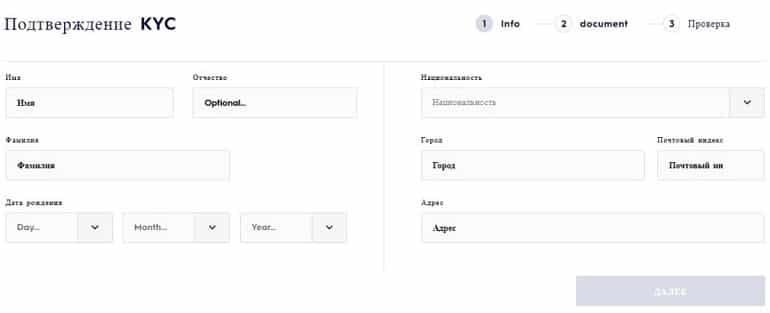 Deposit and withdrawal
To deposit to your account, in the Wallet ("Wallets") tab, click the "Deposit" button. Select the cryptocurrency you want to deposit to your account on the exchange. Copy the address (or use the QR code).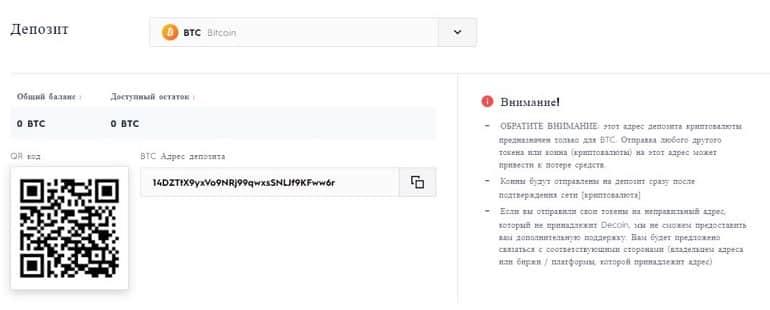 Go to your personal wallet and then to the "Send Coins" tab and enter the address in the "Payment" field. You can set a label for the transaction and select the amount of coins you want to transfer. To withdraw funds, click the "Withdraw" button on the "Wallet" ("Wallets") tab. Select the cryptocurrency you want to withdraw from your exchange account.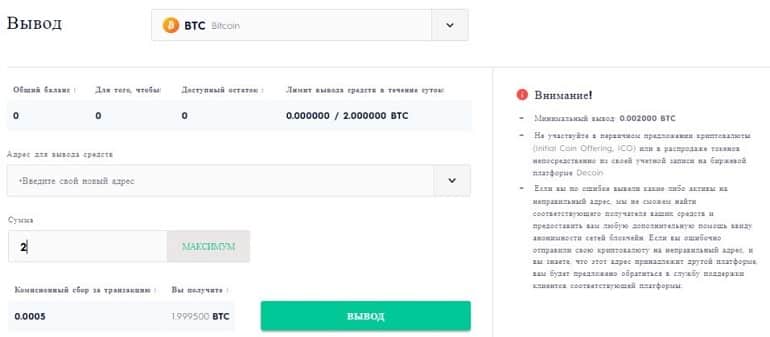 Click "new address," enter the number of coins you want to withdraw, place a check mark, and then enter the address you want to withdraw to. A confirmation email with a "Confirm Withdrawal" link will be sent to your email address. Click on the link to confirm the withdrawal and continue. A "Withdrawal verified successfully" message will appear. Your withdrawal request will be processed within 48 hours.
Decoin Crypto Exchange Commission
Commission for the maker is from 0.035% to 0.075%, for the ticker - from 0.04 to 0.075%. The percentage depends on the trading volume for the last 30 days.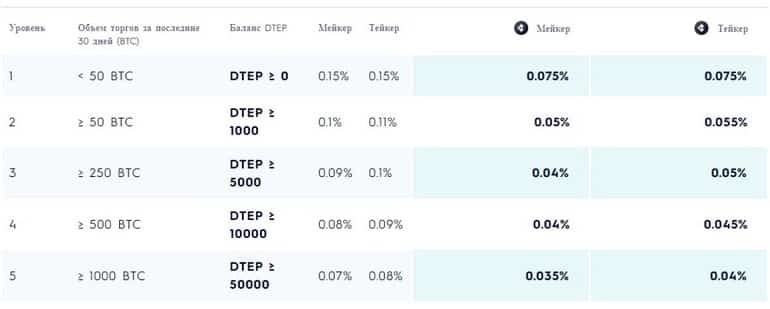 Withdrawal fees are as follows:
BTC - 0.0005 BTC;
DTEP - 0.001 DTEP;
ETH - 0.006 ETH;
LTC - 0.0025 LTC;
DASH - 0.004 DASH, etc.
Decoin Bonuses
Decoin offers a discount on commissions and a generous affiliate program. That's what we're going to talk about now.
Commission discount
You will receive a 50% discount on the commission fee. You need to use DTEP, your own Decoin token, to do this.

Affiliate Program
Inviting friends to the site decoin.io by a referral link, you can earn up to 70% commission. This is a very generous offer, which not every crypto exchange offers. Usually financial companies offer 15-30%.
Complaints about decoin.io
People write different things about Decoin. Some like the design of the platform and trading digital assets on it. They write that in case of problems the support service quickly solves problems and even gives bonuses for their mistakes.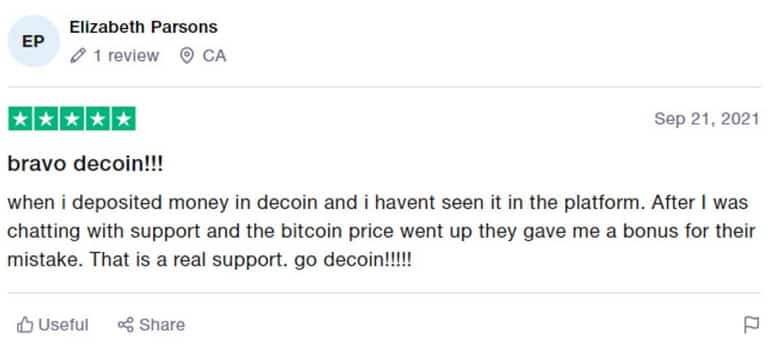 There are also complaints about the company. They write that there are problems with the withdrawal. There are even comments with threats to sue the company, as they addressed the problem to the support service, but they did not answer the question and solve the problem.
If there are any complaints about Decoin, we'll be sure to post on social media. Sign up so you don't miss anything!
Please keep yourself informed about news and complaints. We copy the most valuable information to social networks, so please sign up!
Regulation of the Decoin crypto exchange
Companies offering financial services can be both honest and fraudulent. So next we will talk about the regulation of cryptocurrency exchanges.
Regulator
Cryptoexchange Decoin was created by the company Moneta Argenta EOOD. The company is regulated by Bulgarian legislation, registration number 202794981. There is no other data about it on the decoin.io site.
Decoin.io User Agreement
The document states that users must register and open a Decoin account and deposit digital assets prior to trading. Decoin has the right to change the terms of the agreement at any time and without notice.

Customers are warned about the risks associated with trading in digital assets.

Only a legally capable citizen over the age of 18 can open an account. If you make a mistake when withdrawing funds, the company will not help you with a refund and find the recipient.

Customer Service
You can contact the support team as follows:
the feedback form on the site;
email: [email protected];
Telegram;
Facebook;
Twitter;
Reddit.
Is Decoin a scam?
Decoin - is a young cryptocurrency exchange created in 2017. The office of the company is located in Bulgaria. The project offers a transparent and innovative platform with elements of maximum security. As well as an easy-to-use interface for novice users and advanced trading functions for professionals.
The Decoin system includes a coin called DTEP. It operates from an independent blockchain using the "PoS" consensus algorithm. The company is led by an experienced team of experts, financial specialists and experienced traders. This project is not a scam or fraud. Clients speak positively about the company, they note the fast execution of transactions and favorable terms of cooperation.
Conclusion
Decoin - is a reliable crypto exchange that has been on the digital assets market for 4 years. It offers clients a set of digital assets and trading pairs, its own currency DTEP, generous affiliate program. The project is not a scam and scammer, as it provides interesting trading conditions and a high level of security. Transactions are fast and without problems, although there are some delays. Support service promptly responds to questions. Always tries to solve the problems of clients.
The company in the ratings
Robots for cryptocurrency
New companies on the site