CoinPlaza is an instant cryptocurrency exchange service that uses non-custodial wallets. You can buy, sell and exchange cryptocurrencies. User funds are instantly converted and sent to a wallet or bank account.
Read completely
Cryptocurrency exchange
Official website
Date of foundation

2019

Head Office

Via Luigi Dari 31, San Benedetto del Tronto, Italy

Types of support
Languages

English,

The owner of the company
Minimum entry amount
Maximum input amount
Minimum withdrawal amount
Maximum withdrawal amount
Terminals

Author's platform

Age restrictions
Number of cryptocurrencies
Margin Trading
Tokenized assets
Free Demo Account
Types of accounts
Methods of replenishment

Cryptocurrencies, Sepa

Withdrawal methods

Cryptocurrencies, Sepa

Account currencies

EUR, Cryptocurrencies

Types of cryptocurrencies

BTC, USDT, ETH, BCH, XLM, LTC, ADA, XMR, etc.

Mobile applications
Trader training
A way to store cryptocurrencies
Fiat accounts
Scalping
Stop Loss and Take Profit Function
Exchangeability for fiat currencies
Basic verification
Extended AML verification

For Level 2 - address of residence, employment information, photo of the document. For level 3 - proof of address

Regulatory laws

International data protection law

FATF (Financial Action Task Force)

API
Affiliate Program
Benefits

High speed of transactions

A simple exchange request form

Possibility of exchange using fiat

Ability to exchange cryptocurrencies without verification

Disadvantages
Company requisites

Legal name:

CoinPlaza S.r.l.

Legal address:

Via Luigi Dari 31, San Benedetto del Tronto, Italy

Overall assessment
Date of update

21.02.2023
Address
Via Luigi Dari 31, San Benedetto del Tronto, Italy
Map
Subscribe to this company
CoinPlaza is this a scam? Reviews and description
CoinPlaza - instant exchange service Cryptocurrencies. It does not use custodial wallets (clients own the keys). You can quickly exchange cryptocurrencies with a simple application form. Users' funds are instantly converted and sent to a wallet or bank account. To find out if CoinPlaza is a scam, we compiled this review.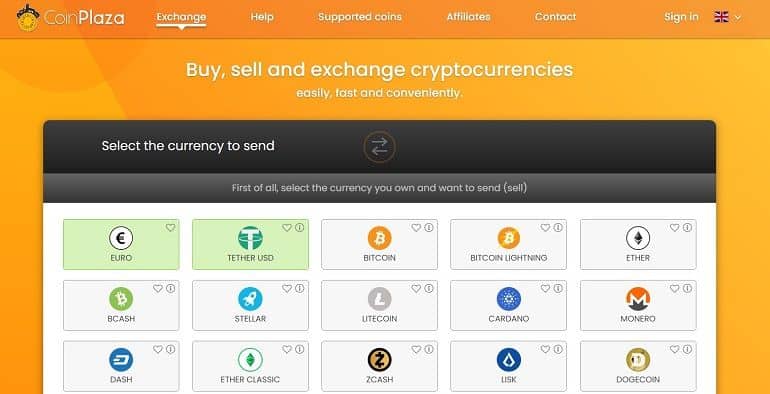 Why CoinPlaza?
CoinPlaza is a digital currency exchange service owned by CoinPlaza Srl, a company registered in Italy. It does not provide the ability to store coins or fiat money on the platform, which makes it impossible to lose funds even if the account is compromised by hackers. To simplify the process of exchanging cryptocurrencies, one interface is used for all directions.
Unlike other exchanges that use internal balances to store money, CoinPlaza converts funds into the selected currency immediately after the payment and sends them to a wallet or bank account. The pluses of the platform include:
fast transfers;
a simple exchange request form;
the ability to exchange cryptocurrencies without verification;
a high level of security by storing funds on users' wallets, not the service.
On the site coinplaza.it there is a section "Exchange", where you can make a transaction, pages with help, legal information, details of participation in the referral program, contact information. There is a section "Supported Coins", where you can find information about all the cryptocurrencies offered for exchange.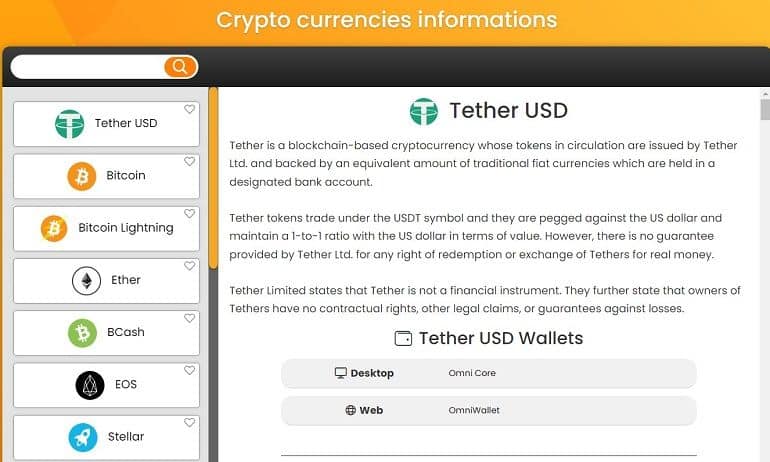 How to exchange cryptocurrency on the CoinPlaza platform?
To start a transaction, go to the "Exchange" section, select the currencies you want to send and receive, enter the desired amount, and specify the destination wallet address or bank account. Fiat currencies are available only for verified accounts. Go to your profile to link your bank account to your CoinPlaza account.
After you send a deposit, it must be confirmed by the network for cryptocurrency or banks for fiat deposits. When the payment is confirmed, the service will convert the funds into the desired currency and send them immediately to the wallet address: most orders are completed in just a few minutes. For cryptocurrency deposits transfer time depends on blockchain speed. Processing speed ranges from 30 seconds to several hours. In some cases, such as blockchain overloads or DDoS attacks, it can take up to 48 hours.
Minimum and maximum exchange amounts may vary depending on various factors: exchange direction, exchange order book liquidity, CoinPlaza internal policies or account verification level, as well as your daily, weekly and monthly exchange volume.
The minimum and maximum for each currency is specified when executing a transaction. So, for EUR the minimum amount is 36,68, for Bitcoin - 0.002 BTC, for Ethereum - 0.05 ETH, for Litecoin - 0.01 LTC. The maximum for EUR is 250 EUR, for Bitcoin - 0.028 BTC, for Ethereum - 0.4 ETH, for Litecoin - 9.83 LTC.
Verification on the coinplaza.it platform
Cryptocurrencies can be exchanged without verification. But in this case, transaction limits will apply. Transactions between cryptocurrencies are available up to 1,000 euros. To exchange using fiat currency and to increase the limits, it is necessary to pass the account verification process CoinPlaza. Several levels of verification are available:
Level 1. Enter your first and last name, gender, date of birth, country, city, phone number, and email.
Level 2. Confirm address, type of account, profession, annual income, source of funds.
Level 3. Send a photo of the document and selfies.

Deposit and withdrawal
Service does not imply storage of cryptocurrency on their wallets, so there is no replenishment and withdrawal service. You can only exchange cryptocurrencies, sell and buy for euros, making a request in the "Exchange" section.
Cryptoexchange Commission
The service fee depends on the currency that the user sends and receives. It is specified in the application before and after the payment is sent. There is no exact amount, it varies depending on the exchange rates.
CoinPlaza Bonuses
CoinPlaza offers participation in the referral program.
Referral program
The platform offers rewards for attracting users. You can get 20% of income from commissions for each exchange made by referrals. To become a member of the program, you have to:
Sign up at coinplaza.it.
Accept the terms of the affiliate program.
Post a personal link on your website, email list, social networks, blogs, articles, etc.
Cookies are stored for 30 days, so you can get a share of revenue from users who register on CoinPlaza even weeks after they clicked on an affiliate link.
The Exchange provides partners with ready-made banners and logos, which can be used to link to our site. All you need to do is to choose a banner and click on it to get the HTML code to embed it in your pages.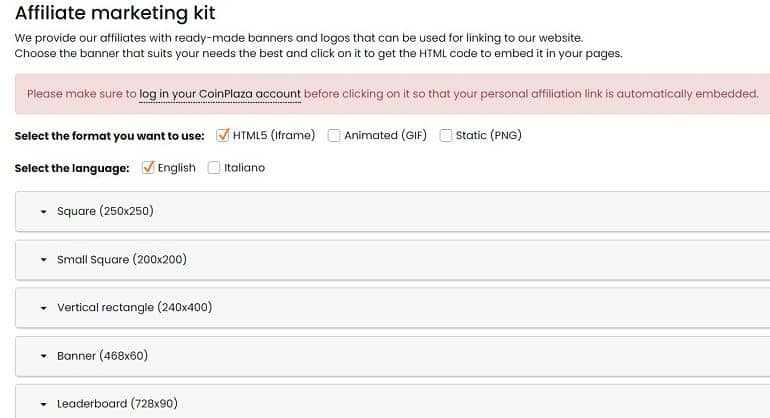 Complaints about CoinPlaza
There are no reviews about the service on the Internet yet. On the site of the company users leave their estimates, most of them are positive. Having studied the work of the project, we also concluded that this is a reliable exchanger with a simple application form for the transaction and profitable referral program.
If there are any complaints about CoinPlaza, we will be sure to post the information on social networks. Sign up so you don't miss anything!
Please keep yourself informed about news and complaints. We copy the most valuable information to social networks, so please sign up!
Regulation of CoinPlaza crypto exchange
Since cryptocurrencies Many scammers take advantage of this and create services with which they deceive clients. To avoid falling into the trap of swindlers, you should study all the documents on the company's website, find out about the license and read reviews on the Internet.
Regulator
The service is owned by CoinPlaza S.r.l., which is registered in Italy. The site has a section with legal information, in which several documents are published.
Coinplaza.it User Agreement
The document states that the site's services are regulated by Italian and European law. CoinPlaza gives an opportunity to exchange cryptocurrencies and use euros for transactions. As a reward for the activity provided, the service receives a currency exchange fee, which will be shown to the user at the time of ordering the exchange operation. The user undertakes to immediately notify the administration in writing at [email protected] if they become aware of unauthorized use of their account or of disclosure of their password or information that may lead to misuse of the account.

CoinPlaza reserves the right to request additional information regarding the request at any time in order to authorize or cancel its execution. In case of refusal to provide such information, the service may not perform the exchange operation. Also, CoinPlaza reserves the right to block, suspend and delete user accounts for which proper verification has not been performed, despite any efforts of the administration to contact the customer. The contract between CoinPlaza and the user is indefinite. The Customer may cancel it by notifying the company at least 15 days in advance by registered mail with return receipt to CoinPlaza Srl, Via L. Dari 31, 63074 San Benedetto del Tronto (AP), Italy.
Customer Service
You can contact platform support by e-mail: [email protected] There is also a feedback form in the "Contact Us" section.
Is CoinPlaza a scam?
CoinPlaza - service for fast cryptocurrency exchange. Transfers using fiat (euro) are also available. The platform does not store user funds, money is converted at the current exchange rate and transferred between the wallets of the client. The website has a simple form for exchanging cryptocurrency, sections with details about the referral program, which can receive 20% from the commissions of the attracted users, legal information and contact information. There are no reviews about the company yet. So it's hard to say if users of the service have had any problems. If you decide to exchange funds using this platform, study all the documents and do not transfer large amounts the first time. After the operation, leave your review about the site, so that other readers can find out whether CoinPlaza is a fraudulent scheme.
Conclusion
CoinPlaza - service, which is owned by an Italian company registered in 2019. It offers simple and fast exchanges of 19 cryptocurrencies and transfers using fiat (euro). If you have used the platform's services, leave a comment about it below this review.
No reviews yet, be the first!
The company in the ratings
Robots for cryptocurrency
Activity
New

0

Resolved

0

Not resolved

0
New companies on the site