CoinChange is a crypto exchange that offers not only trading of popular digital assets, but also an opportunity to earn passive income up to 25% p.a. on a high-yield account. A mobile app, a referral program and a sign-up bonus are available.
Read completely
Cryptocurrency exchange
Official website
Social media
Date of foundation

2017

Head Office

260 Carlaw Ave, Toronto, Ontario M4M 3L1, CA

Types of support
Support by phone
Languages

English

Founder

CoinChange Financials, Inc.

Minimum entry amount

Verified

Fiat Currency

from 50 USD / when transferring via ACH

Unverified

Cryptocurrency

Unavailable

Maximum input amount

Verified

Fiat Currency

to 1 000 USD / when transferring through ACH

Unverified

Cryptocurrency

Unavailable

Minimum withdrawal amount

Unverified

Cryptocurrency

Unavailable

Maximum withdrawal amount

Unverified

Cryptocurrency

Unavailable

Exchange Commission

Trading commission:

0.5

%

Withdrawal fee:

0.0005

BTC /

0.0055

ETH /

15

USDT /

0.5

% / when outputting via ACH

Fiat currency withdrawal fee:

From

10

To

30

USD / depending on residence

Terminals

Author's platform

Age restrictions
Number of users
Number of cryptocurrencies
Margin Trading
Tokenized assets
Free Demo Account
Types of accounts
Methods of replenishment

Bank transfer, ACH

Withdrawal methods

Bank transfer, ACH

Account currencies

USD, Cryptocurrencies

Types of cryptocurrencies

BTC, ETH, USDC, USDT, BNB

Licenses

Licensed

FinCen License No. 31000202631923

(Active)

Fintrac license M19230342

(Active)

Mobile applications
Trader training
A way to store cryptocurrencies
Fiat accounts
Scalping
Stop Loss and Take Profit Function
Exchangeability for fiat currencies
Direct connection technologies to DeFi platforms

Provides the best price search

High Yield account

Up to 25% annual passive income

Basic verification

Confirm email and phone number

Extended AML verification

Providing an ID card. Verification is conducted by Jumio

Regulatory laws

International data protection law

FATF (Financial Action Task Force)

U.S. law

Canadian law

API
Bonuses

Until

25

%

Passive income with a High Yield account

Affiliate Program
Benefits

Direct connection technologies to DeFi platforms to find the best price

Intelligent withdrawal system with suspicious transaction detection

Multisignature and encrypted wallets

Automated extended KYC check

Profitable referral program

FinCEN (USA) and Fintrac (Canada) licenses

Company requisites

Legal name:

CoinChange Financials, Inc.

Legal address:

260 Carlaw Ave, Toronto, Ontario M4M 3L1, CA

Overall assessment
Date of update

20.02.2023
Address
260 Carlaw Ave, Toronto, Ontario M4M 3L1, CA
Map
Subscribe to this company
CoinChange is this a scam? Reviews and description
CoinChange - crypto exchangewhich has been operating since 2017 and offers not only trading in popular cryptocurrencies, but also an opportunity to earn passive income of up to 25% per annum with a High Yield account. Commissions are small, and a mobile app has been developed for convenience. The company also has FinCEN and Fintrac licenses, which indicates the reliability of the service. But it is still worth finding out if CoinChange is a fraudulent scheme. For this purpose, we have made an overview of the exchange's work.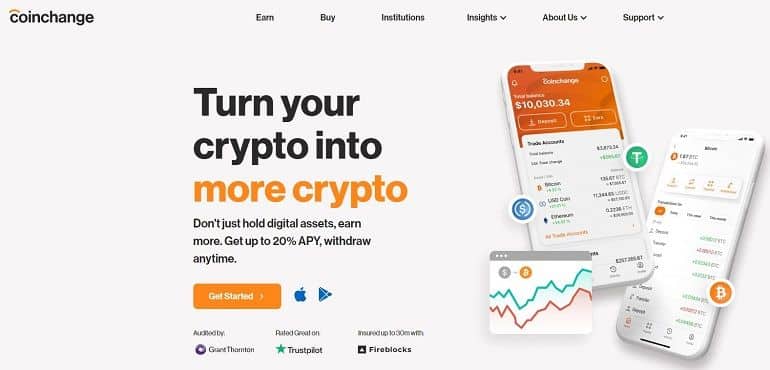 Why CoinChange?
Coinchange allows you to quickly buy popular Cryptocurrencies with minimal costs. The exchange uses state-of-the-art technology to connect directly to multiple DeFi platforms, updated in real time to offer the best price.
The Coinchange team has also created a tool with which you can buy popular cryptocurrencies and earn interest on them with a high-yield account. The Coinchange High Yield account is a high-yield account in which you can earn up to 25% annually for the assets transferred to it. You can withdraw passive income at any time. There is a yield calculator in the account description section.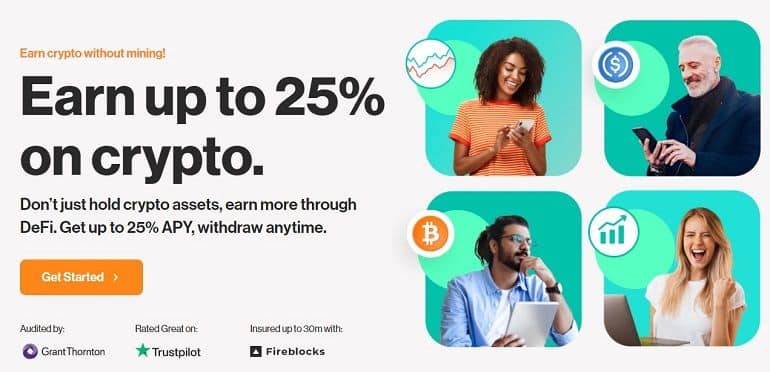 Coinchange works with fiat money and cryptocurrencies. The exchange uses modern systems to ensure a high level of security, including:
smart withdrawal system with suspicious transfer detection;
real-time notifications of actions in the account;
multisignature and encrypted wallets;
secure transfers and fiat storage;
DDoS attack prevention, which is provided by CloudFlare;
advanced KYC with automated verification;
two-factor authentication (2FA);
advanced fraud detection procedures.
Cooperation is available with legal entities, DAOs and individuals who conduct transactions for large sums, which can provide them with additional opportunities through DeFi. There is a form on the site to fill out to clarify all the details about the service. It is also possible to trade, transfer and earn cryptocurrency using the mobile app Coinchenge.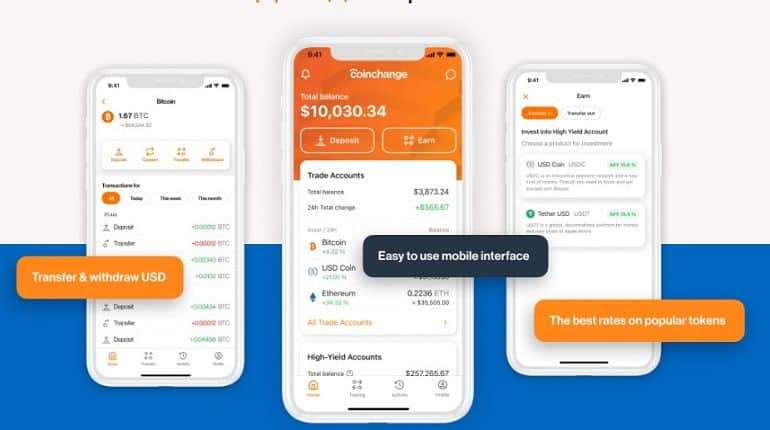 How to exchange cryptocurrency on the CoyneChange platform?
To begin cryptocurrency trading, you need to register and create an account. To do this, a form is offered in which you enter your email, last name, first name and password. It is necessary to note and agree with the rules of the service. A confirmation link will be sent to the specified e-mail address. After that, it will be necessary to sign in to your account and confirm the phone number. To do this, select your country, indicate the phone number and a code which will come in SMS.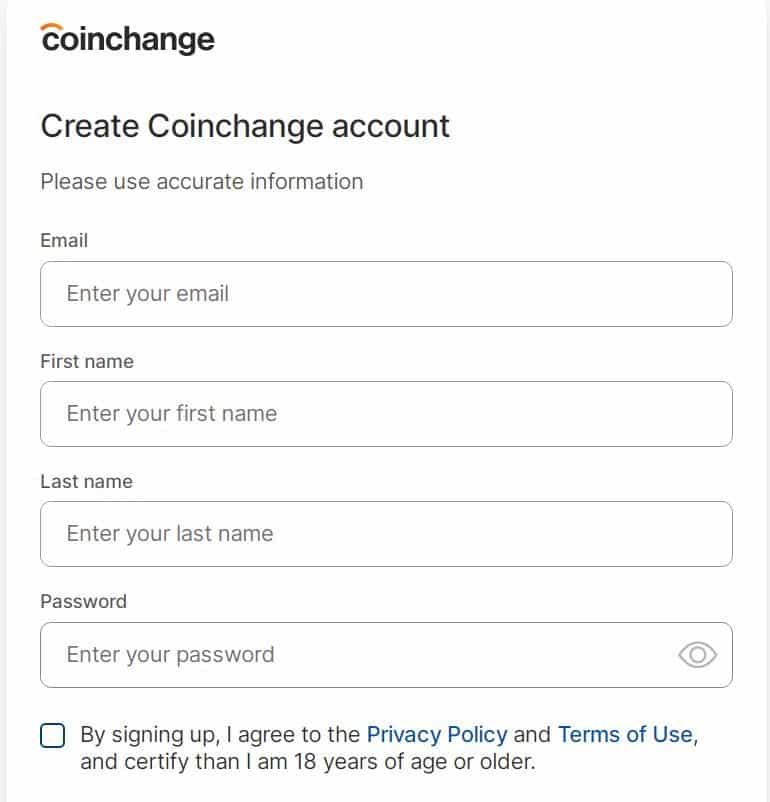 Coinchange has a trading account that allows you to buy and sell cryptocurrencies and tokens. The platform supports BTC, ETH, BNB, USDC and USDT. After logging in, cryptocurrency can be purchased through the "Buy/Sell" tab. Users are provided with a quote at the current rate, which is valid for 10 seconds before it expires. Orders are routed through exchange partners to ensure the best execution price at that time. Coinchange has no minimum or maximum amount to exchange.
A high-yield account is also available that can generate passive income from deposited cryptocurrency. It generates income for users who fund liquidity pools. A fee is charged for each exchange using these pools, which is collected and returned as income. Users can generate up to 25% of annual income from deposited cryptocurrency.
The account offers both trading and high returns. When a user transfers funds, they are credited to the trading account. If you want to transfer them to a High Yield account, click "Earn" for the desired currency, enter the amount you want to deposit from the trading account, and you will begin to earn interest. You can transfer funds from the High Yield account to the trading account. To do this, click the "Trade Out" tab next to the "Invest" tab.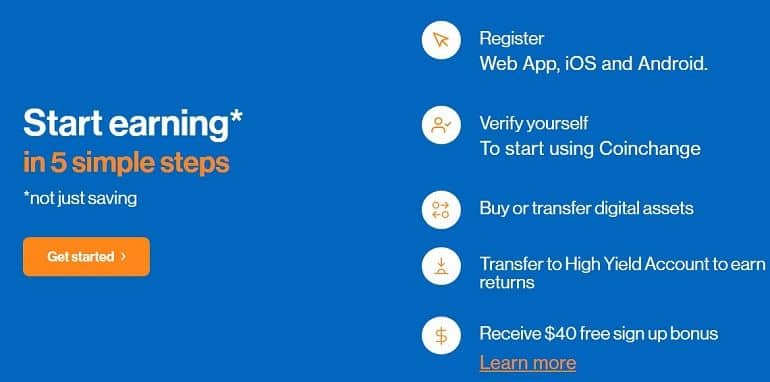 Verification on the coinchange.io platform
Once you have created an account, you will be prompted to complete a verification process to gain access to all Coinchange products. This includes verification of your email address, phone number and identity. The exchange has partnered with an identity verification company called Jumio, which automates this process. This prevents fraud and identity theft online and makes KYC/AML compliance easier. After sending your identity verification documents, you will receive an email notification within 1-2 days.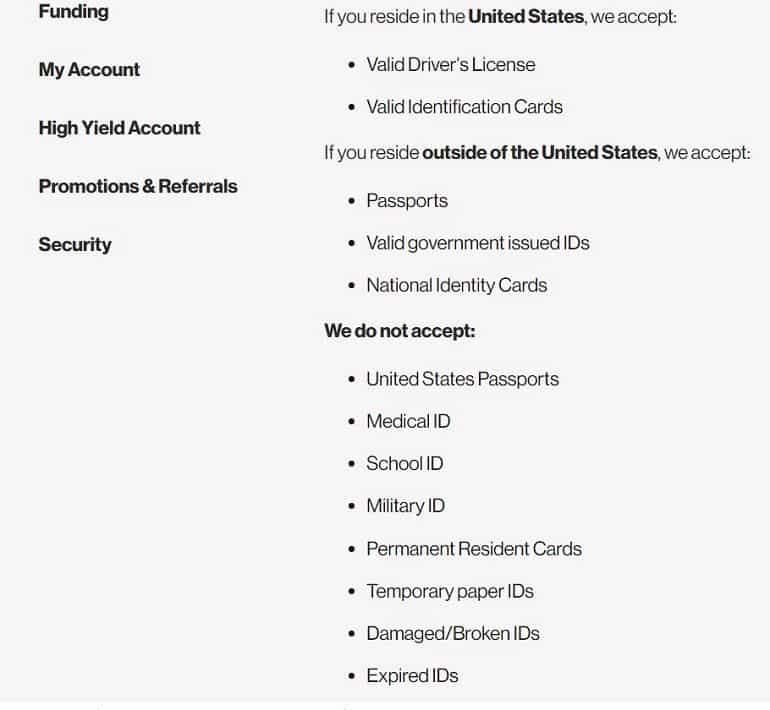 Coinchange requires users to recheck an account if it is flagged as suspicious by the system. As long as the account is marked for rechecking, you can continue to trade or invest, but will not be able to withdraw funds for 60 days. There may be several reasons why an account requires rechecking:
The bank account was previously tied up through microdeposits.
If the user is accessing the account from multiple IP addresses.
If Coinchange cannot automatically verify bank account information.
Coinchange requires proof of legitimate bank account ownership. To do this, you need to reconnect the bank accounts with Plaid. If you are unable to link to Plaid, provide these documents:
Bank statement with name and address.
Canceled check.
Deposit and withdrawal
You can replenish your account on the website coinchange.io and via mobile app. Cryptoexchange accepts deposits in US dollars in two ways: deposits via ACH and bank transfers. When choosing ACH, there is no transfer fee. The minimum amount of daily deposit is 50 USD. Maximum - 1,000 USD. Processing time - 2 business days.
In the case of a bank transfer there is no commission, there is no minimum and maximum deposit amount. Such applications are processed on the same day. Deposited funds will be blocked for 5 days from the moment of crediting to the account. It is possible to trade and receive interest on the balance, but you will not be able to withdraw this amount for the period of withholding.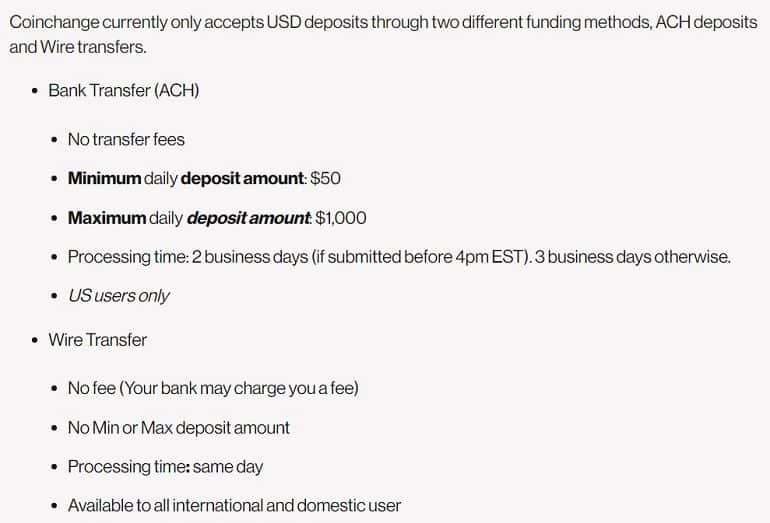 To withdraw funds from Coinchange, you can use the app or website. If ACH was transferred through Plaid, there is a daily withdrawal limit of $100 after the 5-day lockout has been lifted. If ACH was transferred via microdeposit, you will not be able to withdraw without double-checking your bank account.
Withdrawal time varies depending on the method. All new ACH transfers are processed with a 5-day delay. Withdrawals from accounts that were deposited via bank transfer are delayed by 1 day. Cryptocurrency withdrawals can take several minutes depending on the processing time of transactions on the blockchain.
Cryptoexchange Commission
The exchange does not charge a fee for opening an account, account maintenance, storage of funds, placement and transfer between Coinchange wallets. There is a trading fee of 0.5% when buying/selling through the trading account of the platform, which is charged when an order is executed.
Withdrawal fees are also charged. The fees depend on the type of cryptocurrency. For example, for Bitcoin it's 0.0005 BTC, for Ethereum it's 0.0055 ETH. USDC/USDT withdrawals are charged at $15. Withdrawals are also subject to a fee depending on where you live. U.S. residents are subject to a $10 fee, while users from other countries are charged $30 USD. If withdrawn through ACH, a network fee of 0.5% will be charged, up to a maximum of $5.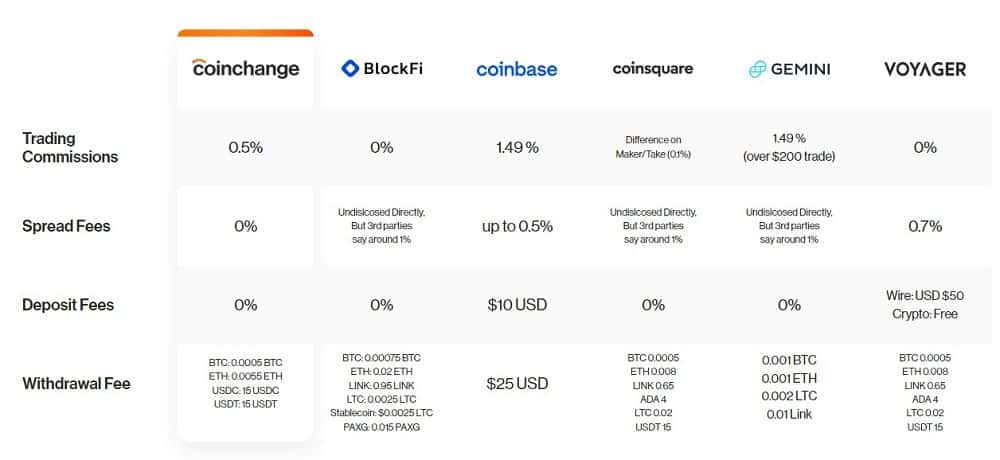 Bonuses of kinchenge.io
Cryptoexchange offers a bonus for registration and participation in the referral program.
Registration Bonus
Each new user who creates and deposits 500 USD will receive 40 USD to his account. To qualify, you must keep $500 or more in your account for 30 consecutive days. Coinchange will calculate the bonus after 7 days of meeting the conditions.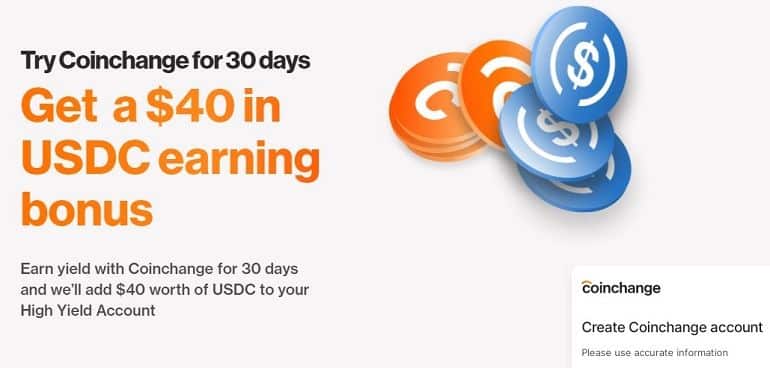 Referral program
Inviting to koinchenge.io acquaintances, you can receive for each confirmed registration 40 dollars. The referral will also receive the same amount to the account. In order for the reward to be credited, the user must join Coinchange, have a balance of at least 500 USD for 30 days, and make at least 1 transaction. The received $40 can be withdrawn or instantly deposited into one's account to earn income.
Complaints about CoinChange
There are many reviews of the exchange on the Internet. Users are satisfied with the speed of transaction processing, prompt responses from technical support, favorable rates and low commissions. But there are also complaints about the closure of the account for no reason and the lack of solutions to problems and responses from exchange employees.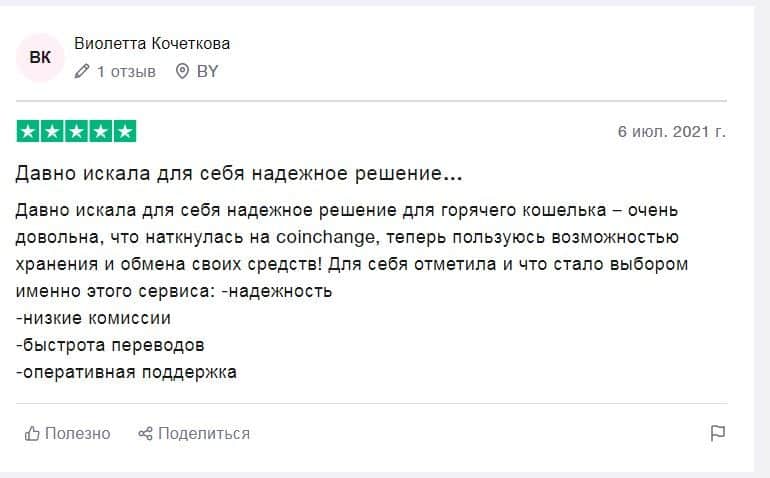 If there are any complaints about CoinChange, we'll be sure to post the information on social media. Sign up so you don't miss anything!
Please keep yourself informed about news and complaints. We copy the most valuable information to social networks, so please sign up!
Regulation of the CoyneChange crypto exchange
The variety of crypto exchanges makes it difficult to find and choose a reliable and safe company. Before starting to trade on one of them, it is necessary to study information on the website, read published documents, check the license and read reviews on the Internet.
Regulator
The exchange belongs to CoinChange Financials, Inc. registered as Money Services Business (MSB) under number 31000185193236 with the US Financial Crimes Enforcement Network (FinCEN). The service is also licensed by FinTrac (Canada).
Coinchange.io User Agreement
The document describes the terms of use of the service and the risks of cryptocurrency trading. The user must study the rules and agree to them. Any false information provided negligently or intentionally may result in rejection of transactions or termination of the relationship with Coinchange.

The agreement may be terminated by either party without penalty upon receipt of at least 30 days' notice. But termination shall not affect obligations arising from transactions initiated prior to such termination. Upon receipt of notice, the Exchange may terminate pending transactions, including billing for fees, liquidation of funds and transfer of assets to the source currency.
Coinchange makes no guarantees, including a diversification guarantee. The value of an investment may rise or fall and is not guaranteed. Investment decisions made by Coinchange on behalf of a user will not always be profitable due to various risks. A trader should understand such risks when trading on an exchange.

Customer Service
There is a feedback form, online chat and e-mail: [email protected] to contact technical support. The company also has a help center. You can also call +1-833-929-3334 Monday through Friday from 9 a.m. to 5 p.m. (EST) and connect with Exchange employees through their Telegram, Twitter, Facebook and Instagram pages.
Is CoinChange a scam?
CoinChange - a crypto exchange that offers digital asset trading and passive income. A high-yield account is available, to which you can transfer your funds to earn up to 25% per annum. The exchange also offers a handy mobile app, participation in a referral program and a sign-up bonus. The company is officially registered and licensed by FinCEN (USA) and Fintrac (Canada).
The feedback about the service is mostly positive, but there are also complaints about accounts being blocked for no reason. Considering these facts, we can conclude that CoinChange is not a scam, but a reliable cryptocurrency exchange.
Conclusion
CoinChange - a service for trading cryptocurrency and earning passive income for holding your assets in a high-yield account, which has been operating since 2017. The exchange offers a simple user interface and an app for trading anywhere from a mobile device. If you have used the platform's services, write your opinion about it under this review.
No reviews yet, be the first!
The company in the ratings
Robots for cryptocurrency
Activity
New

0

Resolved

0

Not resolved

0
New companies on the site