A brokerage company of the international holding company GIAN Capital Holding Inc. offering favorable trading conditions for more than 4,500 assets. The site is now running on forex.com.
Read completely
Forex broker
Website
Social media
Date of foundation

1983

Head Office

Park House, 16 Finsbury Circus, London, EC2M 7EB

The owner of the company

GAIN Capital Holding Inc.

Types of support

Feedback form on the site

Chat

Help Center

Support by phone

Languages

English, Arabic

Terminals

MetaTrader 4, WebTrader, AT Pro

Min. first deposit
Broker fee
Lot volume
Bonuses
Leverage
Spreads
Free Demo Account
Adjustable
Regulators
Types of accounts

Demo, Trader, Premium Trader, Professional Trader

Transaction volume
Methods of replenishment

Bank Transfer, Bank Card (Visa/MC)

Withdrawal methods

Bank Transfer, Bank Card (Visa/MC)

Number of assets
Types of assets
Account currencies

EUR, USD, GBP

Mobile Trading
Weekend trading
Tournaments / contests
Trader training

Individual consultations, handbook, courses, video library

Contract Difference Commission
Swaps
PAMM trading
Analytics

Economic calendar, technical analysis tools

Margin Trading
Affiliate Program
Benefits

Licenses from trusted regulators

You can set your own minimum deposit

Disadvantages

Complaints about withdrawal problems and the work of the support team

Complicated and confusing conditions

Complaints about individual carriers

Company requisites

Legal name:

GAIN Capital Holding Inc.

Legal address:

Park House, 16 Finsbury Circus, London, EC2M 7EB

Date of update

26.04.2022

Overall assessment
Address
Park House, 16 Finsbury Circus, London, EC2M 7EB
Map
Subscribe to this company
City Index is it a scam? Reviews and description
City Index is a trading firm of the international holding GIAN Capital Holding Inc., that has developed its activities throughout the world. The Forex-broker has a huge customer base, access to more than 4500 markets and a serious approach to the issues associated with the trader`s professional growth.
Can we trust such a major provider of services? City Index is a bubble scheme or a respectable and competitive product? We`ll see now.
Trading terms with City Index
On the website cityindex.co.uk we are proposed to choose one of the 3 trading accounts:
Trader including 50% Margin Call, negative balance insurance, Forex credit leveraging of 1:30 and access to the analytics/training base.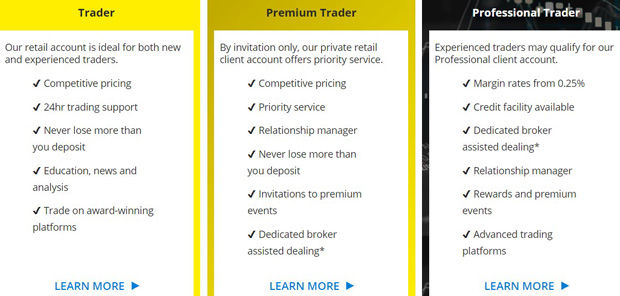 Premium Trader – in addition to the above mentioned, a special support line (personal manager), participation in the loyalty programme and offsite events are proposed.
Professional Trader – all the above mentioned conditions (except for the fact that the maximum credit leveraging amounts to 1:400 including possible increase in this value) plus the credit line.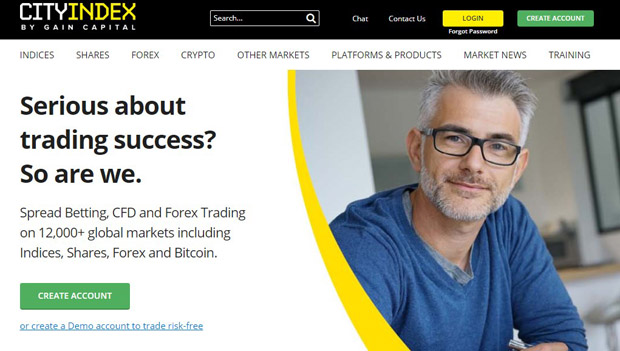 Minimum deposit, currency type and other terms and conditions at this stage are not specified – you need to register. But when signing up for an account, you can choose the type of currency to use for trading: US dollars, Euro or British Pounds. The amount credited may be chosen at the client`s discretion: you simply need to enter the required value (digits). Currency pairs spreads are announced to be small: starting from 0.5 pips. Additionally, tools free of charge are accessed: SMS-notifications (trading signals) about pricing changes (for variations within 0.25%-2%), technical indicators, markets screening, metrics, economic calendar and etc.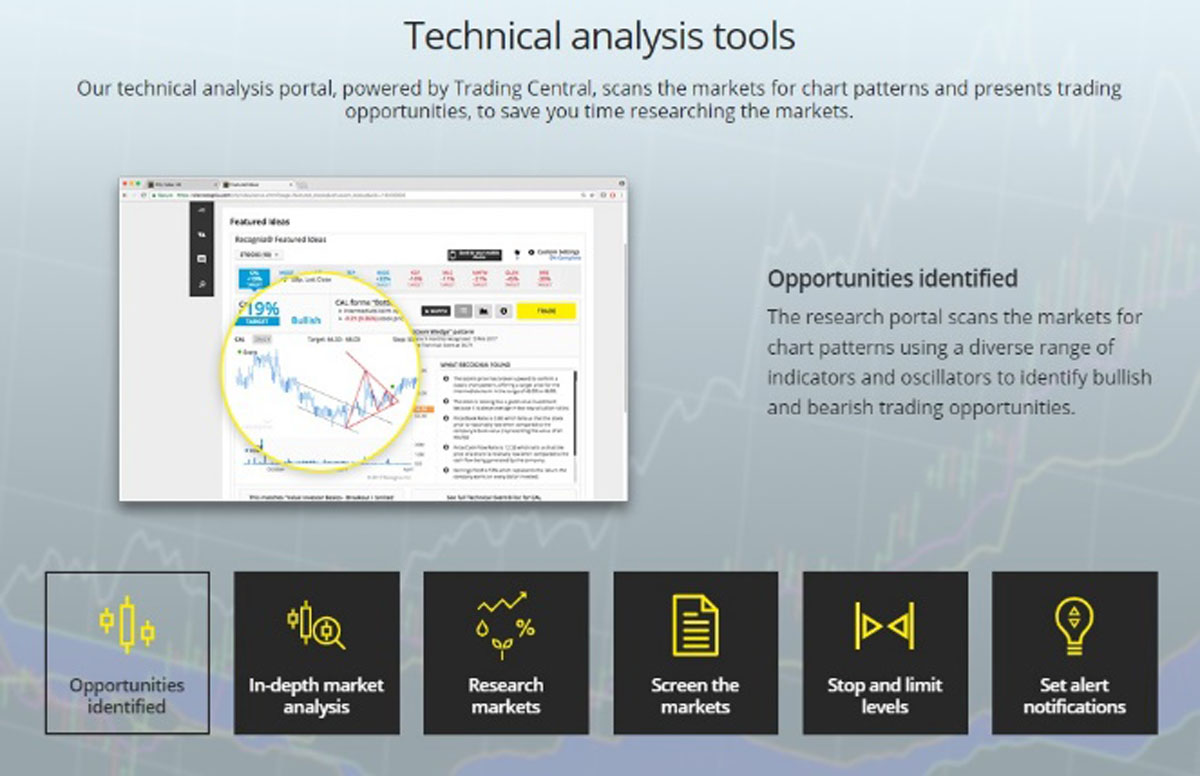 A free demo-account (operations with training terminals) with the limit of up to Euro 10 000 is provided for training. The currency is conditional only and has no monetary value: you are actually playing with funny money. Moreover, you can find reference books, courses, a multimedia library and etc. for those who are just entering trading (Forex trading training).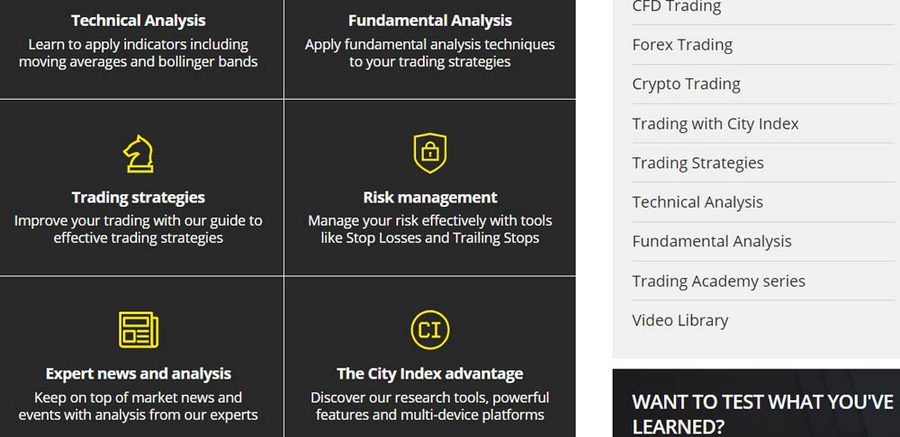 Support can be provided by telephone (leased lines for the UK, Singapore, the Middle East, Australia and international telephone numbers), by e-mail, by live chat or via the feedback form.
Platform cityindex.co.uk
Forex trading can be executed using three basic platforms:
MetaТrader 4. The most popular model of terminals among traders that is fitted with the largest set of tools and user-friendly interface. It can be configured for user`s tasks by loading additional trading templates, it can be run for all types of devices (PC, tablet, telephone), both off-line and on-line.
WebТrader. This platform is available only in the web-format (it requires access to internet). It enables switching between several custom-made screens (up to 8); it supports MT 4 plug-ins and has similar interface, it is fitted with an integrated on-line calculator for transactions profitability.
AT Pro. This is a desktop platform including 100+ indicators, the function of creating your own trading templates C#,.NET и Visual Basic and back-testing. It can be installed for Windows 7 and higher.

For the purposes of security, accounts verification is introduced: upon registering on the web-site cityindex.co.uk, the client must provide his/her ID card (driving license, passport) and address confirmation (a bank statement, utilities bills, bank card report) by downloading them in the user account.
Broker quotations
Forex is represented by 84 currency pairs: EUR/USD, GBP/JPY, AUD/CAD etc. Liquidity providers are not specified. It is not possible to compare the broker`s quotes with other quotes in real time using special services, that is why the accuracy of financial quotes is still an open issue.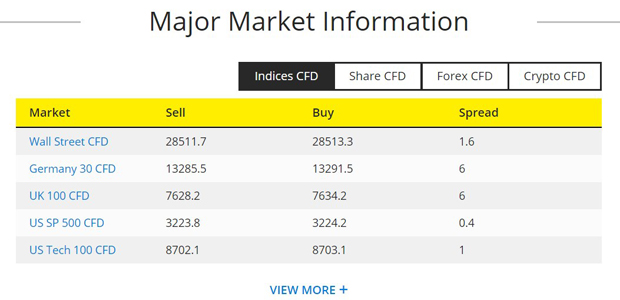 City index demo account
As we have already mentioned, a demo-account is opened in City Index with the limit of up to Euro 10 000 (to be more exact, using the equivalent of this currency with no monetary value). Moreover, time limits for the use of this account are set: 120 days. You can use training terminals MT4 and AT Pro. But firstly, you need to register and specify your full name, country of residence, e-mail and telephone number. The log-in and password are generated automatically by the provider. Using this log-in and password you can log in the web-platform or mobile application.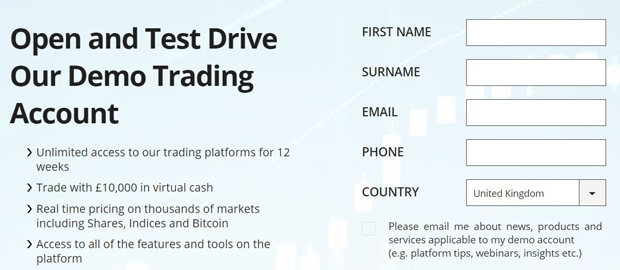 Mobile application
City Index has its own mobile application for platforms operation using thin-window devices: smartphones and tablets with Android, iOS and Windows operation systems. The possibilities include:
Trading 4500 and more assets.
View of financial quotes and market moves.
Single-click trading.
Templates and favourites.
Analytics, unloadable reports.

Users evaluation of the software is not quite high: 3.3 scores out of 5 in Google Play Market and 2.9/5 in App Store. Traders do not like usability, often slow execution, freezing up and undue (in their judgement) completion of transactions, fees and etc.
City Index bonuses
Bonuses of the City Index are not available for any trader. Professional Trader and Premium Trader statuses give access to the loyalty programme and remunerations for every transaction. Promo conditions are not publicly available: a client becomes aware of them only upon signing up for an account, verification and replenishment. You can also become partner of the company by choosing either of the 3 directions (or variations):
IB (introducing broker). Attraction of clients and earnings based on transactions fees.
White Label. Establishment of your own trading company including the software and the tools but under your own trademark.
Referral programme. Up to $650 using CPA (placing of your individual link on your web-site, in your blog, chat, on social networking sites pages, where a broker can get his/her new clients, and from whose transactions a programme participant can get interests).

Deposit and withdrawal
Depositing/withdrawing may be performed only using the card (VISA, MasterCard). But the broker does not cover the fees charged by paying agents for the transfer and conversion into the account currency (USD, GBP, EUR) – you have to pay them. All transactions become possible only after the identity verification on the web-site cityindex.co.uk. The security office shall process all the requests within several days and take a decision concerning the approval or refusal to fulfil the request.
Complaints against City Index
There are few reviews of the City Index in the internet. And even fewer that look more or less credible. However, we found some comments on the broker in application stores among software ratings. Most of them are negative. Users complain about frauds implying withdrawal and replenishment of funds.

The currency just gets «dead» and the technical support either is not able to help you or ignores your requests. Moreover, there are cases when the administration charges fees for non-active account which, according to its owner, is not really such (transactions are made using this account).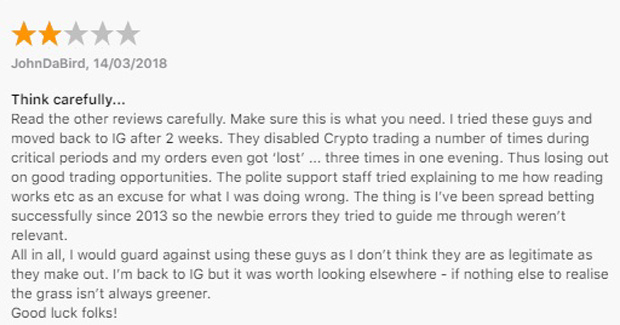 City Index broker regulator
GAIN Capital Holding Inc. (the owner of the City Index brand) comprises 3 subsidiaries, each of them is responsible for its own region and is governed by an individual jurisdiction:
GAIN Capital UK Limited (Great Britain, Middle East). Regulated by United Kingdom FCA, license number – 113942.
GAIN Capital Singapore Pte Limited. Regulated by FIDReC (No number in the regulator's register).
GAIN Capital Australia Pty Limited (Австралия). Regulated by ASIC, registration number ACN 005 574 603.
There is a website created for each subsidiary, where just residents of the relevant country may register.
Terms and conditions of cityindex.co.uk
User`s relations determine rights and responsibilities of the holder of the account opened with the City Index, and the broker with respect to each other. The document covers both directions – Forex and CFD. Thus, par. 3.5 specifies that you are liable for the information you provide about yourself. And you shall notify the company of any changes: surname change, address change and so on.
You shall also be liable for monitoring of opened items and any other activities; you shall control any possible errors (cl. 3.11).

You will be refused to withdraw your funds based on one of the following reasons (all the conditions are described in par. 13.1 of the Agreement):
in case of losses on the account.
in case withdrawal of funds in the required amount will result in the negative balance.
in case some funds are required to meet the margin requirements.
in case some funds belong to the company.
in case it is prohibited by law (for example, in case of fraud proceedings).
in case you have not fulfilled the terms and conditions of the contract.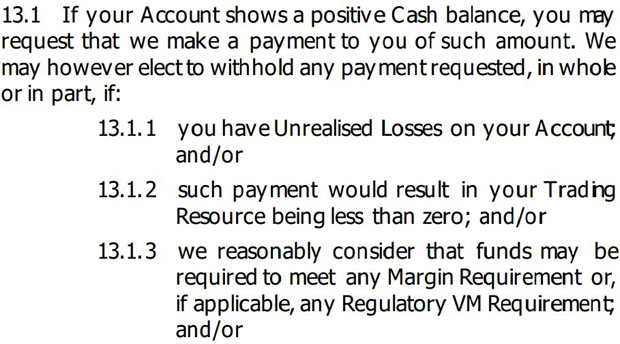 In case of violation of the payment terms for the services of a broker, from the next day after the announced payment date, a daily penalty will be charged within 4% of the outstanding balance. Even if the fact of a fraud, deliberate deception or negligence by the company is revealed, the latter shall not be liable for any losses of the account holder, if the causes investigation results in the conclusion that all these events happened as a result of an error. The provider shall be entitled at any time to suspend the operation of the web-site and other resources to perform maintenance (cl. 25.2). But the provider also mentions that he/she will not always be able to warn you about such actions in advance.

However, the provider shall not be liable (neither shall his partners) for the accuracy of the posted information as well as for any possible losses due to the loss of access to the platform (cl. 25.8.3).

In paragraph 27.7 the services provider reserves the right to use your funds if required (for example, as reimbursement for expenses incurred due to non-payment of debts by other users). And at the same time the provider does not guarantee that your need for them will be subsequently and in due time satisfied.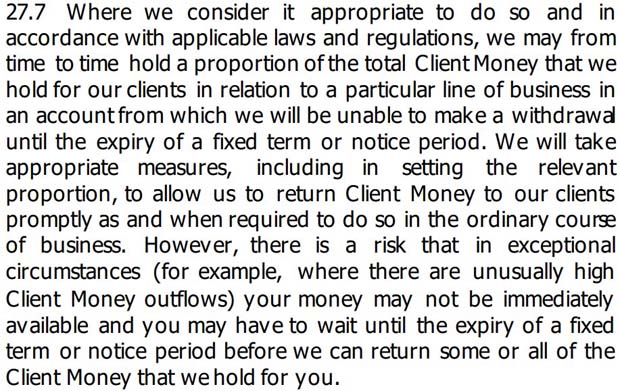 Is City Index a scam?
City Index is a product of a powerful corporation, it is characterized by its features set and well-considered legal support (a long and rather complicated user agreement, individual licenses for every scope). And yet, according to the reviews posted on reliable platforms, (Google Play Market and App Store, from our point of view, can be considered as reliable, since to place a review in App Store you need to download and start using the application, that cannot be done without an opened and verified account), clients of the company come across problems with payments receipt or even simple replenishment of the account. And support in this case, as people say in their reviews, does not always act correctly. It therefore means that the operator regardless of all its advantages is not really that client-oriented, as it wants to look like. City Index is not a bubble scheme but a broker (probably due to its status and wide spread occurrence) that has some problems with the service.
Summary
City Index offers quite favourable trading conditions: deposits within the range identified by the trader, narrow spreads, a huge range of free tools and training programmes, the possibility to train using a demo-account (albeit some limits). Moreover, the broker is legally operating and has obtained licenses within reliable jurisdictions.
The only thing that mars the idea of the company is its policy as related to clients. Of course, if you have such a tremendous users base you stop treating every single claim with due concern. But however the reputation of the services provider is gradually starting to damage. And it is to be hoped that the company owners will be able to see the problem and adjust the company policy.
No reviews yet. Be the first!
Rating of reliable brokers