BTCC is a cryptocurrency exchange with official offices in Hong Kong and London. The exchange has been operating for 10 years and during this time it has served more than 6 million users.
Read completely
Cryptocurrency exchange
Official website
Region

40+ countries in the world

Social media
Date of foundation

2011

Head Office

Flat 9, 9F, New Mandarin Plaza, 14 Science Museum Road, Tsim Sha Tsui, Kowloon, Hong Kong

Types of support
Languages

English, Chinese, Japanese, Vietnamese

Founder
The owner of the company
Manager
Subsidiaries
Investors

Lightspeed Venture Capital

Maximum withdrawal amount

Unverified

Cryptocurrency

Up to 1 000 USDT / Full verification is required to increase withdrawal limit

Exchange Commission

Transaction fee:

From

0.06

To

0.1

%

Perpetual Swaps:

From

0.12

To

0.2

%

Age restrictions
Trading volume per day
Number of users
Number of cryptocurrencies
Number of trading instruments
Margin Trading
Leverage
Tokenized assets
Free Demo Account
Types of accounts

Mini, Standart, VIP, Demo

Execution of orders

Market order

Methods of replenishment

Bank card (Visa/MC), Cryptocurrencies

Withdrawal methods

Cryptocurrencies

Account currencies

Cryptocurrencies

Types of cryptocurrencies

BTC, ETH, USDT, XRP

Mobile applications

There are mobile apps

(iOS)

Trader training
A way to store cryptocurrencies
Fiat accounts
Scalping
Stop Loss and Take Profit Function
Exchangeability for fiat currencies
Basic verification

Verification by phone number or email

Extended AML verification

Verification with uploading documents (scan of passport or ID card, portrait photo, etc.)

Regulatory laws

Legislation in Hong Kong

UK law

International data protection law

FATF (Financial Action Task Force)

API
Affiliate Program

Registration

Discounts on trading commissions up to 25% for each referral

Benefits

14 currency pairs available

Ability to trade immediately after registration

Reliable exchange with 10 years of experience

Traditional and open-ended contracts

Unlimited referral program bonuses

Built-in exchange service

Ability to trade on a demo account

Simple, intuitive interface

Disadvantages

Little information on the Internet

Company requisites

Legal address:

Flat 9, 9F, New Mandarin Plaza, 14 Science Museum Road, Tsim Sha Tsui, Kowloon, Hong Kong

Overall assessment
Date of update

27.04.2022
The address is
Flat 9, 9F, New Mandarin Plaza, 14 Science Museum Road, Tsim Sha Tsui, Kowloon, Hong Kong
Map
Subscribe to this company
BTCC is a scam? Reviews and description
BTCC - one of the leading cryptocurrency trading platforms. The exchange was founded in 2011 and today is recognized as one of the most stable exchanges of digital asset trading. The company's first office was in Shanghai. Two years later, BTCC raised $5 million in Lightspeed Venture Capital funding.
In 2018, the company opened new offices in Hong Kong, the UK and other countries. In 2019, the exchange launched the world's first deliverable perpetual contract, which provided a transparent and stable trading environment in the global market. In this review, let's look at what trading conditions the BTCC cryptocurrency exchange offers, how it differs from other platforms, how to start trading digital assets here, and learn user reviews about the platform.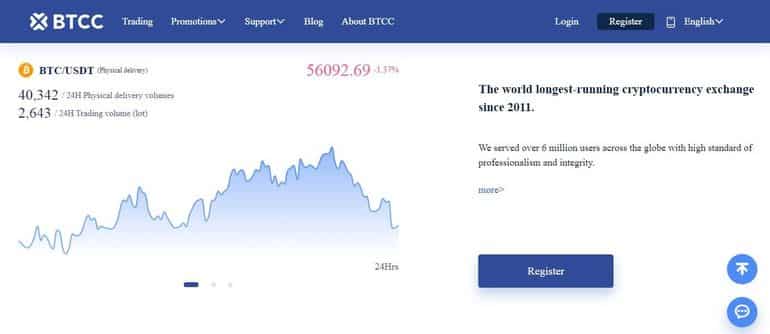 Why btcc.com?
Positioning itself as the most reliable cryptocurrency exchange, which has never been hacked in 10 years of existence, btcc.com offers users reliable and stable trading on transparent terms. Over the years, the exchange has served 6 million+ users. The company offers trading in digital assets with leverage up to x150 and a minimum investment threshold. Any transaction is available from $3. Moreover, the company offers 150x USDT perpetual contracts that support 14 major cryptocurrencies. Benefits of BTCC:
Simple and clear interface.
Low investment threshold.
There are 14 trading pairs available.
You can start bidding immediately after registration.
Solid trading volumes.
Unlimited bonuses on the referral program.
24/7 online customer service.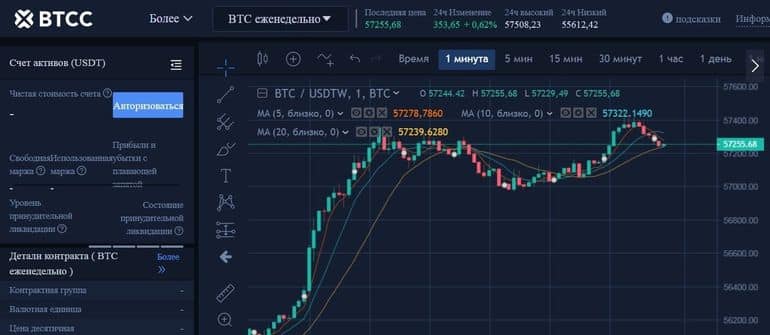 How to exchange cryptocurrency on the BTSS platform?
The exchange is available to registered users in their personal cabinet. To exchange cryptocurrencies, go to the "Convert" tab, select the direction of the exchange and convert funds. Exchange is available in three directions: BTC/USDT, ETH/USDT and XRP/USDT.
It is also possible to exchange currency directly when trading on the exchange. The exchange takes place when trading assets through currency pairs. The following exchanges are available on the platform: BTC/USDT, ETH/USDT, LTC/USDT, BCH/USDT, EOS/USDT, DOT/USDT, UNI/USDT, LINK/USDT, FIL/USDT, DOGE/USDT, XLM/USDT, XRP/USDT, ADA/USDT, DASH/USDT. To exchange currency, choose a currency pair and enter into a contract. When you buy, you will get the desired exchange and profit from the trade (How to make money on cryptocurrency).
Verification on the BTCC platform
Before using the services of a cryptocurrency exchange BTCC you need to register. Registration is available by email address and phone number. Having chosen the method of registration, fill in the form, indicating the email/phone, password and identification number, which will come in an SMS or in the letter. In order not to have problems with the withdrawal of earnings it is necessary to pass a full verification of the account.
To do this, go to your profile and fill out the verification form step by step. Here you need to specify your country of residence, real name, date of birth. Then upload your passport or ID photo, a portrait photo and go through the photo verification. If everything is correct and the verification is passed, your account will be verified and you won't have any problems with deposit and withdrawal.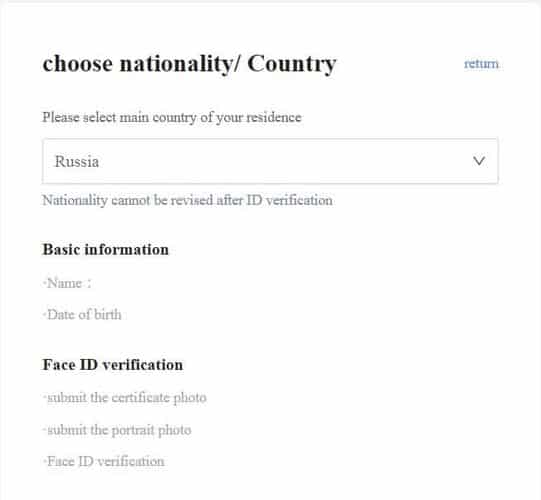 Deposit and withdrawal
After registration, exchange client can deposit the account in two ways. Deposit can be made in USDT, ETH, BTC or XRP. To create a deposit, select cryptocurrency, e-wallet address and perform the transaction. You can also make a deposit from bank card. To do this, go to the tab "OTC Buy", select the currency you will use to pay the deposit, specify the payment system and proceed to the payment. After that, fill in the payment details and complete the transaction.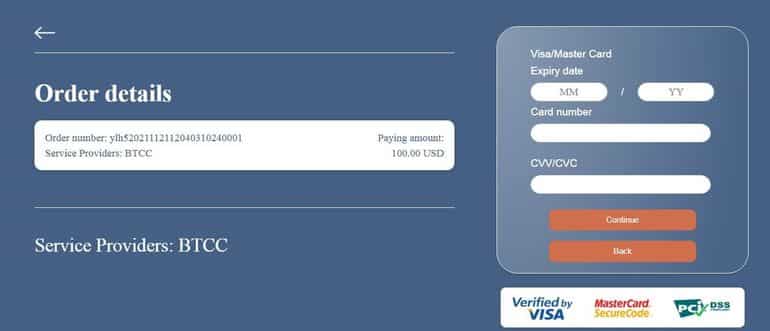 Without full account verification the maximum withdrawal amount is 1000 USD per day. To increase the daily withdrawal limit, you need to complete verification of your account. To withdraw money, go to the "Withdraw" tab in your personal cabinet. Specify the type of currency and the e-wallet address. Fill in the withdrawal amount field, complete the transaction.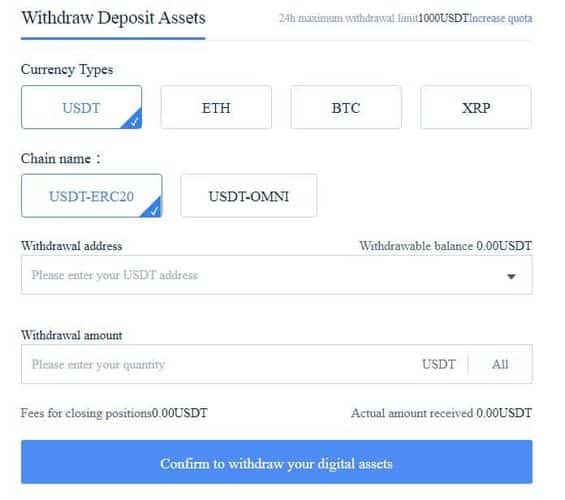 BTCC Crypto Exchange Commission
At btcc.com there are several types of commissions:
Weekly commission fees on closing contracts:
BTC/USDT 100x/50x/20x/10x - 0.06%.
ETH/USDT 100x/50x/20x/10x - 0.06%.
LTC/USDT 50x - 0.10%.
BCH/USDT 50x - 0.10%.
EOS/USDT 50x - 0.10%.
DOT/USDT 50x - 0.10%.
UNI/USDT 50x - 0.10%.
LINK/USDT 50x - 0.10%.
FIL/USDT 50x - 0.10%.
DOGE/USDT 50x - 0.10%.
XLM/USDT 50x - 0.10%.
XRP/USDT 50x - 0.10%.
ADA/USDT 50x - 0.10%.
DASH/USDT 50x - 0.10%.
Daily commission fees on closing contracts:
BTC/USDT 150x - 0.06%.
ETH/USDT 150x - 0.06%.
Commissions for perpetual swap on closing trades. The amount of these commissions depends on the type of account and currency pair.
Account mini - from 0.15 to 0.20%.
Account standard - from 0.14 to 0.18%.
VIP account - from 0.12 to 0.16%.
Rollover fee ranges from 0.20 to 0.35%. You can find out the amount of withdrawal fee when you transfer funds to your e-wallet. After completing the withdrawal form you will see the amount of commission fees.
Bonuses btcc.com
Cryptocurrency exchange BTCC offers various bonuses and raffles to registered users.
Daily prize draw
Every day from 00:00:00 (UTC+0) to 17:00:00 (UTC+0) BTCC users can try their luck and win up to 1 BTC. Customers have three attempts to win a prize. The money won is credited to the account and is available for trading and for withdrawal to an e-wallet. To try your luck, download the mobile app.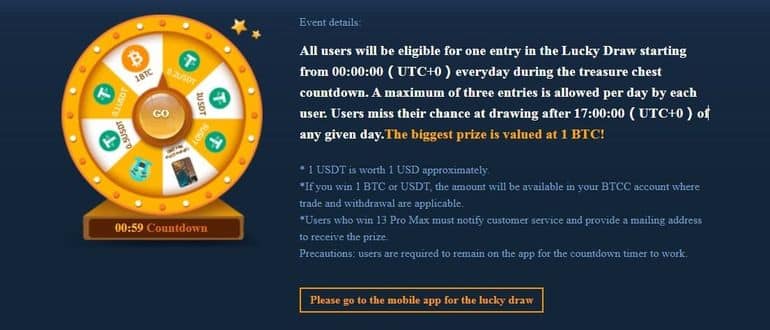 10 USDT on account replenishment
If you make a deposit of 0.003 BTC, 0.04 ETH or 100 XRP, you will get a bonus of 10 USDT. You can also get a bonus if you buy 100 USDT for fiat currency. When making a deposit of the above amount, the account will receive a bonus, which is available for trading or withdrawal to an e-wallet.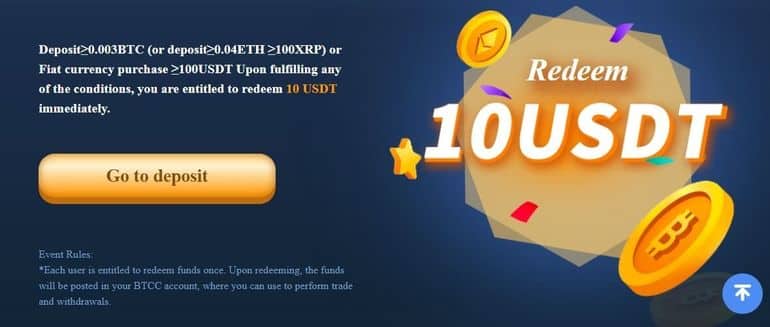 Discount on trade commissions up to 500 USDT
Every user can get 15% cashback from paying commissions. The maximum amount of backback is 500 USDT. The bonus is credited to the account, the day after the transaction is processed.

Referral program
Each registered user of the exchange can get a referral link for additional earnings. Share your link and get discounts on trading commissions up to 25%. The maximum amount of discount 500 USDT per person with no limit on referrals. The bonus for invited users is charged within 60 days from the moment of registration of the referral. Referral bonus is credited for all closed lots.
Complaints about the BTSS
Analysis of reviews about the cryptocurrency exchange showed that it is trusted by 80% users. Clients of the exchange report fair trading conditions, fast withdrawal of money, zero deposit fees and responsive support service. Despite the fact that most of the reviews date back to 2017-2018, we were able to find more recent comments. It is these reviews that allow us to judge the real state of affairs on the exchange, after the Chinese authorities banned cryptocurrency trading in their country. Reviews from 2020-2021 show that the exchange continues to operate at the highest level and maintains its position in the ratings.

If you have any experience in trading on cryptocurrency exchange BTCC, write your review under this review, so our readers can evaluate the reliability of the platform and learn about the nuances of trading on the service.
If there are any complaints about BTCC, we will be sure to post on social media. Sign up so you don't miss anything!
Please keep yourself informed about news and complaints. We copy the most valuable information to social networks, so please sign up!
Regulation of the crypto exchange btcc.com
Before registering and trading on a cryptocurrency exchange, it is important to assess the reliability of the service, because there are often scammers on the Internet who block accounts and embezzle money. One of the important indicators of the reliability of a cryptocurrency exchange is the presence of a license and a regulator. Let's consider whether BTCC has a license and a regulator.
Regulator
Cryptocurrency exchange activities btcc.com is regulated by the laws of Hong Kong and the UK. The cryptocurrency exchange is owned by companies:
BTCC Limited, registered at Flat 9, 9F, New Mandarin Plaza, 14 Science Museum Road, Tsim Sha Tsui, Kowloon, Hong Kong with registration number 1956541.
BTCC UK Limited, registered at Wisteria Grange Barn Pikes End Pinner London HA5 2EX with registration number 10846180.
The company warns that trading in digital assets carries risks. By registering on the site and accepting the terms of the service, the client agrees that he is familiar with the risks of cryptocurrency trading.
Documents from btcc.com:
BTSS User Agreement
In accordance with the terms of the User Agreement, you must register to use the services of the exchange. When registering, you must provide true and complete information about yourself, including your real name and a valid cell phone number or email address. Multiple registrations are not allowed on the exchange. Each user may register only one account. By registering on the site, you confirm that you are of legal age in your country.

By registering on the site, you consent to personal identification. Identification requires uploading a passport photo, a portrait photo, and face verification. This procedure is necessary to track illegal activities on the platform, including money laundering, terrorist financing, fraud, etc.

By accepting the terms of the user agreement, you agree that the administration of the platform has the right to investigate any violation of the rules and to take action to prevent violations unilaterally without prior notice. Examples of such actions are:
Blocking and closing orders.
Account blocking.
Freezing the account.
Reporting violations to the competent authorities.
Publication of violations and countermeasures.
Deletion of any violation information you provide.

If any disputes and claims arise, the client must inform the portal administration about his problem by contacting the support service by any convenient way. The term of pre-trial proceedings is 60 days.If the dispute is not resolved within 60 days, you are entitled to arbitration. Before applying to arbitration, you must send BTCC a letter of claim stating the reason for the arbitration. If BTCC decides to file a counterclaim, you will also be notified of the commencement of the arbitration.
Customer Service
If any questions arise, every platform user can get help from the support service. According to customer feedback, BTCC's support team is notable for its quick, detailed advice and friendliness. You can contact the support team through the following channels:
E-mail: [email protected]
Online chat on the website.
Twitter.
Telegram.
Facebook.
Instagram.
You can also find answers to your questions at the customer support center. Here you will find trading guides, learn how to open an account, deposit and withdraw money.
Is BTCC a scam?
BTCC cryptocurrency exchange - is one of the most stable and reliable trading platforms. The administration of the platform clearly monitors the facts of fraud, and since the beginning of its launch the platform has never been hacked, thanks to innovative security technologies. Having analyzed the work of the exchange, the reviews of users and the official documents of the platform, we can confidently state that BTCC is not a scam. The platform offers trading on the author's convenient platform with a clear and simple interface, transparent trading conditions, low commissions and fast withdrawal. Registered users of the platform get access to various bonuses and promotions, referral program and additional rewards.
For convenient work on the exchange, as well as to avoid problems with the withdrawal of money, we recommend users to pass the full verification of the account at once. Without full verification the withdrawal limits are set, and at any suspicion of fraud the account can be frozen without notice and explanation.
Conclusion
btcc.com- a reliable cryptocurrency exchange with 10 years of experience. During the existence of the platform, 6 million users have been served here. On the platform you can safely trade cryptocurrency, getting profit not only from trading, but also from the referral program. A special advantage of the platform is a clear interface. Even a novice can understand the nuances of trading here. You can start trading in 30 seconds after you create your account. Register on the exchange, make a deposit and start your way to successful trading. We give the platform a 5 out of 10 rating.
No reviews yet, be the first!
The company in the ratings
Robots for cryptocurrency
New companies on the site