Bitonic is a crypto exchange founded in 2012 that offers cryptocurrency trading and exchange between BTC and EUR. You can set up automatic asset purchases and confirm your identity via a mobile app.
Read completely
Cryptocurrency exchange
Official website
Social media
Date of foundation

2012

Head Office

Weesperstraat 394-396, 1018 DN, Amsterdam, Netherlands

Types of support
Support by phone
Languages

English, Dutch, Belgian

The owner of the company
Minimum entry amount

Unverified

Cryptocurrency

Unavailable

Maximum input amount

Unverified

Cryptocurrency

Unavailable

Minimum withdrawal amount

Unverified

Cryptocurrency

Unavailable

Maximum withdrawal amount

Unverified

Cryptocurrency

Unavailable

Exchange Commission

Trading commission:

0.25

%

Deposit fee:

0.5

EUR /

0.0003

BTC / for a deposit of less than 0.1 BTC

Withdrawal fee:

1

EUR /

From

0.0003

To

0.0005

BTC

Urgent payment fee:

2.5

% / minimum 7.5 EUR

Terminals

Author's platform

Age restrictions
Number of cryptocurrencies
Margin Trading
Tokenized assets
Free Demo Account
Types of accounts
Execution of orders

Limit Order, Market order

Methods of replenishment

BTC, iDeal, Sepa

Withdrawal methods

BTC, Sepa

Account currencies

BTC, EUR

Types of cryptocurrencies

BTC

Licenses

Licensed

License of the Central Bank of the Netherlands

(Active)

Mobile applications
Trader training
A way to store cryptocurrencies
Fiat accounts
Scalping
Stop Loss and Take Profit Function
Exchangeability for fiat currencies
Verification app

Verification within minutes

Bits

Automatic purchase of cryptocurrency

Traders Academy

Trainings and courses, presentations and master classes, consultations

Basic verification
Extended AML verification

Checking through the app, address confirmation

Regulatory laws

Dutch law

International data protection law

FATF (Financial Action Task Force)

API
Affiliate Program
Benefits

High speed of transaction processing

Ability to set up automatic purchase of cryptocurrency

Simple identity verification through a special application

Disadvantages

Complaints about withdrawal problems

Blocking of funds in the account (according to reviews on the Internet)

Company requisites

Legal address:

Weesperstraat 394-396, 1018 DN, Amsterdam, Netherlands

Overall assessment
Date of update

20.02.2023
Address
Weesperstraat 394-396, 1018 DN, Amsterdam, Netherlands
Map
Subscribe to this company
Is this a scam? Reviews and description
Bitonic - crypto exchangeThe Netherlands, founded in 2012, which offers a fast and safe way to cryptocurrency trading. Also available to set up automatic purchase BTC and savings with withdrawal upon reaching a certain amount. The company is constantly introducing new security, performance, application and hardware solutions for its users. To find out if the exchange is reliable and if Bitonic is not a fraudulent scheme, we have compiled a review of its work.

Why Bitonic?
Bitonic is a cryptocurrency exchange that operates a fully automated system. After a user completes a payment, BTC are transferred automatically, and when the exchange runs out of stock, it purchases the currency. The company takes very strict measures to prevent the loss of funds in cryptocurrency and euros, as well as to protect users' confidential information.
The exchange has developed a unique feature - Bits. It allows you to create your own cryptocurrency savings plan and make automatic BTC purchases every day, week or month. Bits allows you to make periodic BTC purchases without the problems associated with manual transactions. You decide how often and how much to buy coins yourself. To set up a regular payment, you have to confirm your email address, phone number, identifier, add your bank account number, BTC address and specify the payment amount.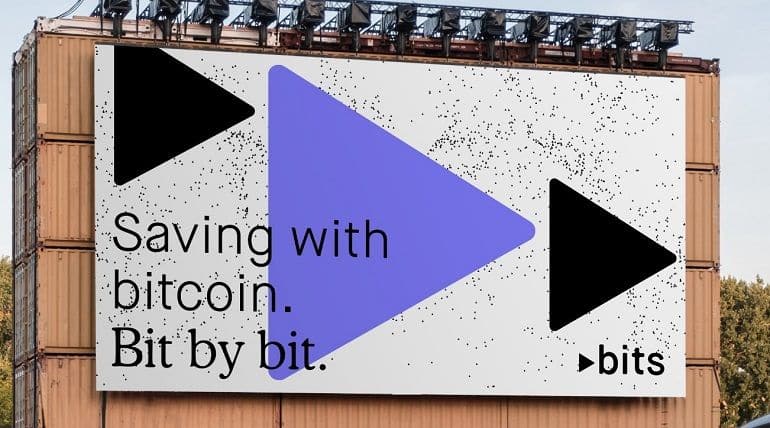 With Bits' bundled shopping feature, you can save your BTCs and automatically send them at a selected threshold, saving on transaction fees and reducing the load on your network. You can bundle purchases up to a maximum of €1,000 and set the threshold yourself when you create your Bits savings plan or through your account environment. If you want to send your BTCs to your wallet before reaching the threshold, you can do so through your Bits account or transaction page.
To make trading as convenient as possible, the exchange is developing a mobile application BL3P for iOS. It is currently being beta-tested by a group of traders. The application will become publicly available as soon as the testing stage is over. An Android version is also in development. Within the BL3P testing program any user can take part and give feedback to the developers.
In order to share the experience with its clients, the crypto-exchange team developed Bitonic Academy. It conducts:
trainings and courses;
presentations and master classes;
counseling and research;
special training.
On the site bitonik.nl there is detailed information about the company's services, answers to popular questions, and news. The advantages of the exchange include:
High speed: cryptocurrency is transferred automatically after the payment is completed.
Several payment methods that offer irreversible transactions. The exchange sells from its own stock: users always get the exact amount they paid for.
No hidden fees.
Available commissions.
Simple identity verification through a special application.
How to exchange cryptocurrency on Bitonik platform?
The site has a "Buy/Sell" section, which has a special form for the transaction. The function allows you to buy and sell BTC for euros. In it you have to choose between buying or selling and specify the amount. For buying, there are fields to enter the receiving address, e-mail, bank account number. Also you need to choose the payment method - iDeal or Bancontact. For selling you specify your BTC-address, IBAN account number and e-mail. You can check the urgent payment up to 5,000 euros, for which you will be charged an additional fee of 0.25% (minimum 7.5 euros).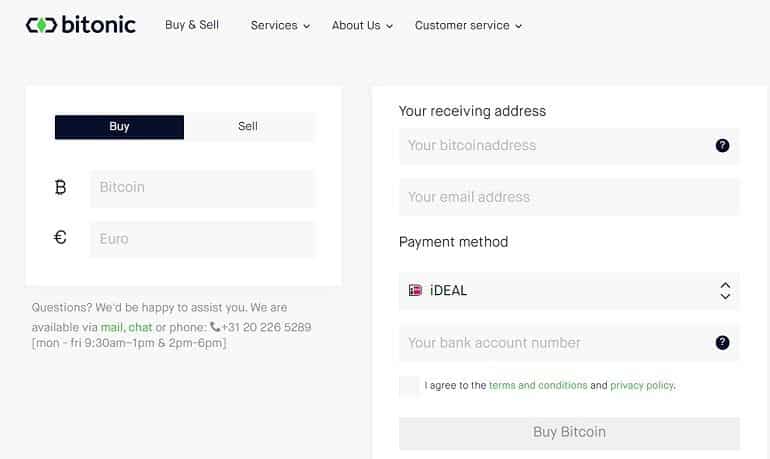 The exchange also has a trading platform BL3P. Beginners and professional traders can trade on it. Anyone with a SEPA bank account can use this platform. BL3P offers market and limit orders with real-time price evaluation. There are no hidden fees, and withdrawals and deposits are processed quickly. Using an API, market and limit orders are easily integrated into users' systems, offering a clean interface for trading. To get started, you need to go from the website Bitonic on bl3p.eu and register with your name, email and password, choosing a country and type of account (personal or business).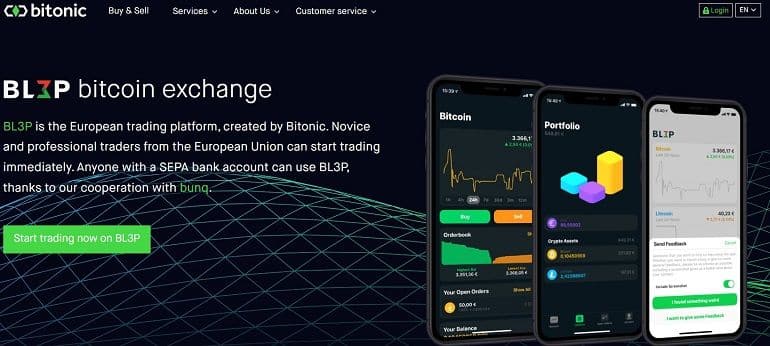 Verification on the bitonic.nl platform
Verification can be done through a special company app. Benefits:
verification within seconds;
a copy of the ID is not needed when scanning NFC;
the application can be deleted after verification.
Verification uses the machine-readable zone (MRZ) found in ID cards and passports, as well as built-in wireless communication (NFC) capabilities. The use of this technology enables the secure reading of personal data in identity documents and ensures the authenticity of their contents.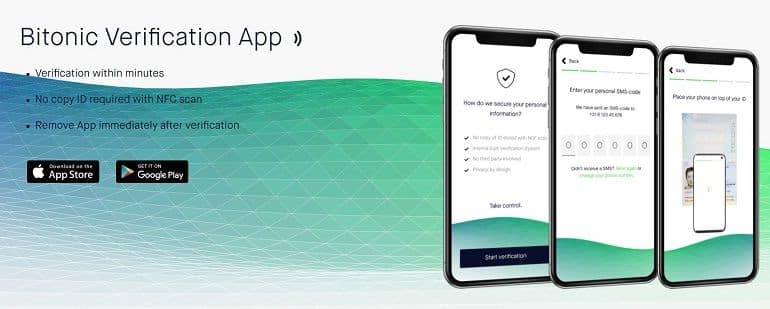 Also in some cases it is necessary to confirm the place of residence. The document for this must contain the name and address of the user. Such documents are accepted:
electricity or gas bill;
tax return;
other governmental or municipal document.
The document proving residence must meet the following requirements:
the term is not older than three months;
the description of the document must match the customer identification data.
According to Dutch law, one must also verify that the user is the owner of the bitcoin address provided, using a screen shot of the wallet. Verification requires a screenshot that clearly shows: a full image of the entire "getting" screen of the wallet and the address. You can send a screenshot through the upload options during the verification procedure.
Deposit and withdrawal
You can deposit cryptocurrencies on BL3P platform. BTC are usually added to your balance within 30 minutes (after 3 confirmations). Euros can be deposited instantly via iDEAL (only in the Netherlands) or via SEPA transfer, which is usually processed within 1 business day.
BL3P offers almost instant withdrawal of cryptocurrency, in most cases withdrawal processing takes only a few minutes. A service fee is charged to cover the miners' commission. It is also possible to use a higher fee for quick confirmation. On weekdays, withdrawals via SEPA (euros) are processed at 14:00.
Cryptoexchange Commission
The exchange charges a fixed commission of 0.25% when trading through the platform. For iDEAL and SEPA deposits you have to pay 0.5 euros per transaction. The fee for withdrawal through SEPA is 1 euro.
Deposits in BTC are free for amounts of 0.1 BTC and above. Less than 0.1 BTC is charged a fee of 0.0003 BTC. BTC withdrawals are charged a fee of 0.0003 BTC to cover average miner fees. There is also an option to add an additional fee of 0.0005 BTC to ensure quick confirmation.
For BTC sales via Buy/Sell, an urgent payment is available, subject to an additional fee of 2.5% (minimum €7.5). The service for transactions up to 5,000 euros involves fast manual processing of the transaction.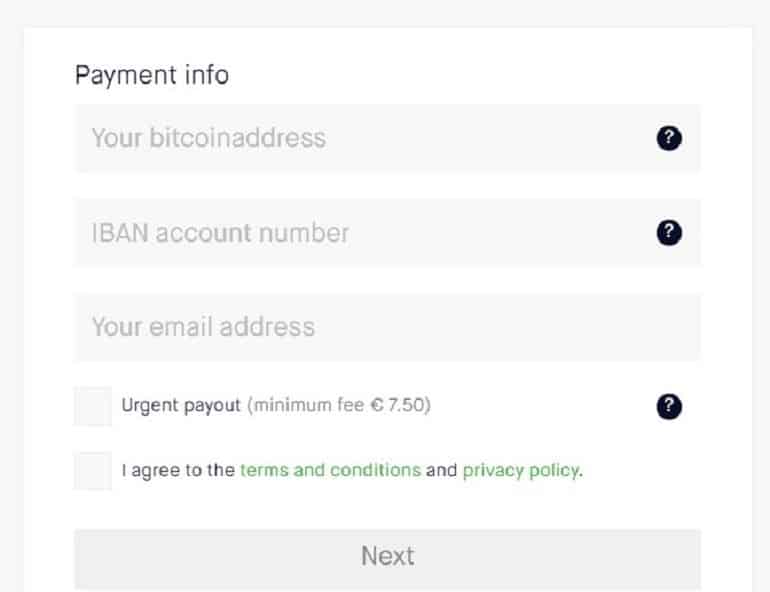 Bonuses bitonik.nl
Crypto Exchange Bitonic offers participation in the referral program.
Referral program
Bitonic offers participation in a referral program. In order to get remuneration for attracting users in 0.25%, you need to fill in a special form in the "Partners" section. It should contain your name, last name, login to the exchange website, email address, Bitcoin address, URL where the iframe will be placed and visitors will be able to buy cryptocurrency, IBAN account and password.
After approval, it is fashionable to place a short referral code on the site or use an affiliate link. The program is designed for Bitcoin-related sites only. Partner's account and site must be verified in order to qualify for referral rewards.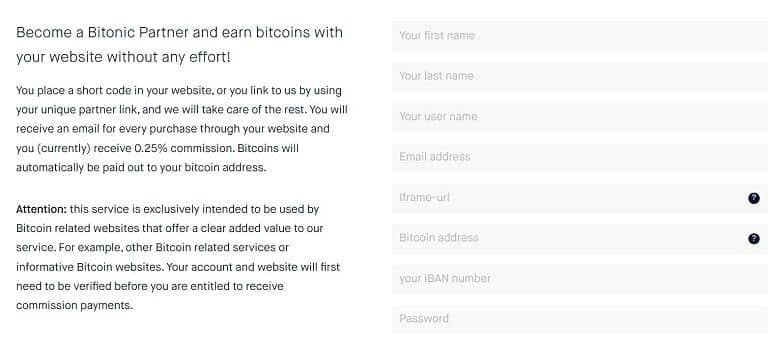 Complaints about Bitonic
About Service bitonic.nl there are quite a few reviews on the Internet. Many of them are positive. The company is considered reliable, which can be agreed with, given the period of work on the cryptocurrency market, and its terminal is convenient. Users note that it is suitable for both beginners and experienced traders. They like the quick responses of technical support, high speed of transaction processing and favorable commissions.

Those who complain about the exchange have problems with the withdrawal of funds. There are also comments about the long wait for answers from the service employees. Situations happen when transactions are not processed and funds cannot be withdrawn or used for other transactions.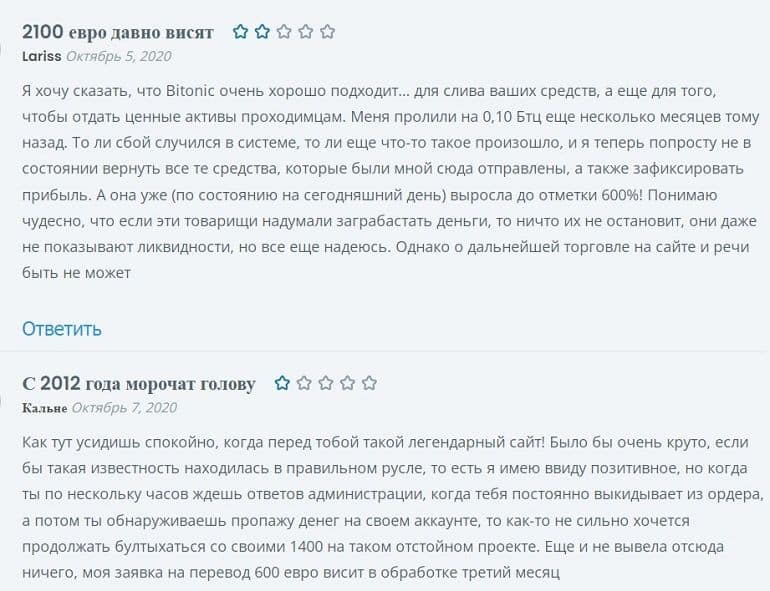 If there are any complaints about Bitonic, we'll be sure to post on social media. Sign up so you don't miss anything!
Please keep yourself informed about news and complaints. We copy the most valuable information to social networks, so please sign up!
Regulation of Bitonik Crypto Exchange
If you choose a crypto exchange to exchange and trade cryptocurrency, it is important to make sure that it is not a fraudulent scheme. To do this, you need to find out if the company has a license, read all the documents on the website and study customer reviews. If the information on the website is questionable, there is no detailed legal data, and there are a lot of negative reviews, it is better to reject such an exchange in favor of a proven and reliable one.
Regulator
The "Contact Us" section has the company's address and legal information. The "About Us" page states that the company received a license from the Dutch Central Bank in 2014. The site also contains the text of the user agreement and privacy policy.
Bitonic.nl User Agreement
The document describes the terms of sale and purchase of cryptocurrency on the exchange site. You should understand that you do all transactions at your own risk, and transactions are irreversible, because of which it is important to check the reliability of the data when executing a transaction. You must specify the receiving address to which you have access (your own wallet). It is forbidden to use exchange services for direct payment to an online store or other third party. Bitonic BV reserves the right to block transactions for third parties and withhold any charges incurred.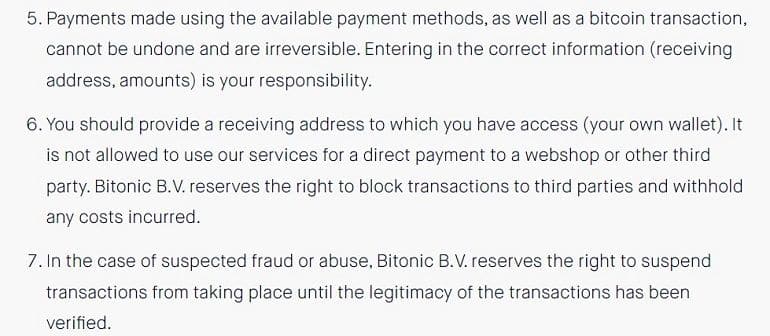 Customer Service
To contact the technical support of the service, you can contact its employees through these channels:
email: [email protected];
Telegram (answered from 9:30 to 22:00);
Call +310-202-265-289 (Mon-Fri from 9:30 to 18:00, lunch break from 13:00 to 14:00);
Twitter;
the feedback form in the "Contact Us" section.
Is Bitonic a scam?
Bitonic - a crypto exchange founded in the Netherlands in 2012. It offers cryptocurrency trading on its platform, exchange of Bitcoin to EUR and back, the ability to automatically configure the purchase and sale of assets. Identity verification via a mobile app is also available. The company is also developing an app for cryptocurrency trading. Commissions are available and clear, information is not hidden. There are several channels for contacting technical support, including phone and Telegram.
But reviews of the service are contradictory. Along with positive comments, there are many complaints about the exchange. Given that the company has been operating for a long time, and the site has legal information about it, it is impossible to say that Bitonic is a scam. But while there are complaints about the service, it is better not to trade large sums.
Conclusion
Bitonic - a cryptocurrency exchange that offers several services, including its own developments - automatic purchase of assets and batch purchases when a certain amount in the account is reached. The platform is convenient for trading, there is a simple form of buying and selling, referral program. If you have used the services of the exchange, write your opinion about the company under this review.
No reviews yet, be the first!
The company in the ratings
Robots for cryptocurrency
Activity
New

0

Resolved

0

Not resolved

0
New companies on the site